If you love nachos, these totchos aka tater tot nachos are about to be a new favorite meal. Sometimes I am just craving something to find I don't have all the ingredients. Hence the creation of totchos.
I could pretend I don't crave things like nachos, but some days all I can think about is what I am going to eat for supper. And days I have a craving for nachos it is hard to determine if it is the nachos or the margaritas I am craving more. Regardless, they are both are welcome items to the end of the day.
Back to the birth of totchos. I have seen them on a few menus. And when my tortilla chips where found to be stale I decided to try this tater tot version of my beloved nachos. And low and behold, a new 30 minute meal. And one any Mexican food lover will enjoy.
Get your tater tots baking as soon as possible. The tater tots are the hardest and longest part of the whole meal. Which makes this recipe cincho. If baking tots is the hardest part, anyone can make these. While the tots are baking, brown a pound of ground beef, pork or chicken. Also, be working on chopping your favorite nacho toppings. I chopped lettuce, tomatoes, onions and would also have gone for some jalapeño, olives, and banana peppers.
Once the tater tots are cooked and crispy on the outside, remove them from the oven and put on a large platter. Cover the tater tots with cheese. Colby Jack, Mexican blend, Cheddar. What ever cheese you have. Don't get too hung up. The cheese you like is the cheese you should use. Put the platter in the oven that is still warm to get the cheese melted. I had turned off the oven and the cheese still melted quickly.
Now load up the cheese covered nachos. The ground beef, lettuce, tomatoes. Then pile on some guacamole and sour cream. And if you are cheese freak, go ahead, add some more. You know you want too. Now, shake up a margarita and pile some on your plate before your kids notice you made their tater tots into nachos. Because you know your kids are about to eat them all.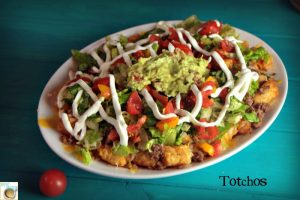 Love nachos? Then be sure to make these tater tot nachos ~ Totchos! Everything you love about nachos but tots instead of tortilla chips.
Ingredients
1 -32 ounce bag of tater tots
1 pound of ground beef, pork or chicken
2 cups shredded cheese
Toppings such as shredded lettuce, diced onions, chopped tomatoes, black olives. jalapeno, banana peppers
1 cup of guacamole
½ cup of sour cream
Instructions
Bake tater tots according to package instructions.
Brown ground beef and drain any excess grease. While meat is browning, chop toppings.
When tater tots are fully cooked and crisp, remove from oven, turn off oven. Place tater tots on a large platter and top with shredded cheese till covered. Place back in the oven till cheese is melted.
Top cheese tots with browned meat and toppings of your choice.
Top with guacamole. Put sour cream in a small baggy, cut one of the bottom corners off and squeeze sour cream through the whole to spread all over the top of the totchos. Sprinkle with more cheese, if you would like.
Loading InLinkz ...
Also linked up over at the weekend potluck.