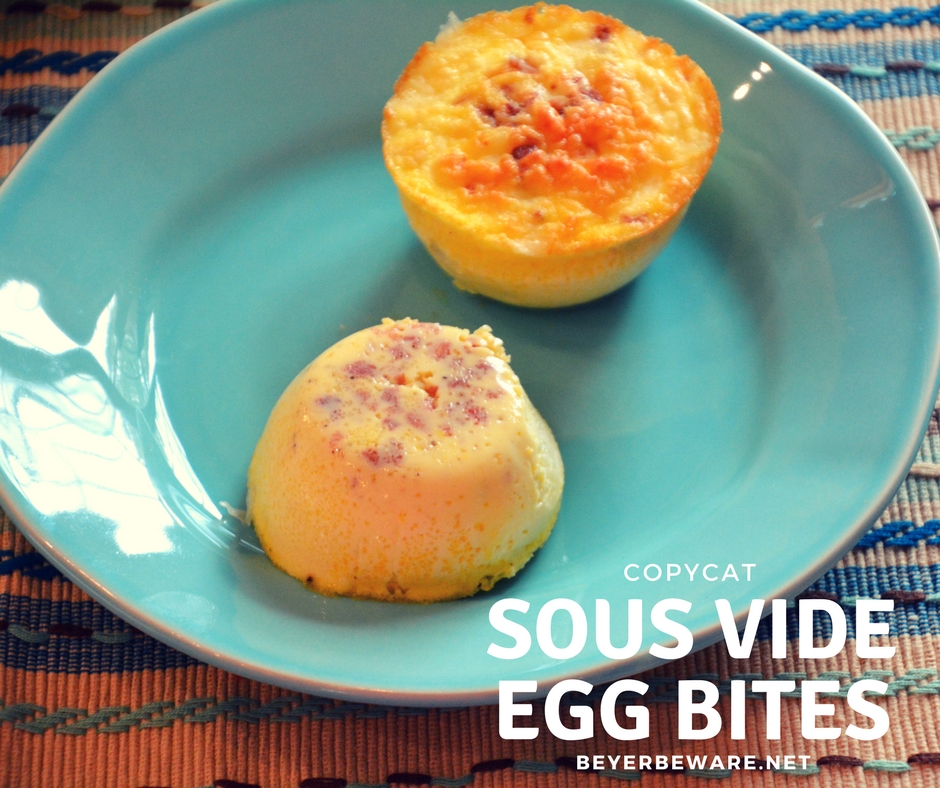 Sous Vide Egg Bites - Copycat Recipe
Author: Leah @ Beyer Beware
Prep time: 5 mins
Cook time: 35 mins
Total time: 40 mins
These copycat sous vide egg bites recipe have a velvety smooth texture for an on-the-go low-carb, high-protein breakfast.
4 eggs
½ cup cottage cheese
¾ cup shredded Gruyere, Havarti or Monterey Jack cheese
4 slices of bacon, fried and crumbled
Salt and Pepper
Cooking Spray
Crack eggs into a blender and add cottage cheese and ½ cup of shredded cheese to the blender. Season with salt and pepper.
Pulse blender till mixture is liquified.
Spray four 1 cup glass bowls with cooking spray.
Pour ½ cup of egg mixture into each bowl.
Top with remaining shredded cheese and bacon.
Place four bowls in a baking dish and fill baking dish with water
Bake at 350 degrees for 30-35 minutes or the eggs are golden brown and solid.
Refrigerate any you don't eat and reheat for 30 seconds on high.
Recipe by
Beyer Beware
at https://www.beyerbeware.net/2017/09/sous-vide-egg-bites-copycat-recipe.html