Disclosure: *This post may include amazon links. As an Amazon Associate, I earn from qualifying purchases.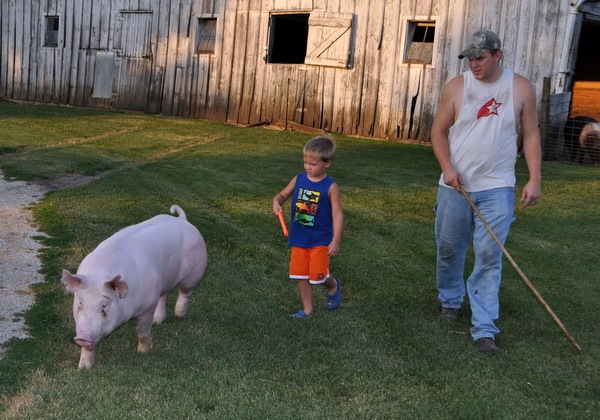 Meet Robin. This is Boo's pig that he showed at my county fair in Illinois thanks to Uncle M. Uncle M raises pigs with his brother J.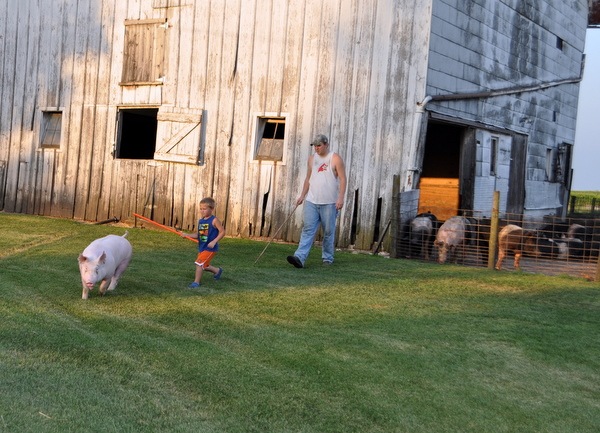 Robin liked to run and scurry. But, since pigs have no sweat glands (so sweating like a pig makes no sense to me) he got hot and tired quickly.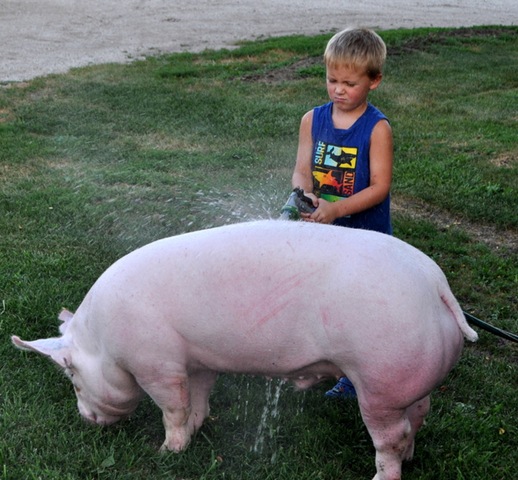 So, Boo got to spray him down for a cool down after practicing. Boo really likes to use hoses.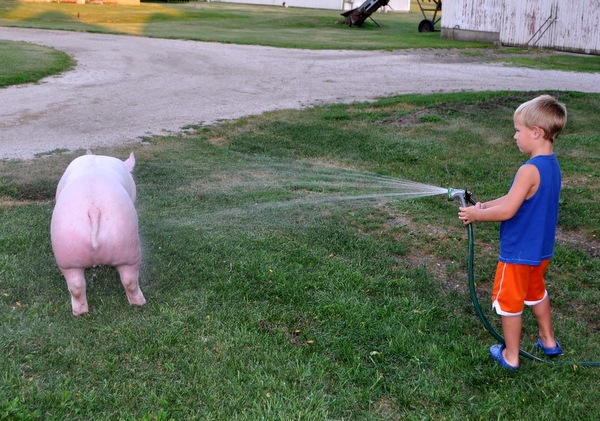 Not so sure Robin liked it so close. I guess he prefers a mist.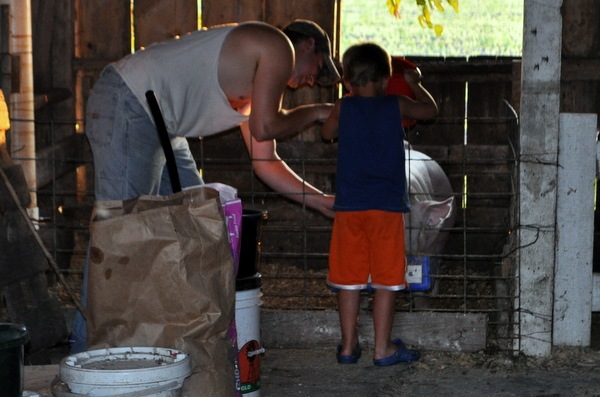 Even pigs like to eat after a workout. I am sure he was famished!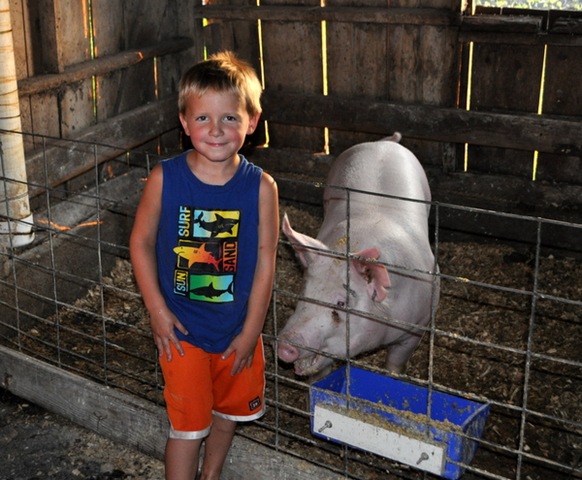 Saying goodbye before the big show day in the morning!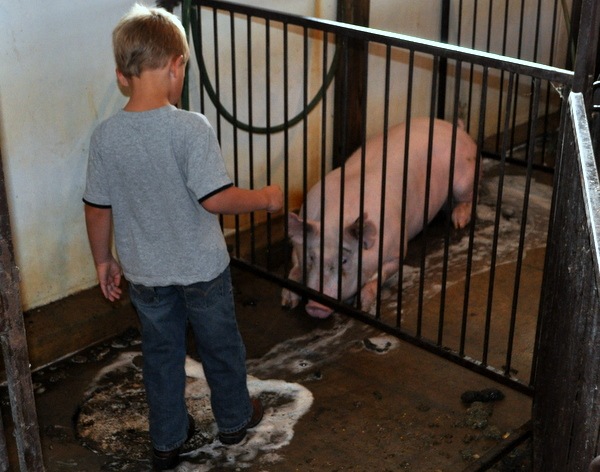 I wasn't surprised to find Boo and Robin in the wash racks at the fair when I arrived. Boo actually got up at 5:30 in the morning to ride with Uncle M to go get Robin and take him to the fair.  I WAS SHOCKED!!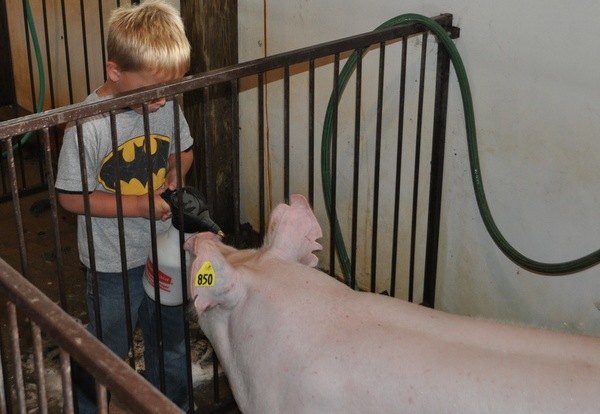 One last spray before leaving the wash racks. I struggle getting out of the shower in the morning too. I feel your pain Robin!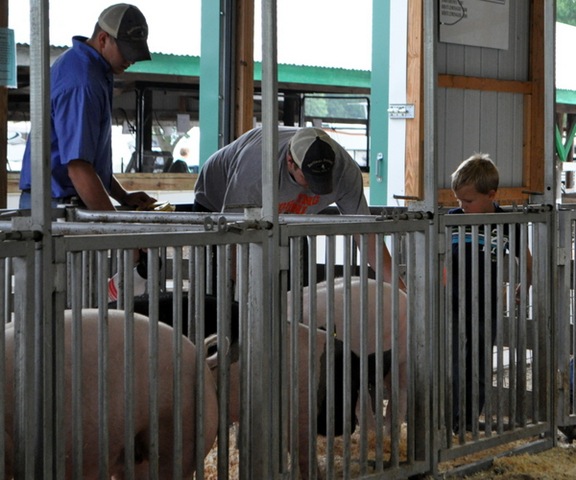 Uncle M and J were helping Boo as he prepared to go out into the ring for his and Robin's big debut! Boo was really worried about opening the gate. So, much that he asked Uncle M about every 10 seconds if he was going to do it for him.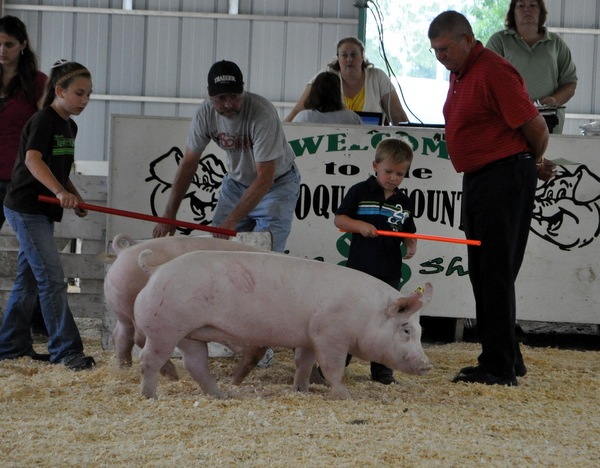 Boo did momma proud. He got Robin right in front of the judge so he could see him. I almost cried. Almost.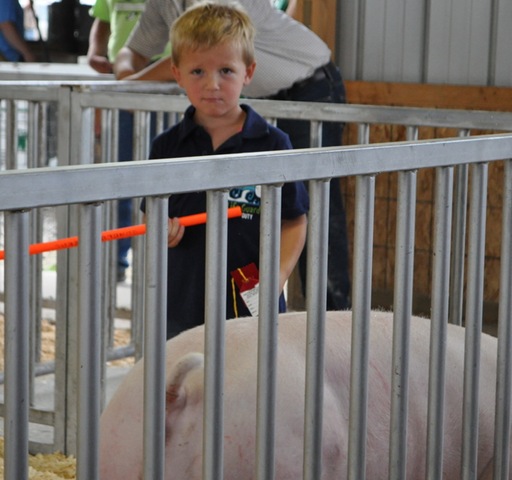 We came home with a red ribbon for the live show. Woo-HOO $44 for Boo's 529 account.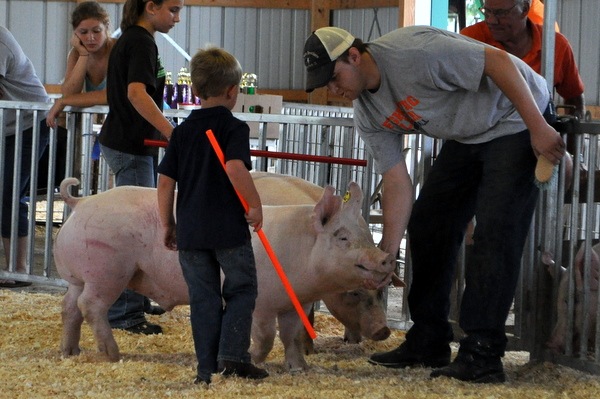 Time for the reinforcements. Uncle M helped get Robin to the trailer. Yeah, I said trailer.
Robin was also going to be judged on how is meat quality. While it may sound sad to tell your kid your going to show your pig, and then they are going to kill it, it is the facts of life. That is the one good thing about raising kids on a farm. They do not lack knowledge of where food comes from when it shows up at dinner. It isn't sad, it's life.
So, onto the pork burgers…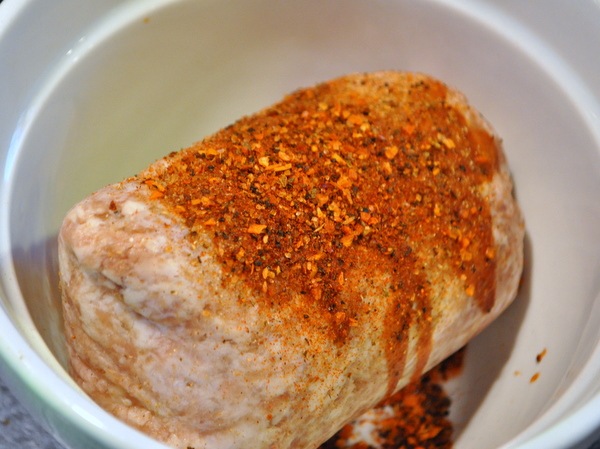 Some of you may say, pork burgers? While it is not a widely eaten burger, it is by far one of my favorite treats at the fair. I make them often at home too. I start with one pound of ground pork, not to be confused with sausage. I don't want any preseasoning in my pork!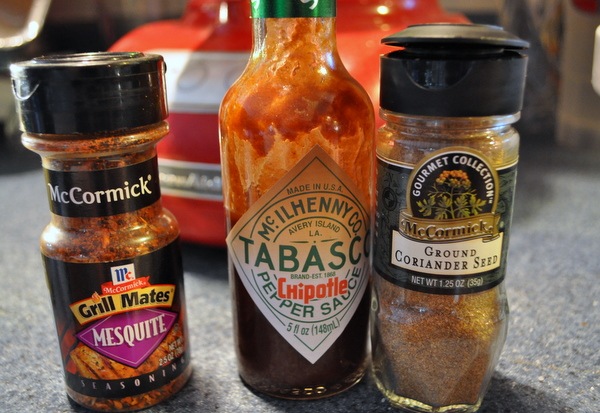 I add several shakes of Tabasco, chipotle Tabasco to be exact, Coriander, and Grill Mates Mesquite. I add till it looks good. I have no idea what that means, but my guess would be 2 teaspoon of mesquite and ½ teaspoon of coriander. I also add a few twists of sea salt and peppercorns from my grinders.
Of course I add some veggies. 1 stalk of celery, half a green pepper, 2 scallions, and 2 cloves of garlic.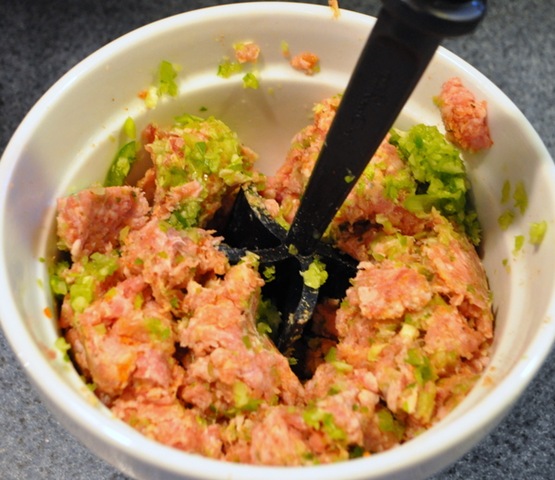 I use my mix and masher from Pampered Chef to get everything all mixed up. It works great, but after a while, I just stick my hands in the big mess.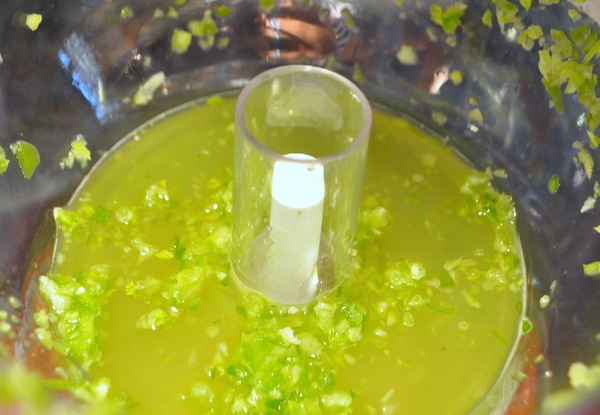 When I process the veggies, I squeeze the excess juice out.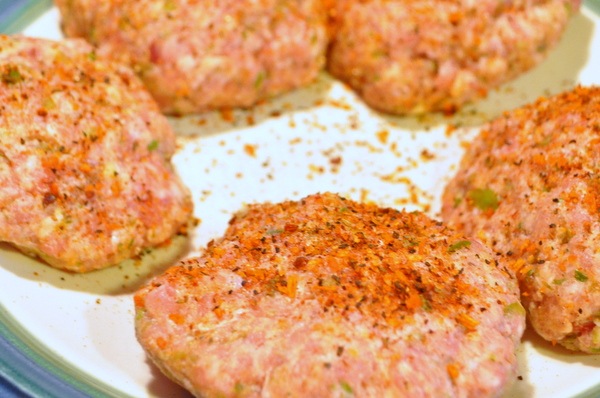 I get about five patties from one pound of meat. The kids and I don't need to eat quarter pounders.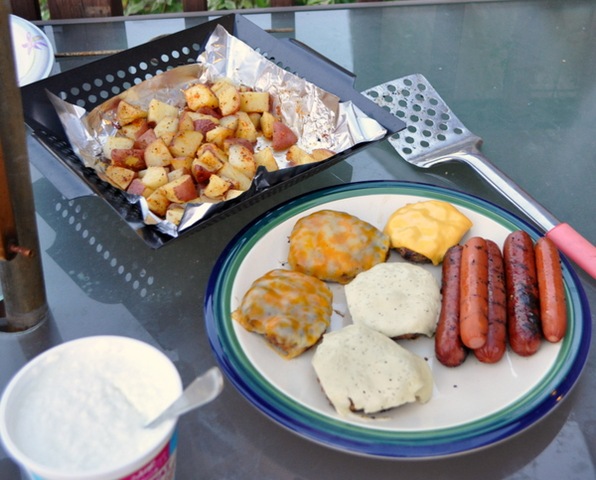 Any burger is naked without cheese…I live Havarti, The hubby likes cojack and one American for the kids.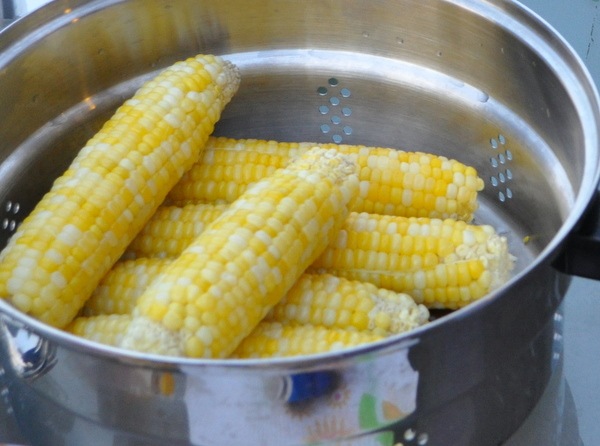 We are still enjoying some amazingly good bicolor sweet corn from our Amish hook up. I think I might need a 12-step program to stop eating this corn.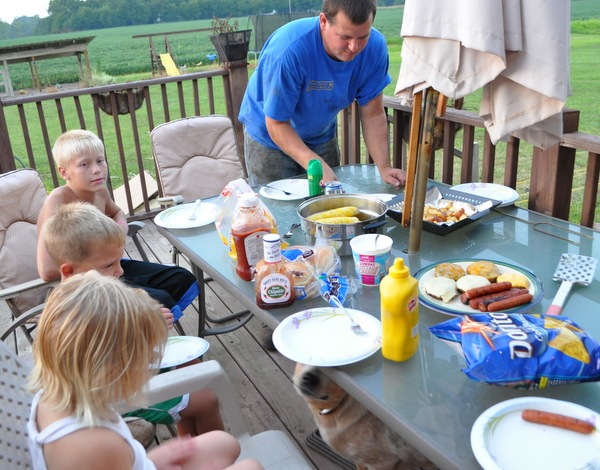 Doc wanted a bite, and Princess might be the right person to offer it.
Now that is a hunk of meat Monday!