Disclosure: *This post may include amazon links. As an Amazon Associate, I earn from qualifying purchases.
Candy corn trail mix has a combination of fall candy flavors that is just like a chocolate payday bar with the candy corn, peanut, and M&M trail mix. Nothing says, "Hello Fall!" quite like this candy corn snack mix. Thank you for pumpkin spice, apple cider, and this candy corn trail mix. Dear Brachs, could you figure out how to make candy corn for every season because this trail mix is my favorite of all trail mixes. If Reese's can figure out different shapes of their peanut butter eggs, I believe you can too.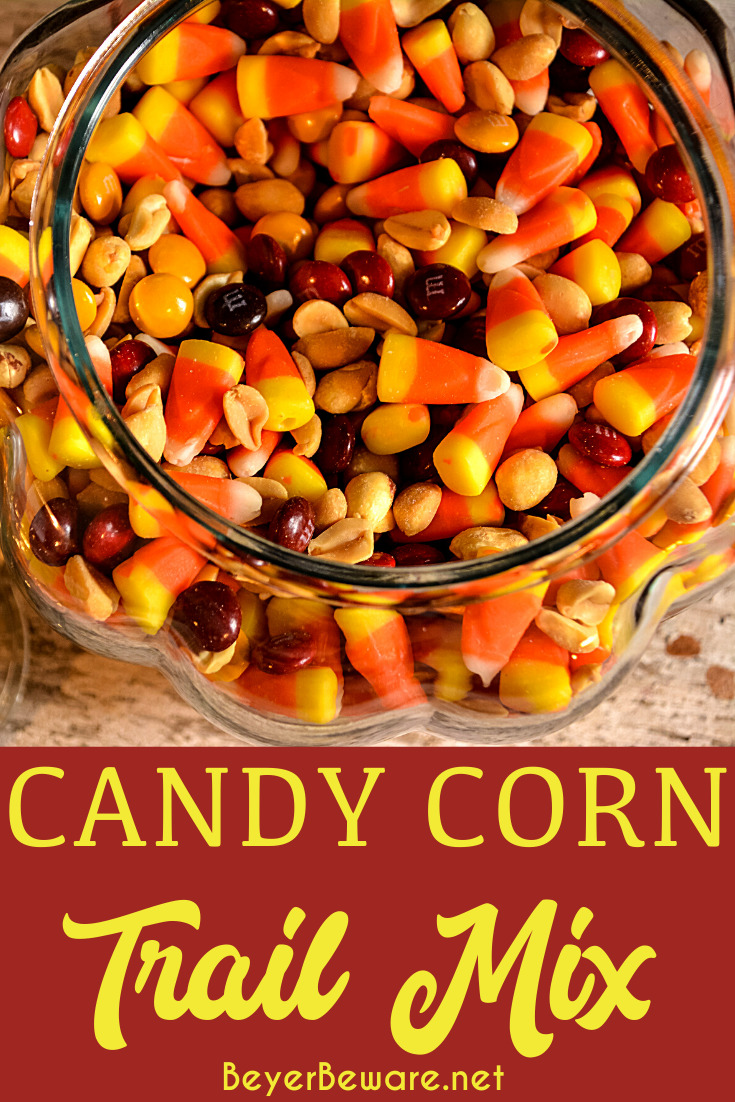 Candy corn is synonymous with Halloween, and for a good reason. Its vibrant colors and sweet, honey-like flavor make it a staple treat during this spooky season. But why limit candy corn to solo snacking when you can incorporate it into a trail mix that's as delightful as it is visually appealing?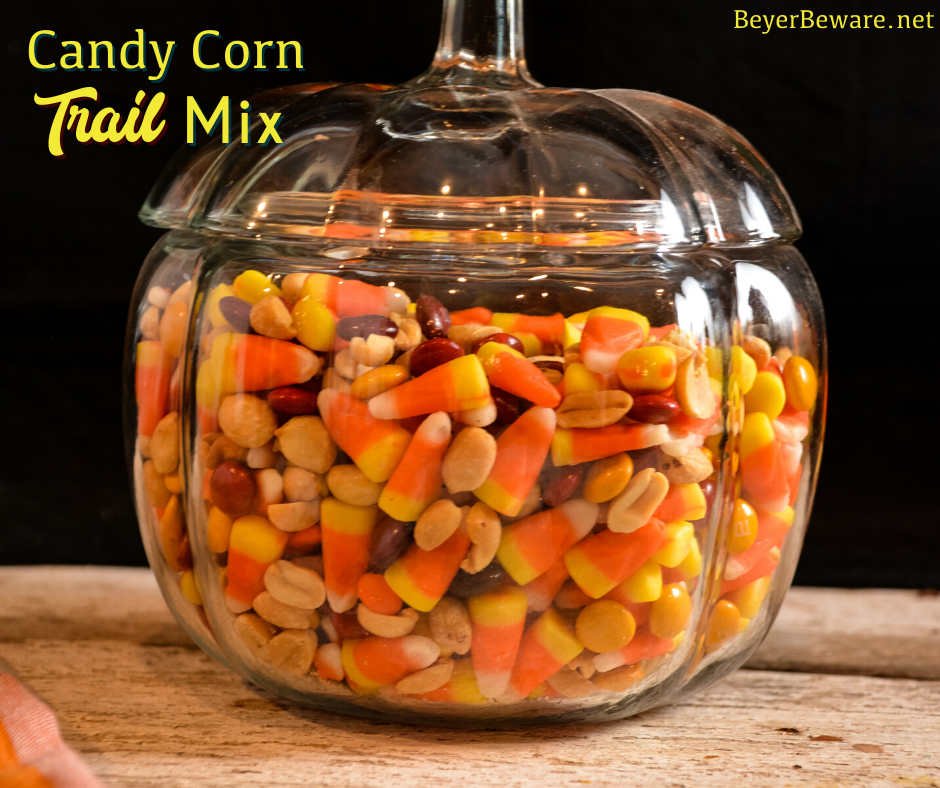 As soon as the candy corn hits the shelves, we grab bags and bags of it to make this tasty treat. This stuff is like crack. The combination of candy corn and peanuts gives you a flavor that is just like a PayDay candy bar. To take it up a notch, naturally, you need some M&Ms added to the mix.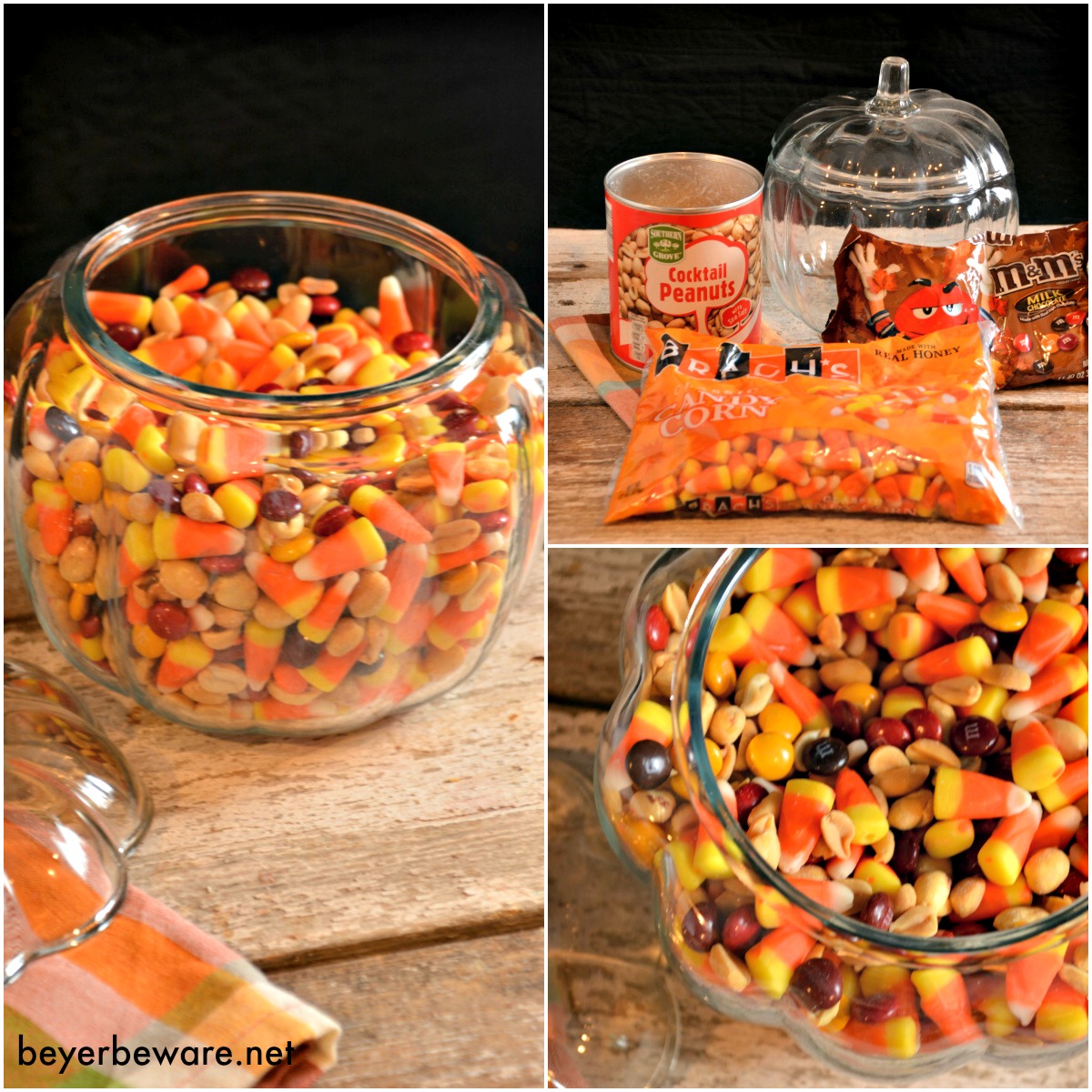 What is it about candy corn??? I mean seriously. The jelly bean doesn't have the kind of cult-like addiction the candy corn has. For some reason, I also have it in my head that first bags of candy corn always taste better. I guess because they are "fresher" pieces of the sugary splendor. But does sugar freshness matter?
What is in Candy Corn Trail Mix?
The ingredients for candy corn trail mix can be super easy with the base three ingredients of
candy corn - the star of the show! A traditional bag of candy corn works perfectly. You can also add the
peanuts - Cocktail? Dry Roasted? Spanish? Any of those types of peanuts will work for this trail mix recipe. Just make sure they are salted peanuts so the salty peanuts and sweet candy combine for the best flavors. The peanuts add crunch and protein.
M&Ms - The chocolate can come in the form of candy-coated chocolate or chocolate chips. I love the color of the fall M&Ms.
Now there can be lots of things you can add into this base trail mix for making different versions for halloween parties or harvest parties.
mini marshmallows (extra sweetness and fluffiness)
chocolate chips (because, why not?)
raisins (for a chewy contrast)
pretzels (for that perfect salty balance)
Reese's pieces (for a little more peanut flavor)
How to Make Candy Corn Trail Mix
There is not a science to this trail mix recipe. It is more like an art. The candy corn to peanut to the M&M ratio is really dependent on how much of each you really need. If you make one batch and you run out of one of the ingredients halfway through, you obviously need to work on your ratios. But to start, you could start with one package of each.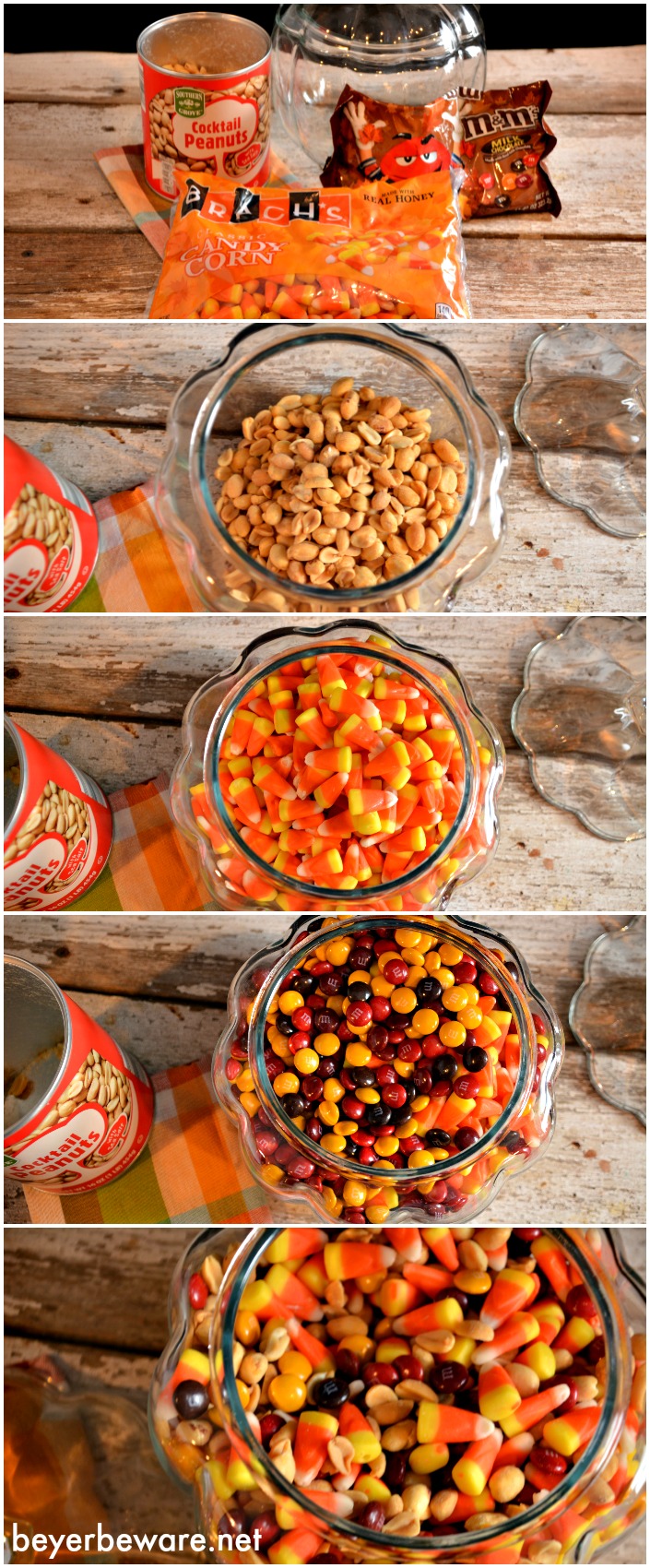 Layer It Up: Begin by adding the candy corn as the base layer in a large bowl. It's the star of the show, after all!
Toss in the Peanuts: Gently mix in the roasted peanuts, distributing them evenly throughout the mix. They'll bring a satisfying crunch and a hint of savory flavor.
M&Ms for Extra Fun: Toss in the M&Ms for a touch of indulgence. The chocolatey goodness pairs wonderfully with the candy corn's honey-like sweetness.
Stir together for the Sweet and Salty Snack Mix: Then stir the layers all together with a large spoon to blend the layers into one big candy corn party mix.
The results taste like a chocolate payday. The combination of candy corn and peanuts is just like a payday to me. Obviously, the fall colored m&ms give the mix the best fall feel, but if the regular m&ms are cheaper, it all tastes the same! Enjoy the best fall trail mix while the candy corn season lasts.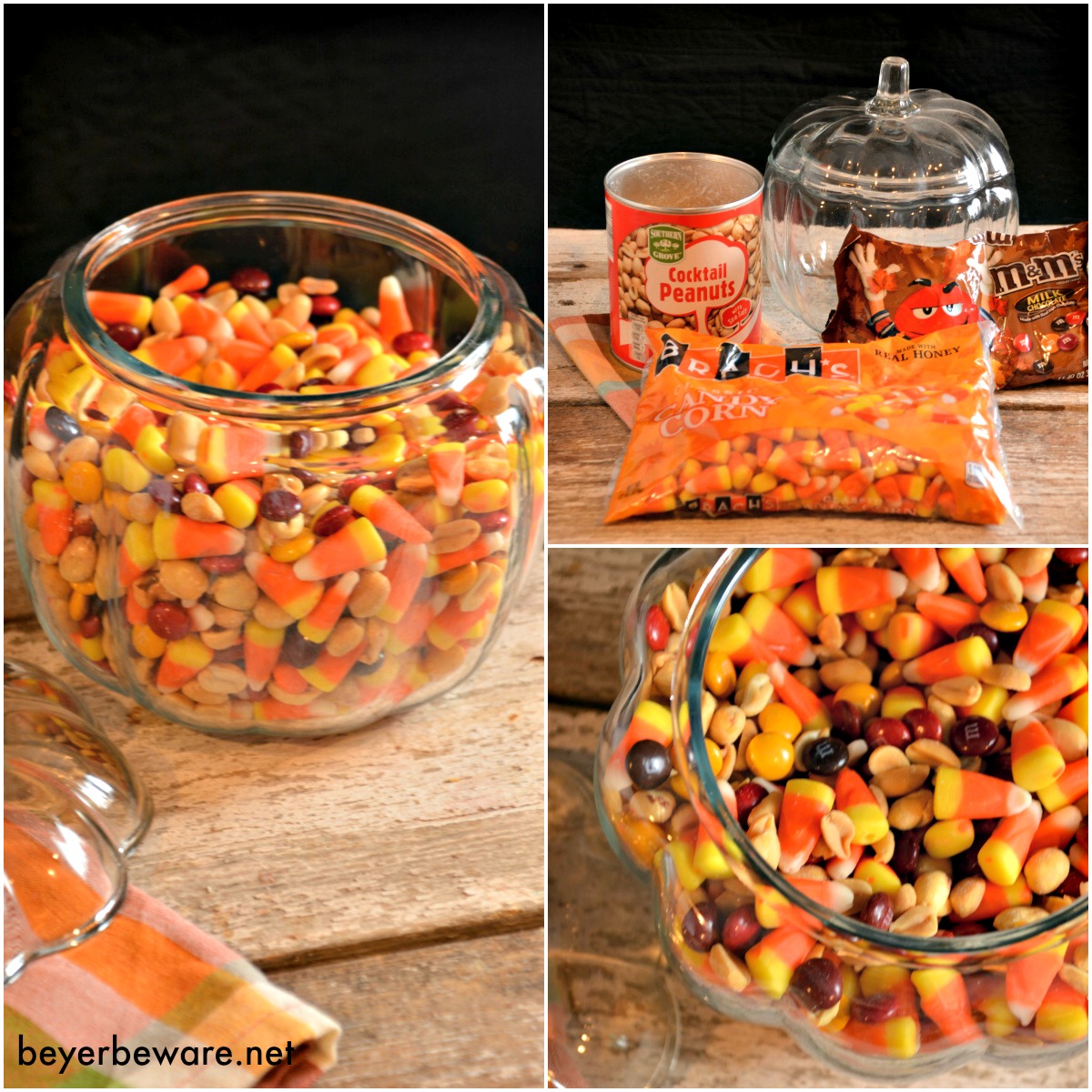 Candy Corn Trail Mix is not just a snack; it's a sweet adventure waiting to be explored. Each handful offers a delightful combination of flavors and textures, from the sweet crunch of candy corn to the salty bite of peanuts, and the creamy smoothness of M&Ms. It's a snack that's perfect for Halloween parties, movie nights, or even as a surprise treat in your lunchbox.
So, as the spooky season approaches, why not whip up a batch of this Candy Corn Trail Mix? It's a treat that captures the essence of Halloween in every bite – sweet, fun, and utterly delicious. Embrace the spirit of the season, and embark on a flavorful adventure that will leave you and your loved ones grinning from ear to ear. Happy munching!
Storing Candy Corn Snack Mix
The snack mix can be kept just on the counter in a glass pumpkin jar or in big plastic bags. Since there is chocolate in the mix, you do not want it to get warm. However, putting the mix in the fridge may cause condensation with the candy coating and the color to run.
Candy Corn Trail Mix Supplies
Get everything you need for this fall snack mix at the Amazon storefront.
Recipes Inspired by Halloween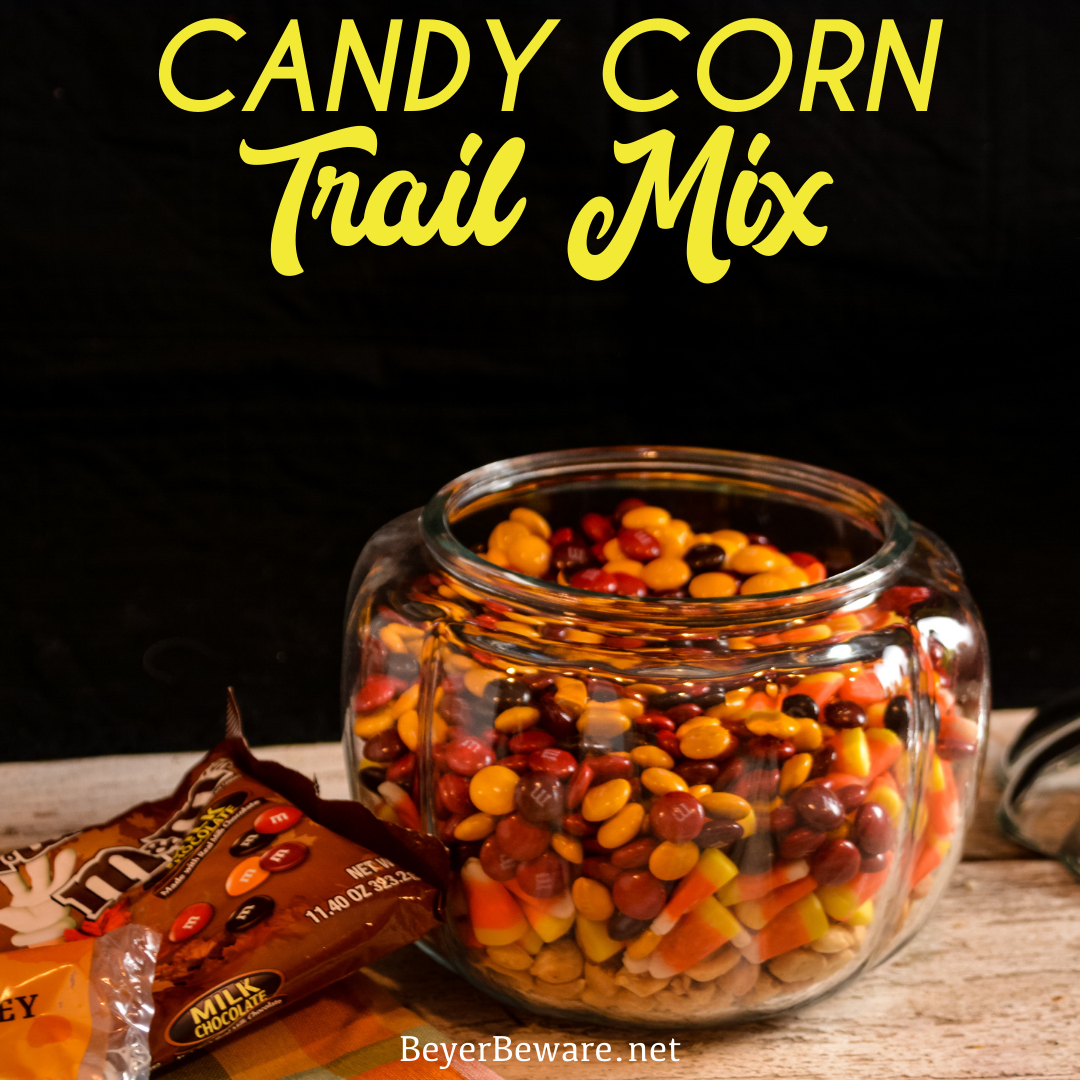 📖 Recipe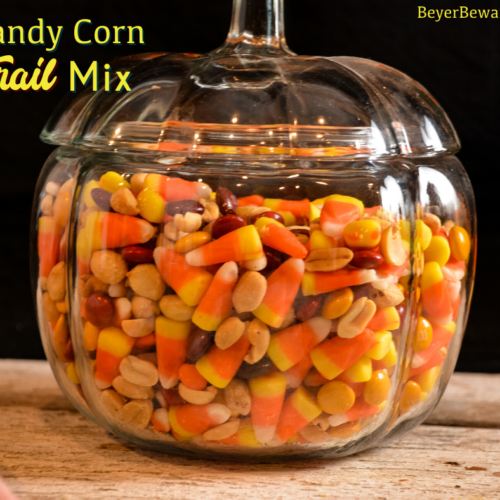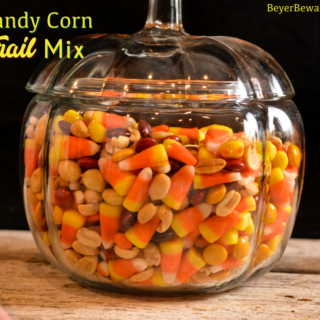 Candy Corn Trail Mix
Candy corn trail mix has a combination of flavors that is just like a chocolate payday bar. One of our favorite treats of fall.
Print
Rate
Ingredients
12

ounces

Cocktail Peanuts

11

ounces

Candy Corn

10

ounces

Candy Coated Chocolate Pieces like M&Ms
Instructions
Mix equal parts of the peanuts, candy corn and chocolate pieces together.

Enjoy all fall long!

Adjust the ratio dependent on how your family eats the trail mix.
Nutrition
Calories:
378
kcal
|
Carbohydrates:
45
g
|
Protein:
9
g
|
Fat:
19
g
|
Saturated Fat:
6
g
|
Polyunsaturated Fat:
5
g
|
Monounsaturated Fat:
6
g
|
Trans Fat:
1
g
|
Cholesterol:
4
mg
|
Sodium:
208
mg
|
Potassium:
220
mg
|
Fiber:
3
g
|
Sugar:
36
g
|
Vitamin A:
53
IU
|
Vitamin C:
1
mg
|
Calcium:
56
mg
|
Iron:
1
mg