Disclosure: *This post may include amazon links. As an Amazon Associate, I earn from qualifying purchases.
Crockpot Biscuits and Gravy Casserole is a slow cooked combination of grands biscuits with country sausage gravy for an amazing breakfast casserole that isn't egg based. My family loves biscuits and gravy. Hands down it is our favorite breakfast dish. With our crazy, erratic schedules, it can be hard to have this ready for everyone's different schedules. So, this weekend I just combined my favorite sausage gravy recipe with some refrigerator biscuits for this crock pot biscuits and gravy casserole recipe.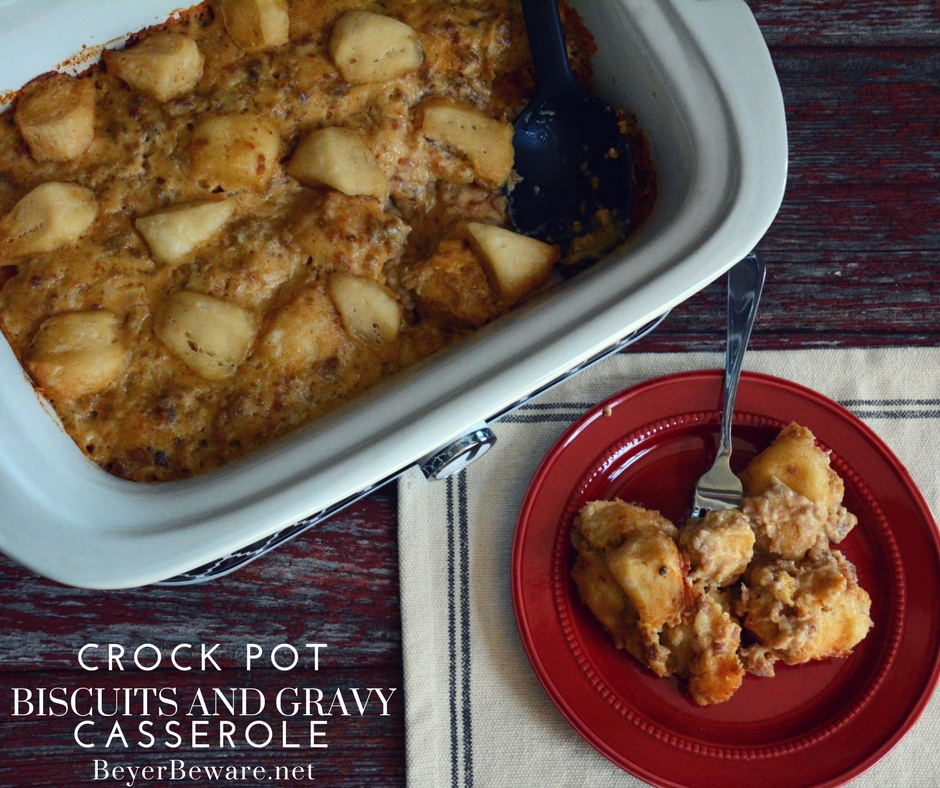 Biscuits and Gravy Casserole Ingredients
To make this biscuits and gravy casserole you will need the following ingredients:
Breakfast Sausage - Ground Pork and Seasoning works too
Grands Biscuits
Butter
Flour
Milk
How to make Biscuits and Gravy Casserole
There are two components to success for this recipe: biscuit pieces and sausage gravy. Let's start with the biscuits. I cook the biscuits in the crock pot as I make the sausage gravy. All you need is one can of the regular sized large southern style biscuits. There will be eight biscuits in the can. Quarter six of the biscuits and put on the bottom of a casserole crock pot.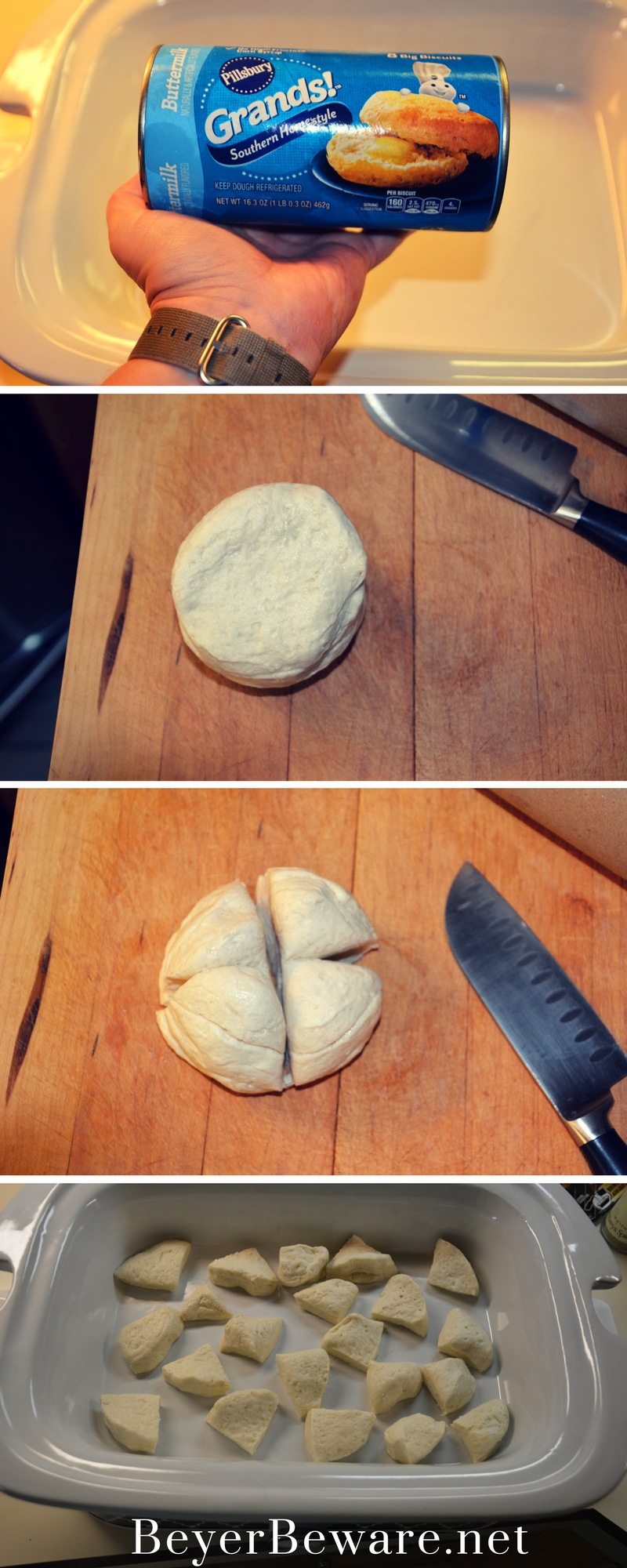 Cook on high while you prepare your sausage gravy. Keep the two remaining biscuits for the top.
How to Make Sausage Gravy
The sausage gravy recipe is my homemade country gravy recipe I also use for traditional biscuits and gravy. For the sausage gravy, I use one pound of ground pork and add breakfast sausage seasoning. This is just because we have a freezer full of pork from butchering our 4-H pigs.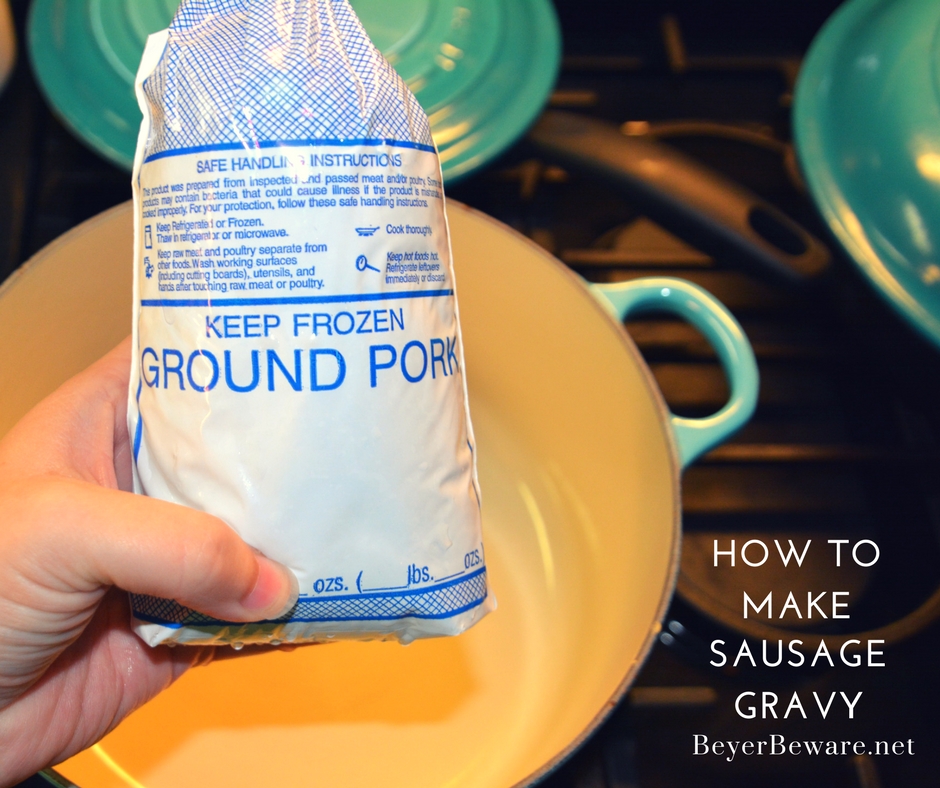 You can feel free to just buy a pound of breakfast sausage already seasoned at the store. You will find several great options by the bacon in the meat and cheese area of the grocery store. But just in case you want to also buy fresh ground pork and add your own breakfast sausage seasoning, I use Penzey's version.
Continue to brown the sausage till completely cook and then add another two tablespoons of butter. Do not drain the fat created from cooking the sausage either. Once the butter is completely melted, stir in flour till completely absorbed into the fat and meat and let it fry one more minute before adding the milk. Slowly keep adding the milk and stirring constantly.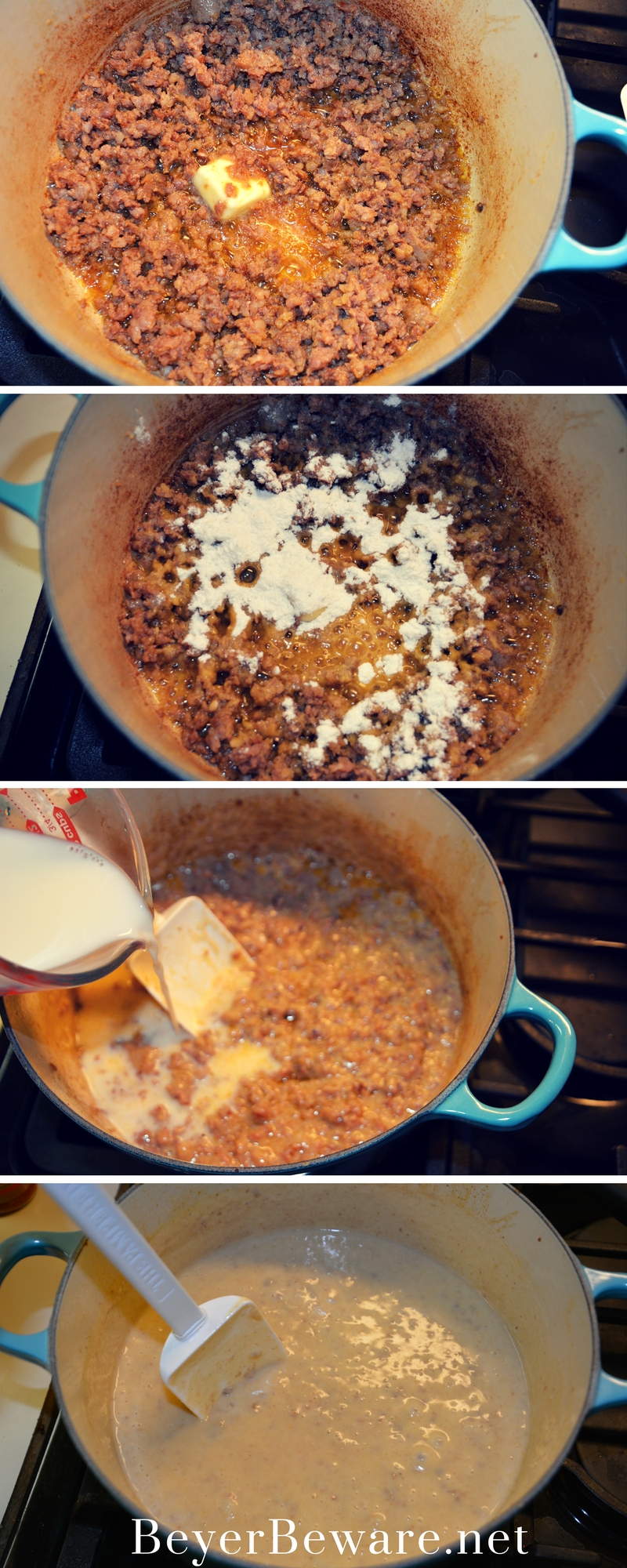 Let the gravy bubble for one minute once all the milk is completely incorporated. At this point, you are ready to add the gravy to the crock pot over the biscuits.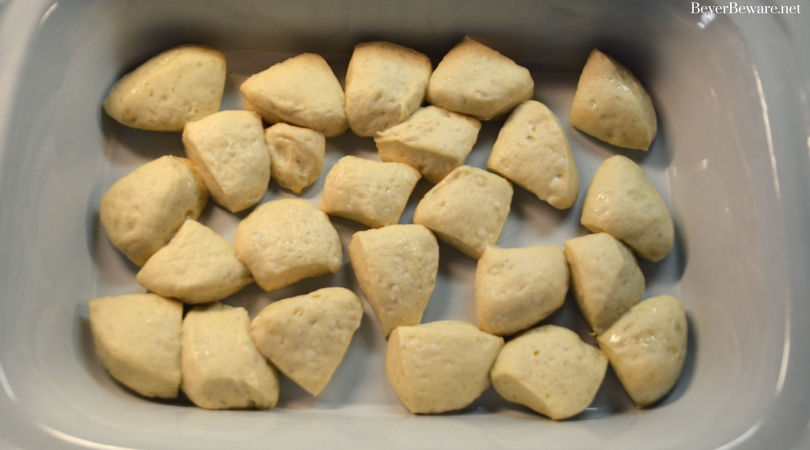 For this casserole a runnier gravy is better, so this should pour very easily. Be sure to move the gravy pan around the entire crock pot to get the gravy completely spread out.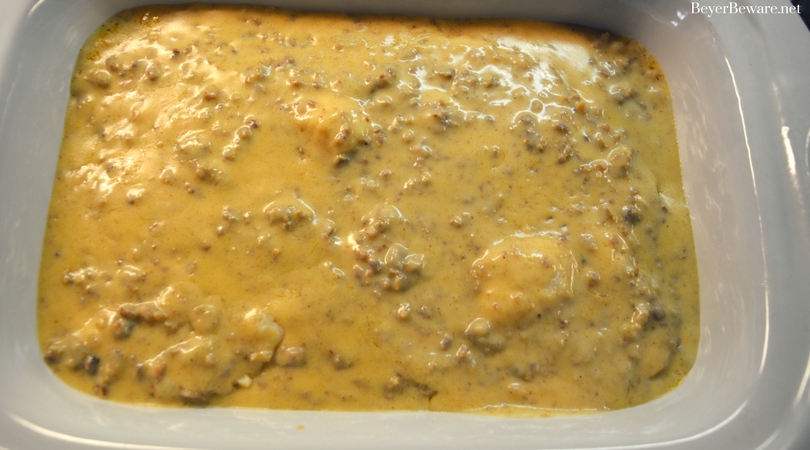 Top the gravy with the two remaining biscuits. I actually cut the biscuits into eight pieces for the top instead of just four pieces like I did on the bottom. Cook this casserole on high for 2 hours and then move the temperature setting to warm.
Tips for Making Breakfast Casseroles in the Crock Pot
A couple of times to get the condensation off the lid. This isn't necessary, but it helped my biscuits cook to a harder doneness rather than a gooey to touch doneness.
Casserole crock pots work the best for this but you can use a traditional crock pot. The cook time may vary since the casserole will be thicker.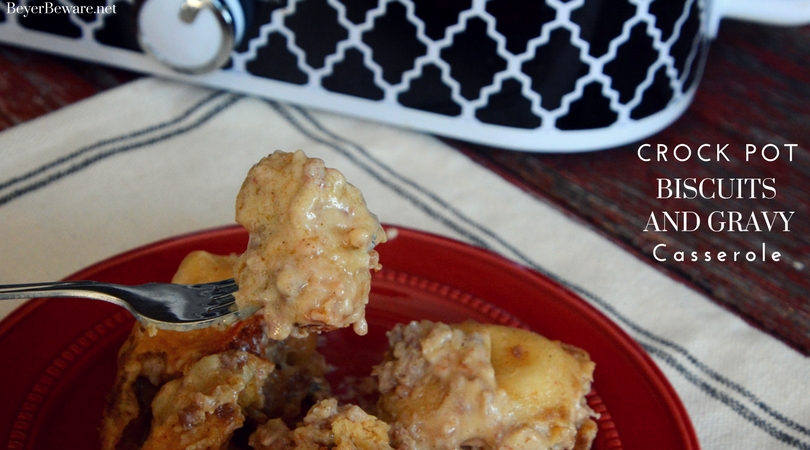 You will want to dig right into this casserole if you are a biscuit and gravy lover like my family is.
Breakfast Recipes
Homemade Sausage Gravy - Easy Biscuits and Gravy
Crock Pot Scrambled Egg Casserole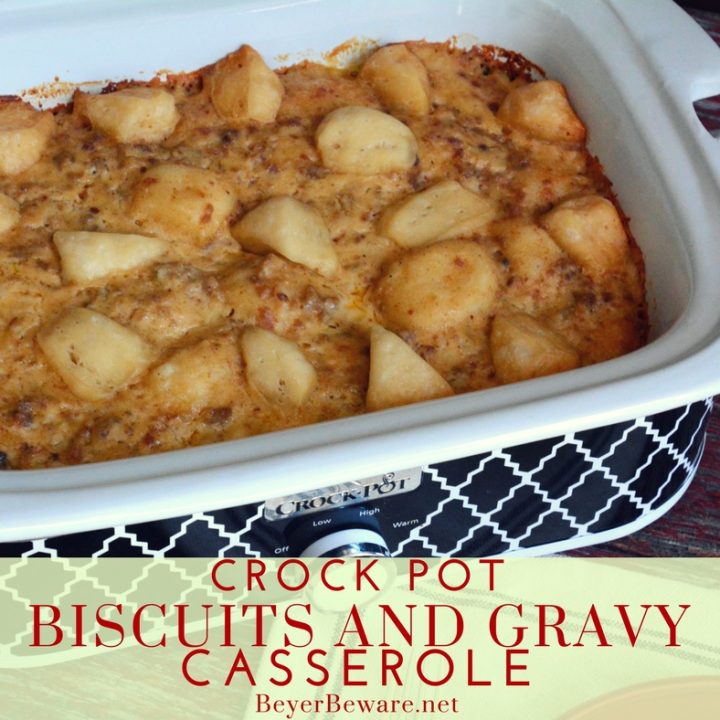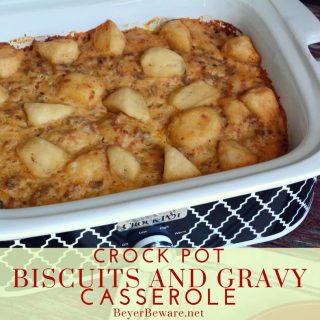 Crock Pot Biscuits and Gravy Casserole
Want to feed a crowd biscuits and gravy easily? Look no further than this crock pot biscuits and gravy casserole recipe that can be kept warm all morning.
Print
Rate
Ingredients
1

can of large refrigerator biscuits

8 count

1

pound

of breakfast sausage

2

tablespoons

butter

4

tablespoons

flour

3

cups

milk

salt and pepper to taste
Instructions
In the bottom of a casserole crock pot set on high heat, place six biscuits cut into quarters in a mosaic pattern. Cook biscuits on high while making gravy.

In a large saucepan, brown breakfast sausage till cooked completely over medium-high heat. Do not drain grease.

Add butter to browned sausage. Stir into meat till melted.

Stir in the flour, one tablespoon at a time. Dissolve completely and cook an additional minute.

Slowly pour milk into the meat and flour mixture ½ cup at a time. Stir the entire time until the pot begins to bubble and all milk is completely incorporated.

Continue stirring for one minute after it begins to bubble. Remove from heat.

Pour over top of the already cooking biscuits.

Top the gravy with the remaining two biscuits cut into 8 pieces each.

Cook on high for two hours.
Affiliate links were used in this post.
Find other great recipes at the weekly Meal Plan and Weekend Potluck.