Disclosure: *This post may include amazon links. As an Amazon Associate, I earn from qualifying purchases.
I have figured out how to eat chicken at our house. Add buffalo marinade, butter, and ranch seasoning. Hello juicy, flavorful roasted buffalo chicken.
Roasted Buffalo Chicken
Besides being downright delicious, it was also so simple. I had bought a whole chicken and washed it with cold water, pulled the neck, gizzard, and liver out of the inside and placed in a large Ziploc bag.
I have had this bottle of buffalo wing sauce and marinade sitting in the pantry for a while waiting for me to make wings. But I thought maybe I could make a killer roast chicken with it instead.
I just poured about a cup all over the chicken, outside and inside.
It marinaded for a few hours in the fridge before I roasted it. To prep for roasting, I cut up about 5-6 pieces of celery and put inside of the chicken's cavity.
I put 2 tablespoons of softened butter and a ½ teaspoon of ranch mix in with the celery as well.
I melted two more tablespoons of butter and poured the remainder of the ranch mix envelope into the melted butter.
After putting the chicken in the deep covered baker
breast side up, I simply spooned the ranch and butter mixture over the chicken.

I baked the chicken at 350 degrees for 1 hour and 15 minutes. I would baste the chicken several times during the baking time to make sure plenty of moisture was getting into the chicken. When I pulled it out of the oven, I let it rest for about 15 minutes before slicing.

The results were just how I had imagined. Juicy with a hint of heat. Even if you don't like a lot of heat in your food, you will love this. Both of the kids ate a leg plus several slices of chicken breast.
Hoping you have some more great recipes to share. I have to admit...these spicy Dr. Pepper pork sandwiches inspired me to make my own creation this week.
📖 Recipe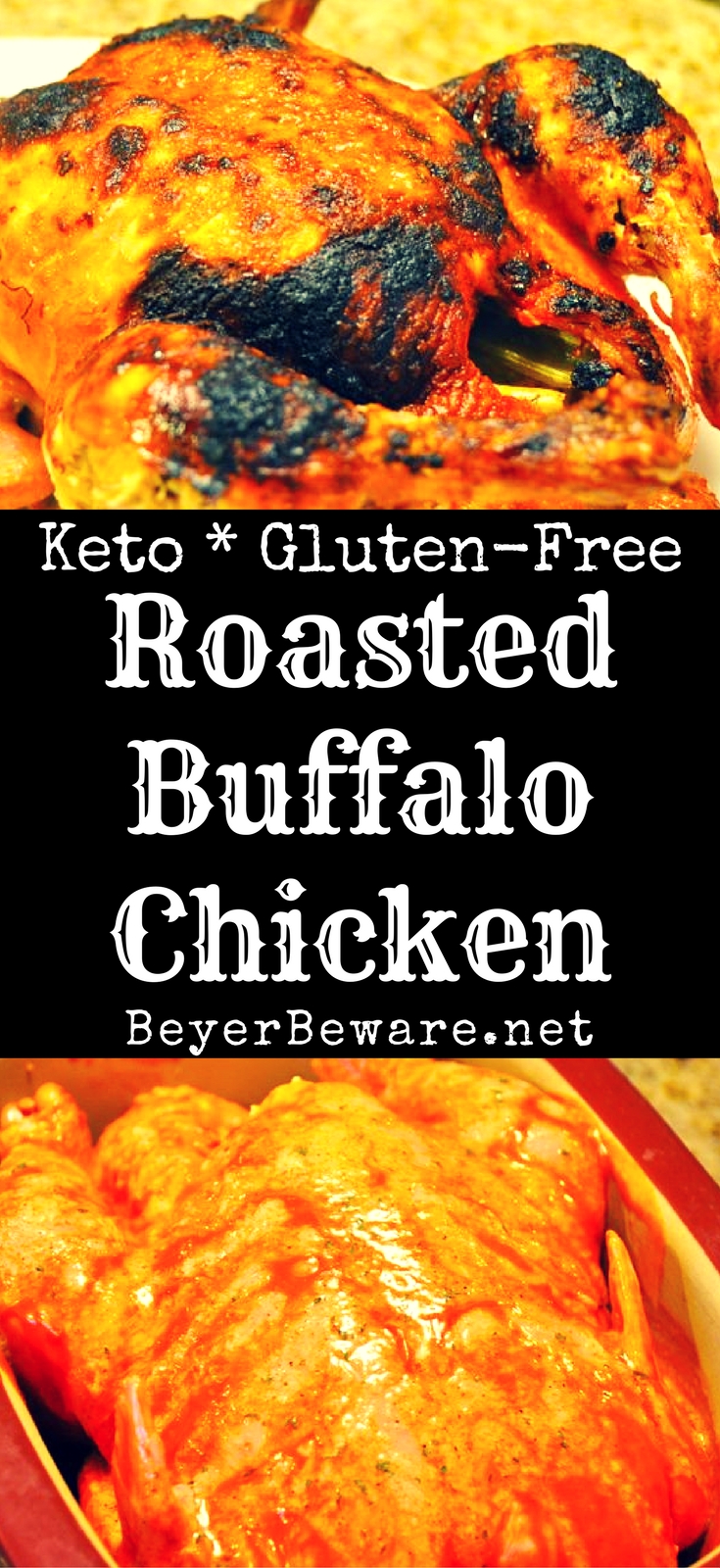 Affiliate links were used in this post.