Disclosure: *This post may include amazon links. As an Amazon Associate, I earn from qualifying purchases.
A few weeks ago I made some lemon basil chicken. I made quite a bit since I was making it for a group of people to come over. Since I had the chicken grilled up I made up the PW's grilled chicken with lemon basil pasta for the kids. Since the hubby was out of town no one would complain about having chicken. But, then I had a whole bunch of pasta leftover and still piles of chicken. I had to plot how to convince eating chicken for supper would be ok. After a quick once-over of the meat and cheese drawer I figured out a little Swiss cheese and some ham might be the trick. So, I bring you chicken cordon bleu casserole with a lemony twist.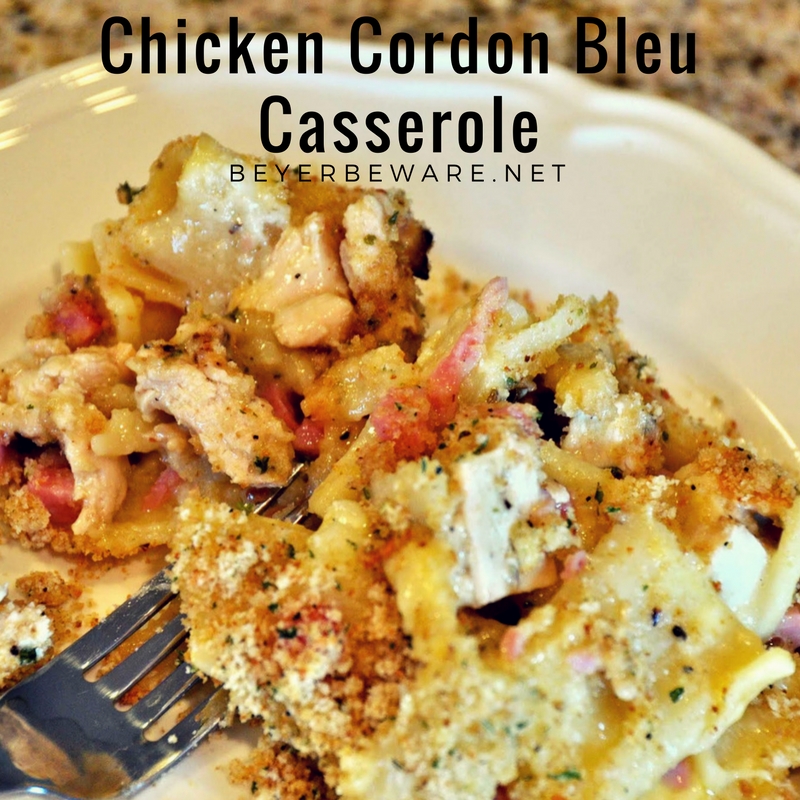 I must admit, after seeing the chicken cordon bleu lasagna from My Kitchen Apron, I think I will try her recipe as well. It looks awesome!
Chicken Cordon Bleu Casserole Ingredients
For my chicken casserole, I used a lot of leftovers but this can completely be made with non-leftovers as well.
Cooked Chicken: You can use leftover lemon basil chicken or even rotisserie chicken in this recipe. Just cooked diced chicken for the base of the recipe.
Cubed ham: This can be bought already cubed or buy a large whole piece and cube it.
Swiss Cheese: Shredded Swiss cheese. If you can't find already shredded, just buy a block and shredded it at home.
Pasta: Penne, ziti, or rigatoni is what I recommend but don't be afraid to use elbow macaroni or bowtie pasta either.
Cream of chicken soup: One can is all you need, low sodium or regular, use what you got.
Milk: Whole, skim, or something in between. In a pinch, evaporated milk will work too.
Lemon Pepper Seasoning: I have used [amazon_textlink asin='B00GDOSBLM' text='McCormick's Lemon Pepper' template='ProductLink' store='farmwifedrink-20' marketplace='US' link_id='e108768e-fa91-4376-b9e4-2ffa4a5137cd'] and [amazon_textlink asin='B01LY65PQO' text='Lawry's Lemon Pepper' template='ProductLink' store='farmwifedrink-20' marketplace='US' link_id='886dcb9f-03b6-4d2c-8edd-12048d8dfc07']. Both are great.
Breadcrumbs: I always have a [amazon_textlink asin='B00099XO50' text='can of breadcrumbs' template='ProductLink' store='farmwifedrink-20' marketplace='US' link_id='7f1c2feb-ae10-493e-95a3-324ff43177b6'] on hand
Butter: The real seal deal. Cream and salt stick of butter.
How to make Chicken Cordon Bleu Casserole
Prepare the pasta according to the package directions. Also, feel free to use leftover pasta. Just know you will need at least 12 ounces if not a whole pound of pasta. Cook the pasta to al dente. Add the cheese and 1 cup of milk to the pasta and combine.
For extra creaminess, I added a can of cream of chicken soup and then added the cut-up chicken and a cup of cubed ham.
Pour into a 13 x 9 pan.
Since mine had a lemon base to the chicken and pasta, I sprinkled the top of the pasta with lemon pepper.
I melted 2 tablespoons of butter and mixed in 1 cup of breadcrumbs. I poured over top of the casserole.
Bake at 350 degrees for about 20-25 minutes until bubbly.
The casserole was fantastic. The kids loved it and the hubby even ate leftovers:) Double win!
Cordon Bleu Recipes
Low-Carb Chicken Cordon Bleu Soup
Low-Carb Chicken Cordon Bleu Casserole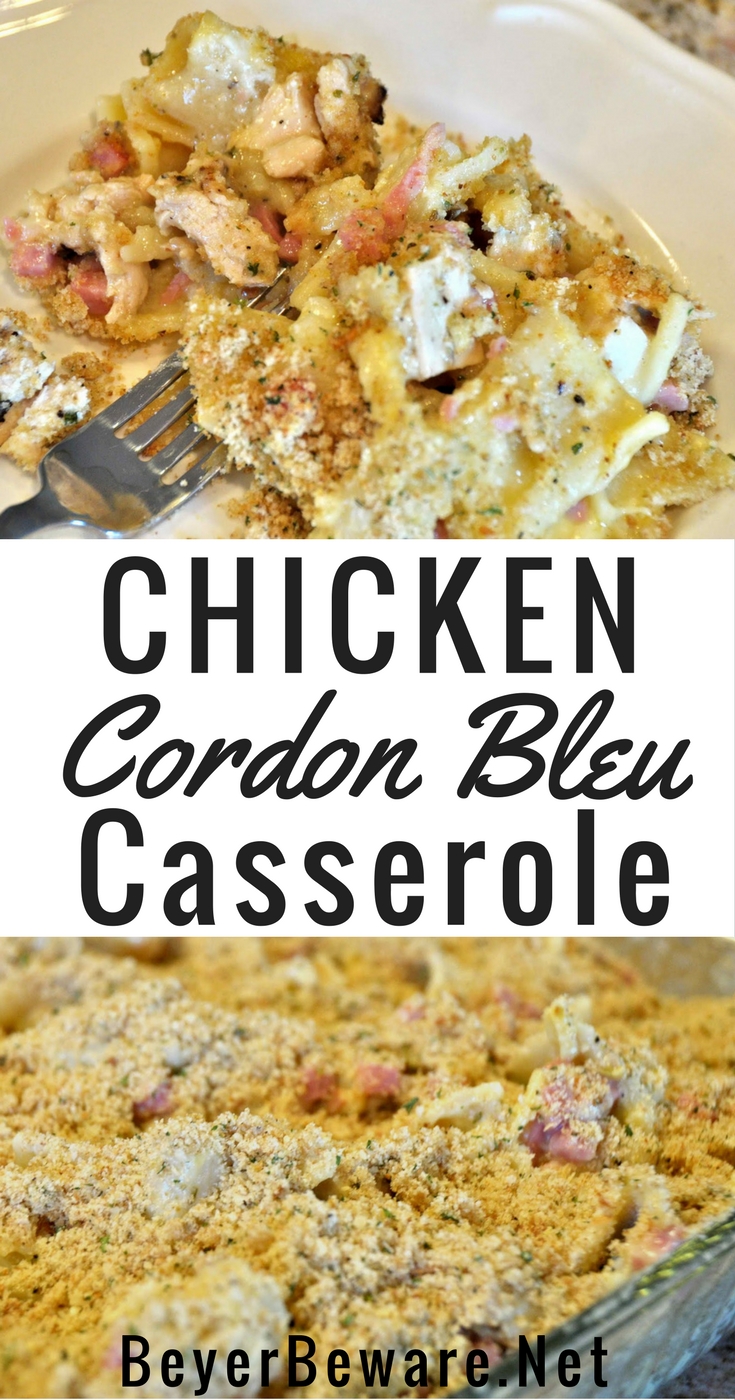 📖 Recipe
What do you have cooking this week? Link on up. No rules except show me the meat. Enjoy getting new ideas for you too!
Linked to:
Melt in your mouth Monday
Tasty Tuesday