Disclosure: *This post may include amazon links. As an Amazon Associate, I earn from qualifying purchases.
I am telling you some days I want to lick my crock pot clean. The day I made this meal was one of them. Crock Pot bacon wrapped Italian chicken is a creamy, tender crock pot chicken recipe full of rich flavors with a creamy sauce that is perfect served over pasta.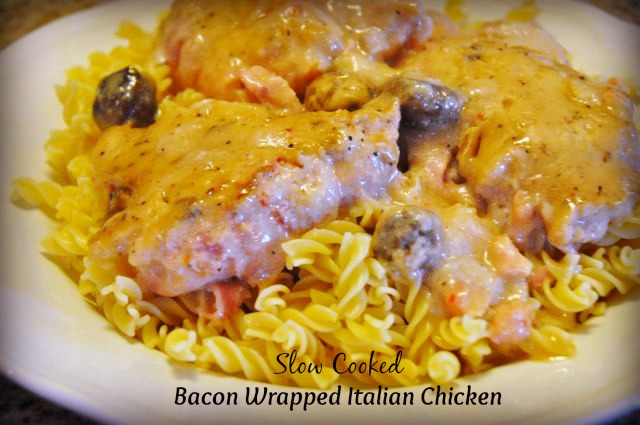 Crock Pot Bacon Wrapped Italian Chicken
Please meet bacon wrapped Italian Chicken. You will not regret meeting. Trust me. No run to the grocery store and buy bacon and skinless, boneless chicken thighs.
I wrapped each chicken thigh with a slice of bacon. I cut apart one of the thighs to make two smaller pieces for the little people in my house.
Then place the chicken in the bottom of your crock pot. I of course use crock pot liners
.
Then gather a few of the other ingredients you need for the sauce.
I used ½ cup of sour cream, but cream cheese could also be used, 1 can of cream of mushroom soup and one envelope of Italian seasoning mix as well as ⅓ cup of flour.
Mix together completely.
Since I used cream of mushroom soup I added a handful of whole mushrooms to the crock pot.

I then spread the Italian seasoning mixture over the chicken and mushrooms.
I cooked on low for 4-6 hours.
I cooked up some pasta right before dinner time.
I spooned the chicken over the pasta.
It was so good that our non-meat eater even had two helpings. I think it was the bacon. The chicken was so tender it fell apart as soon as the fork touched. Mouthwatering...
📖 Recipe



What do you have cooking this #hunkofmeatmonday? Can't wait to check your recipes out!