Disclosure: *This post may include amazon links. As an Amazon Associate, I earn from qualifying purchases.
One of the great things about buying meat in bulk is the price savings you can get. Recently, I bought this whole pork loin. Now, this here is the definition of a hunk of meat! the first thing I made with this pork loin is jalapeno and Pepsi pork loin. The sweetness of Pepsi with the heat of the jalapeno combine to make a juicy and flavorful marinade for this jalapeno and Pepsi pork loin.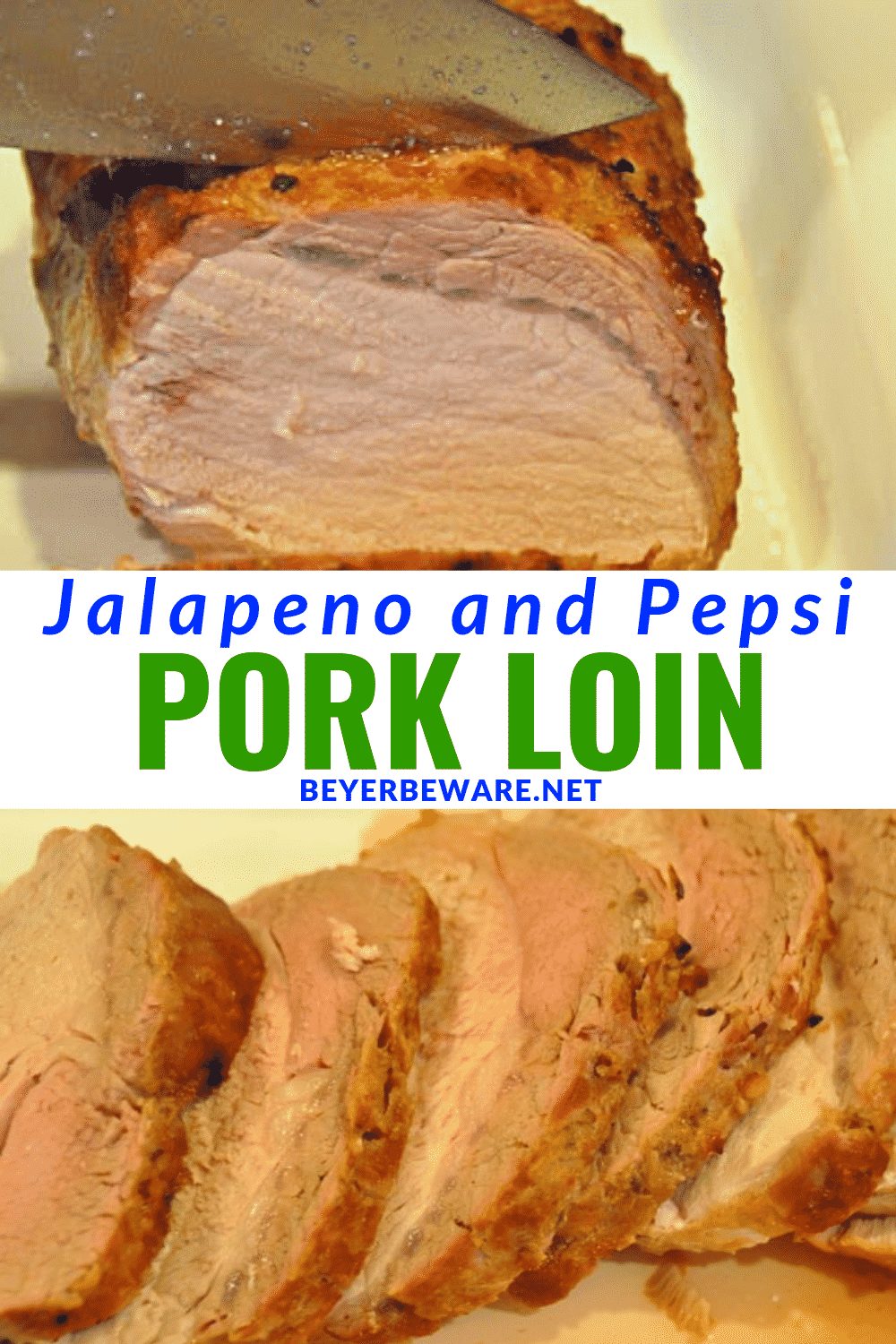 If you are looking for a new oven baked pork loin recipe, look no further. This will be one of your new favorite pork marinade recipes.
Jalapeno and Pepsi Pork Loin

Now when you buy a nearly 9-pound piece of meat, it can be a bit overwhelming. I break mine down to get 3+ meals out of it. The reason I say 3+ is because this is perfect for feeding crowds.
Breaking it down is pretty simple and has gotten even easier with the meat companies putting helpful guides on the meat as well.

When we had family over to celebrate a birthday, I used the two ends of the loin, the boneless rib roast, and the boneless sirloin roast. I then cut the middle portion into inch thick chops and put in the freezer for future stuffed pork meal.
I made this Jalapeno and Pepsi Pork Loin in the oven for dinner. With the help of my food processor, I mixed together with the marinade of Pepsi or Coke, jalapenos, onion, garlic, soy sauce, honey, olive oil, and ginger.

Pour the marinade over both roasts in a gallon zipper bag. You want the loins covered in the marinade.

Let them marinate for a few hours or overnight. The remove the roasts and place in a roasting pan or dutch oven. Sprinkle the loins with salt and pepper as well.

Roast the pork on 350 for about an hour in the oven or on a grill. Use a meat thermometer and take the roast out to rest when the temp reached 150 degrees. As the meat rests it continues to cook and will rise another five degrees in temperature.

I realize we were all raised eating pork white and dried out, but pink pork is perfectly safe to eat. Now that we raise our pigs mainly in barns, they are not exposed to various bugs and other items that live in the soil. So, the need to cook pork until it is overcooked and dry isn't necessary.

Easy Pork Recipes
Cheesy Brown Sugar and Garlic Pork Chops
📖 Recipe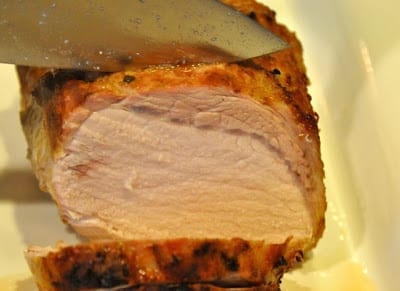 Pepsi and Jalapeno Pork Loin
Jalapeno and Pepsi Pork Loin has the sweetness of Pepsi with the heat of the jalapeno to make a juicy and flavorful marinade for a pork loin.
Print
Rate
Ingredients
2-3

pound

pork loin

1

can of Pepsi or other cola not diet

¼

cup

honey

⅓

cup

soy sauce

1-2

jalapenos

seeded and sliced

2

cloves

of garlic

1

onion

sliced

1

teaspoon

ginger

1

teaspoon

salt
Instructions
Place the pork loin in a Ziploc bag.

Mix the Pepsi, honey and soy sauce together in a bowl.

Blend the remaining ingredients in a food processor. Pulse a few times then add to Pepsi mixture.

Pour Pepsi and vegetable mixture over pork loin and marinade overnight.

Cook on a grill or in oven on 350 for 45 degrees or until the center of the pork loin reaches 155 degrees.
Nutrition
Calories:
1560
kcal
|
Carbohydrates:
88
g
|
Protein:
213
g
|
Fat:
37
g
|
Saturated Fat:
11
g
|
Cholesterol:
572
mg
|
Sodium:
7099
mg
|
Potassium:
3761
mg
|
Fiber:
3
g
|
Sugar:
76
g
|
Vitamin A:
151
IU
|
Vitamin C:
27
mg
|
Calcium:
97
mg
|
Iron:
7
mg
What are you all cooking up? Can't wait to see some of your great recipes. Last week had some popular recipes. Be sure to check out these favorites.