Disclosure: *This post may include amazon links. As an Amazon Associate, I earn from qualifying purchases.
Ranch Oven Fried Chicken is always a favorite chicken recipe. The secret to always being devoured, oven fried ranch chicken uses mayonnaise, ranch seasoning, and Rice Krispies to form juicy, crunch ranch oven fried chicken.
Oven-Fried Ranch Chicken is always easier to clean up since there is no grease from frying it.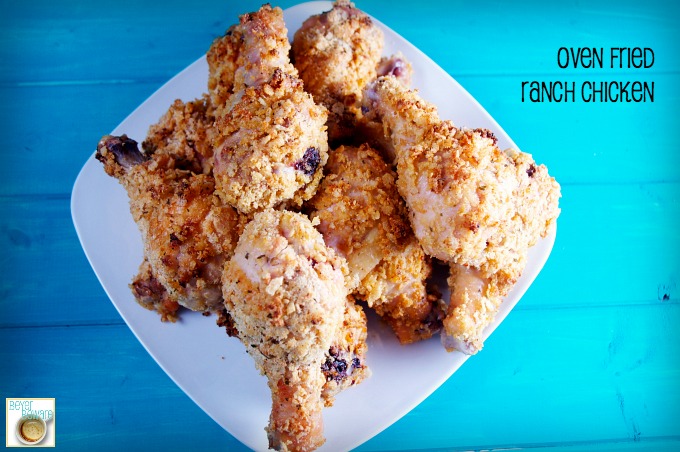 In honor of my princess's birthday, she got to pick dinner out last Monday. She was very, very specific...chicken legs, mashed potatoes, corn, and green beans. Gotta baby. Your wish is my command. 
It is so hard to believe that my baby is 5! Because that means I am on the brink of having two kids in school full-time. I feel like I should be in school full-time still. How does this happen? So, I interrupt this recipe with some birthday love for my baby.
She had quite the birthday and finally got the doll all little girls await...the American Girl doll.
How to Make Oven Fried Chicken
I didn't want the big old grease mess of making fried chicken, so I decided oven-fried would have to work for the birthday girl. I must admit, when a girlfriend at ballet said just drive through KFC, I was tempted. I am glad I didn't because now I have a 5 ingredient oven-fried chicken recipe that is fantastic!
The secrets to this out-of-the-world oven fried chicken...
I started by crushing up 3 cups of Rice Krispies.
Then I added ½ cup of Parmesan cheese to the Rice Krispies.
I added half of the 1-ounce ranch dip mix envelope to the cereal and cheese.
Mix it all together.
But the crispy has to stick to the chicken. So, I mixed one cup of mayo with the other half of the ranch seasoning.
Now you are ready to get the chicken coated. Begin by spreading the mayo/ranch mix all over the chicken and then toss with the Rice Krispy mix.
I then placed in a cooking stone casserole pan.
I baked it for about 45 minutes on 350 degrees.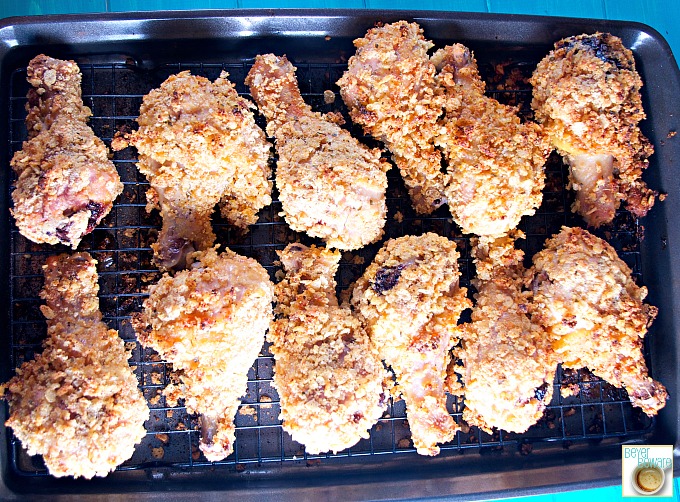 The result was a golden deliciousness. The birthday girl had two chicken legs she liked them so much! We had some leftovers that also made some yummy suppers that were quick and easy to make.
Baked Chicken Recipes
Nothing beats a great oven roast chicken or oven baked chicken recipe.
📖 Recipe
Can't wait to see what you have baking up this week. I hope you all have a very Merry Christmas!!