Disclosure: *This post may include amazon links. As an Amazon Associate, I earn from qualifying purchases.
Trying to feed a swimmer can at times feel like feeding a child who hasn't had food in days. On swim meet days I have started feeding my son a hearty breakfast of eggs and carbs, spaghetti eggs. You read that correctly. Spaghetti. Eggs. Together in one dish. And don't knock it till you try it.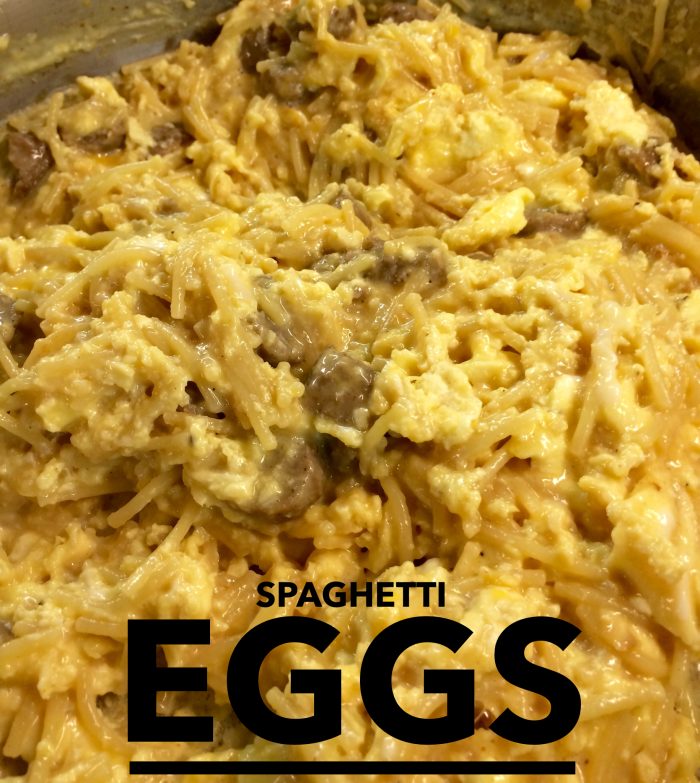 It is really an easy breakfast that even the whole family has grown to enjoy on swim meet day. Since we also seem to have eggs coming out of ears again. Use whatever eggs you normally buy. There seems to be this myth that brown shelled eggs or free range eggs or organic eggs are better for you. Well, of course someone has studied this. We have studied everything under the sun.
But, really research says: housing environment (free-range or caged) does not impact the egg levels of vitamin A or vitamin E. However, β-carotene levels were higher in the range eggs, which may have contributed to the darker colored yolks observed in these eggs during the study. The study also found no difference in cholesterol content between free-range- and cage-produced eggs. No difference. So buy what fits your grocery budget.
Back to feeding my swimmer. The kid seems to be unfillable. Complete bottomless pit. And he is only 10. I feel for the parent's of teenagers. I truly don't know how you afford to feed them. Another reason why I love spaghetti eggs. Pasta and eggs are both affordable base ingredients.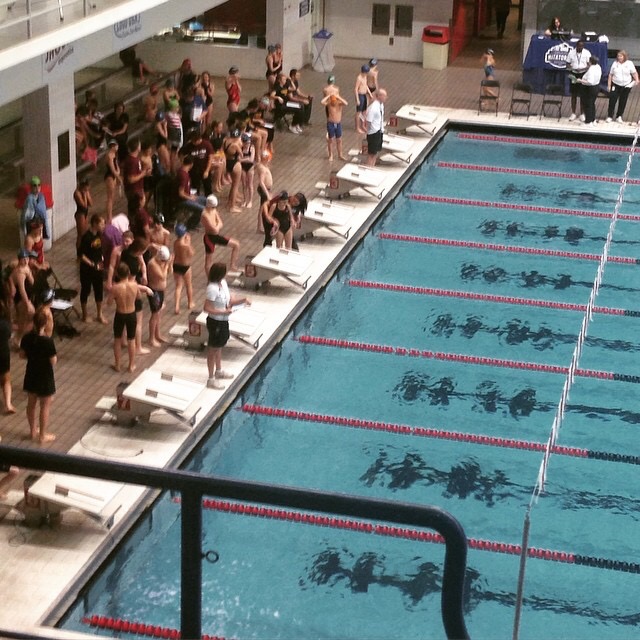 I start by cooking cut spaghetti according to the package instructions. While doing that I also cook whatever meat has been requested. Today it was sausage links. Once the spaghetti is cooked I add it to a large skillet, pour scrambled eggs over top and then top with cheese and sausage. 
Stir the eggs to cook and mix cheese and sausage through out the combination. Then stand back and let the crew eat. Protein is such an important part of an athletes diet, but so are carbs. And between the eggs, meat, cheese, and past, my swimmer is set to explode with energy all through the meet. Hopefully, your athlete will come home with a few medals.
📖 Recipe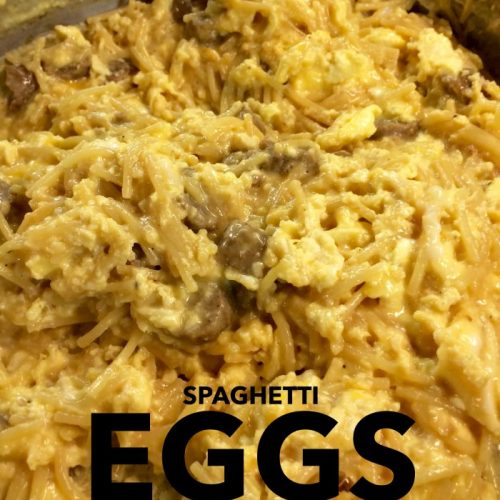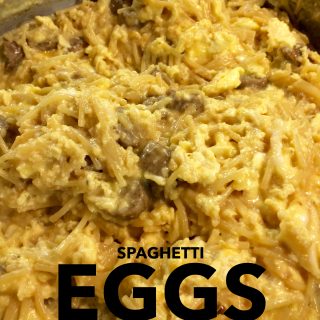 Spaghetti Eggs - A swimmer's breakfast
Anytime you are in search of a quick and hearty breakfast for a day full of hard work or sports, look no further than this spaghetti egg recipe. It is our go-to swimmer's breakfast.
Print
Rate
Ingredients
⅓

cup

uncooked cut spaghetti or spaghetti noodles broken into 2 inch pieces cooked according to package directions

6

eggs

scrambled

4

slices

of bacon or sausage links

½

cup

of cheese

½

tablespoon

of butter

salt and pepper or seasoning salt to flavor.
Instructions
Place butter in bottom of skillet and melt, coating the entire bottom over a medium heat.

Add cooked spaghetti noodles to skillet and spread out over bottom of the skillet. Pour scrambled eggs over the noodles.

Season with salt and pepper or seasoning salt. Sprinkle the top of eggs with sausage or bacon and then cheese.

Stir to incorporate and cook until eggs are no longer runny. Enjoy with toast and big glass of milk.