Disclosure: *This post may include amazon links. As an Amazon Associate, I earn from qualifying purchases.
I'm so excited to be posting here on Leah's blog today, so thank you all for having me! This is my first guest post for someone else, and I'm really excited about it! I made some strawberry curd to share with you guys, and if you've already been following me you know about my history with curd.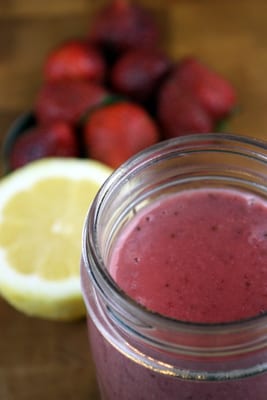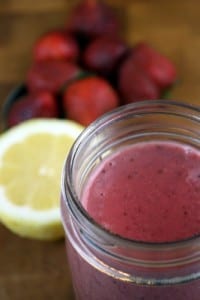 I have an unhealthy love of curd. Lemon curd, raspberry curd, grapefruit curd, and now: strawberry curd! A few months ago I made some grapefruit curd (which was devoured by the spoonful in a hot second!), and since then I've been craving any type of curd my imagination can dream up.
While this strawberry curd is delicious by itself, it was made as a complement to a ginger almond loaf, and WOW do they go together well! I found myself eating it with bread, or by the spoonful, or on my cereal, or with ice cream... the possibilities are endless.
Making Strawberry Curd
Making this curd is super easy. I based it off of my grapefruit and lemon curd recipes and started by pureeing my strawberries in a food processor until smooth.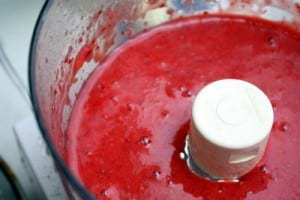 Try not to just lick this stuff off your fingers until it's gone. Just try.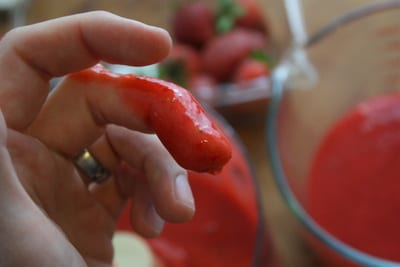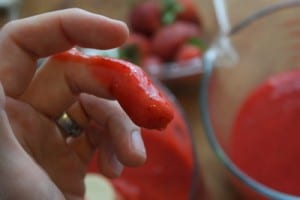 After that, you heat it with the sugar and egg yolks, plus a little bit of lemon juice. Once it thickens, add the cold butter and stir until smooth. That's it!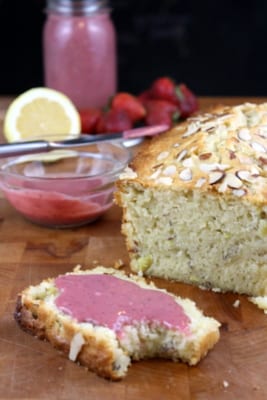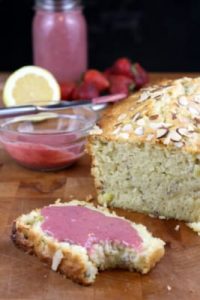 Strawberry Curd Recipe
¾ pound strawberries, hulled
1 tablespoon lemon juice
1 tablespoon lemon zest
⅔ cup sugar
6 egg yolks, strained
½ cup butter, chilled and cut into 8 pieces
Purée the strawberries until totally smooth, then measure out ⅔ cup of juice. In a small saucepan, combine the strawberry purée, lemon juice and zest, sugar, and egg yolk. Mix together, and continue mixing over medium heat until the mixture thickens (10-15 minutes), enough to coat the back of a spoon. Remove from heat and add the chilled butter one piece at a time, continuing to stir until smooth.
Store in the refrigerator, and enjoy on toast, ice cream, or just by itself!
Visit Life Your Way to see all of the Ultimate Blog Swap participants!