The week of Thanksgiving I received my first cookbook from Gooseberry Patch to review as part of the early reviewer program. This is quickly becoming my go-to weeknight cookbook. This book was MADE for the working mom. Quick, filling recipes which can also be eaten on the go. This was the first recipe I tried was this open-faced beef stroganoff sandwiches recipe and was eaten on the way to ballet.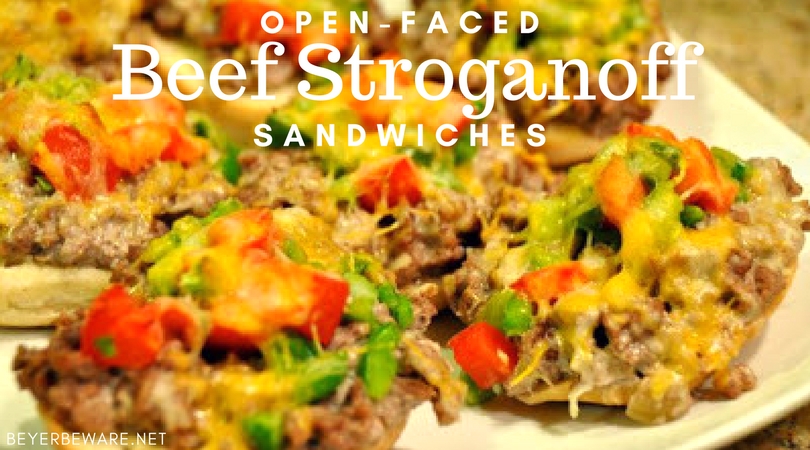 So, what is this cookbook that I am in love with called, 101 Soups, Salads & Sandwiches.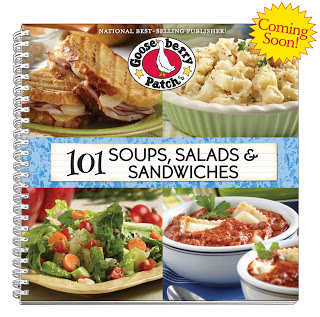 Open-Faced Beef Stoganoff Sandwiches
The open-faced beef stroganoff sandwiches were a hit with the kids and took me 30 minutes to make and walk out the door to ballet.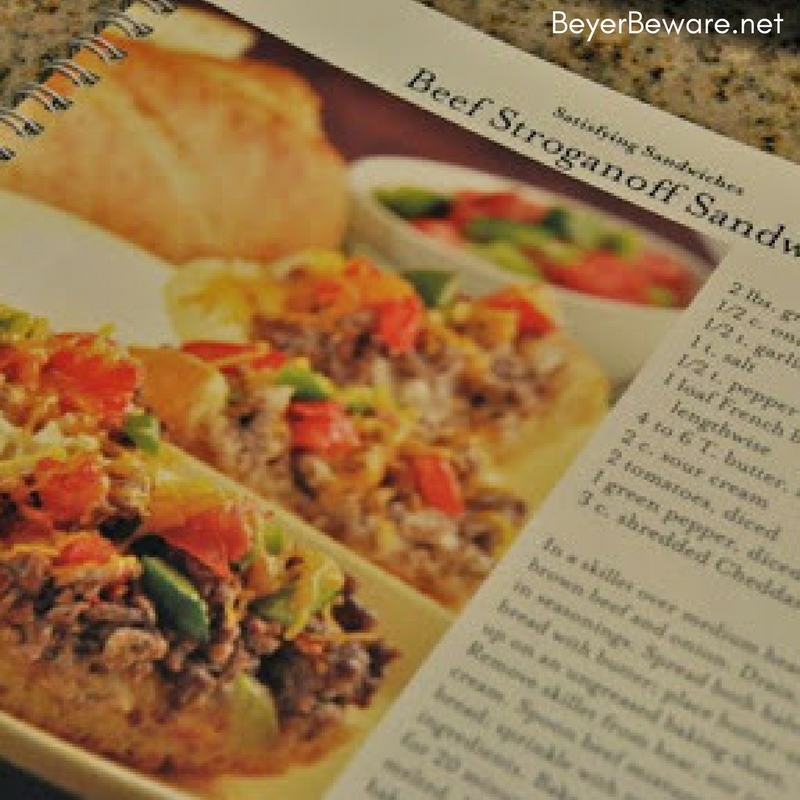 I started of course by browning the hamburger in the Pampered Chef Micro Cooker
that browns frozen hamburger in 7 minutes!!
MY LATEST VIDEOS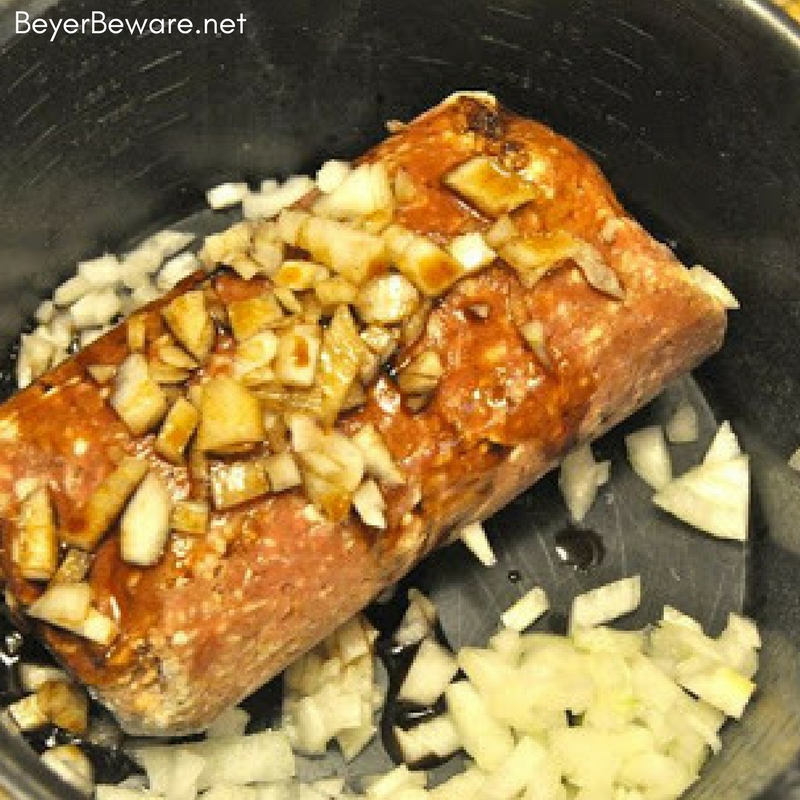 While the hamburger was cooking, I prepped the bread. Now, the recipe called for French bread, but I substituted mini bagels which I have in the pantry for quick meals. I started by spreading butter on the halves of six bagels.
I then chopped up some tomatoes and green peppers for the top of the sandwiches.
When the hamburger was done, I added sour cream and seasonings to the hamburger.
I put a large scoop of the hamburger mixture on each bagel half.
I then sprinkled the diced tomatoes and green peppers along with some co-jack cheese over top of the hamburger.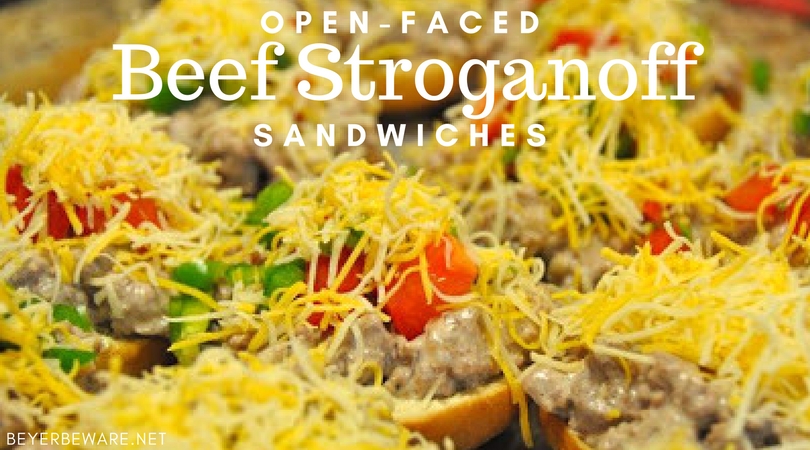 I made a few without the veggies just in case one of my kids refused the veggies for some weird reason.
I baked them on 350 for 15-20 minutes. When the cheese is melted and browned, they are good to go. And they were awesome!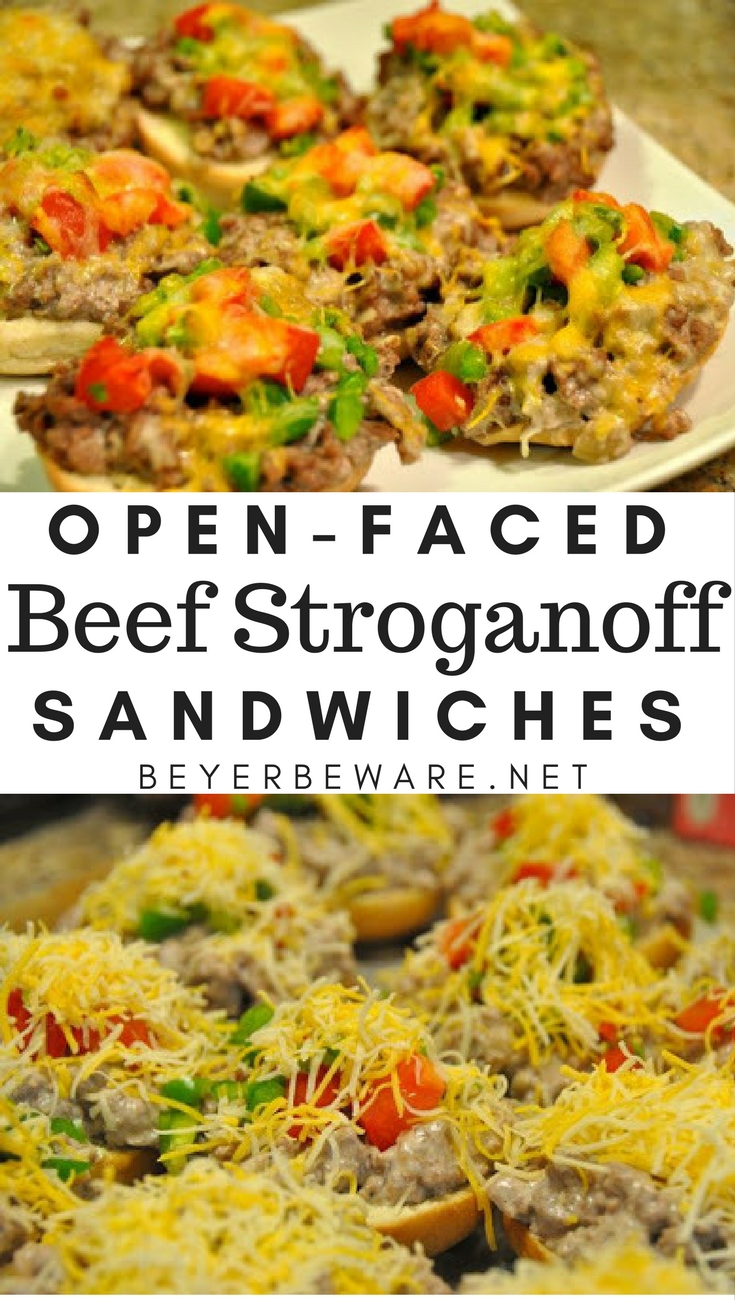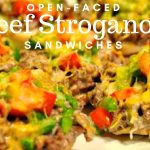 Open-Faced Beef Stroganoff Sandwiches from Gooseberry Patch 101 Soups, Salads & Sandwiches
The flavors of beef stroganoff don't have to be just enjoyed over noodles. Open-face beef stroganoff sandwiches are perfect for a weeknight meal on-the-go.
Ingredients
2

pounds

ground beef

1/2

cup

onion

chopped

1/2

teaspoon

garlic powder

1

teaspoon

salt

1/2

teaspoon

pepper

1

package mini bagels

4-6

tablespoons

of softened butter

2

cups

sour cream

2 to

matoes

diced

1

green pepper

diced

3

cups

of shredded cheddar cheese
Instructions
Brown ground beef and onions in a skillet over medium heat. Drain grease when beef is fully cooked and return to pan.

Add in seasonings to meat and onions. Stir in sour cream and remove skillet from heat.

Split six bagels in half and butter each half.

Place buttered bagels on baking sheet. Spoon beef mixture on bagels.

Sprinkle with tomatoes and green peppers and top with shredded cheddar cheese

Bake at 350 degrees for 20 minutes.
Excited to see more recipes be watching for more recipes this week and also the GIVEAWAY!! That's right, I have a book to giveaway. You will have it in time for Christmas.
Be sure to link up your Hunk of Meat Monday recipes. Can't wait to see what you are all making.



Gooseberry Patch gave me this cookbook free of charge. The opinions I am sharing are my own and not an obligation. Affiliate links have also been used in this post.