Disclosure: *This post may include amazon links. As an Amazon Associate, I earn from qualifying purchases.
Caramel cashew chex mix is a sweet snack mix that combines Chex, Golden Grahams, and cashews for a sweet and salty chex mix recipe. Raise your hand if you love sweet and salty snacks. If you are a lover of all things caramel corn, trail mix, puppy chow, and french fries dipped in ice cream, then you will be all in on this caramel cashew Chex mix.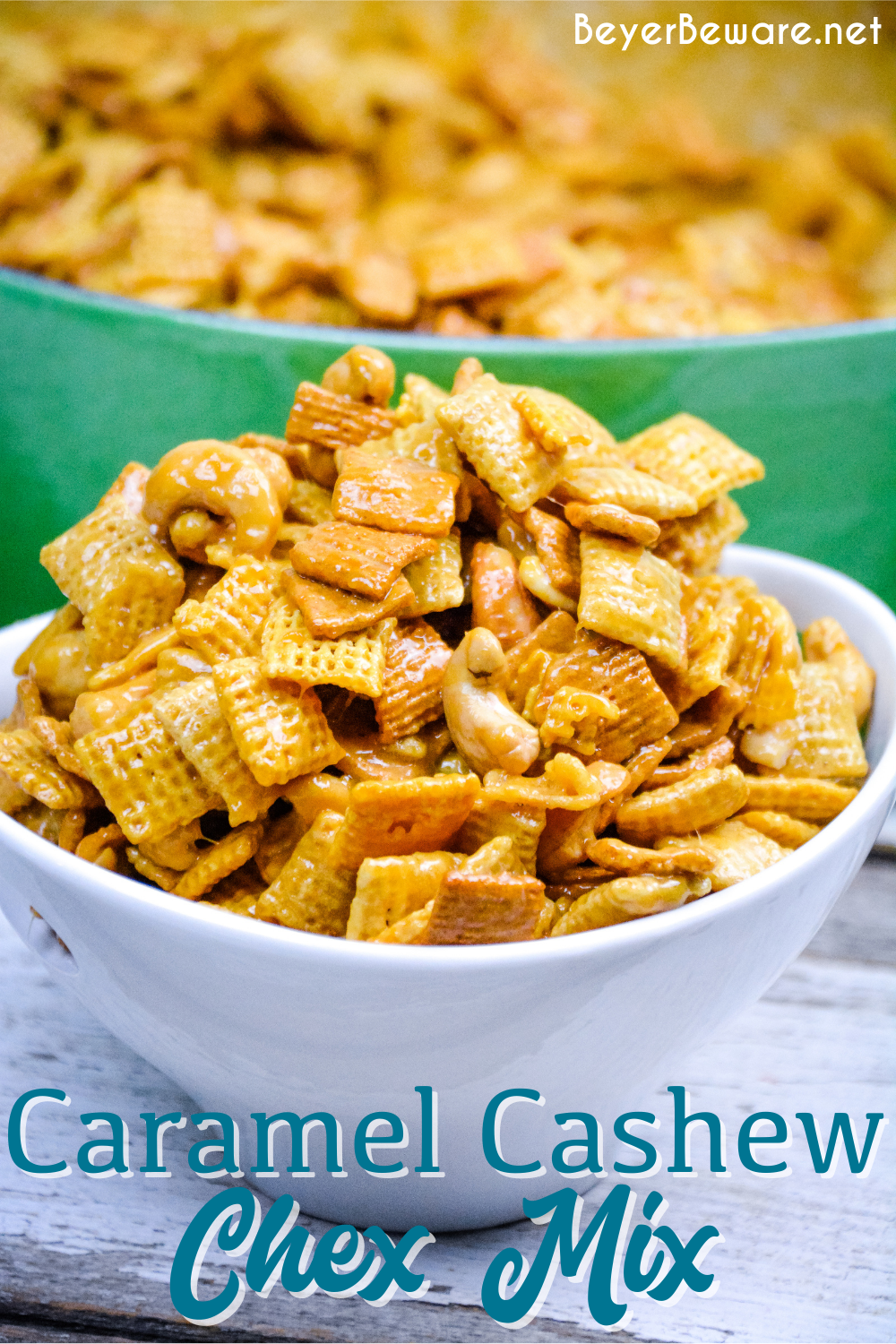 Caramel Cashew Chex Mix is a sweet caramel coated Chex and Golden Graham cereal mix that also includes the buttery and salty addition of cashews. The sweet and salty combination of this cereal mix is addicting. You want to make this when you have plenty of people to share it with you.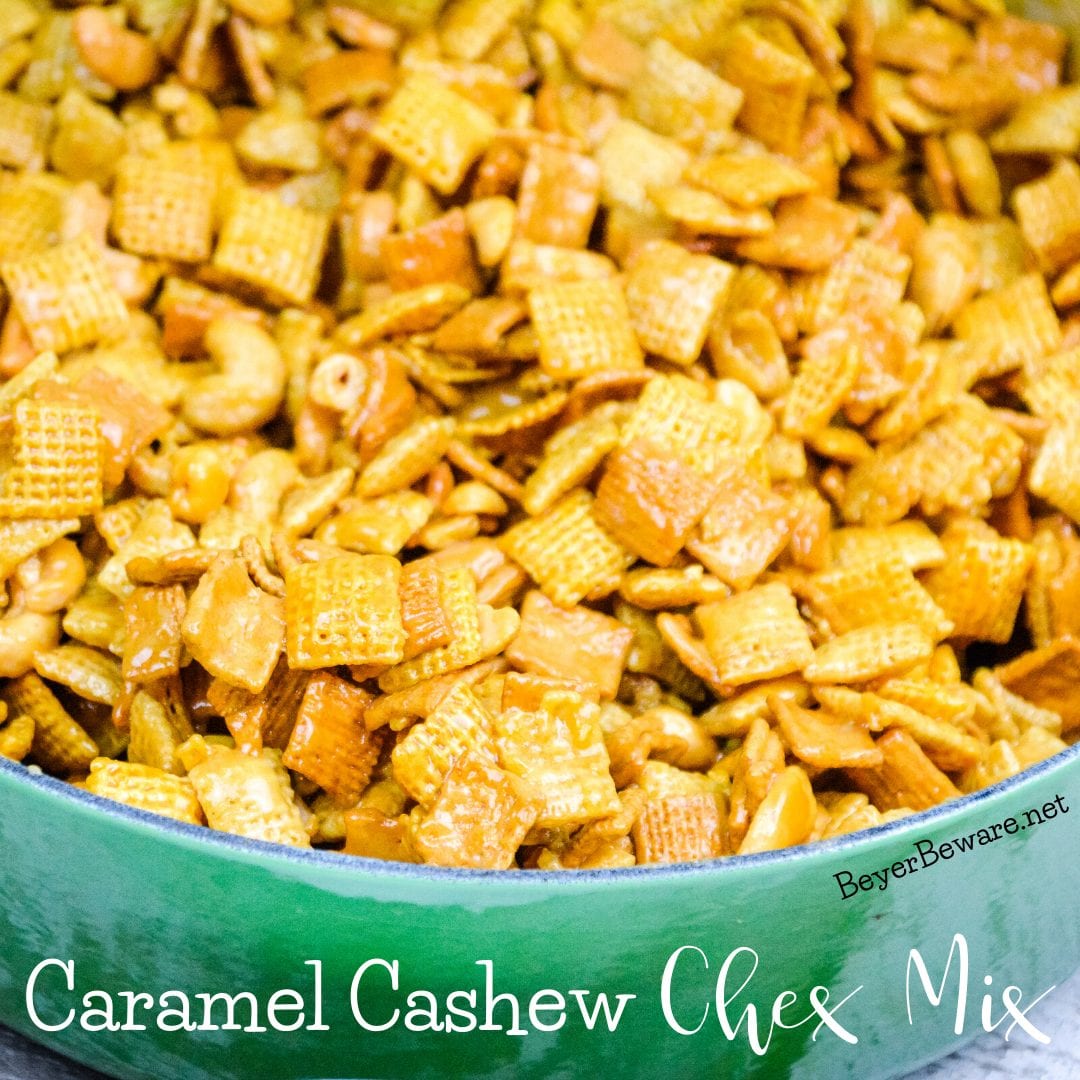 Caramel Cashew Chex Mix Ingredients
The main star of any caramel sauce mix is brown sugar. Obviously, the star of the Chex mix is the Chex cereal. However, this Caramel Chex Mix is taken up a notch with the addition of Golden Graham cereal and cashews. Now, this sweet and salty cereal mix would be just fine with some corn and rice Chex if you don't like Golden Grahams or cashews, but it is so much sweeter and salty with these two ingredients.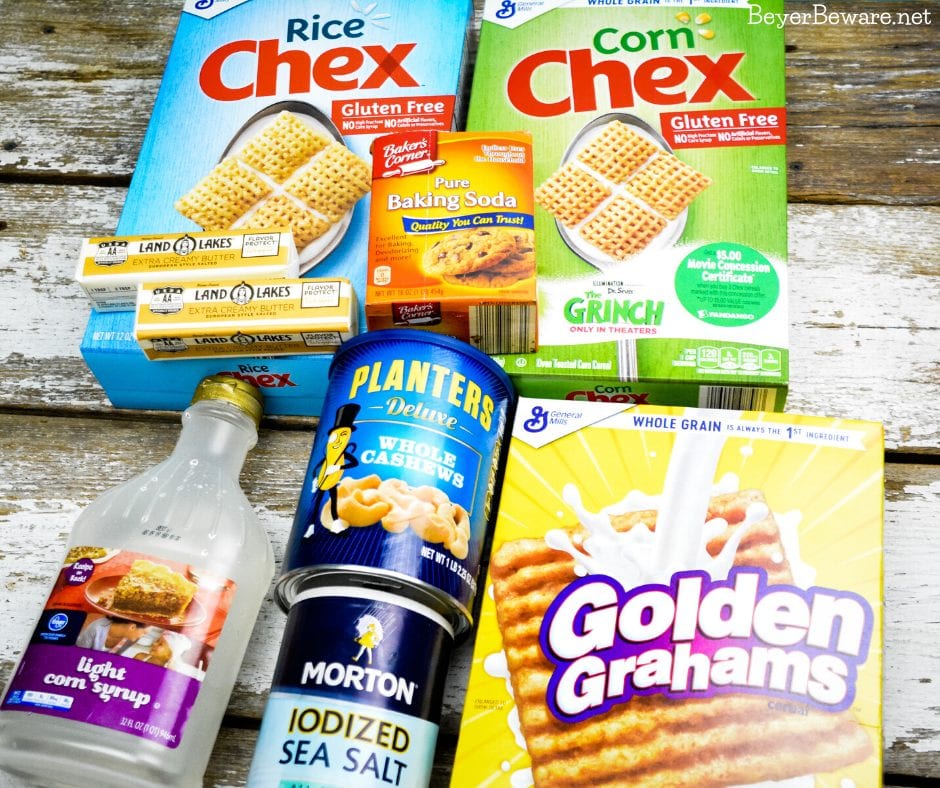 Ingredients you will need for this sweet and salty Chex mix are:
Rice and Corn Chex Cereal - The combination of both kinds of Chex cereal works well in this recipe. However, you can just use one or the other if it makes your life easier.
Golden Grahams - The graham flavored cereal really adds to the taste of this sweet Chex mix recipe.
Cashews - Whole cashews will work best for this recipe, but pieces are just fine too. They will just be smaller bits.
Butter - Creamy buttery goodness is necessary to make the caramel sauce.
Corn syrup - LIGHT corn syrup is key to the caramel sauce recipe being a light golden caramel color.
Salt - Salt makes the sweetness even better. I don't know how or why, but you will need salt to make this flavorful salted caramel flavor.
Baking Soda - A chemical reaction I am not qualified to explain happens, hence the need for baking soda.
Vanilla - Vanilla just adds to the flavor of the caramel sauce. I use pure vanilla, but imitation should work just fine too.
How to make Sweet Chex Mix with Golden Grahams
The heavy lifting of this cereal mix is the caramel sauce. Begin by combining butter, corn syrup, and brown sugar in a large stockpot or Dutch Oven. I used my large 8-quart low-profile Dutch oven for this Chex mix recipe. Stir until the ingredients melt and become smooth.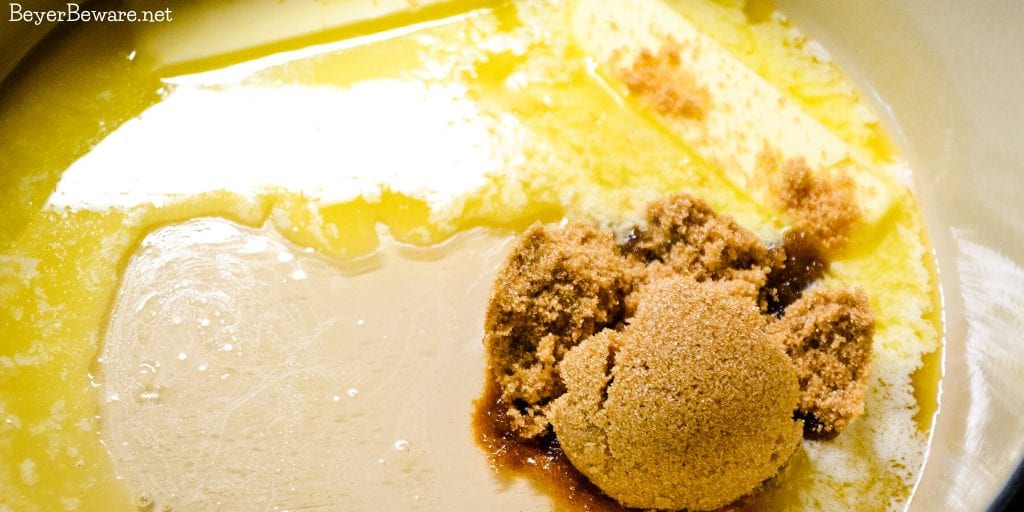 When it just begins to boil, remove it from the heat. To the sauce, add baking soda, vanilla, and salt. Continue to stir, making sure the added flavors are spread out in the sauce.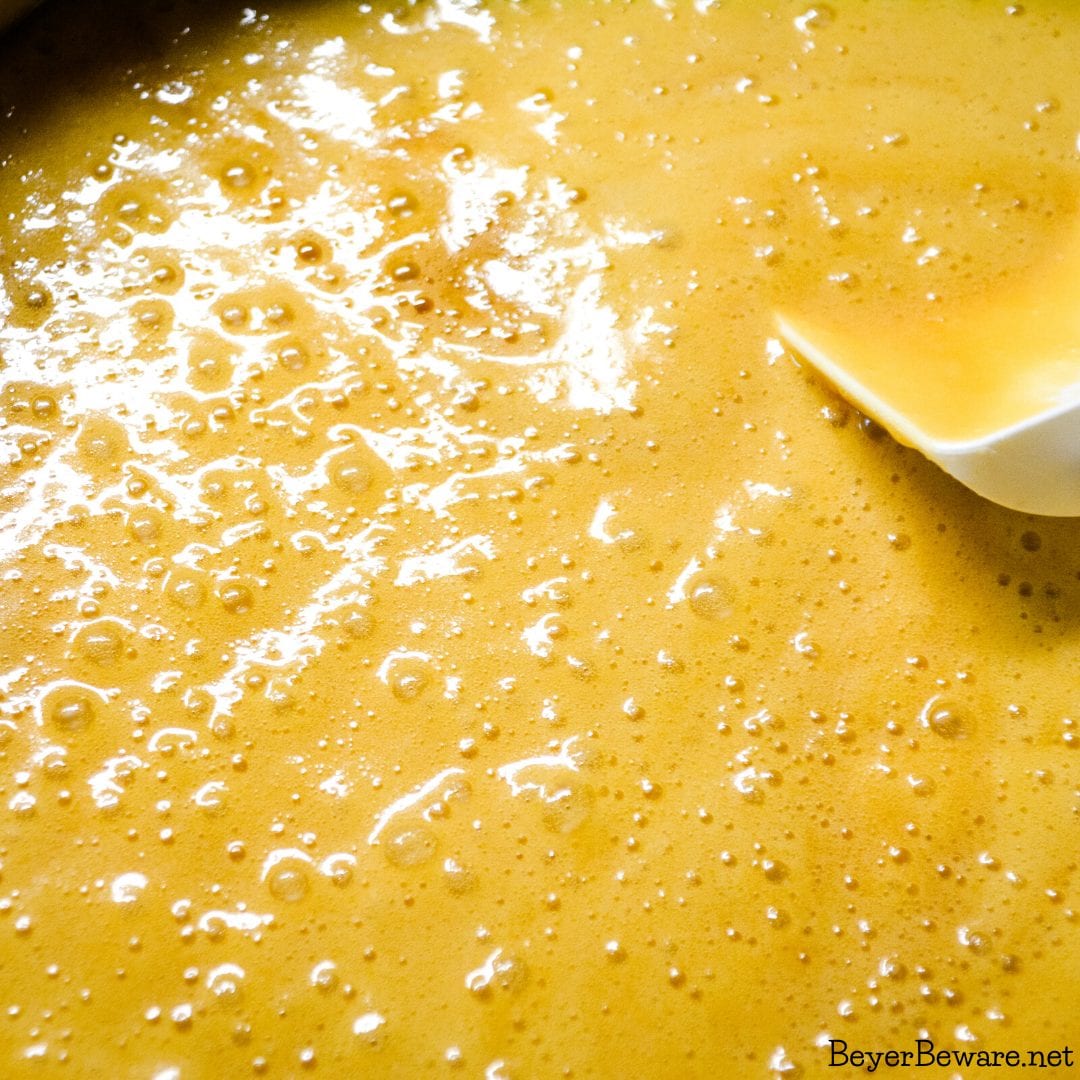 Then, it is time to add the cereal. Add the corn and rice Chex and the Golden Grahams to the caramel sauce. Then stir in the cashews.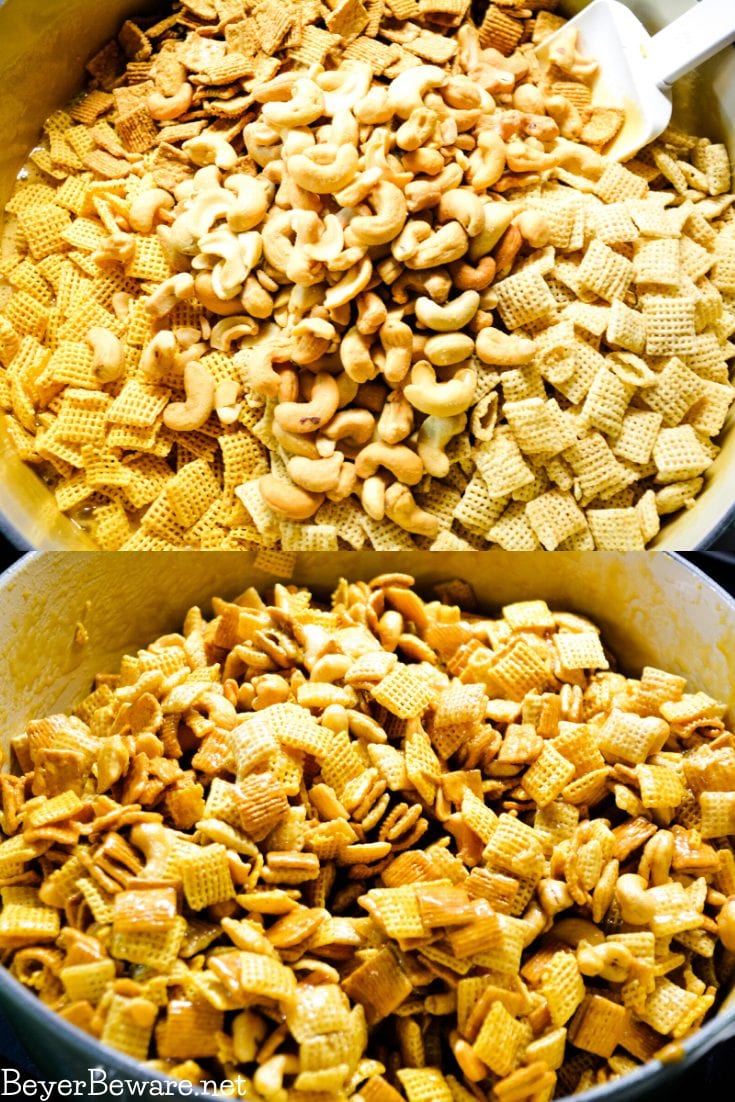 Stir to coat the cereal and then bake on 300 degrees for 30 minutes. Stir the big pot of mix about halfway through the cooking time. Finally, pour the caramel cashew Chex mix out on parchment paper. Break apart large pieces of the mix as you pour it out.
Tips for Making Sweet and Salt Chex Mix Recipe
You can use all corn Chex or rice Chex or even the Crispix-like cereal. You just need to use rice or corn cereal.
If you don't like nuts or don't know if there is a nut allergy, omit the nuts. Also, feel free to use peanuts if the allergy is just a tree nut allergy. Also, pecans or almonds would be great in this recipe.
Coconut is another great addition to this sweet Chex mix recipe. My family doesn't love coconut, so I don't include it in my recipe.
You can also make this with the help of the microwave. To do this, pour the dry cereal and nuts into a paper bag and then pour the caramel sauce over the cereal. Microwave in the paper bag 2 minutes at a time, shaking in between each 2-minute increment for a total of 6 minutes.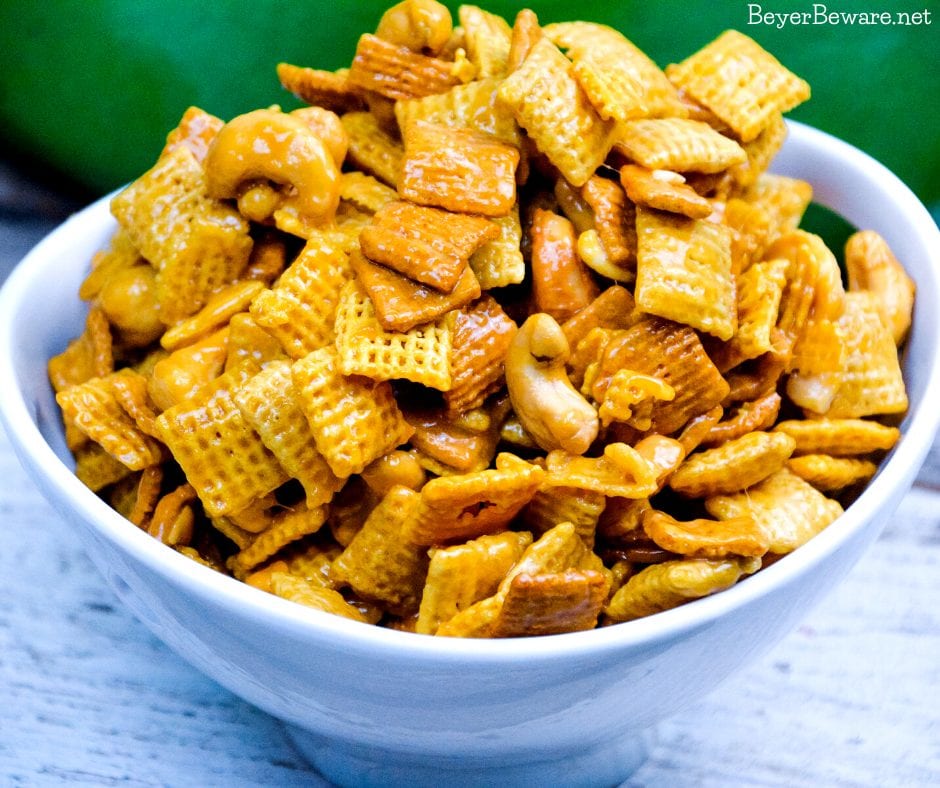 Sweet and Salty Snacks
Chocolate peanut butter rocky road candy clusters
📖 Recipe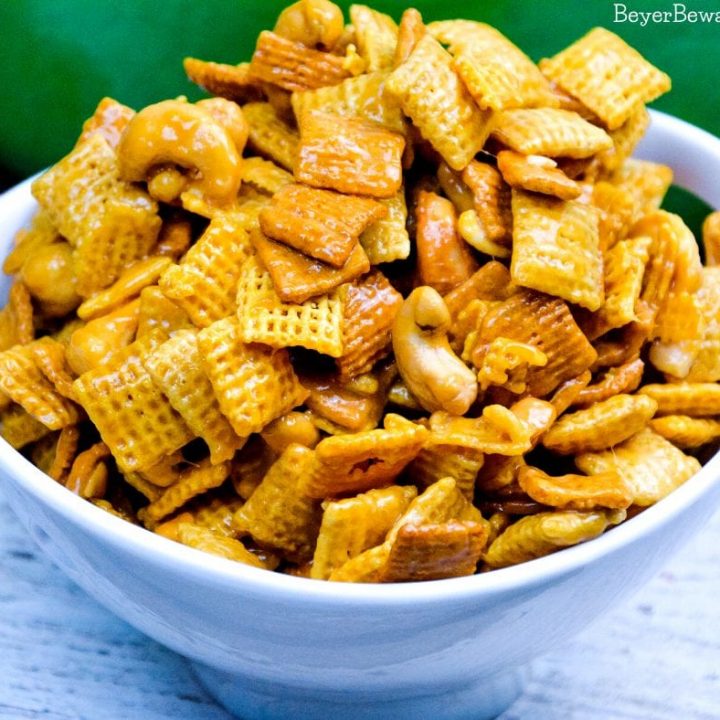 Caramel Cashew Chex Mix
Caramel Cashew Chex Mix is a sweet caramel coated Chex and Golden Graham cereal mix that also includes the buttery and salty addition of cashews.
Print
Rate
Ingredients
10

cups

Chex Cereal - Corn or Rice or Both

2

cups

Golden Grahams Cereal

1 ½

cup

Cashews

½

cup

Butter

1

cup

Brown Sugar

½

cup

Corn Syrup

½

teaspoon

Baking Soda

1

teaspoon

Vanilla

½

teaspoon

Salt
Instructions
In a large Dutch oven or stockpot, combine the butter, corn syrup, and brown sugar. Stir to melt and combine until smooth. Continue to heat until it just begins to boil. Remove from heat.

Stir the baking soda, vanilla, and salt into the sauce.

Pour the cereals and cashews into the sauce, stirring to coat the cereal.

Place the pan directly into the oven to bake on 300° for 30 minutes, stirring the mix halfway through.

Pour out on parchment paper, breaking apart large pieces.

Once cooled, store in airtight containers.
Nutrition
Calories:
375
kcal
|
Carbohydrates:
65
g
|
Protein:
7
g
|
Fat:
13
g
|
Saturated Fat:
5
g
|
Cholesterol:
16
mg
|
Sodium:
443
mg
|
Potassium:
270
mg
|
Fiber:
6
g
|
Sugar:
30
g
|
Vitamin A:
718
IU
|
Vitamin C:
6
mg
|
Calcium:
126
mg
|
Iron:
14
mg
Shared on Meal Plan Monday and Weekend Potluck