Disclosure: *This post may include amazon links. As an Amazon Associate, I earn from qualifying purchases.
Pickled red onions are the perfect topping for tacos, salads, and even sandwiches. This easy pickled red onions recipe combines onions, lime juice, jalapenos, radishes, and vinegar making it your reason for eating mini-fried street tacos as much as you can. Be warned, even if you don't love pickles, these spicy pickled onions are full of flavor thanks to the tangy brine and add a tangy garnish to many a dish by adding tangy tastes to salads, a burger, and tacos just as banana pepper rings do.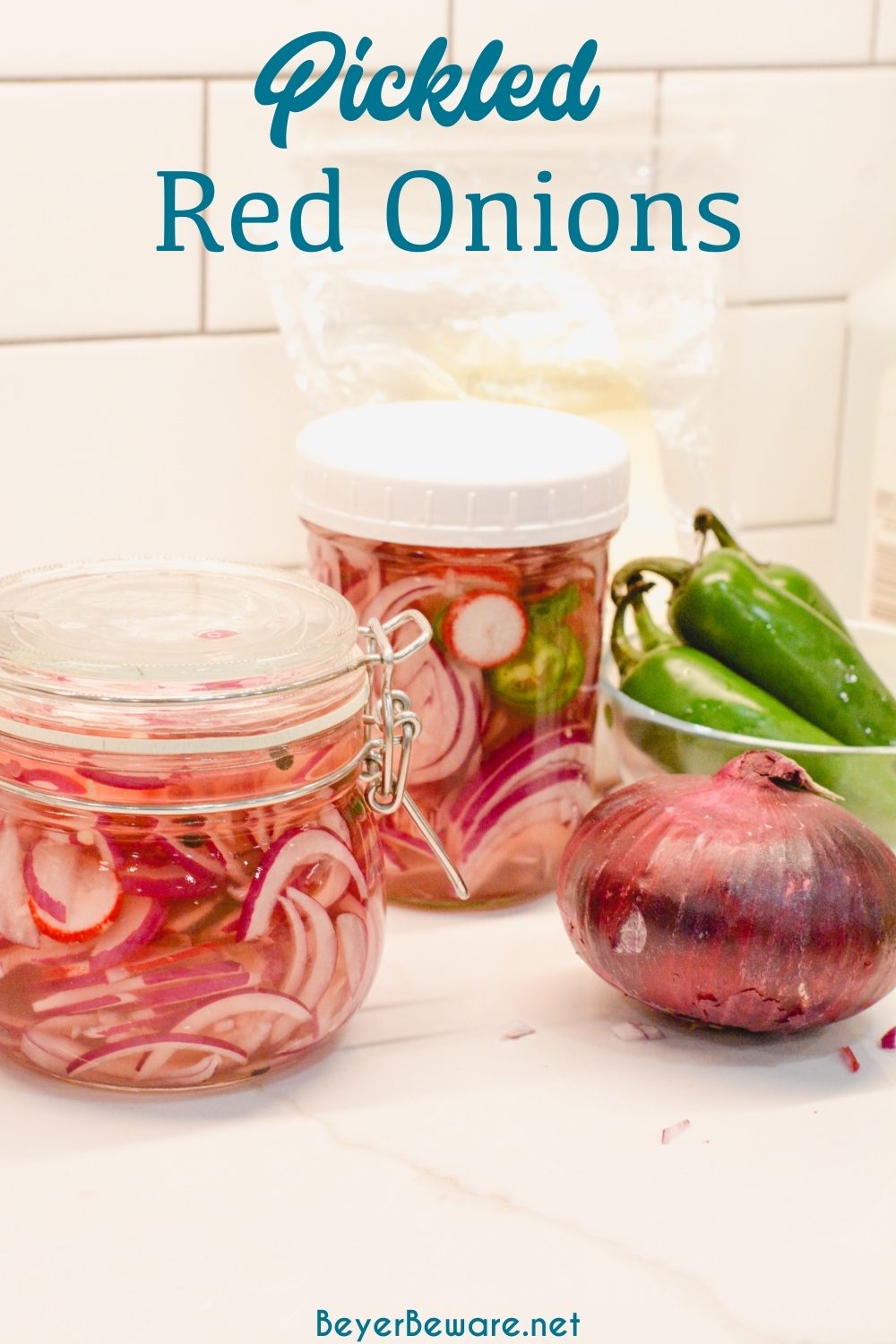 Habanero pickled onions were my first experience with pickled red onions. A chef at the country club I waitressed at would make this relish with habanero peppers and red onions that we would eat on top of fish tacos. It was insanely good. I still think about those spicy onions today. This pickled red onion takes a head nod from those onions.
Jump to:
Mexican Pickled Red Onions Ingredients
Now the ingredients for these onions are a bit more conducive for Mexican flavors but can easily be adjusted to be simply just pickled. If you are looking for pickled red onions for tacos, here are the ingredients you will need.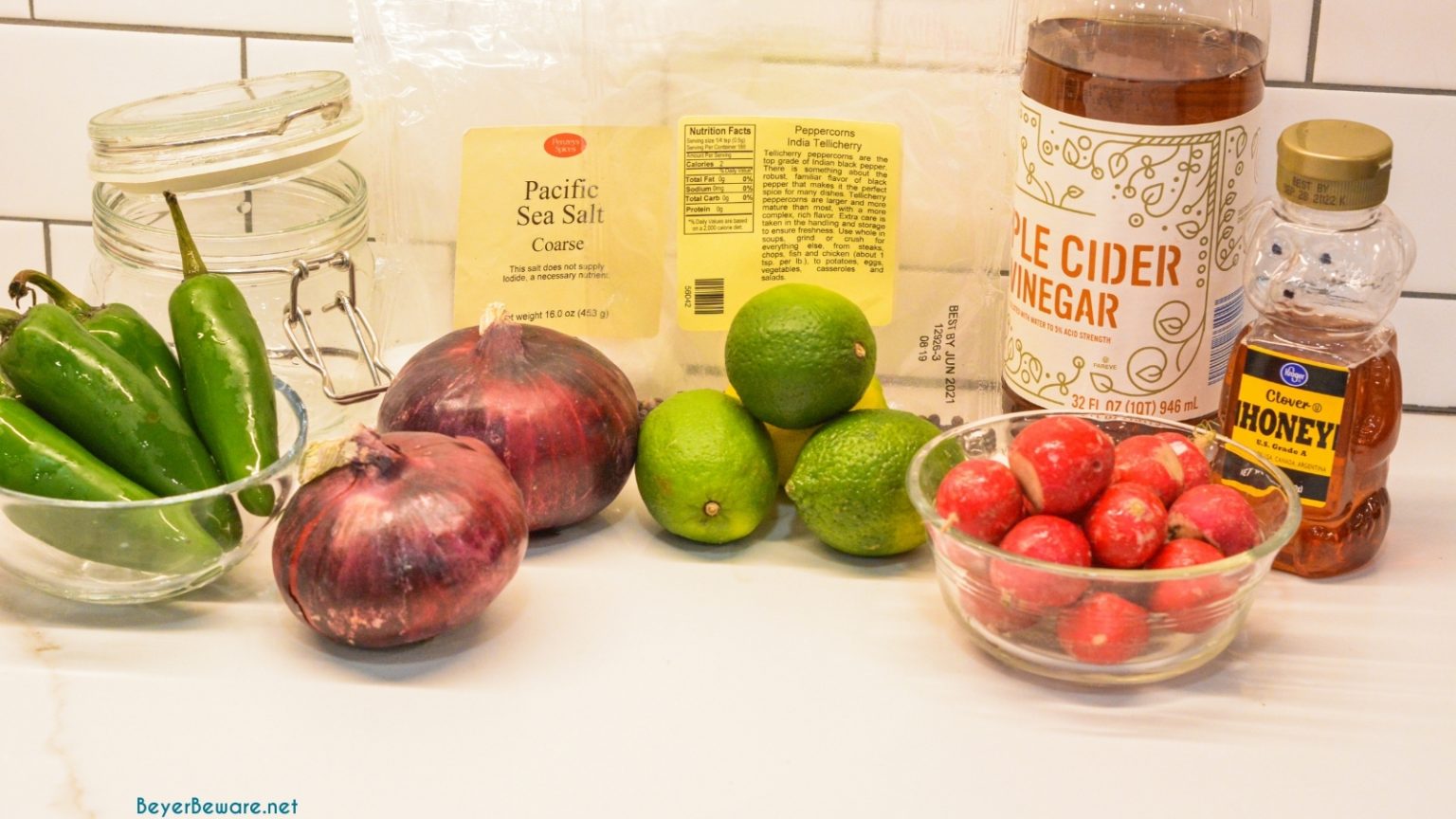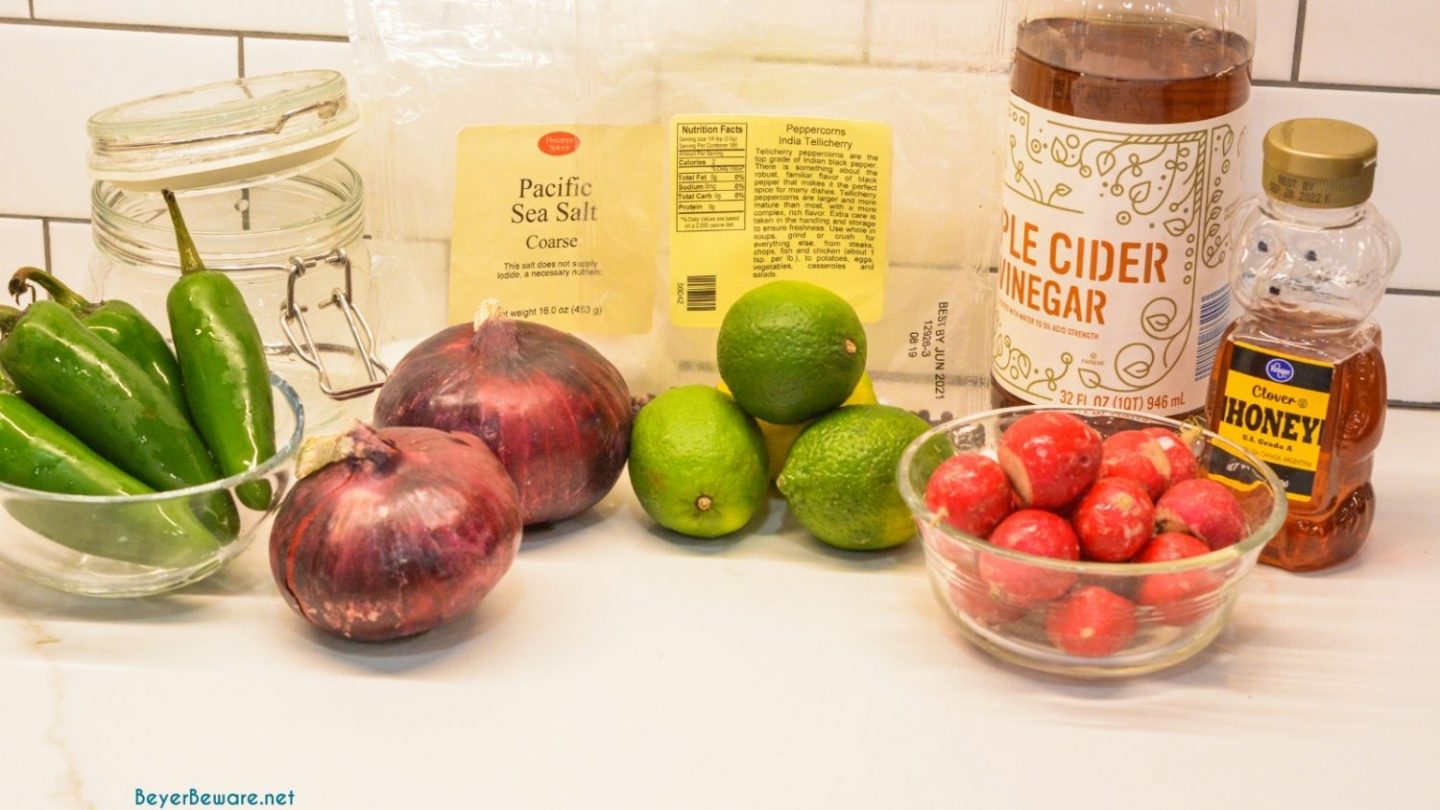 Red onions - While any onion would technically work in this recipe, I recommend the red onions because of the flavor strength they have compared to white, yellow, or sweet onions.
Limes - Fresh lime juice is what is the preferred lime juice but the bottled works too.
Jalapenos - Fresh jalapenos with or without seeds. If you are not a fan of spicy foods, try using Anaheim peppers or poblano peppers.
Radishes - Authentic Mexican tacos have radishes on them, so I love pickling them too.
Vinegar - White vinegar is the standard but rice vinegar or apple cider vinegar can be susbstituted too.
Salt - Sea salt or kosher salt is my preferred salt but standard
Honey - The pickling liquid needs a little sweetness so add some honey. Sugar can also be used as a sweetener too.
Peppercorns - Whole black peppercorns are the icing on the top for the layers of flavors in these pickled onions.
How to Pickle Red Onions for Tacos
Begin by slicing your onions. I used the middle setting of the mandoline to slice the onions straight into a bowl. When the onions are sliced move to the radishes. Make the radishes even thinner sliced. Slice them into the bowl as well. Finally, if you are using jalapenos, adjust the mandoline to the largest slice and slice your pepper. You can just slice them with a knife as well as peppers don't slice great in the mandoline.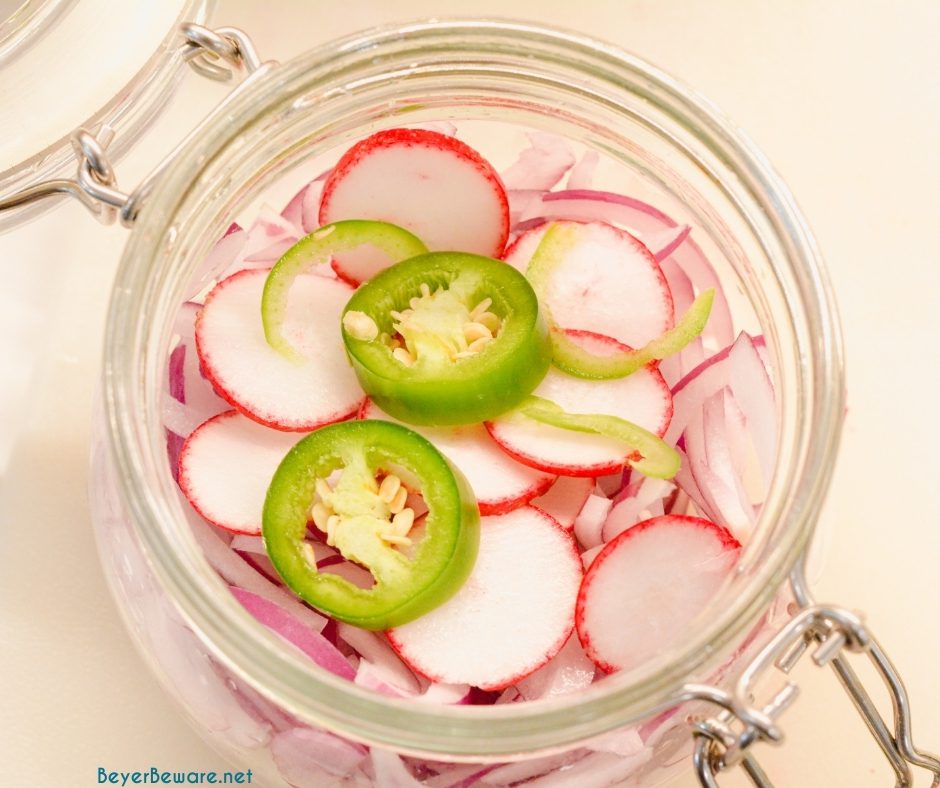 Layer the sliced onions, sliced radishes, and sliced peppers into the mason jar or whatever jars of choice to begin creating the pickled red onion recipe. Fill the jars to the brim. Next, cut a lime in half and squeeze the juice over the onions. Add the salt, honey, and peppercorns to the top of the onions.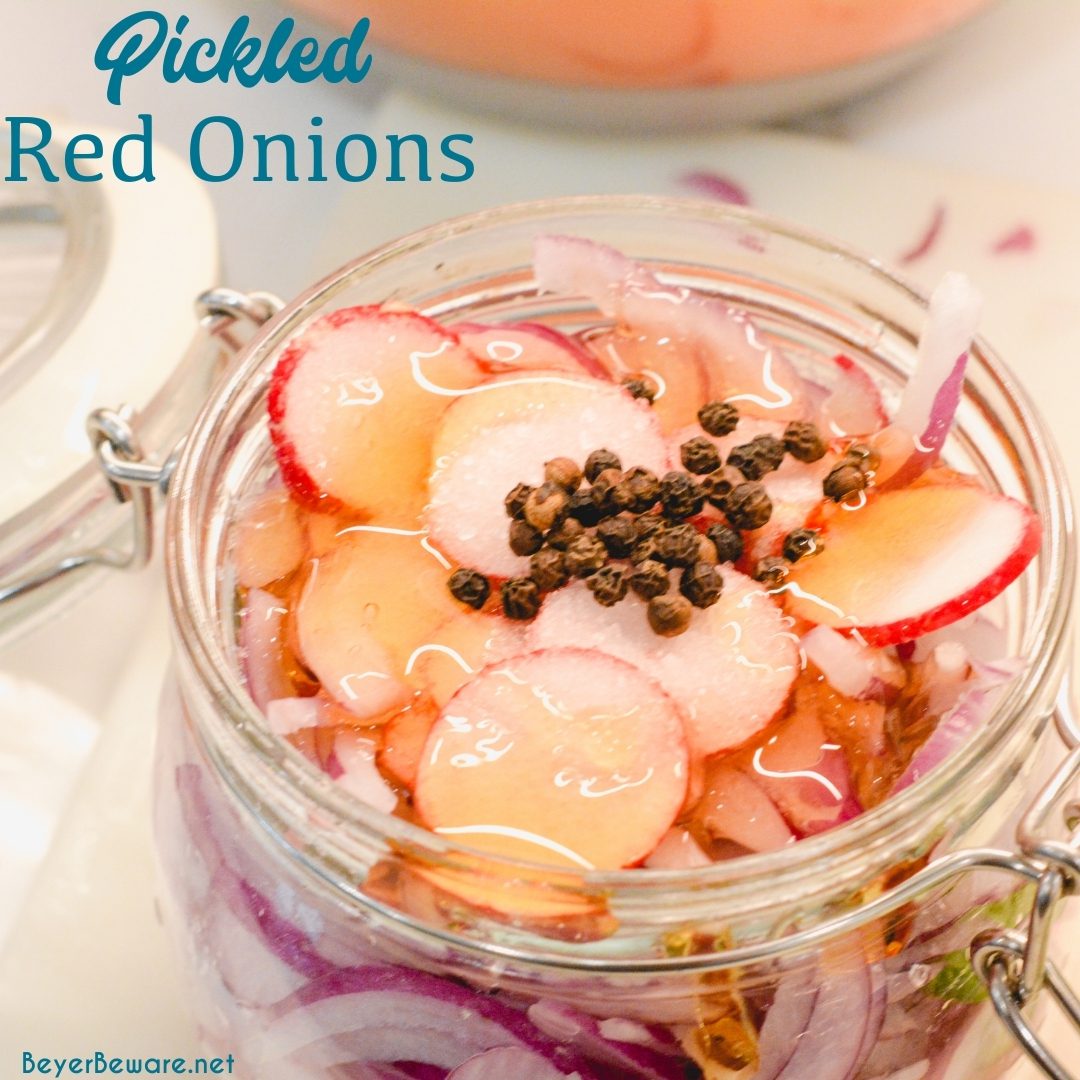 For the brine, pour vinegar into the jar until half full and then finally fill to the top with water. Place the lid on the jar and shake the contents to get the honey, salt, and peppercorns throughout the entire jar.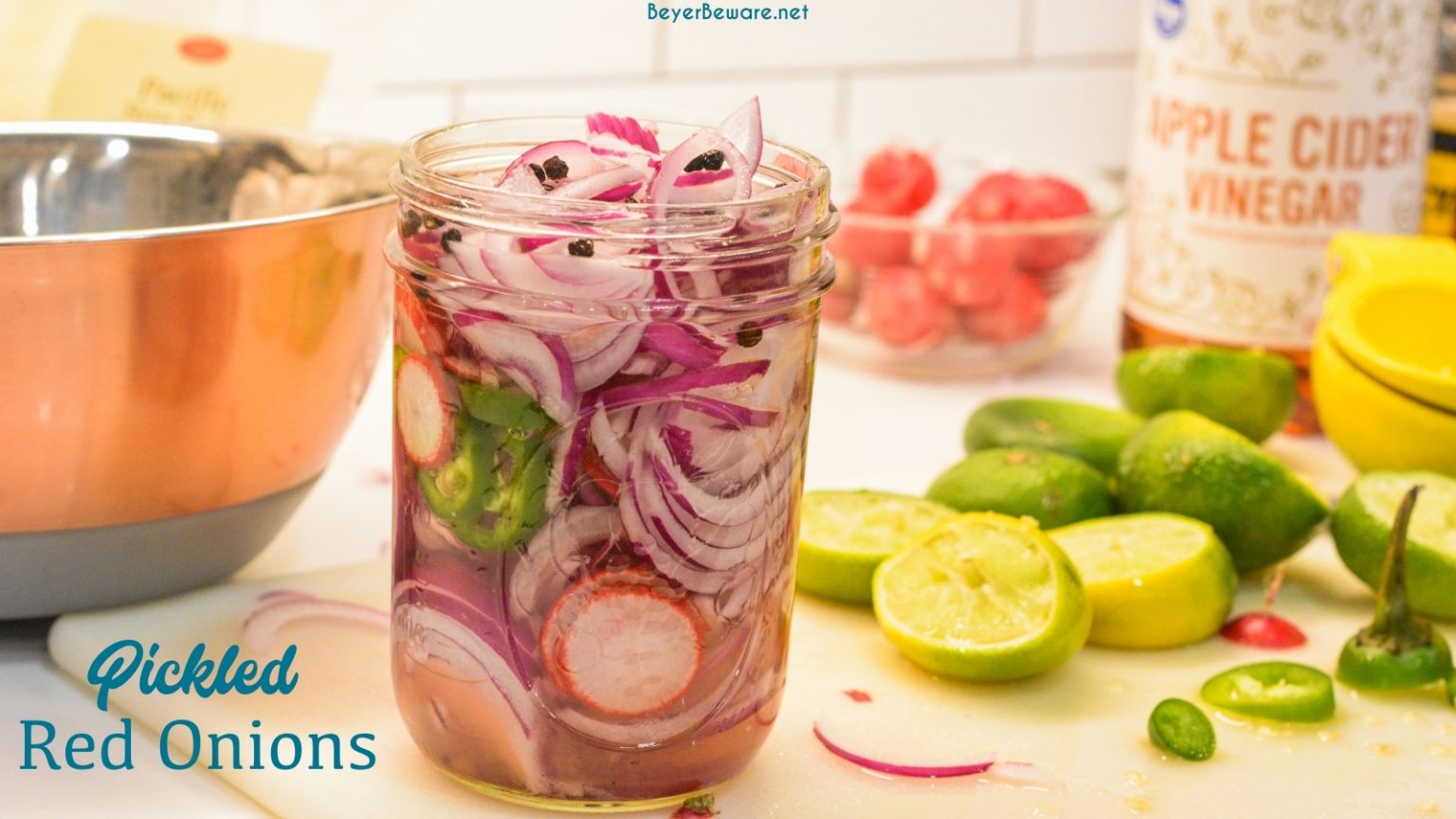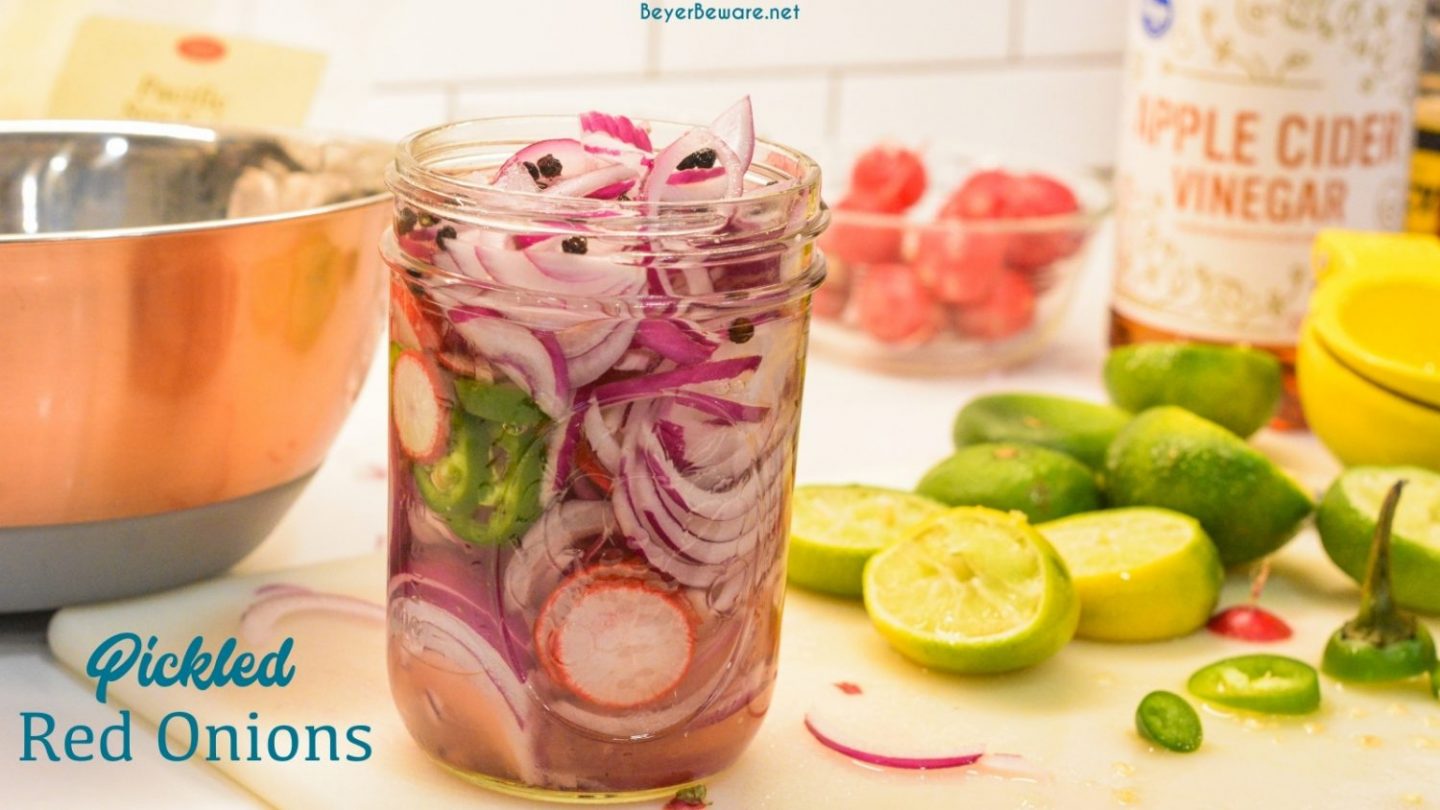 Shake the jars up to get the salt to dissolve. Place the pickled red onions in the fridge for 24 hours and then enjoy. I know you want to try these pickled onions. It is worth it. Go ahead and try them.
Variations
This quick pickled red onion recipe can be made in multiple different ways. Here are some basic ingredients to change it up the flavors
Fresh Herbs - Use oregano, rosemary, thyme, or even cilantro to the sliced red onions.
Garlic Red Onions- Add garlic cloves instead of jalapenos that have been roughly chopped to the red onions.
Add spices - Black peppercorns are already in there but mustard seeds, coriander seeds, cumin seeds, bay leaf, or red pepper flakes would also add great flavor.
Tips for Best Refrigerator Pickling Results
Using sea salt or kosher salt and white vinegar will give you the best results.
This recipe could also be canned in a hot water bath. Just need to cook them in a hot water bath long enough to completely seal the lid.
Other vegetables could be used in this recipe such as jalapenos, zucchini, beets, or even okra.
What are pickled red onions good for?
Here are some great recipes you could add these onions to for even more flavor in already great recipes.
Blackened Fish Mexican Salad
A vibrant salad with lots of spicy toppings and grilled blackened fish.
Get the Recipe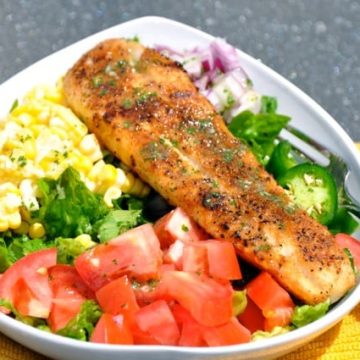 Food Preservation Equipment
When making anything pickled there are a few kitchen tools that will make your life easier. First, an adjustable mandoline is a must-have. I actually like the ones with a handle better than one that is self-standing. Then you will also want a bowl that the mandoline can lay across while you slice. Finally, you will need mason jars or hinged jars to keep refrigerator quick pickled onions in.
Go ahead and find everything you need to make these homemade pickles at my food preservation storefront.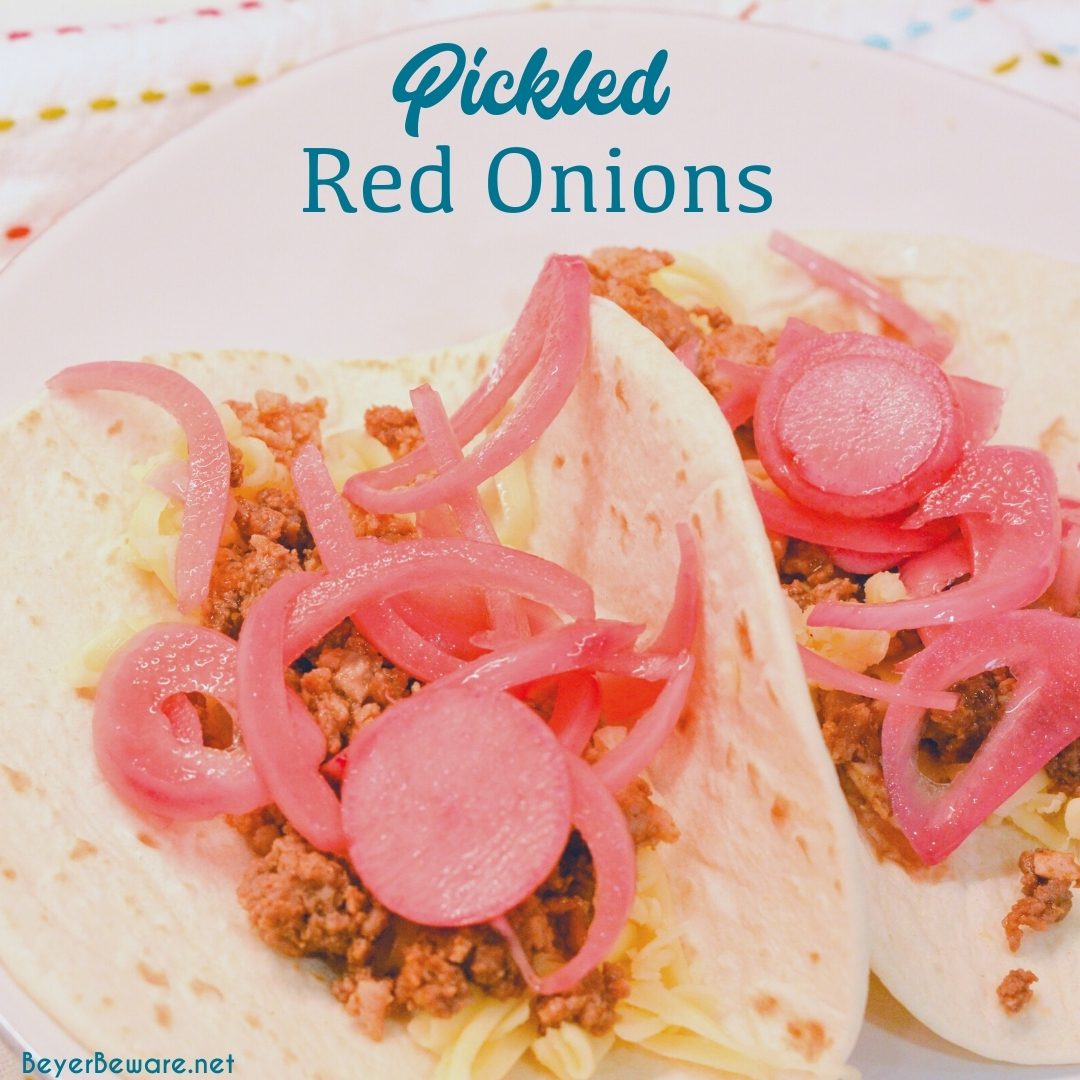 Pickling Recipes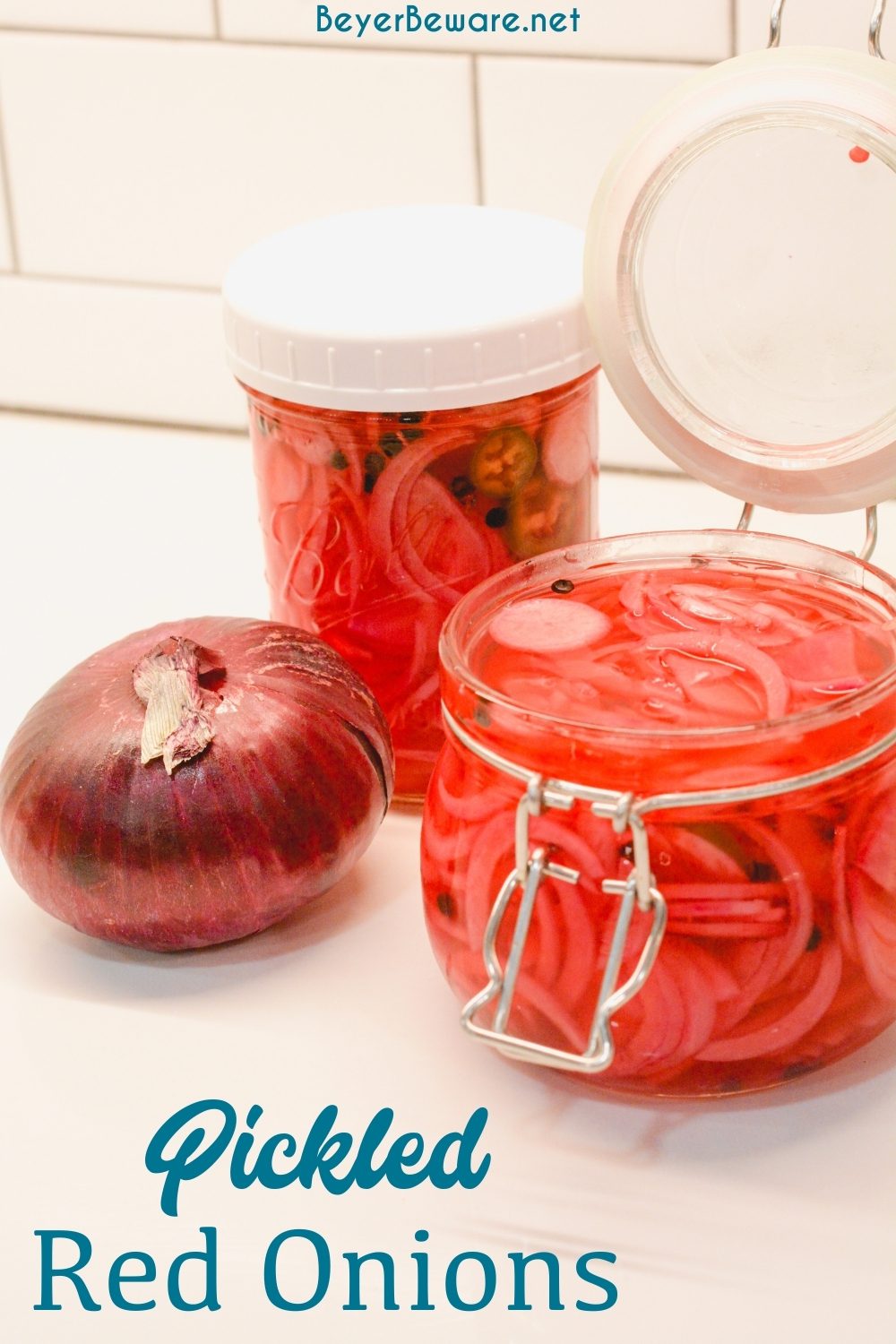 📖 Recipe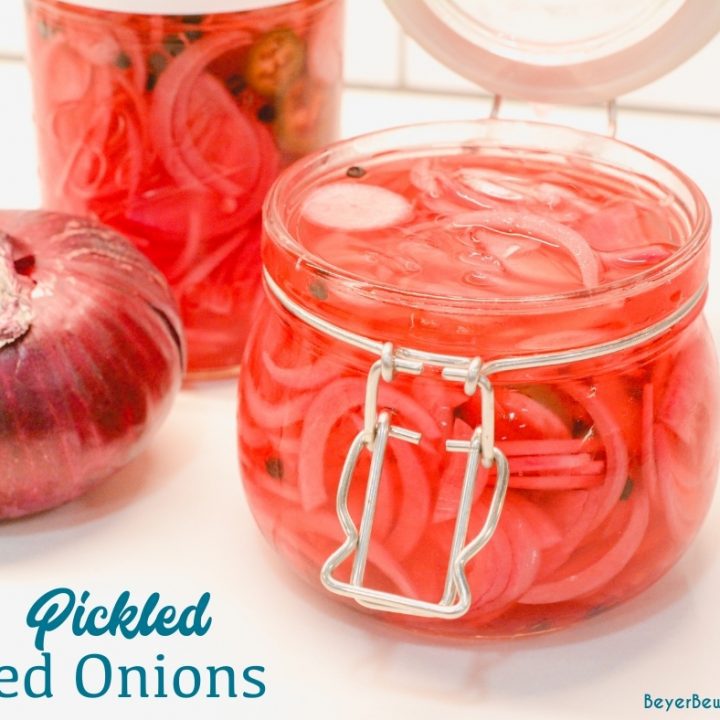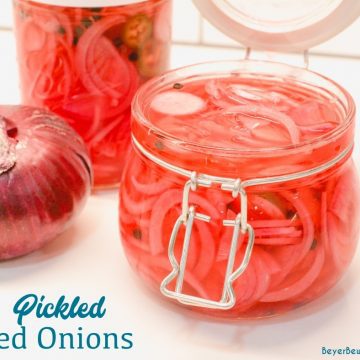 Easy Pickled Red Onions Recipe
Pickled red onions are easy to make with onions, lime juice, jalapenos, radishes, and vinegar and the perfect topping for tacos, salads, and sandwiches.
Print
Rate
Ingredients
2

jalapenos

2

red onions

4

radishes

2

teaspoons

salt

2

tablespoon

honey

1

teaspoon

peppercorns

4

limes

1

cup

vinegar

1

cup

water

2

pint

jar with lid seal and ring
Instructions
Slice the onions with a mandoline with the middle thickness. Slice the radishes with the thinnest setting and the jalapenos with the thickest setting or a knife.

Layer the onions, radishes and peppers into the jars.

Top with salt, honey, and peppercorns.

Squeeze juice from two limes into each jar and then pour vinegar until jar is ½ full.

Fill remainder with water.

Refrigerate for at least 24 hours.
Nutrition
Calories:
182
kcal
|
Carbohydrates:
44
g
|
Protein:
3
g
|
Fat:
1
g
|
Saturated Fat:
1
g
|
Polyunsaturated Fat:
1
g
|
Monounsaturated Fat:
1
g
|
Sodium:
2346
mg
|
Potassium:
394
mg
|
Fiber:
7
g
|
Sugar:
25
g
|
Vitamin A:
233
IU
|
Vitamin C:
65
mg
|
Calcium:
97
mg
|
Iron:
1
mg