Disclosure: *This post may include amazon links. As an Amazon Associate, I earn from qualifying purchases.
Over at A Latte with Ott, A, this month's Iron Chef competition is sponsored by Red Star Yeast. With grilling season also getting a jump start with the June-like weather in March I really wanted to do some sort of recipe for the competition on the grill. So, I pulled some inspiration from my recent trip to India and made this grilled garlic naan bread.
Grilled Garlic Naan Bread
I bring you Naan bread on the grill.
And to my family's surprise, it was so good. It wasn't just because I was starving to death in India.
You start by adding an envelope of Red Star yeast to a cup of warm water.
I then mixed together one egg, three tablespoons of milk, ¼ cup of sugar, and two teaspoons of salt in another bowl. After about ten minutes I added the water and yeast to the egg and milk mixtures.
I then added three cups of flour to the liquid mixture.
Then drop the dough on a floured surface using about ½ cup of flour and knead for several minutes until a soft dough is formed.
Then put the dough into a greased bowl, cover with a damp towel and let rise till in doubles in size.
When it is doubled in size, punch the dough down.
You may need to use the remaining ½ cup of flour if the dough is a bit sticky. Fold into the dough the garlic.
Then pinch of pieces of dough forming golf ball sized pieces and place on a greased pan.
At this point, I put some meat on the grill and let the dough sit near by, covered with the damp towel to double again.
I melted a stick of butter and dipped my fingers in the butter to stretch the balls into thin pieces of dough and placed them on the grill.

I cooked the bread over a medium to medium-high flame for about 3 minutes on each side. Once I flipped the bread over, I buttered the cooked side with the melted butter.

It was fantastic. My non-bread eating daughter even had two pieces. This is going to be a staple on the grill all spring-summer-fall long!
📖 Recipe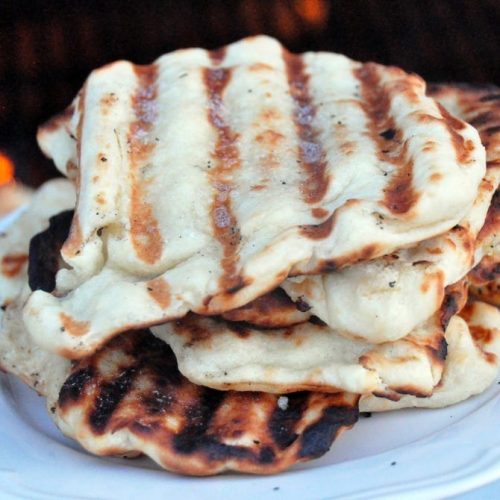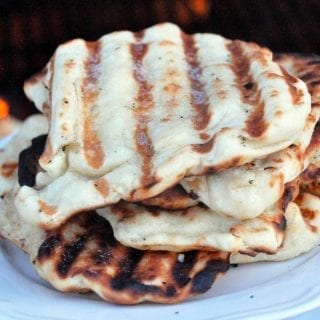 Grilled Naan Bread
One of our favorite things in the summer is grilled garlic naan bread recipe. It is an easy to make yeast bread and cooks quickly on the grill.
Print
Rate
Ingredients
1

.25 oz pkg. active dry yeast

1

c.

warm water

¼

c.

white sugar

3

Tbsp.

milk

1

egg

beaten

2

tsp.

salt

4

c.

flour

2

tsp.

pressed garlic

½

c.

butter

melted
Instructions
In a large bowl, dissolve yeast in warm water. Let stand about 10 minutes, until frothy. Stir in sugar, milk, egg, salt and about 3 cups of flour to make a soft dough.

Knead on a lightly floured surface until smooth.

Place dough in a greased bowl & cover with a damp cloth until doubled in size.

Punch down dough and knead in garlic. Pinch off small handfuls of dough about the size of a golf ball. Roll into balls and place on a tray.

Cover with a towel and let rise until doubled in size, about 30 minutes.

At grill side, stretch out each ball of dough into a thin circle by dipping fingers in melted butter.

Place dough on the grill on medium heat; cook 2 to 3 minutes, or until puffy and browned.

Brush cooked side with butter, turn dough over and cook until browned, another 2 to 4 minutes.

Repeat with remaining dough.