Disclosure: *This post may include amazon links. As an Amazon Associate, I earn from qualifying purchases.
This Pumpkin Chiffon Pie recipe is the silky, creamy no-bake version of a traditional pumpkin pie, made with real pumpkin and pudding in a graham cracker crust. There are plenty of things that need to compete for time in the oven during the holidays. No need to take up space with your pumpkin pie. This no-bake pumpkin chiffon pie will quickly become the new favorite version of pumpkin pie.
This has slowly been replacing traditional pumpkin pie at our family Thanksgiving celebrations. The ingredient list alone is a dead giveaway why all the kids would prefer this version. Add some whipped cream to the top and there is no choosing any other pumpkin pie.
You know you are already thinking, do I have pudding? Whipped topping? Seriously, you want to make this pumpkin chiffon pie. I know you do. Well here is how you make it.
Jump to:
No-bake pumpkin chiffon pie ingredients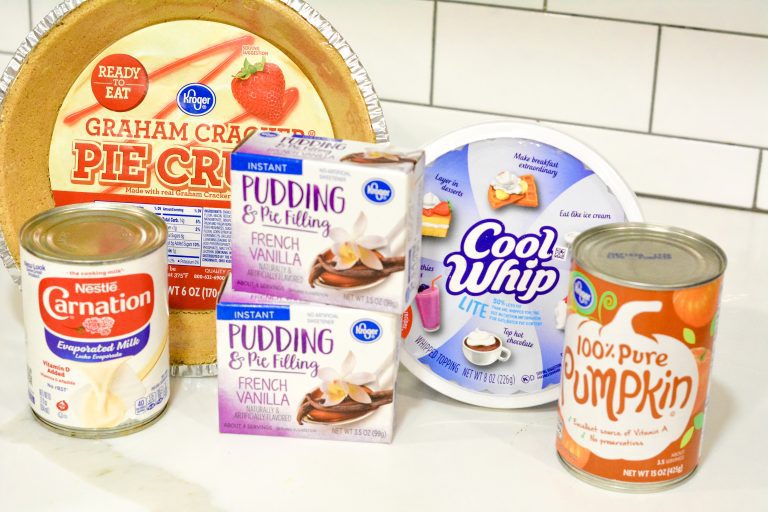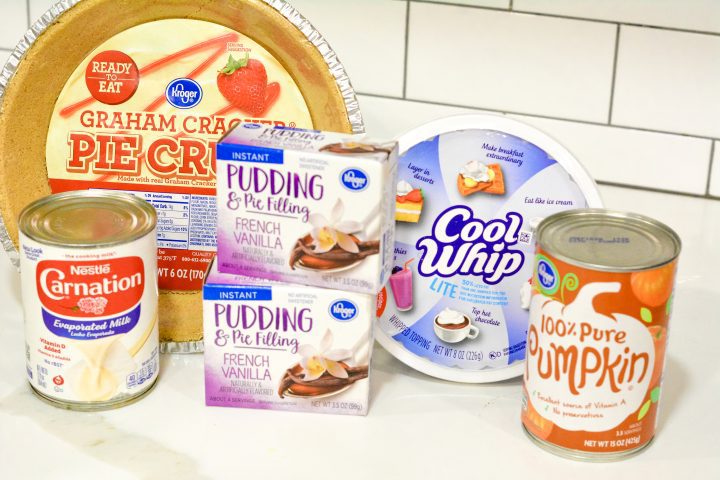 Now, don't get too worried about putting together a pumpkin chiffon pie, even if chiffon eludes a fancy feeling. This is so easy. You could probably do it without a mixer, but who wants to work that hard!
The ingredients are so simple for this creamy no-bake pumpkin pie recipe. There is no cooking. No eggs, egg whites, or egg yolks. No baking with these ingredients for chiffon pie.
Graham Cracker Pie Crust - A premade pie crust just makes it easy to make this recipe. You can also make your own pie crust with crushed graham crackers and butter as well.
Pumpkin - I buy 100% pure canned pumpkin. If you are ambitious, go for the fresh pumpkin and cook it. I am not ambitious.
Vanilla Instant Pudding - French Vanilla is more vanilla in flavor. For obsessed vanilla people like my family, we prefer the French vanilla flavor. Traditional Vanilla will work as well. These are the small 3.4 ounce boxes.
Milk - We have to bring the pudding to life. Milk or evaporated milk can be used in this chiffon pumpkin pie recipe.
Pumpkin Pie Spice - If it is going to taste like pumpkin pie, you have to add the spices. The all-in-one pumpkin pie spice works best for me.
Whipped Topping - The frozen non-dairy whipped topping is what you need for this recipe. You can try real dairy whipped cream as well. It may not be quite as fluffy but should work.
How to Make a No-Bake Pumpkin Pie - Chiffon Style
Start by mixing one cup of milk with two small boxes of vanilla or french vanilla pudding. Once combined, add a can of pumpkin. Add pumpkin pie spice too. Mix to incorporate into the pudding.
Fold in the whipped topping. The whole container. Don't hold back. Stir it in. And when it is a smooth, luscious, silky pumpkin filling, pour it into a graham cracker crust pie shell. Or a ginger snap cookie pie crust. But Kroger doesn't sell those pre-made so I used graham cracker. Then smooth it all out so the pumpkin chiffon pie is so pretty.
Then refrigerate the chiffon pumpkin pie. The pudding has to be set up you know. You can go ahead and lick the bowl. And the spatula. The beaters are fair game too. After all, there aren't any eggs in this pie. So go ahead and go get your nails done. Or watch a Hallmark movie while you no-bake your pumpkin pie. Because you are going to be the hit of the feast with this pumpkin chiffon pie.
FAQ
Thanksgiving Dessert Recipes
Traditional pumpkin pie is obviously a common Thanksgiving Day dessert. Pecan pie was a staple pie at our holiday dinners too. But change things up with a few of these Thanksgiving Day dessert recipes.
📖 Recipe