Disclosure: *This post may include amazon links. As an Amazon Associate, I earn from qualifying purchases.
It's snowing again...I am starting to think I live in North Dakota and not southern Indiana. But to my kid's delight, the school was canceled. And of course, Thursday is the day I am a bit skinny on help when school is canceled. Working mom is at home today. I decided to take advantage of this by making the kids a homemade breakfast. Well, semi-homemade breakfast. The kids picked waffles...banana waffles are what I decided to make.
Banana Waffles are a semi-homemade easy waffle recipe made with a regular pancake mix and banana puree and topped off with whipped cream or maple syrup.
Banana Waffles
When I have bananas getting overripe, I puree them and throw them in the freezer. I put ½ cup portions in freezer bags.
A quick pop under some hot water will thaw it out in a matter of minutes.
While I have made waffles from scratch, I use mixes most of the time and then doctor them up. [amazon_textlink asin='B073P44XTH' text='Krusteaz pancake and waffle' template='ProductLink' store='farmwifedrink-20' marketplace='US' link_id='3f4c3585-953b-4297-b0fd-3cd1c76e8d78']mixes are my go-to mixes.
How to Make Banana Waffles
This is a super easy waffle recipe. Start by plugging the [amazon_textlink asin='B00006JKZN' text='waffle iron' template='ProductLink' store='farmwifedrink-20' marketplace='US' link_id='44a2dee2-9772-44b1-99c5-79e7dc77f936'] in and getting it heating up. To make these semi-homemade banana waffles, follow the easy waffle recipe on the back of the pancake mix package.
I combine the mix and water. When I am adding puree, I reduce the water by a quarter of a cup and only use half the oil.
Then add a ½ teaspoon of cinnamon and ½ teaspoon of vanilla to the waffle mix.
Mix to combine the banana puree with the rest of the ingredients to make the banana waffle batter. When you start to make the waffles, be sure you grease your waffle griddle after each waffle.
Kid tested and mother approved waffles!
While the whipped cream is tasty on the banana waffles, some good old maple syrup on the waffles with fresh banana slices are also very good.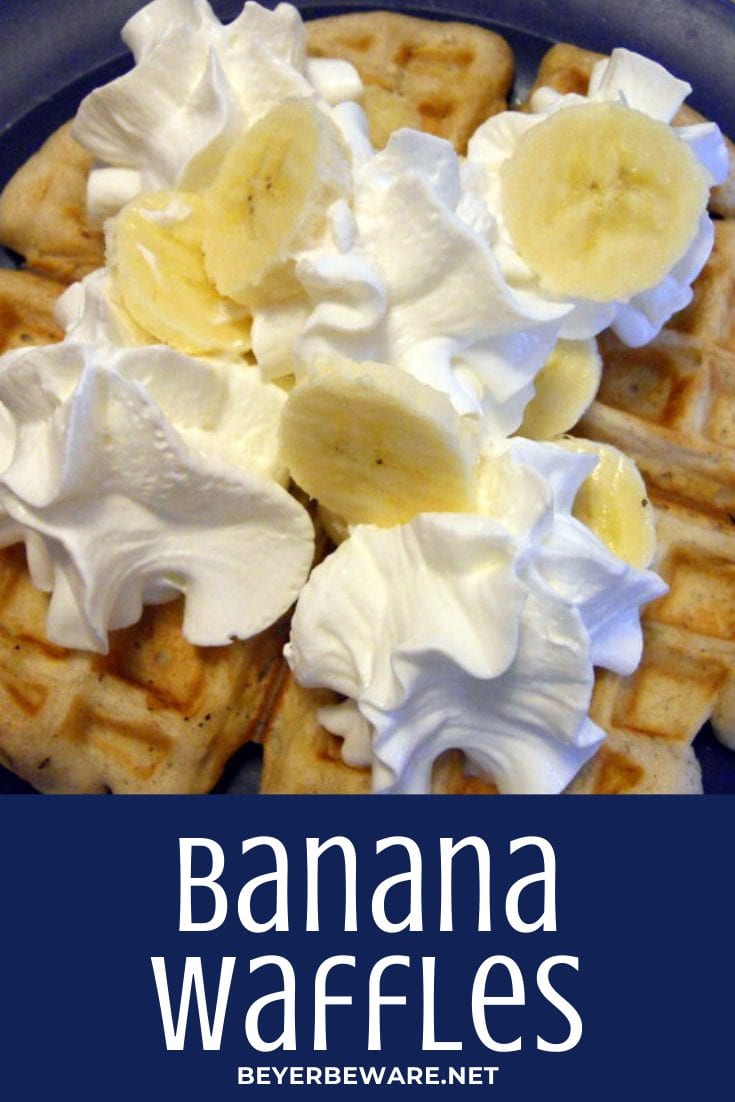 Easy Breakfast Recipes
Almond Blackberry Coffee Cake
📖 Recipe
Linked up to: