Recipe #2 complete in the Real Farmwives of America and Gooseberry Patch in the kitchen series. I made Kathleen's BLT salad from the Gooseberry Patch Farmers' Market Favorites
 cookbook.
And it was complete with lettuce from our garden we planted a few weeks back.
I cut it at the ground and brought it in to be washed. I do not have a salad spinner, so I just laid it out on paper towels to dry out.
Now, comes my favorite hunk of meat of them all…bacon.
Now the recipe was for two salads and I was going to be feeding this to at least four, so I doubled the recipe. I used about 10 slices of thinly sliced bacon that I cut into pieces to fry up in a skillet. When it is completely fried up, spoon it out of the pan onto paper towels and let cool.
Now, onto the dressing. I must admit. I adjusted a tad. So mix together about 4 tablespoons of mayo with 2 teaspoons of vinegar. The recipe called for seafood seasoning, but I had an open envelope of Hidden Valley ranch mix. So, I added about 1/2 teaspoon of the ranch mix and stirred together. (It was thick right before I served, so I splashed about a tablespoon of milk into the dressing to then it out.)
I always have cherry tomatoes in the house. Our little princess is obsessed with cherry tomatoes. So, I cut the little tomatoes in half and tossed on the salad. I used about a cup of tomatoes.
I then put the salad in the fridge till it was time to serve. Right before serving, I also added a cup of Italian blend cheese, the bacon and tossed.
Once I had tossed it I add the dressing and tossed again.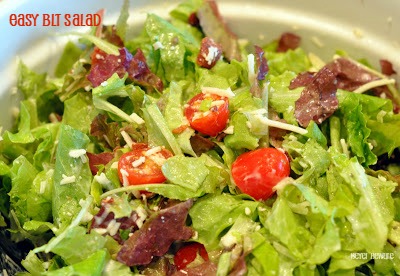 It was yummy! Definitely will be making this again this summer.
What do you have cooking for Hunk of Meat Monday? Share your link!
Gooseberry Patch gave me the Farmers' Market Favorites cookbook free of charge. After I prepare 10 recipes I will have a free cookbook to give away to one of my readers.