Disclosure: *This post may include amazon links. As an Amazon Associate, I earn from qualifying purchases.
I am not a fancy cook. I just like food. A lot. I like good food with good wine. And let's be honest, I am a coffee junky. I could live a long time without a lot of things, but coffee is not one of those things. While I am not counting on getting any of these items since I literally own them all, I have a short list of gifts for the foodie in your life I would recommend or for any husband looking for ideas for their wife, here they are.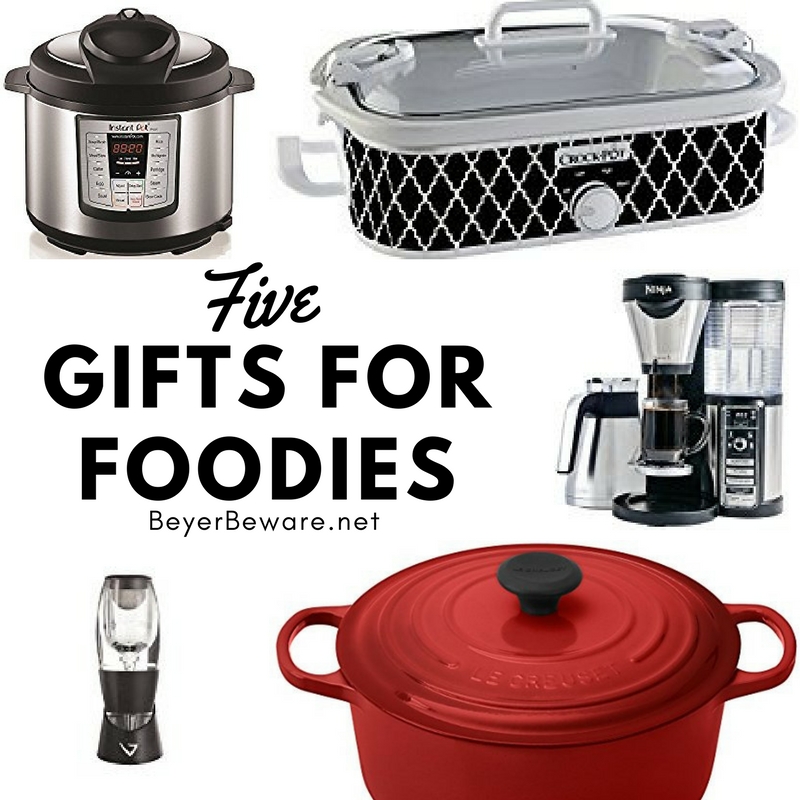 5 Gifts for the Foodie in Your Life
1. Crock-Pot 3.5-Quart Casserole Crock Manual Slow Cooker

Every busy mom must have a casserole crock pot. I love this thing because I can literally put supper in this when I get home from work, run around after the kids for a couple hours and come home to a perfectly cooked meal. Check out all my crock pot casserole recipes. What I love about this one, it also can be transported without a big mess. If you don't have one and are crock pot lover, get one now.
Every coffee junky has to leave their college coffee pot in the past at some point. I got sent this coffee bar to try after attending Blogher Food. I no longer need my Keurig or my traditional 12 cup coffee pot. This Ninja Coffee Bar does it all.
3.Le Creuset Signature Enameled Cast-Iron 5-½-Quart Round French Oven, Cherry


I have wanted this, well, I don't know how long I have wanted this, but I drool over these cast-iron puppies every time I see them on display. Their color names are even enticing: Flame, Caribbean, Marseille, Cherry, Dune, Fennel, Cassis, Dijon. I want one. Pretty, pretty please with a CHERRY on top! So, now I own this one. Then I got the braiser. I just couldn't stop there. After that, I got the 4.5-quart dutch oven. I have a problem.
This thing is just cool. I have literally put frozen chicken wings in this thing and had fall-off-the-bone buffalo wings 20 minutes later. Whil I am still mastering all I can do with the Instant Pot, I am all in on it.
5. Vinturi Essential Wine Aerator
I have a confession. This aerator has been known to carry it with me. I have no patience to wait on a decanter. This is a must for the red wine lover. Plus it is a great conversation piece when you show up with it at a family gathering or friend's house.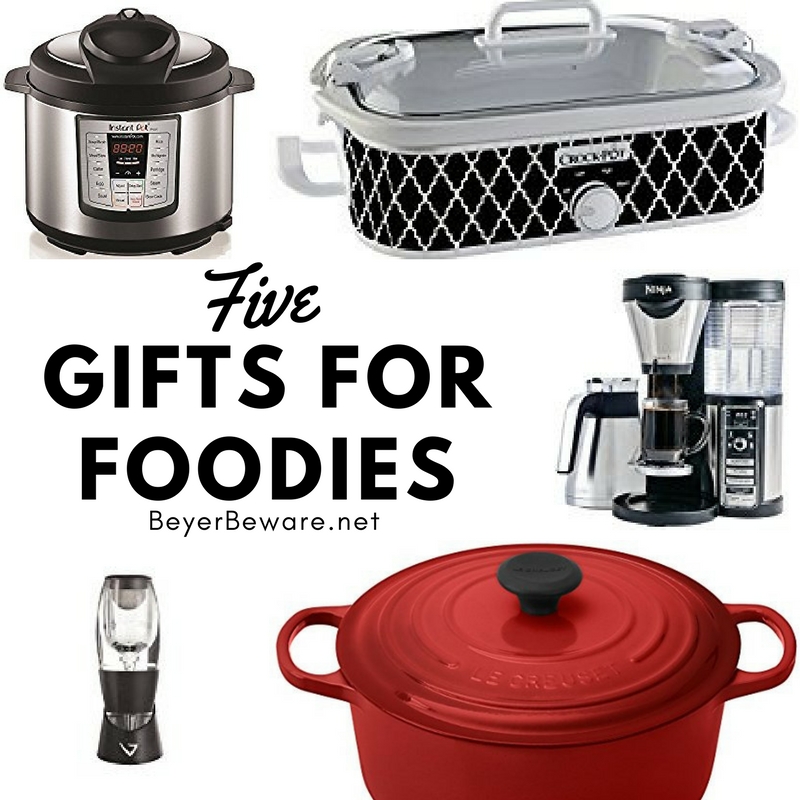 Do you have any other gift ideas for the busy foodie?
Be sure to check out the other tips and food tidbits as part of the 30 Days on the Prairie Farm Series.

Affiliate links were used in this post.