Disclosure: *This post may include amazon links. As an Amazon Associate, I earn from qualifying purchases.
Grilled Apricot bourbon-glazed spiral ham on the grill is a sweet and salty combination of flavors with apricot jam, mustard, maple syrup, lemon juice, and bourbon and then smoke drenched on the Big Green Egg. Holidays seem to be the time to enjoy big ham with family. Everyone is always making Easter hams or Christmas hams. I snagged a spiral cut ham when they were on sale around Christmas. With so much time to cook right now, I decided to give cooking the spiral cut ham on the grill. The apricot bourbon-glazed ham on the grill turned out perfectly.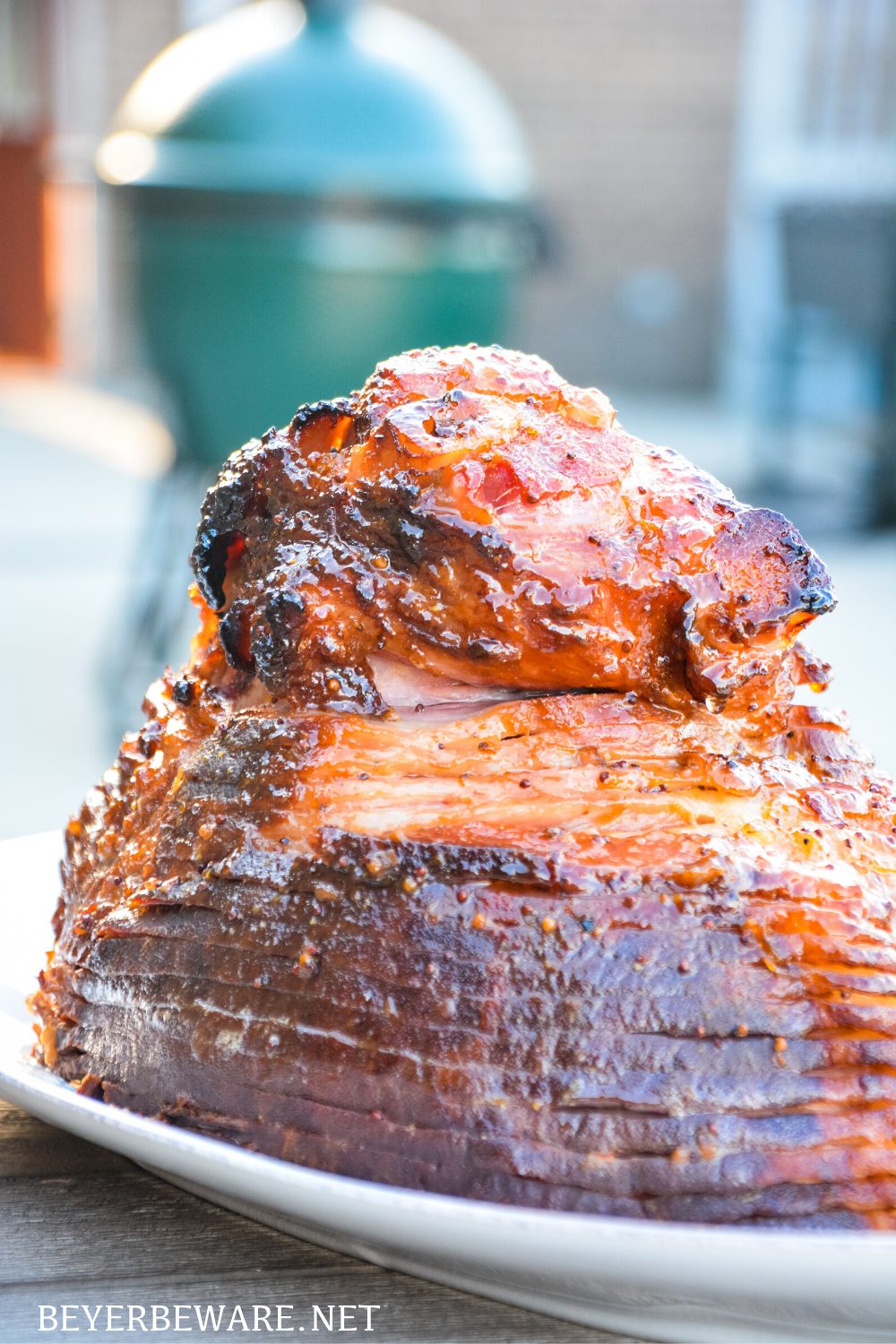 This bourbon-glazed ham is so good. I had a hard time letting it rest after I pulled it off the grill. The ham had an incredible bark. I literally was standing over the ham cutting the barky pieces of ham off the bone. I could eat ham like this on the regular.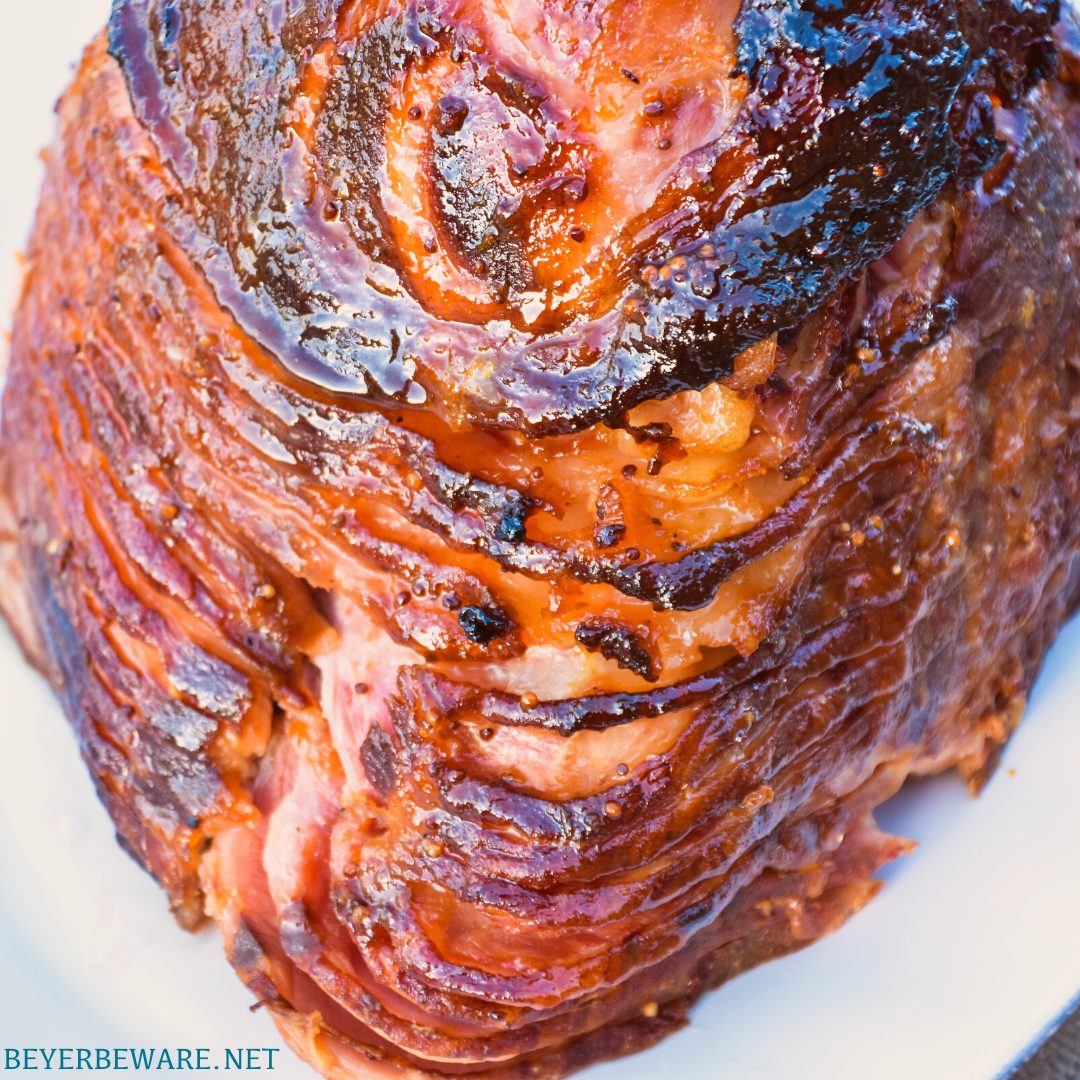 Apricot Bourbon-Glazed Spiral Cut Ham Ingredients
The chaos of what a crisis can cause on the grocery store shelves seems crazy at times. Even though I have been shocked by the empty shelves, farmers are still out there producing food for all of us. Let me be clear, there will be enough food for us all. It just may seem scary when an unprecedented run on the grocery store happens in a short amount of time. There are only so many trucks and truck drivers. The food is plentiful. The pig farmers across the country will not be running out of ham or bacon for us all anytime soon.
I have a love for combining unlikely ingredients. This spiral ham has an interesting combination of ingredients. Sweetness is brought from several ingredients like jam and maple syrup, while savory comes from mustard and bourbon. Here is what you need to make a smokey, sweet, and tangy glaze for a spiral-cut ham.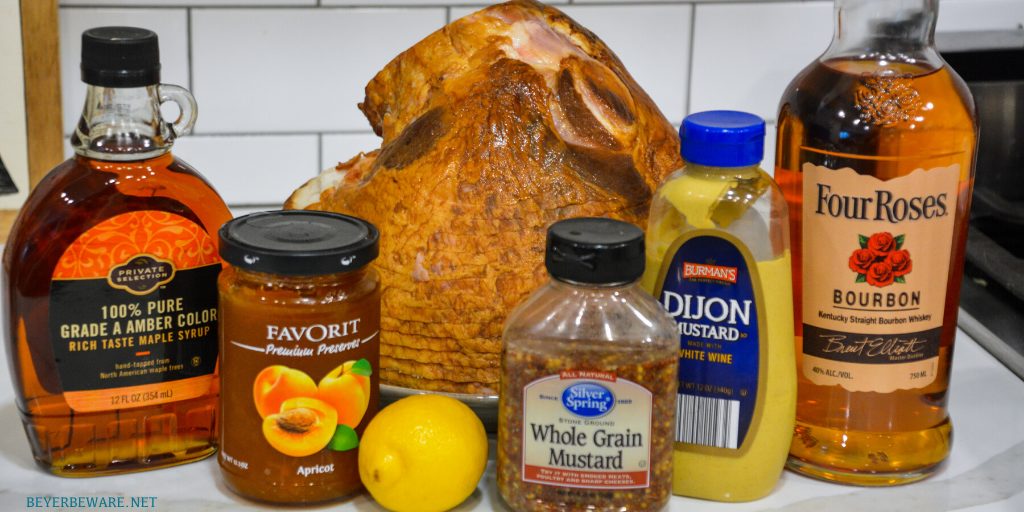 Ham - This can be a spiral-cut ham or a solid ham roast
Apricot Preserves or Jam - I like jams and preserves over jelly. There is more fruit.
Mustard - I used both whole grain mustard and dijon mustard.
Bourbon - Whatever your cabinet has in it is fine. I used Four Roses.
Lemon Juice - Fresh squeezed
Pepper
How to Make a Double Smoked Spiral Ham on The Grill?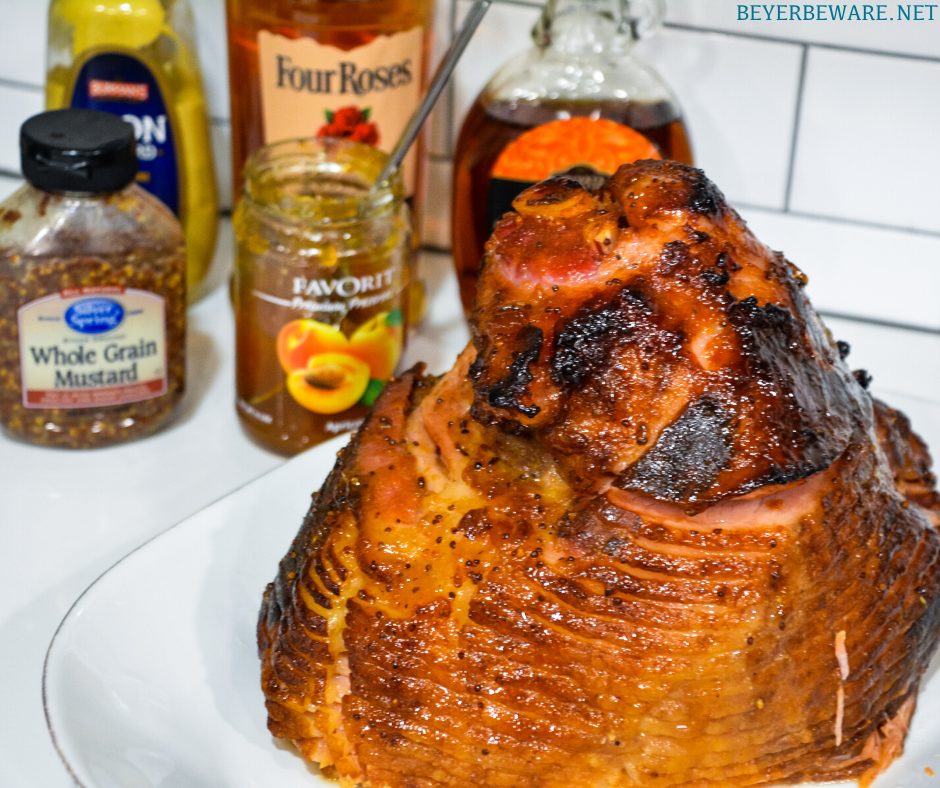 To make this apricot bourbon-glazed spiral ham, start by mixing the jam, maple syrup, bourbon, both mustards, and lemon juice together. The combination will be a thick, sticky liquid.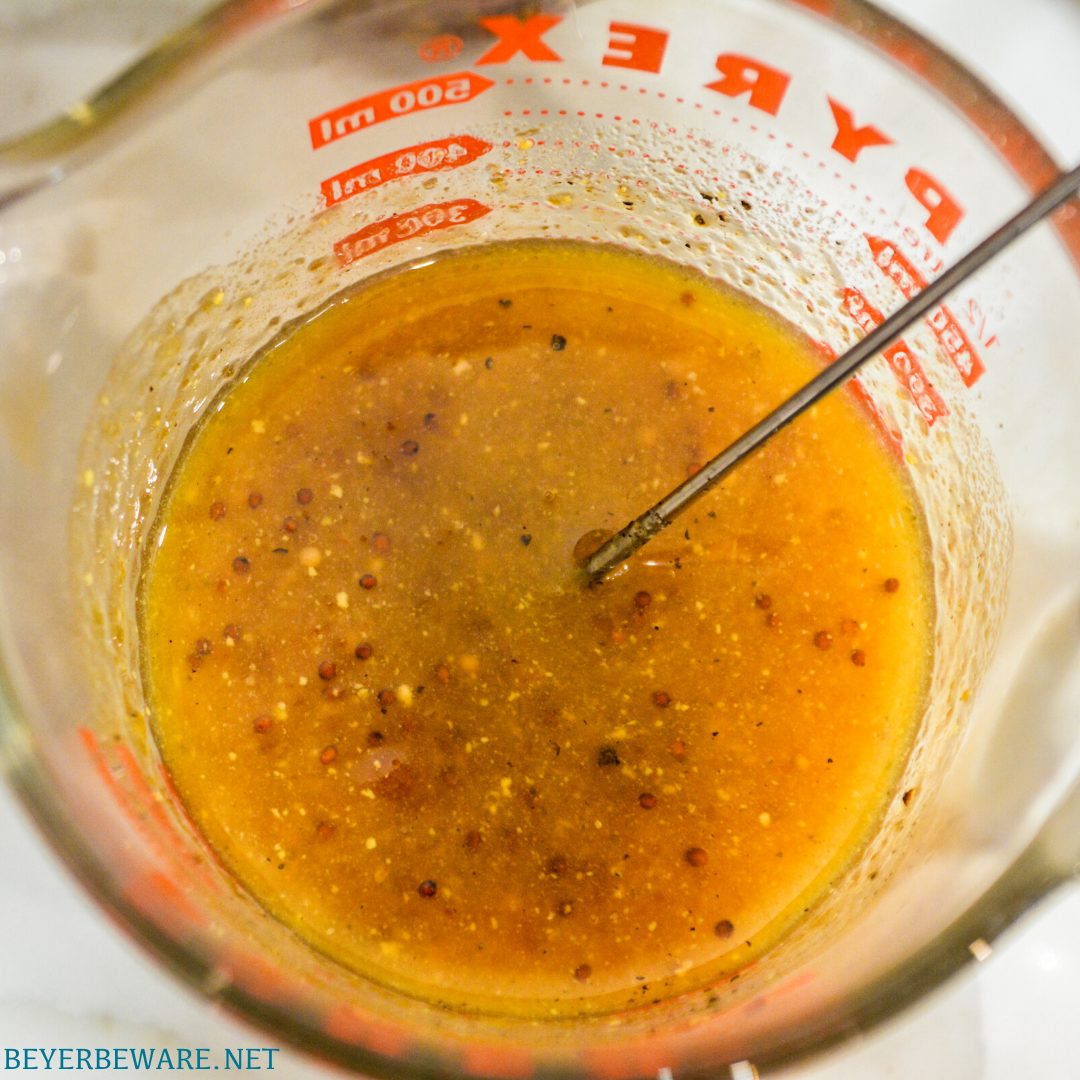 Place the spiral cut ham in a disposable aluminum pan, cut side down. Then pour about half of the glaze over the top of the ham, and brushing it on over the whole ham.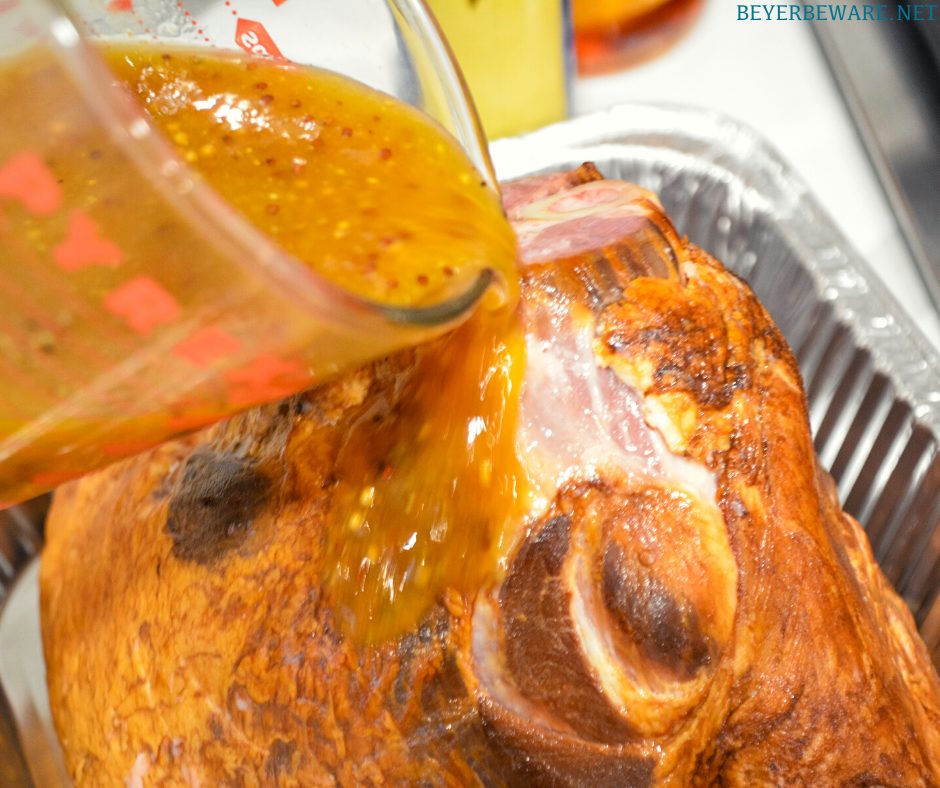 Place the ham on the grill. I had the Big Green Egg preheated to 250°. I used the defusing plate to make sure the heat wasn't a direct heat. You can also make this ham in the oven on the same heat.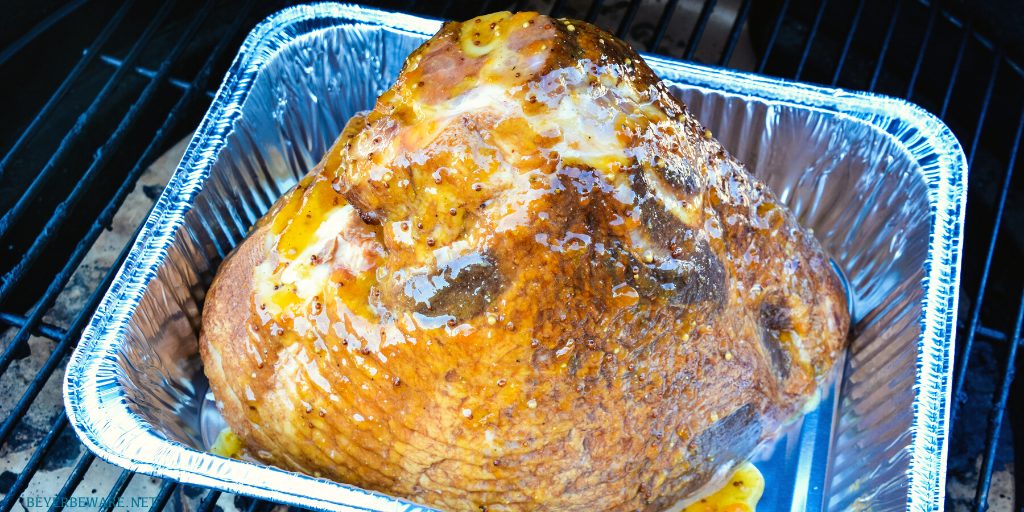 Cook the ham for two to three hours, adding more glaze every thirty minutes or so with a silicone brush. The ham has already been fully cooked if you bought a smoked ham, so the ham only has to be hot. But one of the things I love about using my Big Green Egg is that the outside can get a nice, flavorful bark. This bourbon-glazed ham got just that bark.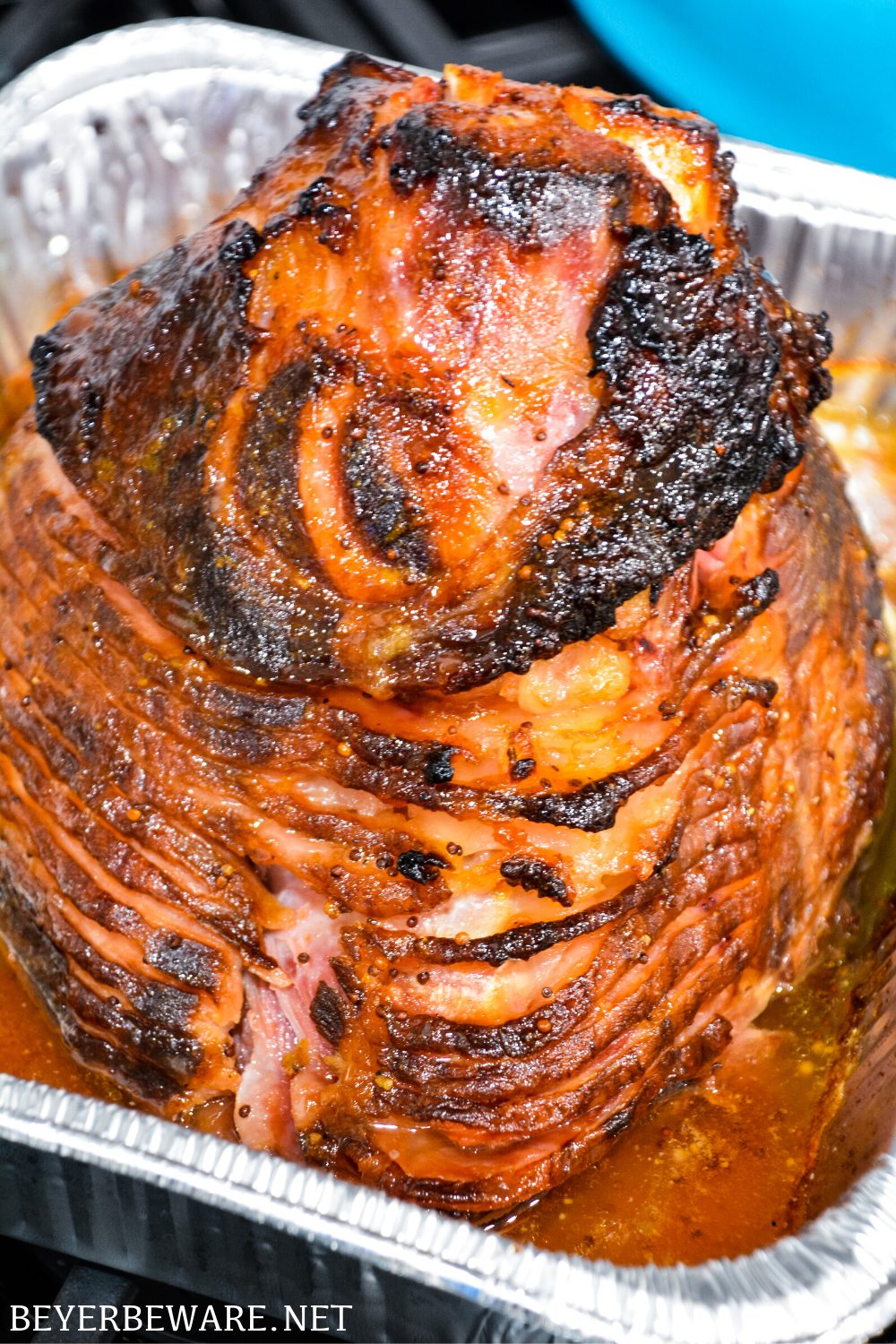 The ham was so juicy yet also with a crusty edge everyone loves with BBQ. Creating the ultimate flavors for a holiday ham.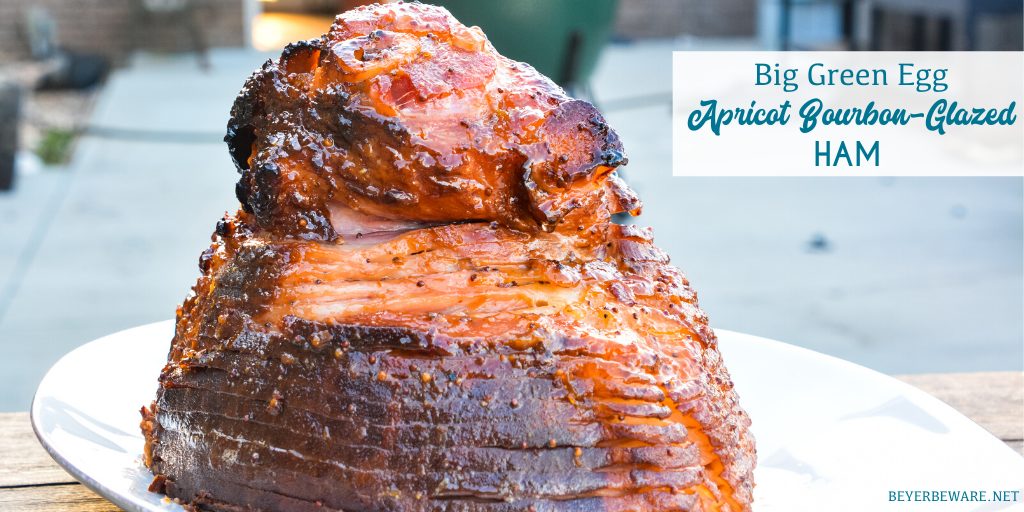 If you have leftover ham, look no further for ideas on ways to use up the ham. Leftover ham is easily frozen too for quick meals on busy weeknights.
How long to cook spiral ham?
It should take about an hour per 3 pounds to cook a spiral cut ham in crock pot, oven or grill on a low setting or 250 degrees. It will cook faster on higher temps but be sure to baste to keep it from drying out.
Holiday Spiraled Ham Cut Recipes
Looking for more great spiral cut ham recipes? Look no further than some of these great Instant Pot, Crock Pot, and oven baked ham recipes.
Crock Pot Garlic Honey Mustard Ham
Instant Pot Bourbon Mustard Ham
Crock Pot Ham with Maple Gravy
Instant Pot Cranberry Glazed Ham
Crock Pot Brown Sugar Maple Ham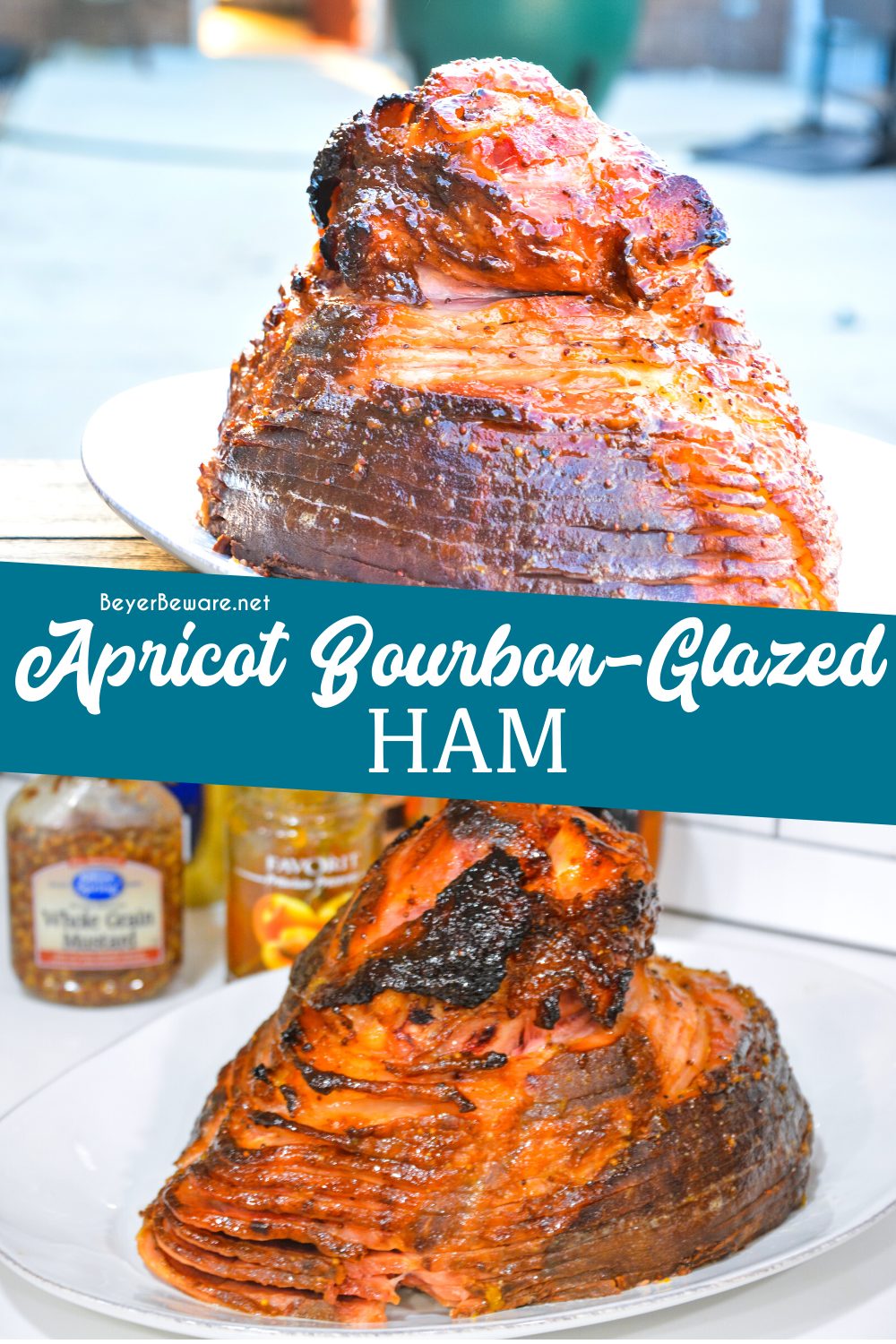 📖 Recipe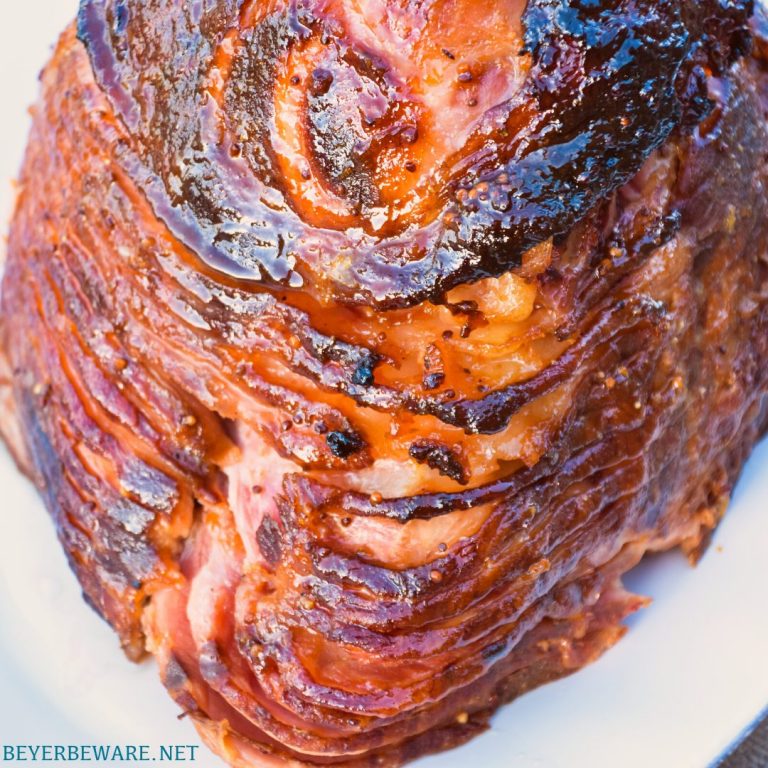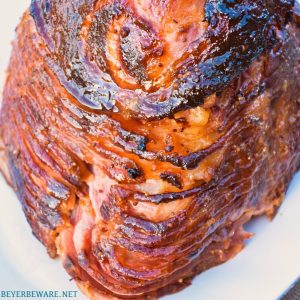 Grilled Apricot Bourbon-Glazed Spiral Ham
Apricot bourbon-glazed ham on the grill is a sweet and salty combination of flavors with apricot jam, mustard, maple syrup, lemon juice, and bourbon and then smoke drenched on the Big Green Egg.
Print
Rate
Ingredients
1

8-10 pound

ham

⅓

cup

apricot preserves

⅓

cup

maple syrup

½

cup

bourbon

1

tablespoon

dijon mustard

1

tablespoon

whole grain mustard

1

lemon, juiced

1

teaspoon

pepper
Instructions
Mix all the ingredients together besides the ham.

Place the spiral cut ham, but side down in an aluminum disposable pan.

Pour half the glaze over the ham. Brush to cover.

Put the ham in the pan on a grill or smoker preheated to 250°. Use a diffusing plate to cook on indirect heat.

Every 30 minutes, add more glaze to the ham. Use the liquid in the pan to reglaze the ham as well.

Cook for two to three hours until the ham is heated through completely and the outside is barky to your liking.
Nutrition
Serving:
0.3
pound
|
Calories:
984
kcal
|
Carbohydrates:
11
g
|
Protein:
82
g
|
Fat:
64
g
|
Saturated Fat:
23
g
|
Cholesterol:
234
mg
|
Sodium:
4519
mg
|
Potassium:
1106
mg
|
Fiber:
1
g
|
Sugar:
8
g
|
Vitamin A:
13
IU
|
Vitamin C:
2
mg
|
Calcium:
38
mg
|
Iron:
3
mg