Disclosure: *This post may include amazon links. As an Amazon Associate, I earn from qualifying purchases.
Easy Honey Mustard Pork Chops are a quick and easy pork chop recipe with just four ingredients creating flavorful chops that can be grilled or baked. If you have any family members who are honey mustard lovers, these pork chops are going to be a huge hit.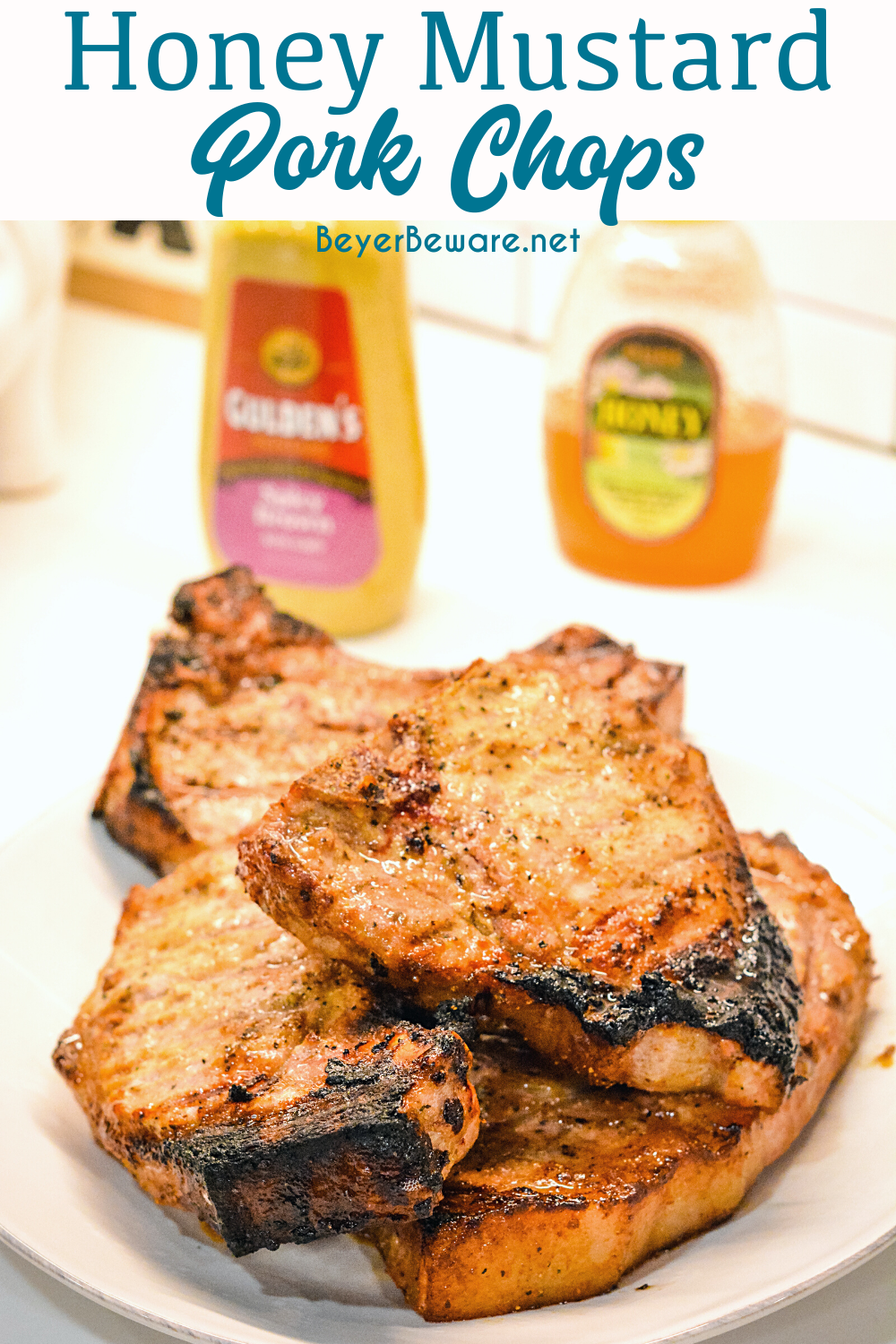 We have pork chops a lot at our house. One of the many perks of butchering our own pigs. These easy honey mustard pork chops are a quick and easy recipe for any night of the week whether you are grilling out or baking them inside. The honey mustard marinade can be reserved for a perfect glaze as the pork chops cook.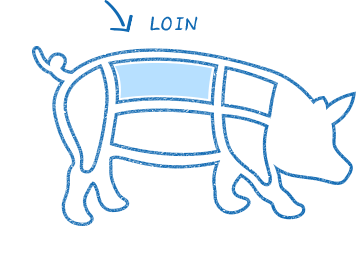 Now, the pork chops come from the loin of the pig, aka the wide middle part of the back. Whole pork loins can be large and cut out a lot of pork chops, but by no means can you get pork chops from the entire pig. Just that one area on the back. Now, there are various ways to cut the pork chops. Bone-in or boneless is probably what you are thinking, but the whole loin is not made symmetric.
Just like beef, you can have a porterhouse or ribeye or strip pork chops. I am serious. Don't believe me? Check this out. I have made this recipe with a center cut chops with bones and without. Both work fine. If you make them with boneless, this is a great recipe for boneless pork chop sandwiches.
Grilled Honey Mustard Pork Chop Ingredients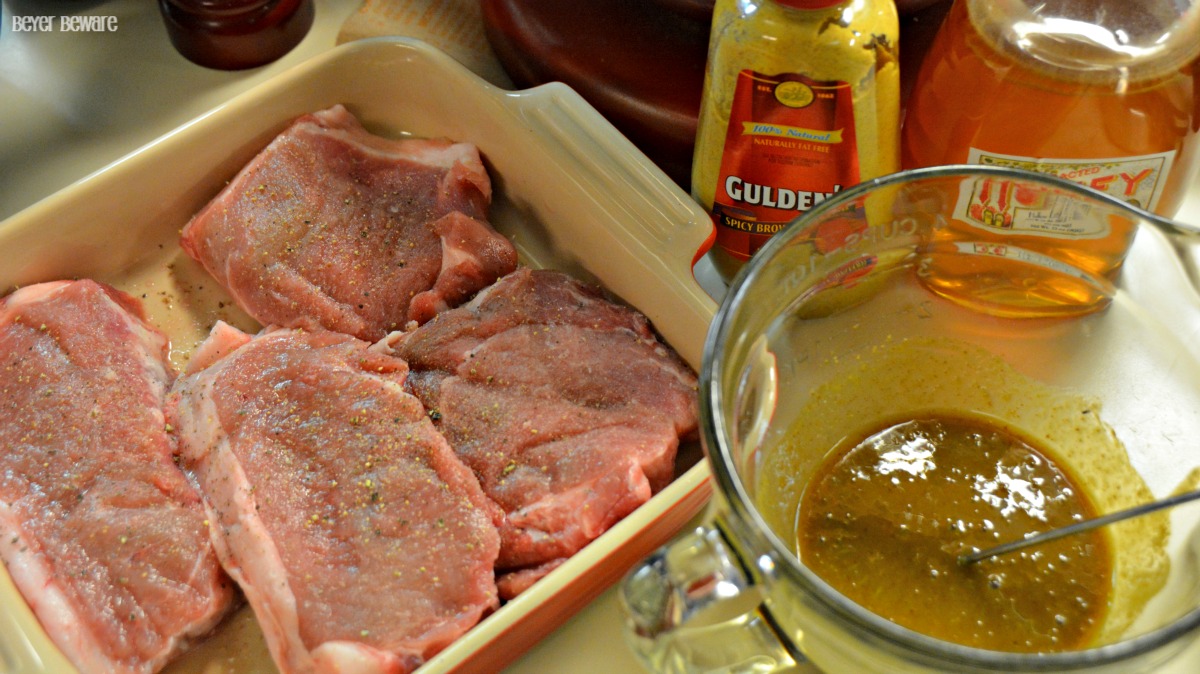 Ok, I said this was easy.
Three main ingredients for the marinade:
Mustard - Spicy brown mustard is my mustard of choice for this honey mustard marinade. It gives it a bit more spice.
honey - Your honey of choice is fine. This doens't have to be fancy honey.
Worcestershire Sauce - The Worcestershire sauce adds a rich, garlicky flavor to the marinade.
In addition you will want boneless or bone-in pork chops plus salt and pepper. Honey chipotle seasoning also works perfectly with this recipe.
How to Make Easy Honey Mustard Pork Chops
To start making these pork chops, begin by mixing the three main ingredients together in a small bowl. A little salt and pepper and you have yourself a marinade, people. I liberally salted and peppered the pork chops and then poured the marinade over top. I would reserve a third of it to use as a glaze if you grill the chops.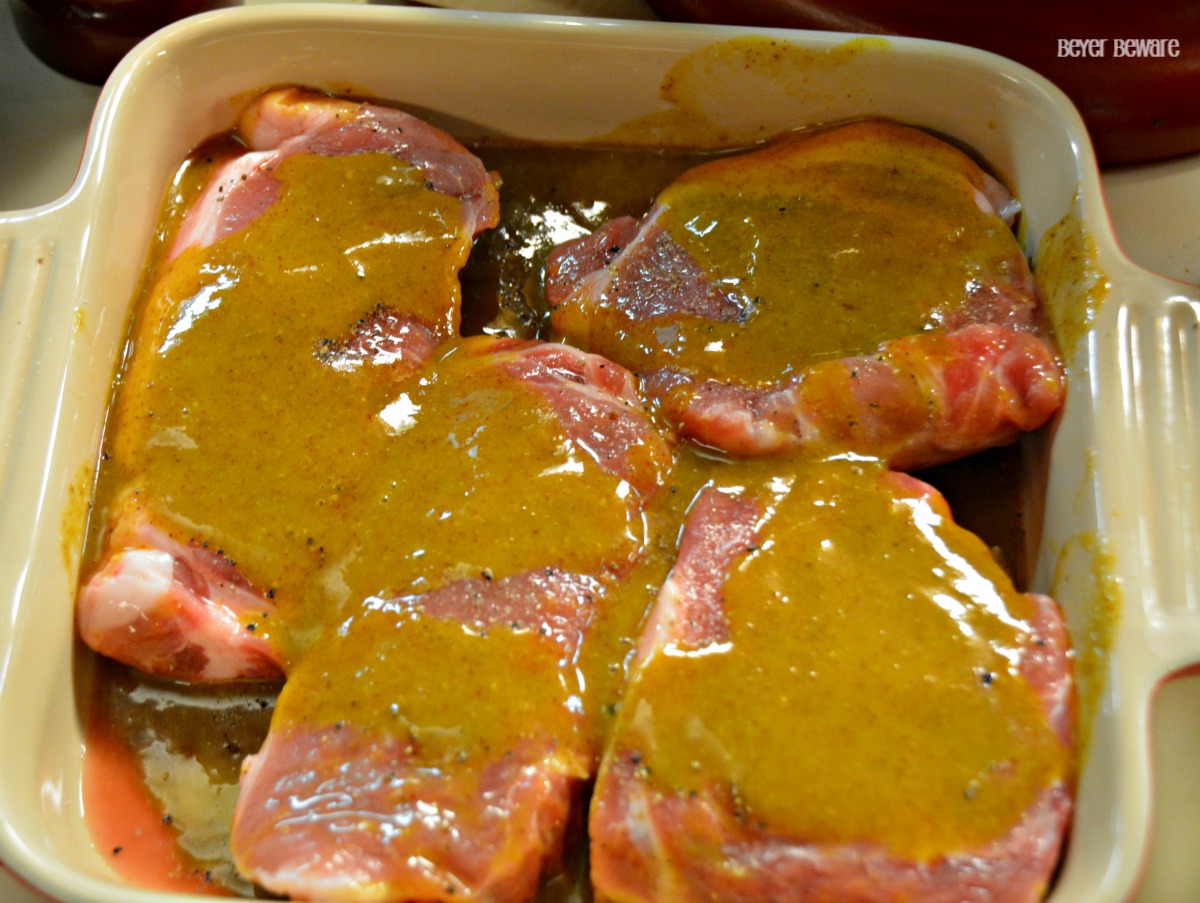 Then let the meat chill. Go to work or run an errand. It can rest all day or for an hour or two. Let's be honest, sometimes I forget I have meat marinading and make a completely different meal. Can you tell I don't meal plan? Let's pretend you don't forget your marinading meat. The cooking method is up to you. Throw them on the grill. Put them in the oven. If you bake them, put the chops in the oven in a baking dish with the marinade.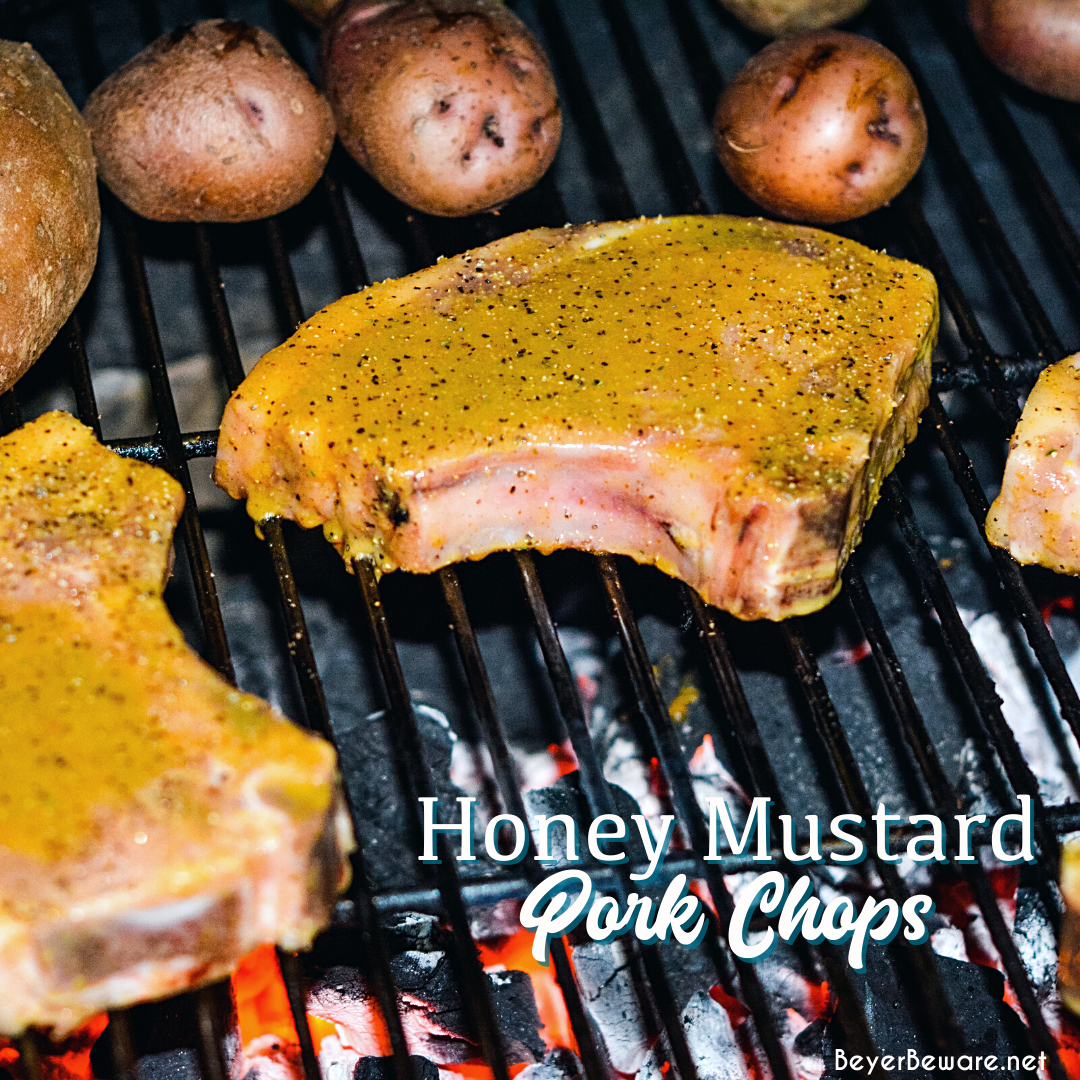 The thing with pork is that you don't have to cook it till it is dried out. Luckily, most of our pork is raised indoors today. This means the reason our mothers cooked pork until it was the texture of shoe leather was because pigs were raised outside which caused some pigs to get various parasites in their system. Indoor raising means no more access to the parasites in soil. Which means safer food. What a concept! Innovation at work. Let's make our pigs healthier by bringing them into barns and then make our pork.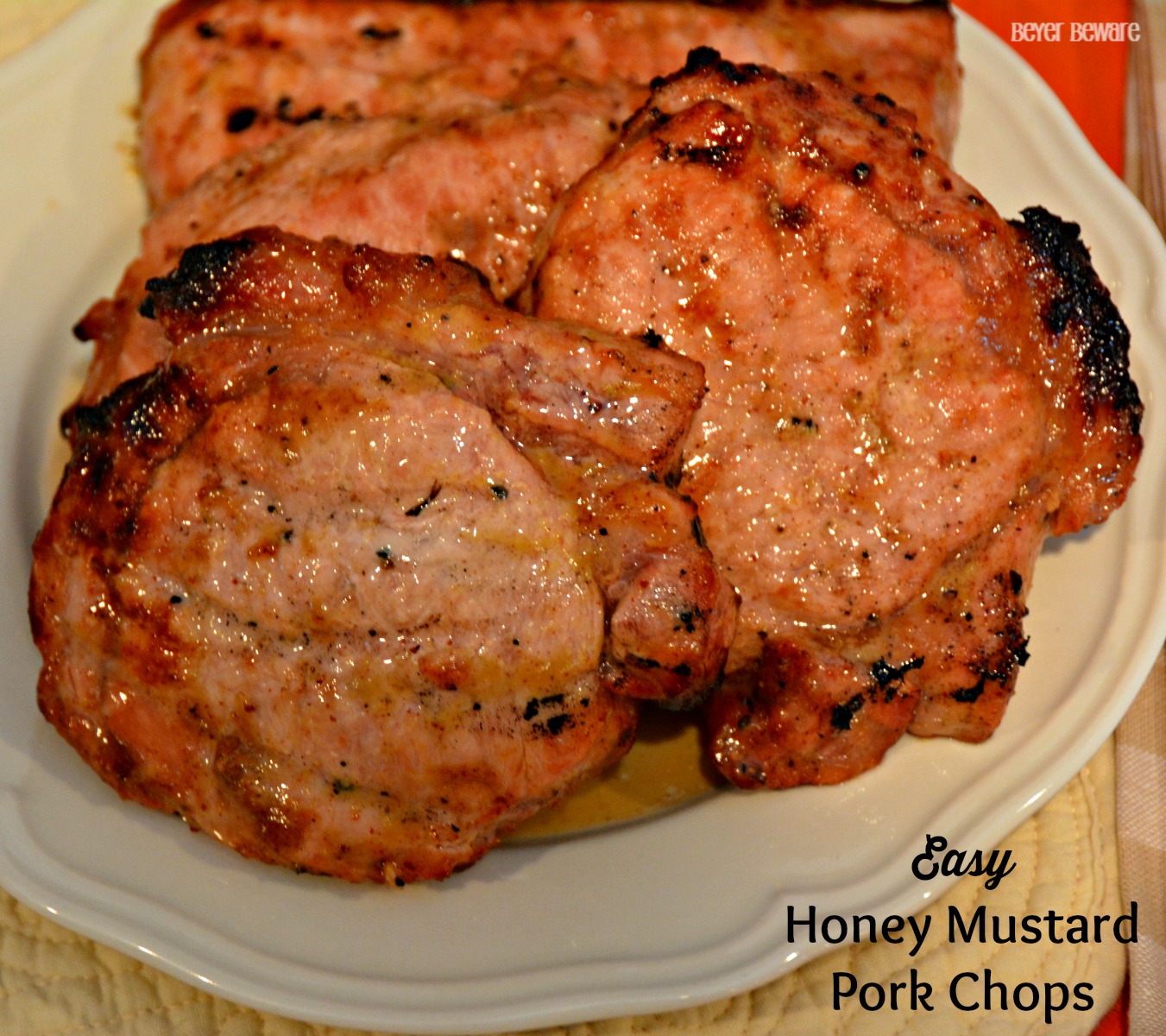 End of story. Don't cook your pork over 150 degrees. For the love of juicy pork, please don't overcook your pork chops. Pink in the middle is just fine. Ignore your mother's cooking lessons. If grilling, grill over more indirect heat or on the outsides of the grill for about 7 minutes on each side. Again, use your meat thermometer. 150. If baking, bake for 20-25 minutes on 350. Check the temperature. Thickness can play a role in timing. Our chops were about one inch thick. DO NOT OVERCOOK.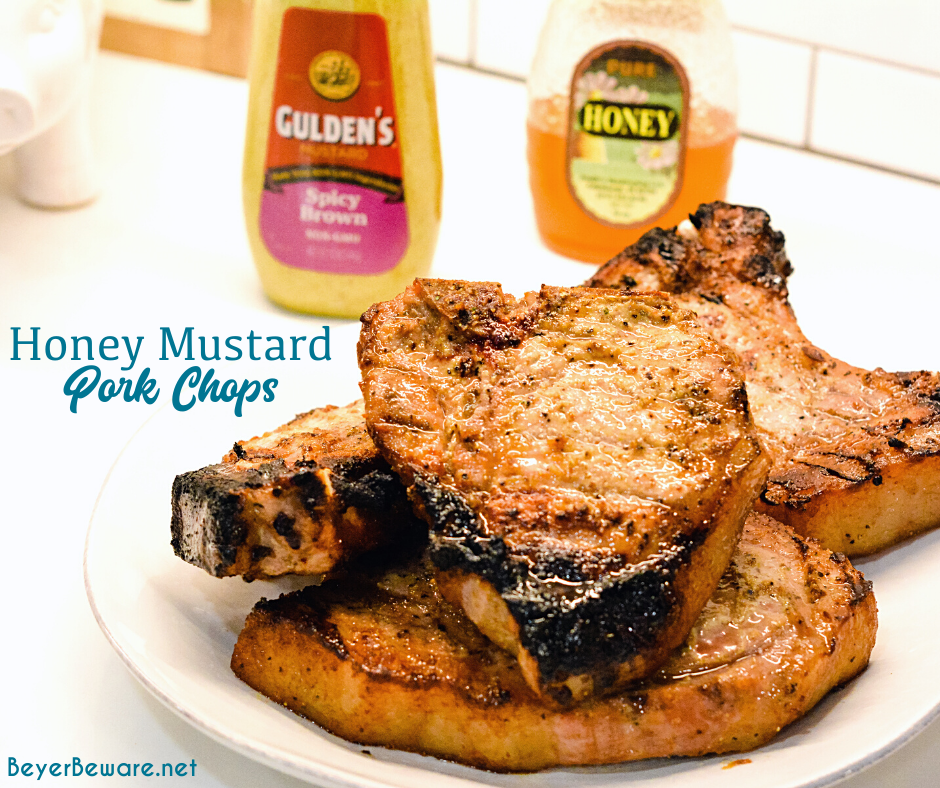 Easy Pork Chop Recipes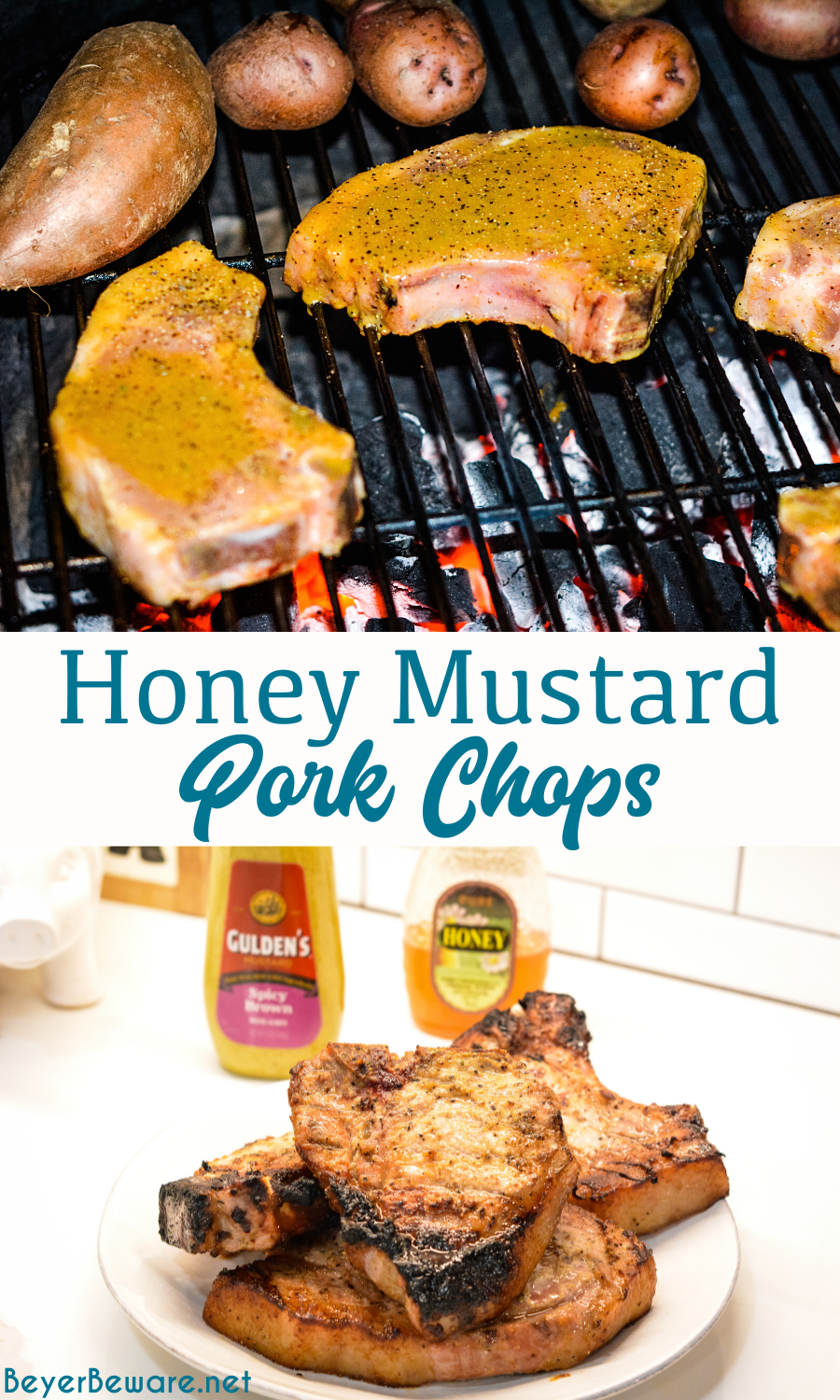 📖 Recipe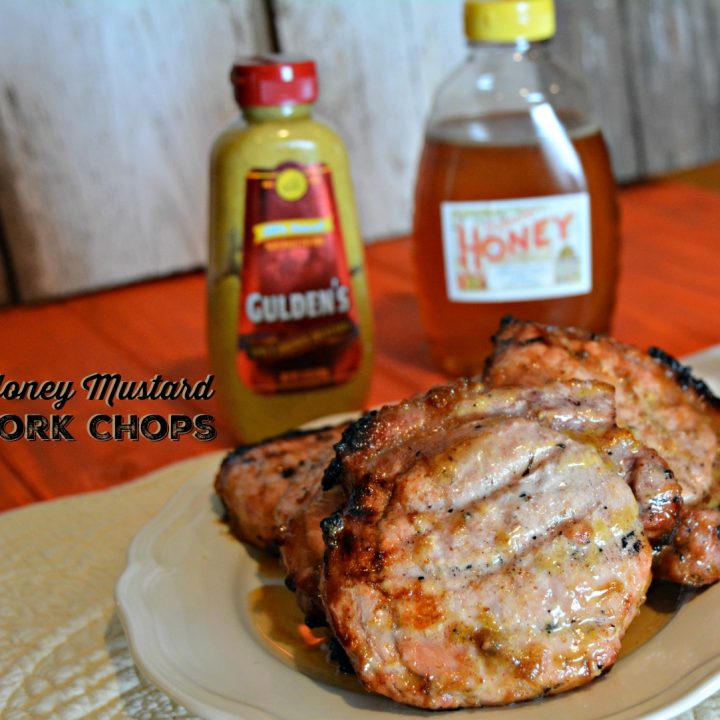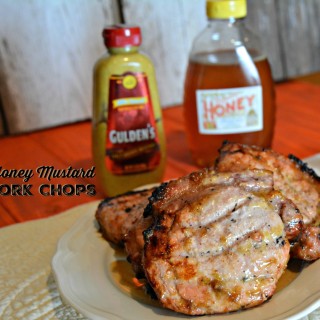 Easy Honey Mustard Pork Chops #HunkOfMeatMonday
Easy Honey Mustard Pork Chops are a quick and easy recipe that can be grilled or baked.
Print
Rate
Ingredients
4

pork chops

½

cup

honey

½

cup

spicy brown mustard

2

Tablespoons

Worcestershire Sauce

salt and pepper
Instructions
Mix together honey, mustard and Worcestershire sauce.

Season pork chops with salt and pepper.

If grilling, reserve ⅓ of the mixture for glazing pork chops while on the grill. Otherwise, marinade pork chops in a zip lock bag or baking dish.

If baking, bake with the marinade on 350 degrees for 20-25 minutes or internal temperature is 155 degrees.

If grilling, grill on a 350 degree grill for 7-10 minutes on each side or internal temperature is 155 degrees. Baste with reserved sauce when you place on the grill and flip over.
Nutrition
Serving:
1
pork chop
|
Calories:
364
kcal
|
Carbohydrates:
38
g
|
Protein:
30
g
|
Fat:
11
g
|
Saturated Fat:
3
g
|
Cholesterol:
90
mg
|
Sodium:
503
mg
|
Potassium:
633
mg
|
Fiber:
1
g
|
Sugar:
36
g
|
Vitamin A:
22
IU
|
Vitamin C:
2
mg
|
Calcium:
39
mg
|
Iron:
2
mg