Disclosure: *This post may include amazon links. As an Amazon Associate, I earn from qualifying purchases.
During the heat of the summer, cooking dinner changes in my house. I avoid turning on the oven at all costs. Honestly, even the crock pot and Instant Pot don't get much action at our house. We live off food from the grill, salads, and easy side dishes I can make on the stovetop or on the grill. If you are looking for new summer recipes, here are some new summer dinner ideas to make for your family.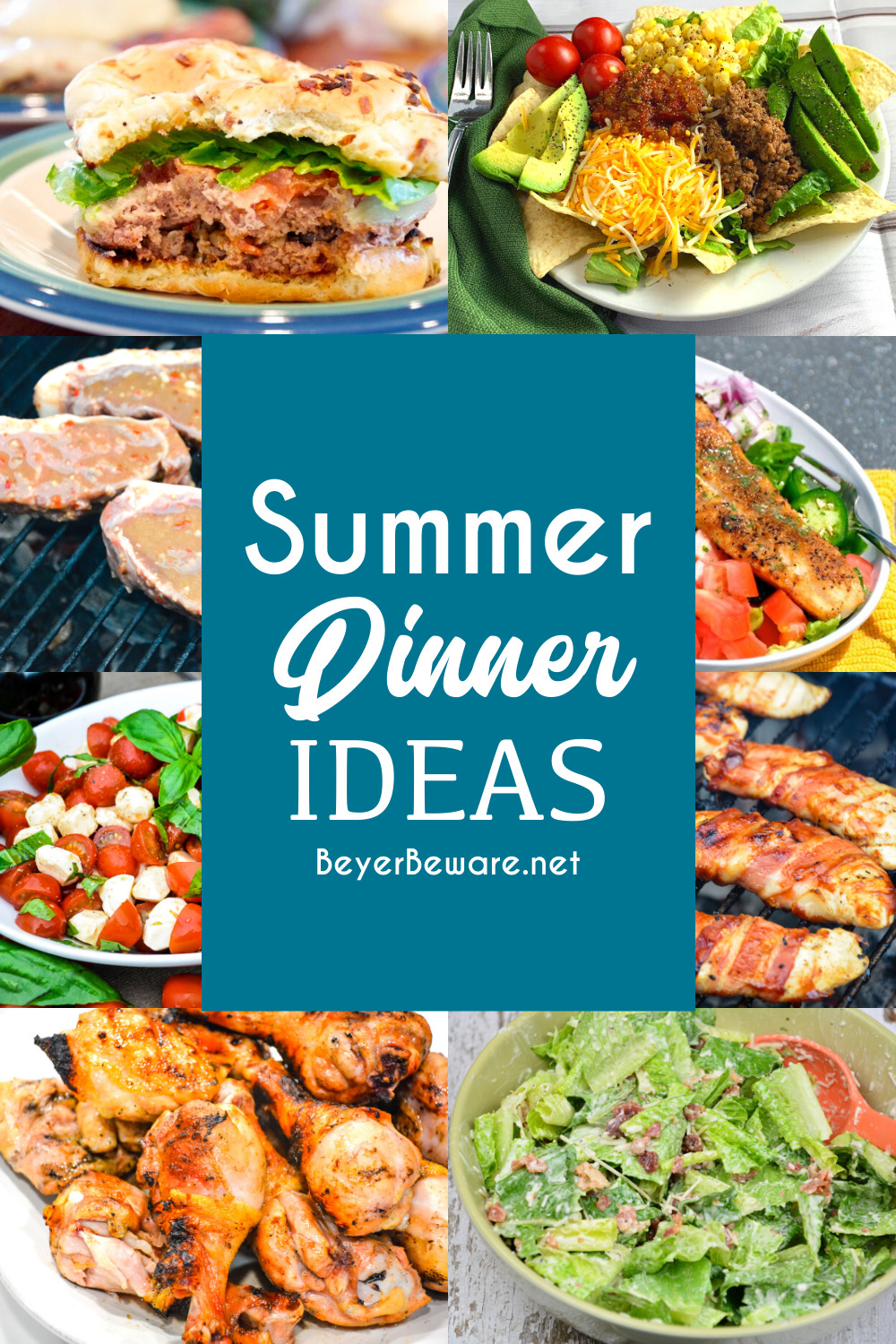 Summer dinner ideas that will keep your kitchen cool and your stomachs filled with everything from grilled chicken, steaks, and burgers to salads and garden-fresh recipes to accompany everything coming off the grill. For an idea of how you can put a work worth of meals together, here is a 5-day summer dinner plan.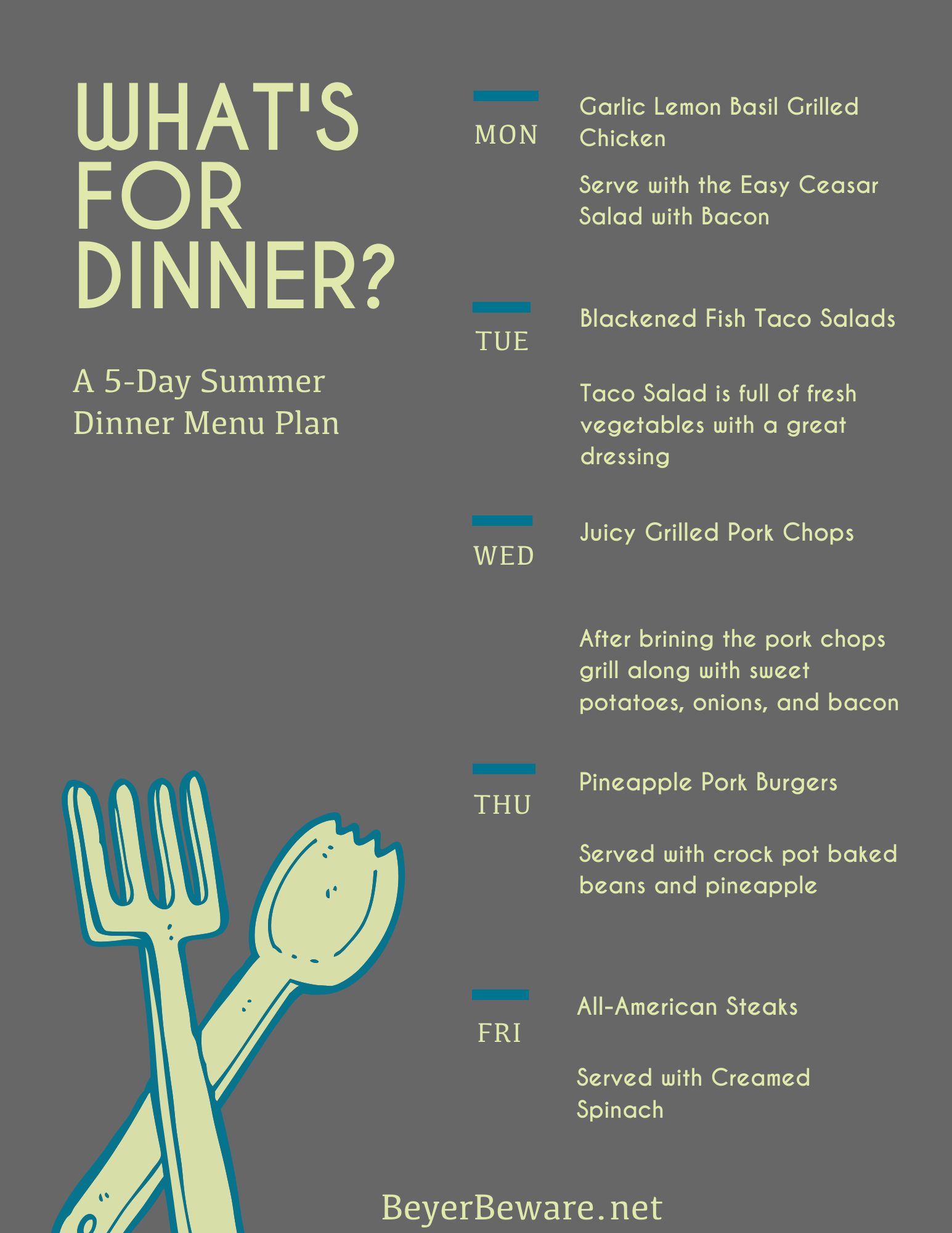 Salad Recipes
Nothing beats a good salad after a hot summer day. Here are a few of our favorite dinner salads as well as several side salads that would be perfect next to some grilled meat.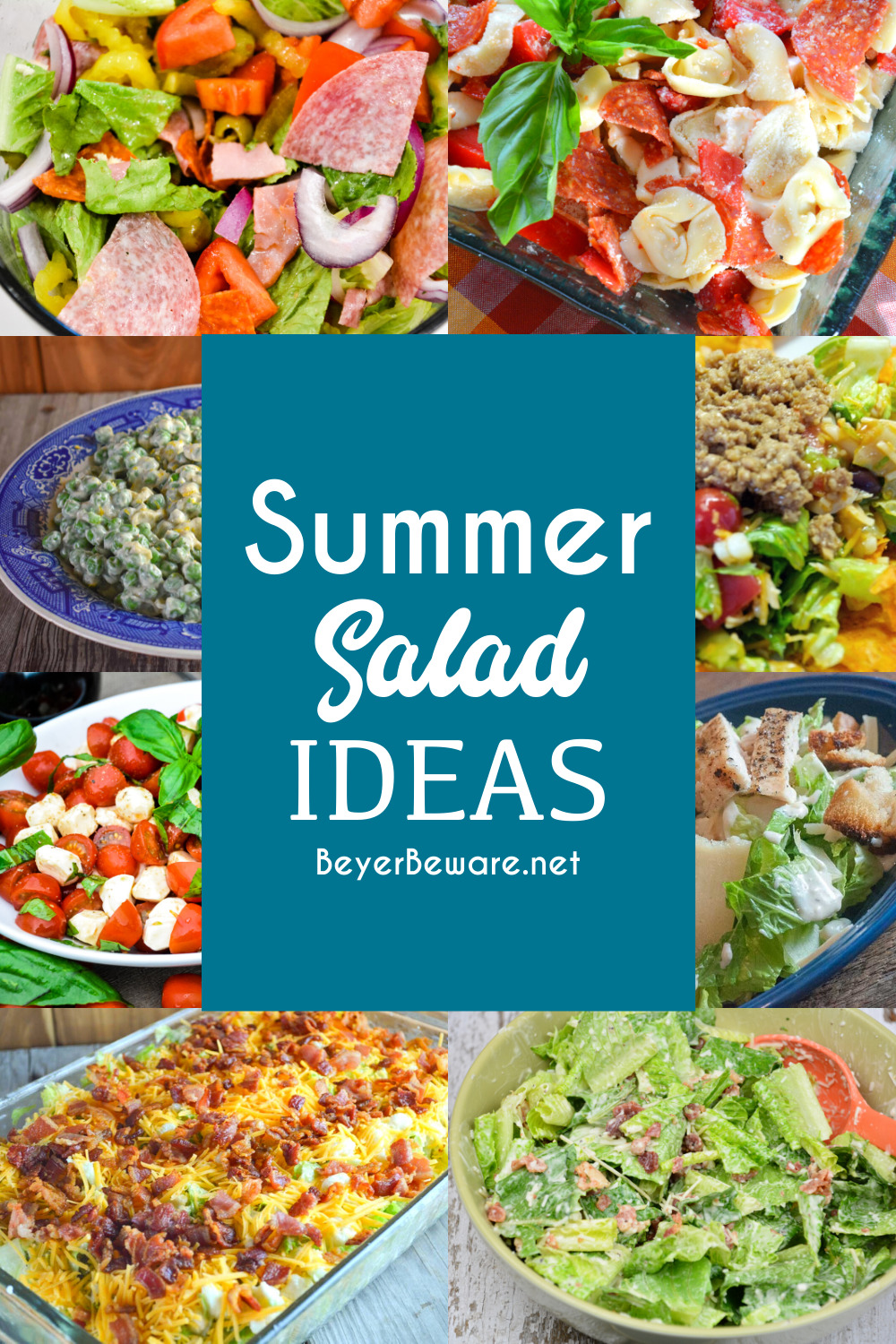 Grilled Romaine Salad with Proscuitto
Walking Tacos with Crock Pot Taco Meat
Bacon Tomato Zucchini Pasta Salad
Grilled Chicken Recipes
Chicken is go-to meat in many households, but man can chicken dry out quickly on the grill. Here are tried and true recipes to ensure the juiciest chicken recipes.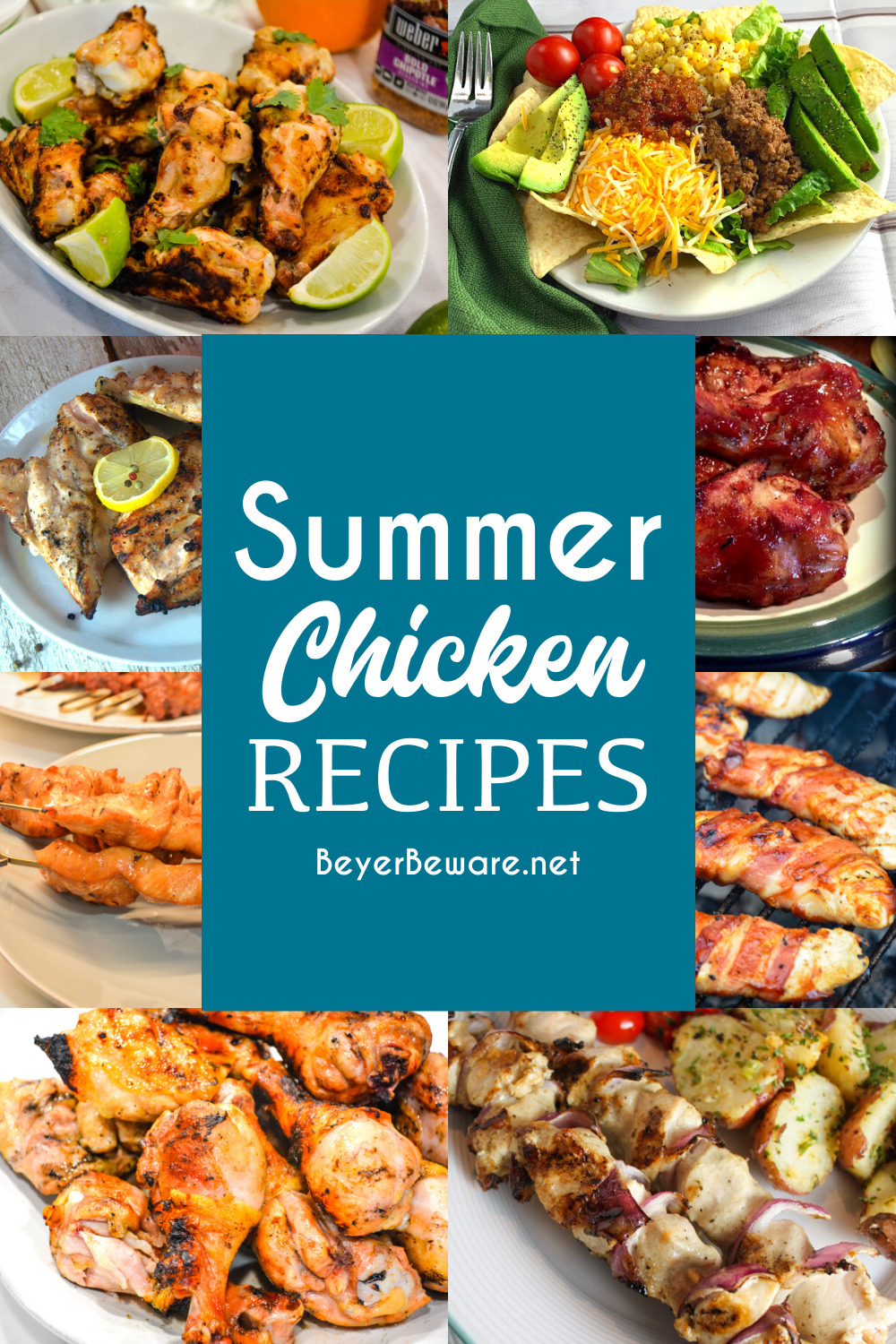 Garlic Lemon Basil Grilled Chicken
Grilled Pork Recipes
Nothing beats grilled pork chops, but this list also has a great beer bath brat recipe as well as the wildly popular smoked queso recipe. These grilled pork recipes will be the star of any summer dinner.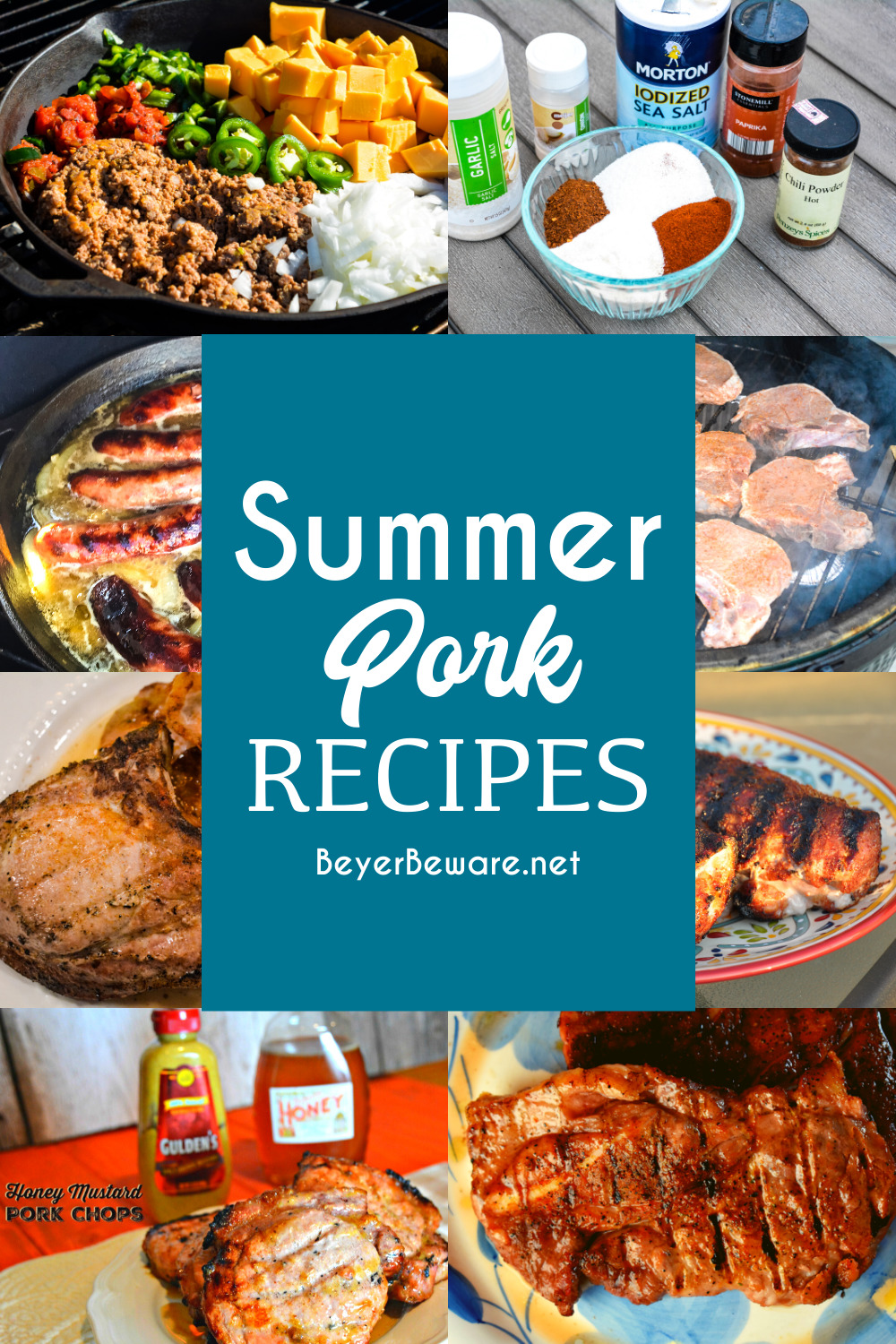 Farmhouse Marinated Pork Chops
Grilled Apricot Bourbon Spiral Cut Ham
Brined Pork Chops for Grilling
Herb Crusted Grilled Pork Loin
Sweet and Spicy Rub for Grilled Pork
Grilled Steak Recipes
Grilling a steak can be overwhelming if you have never done it before. When you invest in steaks, you want to be sure they are done perfectly. Here are some great methods for cooking steak plus a smoked beef short rib recipe for all those smokers out there.
Steakhouse Style Steaks at Home
Burger Recipes
Burgers off the grill are hard to beat. I have even started grilling my meatballs on the grill. Summer dinner ideas can be completed without a list of great burger recipes.
Pineapple Teriyaki Pork Burgers
Cajun Pork Burgers Topped with Cajun Shrimp
Bacon Cheeseburger Stuffed Meatballs
Stovetop Meal Ideas
Even on a rainy day, you may not want to heat the whole kitchen up. These meals made on the stove can be incredibly easy and super satisfying. Plus many of them can be one-pot meals and can still use garden-fresh herbs, tomatoes, and other vegetables.
Hoosier Summer Stew - Smoked Sausage, potatoes, and green beans
Creamy Spinach, Bacon, Mushroom, and Chicken Skillet
Hobo Casserole with Smoked Sausage
Tomato and Sausage Penne Pasta Skillet
Seafood Recipes
For the seafood lovers, we have plenty of options for you all summer long too. From Salmon poke salads to blackened fish taco salads to shrimp skewers, we can fill your fish cravings too.
Shrimp and Smoked Sausage Skewers
Easy Summer Side Dishes
While I could live on meat alone, it is nice to have a few sides with your steaks, chicken and pork chops. Here are easy sides made with fresh vegetables and potatoes that can be made out on the grill or quickly in the house.
Grilled Sweet Potatoes with Bacon and Onions
Air Fryer Parmesan Cheese Zucchini Chips
Crock Pot Beans with Pineapple
Sauteed Brussels Sprouts, Onions, and Bacon
Foil Packets with Potatoes and Onions
Garden Fresh Recipes
Whether you have your own garden or shop at the farmers market, garden-fresh recipes hit the spot. From salsa to a fresh avocado garlic aioli for BLTs to how to make some of your own refrigerator pickles, the recipes you need for summer dinner ideas fresh from the garden can be found here.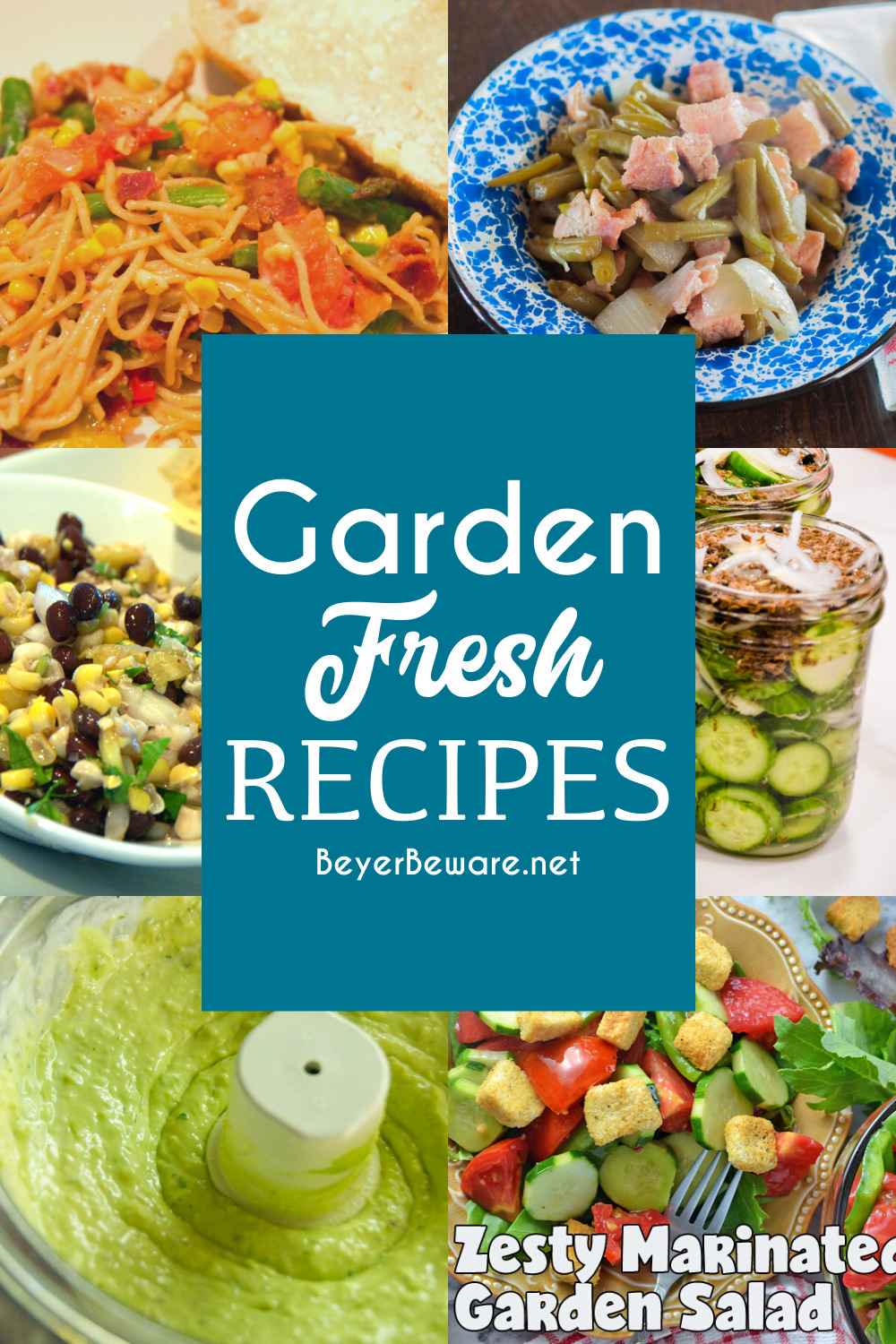 BLT Sandwiches with Avocado Garlic Aioli
Quick Ham and Green Bean Dinner
Sandwiches and Roll-ups
A sandwich can hit the spot a lot of nights in the summer. These sandwiches and wraps are perfect when you don't want to feel overly full from a big summer dinner. Check out these summer wraps and sandwiches.
Lettuce Club Wraps - Low-Carb Sandwich Roll-Ups
Air-Fryer, Instant Pot and Slow Cooker Recipes
The air fryer, Instant Pot, and crock pot all have a roll in the summer. Sometimes you just need to have it ready at the end of the day so you don't have to cook after being gone or playing outside. Don't underestimate the crock pot for helping get the summer dinner on the table.
Instant Pot Macaroni and Cheese with Ham