Disclosure: *This post may include amazon links. As an Amazon Associate, I earn from qualifying purchases.
Anybody sick of turkey yet? I am sure you have had turkey casseroles and turkey sandwiches and turkey salad. How about some pork? This may be a new favorite dish for me. Not sure if the rest of the family was as excited as I was, but maybe it because I braised this pork in apples and wine and honey and smokey goodness.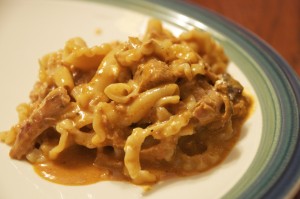 Start with a pork loin. I had one that was around four pound. If you pulled it out of the freezer, make sure it is thawed out completely.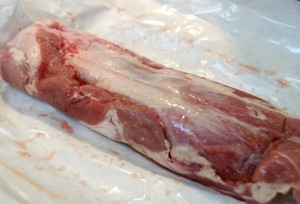 Then get it seasoned with some Adobo seasoning and salt. I had some pinot noir salt. So, of course I used it.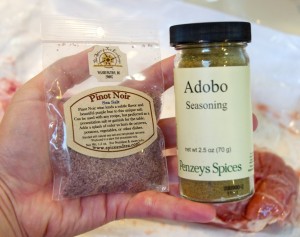 Season the loin liberally on all sides and brown over a medium heat in a cast iron skillet
with olive oil coating the entire skillet.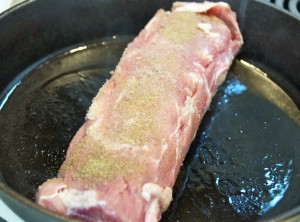 Brown on all sides for 2-3 minutes per side till the the entire surface has been browned. While it is cooking, dice up onions, apples, carrots, celery and garlic. Then pour over top of the meat to saute. Sprinkle with Spanish Thyme and salt.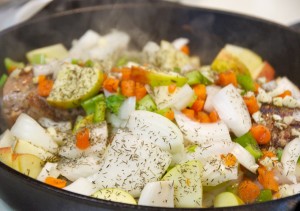 When the veggies have just begun to brown and soften, pull the meat out of the pan and place into a dutch oven
to cook in the oven. Set aside and began making your roasting sauce. Start with adding a 6 ounce can of tomato paste.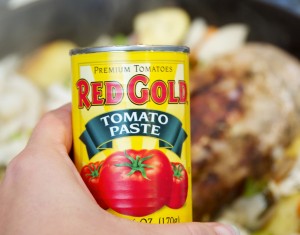 Mix the tomato paste into the apples and veggies and then begin adding liquids. The normal kinds of liquids can be used: wine, broth, balsamic vinegar, honey. Make it worth it...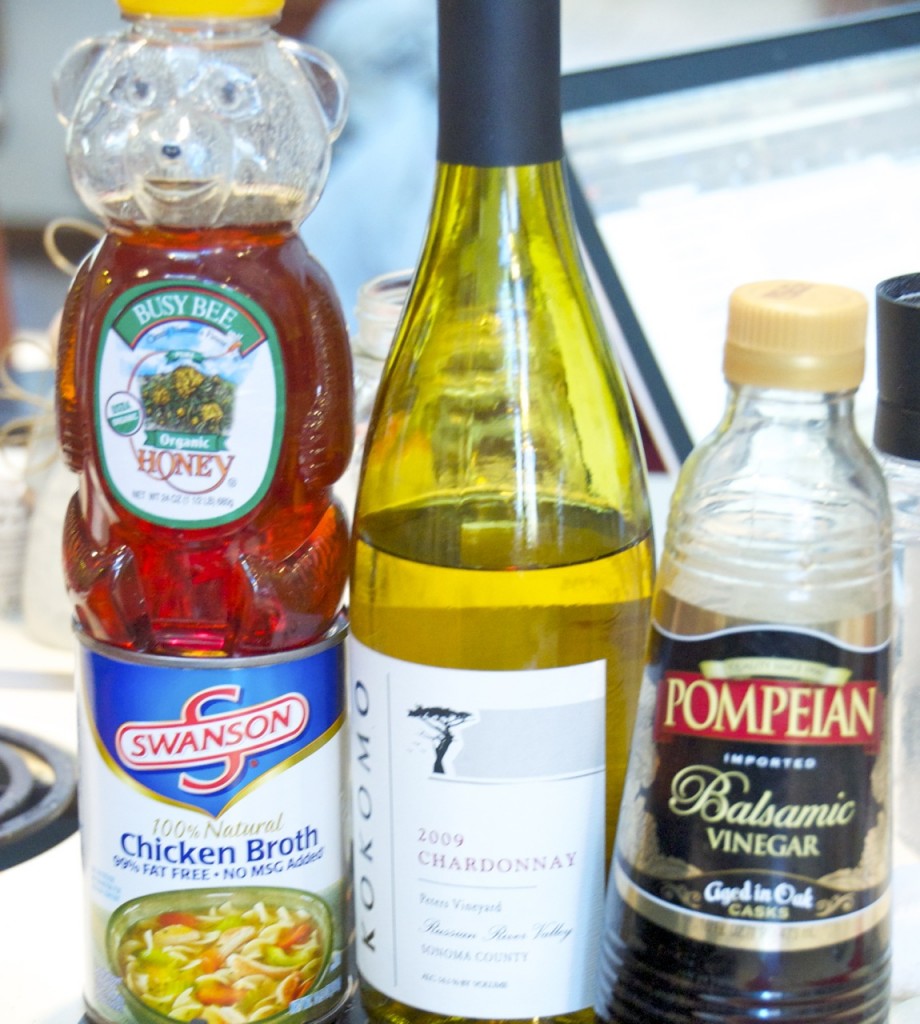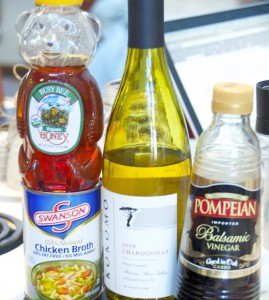 Stir to combine and let simmer for 2-3 minutes.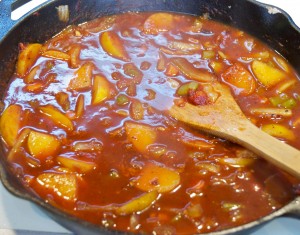 Then it occurred to me, it needs smoke. And my oven isn't a smoker. So, I used some of the artificial kind.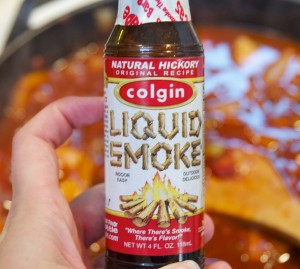 Let it simmer a minute or two longer and then pour over the pork loin that you put in the dutch oven.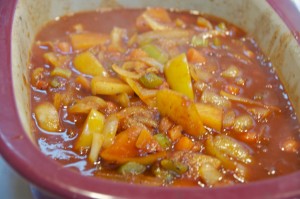 Now it is time to braise. Put the lid on and put it in a 300 degree oven for 3 hours. That is right, 3 hours. Go to swim practice, ballet, the store, get a pedicure. Do whatever, but give it three hours. And then start boiling pasta.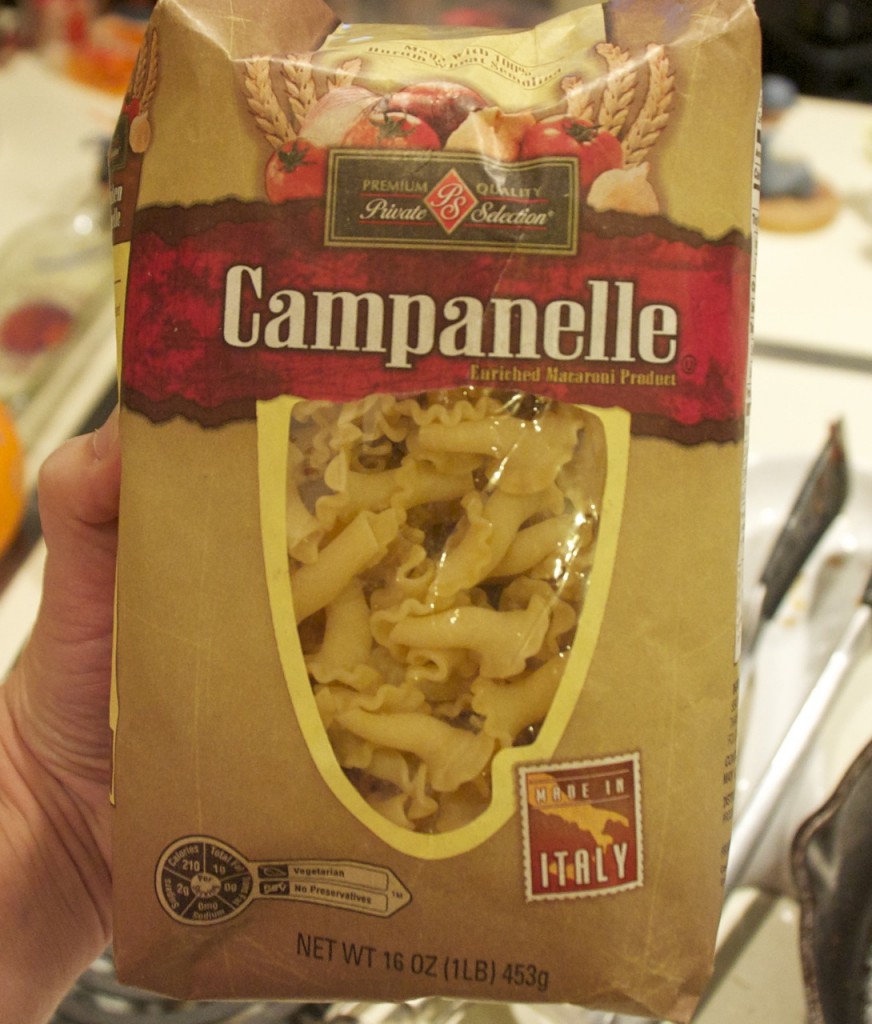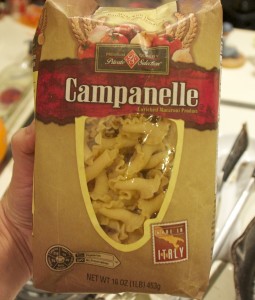 Remove the pork from the juices and veggies. And let it rest.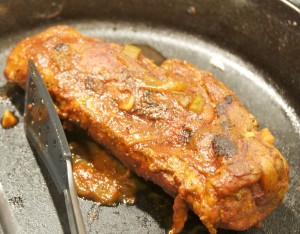 Pour the juices through a strainer, reserving the juices in a bowl. Then smash what veggies and apples you can through the strainer. Then go back to the pork and shred it up.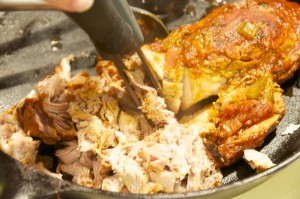 I love using my salad chopper
to shred meat. I know, sounds crazy, but do not knock it till you try it. Trust me.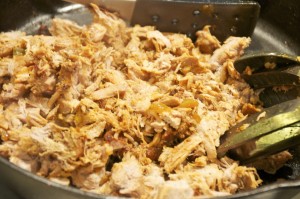 Combined the pork with the pasta that is cooked and drained. Then pour the reserved juices over top of the pork and pasta. If you want a slightly creamier sauce, add some cream cheese. Stir to combine completely.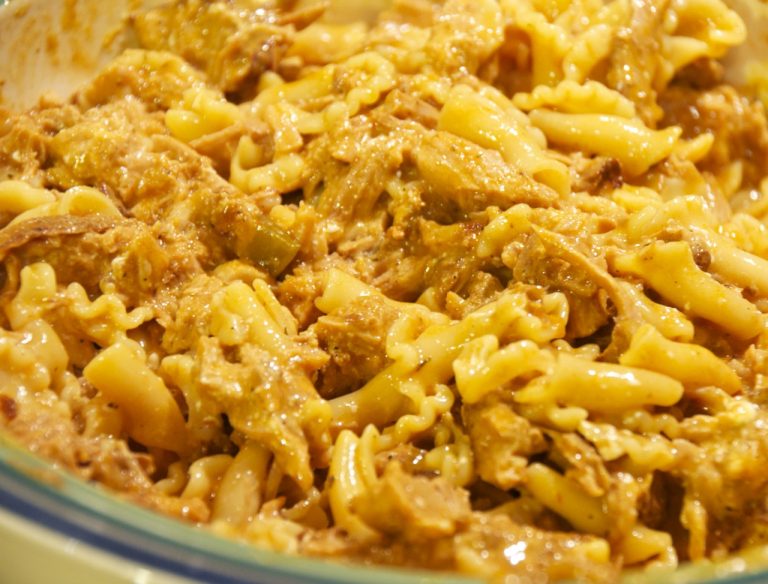 Pure pork bliss. You will love it.
📖 Recipe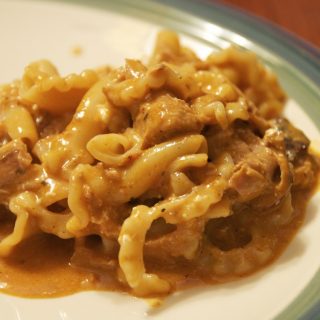 Ingredients
One 2-4 pound boneless pork loin or shoulder

2

tablespoons

canola or olive oil

1

tablespoon

salt

1

tablespoon

Adobo seasoning

1

apple

cut into 1-inch dice

1

medium onion

cut into 1-inch dice

1

carrot or 4-5 baby carrots

cut into 1-inch dice

1

celery rib

cut into 1-inch dice

2

garlic cloves

crushed

2

teaspoons

thyme

1

teaspoon

salt

6

ounces

of tomato paste

1

cup

dry white wine

2

cups

chicken stock or low-sodium broth

⅓

cup

Balsamic vinegar

3

tablespoons

honey

5

dashes of liquid smoke

4

ounces

of cream cheese

Freshly ground pepper

1

pound

pasta
Instructions
Preheat the oven to 300°. Season the pork with 1 tablespoon of salt and Adobo seasoning. In a large skillet or dutch oven, heat the oil until shiny. Add the pork and cook over moderately high heat, turning, until browned on all sides, 2-3 minutes per side. Transfer the pork to a dutch over or plate if you are using a dutch oven on the stove top.

Add the apple, onion, carrot, celery, garlic, teaspoon of salt and thyme to the casserole and cook over moderate heat until beginning to brown, about 6 minutes. Add the tomato paste and cook, stirring, until it deepens in color, about 2 minutes. Add the wine and bring to a boil. Add the chicken stock, vinegar and honey and bring to a simmer. Add liquid smoke to the sauce. Pour over the pork, cover and transfer the dutch oven to the oven. Braise the pork for about 3 hours, turning once halfway through, until very tender.

Transfer the pork to a plate. Strain the sauce into a large bowl, gently pressing on the solids. Pour the sauce back into the pot. Using 2 forks, shred the pork; discard any large pieces of fat. Transfer the shredded pork to the sauce and stir in the cream cheese. Cover and keep warm.

Meanwhile, in a large pot of boiling salted water, cook the pasta until al dente. Drain the pasta and transfer to the casserole with the sauce. Toss the pasta with the sauce and pork.
What do you have cooking this week? Link up your goodies from Thanksgiving!



Affiliate links were used in this post.