Disclosure: *This post may include amazon links. As an Amazon Associate, I earn from qualifying purchases.
Overnight lettuce salad is my grandma's 7-layer salad made with lettuce, cauliflower, mayonnaise, onions, celery, bacon, and parmesan cheese. This salad is always a favorite at family gatherings. It makes a huge amount of salad, so you will want to cut it in half if you are making it just for your family of four or five people. It can be made sweeter with a little sugar but without it is a perfect low-carb salad as well.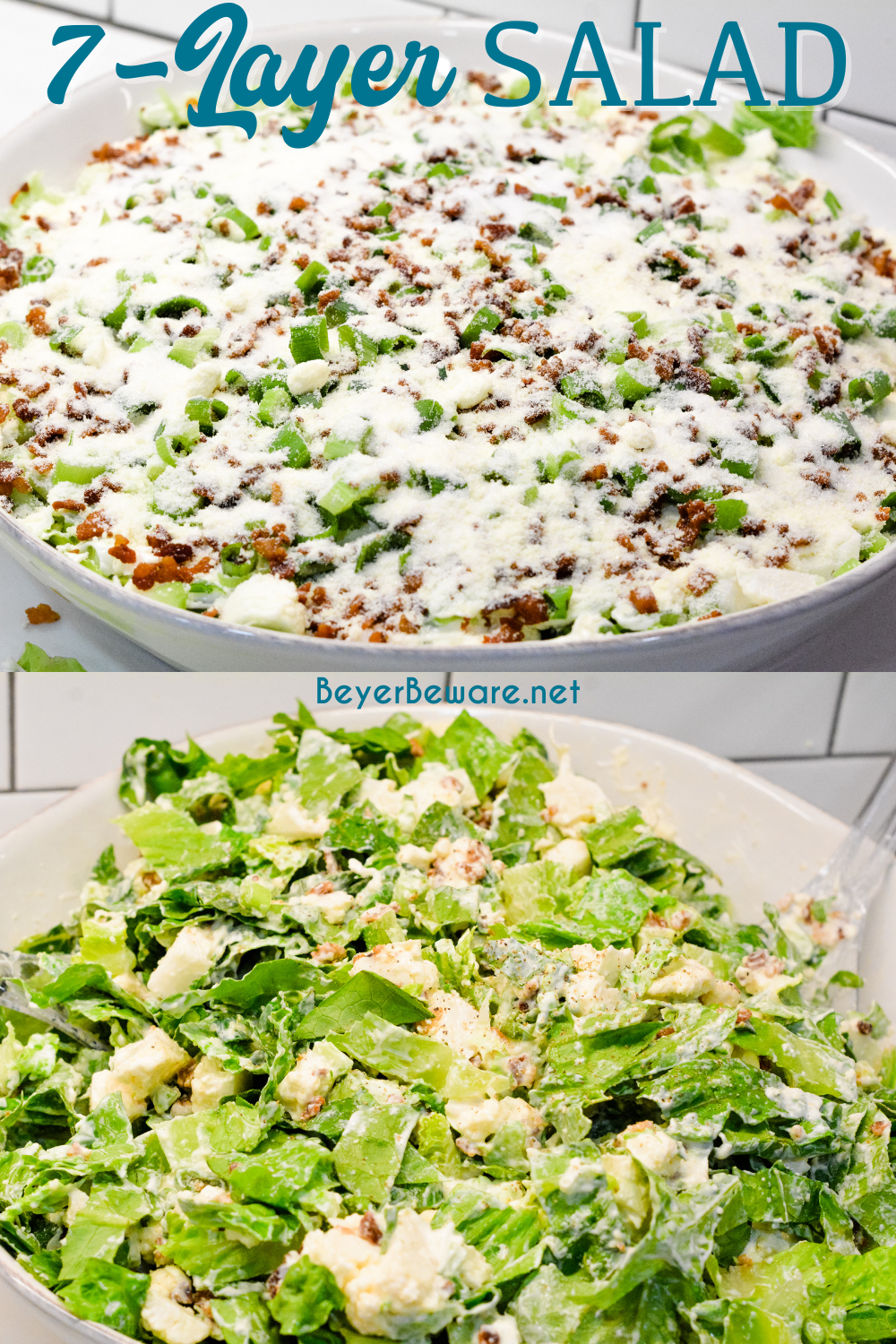 This salad is one of those that you can also alter. Want to add peas? Go for it. Would hard-boiled eggs work in this salad? Absolutely! Can regular onions be substituted for green? Sure. The concept of layering and leaving until you are ready to eat and then tossing is what makes this overnight lettuce salad one of my favorite seven-layer salad recipes.
What goes in a 7-Layer Salad with Cauliflower
To make this salad you will need to have fresh ingredients either whole or prechopped. Here is what the bowl of ingredients looked like for the overnight salad.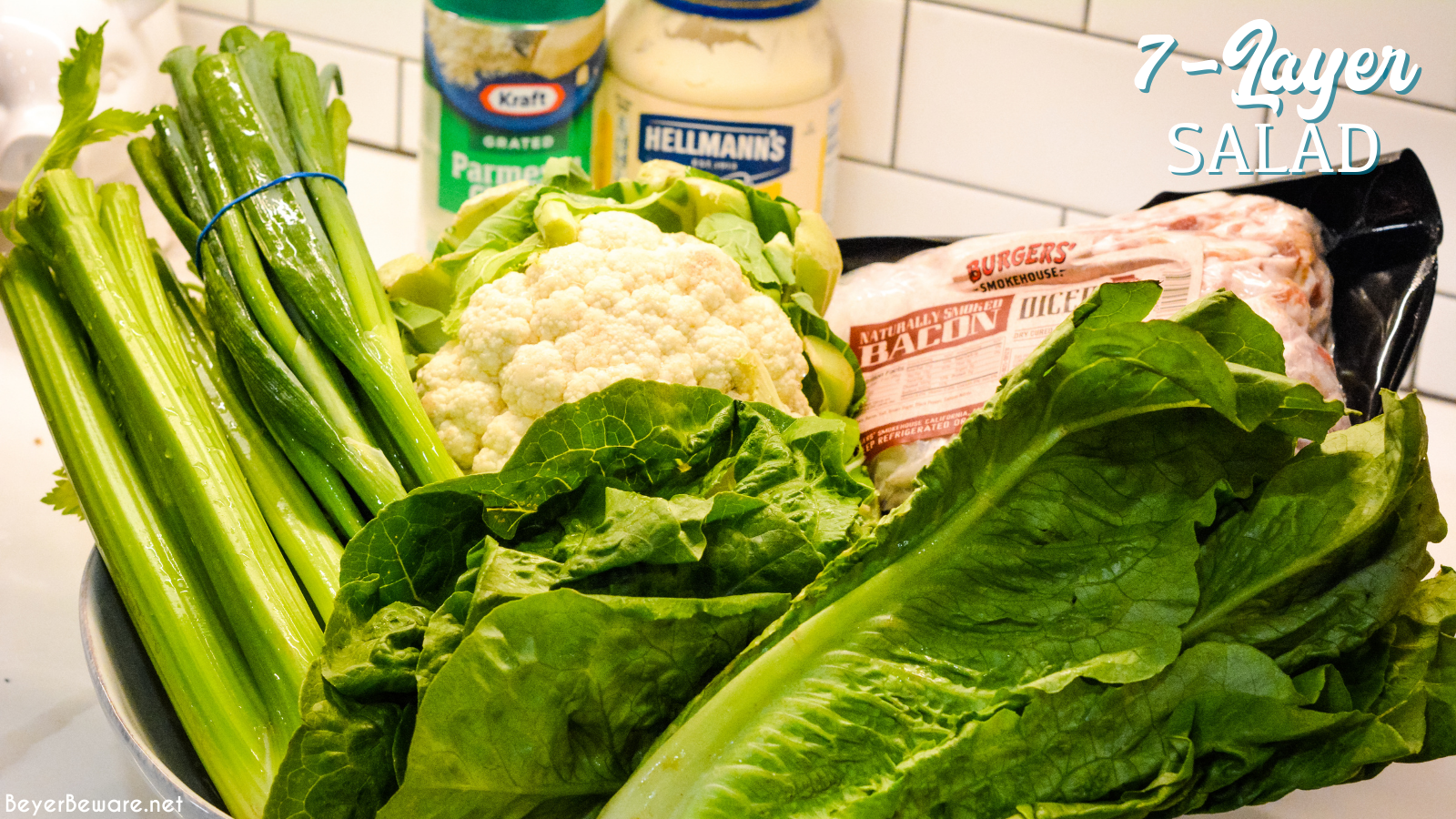 The seven layers of this overnight salad are:
Lettuce - Romaine is my preference but iceberg lettuce will work also for this salad. The shredded iceberg lettuce may actually be easier to toss.
Cauliflower - Whole head of fresh cauliflower. Frozen is not recommended. The pre-cut cauliflower would work however.
Mayonnaise - Miracle whip will also work, but omit the optional sugar if you use Miracle Whip instead of the mayonnaise.
Green onions - sweet onions will work as well if you don't have green onions on hand. Red onions would offer a bit more bite to the salad.
Celery - This can be left off if you don't dig celery. But the celery offers a crisp texture that I think makes the salad even better.
Bacon - Fried and crumbled. You can also buy prepackaged bacon bits or crumbles. I prefer freshly fried bacon
Parmesan cheese - Grated works perfectly for this salad but shredded can also be used if it is your preference.
Optional Ingredients for 7-Layer Salad:
Sugar
Peas
Hard-boiled eggs
Shredded Colby-Jack or Cheddar Cheese
How to Make Overnight Lettuce Salad with Cauliflower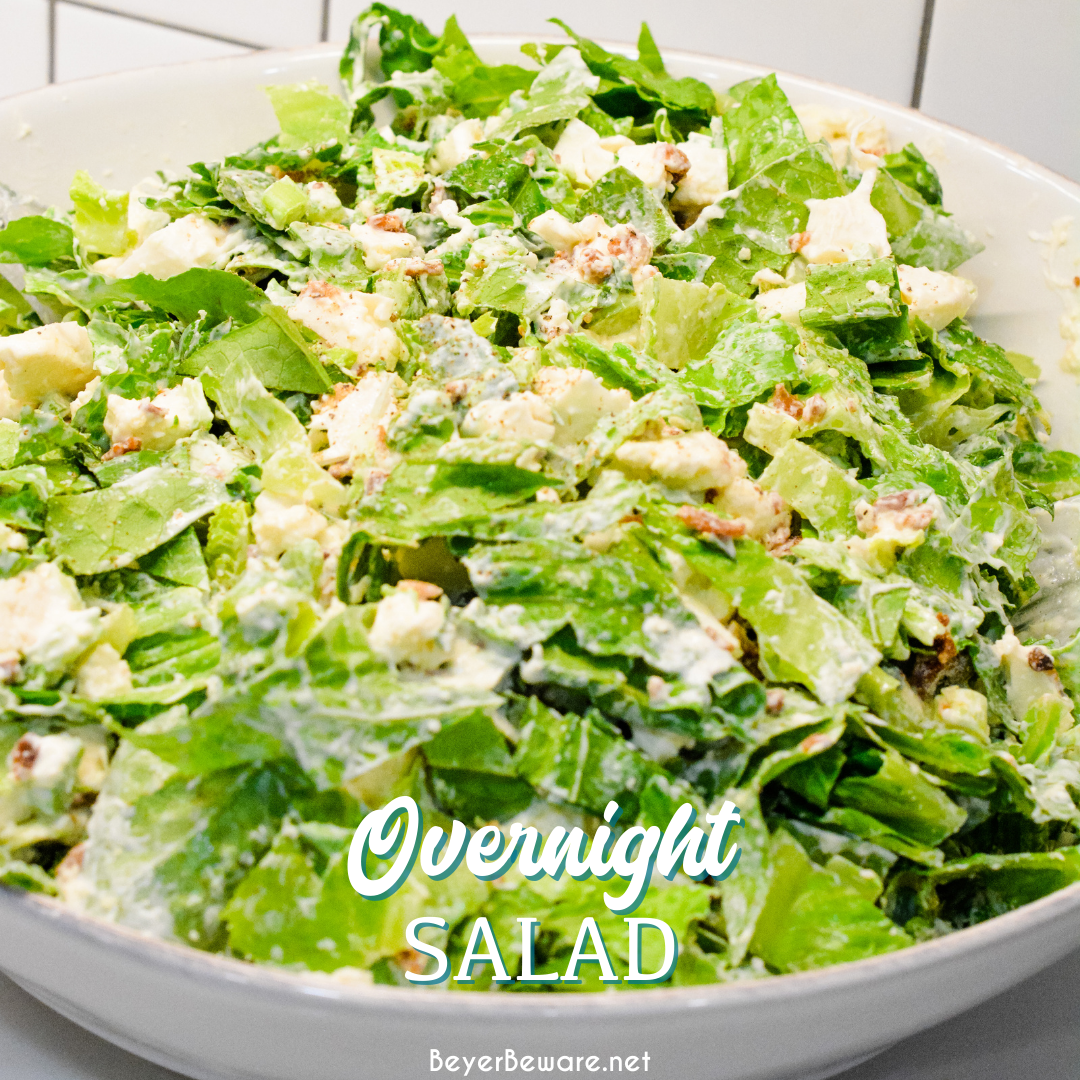 The hardest part of this salad is chopping everything up for the various layers. You will simply place the chopped lettuce in a large low profile bowl or 13X9 dish. Follow this with the chopped cauliflower and the finely chopped celery. Then spread the mayonnaise over the lettuce, cauliflower, and celery.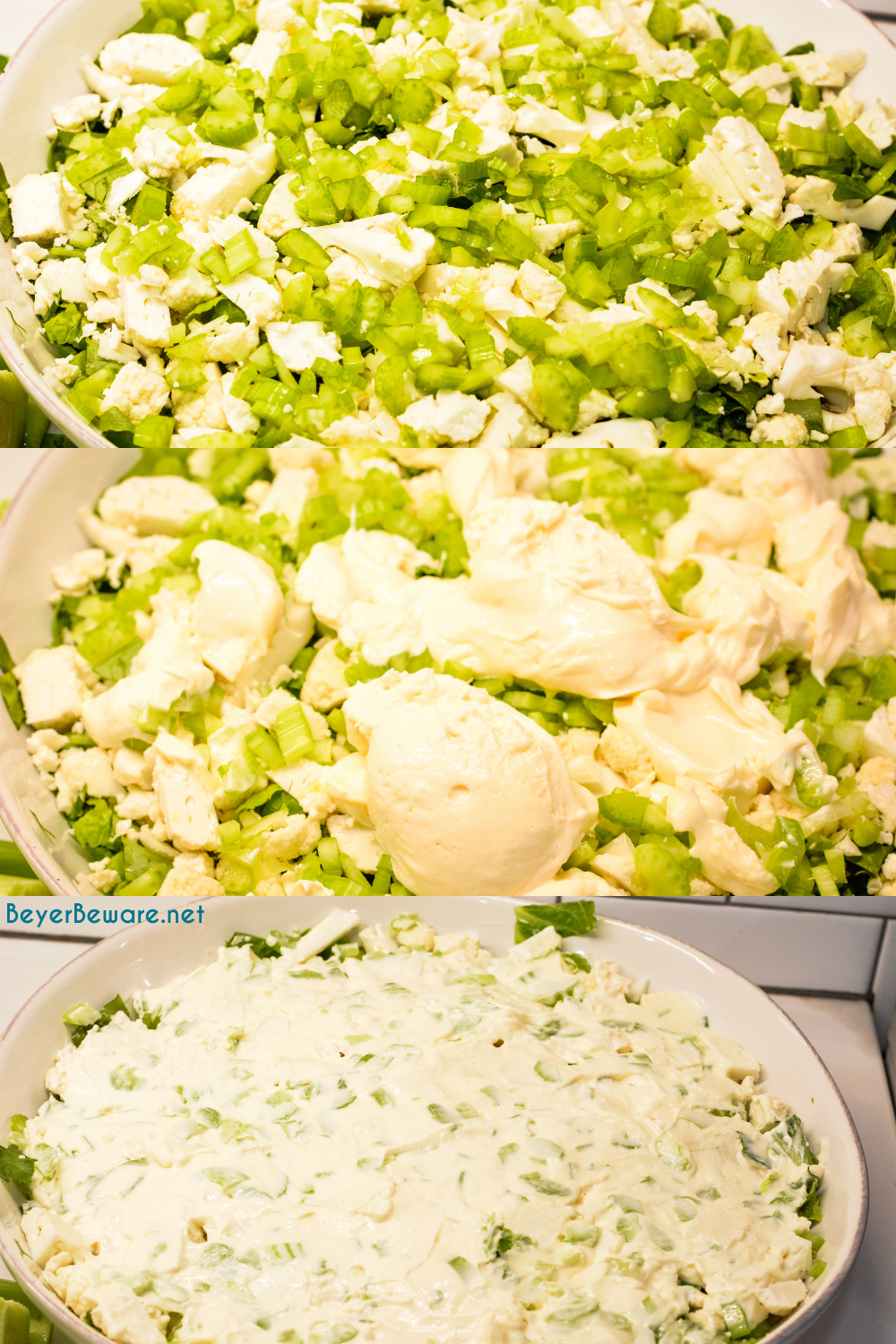 The next steps of the 7-layer salad are to take the chopped-up green onions and layer them over the mayonnaise. The green onions are easily cut with kitchen sheers directly over the top of the mayonnaise. Then comes the bacon crumbles. The infamous black bag of bacon crumbles works. But, I like freshly fried bacon and use the packages of scrap bacon I have been getting from Sam's club. Normal sliced bacon will work just fine too. Layer the bacon on top of the green onions.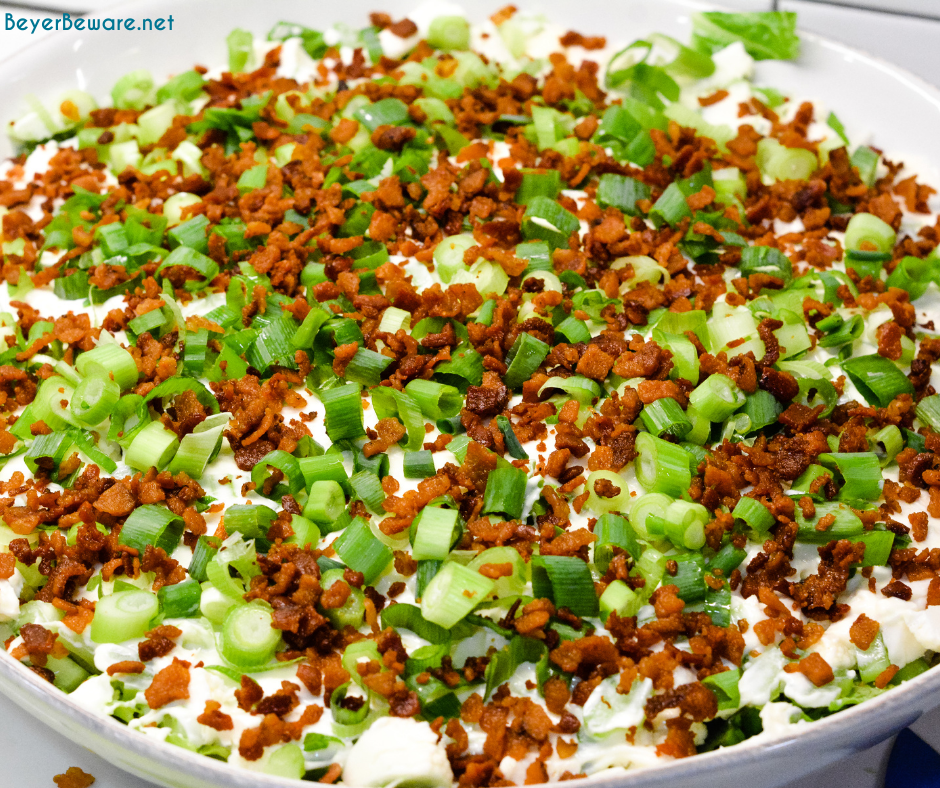 Then spread the parmesan cheese over the top of the bacon and onions. Now, if you want a slightly sweeter salad, add sugar. But, grandma's 7-layer salad always left it out. It will be just fine with it. Cover the salad with plastic wrap and refrigerate overnight or until you are ready to eat.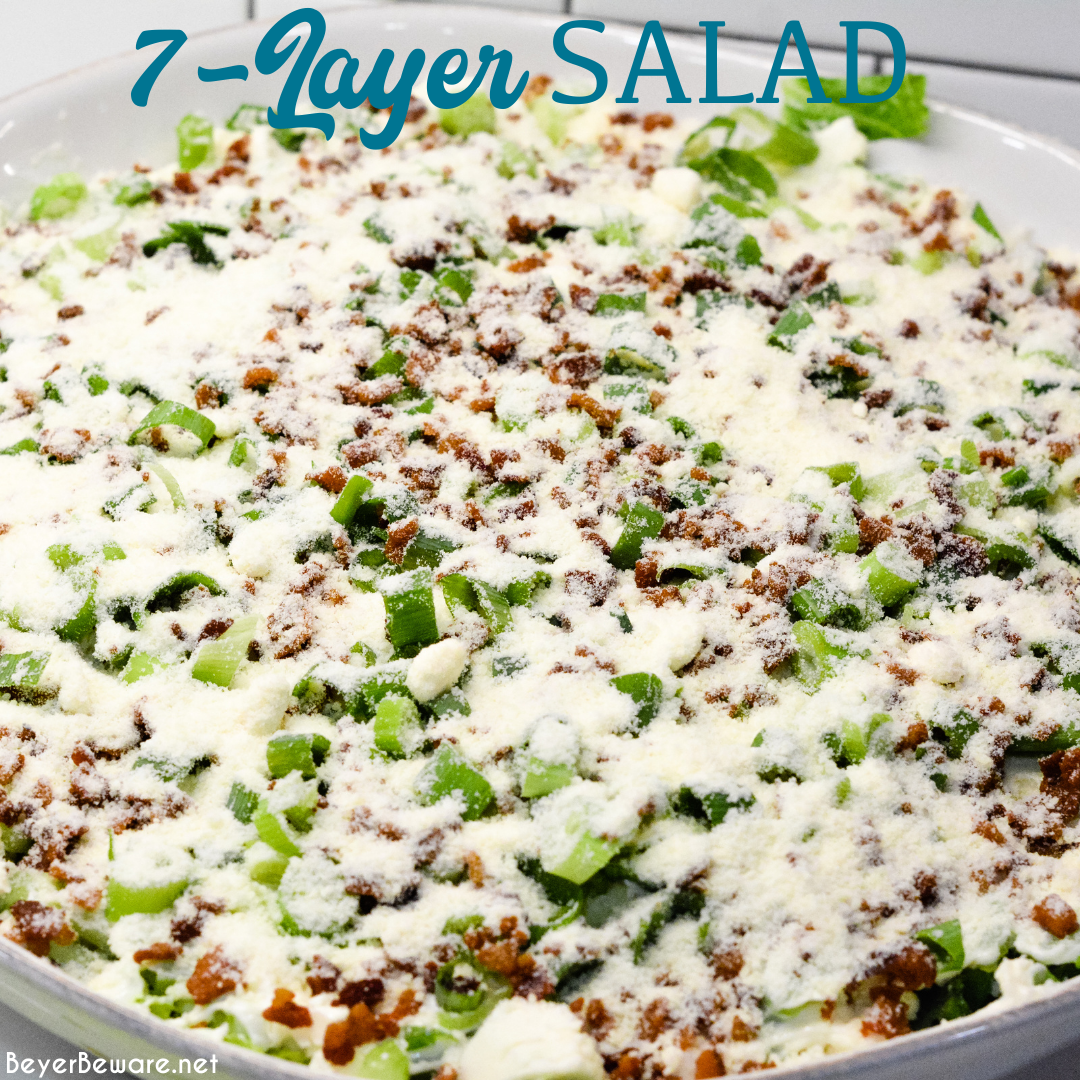 Toss the salad, making sure the mayonnaise gets coated throughout the salad. Finally, crack some fresh ground pepper over the top of the salad. Serve immediately.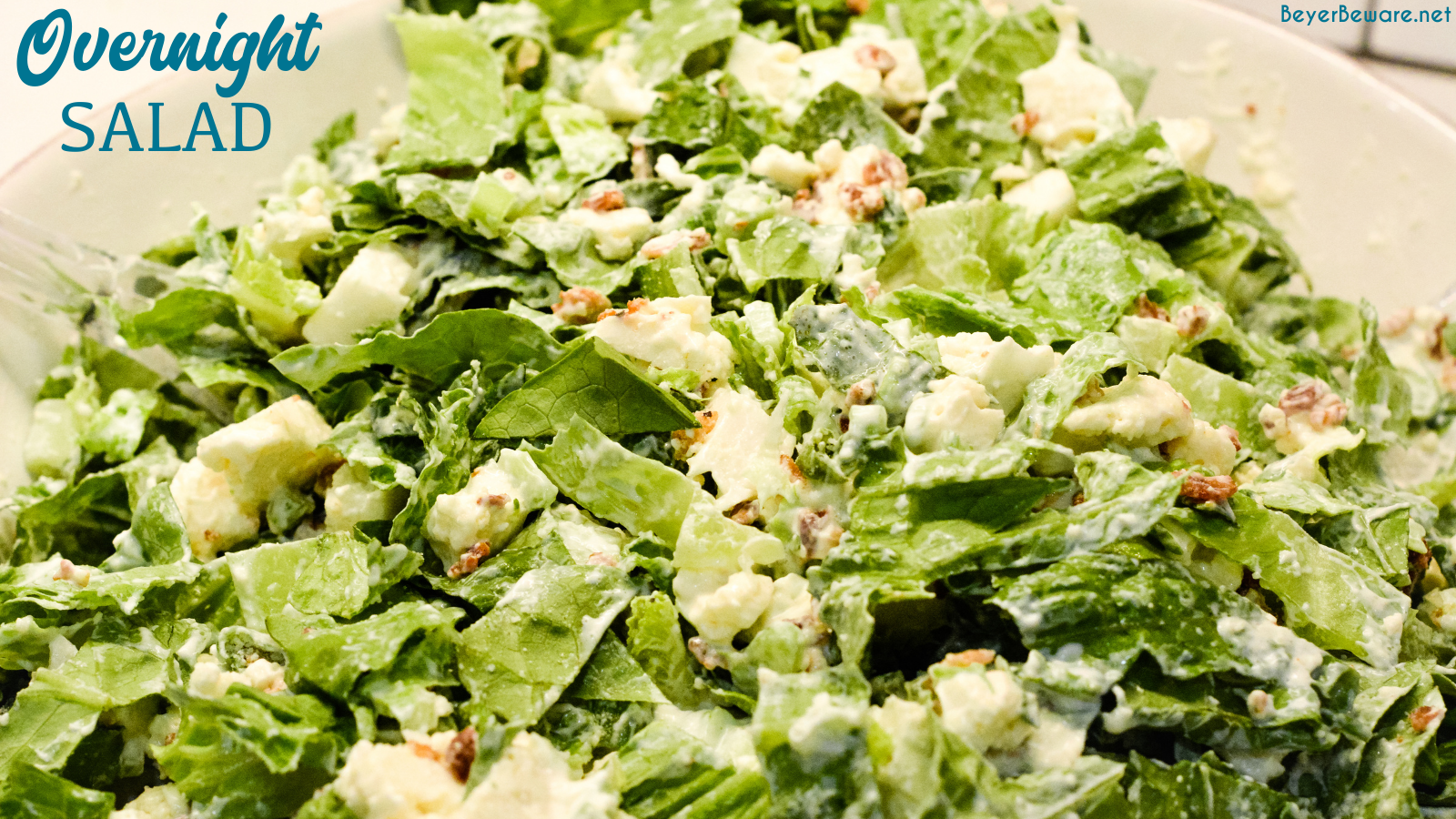 Tips for Making Overnight Layered Lettuce Salad
While I make this salad with cauliflower it can also be made with fresh or frozen peas or even broccoli.
If you do not like celery, leave the celery out.
Can Miracle Whip be used instead of mayonnaise? Yes, absolutely Miracle Whip can be used to make the 7-layer salad. I would definitely omit the sugar with Miracle Whip since it is already sweeter.
Can the leftover overnight salad be saved? I definitely eat this salad for up to two days after it is originally served.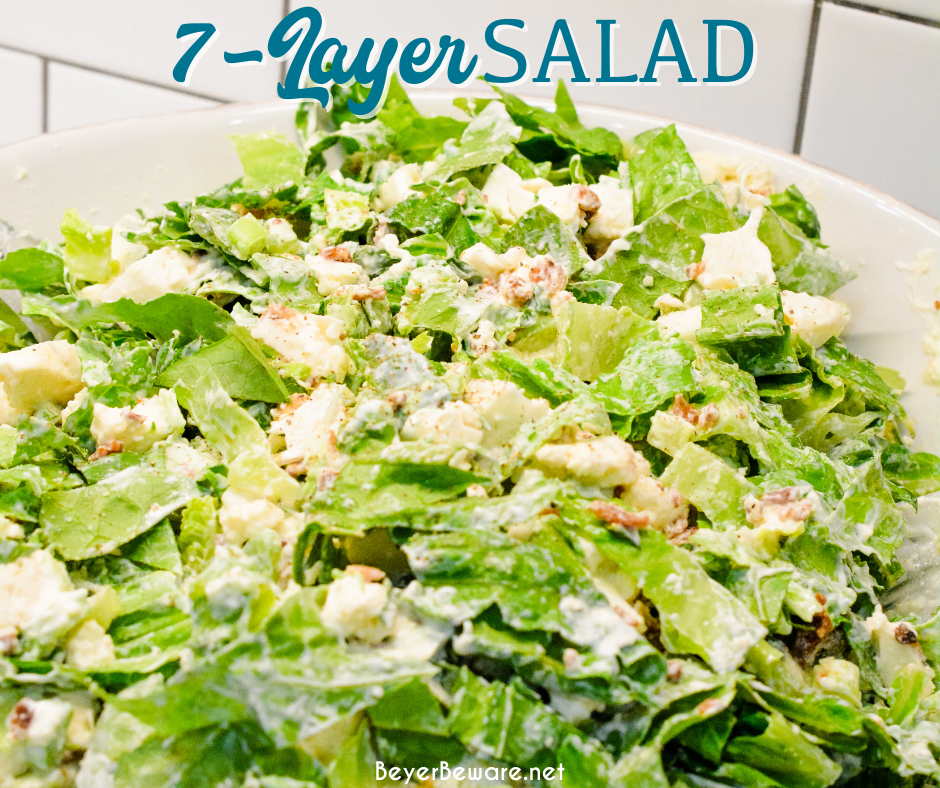 Salad Recipes
Chopped Spinach Salad with apples, pecans and cranberries
Spinach Salad with Hot Bacon Dressing
Watergate Salad - Pistachio Fluff Salad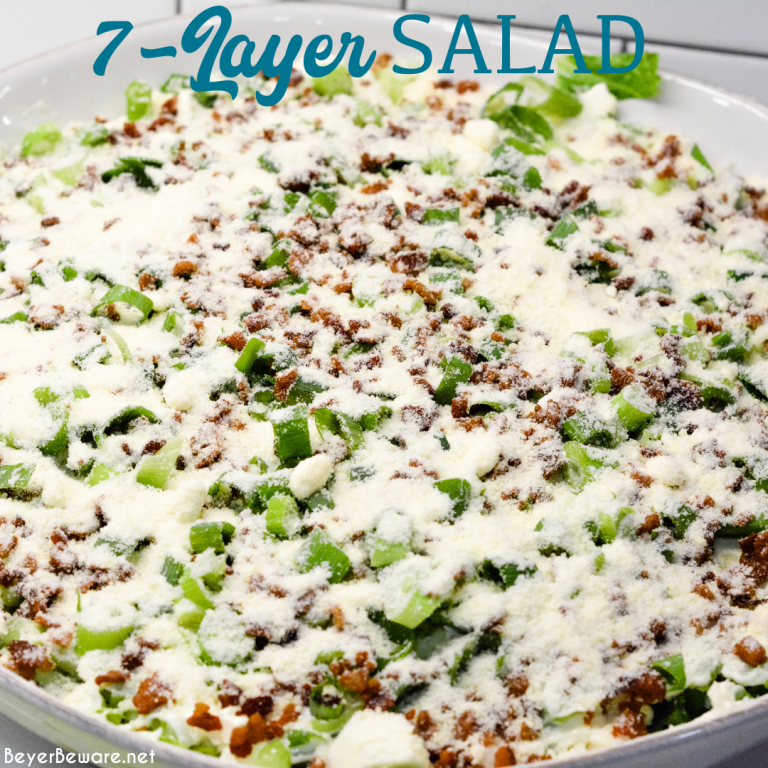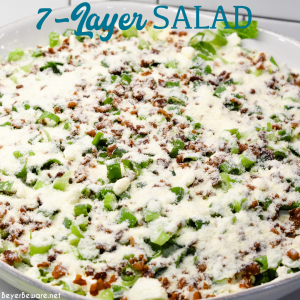 Overnight Lettuce Salad - 7 Layer Salad with Cauliflower
Overnight lettuce salad is my grandmother's version of 7 layer salad made with lettuce, cauliflower, mayonnaise, onions, celery, bacon, and parmesan cheese.
Print
Rate
Ingredients
2

hearts of romaine

1

head

cauliflower

3

stalks

celery

2

cups

mayonnaise

4

green onions

1

pound

bacon

½

cup

parmesan cheese

⅓

cup

sugar

optional
Instructions
Chop the lettuce into bite sized pieces and spread acorss a large low profile bowl or 13X9 pan.

Chop the head of cauliflower into small pieces and finely dice up the celery. Spread over the lettuce.

Spread the mayonnaise over the lettuce, califlower, and celery.

Cut the green onions and spread over the mayonnaise. Then spread the fried crumbled bacon over the green onions.

Sprinkle the parmesan cheese over the entire salad.

If adding sugar, sprinkle over teh parmesan cheese.

Cover and refrigerate overnight or for 8 hours.

Before serving, toss ensuring the mayonnaise is well coated over the entire salad.
Nutrition
Calories:
669
kcal
|
Carbohydrates:
7
g
|
Protein:
12
g
|
Fat:
66
g
|
Saturated Fat:
15
g
|
Cholesterol:
65
mg
|
Sodium:
868
mg
|
Potassium:
469
mg
|
Fiber:
2
g
|
Sugar:
3
g
|
Vitamin A:
2694
IU
|
Vitamin C:
37
mg
|
Calcium:
117
mg
|
Iron:
1
mg
Shared on Weekend Potluck and Meal Plan Monday