Disclosure: *This post may include amazon links. As an Amazon Associate, I earn from qualifying purchases.
Peanut Butter Caramel Cookies are a simple cookie recipe that is a switch up from the traditional peanut butter blossoms cookies by switching out the chocolate kiss for caramel goodness. I used a peanut butter cookie mix to make this recipe. A from-scratch peanut butter cookie could be made for this recipe as well. The blossom cookies are a great base recipe you could use for this cookie recipe as well. Then three ingredients are used to top off the peanut butter cookies with a dollop of caramel.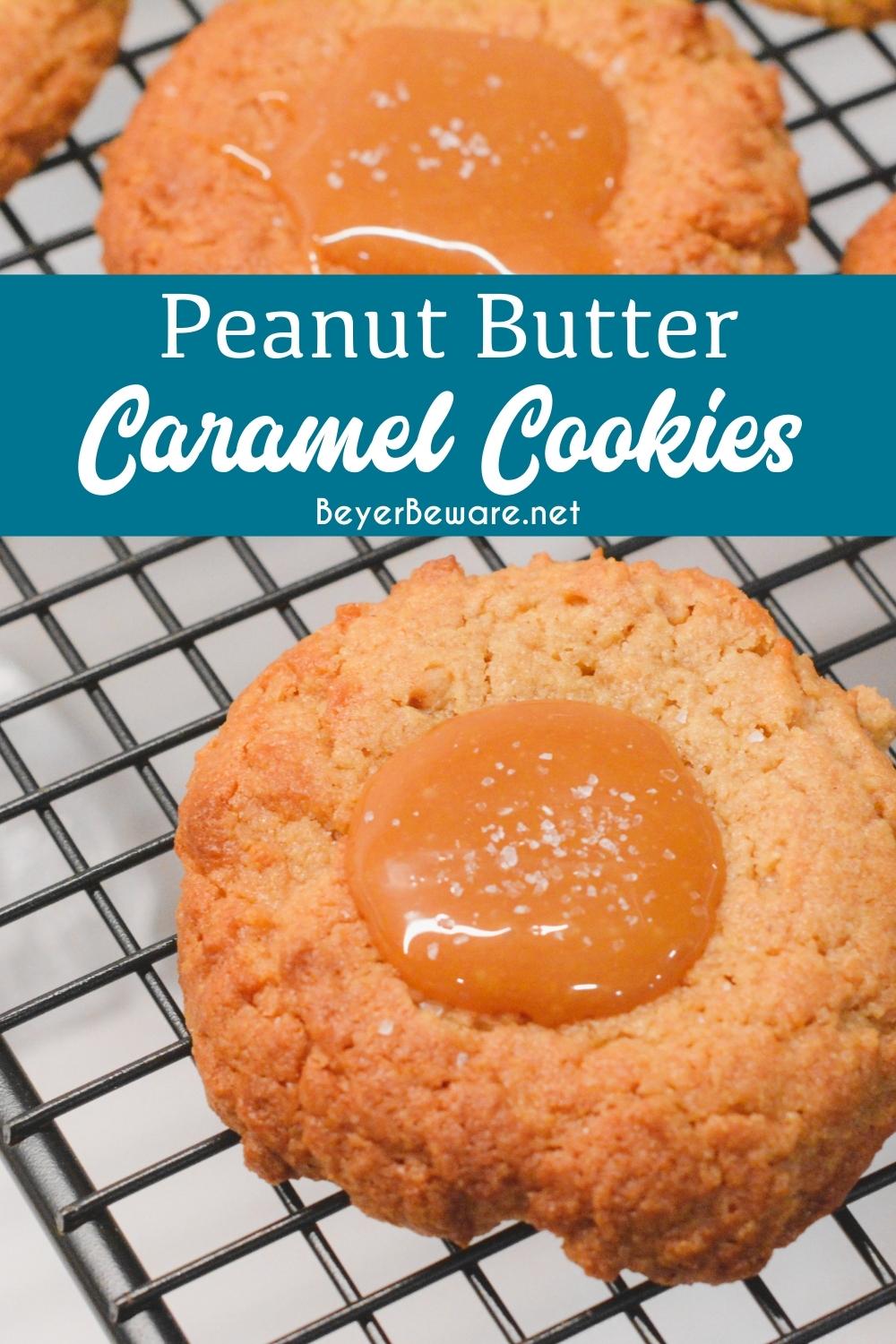 These cookies are super easy to make for the people in your life who don't like chocolate. I don't understand these people, but I know these exist. And it is so hard to find a non-chocolate cookie besides sugar cookies for them. This caramel peanut butter cookie recipe will be a huge hit for these folks.
Peanut Butter Caramel Cookies Recipe Ingredients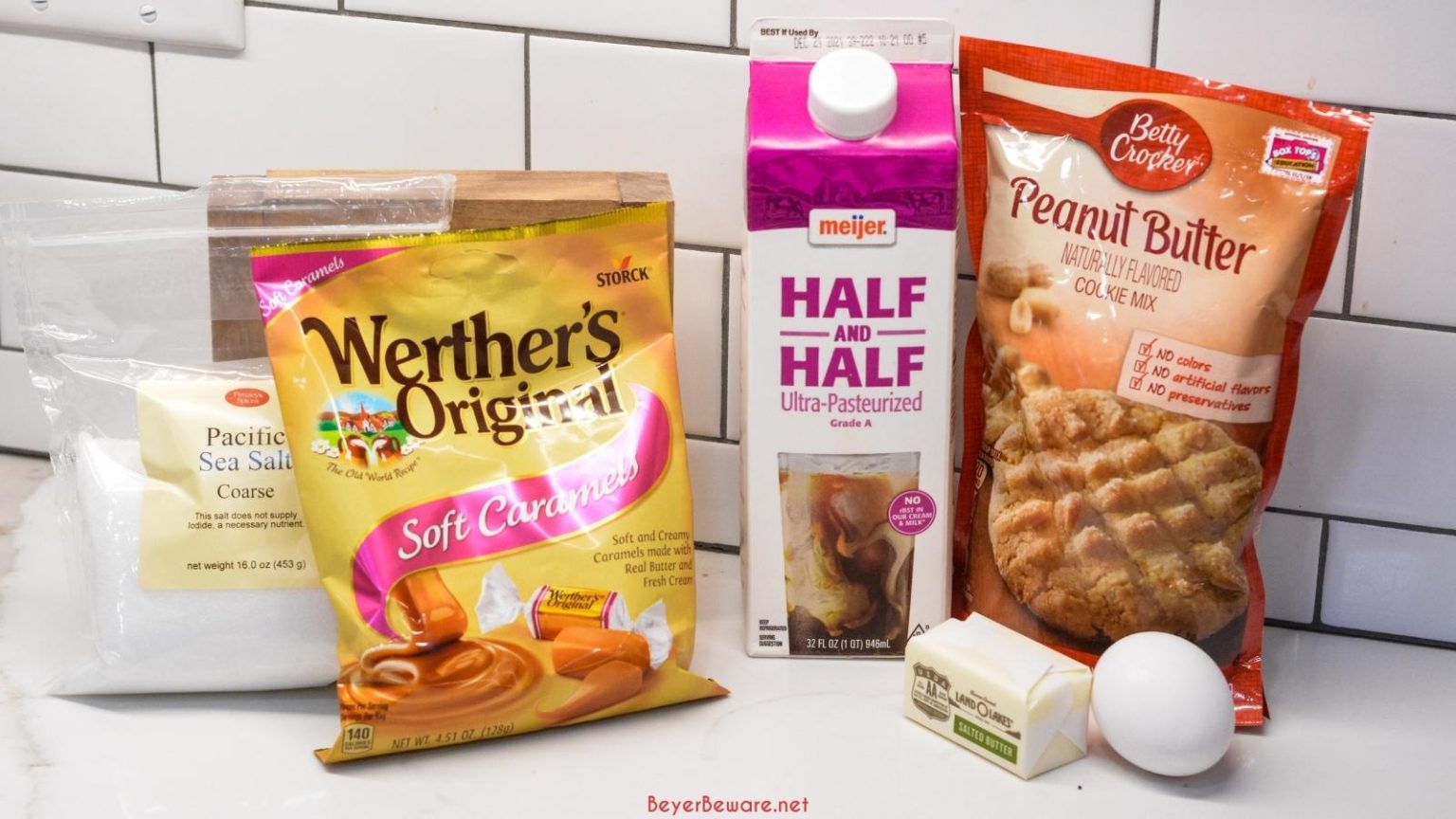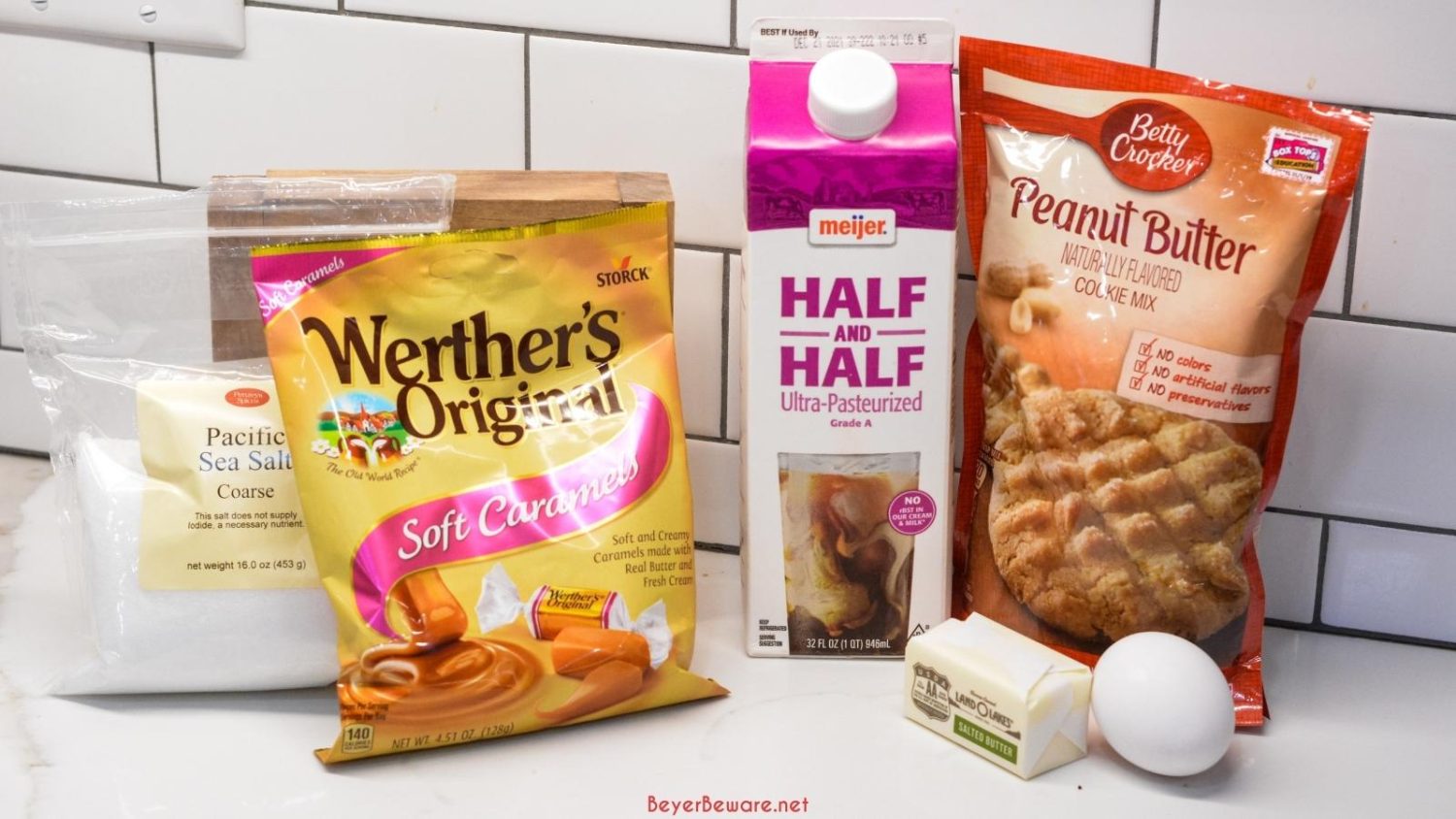 To make these peanut butter blossoms with caramel cookies recipe outlined below, here are a few notes about the ingredients you will need to make these peanut butter cookies:
Peanut Butter Cookie Mix - Using a mix is my go-to for a lot of cookie recipes. No different with this cookie recipe with the Betty Crocker Peanut Butter Cookie Mix. The refrigerator peanut butter cookie dough also works for this recipe. If you want a gluten-free peanut butter cookie recipe, I have that too. Otherwise, just use the Hershey's Peanut Butter base cookie recipe if you don't want to use a mix.
Butter - Melted butter is what you need for this cookie recipe. The original cookie mix recipe calls for oil, but I love the substitute of the butter in this recipe.
Water - A few tablespoons of water to make sure the cookies are moist.
Egg - Baking with room-temperature eggs is a real thing. Get the egg you will need in this recipe out about 30 minutes before you will need it.
Caramels - Werther's Originals Soft Caramels are perfect for this recipe. Traditional Kraft caramels will also work for this recipe.
Half and Half Cream - A splash of cream when you melt the soft caramels will make the caramel easier to spoon into the cookies.
Sugar - If you like the peanut butter cookies rolled in sugar, like for the peanut butter blossoms, you can do the same with these peanut butter caramel blossoms.
Coarse Sea Salt - Salt always helps bring out the sweet flavors. A little bit of coarse sea salt on top of the caramel will bring so much flavor out to cookies.
How to make Peanut Butter Blossoms with Caramel?
To make these caramel peanut butter cookies, start by making the dough. To make the dough, mix the peanut butter cookie mix, melted butter, water, and egg together. You don't have to use a mixer to make this cookie dough. A rubber spatial will mix this dough together just fine.
When the dough is mixed, a small cookie dough scoop that is about 1 tablespoon of capacity will come in handy to measure out the dough and drop it on the pan in a round bowl. If you want to roll the dough in fine sugar, you can do that as well before dropping it on the pan.
Bake at 375° for 8-10 minutes. Remove from the oven and let sit for a minute before transferring to the cooling racks. Once on the cooling rack, use the bottom of the cookie scoop to press a well into the cookie for the caramel.
To make the caramel, sauce, unwrap one caramel for every cookie you have made. Add a tablespoon of the half and half cream to the caramels. Microwave in 20-second increments to melt the caramels. When the caramels are completely melted, spoon them into the cookie wells.
The cookies can be done at this point. They will be delicious peanut butter cookies just like this. BUT - Top the caramel off on each cookie with the coarse sea salt to perfect the peanut butter caramel cookies.
Unique Christmas Cookie Recipes
Looking for unique but easy cookies to make this Christmas? Check out these other unique Christmas cookies everyone will love.
Rolo Chocolate Cake Mix Cookies
Christmas Gooey-Butter Cookies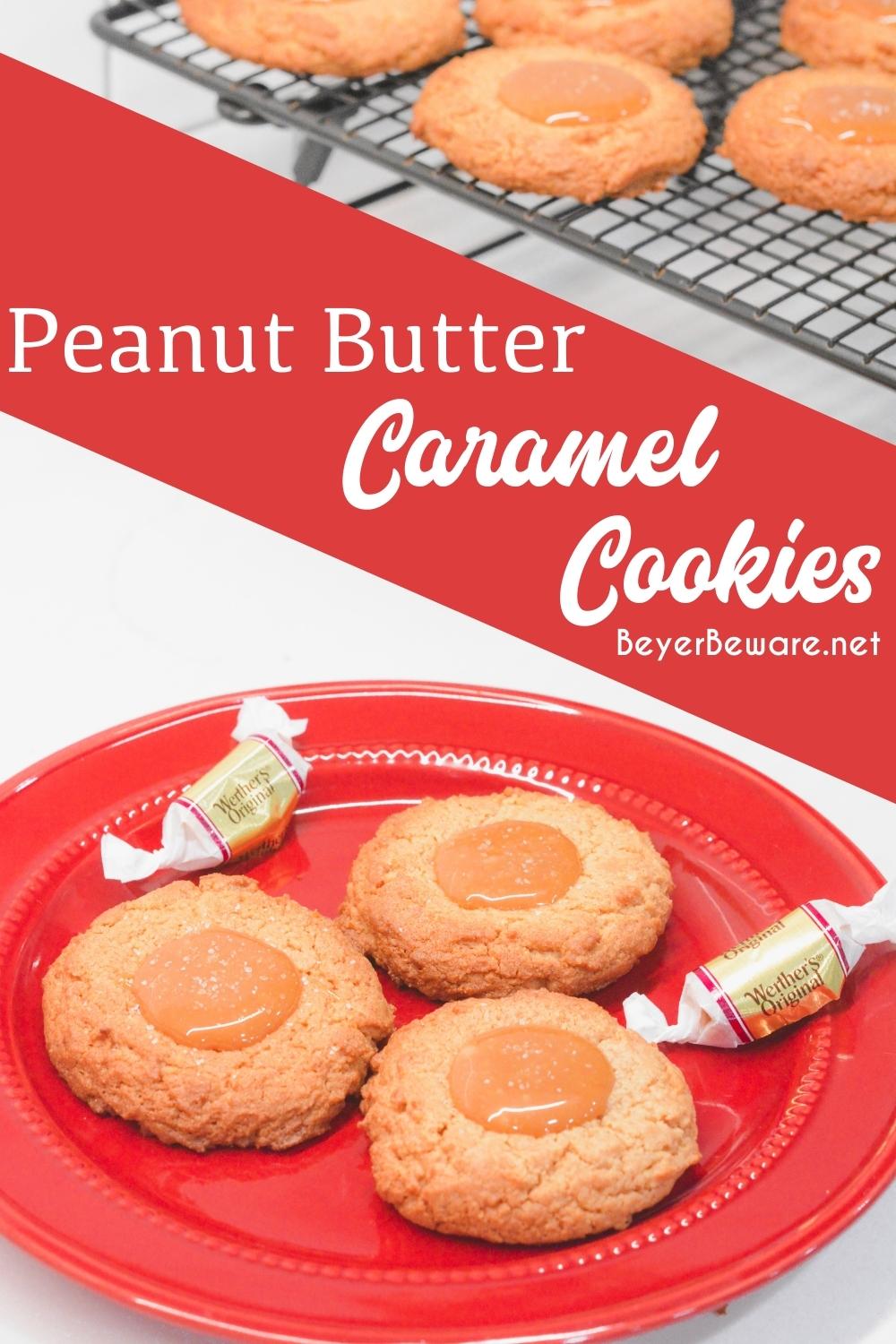 📖 Recipe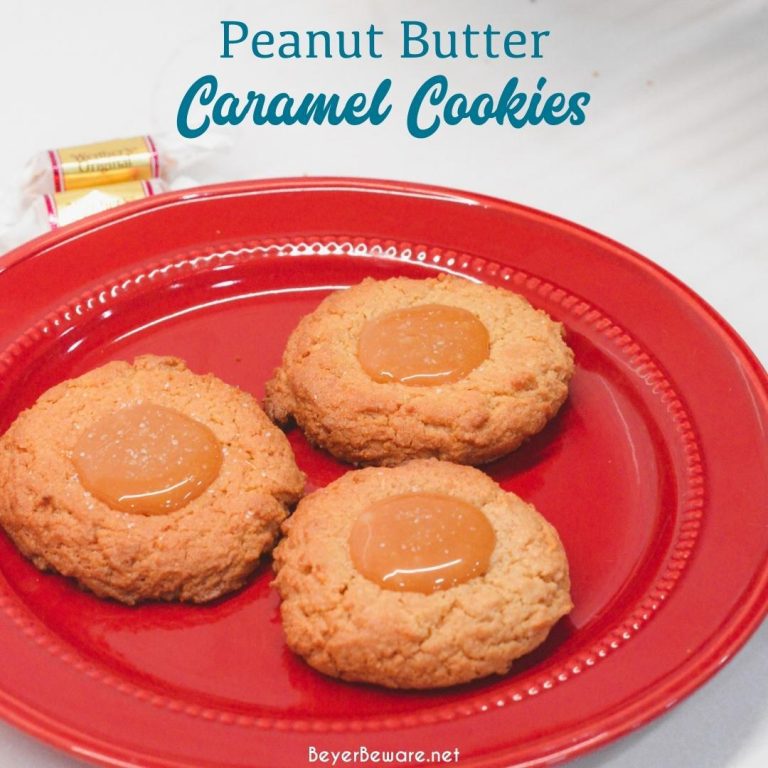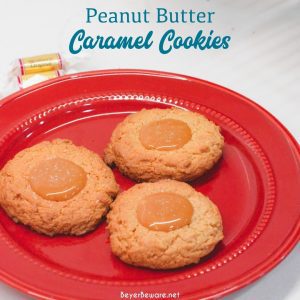 Peanut Butter Caramel Cookies
Peanut Butter caramel cookies are an easy non-chocolate Christmas cookie recipe that is easy to make with a cookie mix for peanut butter blossoms with caramel.
Print
Rate
Ingredients
17

ounce

peanut butter cookie mix

3

tablespoons

butter

melted

1

tablespoon

water

1

whole

egg

18

soft caramels

1

tablespoons

half and half cream

¼

teaspoon

coarse sea salt

1

cup

fine sugar*

optional
Instructions
Preheat the oven to 375°.

Mix the peanut butter cookie mix together with the melted butter, egg, and water with a rubber spatula.

Use a small cookie scoop to form balls out of the cookie dough. Roll in sugar if you like the texture of peanut butter blossoms. Totally optional to do.

Cook for 8-10 minutes. Remove from the oven and let sit for 1 minute before transferring to a cooling rack. Use the back of the cookie scoop to make a well in the cookie.

Melt the caramels with the cream in the microwave for 20 seconds and stir. Repeat until caramels are melted.

Spoon the caramel into the cookie well. Top with a pinch of coarse salt.
Notes
*Optional. You do not need to roll the cookies in sugar.