Disclosure: *This post may include amazon links. As an Amazon Associate, I earn from qualifying purchases.
Buying for girls can be hard. And Expensive.... I mean it doesn't take much to realize certain dolls will set you back $120 just for the doll. So, I picked my daughter's brain for what besides the doll does she want. What can I tell others to buy for her? Here are 10 gifts for those 9, 10, 11, 12 year old girls in all different price ranges. After all, we are all looking for things to get for tween girls.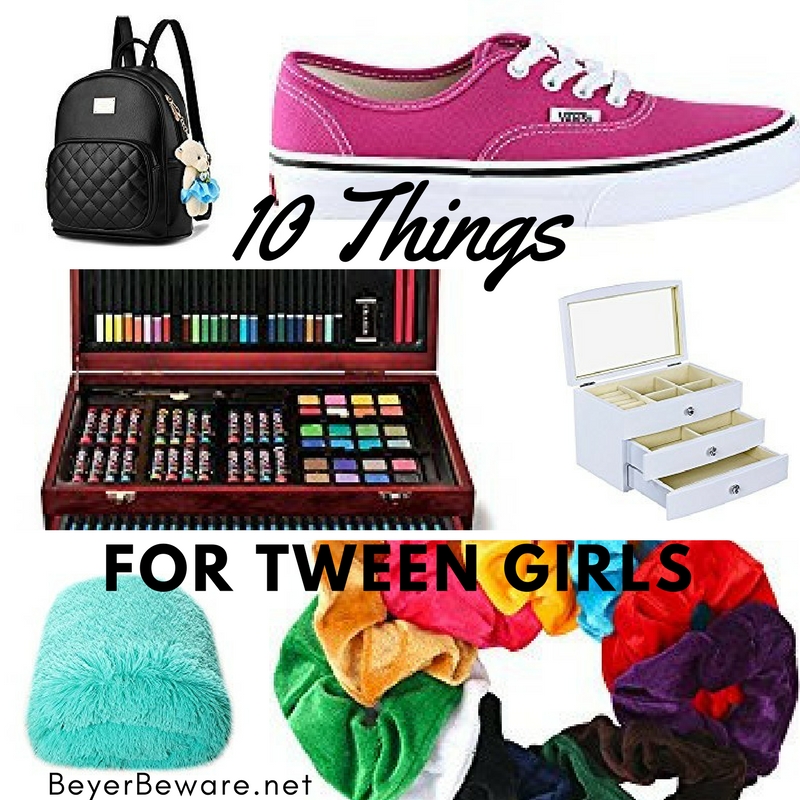 10 Things to Buy for Tween Girls
Fuzzy Anything - Specifically a Fuzzy Blanket

Art Supplies - Lots and lots of colored pencil, markers, and paints
Slime Supplies - Because really you know they want it.
Jewelry Box - One that isn't too baby girlish
Hair Crap Stuff - Because the Scrunchy is making a comeback
7. Makeup - Seriously, my 10 year old does a mean smoky eye with pink eye shadow

 8. A Real-Life Like Baby Doll - Let's be honest, this creeps me out.
Let me be honest, this took my by surprise. While I am a full-time working mom outside the home. I am also very aware of the amount of time I am spending one on one with both kids. So, I had to take a step back and do some quick soul searching as to if I wasn't doing as much one-on-one time as I thought. I realized, maybe my kid just wants to be with me. Don't get me wrong, she likes things. Nice things. But sometimes just snuggling on the coach or going out for sushi is also all she needs from me.
Affiliate links were used in this post.