Disclosure: *This post may include amazon links. As an Amazon Associate, I earn from qualifying purchases.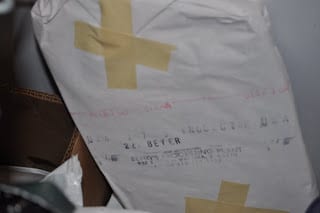 Does your steak come in packages that look like this? Have you ever even seen a meat package like this? Well, when you eat beef at my house, it comes in a package that looks like this. It came out of one of these two freezers.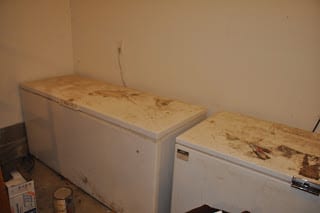 We don't have just some small freezer over the refrigerator. We have two deep freezes.
They are both very organized. Can't you tell? We have a lot of meat in these freezers. Ok, a lot of ice cream too.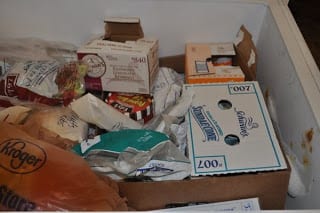 But, let's focus on the meat. Our beef comes from my brother over in Illinois. He feeds his cattle out on corn. I like my meat to be marbled. I don't really care for game meat. If I want game meat, I will eat deer. So, all you grass fed beef lovers get to have it to yourself.
I hope it isn't antibiotic free. I want want the cattle that me meat comes from to be treated humanely. Meaning, he better give antibiotics when the animals are sick. That's what we do to humans. It is processed in the by a local locker plant. They stamp our name on the meat and the cut of meat. Notice this is a porter house...a T-bone with the fillet still attached to the small side of the T.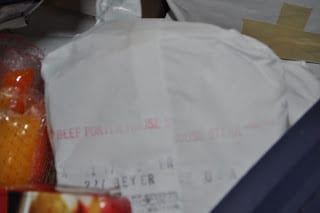 So, on random Mondays or Tuesdays, maybe even Wednesdays, we have steak. When you have a good steak, you don't need steak sauce. I believe in seasoning to enhance flavor. I live with McCormick's Montreal Steak Seasoning in my right hand. A teriyaki marinade occasionally. Maybe even a good A-1 marinade, but nothing beats Montreal seasoning, some blue cheese, and a medium rare steak.
And you know who doesn't appreciate this opportunity to eat steak on a regular basis?
Yep, they complain about having steak again. Tonight, I was talking about this with some of my friends. We are all used to the white packages and got our fill of steak, pork chops, and other high end proteins growing up. We all just thought all kids ate steak on Mondays. And now, we are picky steak eaters. We don't bother going to steak houses. We want to eat seafood or something else we don't have at our finger tips at home.
Someday, my kids will appreciate this gift of white packaged meat.