Disclosure: *This post may include amazon links. As an Amazon Associate, I earn from qualifying purchases.
Crock pot sloppy joes for a crowd is a large batch of sloppy joes recipe when you are looking for a recipe to feed a bunch of hungry people. Have you ever needed to feed hungry teenagers? A field full of farmers? Wanted to make a meal that you could double, triple, quadruple to freeze the leftovers? These crock pot sloppy joes for a crowd are just what you need when you need a recipe to feed a bunch of hungry people!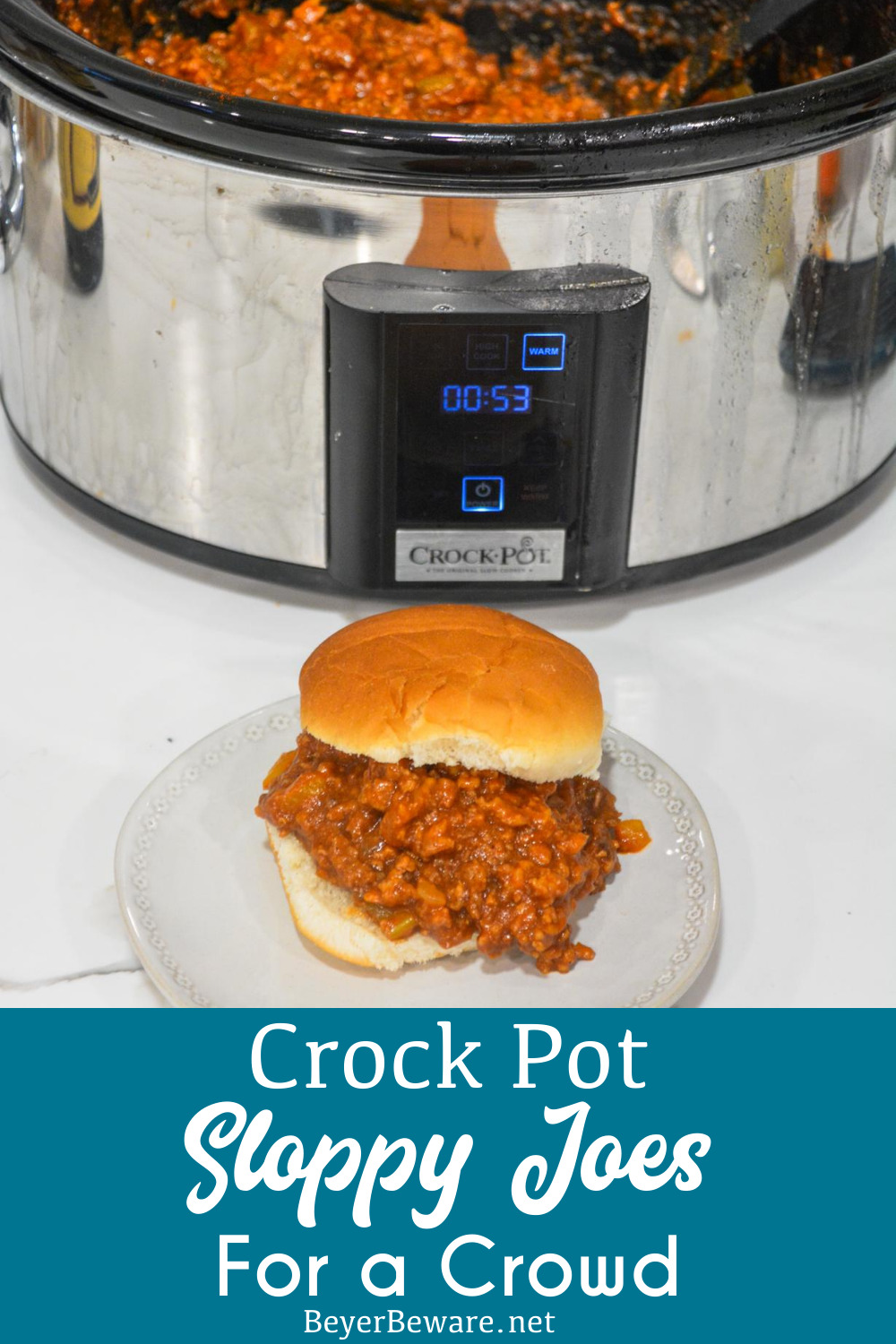 These crock pot sloppy joes for a crowd are just what you need when you need a sloppy joe recipe to feed a bunch of hungry people! I had to feed a bunch of teenagers one Sunday after church. I seriously didn't know how was going to get it all done. With a little brainstorming, I came to a great concept. This is now my go-to way to make ground beef and sloppy joes recipe.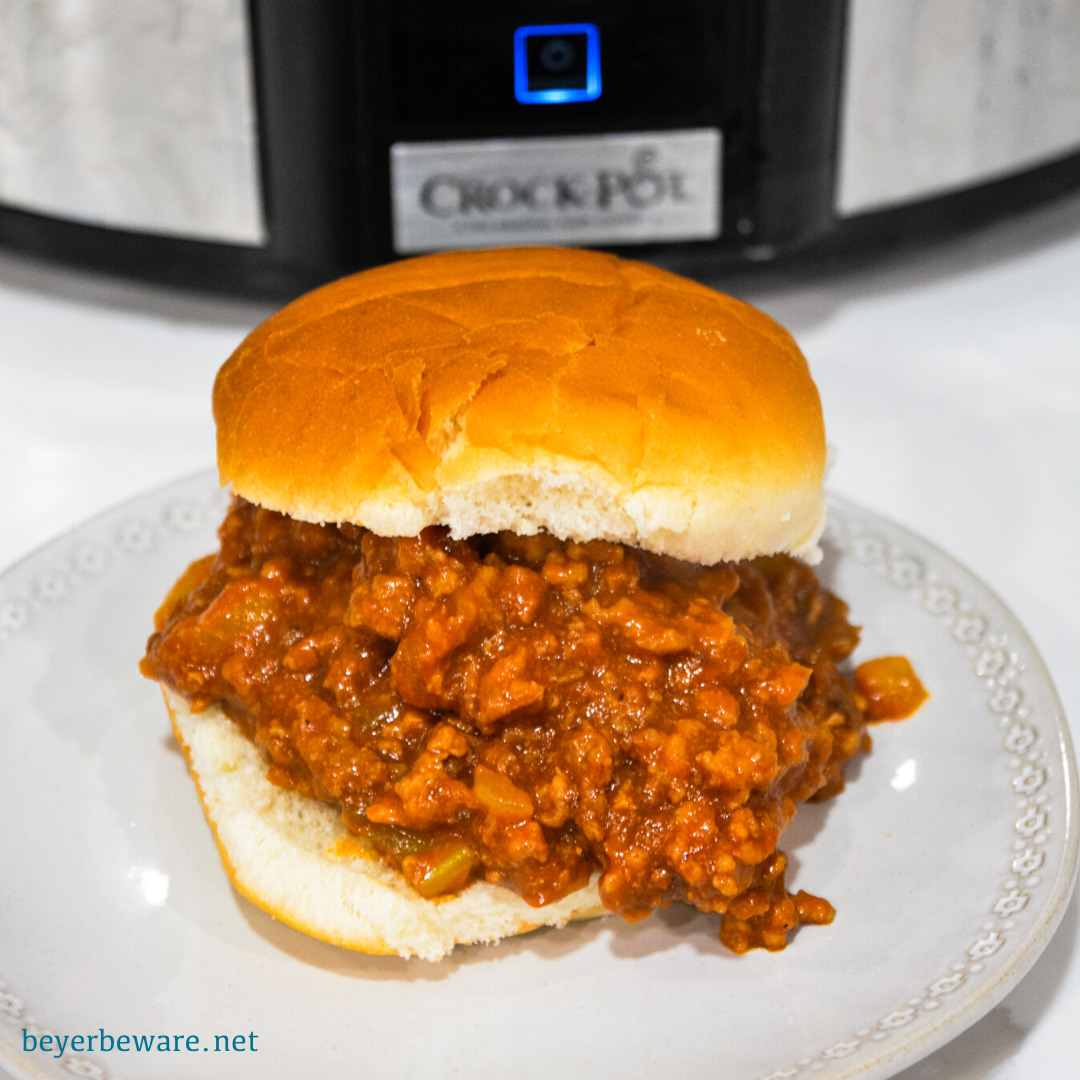 Large Batch Sloppy Joe Recipe Ingredients
The ingredients for this large batch of sloppy joe are more than just brown sugar, ketchup, and some mustard. These ingredients slow cook all day for a rich flavored sloppy joe.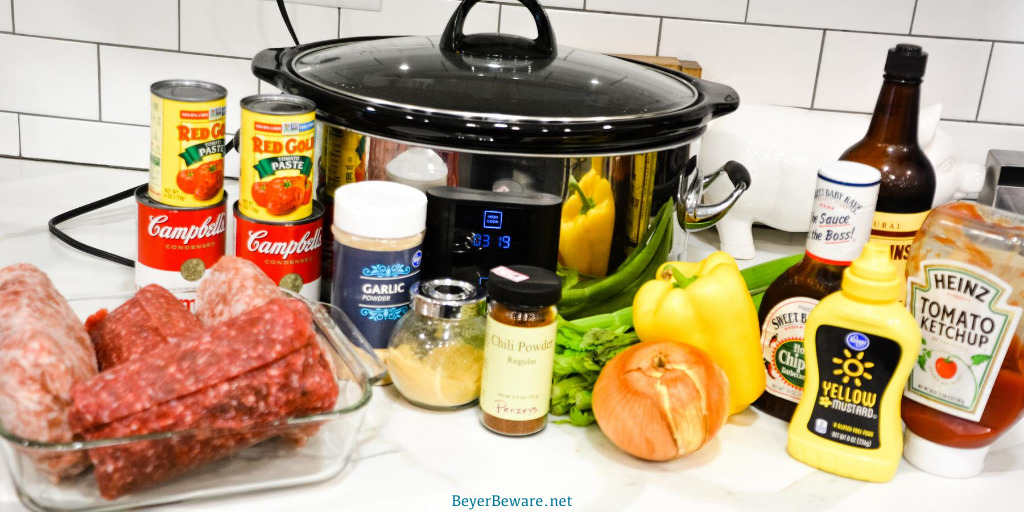 The combination of these ingredients will make your favorite sloppy joes fit for a large crowd.
Ground Beef and Pork - I actually like using a combination of both hamburger and ground pork. You can just use the ground beef you like. Ground turkey could also be used.
Onions - White or sweet onions work best for this recipe.
Celery - Celery chopped up just gives more
Bell Pepper - Green bell pepper is what I tend to use because they are the cheapest. However, red, yellow, or orange bell peppers will also work.
Tomato Soup - The good old canned tomato soup. Nothing fancy is needed here.
Tomato Paste or Sauce - You need roughly 3-4 cups of sauce. You can use paste and then add water to it to get to the three cups.
Ketchup - Traditional ketchup works just fine. Whatever brand you prefer.
Mustard - Regular yellow mustard works the best here. In a pinch, you can also use dijon mustard.
Barbecue Sauce - Your favorite barbecue sauce works. Spicier BBQ sauces will result in spicier sloppy joes.
Worcestershire Sauce
Brown Sugar - Light brown sugar is my go-to version. Dark brown sugar will work just fine too.
Dry Mustard - If you don't have dry mustard, use extra liquid mustard.
Chili Powder - Your level of heat is your choice. A mild chili powder works just fine for this sloppy joe recipe.
Garlic Powder - Fresh garlic can also be used in place of the garlic powder.
How to Make Crock Pot Sloppy Joes for a Crowd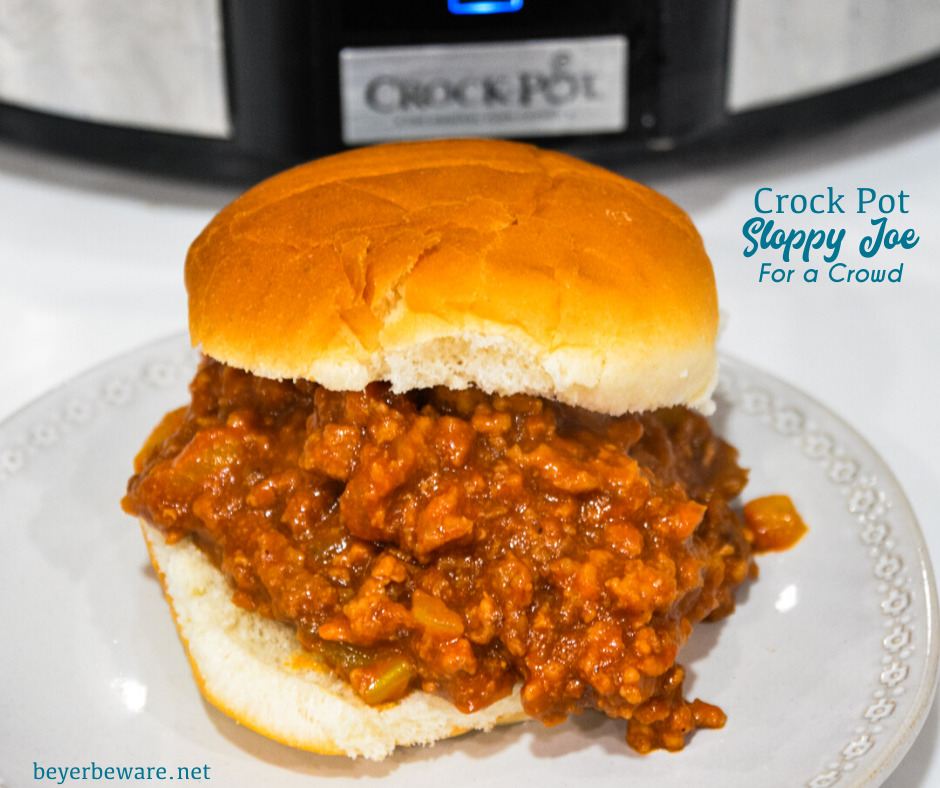 This can also be a one-pot wonder! I actually put frozen ground beef in the crock pot
overnight. When I woke up it was nicely browned. Once I broke it up and drained the fat off, I put the beef back in the crock pot.


I added onion, celery, tomato sauce, tomato soup, mustard, ketchup, BBQ sauce, brown sugar, dried mustard, chili powder, garlic powder, salt, and pepper.

Stir the cooked ground beef into the sauce in the crock pot. Then slow cook for 4 hours on low heat.

Then I put the crock pot back on low and let it cook for four hours. It was ready for a great lunch after church with several families from church. And now I have three meals in the freezer waiting for me too! We love to make coney dogs with our leftover sloppy joes meet too.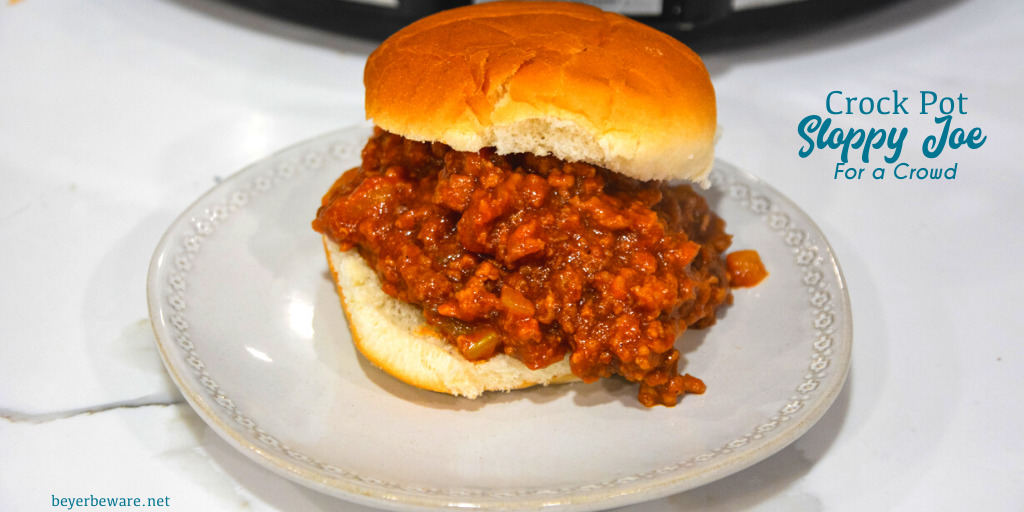 Need a smaller-sized recipe for sloppy Joes? Well, do I have the easiest crock pot sloppy Joe's recipe for you. Check out my all in one pot crock pot Sloppy Joes recipe.
Toppings for Sloppy Joe Sandwiches
Change up a traditional sloppy joe sandwich with various different toppings. Here are a few of our favorite things to add to the top of our sloppy joes.
Cheese
Onions
Pickles
Jalapenos
Cole Slaw
Mac and Cheese
Tips for Making the Best Crock Pot Sloppy Joes Recipe
Picking the best ground beef for sloppy joes - Ground beef comes in lots of different fat content like 80/20 or 70/30. However, I would get the most bang for your buck and get a 93/7 ground beef. This means 93% meat and 7% fat. Since you are precooking the meat, you will drain the fat so lose the least amount as possible.
Be aware of liquid levels - The vegetables in this recipe will definitely put off moisture as they cook. Don't think you need to add water until you get closer to the finished product. You will be surprised at how much liquid accumulates in the crock pot.
Storing Leftover Sloppy Joes
And the leftovers, if you have any can be used for things like coney dogs. Cook once, and eat dinner twice. My kind of cooking!
Refrigerator - Keep the leftover sloppy joes in an airtight plastic or glass container for 3 days.
Freezer - The sloppy joe leftovers freeze great too. Pour into a freezer bag and seal eliminating as much air as possible. Keep in the freezer for 1 month.
Leftover Sloppy Joe Recipes
Here are great recipes to use leftover sloppy joes for the next couple of days.
Sloppy Joe Sticks - Handheld Sloppy Joes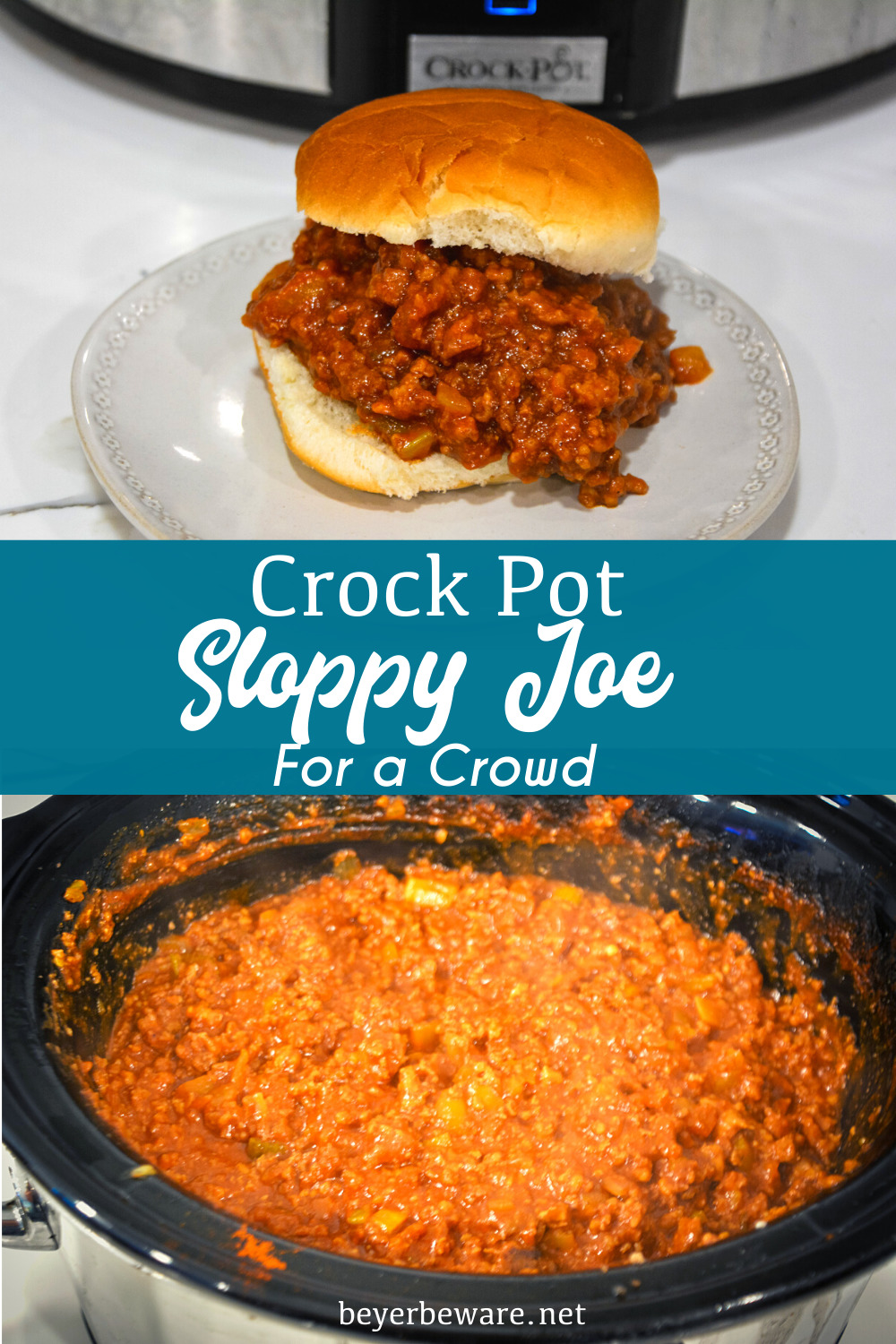 📖 Recipe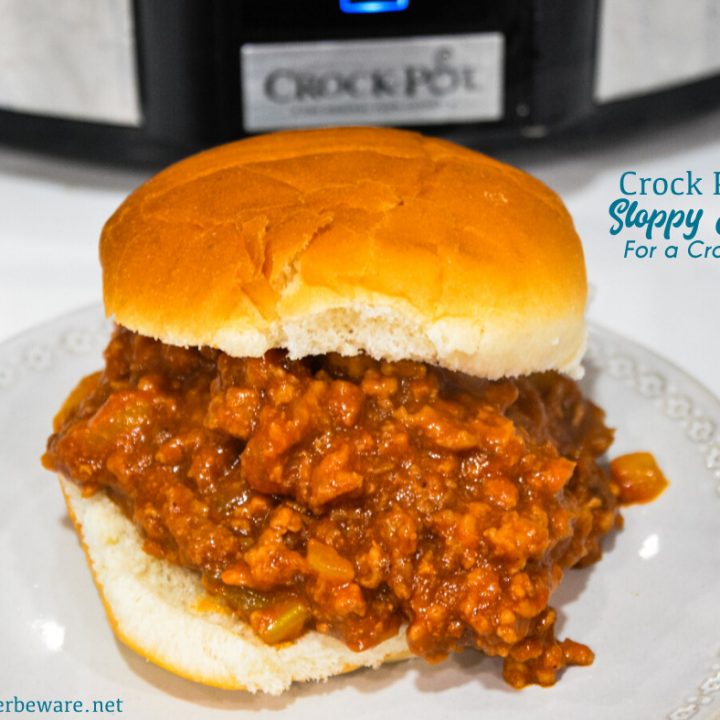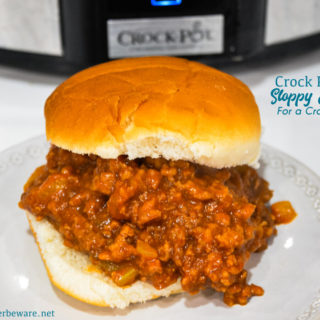 Crock Pot Sloppy Joes for a crowd
Feeding a crowd of people and need an easy, delicious recipe? This Crock Pot Sloppy Joes recipe is always a favorite meal.
Print
Rate
Ingredients
5

lbs

hamburger

browned

1

cup

onion

finely chopped

4

stalks of celery

finely chopped

1

bell pepper, chopped

2, 14.5

oz

cans of tomato sauce

2, 10

oz

cans of tomato soup

½

cup

brown sugar

¼

cup

ketchup

¼

cup

barbecue sauce

3

tablespoons

Worcestershire sauce

1

tablespoon

dry mustard

1

tablespoon

prepared mustard

1 ½

teaspoon

chili powder

2

teaspoons

garlic powder
Instructions
For a juicier, looser sloppy joe sandwich, use four pounds of meat. For a less juicy sandwich, use six pounds of meat.

Put all the ingredients into the crock pot, stir to combine fully.

Cook on low for 4 hours.

Serve on buns.
Nutrition
Calories:
372
kcal
|
Carbohydrates:
70
g
|
Protein:
12
g
|
Fat:
5
g
|
Saturated Fat:
1
g
|
Sodium:
856
mg
|
Potassium:
385
mg
|
Fiber:
3
g
|
Sugar:
17
g
|
Vitamin A:
239
IU
|
Vitamin C:
6
mg
|
Calcium:
213
mg
|
Iron:
5
mg