Disclosure: *This post may include amazon links. As an Amazon Associate, I earn from qualifying purchases.
Feeding large groups of people breakfast, especially eggs can be tricky. I have now made this my go-to way to make scrambled eggs for large crowds. They are so good now my kids ask me to make eggs this way for them on the stovetop too. The secret to these crock pot scrambled eggs is adding milk and a little bit of cream cheese with a great combination of seasonings, not just salt and pepper.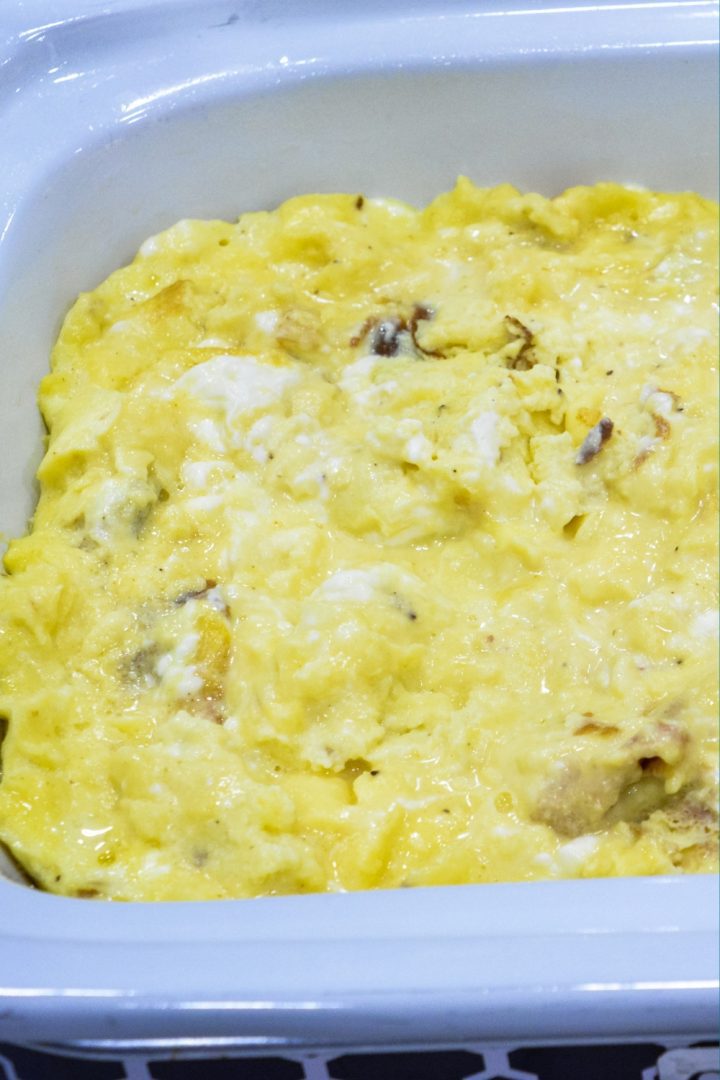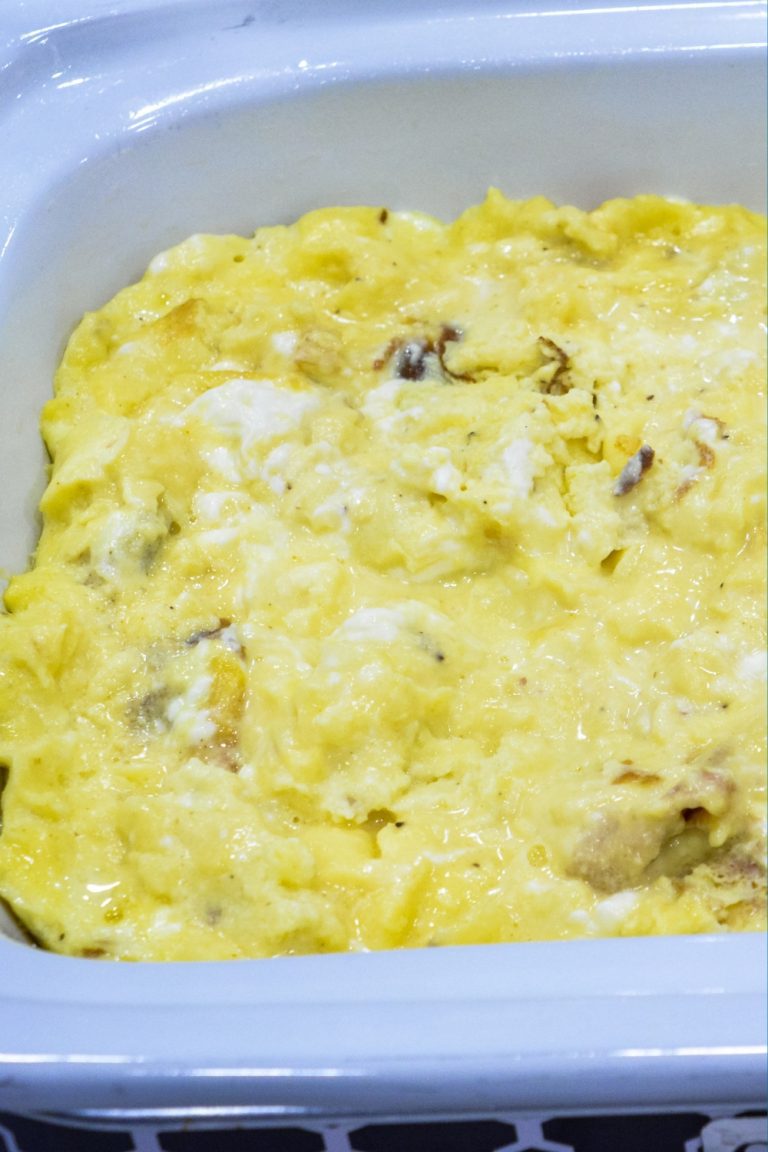 If you have kids in high school sports, you know on the weekends some of the things they look forward to at practice are the team breakfasts the parents bring in. What I have learned is my kids get tired of breakfast casseroles. So I have started making my french toast casserole, scrambled eggs, and sausages.
This crock pot scrambled eggs and sausage casserole recipe definitely was a base for more inspiration for this recipe. Just like the scrambled egg casserole recipe, these eggs can also be a make-ahead crock pot scrambled egg recipe too. The trick was how to make it just eggs and less cheesy since some kids don't like cheese. This is also a great low-carb breakfast recipe.
Jump to:
Ingredients for Make Ahead Crock Pot Scrambled Eggs
The ingredients for scrambled eggs are intended to make crock pot scrambled eggs light and fluffy, but these ingredients also make perfect stovetop scrambled eggs too.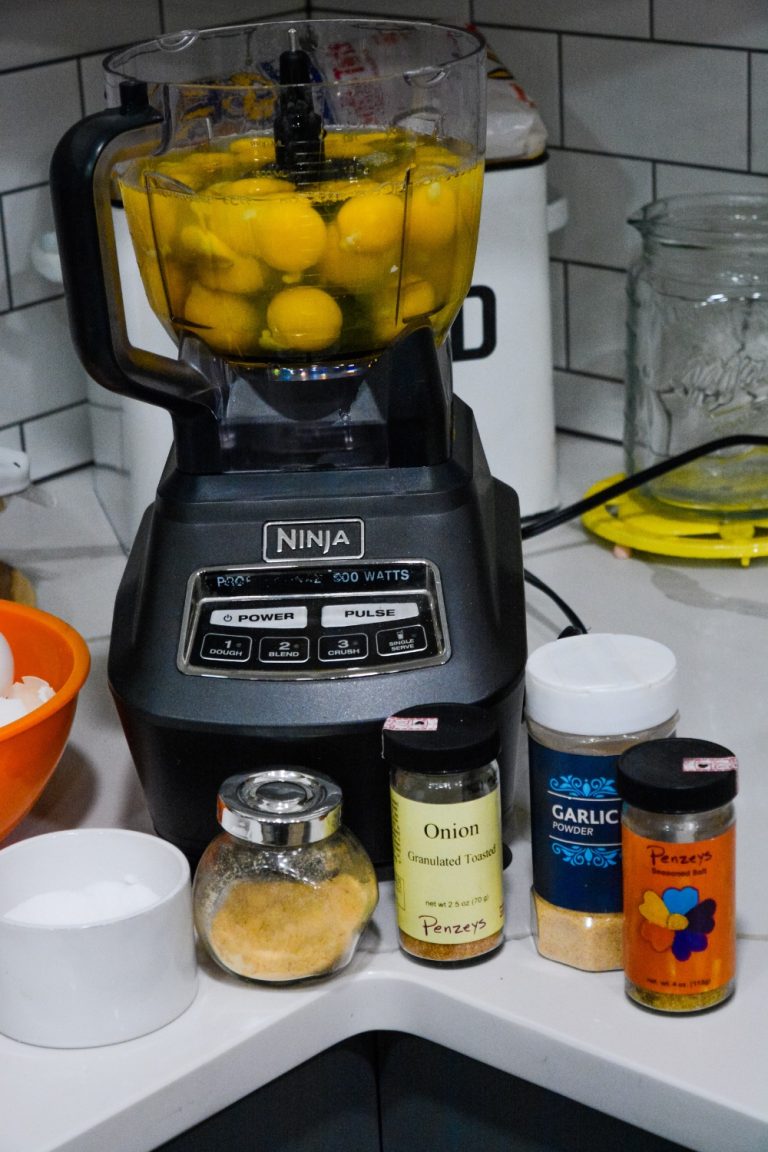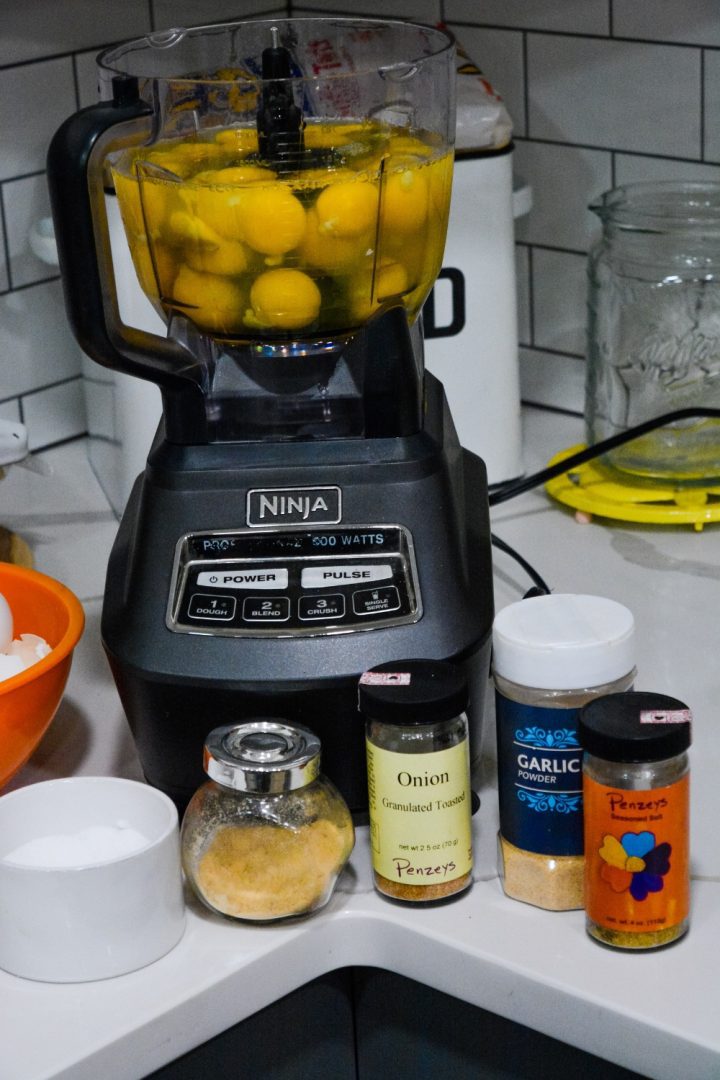 eggs - I buy the big 5 or 7 dozen eggs carton when I make this recipe. I am making 2 eggs per person for these scrambled eggs.
milk - Whatever milk you have in your fridge is fine.
cream cheese - Block cream cheese will work for this recipe, but I have started using whipped cream cheese more often than blocked in this recipe.
onion powder - Regular onion powder works, but I love toasted onion powder in this too. Onion salt can be substituted, but then decrease your salt amount.
garlic powder - Just like the onion powder, traditional garlic powder works just fine. You can also substitute garlic salt and again reduce the amount of salt.
season salt - A hint of paprika makes eggs even better. It is my little head nod to deviled eggs. So seasoned salt is perfect for this recipe too.
dried mustard - dried mustard is my secret weapon in lots of dishes. It is subtle and even people who swear they don't like mustard don't realize it is there. In a pinch, regular mustard can be substituted.
salt and pepper - Fresh cracked pepper and grinder salt. Or not. Just salt and pepper these eggs.
Butter - real butter either by the stick or in a tub.
See the recipe card for quantities.
How to Make Scrambled Eggs in Crock Pot
Making scrambled eggs in crock pot isn't hard, but does require a bit of prework. I mix up these scrambled eggs in the blender because work smarter, not harder. I also make these in the blender two dozen at a time.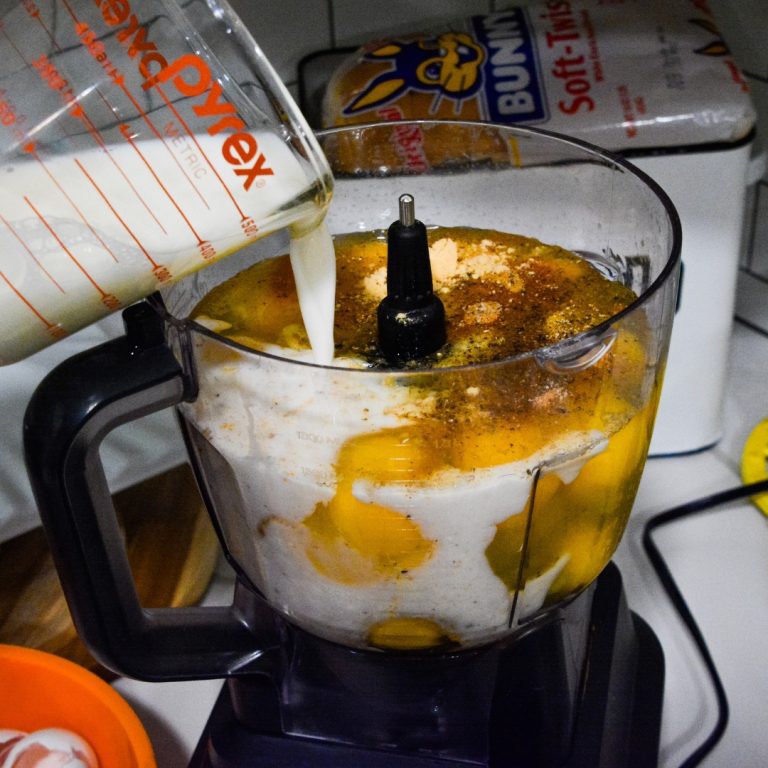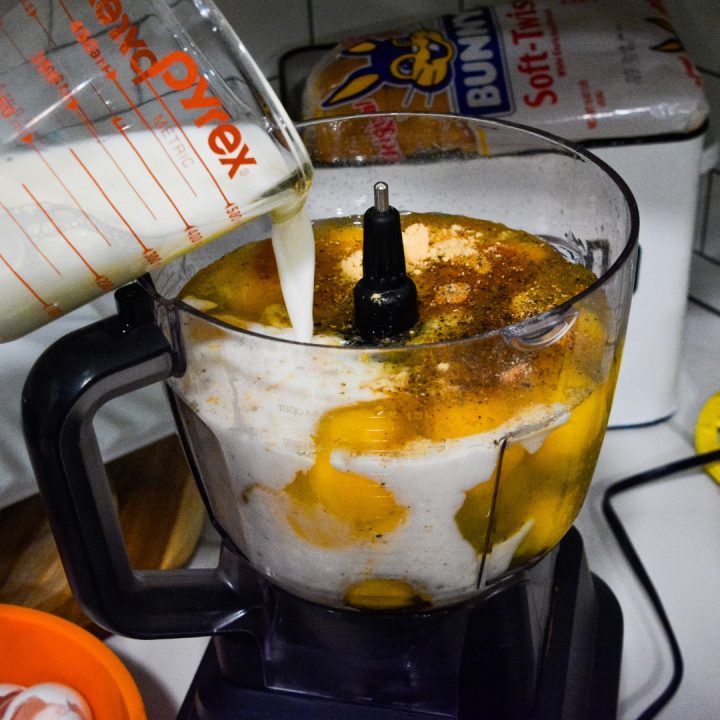 Combine all eggs, milk, and seasonings in the blender and pulse to scramble.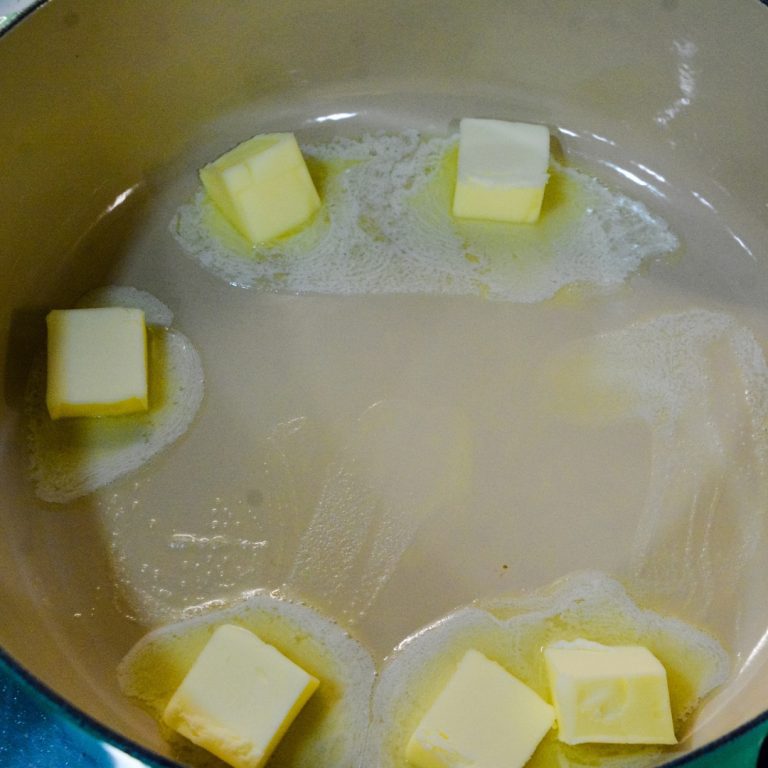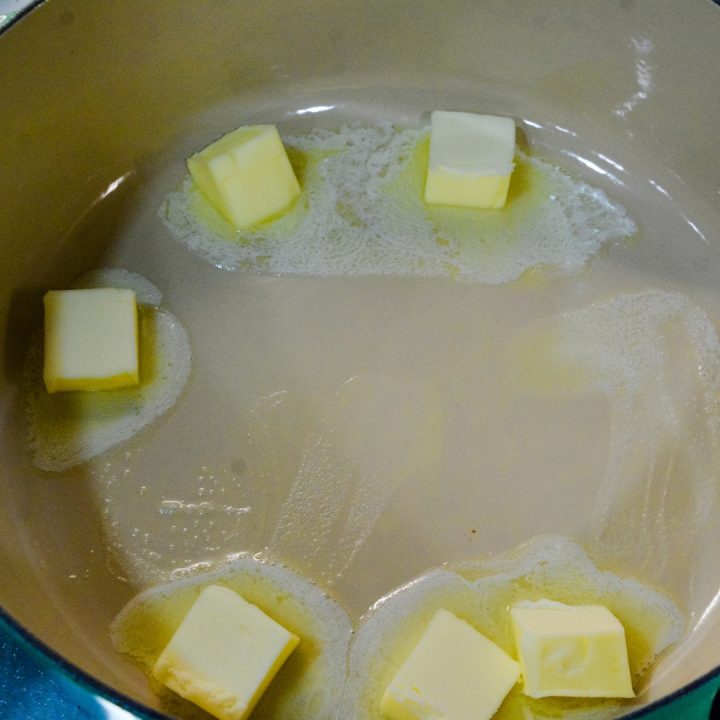 Melt butter in a large bottom skillet or pan. I love my shallow 8-quart Le Creuset for this recipe.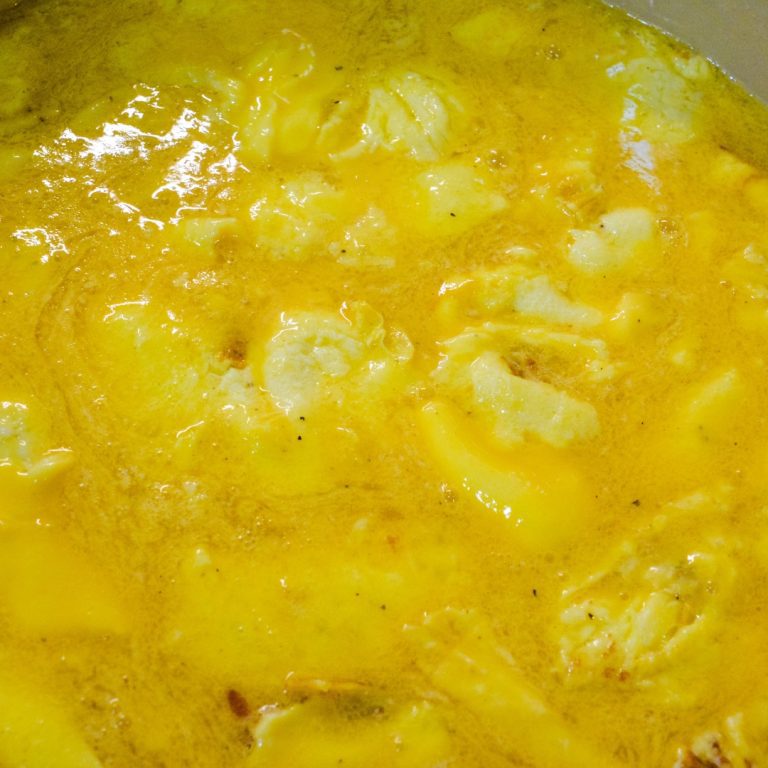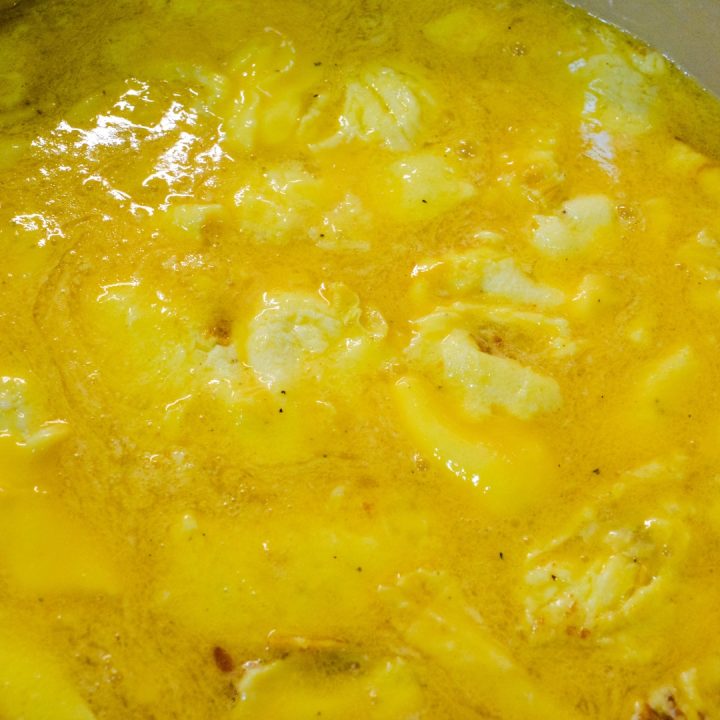 Pour the scrambled eggs into the pan and cover and let cook on low heat for several minutes. Stir the eggs, scraping the cooked eggs from the bottom and sides.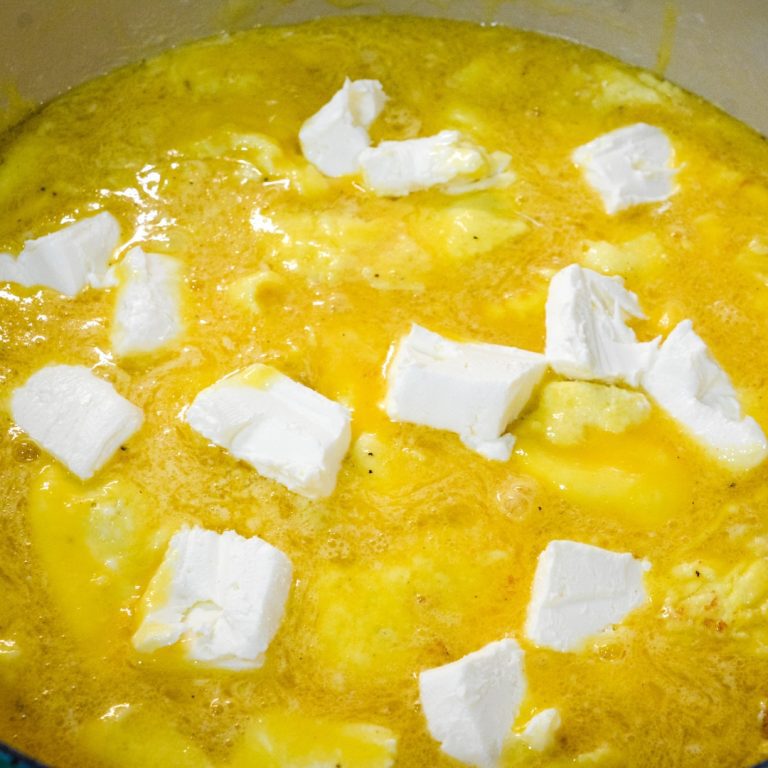 Place the pieces or spoonfuls of cream cheese into the half-cooked eggs. stir to combine and remove from the heat. Pour into the greased crock pot insert.
Now you can cook these immediately or put them in the fridge for the next day. If the eggs are hot and you cook them right away, it won't take as long to cook. If you are cooking half-cooked eggs from cold, you will need an hour longer to cook them. Cook on low either way.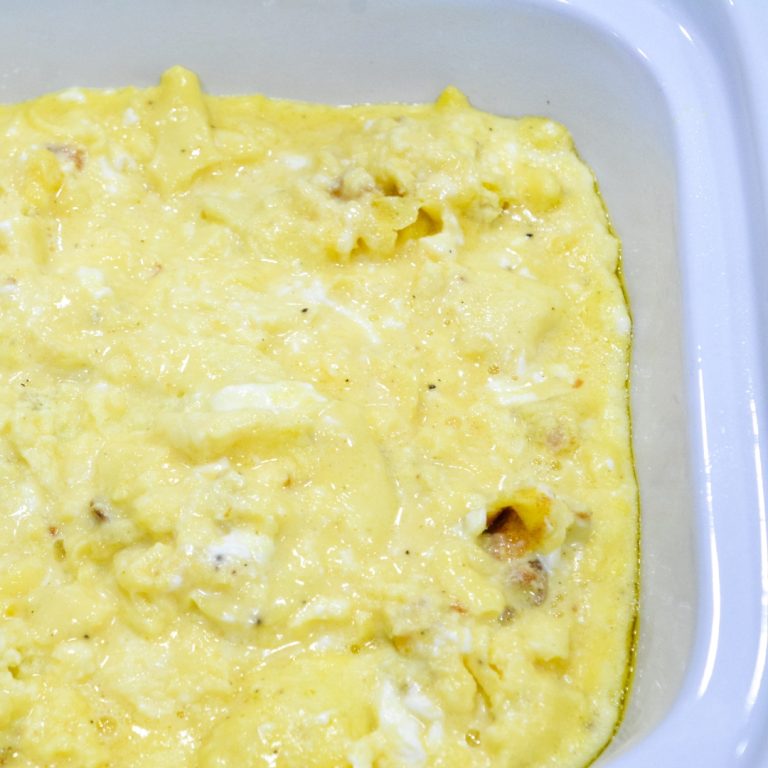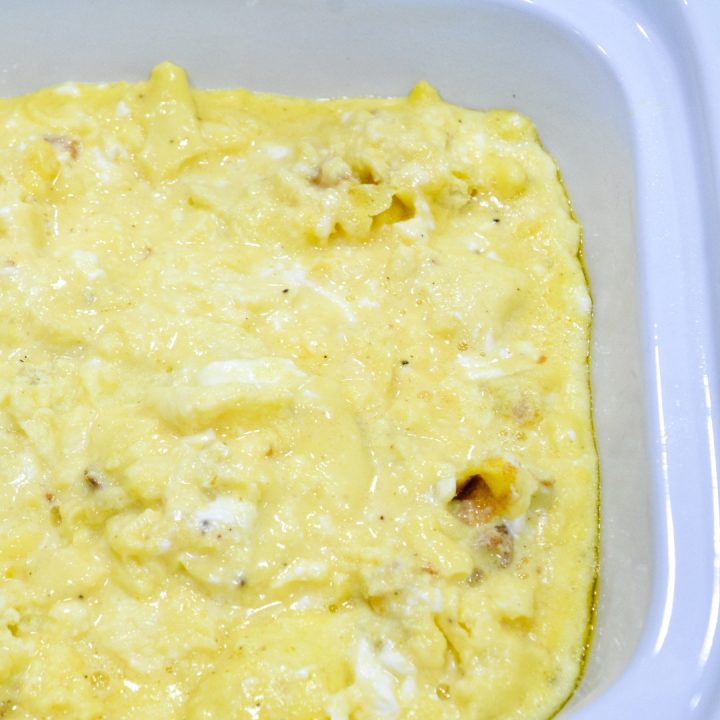 Hint: Once the eggs are fully cooked, shut the crock pot off to serve. The egg proteins start to turn green the longer they are cooked.
Variations
Change up the plain scrambled eggs with these ideas for scrambled egg add ins. This makes the eggs more like scrambles.
Cheesy - Add your favorite shredded cheese to the top of the eggs in the crock pot for a cheesy scramble.
Meaty - Just like my crock pot sausage and scrambled eggs, these scrambled eggs can have sausage added to them. Ham cubes is also a great addition.
Veggie - Sauteed onions, mushrooms, and spinach are all great additions to scrambles. The work in this recipe too. Saute with the butter then
Breakfast Tacos - Serve these scrambled eggs with tortillas, shredded cheese, sausage or bacon, and pico di galo for breakfast tacos.
Spicy - Add a half teaspoon of cayenne pepper or a tablespoon of hot sauce to the scrambled eggs with the milk and spices to make spicy eggs.
Equipment
A blender, a large Dutch oven, and a casserole crock pot make these eggs so easy to make. While you can use a traditional crock pot, I highly recommend one of the rectangle-shaped ones for quicker cooking. A ton of my breakfast casseroles are made in a casserole crock pot. Check out my kitchen essentials.
Make Ahead Scrambled Eggs and Storing Leftover
These cooked scrambled eggs will definitely keep in the fridge and reheat perfectly for breakfast for several days after you make these eggs.
If you are working ahead and want to get last minute prep work out of the way, these scrambled eggs can definitely be made a day in advance and then cooked in the crock pot the day you are needing them.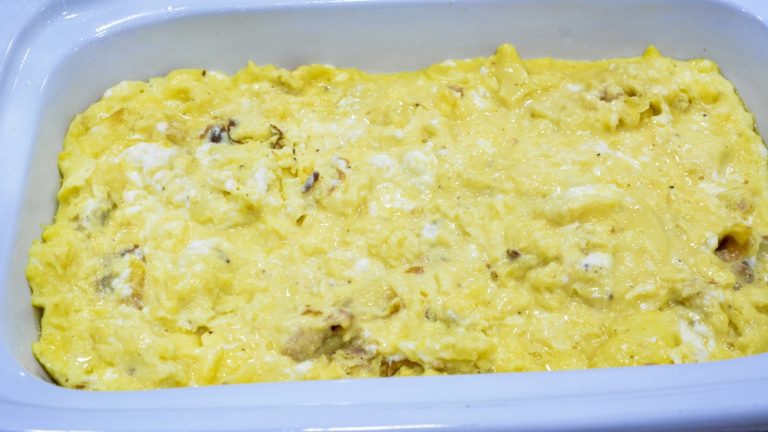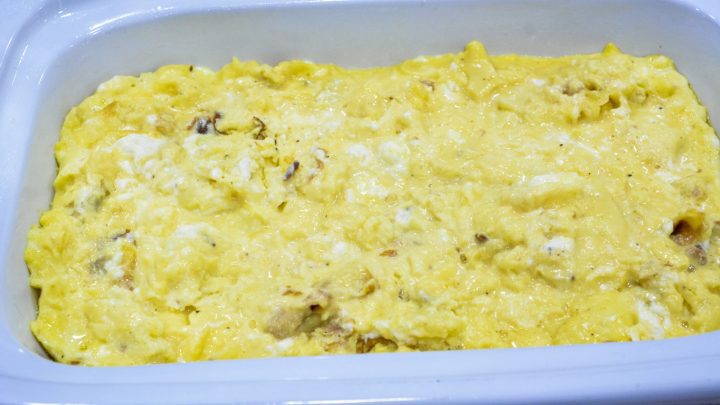 Great Breakfast Recipes to Feed a Crowd
Looking for lots of recipes that can feed a large group of people like a high school swim team? These are great breakfast recipes that feed a large group.
Crock Pot French Toast Casserole
Crock Pot French toast casserole is a rich caramelized French toast recipe with rich maple flavors and the combination of a crumb top with a caramel bottom and fluffy bread middle.
Check out this recipe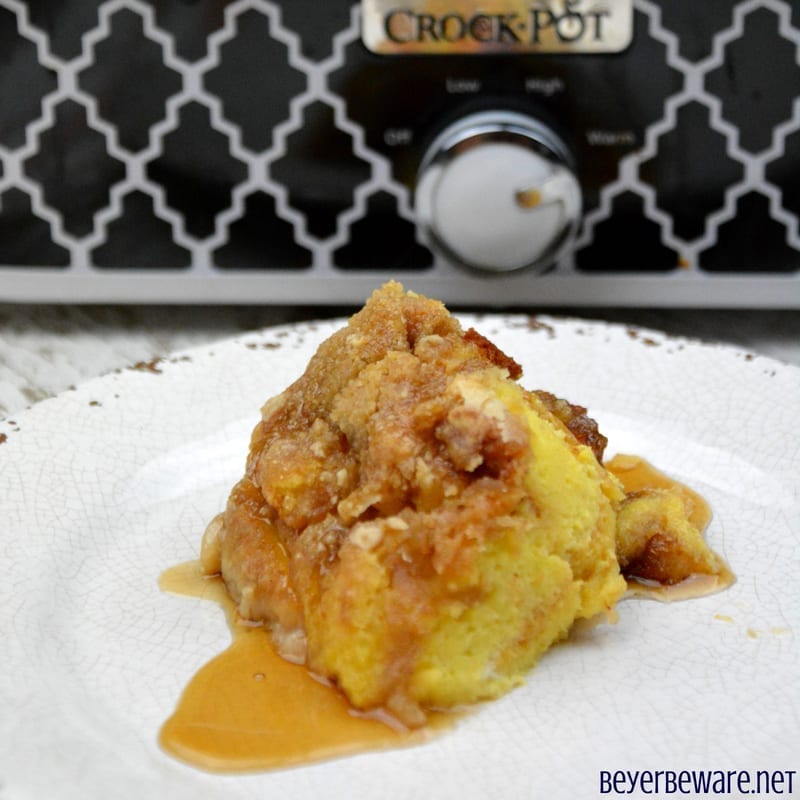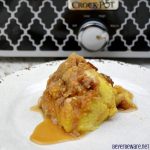 Biscuit Quiche Recipe
The Biscuit Quiche Recipe is easy to make with just refrigerator biscuits, breakfast sausage, bell peppers, onions, cheese and scrambled eggs.
Check out this recipe
Crock Pot Monkey Bread
Crock Pot Monkey Bread uses refrigerator Grands biscuits with sugar and cinnamon to create a warm and gooey sticky pull-apart bread.
Check out this recipe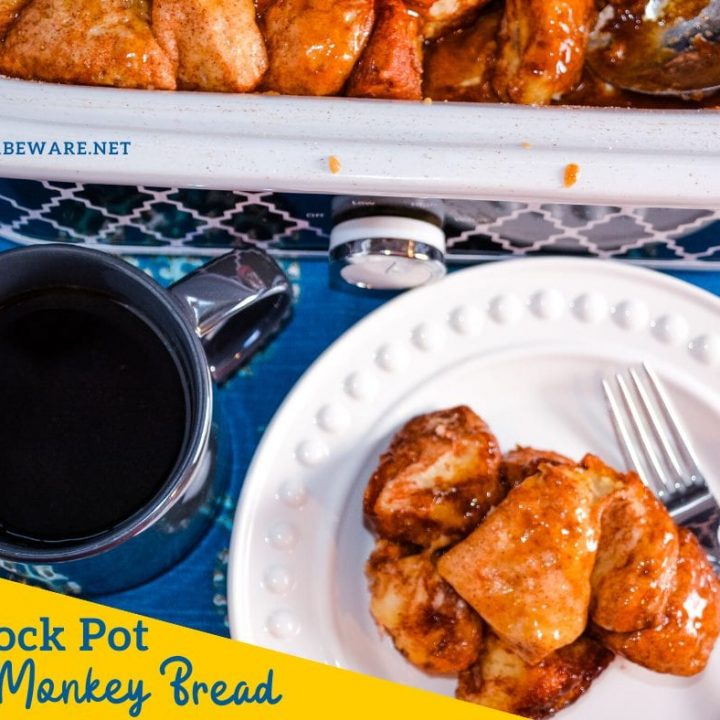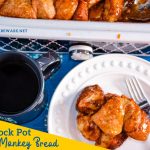 Homemade Sausage Gravy
Homemade sausage gravy is a simple white gravy with breakfast sausage recipe perfect for easy biscuits and gravy breakfast made regularly for breakfast since it is so easy to make.
Check out this recipe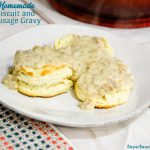 FAQ
How many eggs do I need make per person?
When trying to plan for feeding a crowd, it can be hard to determine just how many eggs you will need. I make 2 eggs per person meaning this recipe made with 24 eggs will feed 12 people. For feeding athletic teams, I plan 3 eggs per person making this 8 people fed.
Can this scrambled egg recipe be cut in half or thirds for smaller batches?
Definitely cut this recipe in half for smaller batches. Everything can be cut evenly. Seasonings are always subjective but watch the salt.
How do you make fluffy scrambled eggs on the stovetop?
Make these the exact same way just keep cooking them until the eggs are completely cooked.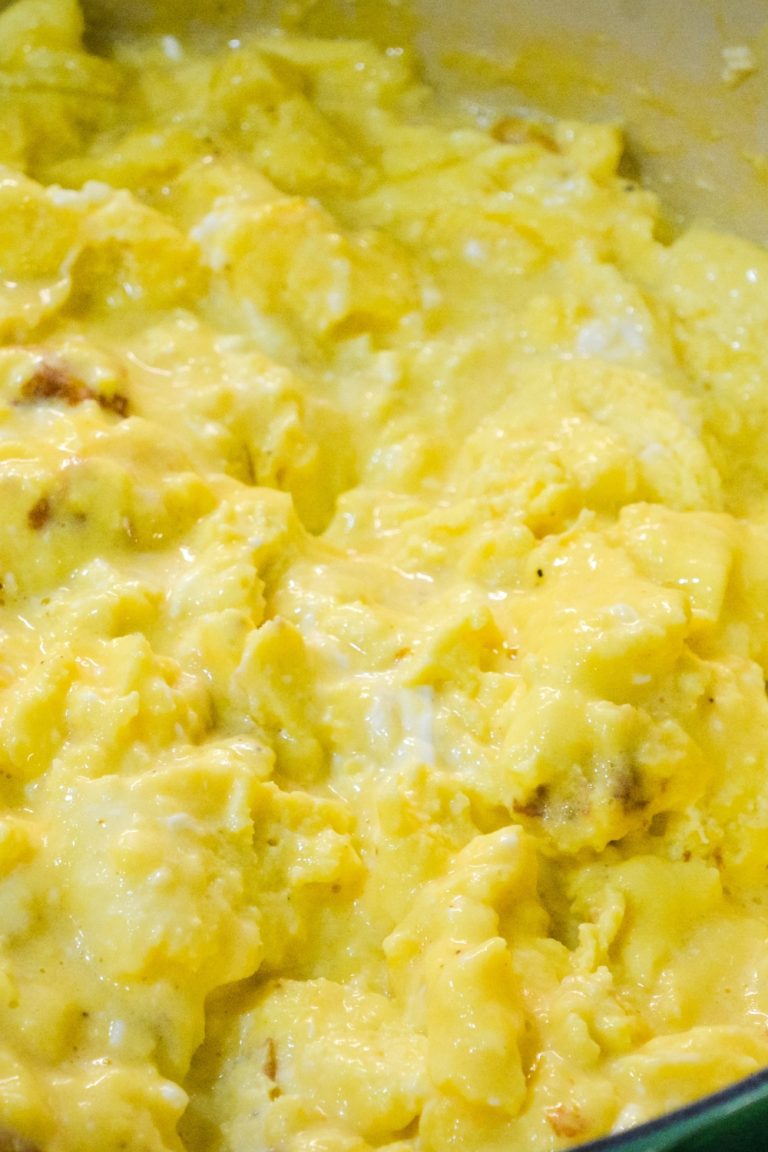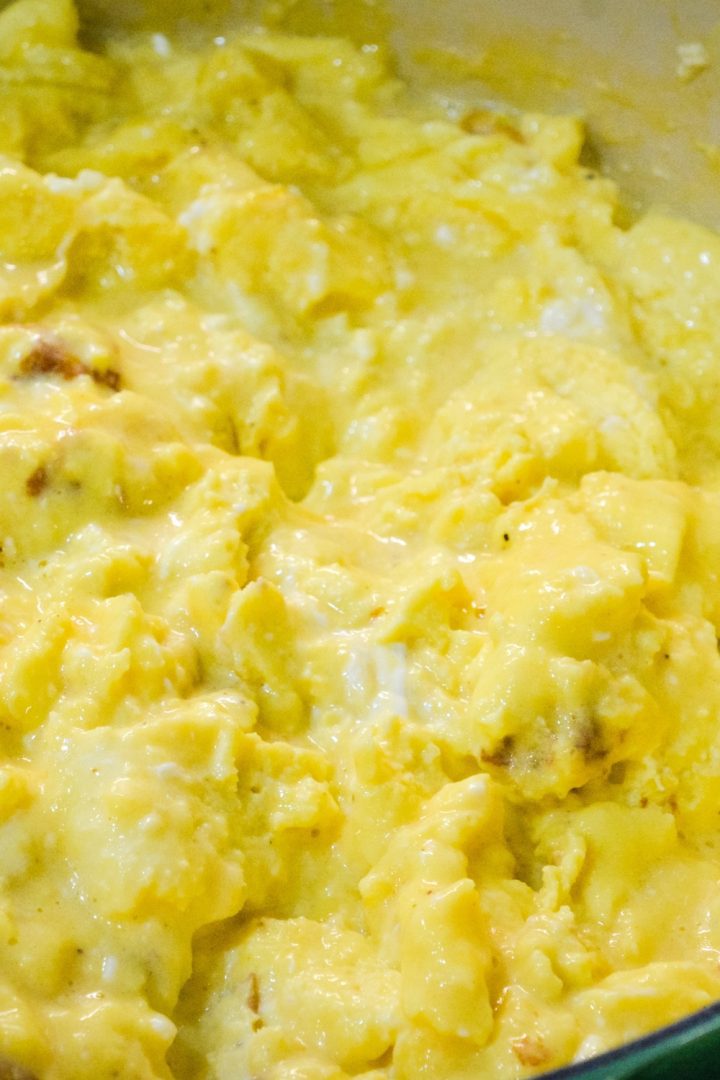 📖 Recipe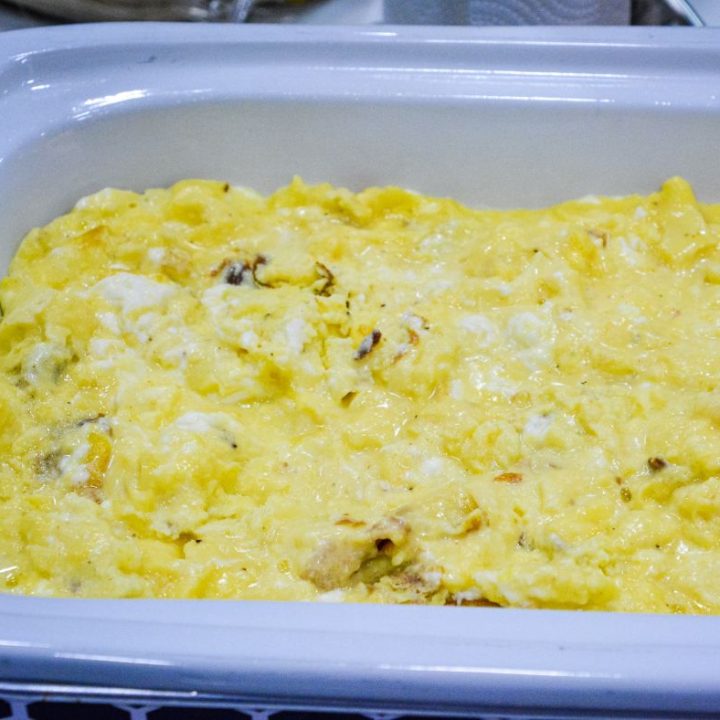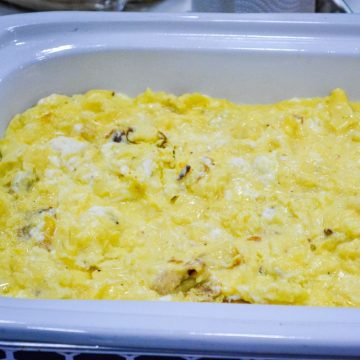 Fluffy Crock Pot Scrambled Egg Recipe
Want a make-ahead scrambled egg recipe that can feed a crowd? Make fluffy crock pot scrambled eggs the night before and have the best scrambled eggs in just two hours.
Print
Rate
Ingredients
6

tablespoons

butter

divided

1

cup

milk

24

large

eggs

8

ounces

cream cheese

2

teaspoons

salt

1

teaspoon

pepper

each

½

teaspoon

onion powder

1

teaspoon

garlic powder

½

teaspoon

mustard

1

teaspoon

seasoning salt
Instructions
Break the eggs into a bowl or blender. Add the seasonings and milk to the cracked eggs. Blend or whisk to combine.

Melt the butter in a large, deep skillet or Dutch oven over medium heat. Pour in the eggs and cook for a minute or two. Gently push eggs off the bottom to allow more liquid to be spread around. Do not "scramble" the eggs too much.

When the eggs are about half cooked, add the cream cheese cut into pieces. add to the eggs. Remove from heat and cover. Let sit for a minute or two. Then stir the softened cream cheese into the eggs.

Transfer the eggs into a well-greased casserole crock pot. Cook on low for one hour.

If making the day before, cover the casserole with the lid and place in the fridge overnight.

Cook on high for two hours. Garnish with green onions and shredded cheese if you have it on hand.

Can be cooked in the oven for 30 minutes on 300.
Nutrition
Calories:
273
kcal
|
Carbohydrates:
3
g
|
Protein:
15
g
|
Fat:
22
g
|
Saturated Fat:
11
g
|
Polyunsaturated Fat:
2
g
|
Monounsaturated Fat:
7
g
|
Trans Fat:
0.3
g
|
Cholesterol:
409
mg
|
Sodium:
838
mg
|
Potassium:
202
mg
|
Fiber:
0.1
g
|
Sugar:
2
g
|
Vitamin A:
1003
IU
|
Vitamin C:
0.02
mg
|
Calcium:
103
mg
|
Iron:
2
mg