Disclosure: *This post may include amazon links. As an Amazon Associate, I earn from qualifying purchases.
I know some of you already know about my obsession with using root beer in BBQ recipes. Well, it is no different in my winter BBQ recipes a la crock pot. This slow cooker root beer beef bbq recipe is the perfect combination of sweet and heat with a hint of smoke to leave your summer BBQ cravings satisfied.
I started the night before with the root beer bath for my beef rump roast. With all of the I ♥ Beef chatter going on, I decided on beef BBQ.
Slow Cooker Root Beer Beef BBQ
Start by putting your hunk of beef in a gallon Ziploc bag.
Chop up a couple of cloves of garlic.
Grab your preferred brand of root beer. I am sure this is what was on sale.
My trust BBQ spices. Liquid smoke, chipotle Tabasco, Montreal steak seasoning and cayenne pepper.
Pour 1 cup of root beer into a measuring cup. Add 3-4 shakes of liquid smoke, same of Tabasco, 1 tablespoon of steak seasoning, and 1 teaspoon of cayenne pepper. Toss in the chopped garlic too.
Stir together and pour over your beef roast.
I then poured another cup of water on top just to make it stretch a bit farther. Put in the fridge overnight. The next morning, pour it all into a crock pot.
I, of course, am obsessed with seasonings, so I grabbed some rib rub and shook it all over the roast.
Yes, I touched the meat and rolled it over to cover it all with my seasoning.
Then, put the lid on, turn the crock pot on low and walk away for 8-10 hours.
The carving then begins. I, of course, love to use my Salad Chopper
to chop my meat. Great little multi-purpose item. I then let it cook for about another hour on low. You could eat immediately, but I like the flavors to really soak in.

Serve on a bun or not. Serve with BBQ sauce or not. Eat it straight out of the crock pot. You will be back for seconds.

Crock Pot BBQ Recipes
Slow Cooker Spare Ribs(Opens in a new browser tab)
Hunk of Meat Monday: BBQ Chicken Calzones(Opens in a new browser tab)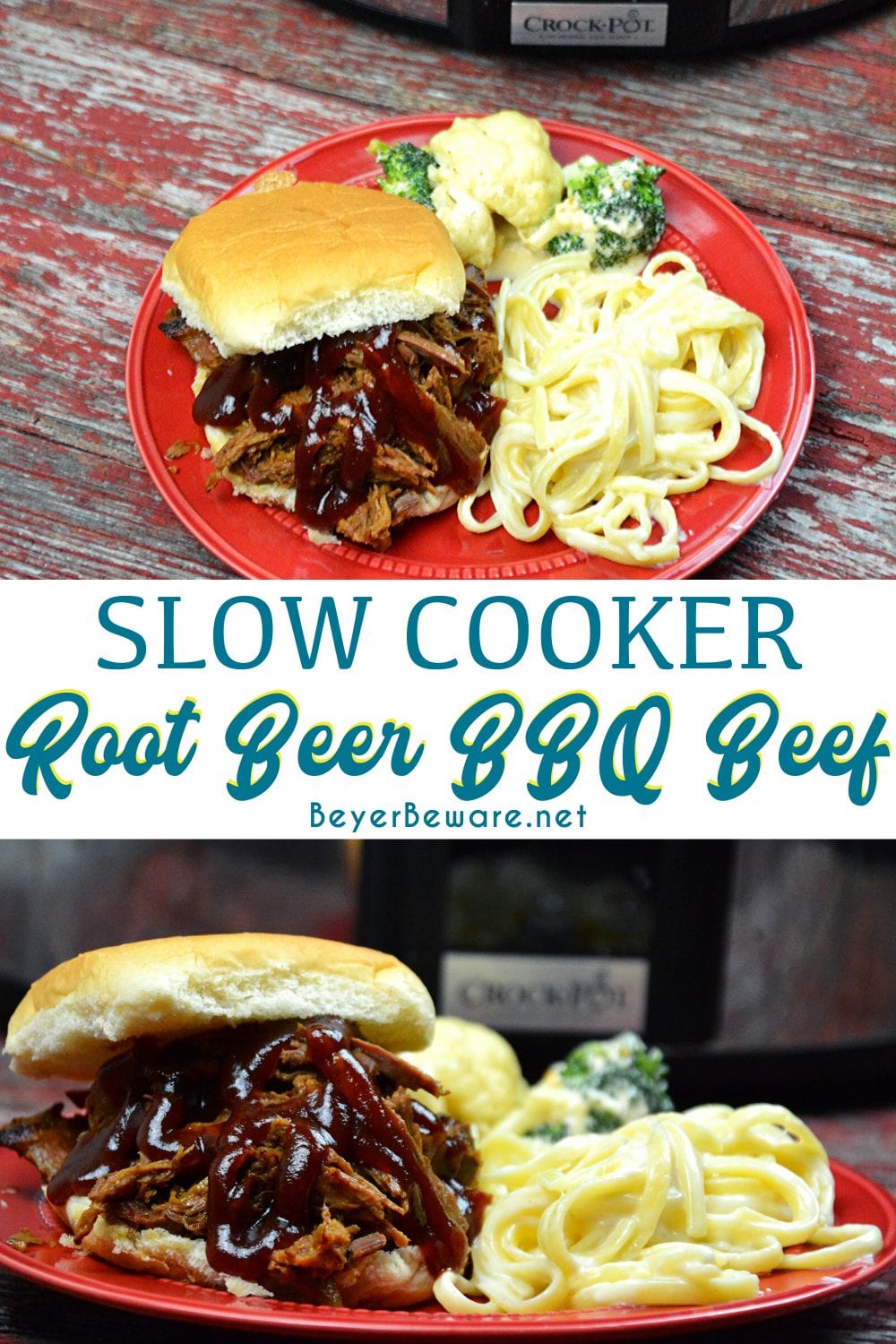 📖 Recipe

What are you cooking up today? Link up below by clicking on entering here. Grab the button or link your post back to here so your readers can find other hunk of meat meals to cook up.
Copy and Paste Code
We are a participant in the Amazon Services LLC Associates Program, an affiliate advertising program designed to provide a means for us to earn fees by linking to Amazon.com and affiliated sites.