Disclosure: *This post may include amazon links. As an Amazon Associate, I earn from qualifying purchases.
Are you a late planner? You know the one that thinks, well crud, the super bowl is tomorrow, and I have no food planned. Good luck finding wings 24 hours before the big event! Well, I am that person. And since we live in the middle of nowhere, pizza delivery is not an option. I bring you my cheesy pizza loaf. Guaranteed to feed a crowd!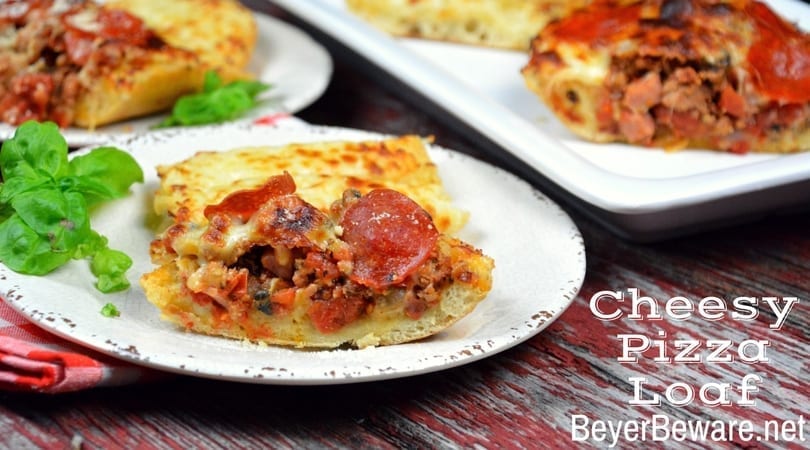 How to Make Cheesy Pizza Loaf
Just like any pizza, we all have our personal preferences for toppings. You pick what you want or what you have on hand to top your pizza loaf. You don't have to use all the ingredients I used for this cheesy pizza loaf.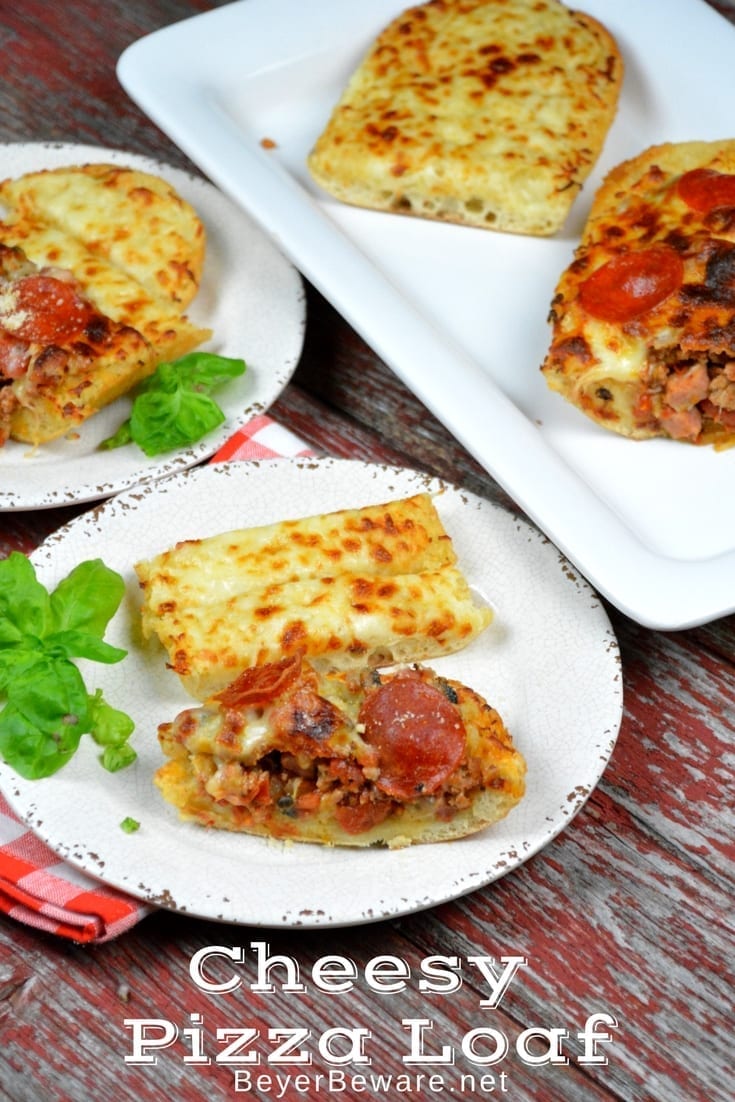 I started with hamburger for the base of my pizza. After all, I ♥ Beef! Feel free to use Italian sausage too. Grab some of my favorite spices for Italian food.
I added 1 teaspoon of Italian seasoning, ½ teaspoon garlic powder, ½ teaspoon salt, ¼ teaspoon pepper and 1 tablespoon of Worcestershire sauce to the ground beef as it browned.
Luckily, I had gotten a loaf of Italian bread to have on hand for the big ice storm that hit the midwest this week. Never know when you might need something filling to eat. Plus they are fairly inexpensive. $1.50 at the local super-center.
Just cut the loaf in half lengthwise.
Once my hamburger was browned, I added a cup of cubed ham, ½ an onion diced and 3 or 4 mushrooms, sliced. I continued to cook until mushrooms and onions were just tender.
At this point, I would have grabbed a jar of pizza sauce. Well, that is if I had a jar of pizza sauce. So instead I grabbed a can of crushed tomatoes, oregano, garlic powder and some S & P to taste.
Combine the sauce get hot and bubbly. Remove from heat.
Spread the mixture on one half of the Italian loaf.
Sprinkle with mozzarella cheese. If you have pepperoni slices, go ahead and put those on top of the shredded cheese.
Cook on 350 degrees until cheese gets completely melted. About 15 minutes.
No, I am sure you are thinking, well what about the other half of the bread. Well, people, let me show you.
Garlic Cheese Bread
Spread butter all over the cut side, sprinkle with garlic salt and Parmesan cheese.
Bake on 350 for about 5-6 minutes. Pull out an sprinkle with a cup or two of mozzarella cheese. Stick under the broiler till cheese is melted and browned. Well, not brown if you don't like it that way, but I like it that way.
Slice it up and enjoy!
Pizza Recipes