Disclosure: *This post may include amazon links. As an Amazon Associate, I earn from qualifying purchases.
I remember moving to Indiana and talking about how loved getting pork burgers at the county fair. They were the best. People would sort of look at me strangely. I quickly found out that my home county pork burgers were not a normal occurrence in Indiana. Iroquois County Pork Producers have a near and dear place in my heart and their pork seasoning salt has a place just as close.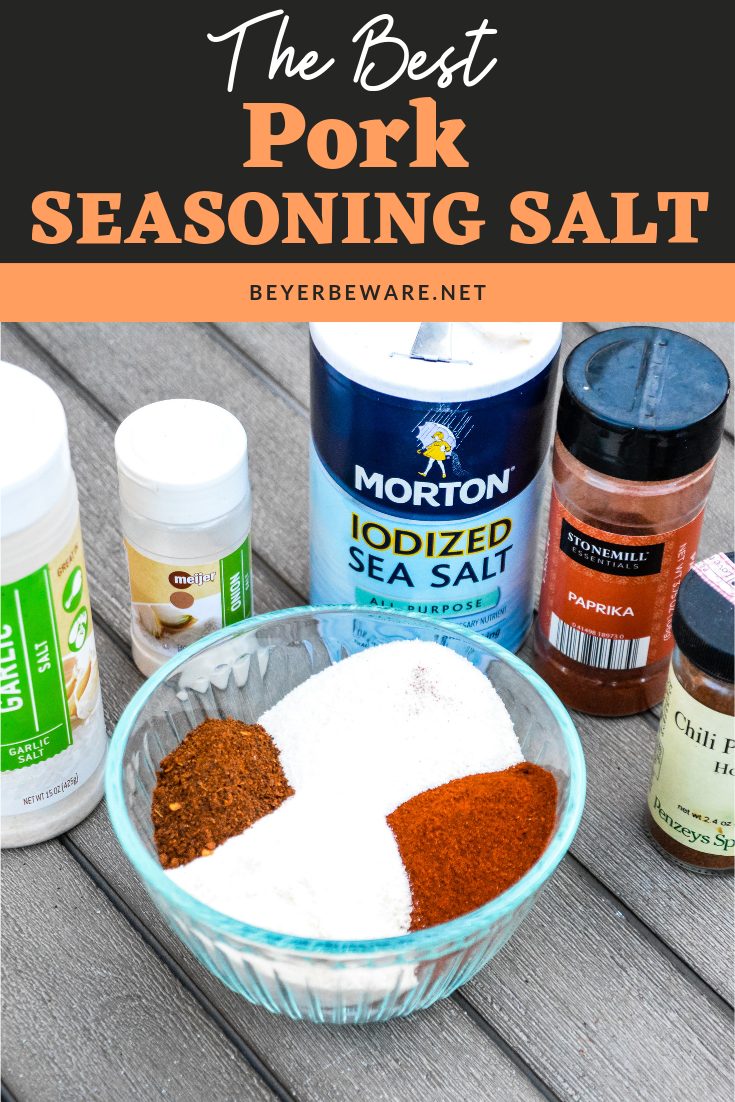 Pork Seasoning Salt is a combination of three salts, paprika, and chili powder to create a seasoning salt that is perfect on pork burgers, pork chops, and even chicken and beef.
Pork Seasoning Salt Ingredients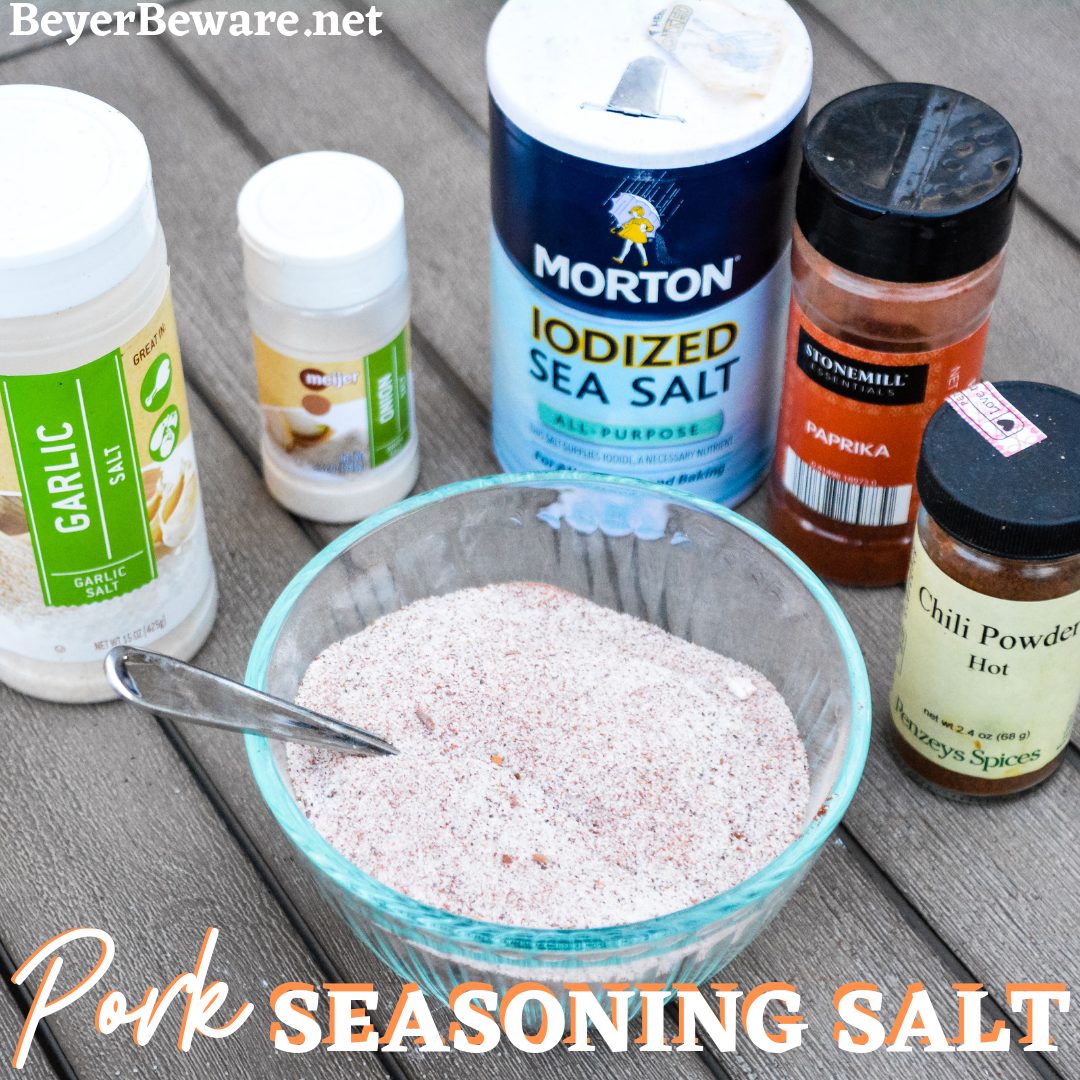 Now, I love me a good burger like my teriyaki pineapple topped pork burger, but now that I have my husband understanding that pork burgers are not sausage patties, I have him on team pork burgers too. While seasoning salt is good it always leaves me thinking it could be something more. Now, that I have mastered the art of the pork producers' salt the world of pork goodness is right for me.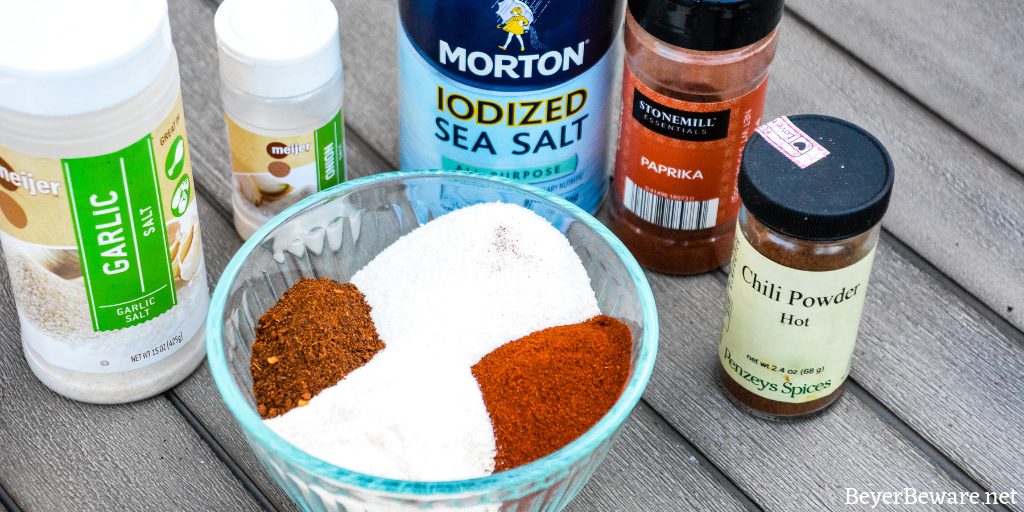 The ingredients to make this amazing pork burger seasoning is:
Garlic Salt or Powder - I used garlic salt in the original seasoning salt I made but found it to be too salty, so now use garlic powder. Either works.
Onion Salt or Powder - Just like the garlic salt, powder or salt will work. Adjust the salt depending on if you use powder or salt.
Paprika - Smoked or sweet paprika will work fine in this pork seasoning salt. The standard paprika you buy at the grocery store is fine.
Chili Powder - Now the chili powder is where you have some discretion. Some like it hot, so if you want your pork seasoning to have some heat, go for the HOT chili powder. If you just want some smoky heat, choose I mild chili powder.
Salt - Iodized or sea salt works as long as it is a fine salt.
How to make Iroquois County Pork Producers Seasoning?
In a 3-cup sealable bowl, combine sea salt, garlic salt, onion salt, paprika, and chili powder.
Stir to combine the seasonings together and store the seasoning in an airtight container until ready to use. For me, I couldn't wait to make some good old pork burgers with my pork seasoning salt.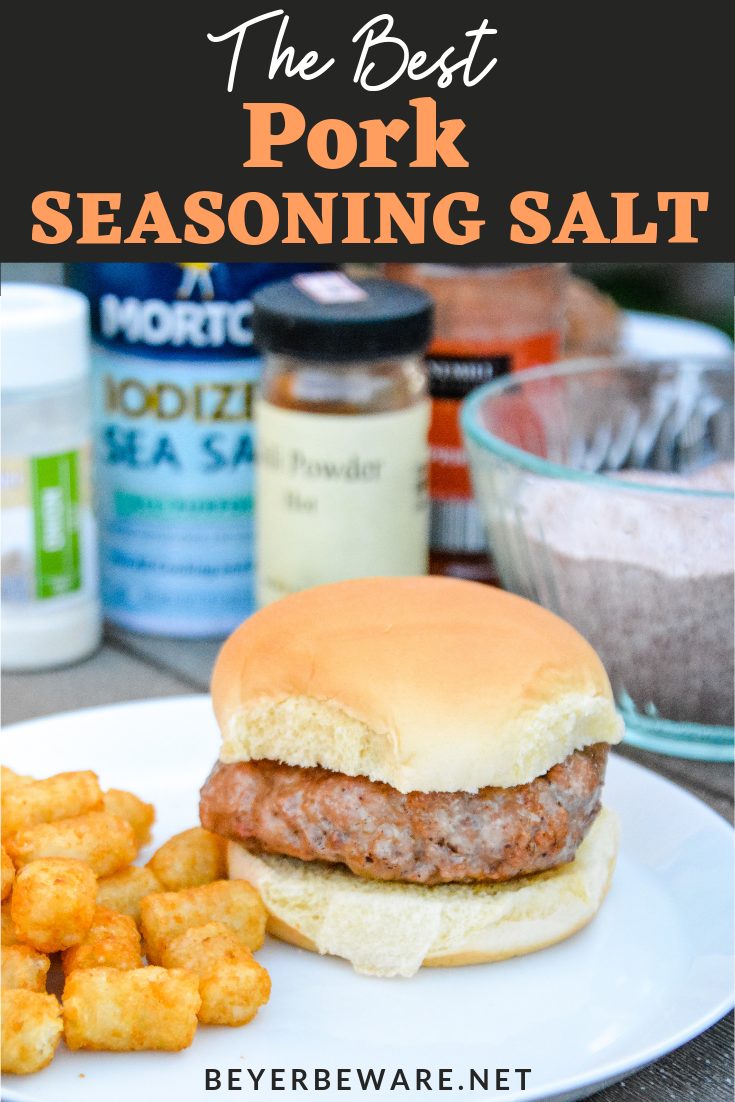 If you have not bought ground pork before, this is something you buy in the fresh meat area where your fresh pork cut is located. This is not going to be by the breakfast sausage in the meat case. If you order groceries, just search for ground pork.
To the ground pork, I add a teaspoon of pork producers seasoning salt and mix to combine with my hands. Then form patties out of the seasoned ground pork.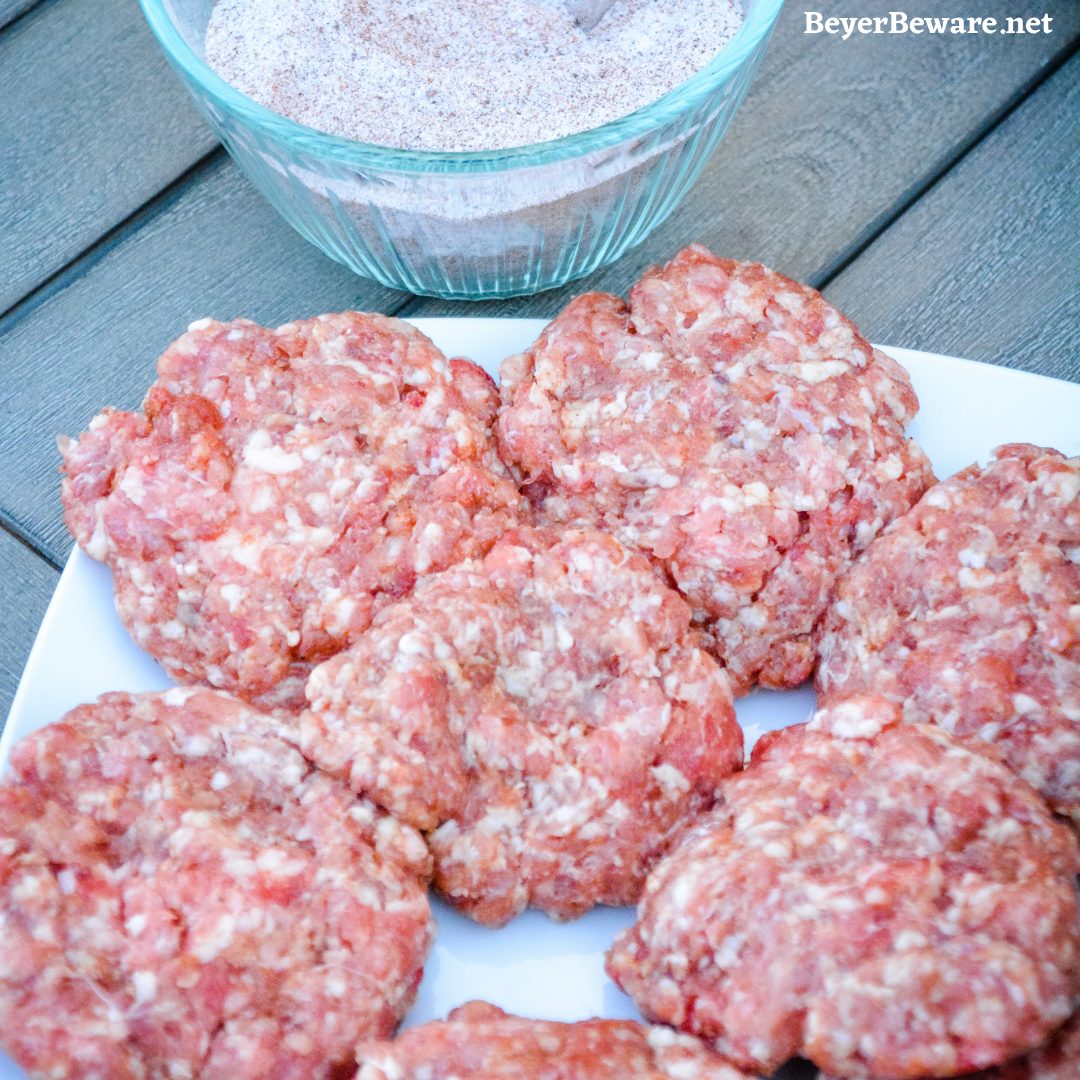 Place the pork burgers on a hot grill that is running at about 350 degrees. The key with the grilling of burgers is to not over-flip them. It is always the goal to only flip these burgers one time. Resist touching the burgers too much.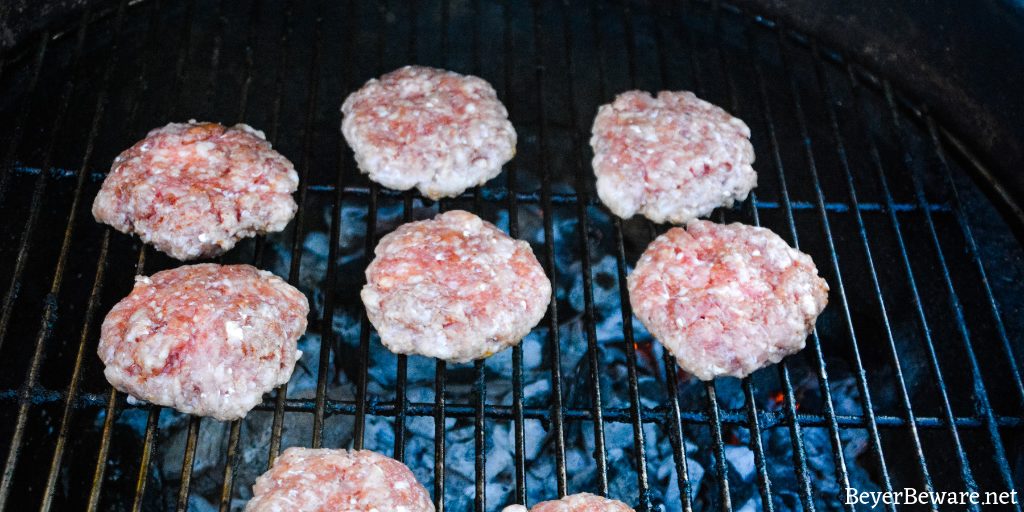 Grill the burgers for about 5 minutes on each side, depending on the thickness of the burgers. The juices should run clear when the pork burgers are done.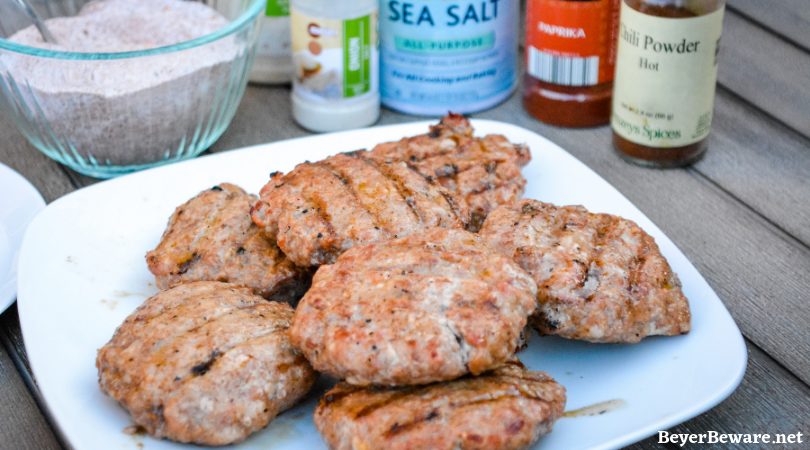 While I was grilling the burgers, I brought the Ninja Foodi outside to make some air fryer mini tater tots to have with the pork burgers. These burgers are great just on a bun or topped with barbecue sauce or even mayochup.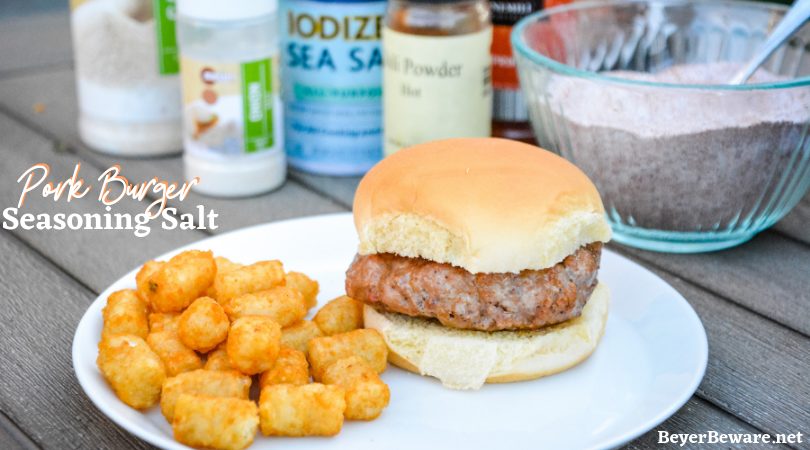 The Best Spices to buy for Pork Seasoning
I get a lot of questions about the best spices to buy. Penzey spices are my go-to brand of spices when I can get them.
Grilling Seasonings and Sauces Recipes
Whether you are grilling chicken or pork or even beef, the right grilling seasoning, the best grilling marinades, and the right extra sauces and toppings. These are some of the best grilling recipes.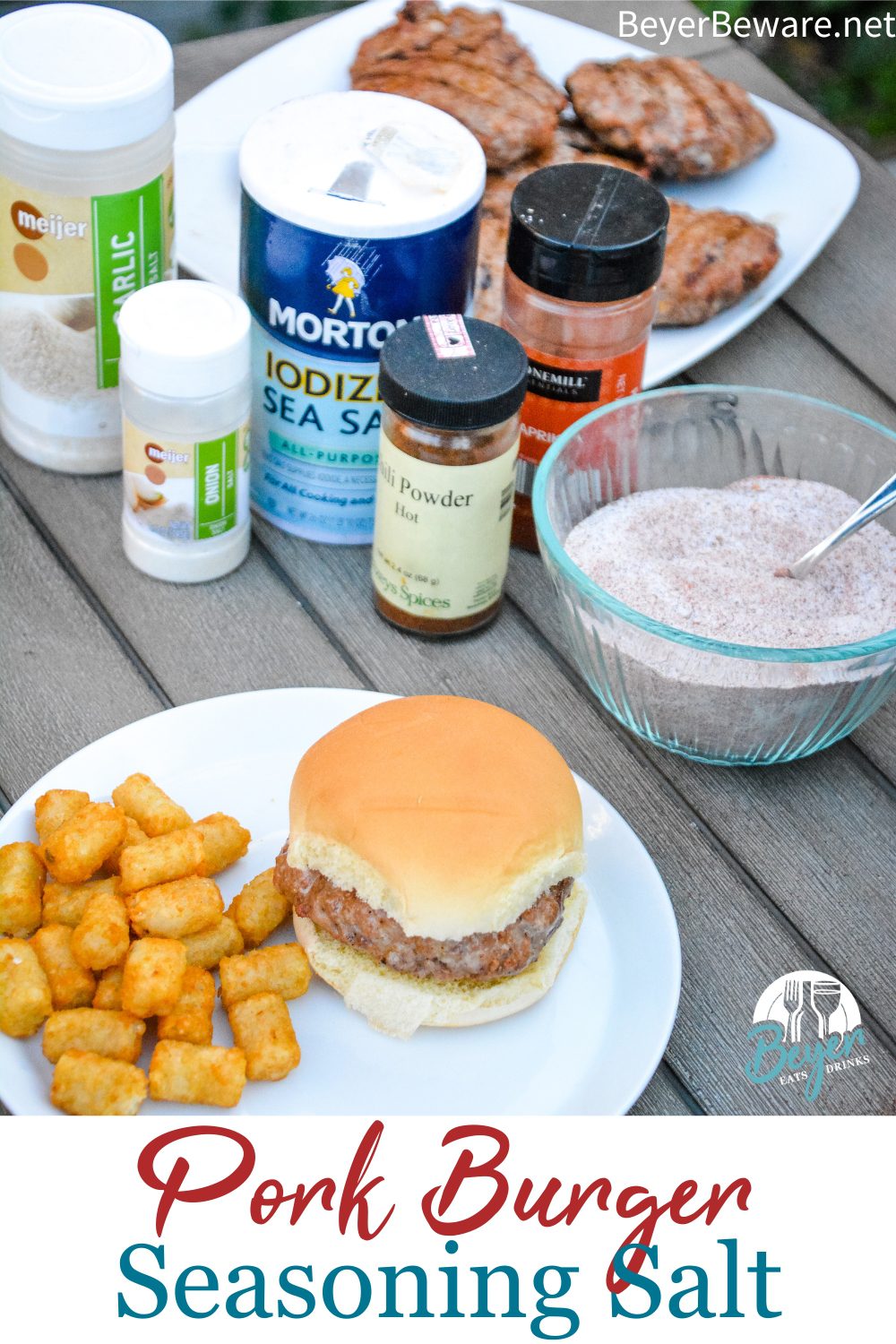 📖 Recipe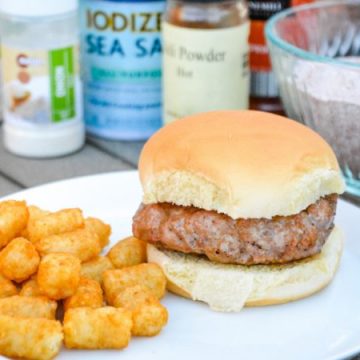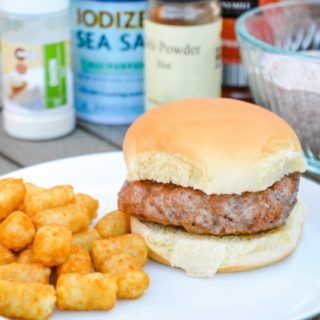 Pork Seasoning Salt
Pork Seasoning Salt is a combination of three salts, paprika and chili powder to create a seasoning salt that is perfect on pork burgers, pork chops and even chicken and beef. #pork #Burgers #Seasonings #Salt #Spices #Grilling #Recipes
Print
Rate
Ingredients
1

cup

sea salt

⅓

cup

garlic powder

⅓

cup

onion powder

⅓

cup

paprika

¼

cup

chili powder
Instructions
Combine the salts and spices in a 3 cup bowl and stir to blend.

Store in airtight container

Use one teaspoon of the seasoning salt to one pound of meat or sprinkle on pork chops or chicken before cooking or grilling.
Nutrition
Calories:
4
kcal
|
Carbohydrates:
1
g
|
Protein:
1
g
|
Fat:
1
g
|
Saturated Fat:
1
g
|
Sodium:
7860
mg
|
Potassium:
34
mg
|
Fiber:
1
g
|
Sugar:
1
g
|
Vitamin A:
739
IU
|
Calcium:
8
mg
|
Iron:
1
mg
Linked to Weekend Potluck and Meal Plan Monday