Disclosure: *This post may include amazon links. As an Amazon Associate, I earn from qualifying purchases.
Low-Carb Sheet Pan Fajitas are an easy chicken fajita recipe that is cooked all together in the oven and then drenched in queso for a perfect low-carb Mexican recipe that is also great wrapped in a tortilla. In our house, Mexican cuisine always rules. However, all the carbs of the cuisine can wreck a low-carb diet. Since I have discovered avoiding carbs is what is the best way to go for my personal diet, I have really worked to find low-carb meals my carb eater athletes can also have. Let's be honest, momma doesn't have time to make two meals a night. Once my family tasted my low-carb crock pot taco soup and loved it, I knew I could make more low-carb Mexican meals. These low-carb queso fajitas aka cheesy chicken fajitas are the perfect solution for all of us. Plus they make great leftovers for meals at work.
Low-Carb Queso Fajitas Ingredients
The base of these low-carb queso fajitas is boneless, skinless chicken thighs, onions, and bell peppers. I did not use tomatoes in my fajitas to reduce the sugar load for the carb count.
How to Make Keto Queso Fajitas
I love using a stone jelly roll or bar pan for these types of dishes. It allows for a great long roast in the oven without scorching the food. Start the recipe by chopping the bell peppers and onions and laying them on the bottom of the pan. Then cut the chicken into bite-size pieces and place on top of the veggies.
Once the basic ingredients are chopped and cut, I start adding the seasoning and the butter. If you are not doing the ketogenic or low-carb, high-fat diet you could completely omit the butter. As far as seasoning goes, I go to my trustworthy Penzeys Fajita seasoning. The ingredients are all seasoning and herbs.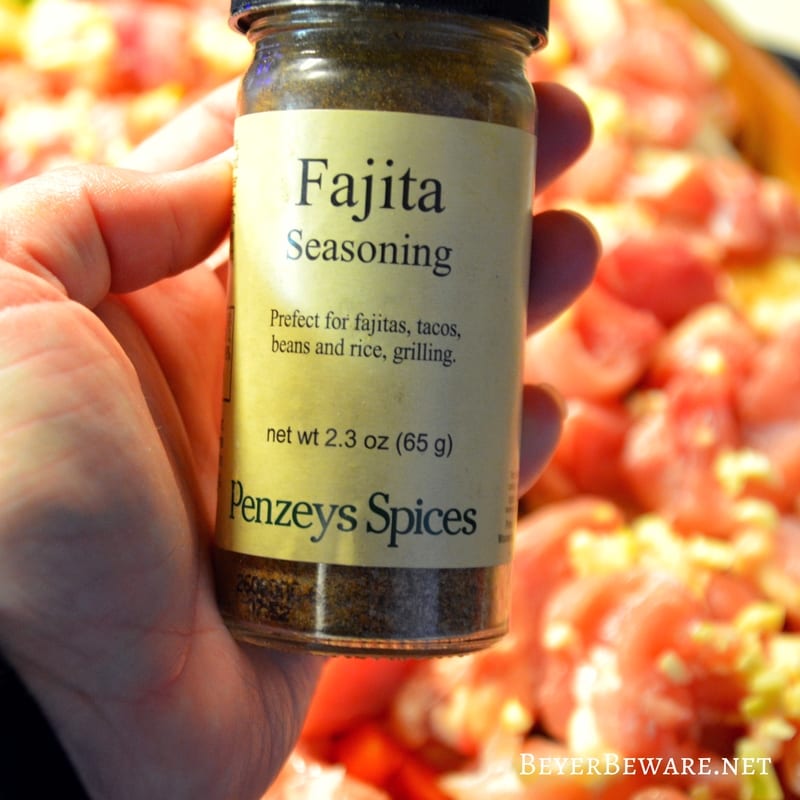 Sprinkle a liberal amount on the chicken. I probably used a tablespoon or two as well as adding roasted garlic and herbs and lots of salt. Give the chicken and veggies a good stir with your hands. I then put small pats of butter all over the top of the chicken and veggies.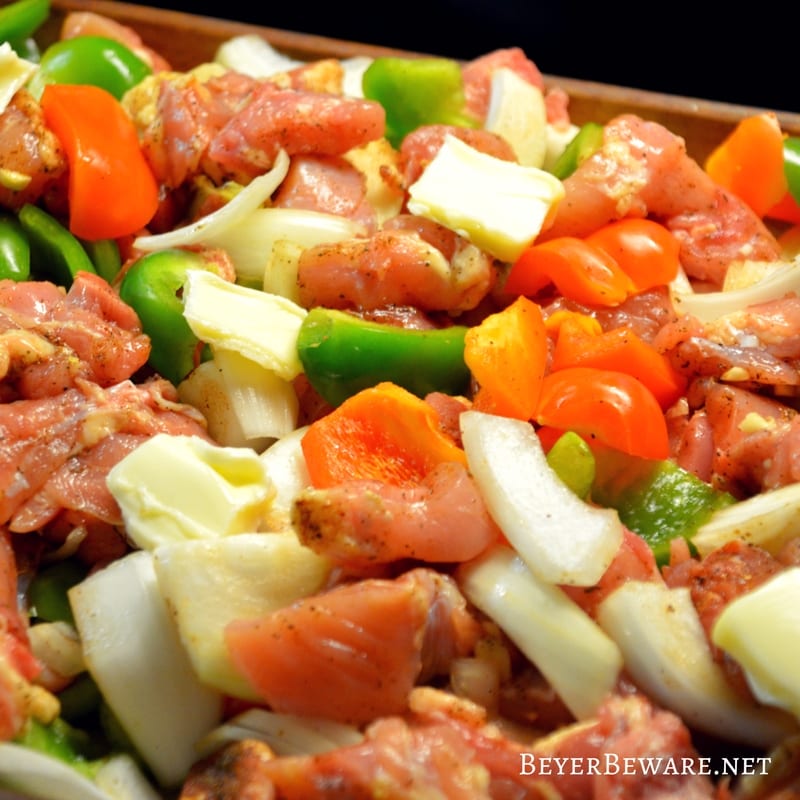 Place in a 375-degree oven and roast for 45 minutes. I stirred the pan three times during these 45 minutes. Once the chicken is done, the juices are running clear, dish up the fajitas. I served the low carb fajitas in a small dish and then poured the warm queso cheese over top. I just used store-bought queso, but feel free to buy your own as well.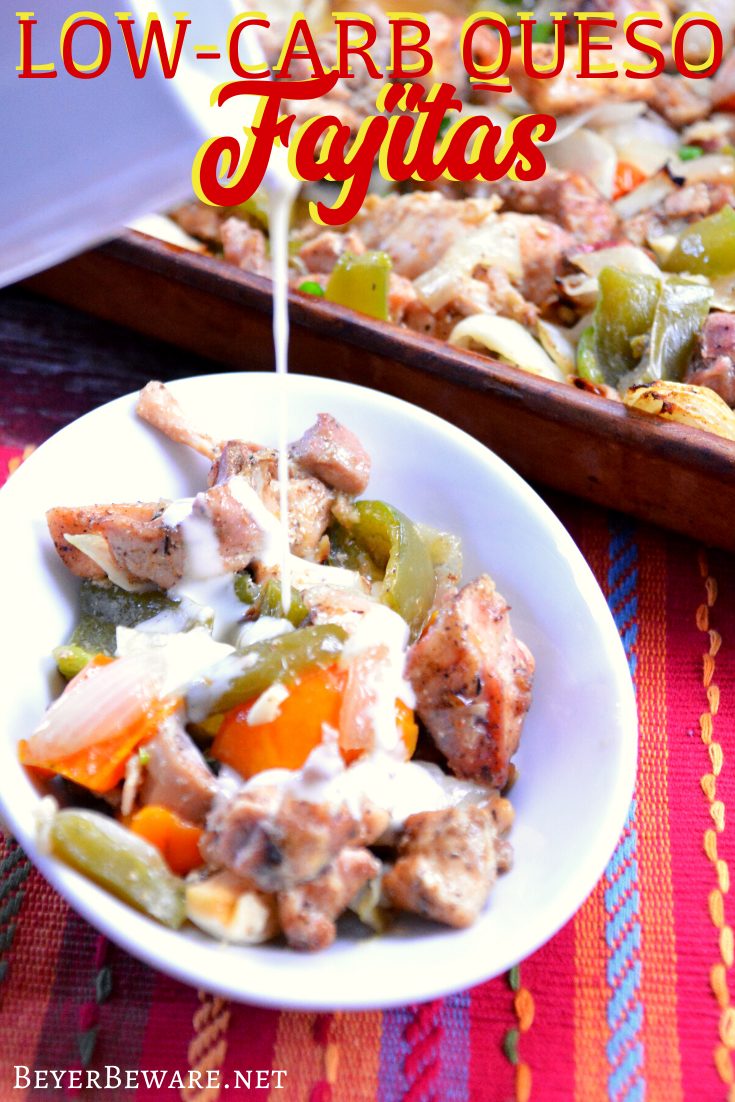 This chicken and queso combination becomes a truly satisfying meal even without the tortilla shells or chips. I like the veggies a little crunchy in these fajitas. If you want them less crunchy, let the chicken and veggies cook a bit longers. I garnished with a few green onions too.
Tips For Making Keto Fajitas
Not into cheese, no fear. This is a great meal without cheese too. I ate the leftovers with and without the queso cheese.
Add steak or shrimp to the chicken if you are a lover of combination fajitas.
Check the ingredients on your fajita or taco seasoning to be sure there isn't sugar in the ingredients list.
Low-Carb Mexican Recipes
Instant Pot Low-Carb Taco Soup
Crock Pot Low-Carb Chicken Tortilla Soup
Blackened Fish Taco Salad with Cilantro Lime Dressing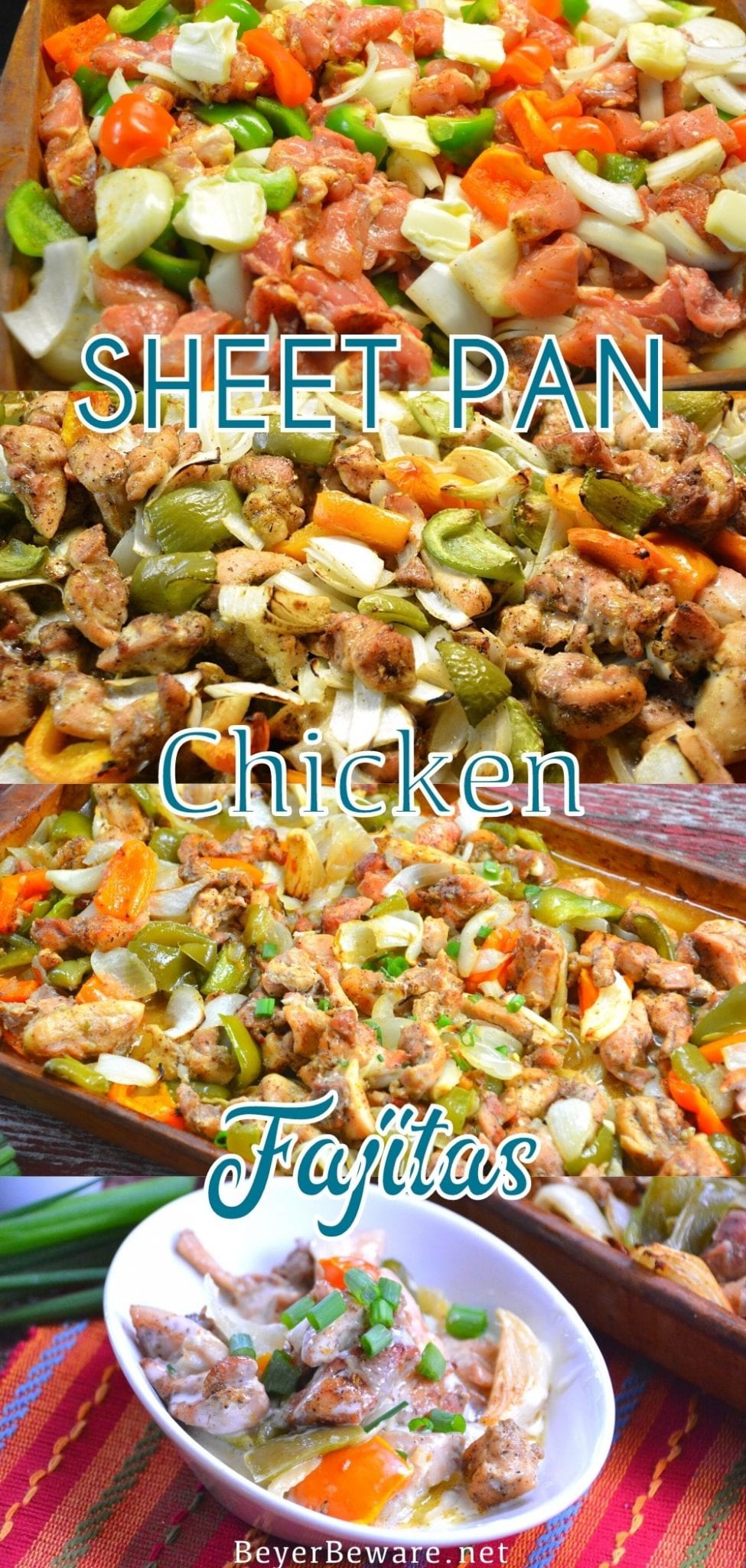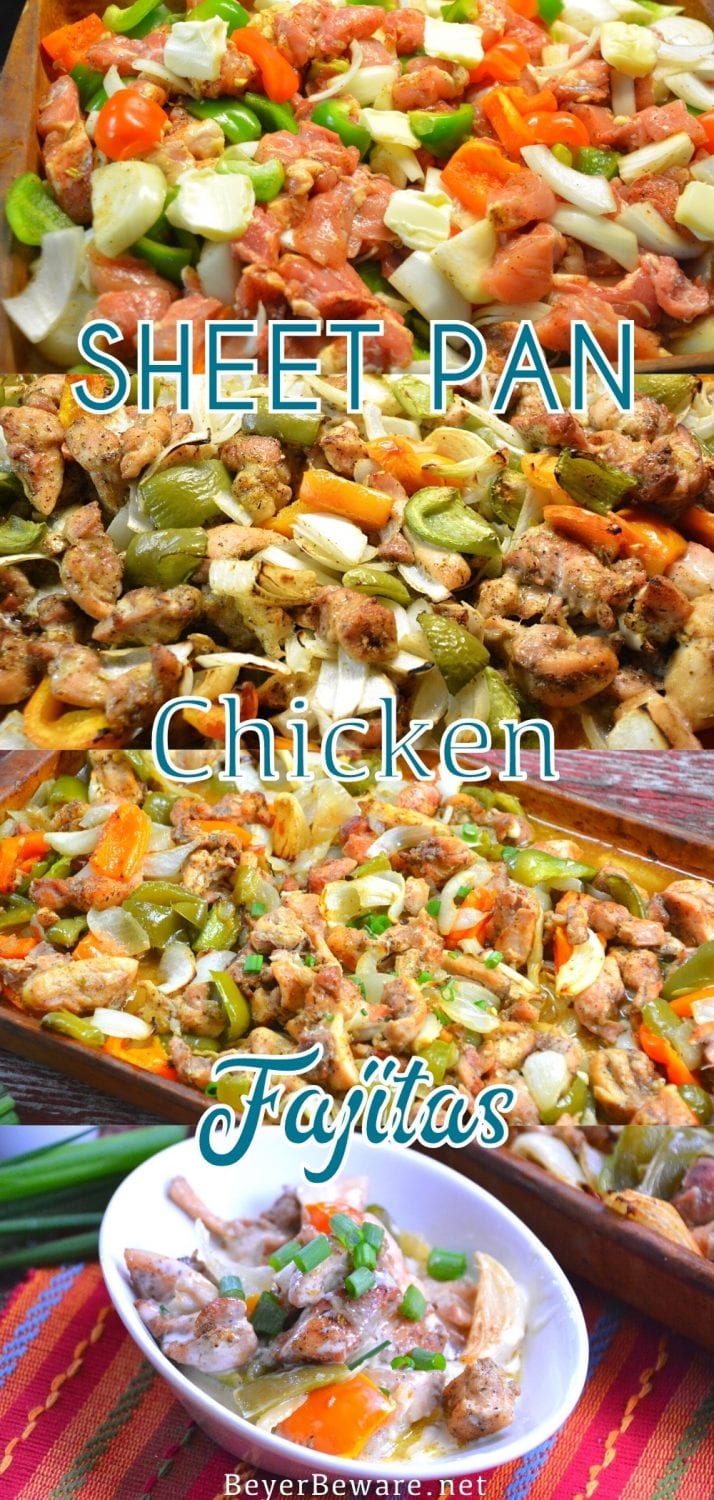 📖 Recipe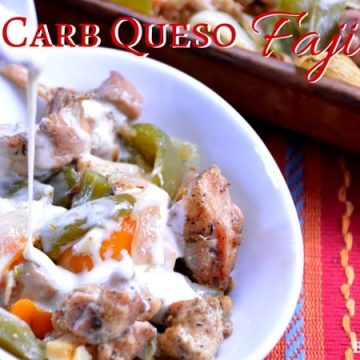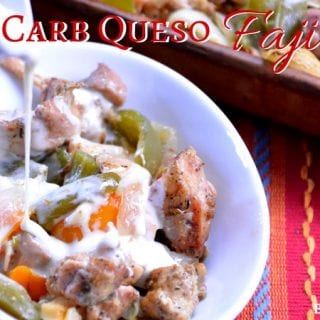 Low-Carb Queso Fajitas - Cheesy Chicken Fajitas
Low-Carb Queso Fajitas are a simple sheet pan baked fajita recipe that becomes cheesy chicken fajitas perfect for keto and low-carb diets.
Print
Rate
Ingredients
2

pounds

boneless, skinless chicken thighs

2

bell peppers, chopped into bite-size pieces

2

onions, chopped into bite-size pieces

4

tablespoons

butter

2

tablespoons

Fajita seasoning

Penzeys brand

2

teaspoons

salt
Instructions
Cut the veggies and lay them down in a stone bar pan or jelly roll pan.

Cut the chicken into bite-sized chunks and lay over the veggies.

Season the chicken with the Fajita seasoning and salt. Mix the chicken and veggies together in the pan with your hands.

Cut the butter into small pats and place on the mixed chicken and veggies.

Bake on 375-degrees for 45 minutes, stirring every 15 minutes.

Serve with queso dip poured over the top or with tortilla shells and taco toppings for the non-low carb eaters.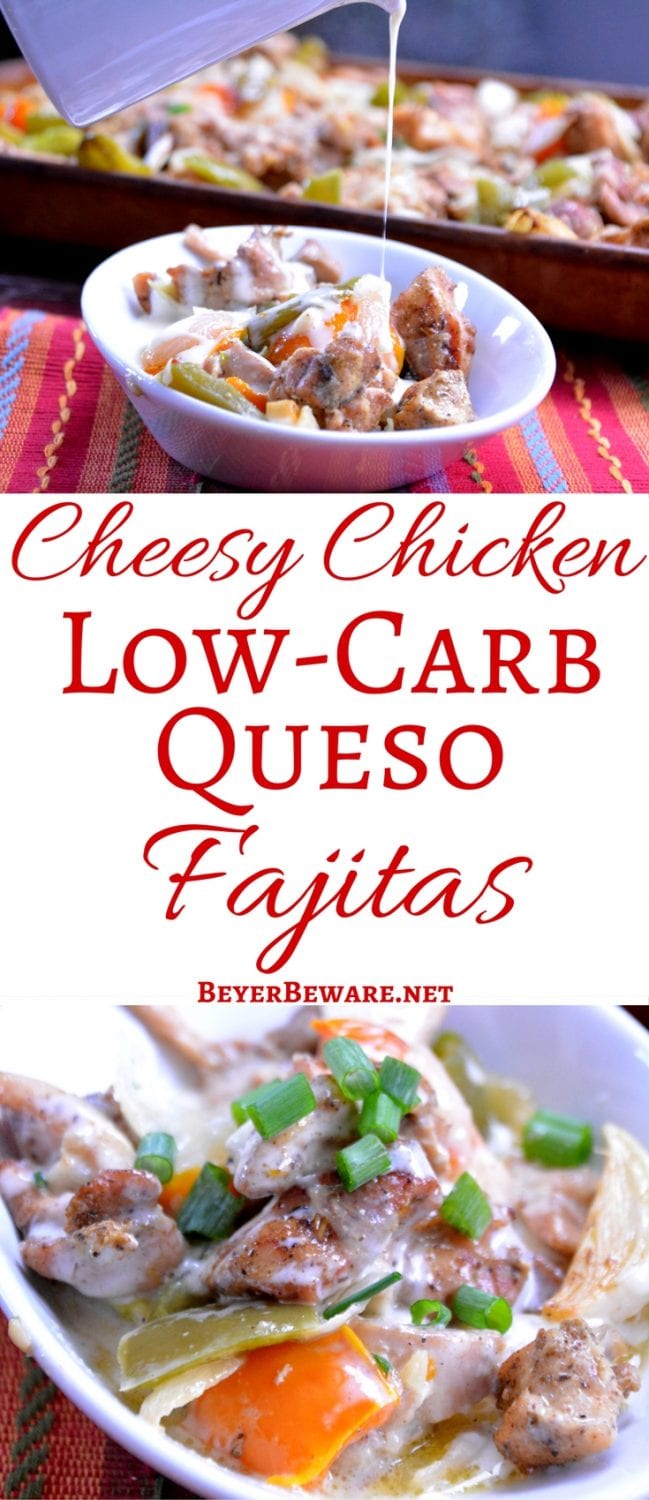 Check out the great recipes on the Weekly Meal Plan Monday and Weekend Potluck.
Affiliate links were used in this post. A portion of purchases from these links is earned by me.