Disclosure: *This post may include amazon links. As an Amazon Associate, I earn from qualifying purchases.
Once in a while I even shock myself with a recipe I create. Let me tell you, these mozzarella stuffed meatballs were one of those creations that I literally could not get enough of when I made them. These mozzarella stuffed meatballs are a must make. Tonight. These can be a low-carb and gluten-free meal or served as spaghetti and meatballs.

What ingredients you need to make cheese-stuffed meatballs
For the purpose of keto and
Ground beef - I am a purest, so hamburger works best in this recipe. You could mix ground pork 50/50 with the beef.
Almond flour - Almond flour is what makes these meatballs gluten free and bond together. If you aren't trying to be gluten-free, bread crumbs will also work perfectly in this recipe.
Parmesan cheese - Grated parmesan cheese because no one can really have too much cheese.
Eggs - Whole eggs to help bind these meatballs together around the fresh mozzarella.
Italian Seasoning -
Garlic - Fresh garlic cloves minced up work best for this recipe. The jarred minced garlic is fine too.
Steak Seasoning - Montreal steak seasoning is what I used, but any steak seasoning you like will work for this recipe.
Fresh Mozzarella - The cheesy gooeyness of these mozzarella stuffed meatballs is thanks to some mozzarella balls I picked up at Aldi's. Now, I tried both the fresh mozzarella in the marinade and just fresh mozzarella in water. Both were amazing in this recipe. If you are looking for a bit more fat intake because of the ketogenic diet, you should buy the mozzarella marinated in oil and herbs.
Tomato or Marinara Sauce - A jarred spaghetti sauce will work for this recipe. I make a homemade garlic basil sauce with all the garden-fresh tomatoes at the end of summer.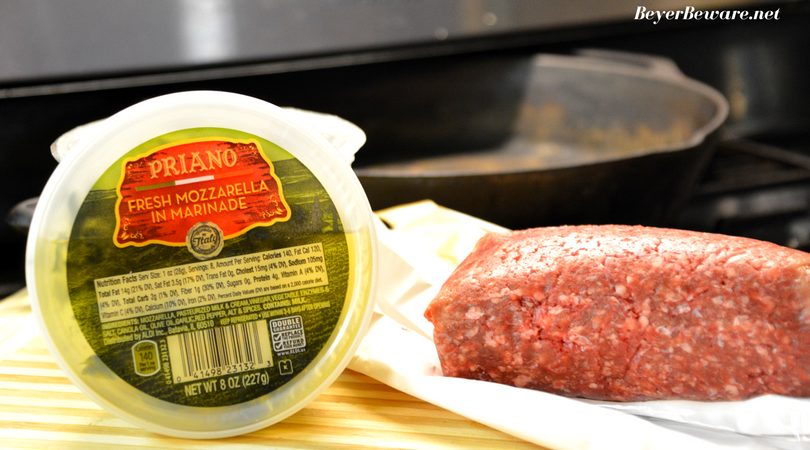 How to Make Mozzarella Stuffed Meatballs
Now, to make the meatballs, I make them gluten-free and low-carb by using almond flour or crushed pork rinds for a binder along with parmesan cheese. The almond flour isn't quite as great of a binder as crackers or breadcrumbs, but it works. In addition, I use an egg, Italian herb seasonings, some spicy Montreal seasoning, and garlic. Then, mix together with your hands to fully incorporate all the ingredients into the meat. Now, you get to wrap each piece of fresh mozzarella with the beef mixture.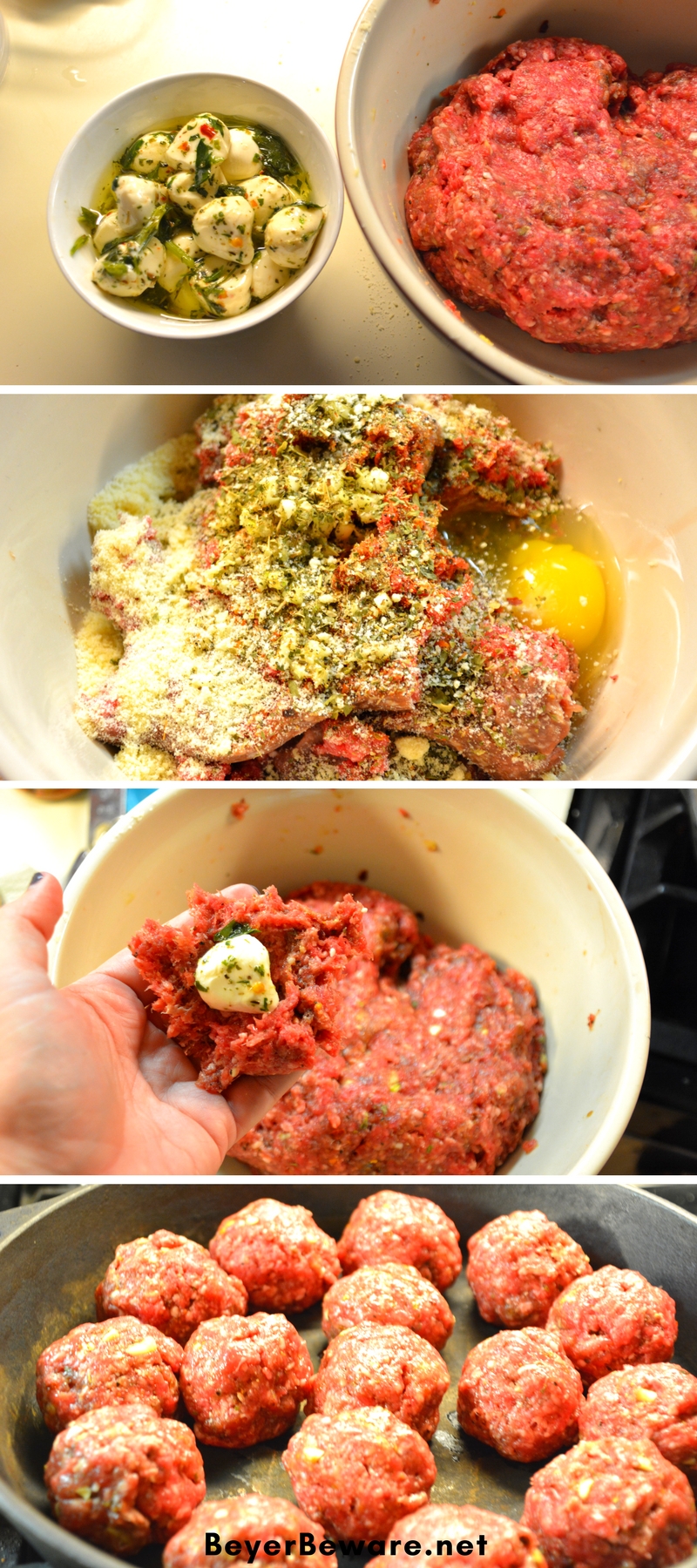 Place the assembled stuffed meatball into a cast iron skillet set on a medium-high heat to sear the meatball. Cook for about 4-5 minutes on the top and bottom of the meatball.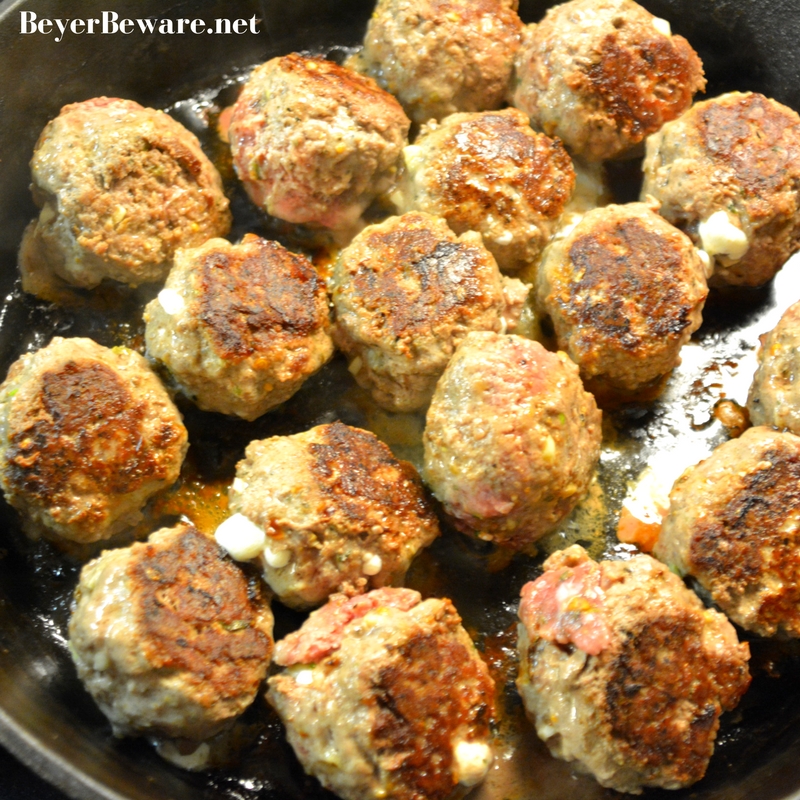 Don't worry about the cheese starting to seep out. It is all good. Also, I think the best meatballs are the meatballs cooked in the sauce. I made some homemade sauce this summer when I had lots of ripe tomatoes. This sauce is in my freezer and tastes like summer when I pull it out for recipes all winter long. It is very low in sugar and full of lots of garlic and basil flavor. The downside is you don't get a ton of sauce from the amount of time and space it takes to make it, but it is still delicious.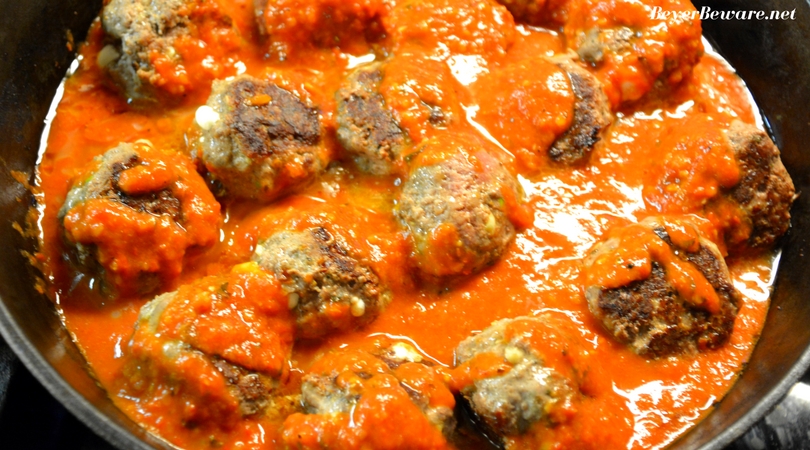 Pour the sauce over the meatballs and let simmer. I let this simmer on low for over 30 minutes. The flavor just keeps marrying together.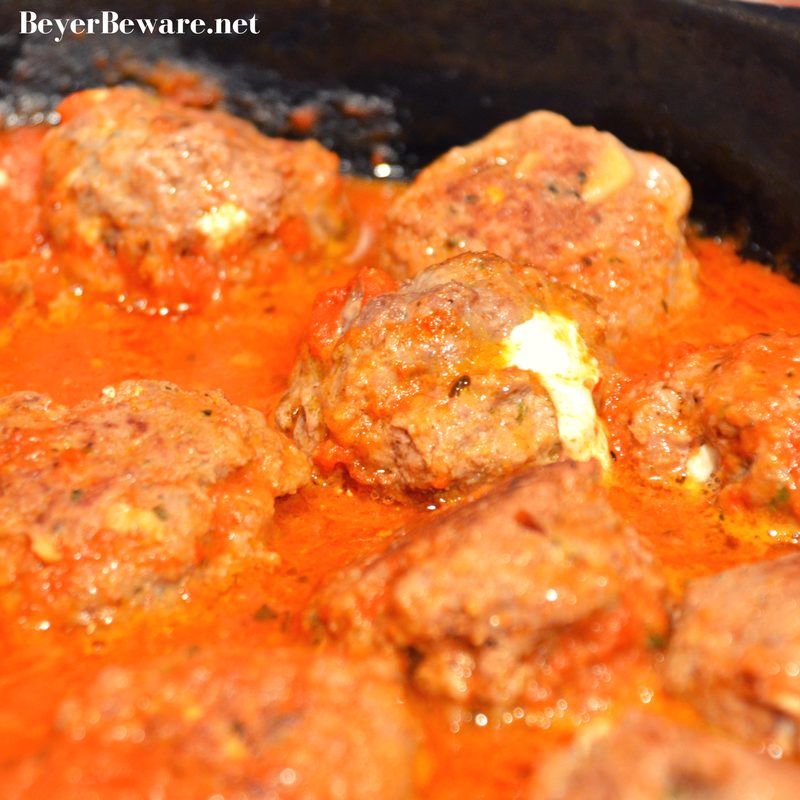 When it came time to serve these meatballs, with spaghetti noodles or just in a big bowl covered in parmesan cheese.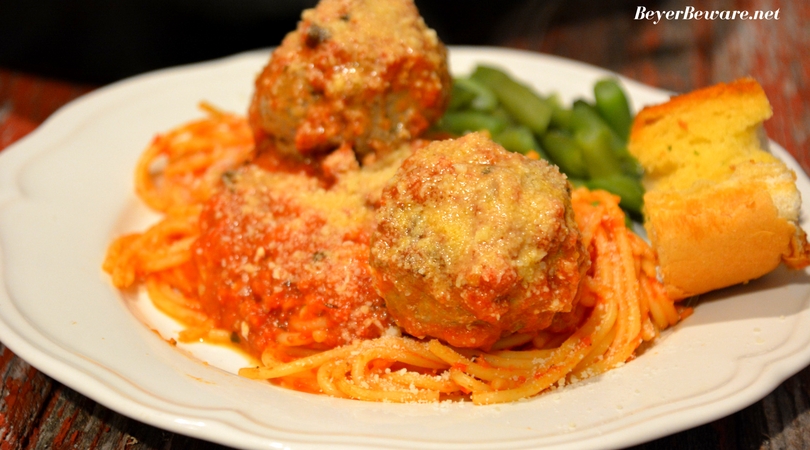 The gooey, cheesy goodness of these mozzarella stuffed meatballs are really addicting. I mean, look at that.

Go ahead and get some ground beef out and make these mozzarella stuffed meatballs for dinner tonight.
Meatball Recipes
Good Ol' Spaghetti and Meatballs
Bacon Cheeseburger Stuffed Meatballs on the Grill
Slow Cooker Asian Meatballs with an Orange Chili Sauce - Whatcha Crockin' - Week 33
📖 Recipe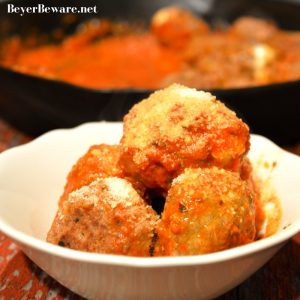 Mozzarella Stuffed Meatballs
These mozzarella stuffed meatballs are a must make. Tonight. These can be a low-carb and gluten-free meal or served as spaghetti and meatballs.
Print
Rate
Ingredients
1

pound

ground beef or pork

¼

cup

almond flour

⅓

cup

Parmesan cheese

1

whole

egg

2

teaspoons

Italian herbs

3

cloves

garlic, minced

2

teaspoons

spicy Montreal Seasoning

16

ounces

fresh mozzarella balls in marinade or water

4

cups

spaghetti sauce
Instructions
Combine the ground meat, with the almond flour, parmesan cheese, egg, herbs, seasonings, and garlic.

Take about golf ball size of meat and flatten out and wrap around one piece of fresh mozzarella.

Place meatballs wrapped around mozzarella in a cast iron skillet.

Cook over medium-high heat for 4-5 minutes on each side. If cheese starts oozing out, turn heat down.

Turn heat down to simmer and cover with tomato sauce. Let simmer for 20-30 minutes.

Serve with spaghetti noodles or alone. Garnish with parmesan cheese.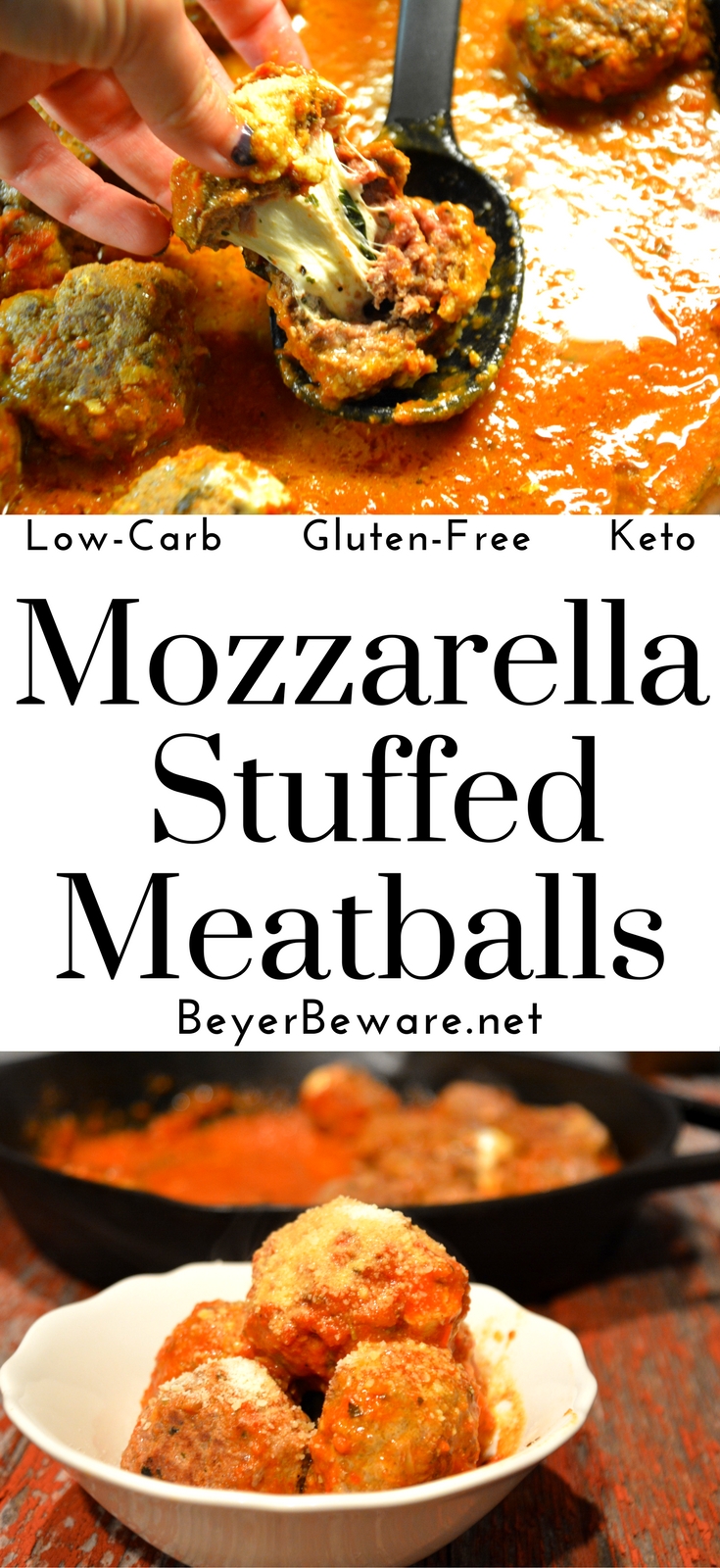 Affiliate links were used in this post.