Disclosure: *This post may include amazon links. As an Amazon Associate, I earn from qualifying purchases.
I am a little, tiny bit obsessed with bread. I blame bread and french fries for the reason I can't lose weight. Well, it isn't really their fault, it is really my inability to have self-control in the presence of bread and fries that is the problem, but I digress...I bring you copycat Olive Garden breadsticks. These easy homemade breadsticks taste just like the warm, garlicky breadsticks served at Olive Garden and are made with a simple homemade dough, you can have hot, delicious breadsticks anytime.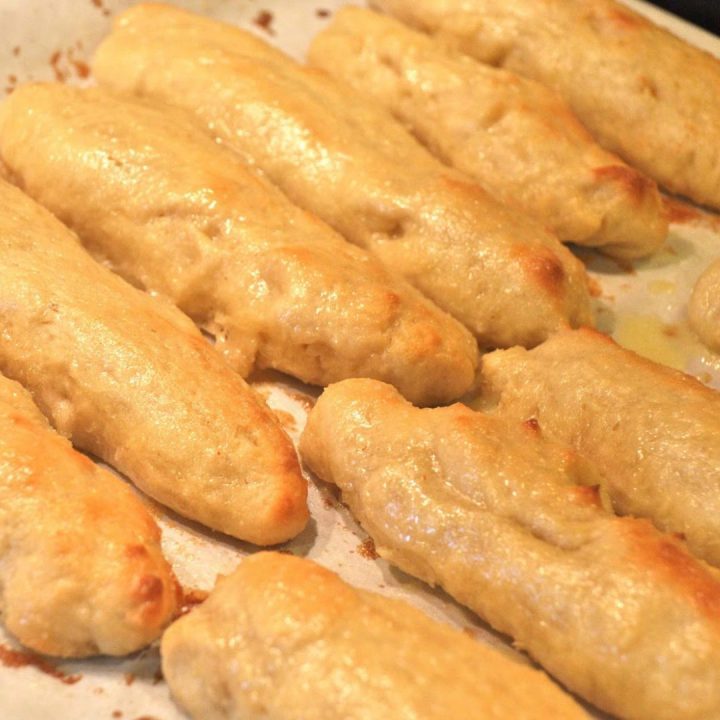 How to Make Copycat Olive Garden Breadsticks
The Olive Garden breadsticks copycat recipe is fairly easy to make, especially since we were eating leftovers, I could focus solely on the breadsticks. Start with a cup and a half of warm water and dissolve two tablespoons of sugar and a packet of yeast.
Then cover the bowl of yeast water and let stand for 10 minutes. Then get four and a half cups of flour and a tablespoon of salt in your mixing bowl. Also, melt two tablespoons of butter to have ready. When the yeast water is nice and frothy add it with the melted butter to the flour mixture.
Then mix together with a dough hook until combined.
Then need the dough a few times. No need to take out your aggressions, just work it a bit.
Then I cut it up into several pieces to make the bread sticks out from.
I grabbed a helper too. Might as well have help rolling out the dough.
Then place on a greased or parchment lined cookie sheet.
Cover and put in an oven that has been heated to 200 degrees and then shut off as soon as the breadsticks go into the oven. I sprayed some cooking spray on saran wrap and covered the breadsticks so the dough wouldn't stick. Then let them rise for about 45 minutes. Take them out of the oven and turn the oven back on to 400 degrees. Pop them back in.
While they are baking melt half of a stick of butter and mix in 1 teaspoon of garlic powder with 1 teaspoon of salt into the melted butter.
After they have baked for 6-7 minutes, pull them out and brush on the butter-garlic salt mixture, and return to the oven for another 6-7 minutes. When you pull them out, brush them with the remaining butter.
Made the chicken lasagna seem like it wasn't the second night eating it!
Variations to the Olive Garden Breadsticks Copycat Recipe
This standard recipe can also be changed up. Here are some ideas of ways to make the breadsticks in different ways.
Customize the Flavor: Feel free to experiment with various toppings like sea salt, herbs, Italian seasoning, or even a sprinkle of shredded mozzarella.
Cheese Stuffed Breadsticks: Wrap the dough around a string cheese for a cheese-stuffed breadsteak.
Dessert Breadsticks: Substitute the garlic powder for cinnamon and sugar for a dessert breadstick that would be fantastic dipped in a simple white frosting.
Related Bread Recipes
Here is more bread recipes you can find on Beyer Eats and Drinks.
📖 Recipe
Copycat Olive Garden Breadsticks
These easy homemade breadsticks taste just like the warm, garlicky breadsticks served at Olive Garden and are made with a simple homemade dough, you can have hot, delicious breadsticks anytime.
Print
Rate
Ingredients
Breadstick Dough
1

packet

yeast

1.5

cups

water

2

tablespoons

sugar

4

cups

flour

1

tablespoon

salt

2

tablespoons

butter
Garlic Butter Topping
3

tablespoons

butter

1

teaspoon

garlic powder
Instructions
Make the dough: In a large bowl, combine the warm water and yeast. Let sit for 5 minutes until foamy. Mix in the melted butter, salt, and bread flour until a shaggy dough forms. Knead for 5 minutes until smooth.

Divide the dough into 12 equal pieces. Roll each piece into a 7-9-inch long rope-like shape.

Place on baking sheet. Place in a preheated 200℉ oven and kill the heat as soon as you put them in. Let rise for 40-50 minutes.

Remove from oven and preheat oven to 400℉. Place them back in the oven.

Bake for 6-7 minutes. Mix melted butter and the garlic powder together and brush the breadstick with melted butter and garlic powder.

Bake an additional 6-7 minutes. Brush with butter and garlic powder. Feel free to top off with grated parmesan cheese.
Nutrition
Calories:
204
kcal
|
Carbohydrates:
34
g
|
Protein:
5
g
|
Fat:
5
g
|
Saturated Fat:
3
g
|
Polyunsaturated Fat:
0.4
g
|
Monounsaturated Fat:
1
g
|
Trans Fat:
0.2
g
|
Cholesterol:
13
mg
|
Sodium:
622
mg
|
Potassium:
55
mg
|
Fiber:
1
g
|
Sugar:
2
g
|
Vitamin A:
146
IU
|
Vitamin C:
0.01
mg
|
Calcium:
9
mg
|
Iron:
2
mg