Disclosure: *This post may include amazon links. As an Amazon Associate, I earn from qualifying purchases.
Peanut buster parfait ice cream dessert is a 13X9 ice cream cake with layers of crushed Oreos, vanilla ice cream, peanuts, and homemade chocolate sauce. Growing up my family wasn't really a cake-eating family. When we celebrated birthdays or holidays it was inevitably with pie, brownies, or ice cream desserts. One of the family's favorite desserts was the peanut buster parfait ice cream dessert. When this would be pulled out no one skipped out on dessert.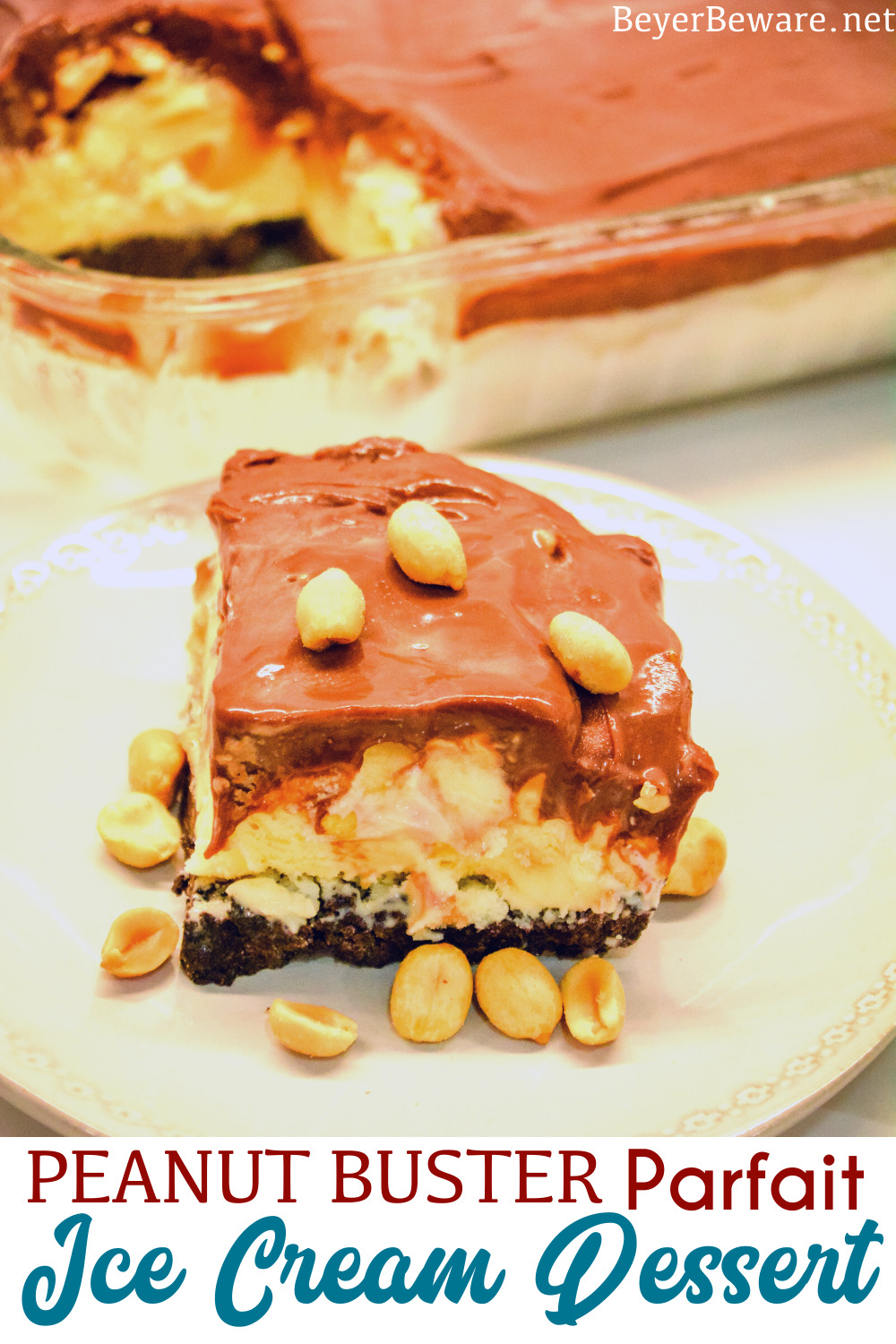 This dessert is for a person who wants to prep before holidays or family gatherings. Make this peanut buster parfait before the mad rush of the event and pop it in the freezer so you can be the dessert hero when the big day comes.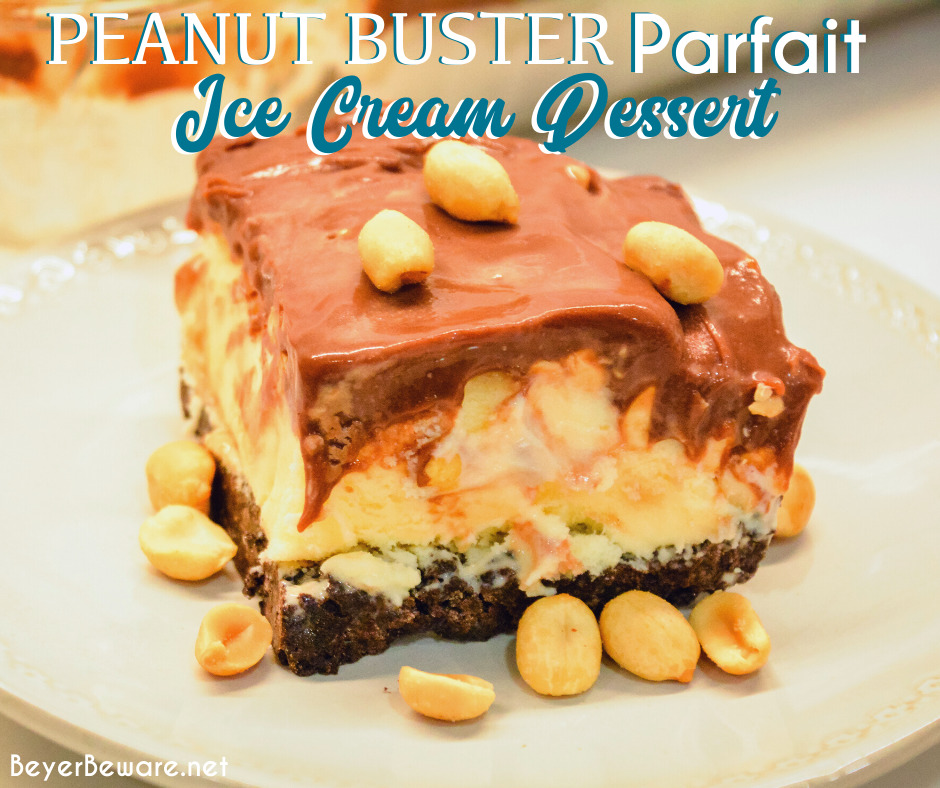 What's in a Peanut Buster Parfait
Simple recipes with a few ingredients are the best kinds of recipes. And this one is just that. Peanut buster parfait ice cream dessert has a base of crushed Oreos and butter, a layer of vanilla ice cream, peanuts, and then topped with a simple homemade fudge sauce.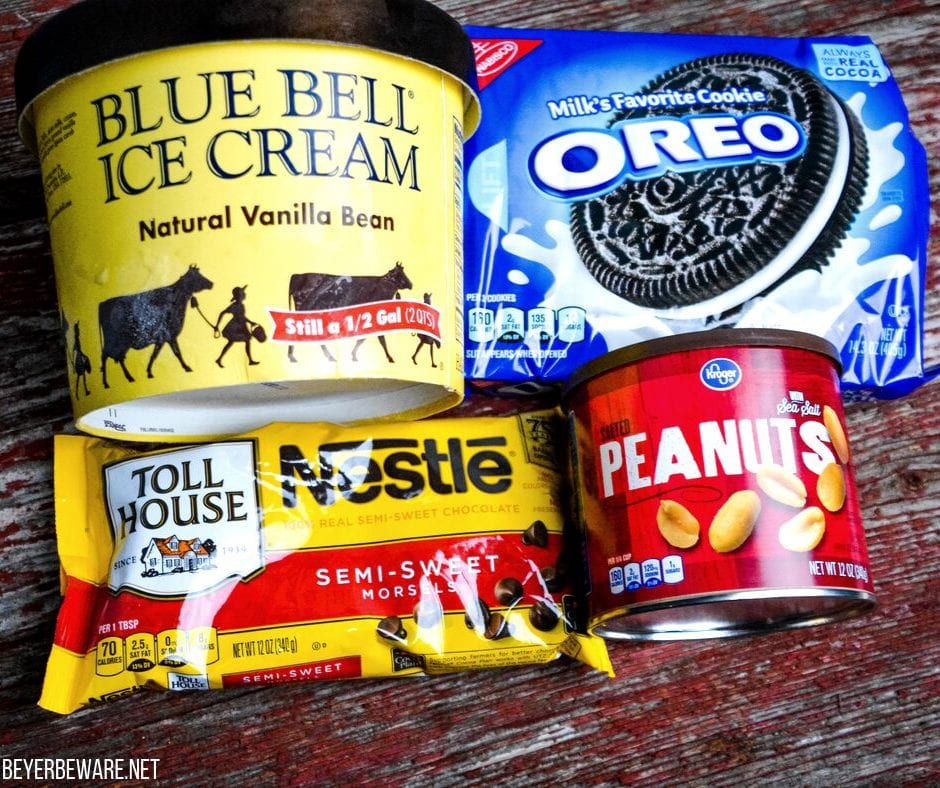 Here are the ingredients you will need to make this peanut buster parfait inspired ice cream dessert:
Oreo Cookies - Regular stuffed chocolate sandwich cookies are exactly what you need for the crust of this ice cream cake.
Butter - You will need butter for both the Oreo crust and the hot fudge sauce that gets poured over the top of the peanuts and ice cream.
Vanilla Ice Cream - You will want to buy a high quality vanilla ice cream. Cheaper ice creams have more air in them. Blue Bell or Tillamook are my recommendations.
Peanuts - Spanish peanut are my preference but cocktail or dry roasted will also work for this peanut buster parfait ice cream cake recipe.
Evaporated Milk - Evaporated milk make the fudge sauce rich and creamy. Regular milk can also work in this recipe.
Powdered Sugar - Confectioners suagr has no subsitute for this recipe. It is what you need to make the chocoalte sauce.
Chocolate Chips - Chocolate chips are always on hand at my house but can be exchanged for any melting chocoalte.
How to Make an Oreo Ice Cream Dessert?
Start by crushing a regular package of Oreos
in your blender. I love my Ninja blender
for this type of thing. under 30 seconds and you have pulverized Oreos.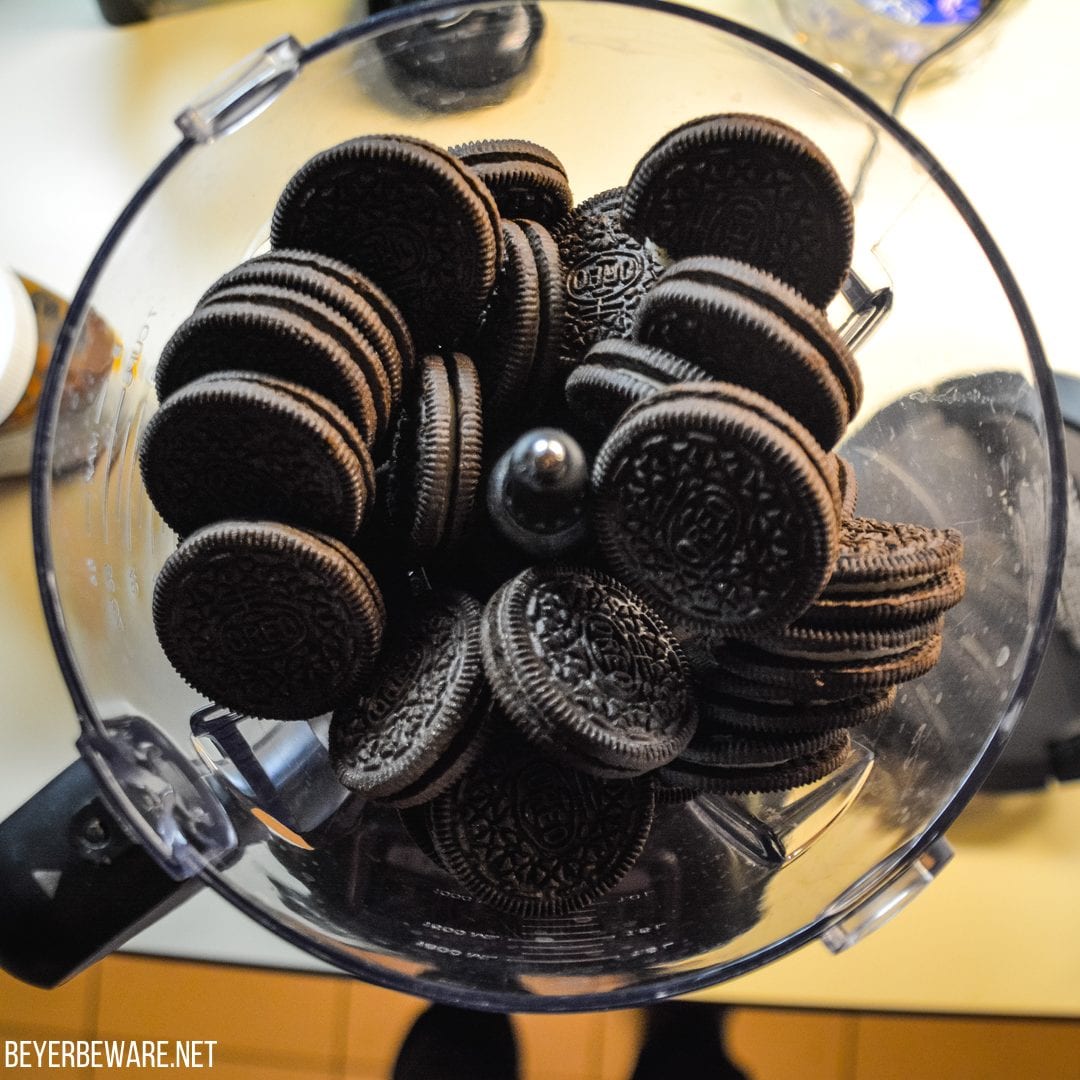 To the Oreo crumbs, pour in melted butter. Mix together and then pour into a 13X9 pan with a lid
to form the base of the peanut buster parfait ice cream dessert.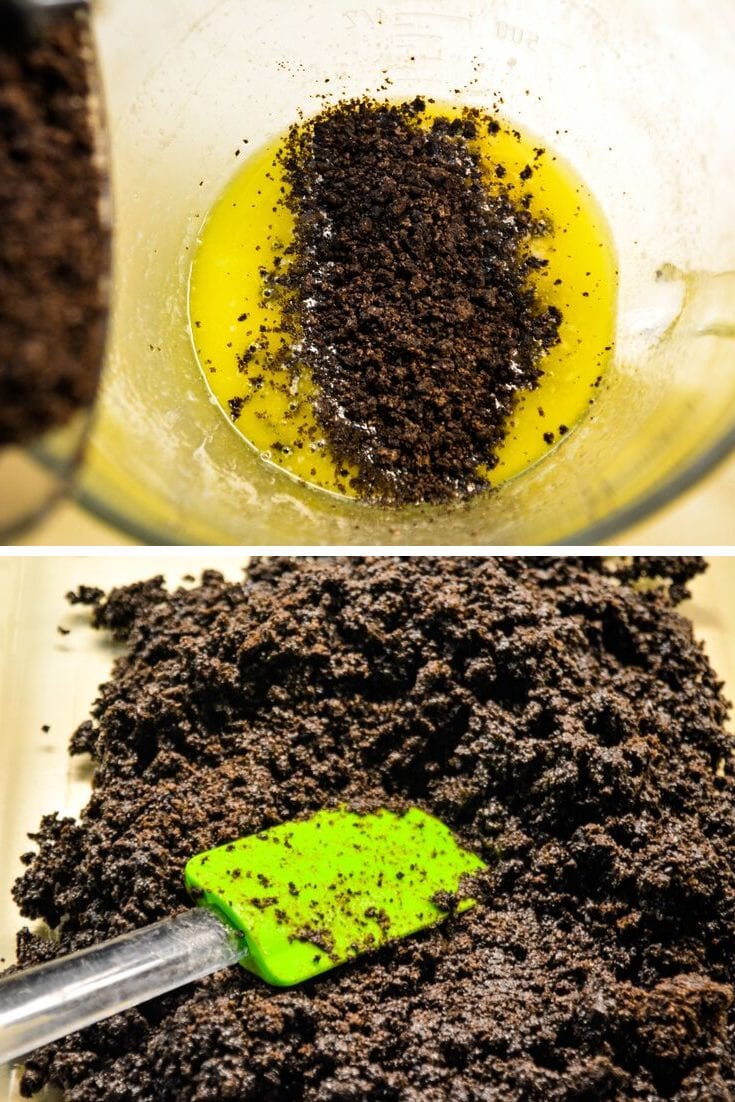 Spread the Oreo crumbs out completely and then start spreading a half-gallon of softened vanilla ice cream over the Oreo base. Now the crumbs might mix a tad bit into the ice cream, but you don't need to sweat it. It may appear the ice cream is also melting into the crumb crust. Don't stress about this either.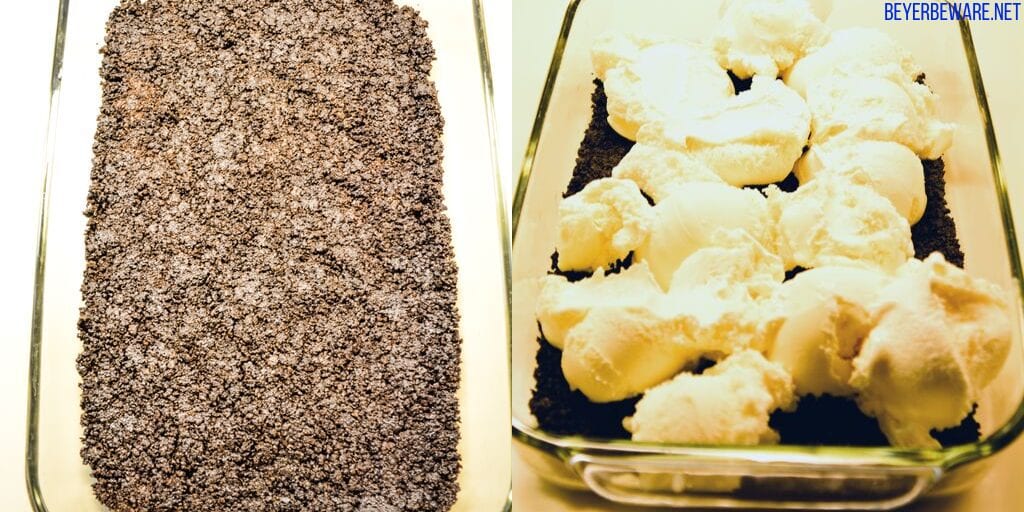 Pop the ice cream dessert in the freezer to harden up and begin making the fudge sauce for the top.
Homemade Fudge Sauce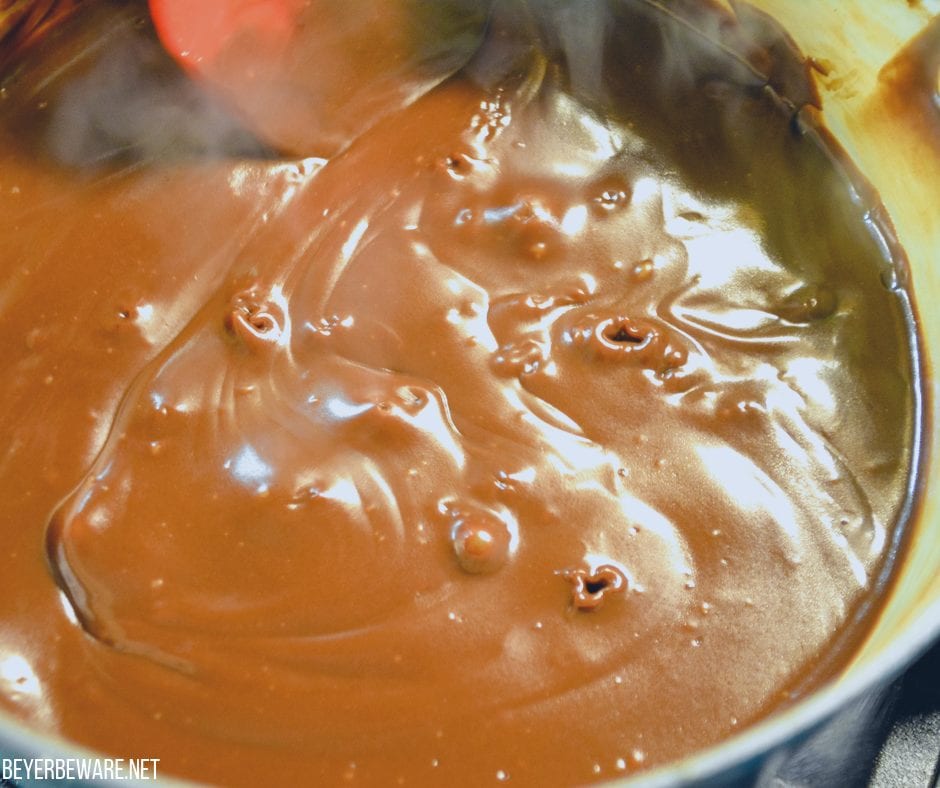 This chocolate sauce is what makes this dessert so great. If you ever have a need for a chocolate sauce, I would totally suggest this fudge sauce recipe. This is so simple but does take a hot minute.
Combine the butter, evaporated milk, powdered sugar, chocolate chips in a pan over medium heat.

Bring the sauce to a boil and stir for 10 minutes as it continues to gently boil. When the time has passed remove from heat and let cool before pouring over the ice cream. Pull the ice cream cake out of the freezer and pour the peanuts over the top.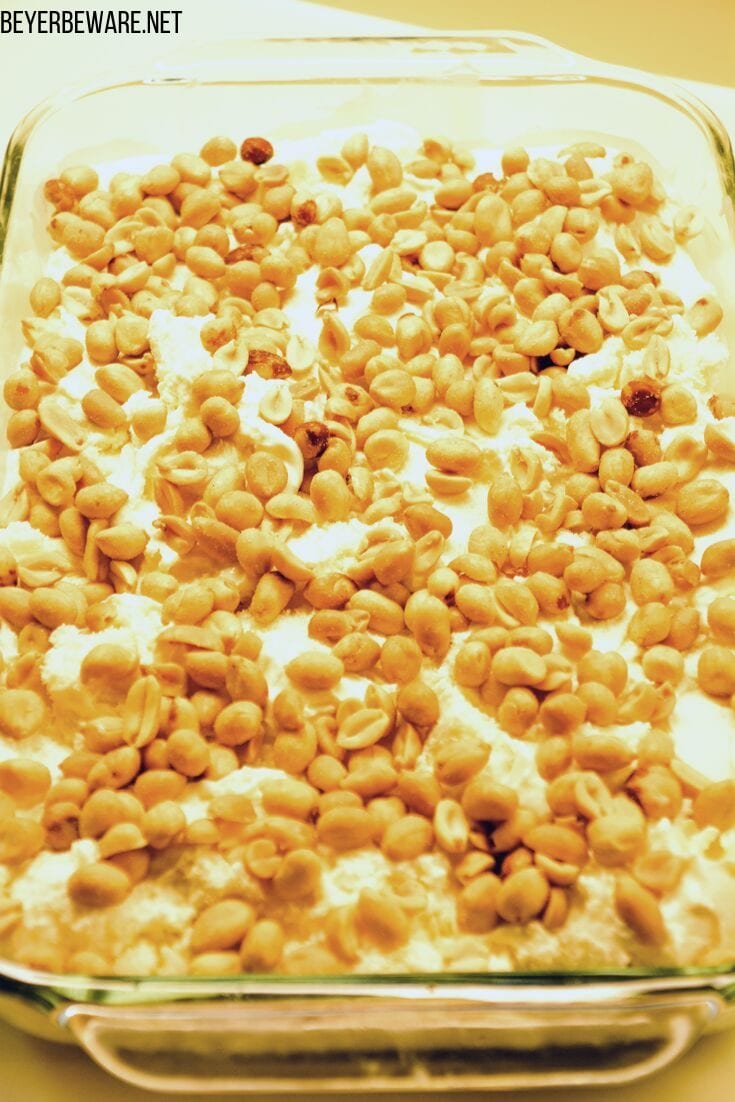 Then pour the fudge sauce over the top of the peanuts. Again, if the sauce is not cooled, it will melt the ice cream and create a mess. I know from experience...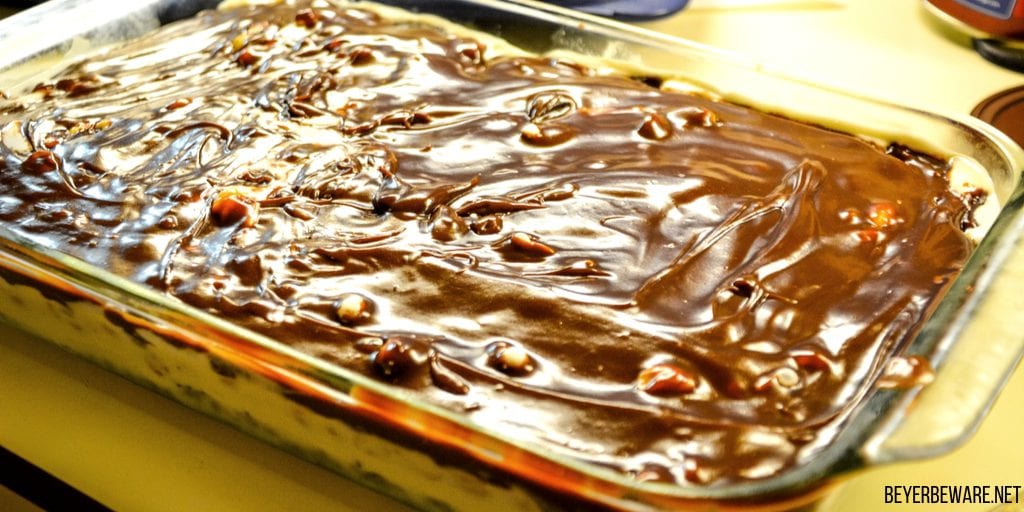 The ice cream cake can be eaten right away or refrozen to be pulled out later. When you pull it out for later use, it will be rock hard. Let it have time to soften before you want to eat it.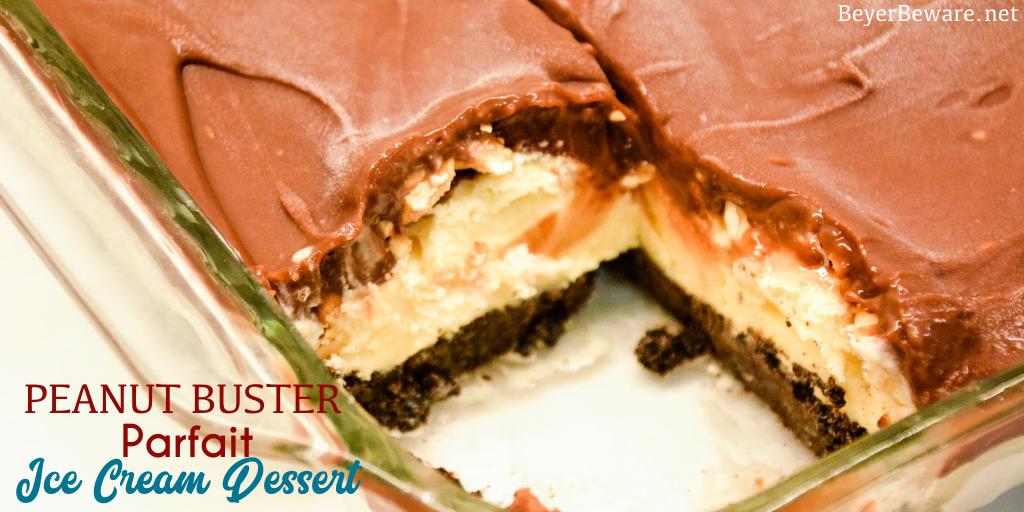 Easy Chocolate Dessert Recipes
Rolo Chocolate Cake Mix Cookies
Peanut Butter Pie Recipe - No-Bake Peanut Butter Pie
📖 Recipe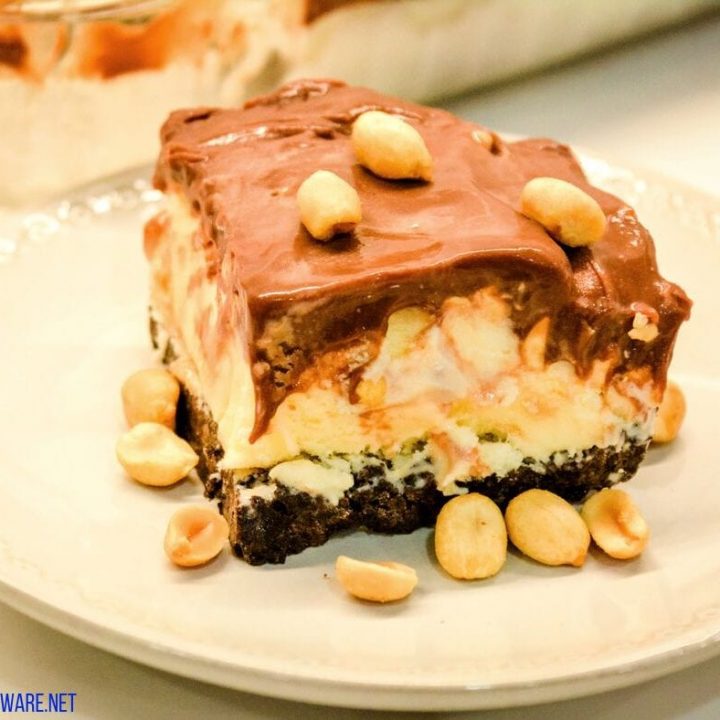 Peanut Buster Parfait Ice Cream Dessert
Peanut buster parfait ice cream dessert is a 13X9 ice cream cake with layers of crushed Oreos, vanilla ice cream, peanuts, and homemade chocolate sauce. 
Print
Rate
Ingredients
1

package

Oreos

½

cup

butter

½

gallon

ice cream

1

cup

peanuts

1

can

evaporated milk

2

cups

powdered sugar

¾

cup

chocolate chips

½

cup

butter
Instructions
Begin by crushing the Oreos in a blender or food processor. Mix the crushed cookies with ½ cup of the melted butter and spread out in the 13X9 pan. Make sure the pan you use has a lid.

On top of the cookie crumb crust spread softened ice cream.

Place the pan with the lid on in the freezer. Begin making the chocolate sauce.

To make the homemade chocolate sauce, mix the evaporated milk, powdered sugar, chocolate chips, and remaining butter in a saucepan over medium heat.

Stir until the sauce begins to boil. Continue to cook, stirring while it boils for 10 minutes. Remove from heat.

Let the sauce cool until room temperature. Remove the ice cream dessert from the freezer when fudge sauce is cooled.

Spread the peanuts over the ice cream and then spread the sauce over the peanuts.

Serve immediately or return to freezer until ready to serve. Cut into 12 pieces.
Nutrition
Serving:
1
piece
|
Calories:
930
kcal
|
Carbohydrates:
118
g
|
Protein:
15
g
|
Fat:
48
g
|
Saturated Fat:
20
g
|
Cholesterol:
84
mg
|
Sodium:
554
mg
|
Potassium:
442
mg
|
Fiber:
3
g
|
Sugar:
75
g
|
Vitamin A:
963
IU
|
Vitamin C:
1
mg
|
Calcium:
242
mg
|
Iron:
4
mg
Shared on Weekend Potluck