Disclosure: *This post may include amazon links. As an Amazon Associate, I earn from qualifying purchases.
The scorching summer heat calls for a refreshing beverage that not only quenches your thirst but also delights your taste buds. If you're looking for a tropical twist to your classic lemonade, look no further! In this blog post, we're bringing you the ultimate summer drink - Pineapple Lemonade Punch with a touch of pink using Country Time Lemonade. This delightful concoction combines into a light orange punch with the zesty tang of lemonade with the tropical sweetness of pineapple, creating a symphony of flavors for this delicious drink that will transport you to a sunny paradise.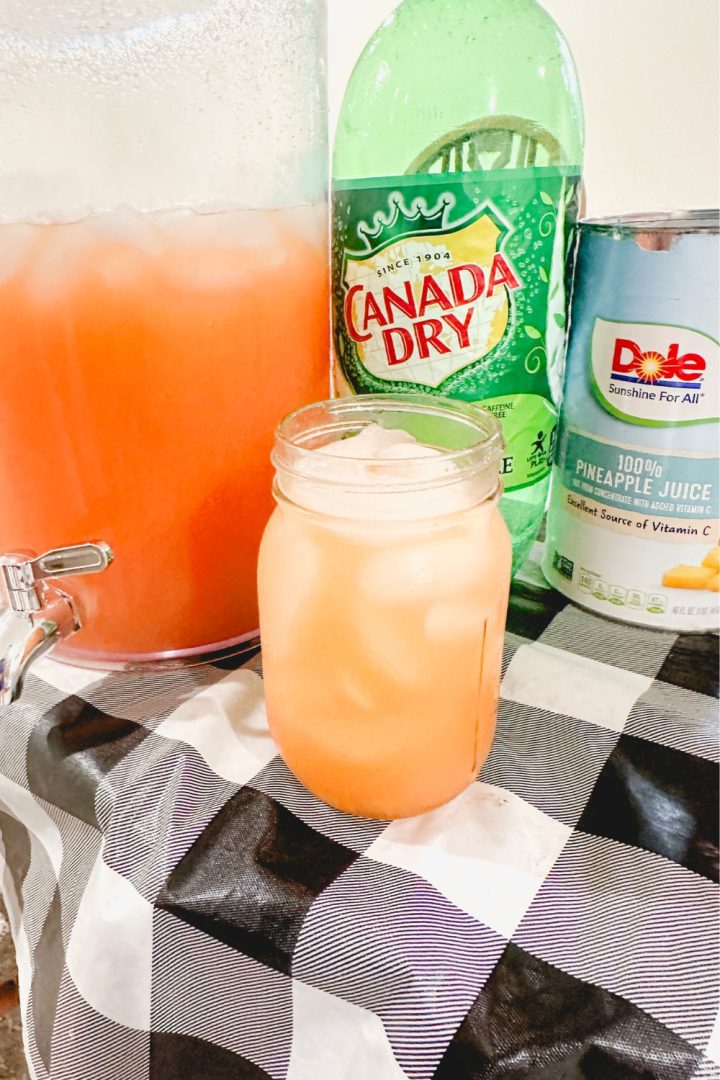 Country Time Lemonade, known for its nostalgic appeal and authentic lemon flavor, adds a delightful pink hue to our Pineapple Lemonade. The rosy tint adds a whimsical touch to the beverage, making it a perfect choice for summer parties, picnics, or simply sipping by the pool. When the pink Country Time lemonade is mixed with the yellow of the pineapple juice, a fun orange punch is created with this pineapple lemonade punch that is slightly tart, and slightly sweet with a little fizz.
Jump to:
Ingredients
To whip up a pitcher of this refreshing Pineapple Lemonade, you'll need the following ingredients: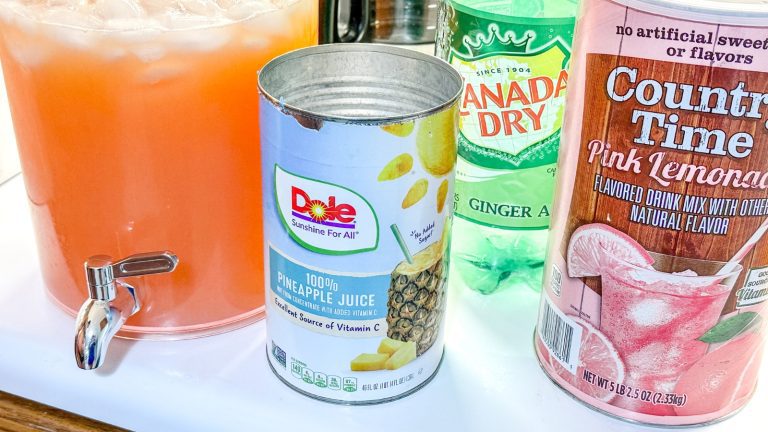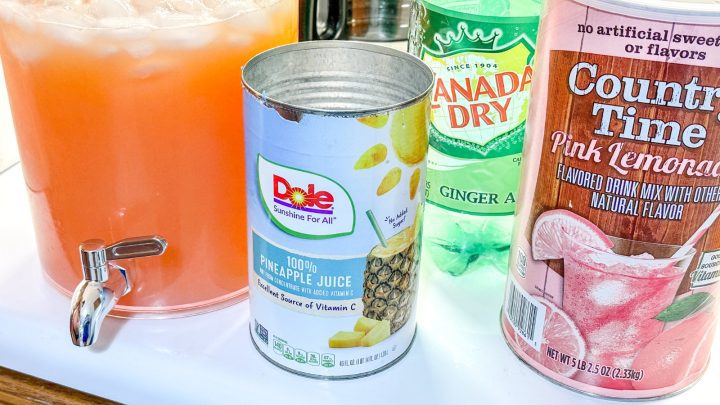 Pink Country Time Lemonade - If you are going for the peachy colored punch, then use link lemonade. For a yellow punch, the yellow lemonade will work fine too.
Pineapple Juice - One of the 46 ounce metal cans of pineapple juice is EXACTLY what this recipe calls for.
Ginger Ale - While Ginger Ale is my preferred soda for mixing with punch, Sprite or another lemon-lime soda pop brand can work too.
See recipe card for quantities.
Instructions - How to Make Pineapple Lemonade Punch
Use a large gallon or two-gallon pitcher or beverage container to make this pineapple lemonade in.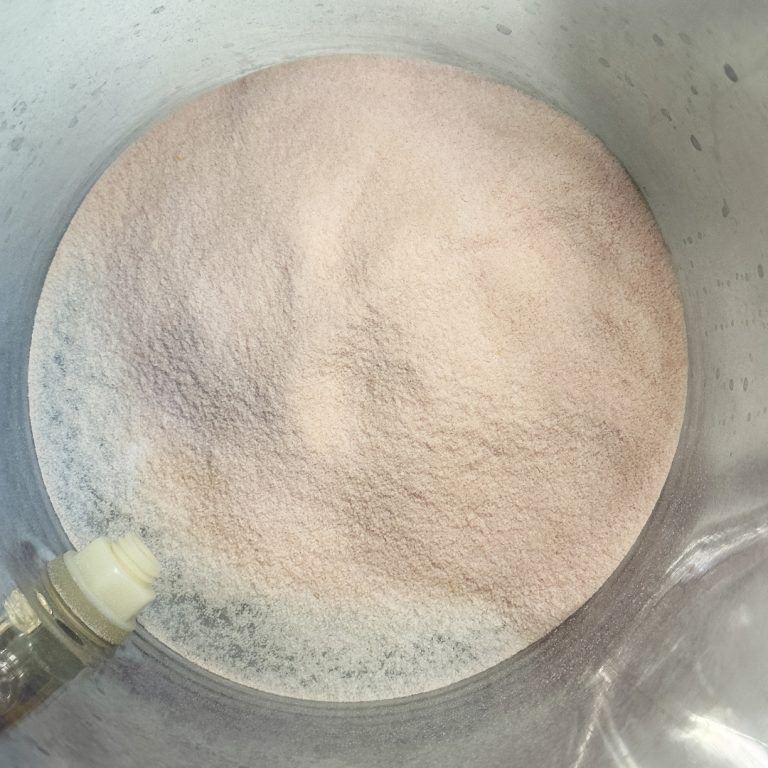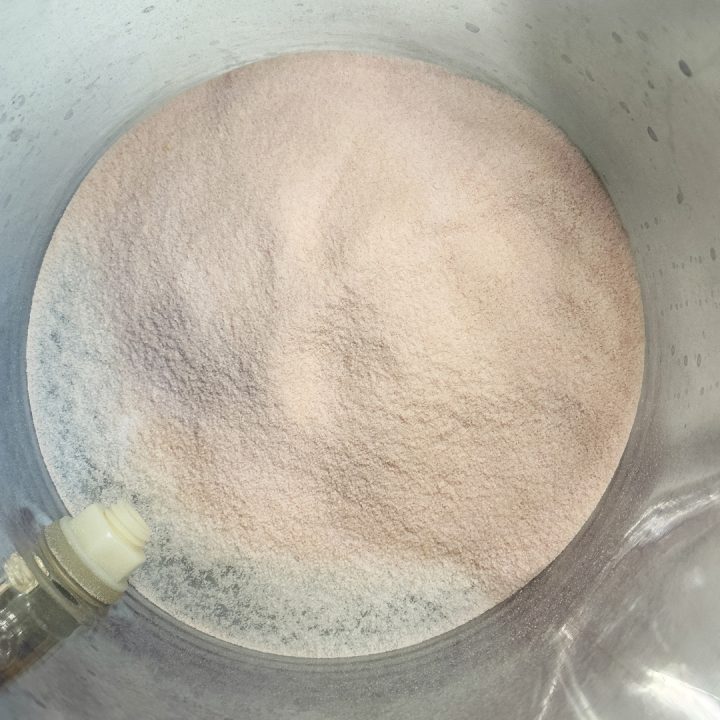 Add the powdered pink lemonade mix to the drink container.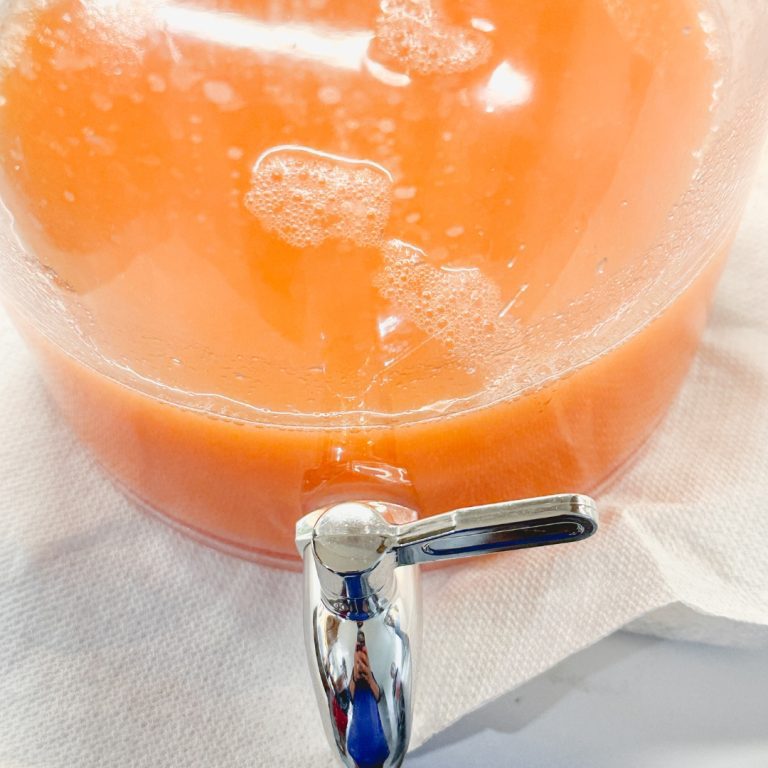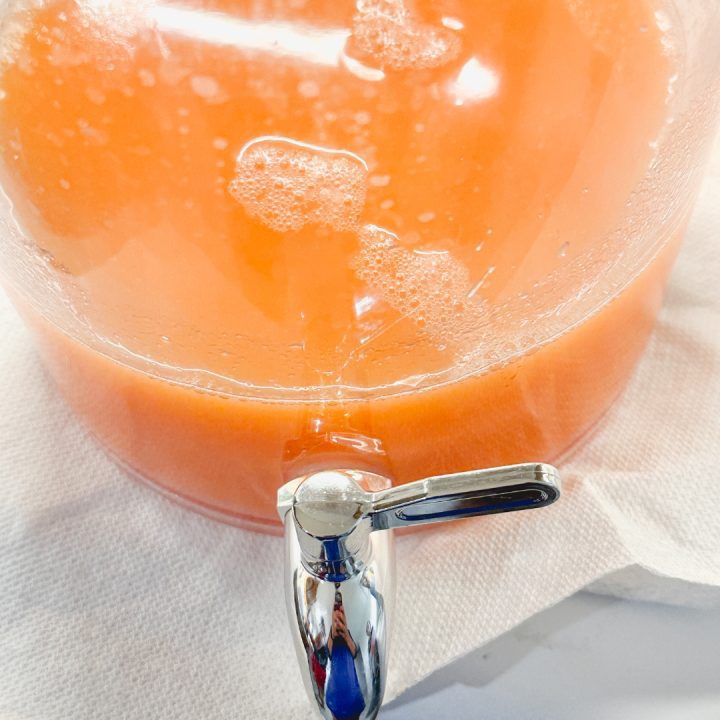 Pour the pineapple juice over the pink lemonade powder. Stir to start dissolving the lemonade powder in the juice.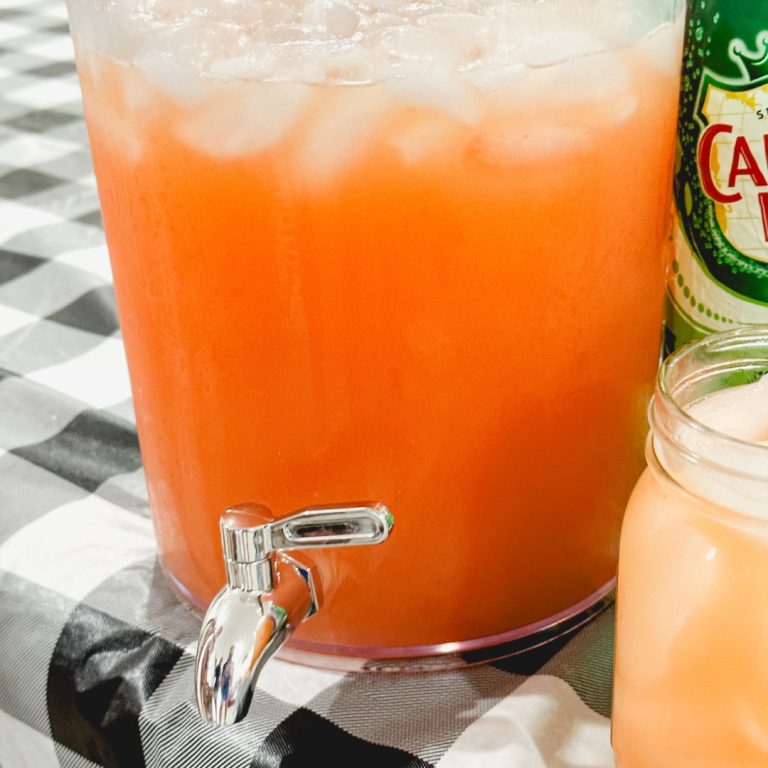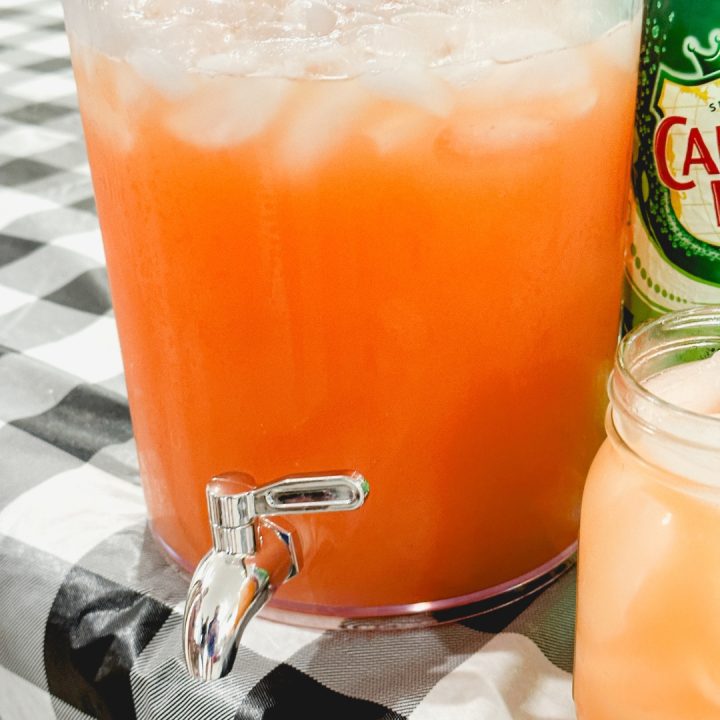 Finally, pour the ginger ale into the pineapple juice and lemonade. Add ice cubes.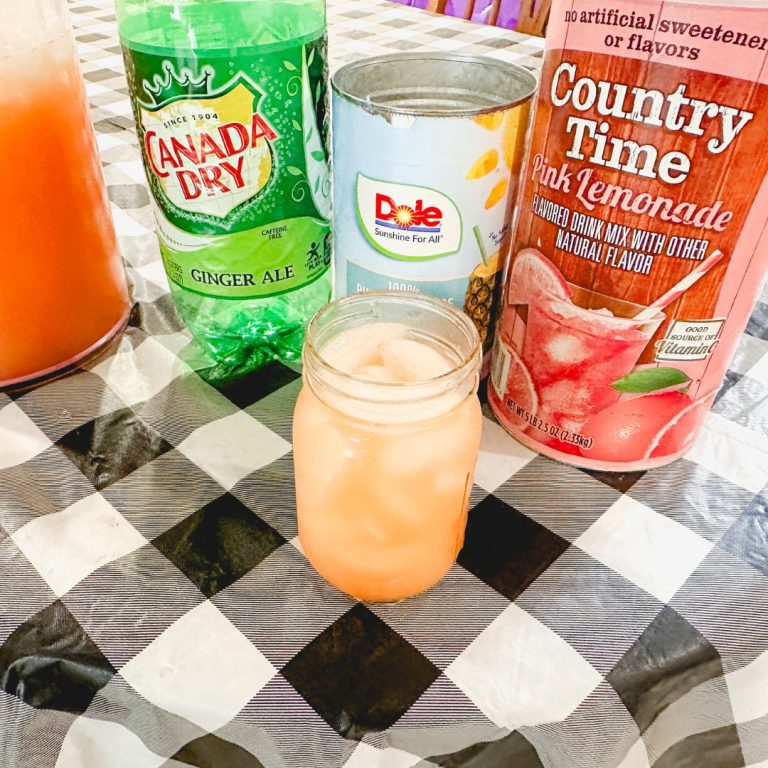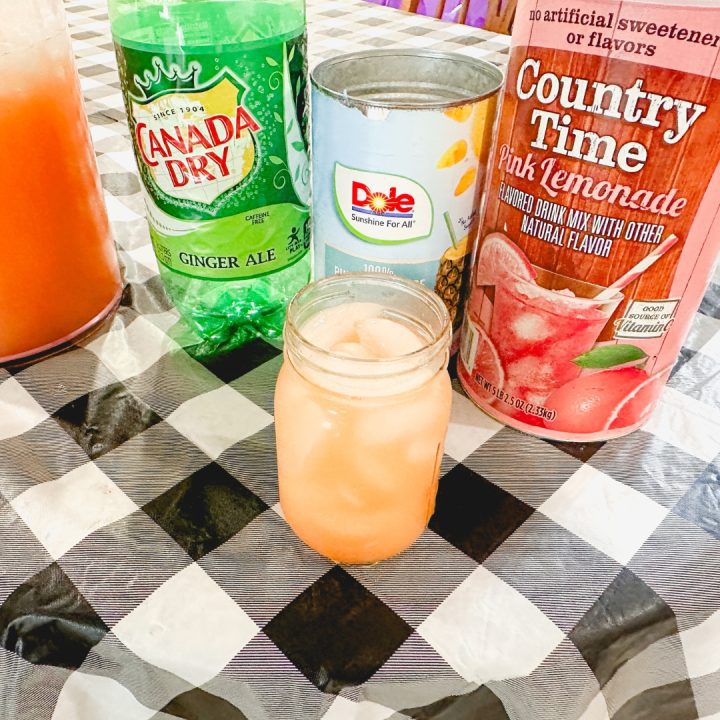 When the pineapple lemonade punch is completely blended it is ready. Serve in fun glasses.
This pineapple lemonade is a family-friendly drink recipe but can easily be spiked with vodka, rum, or coconut rum. Frozen fruit or lemon slices can also be added to the pineapple lemonade recipe. If you want to add fresh pineapple chunks or strawberries they would be delicious in the pineapple lemonade too.
If you don't want to use a beverage dispenser, this is also great to be served in a punch bowl.
Hint: Refrigerate the pineapple juice and Ginger ale before making the pineapple lemonade to keep the flavors stronger and less diluted from the ice. Making a batch of lemonade mix and pineapple juice for ice cubes ahead of time is also a great idea.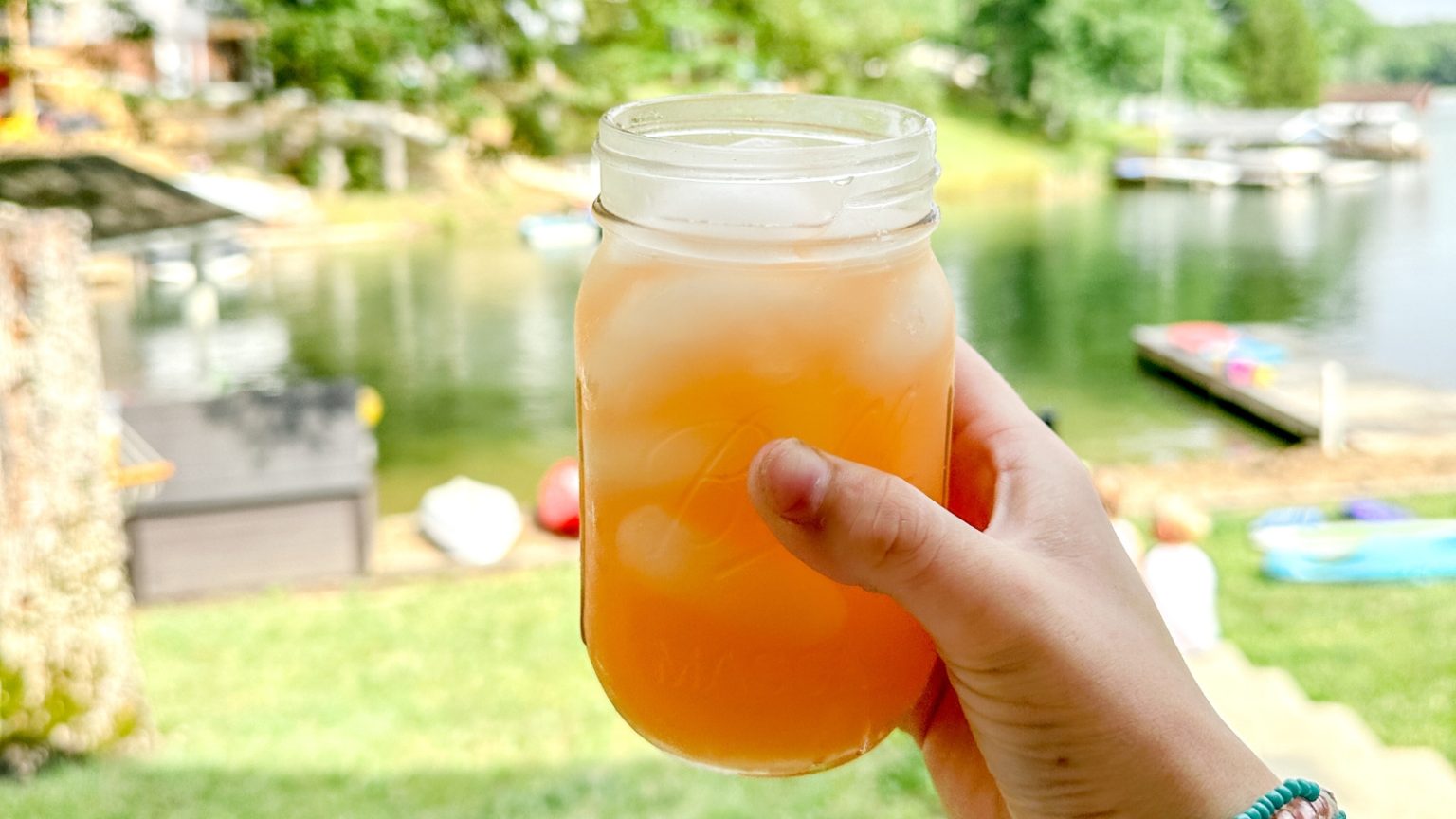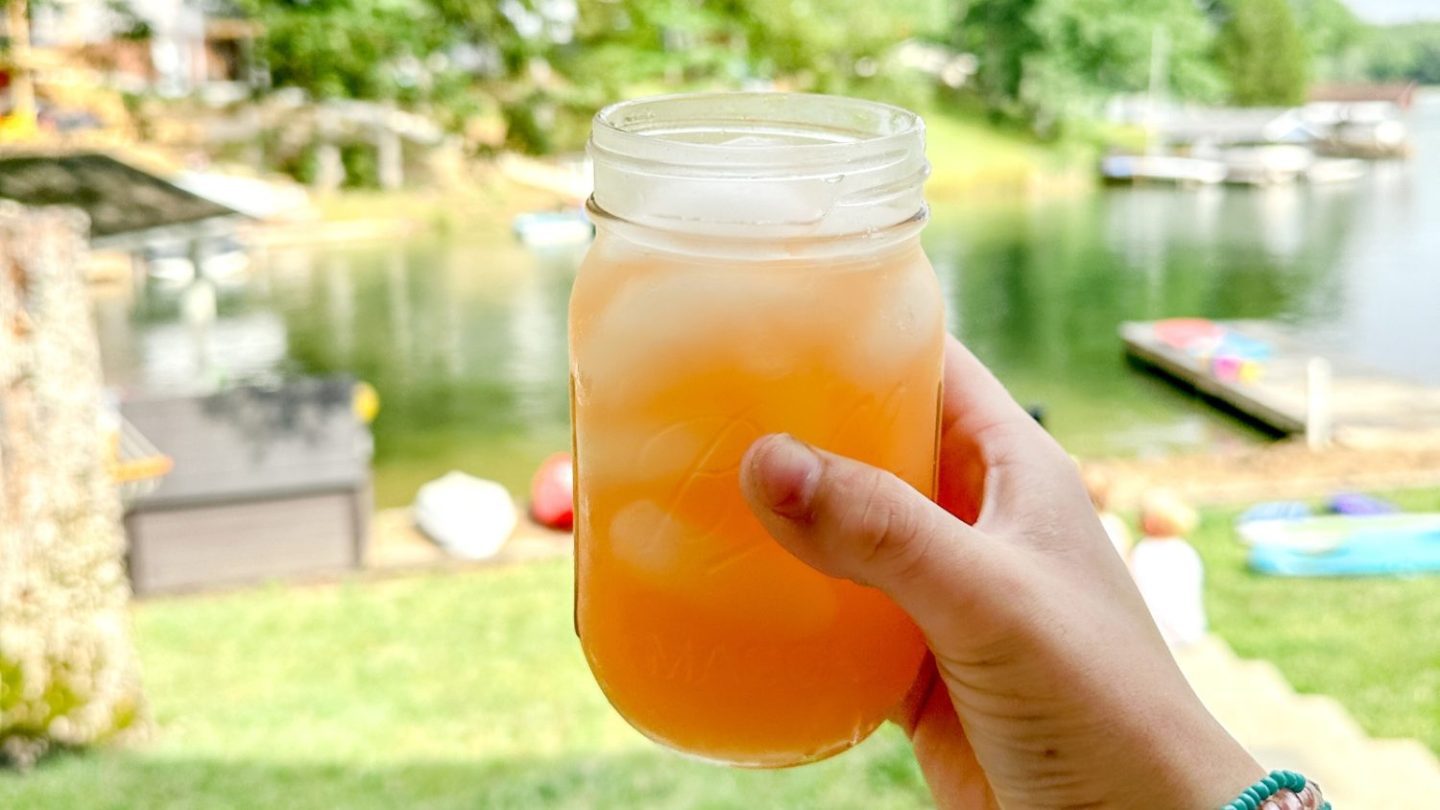 Variations
This is a great base recipe for a party punch.
Strawberry Lemonade Punch - add 2 cups of frozen sliced strawberries to the recipe for a delicious strawberry pineapple lemonade.
Green Punch - Substitute 2 green Kool-Aid packets and two cups of sugar for the pink lemonade. Also, squeeze some lime juice into the mixture.
Mango Pineapple Lemonade - Substitute mango juice or puree for the pineapple juice to make a mango pineapple lemonade punch.
Yellow Pineapple Lemonade - add yellow lemonade mix for a yellow punch instead of one that is a light orange or peach color.
See this spicy version of this recipe on my website! (placeholder for in-content link)
Equipment
Equipment for serving party drinks is always something you don't think you need until you REALLY need it. So, do yourself a favor and go ahead and get the drink containers now.

Storage
If you want to make this punch ahead and store it in the fridge until party time, I recommend just mixing the lemonade powder and pineapple juice together. Add the chilled ginger ale at party time. But this punch is so easy to make you can make it quickly even in the middle of a graduation party.
Once the pop has been poured in, I recommend using within 8 hours or it will go flat.
Top tip
This lemonade pineapple punch recipe is even better if you chill all the ingredients before making the punch. Make a pineapple juice and lemonade mixture ahead of time to make ice cubes for even better flavor for the punch.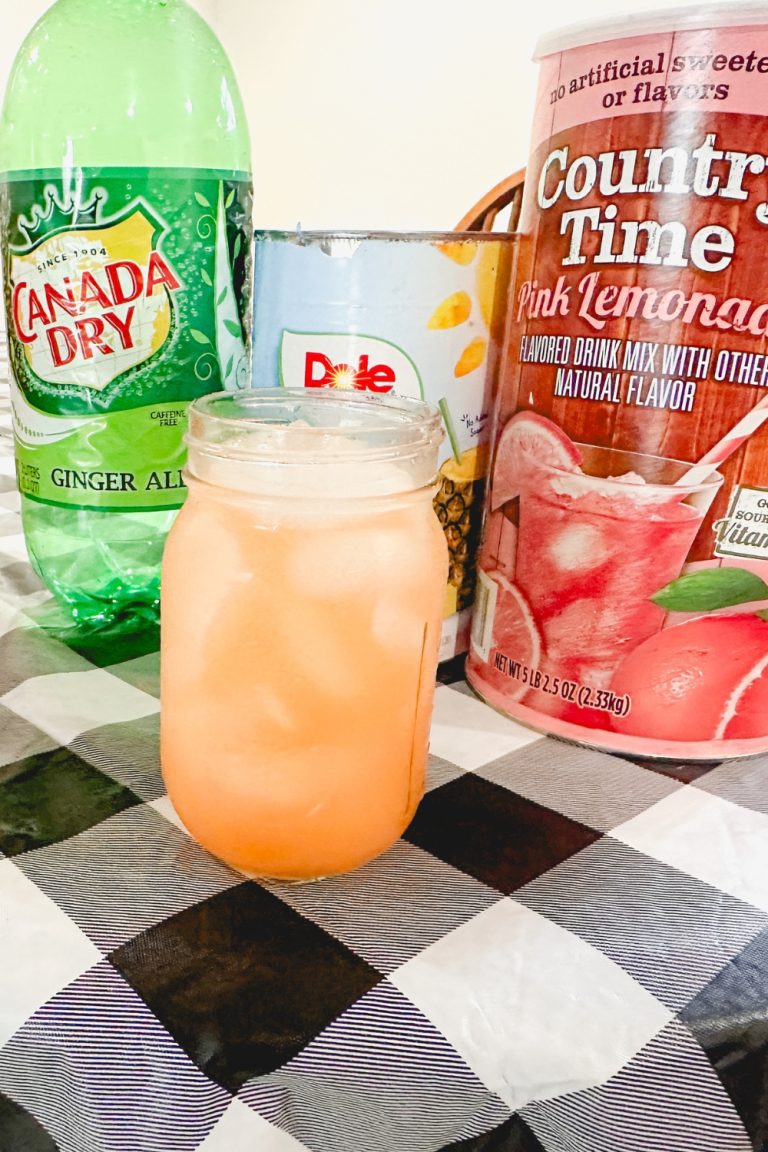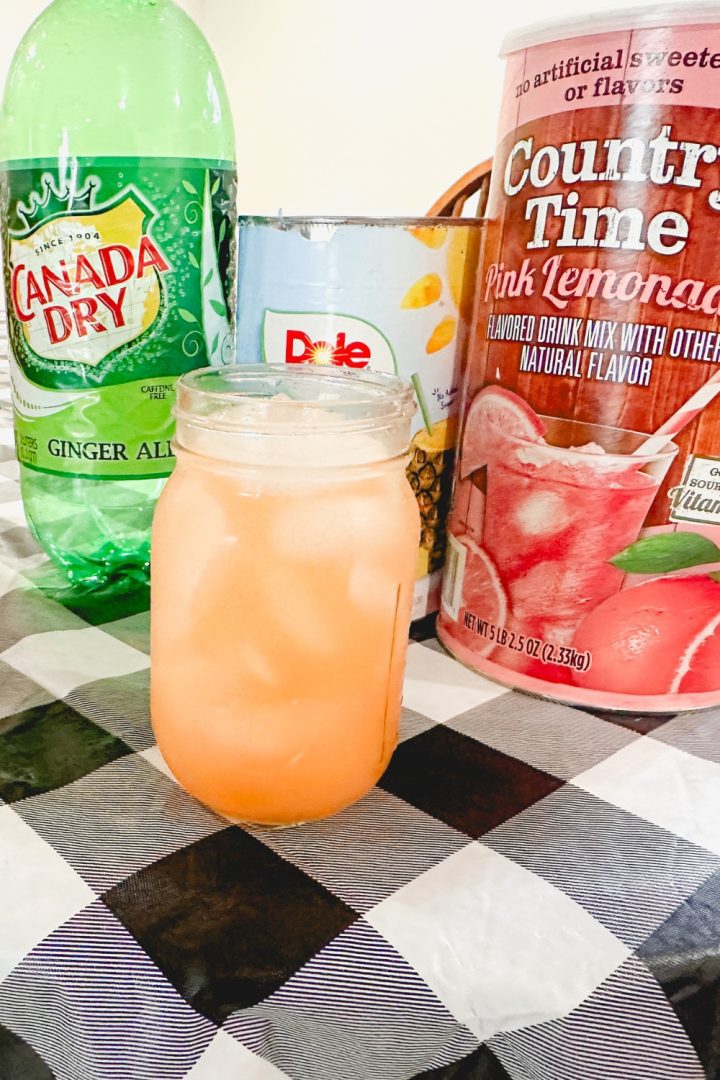 FAQ
How to Make Starbucks Pineapple Lemonade?
The Starbucks Passionfruit Pineapple Refresher is similar to a pineapple lemonade but isn't fizzy. Making passionfruit pineapple lemonade can be made by adding passionfruit to the pineapple lemonade.
Is there water in this recipe for pineapple lemonade using powdered lemonade mix?
There is no water added to make the actual lemonade. Just the sode is used.
Related
Looking for other drink recipes? Try these:
Party Food Ideas
These are my favorite food recipes if you are looking for graduation party, birthday party, or wedding shower food ideas: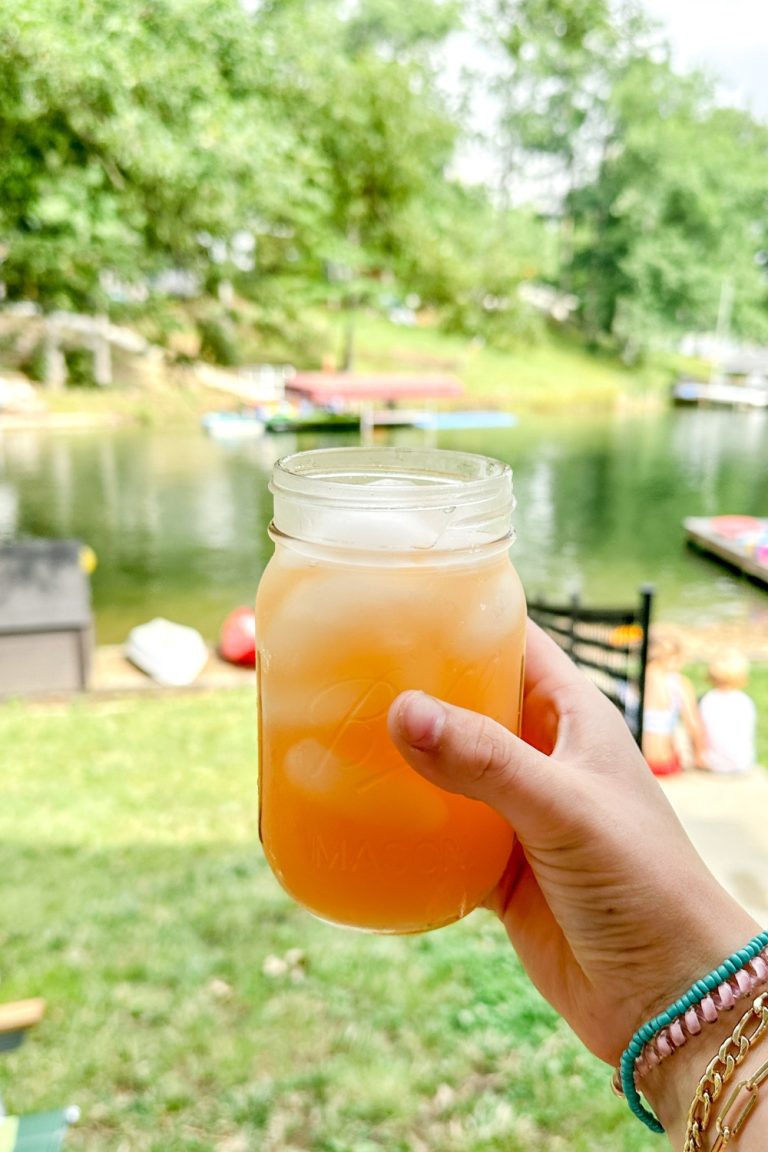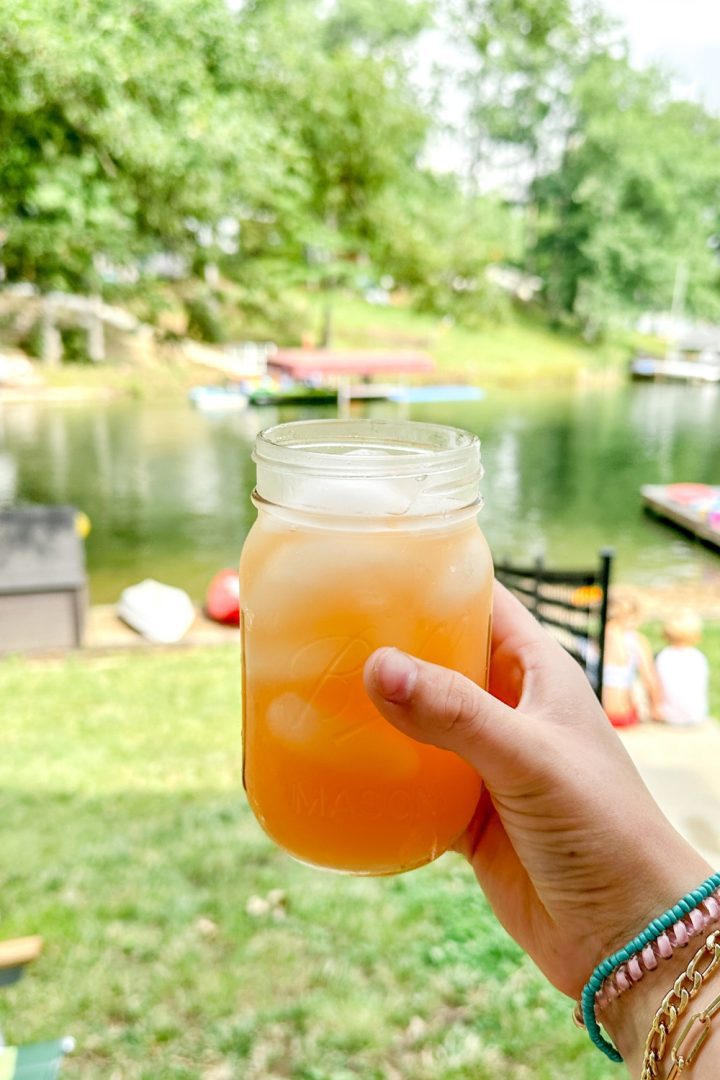 📖 Recipe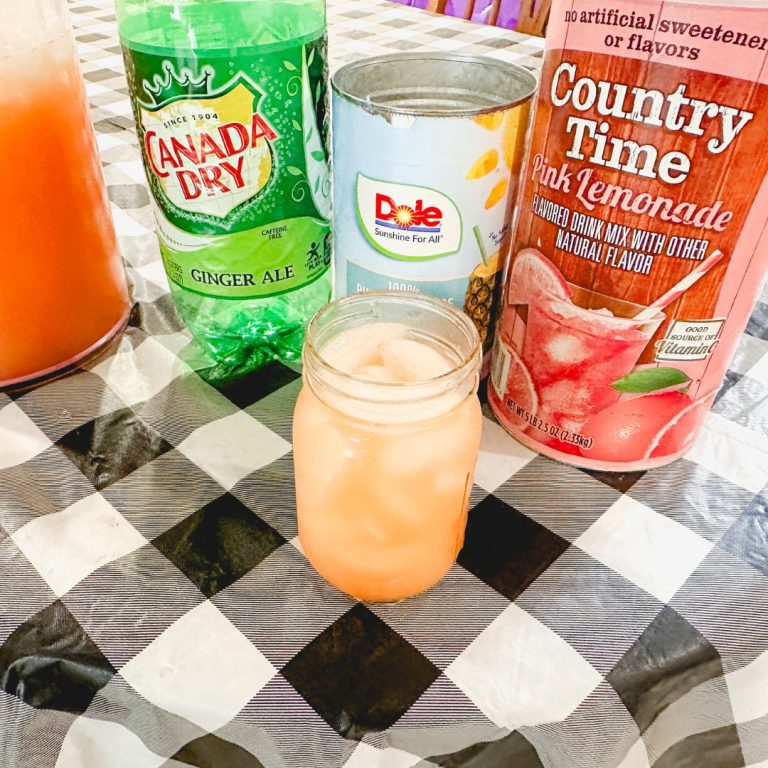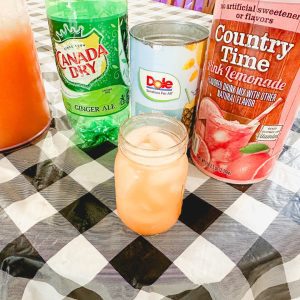 Pineapple Lemonade Punch - Orange Punch Recipe
When the pink Country Time lemonade is mixed with the yellow of the pineapple juice, a fun orange punch is created with this pineapple lemonade punch that is slightly tart, and slightly sweet with a little fizz.
Print
Rate
Ingredients
1

cup

Country Time Pink Lemonade Powder

46

ounces

pineapple juice

2

liters

ginger ale
Instructions
In a large beverage dispenser, mix the lemonade powder and pineapple juice together.

When dissolved, pour the ginger ale into the pineapple and lemonade mix.

Garnish with lemon slices, pineapple chunks or even strawberries.
Nutrition
Calories:
137
kcal
|
Carbohydrates:
35
g
|
Protein:
0.3
g
|
Fat:
0.2
g
|
Saturated Fat:
0.01
g
|
Polyunsaturated Fat:
0.03
g
|
Monounsaturated Fat:
0.01
g
|
Sodium:
17
mg
|
Potassium:
127
mg
|
Fiber:
0.2
g
|
Sugar:
32
g
|
Vitamin A:
5
IU
|
Vitamin C:
14
mg
|
Calcium:
17
mg
|
Iron:
1
mg