Disclosure: *This post may include amazon links. As an Amazon Associate, I earn from qualifying purchases.
The art of smoking meats is a culinary adventure that awakens the senses and elevates flavors to new heights. One gem in the world of smoked meats is the humble yet incredibly delicious smoked beef chuck roast. This cut of meat, known for its rich marbling and hearty flavor, transforms into a tender masterpiece when smoked low and slow. In this blog post, we'll dive into the techniques, tips, and a step-by-step guide to crafting a mouthwatering smoked beef chuck roast that will have you savoring every bite.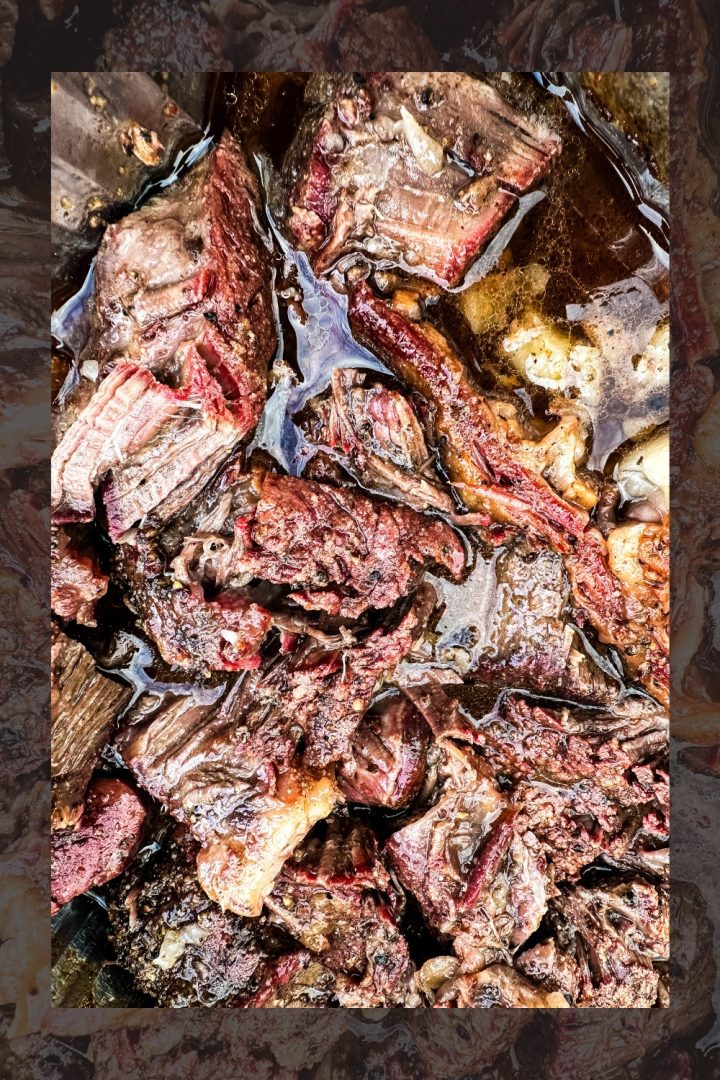 Much like a beef brisket or a smoked pork shoulder, the simple combination of seasonings with patience gives you a dynamite BBQ meal. Smoked chuck roast will quickly become one of your favorite cuts of beef to smoke with a simple beef rub made with garlic, salt, and pepper and then finished in a pan of onions and beef broth. It is a great alternative to a beef brisket.
Smoking meat is more than just a cooking method; it's a journey of patience and passion. As you embark on your journey to master the art of smoking, let the smoked beef chuck roast be your guide to unlocking the secrets of smoky perfection. With each savory bite, you'll be transported to a realm where flavors are intensified, and the harmony of smoke and meat creates a symphony of taste that lingers long after the last bite. So, fire up that smoker, embrace the process, and get ready to savor a feast that's nothing short of extraordinary.
Jump to:
Ingredients for Smoked Beef Roast
Just like with a lot of the grilling recipes on my blog, the ingredients for this smoked chuck roast are simple.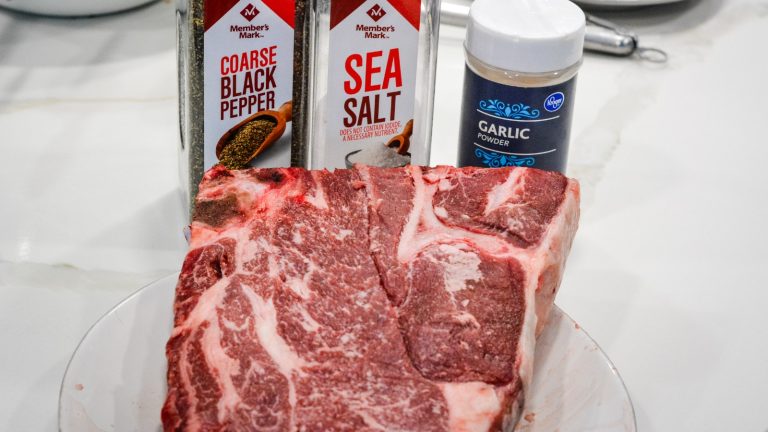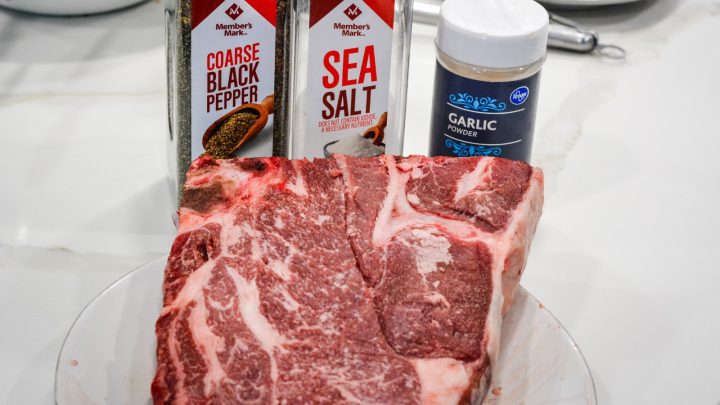 Beef Chuck Roast - A three to five pound chuck roast will work just fine for this smoked chuck roast recipe. Tougher cuts of meat like a chuck roast work better when slow cooked.
Salt - Sea Salt is what I used in this recipe. It can be a coarse salt. No need for it to be fine salt.
Black Pepper - Coarse back pepper works the best in this beef rub.
Garlic Powder - The beef rub is finished out with garlic powder.
Onions - Sweet or yellow onions will work for the roasting
Roast Beef Better than Bouillion - Beef broth will work for this recipe. I use better than bouillion and water to make the beef broth I need. You can use either.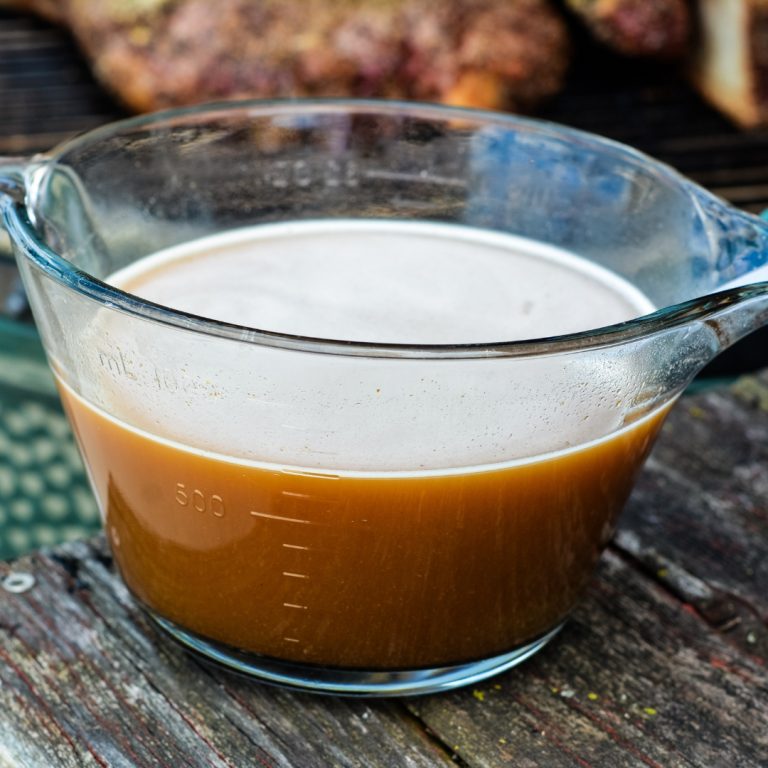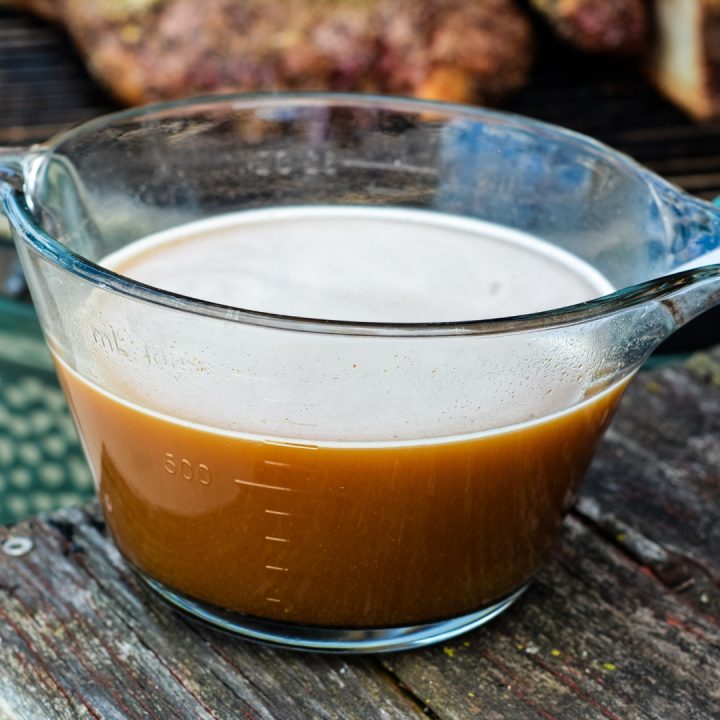 See the recipe card for quantities.
How to smoke a chuck roast?
To begin, preheat your smoker to around 225°F (107°C). Maintain a consistent temperature throughout the smoking process. You will need to make sure you have plenty of charcoal in the smoker to smoke for up to six hours. If using hickory, oak, or cherry wood chips or chunks, soak them in water for about 30 minutes, then drain. Add them to the smoker's wood chip box or directly onto the coals for that authentic smoky flavor. Set the chuck roast out to warm up before placing it on the grill or smoker.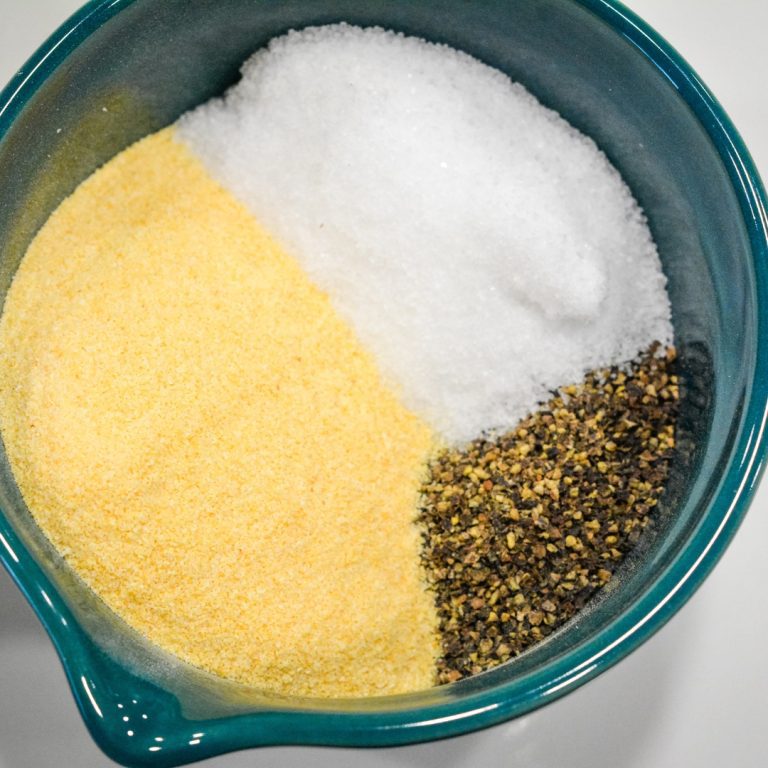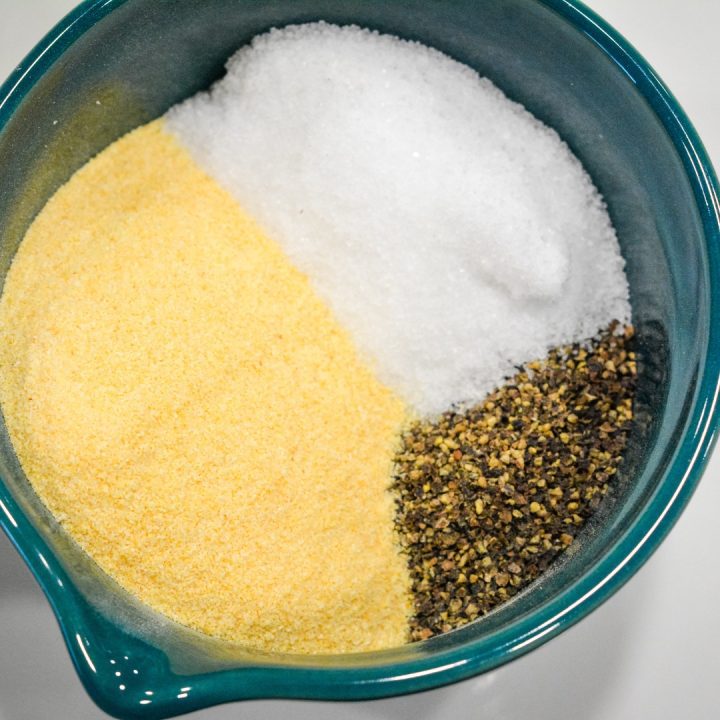 Combine all the salt, pepper, and garlic in a small bowl. Mix together until completely blended to form the beef rub.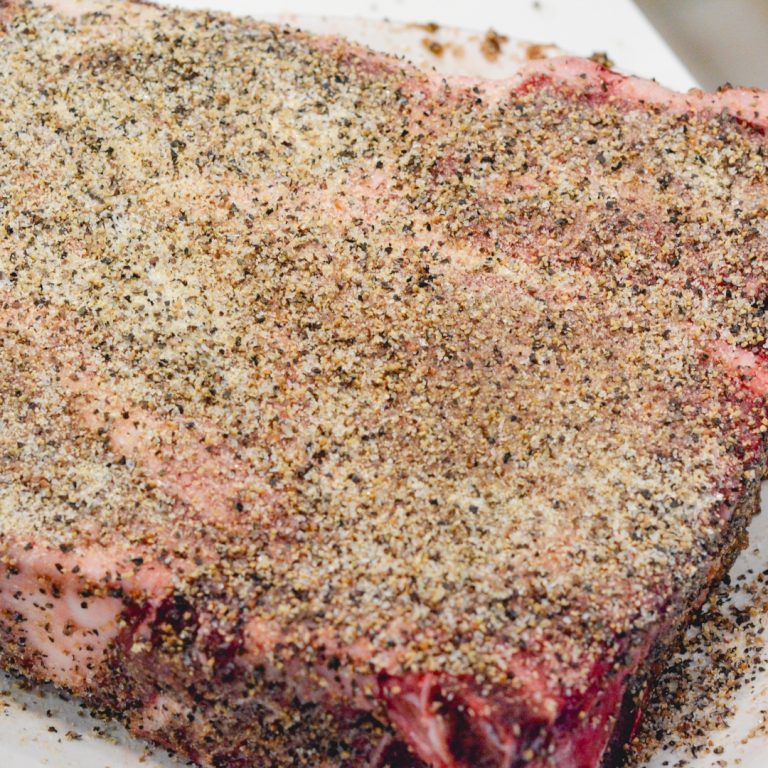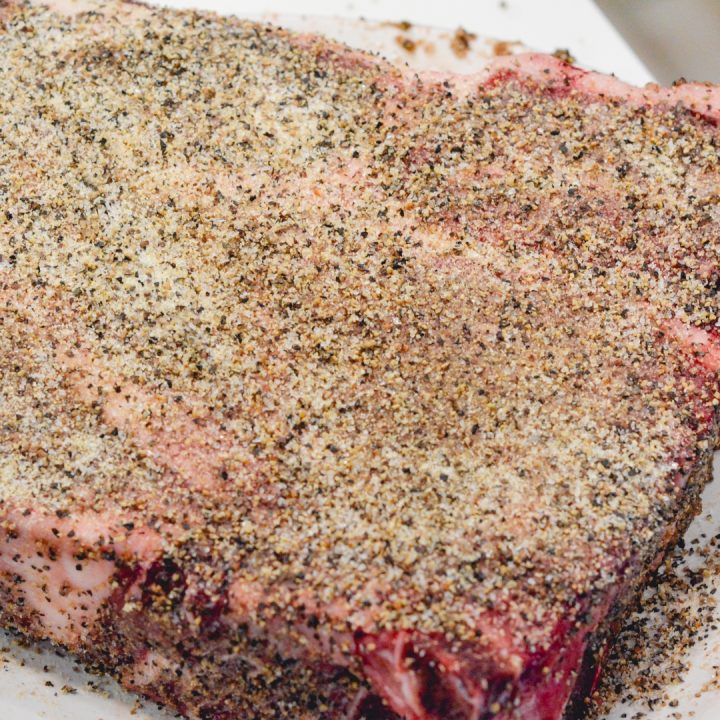 Coat the roasts in the beef rub mixture made from garlic, salt, and pepper.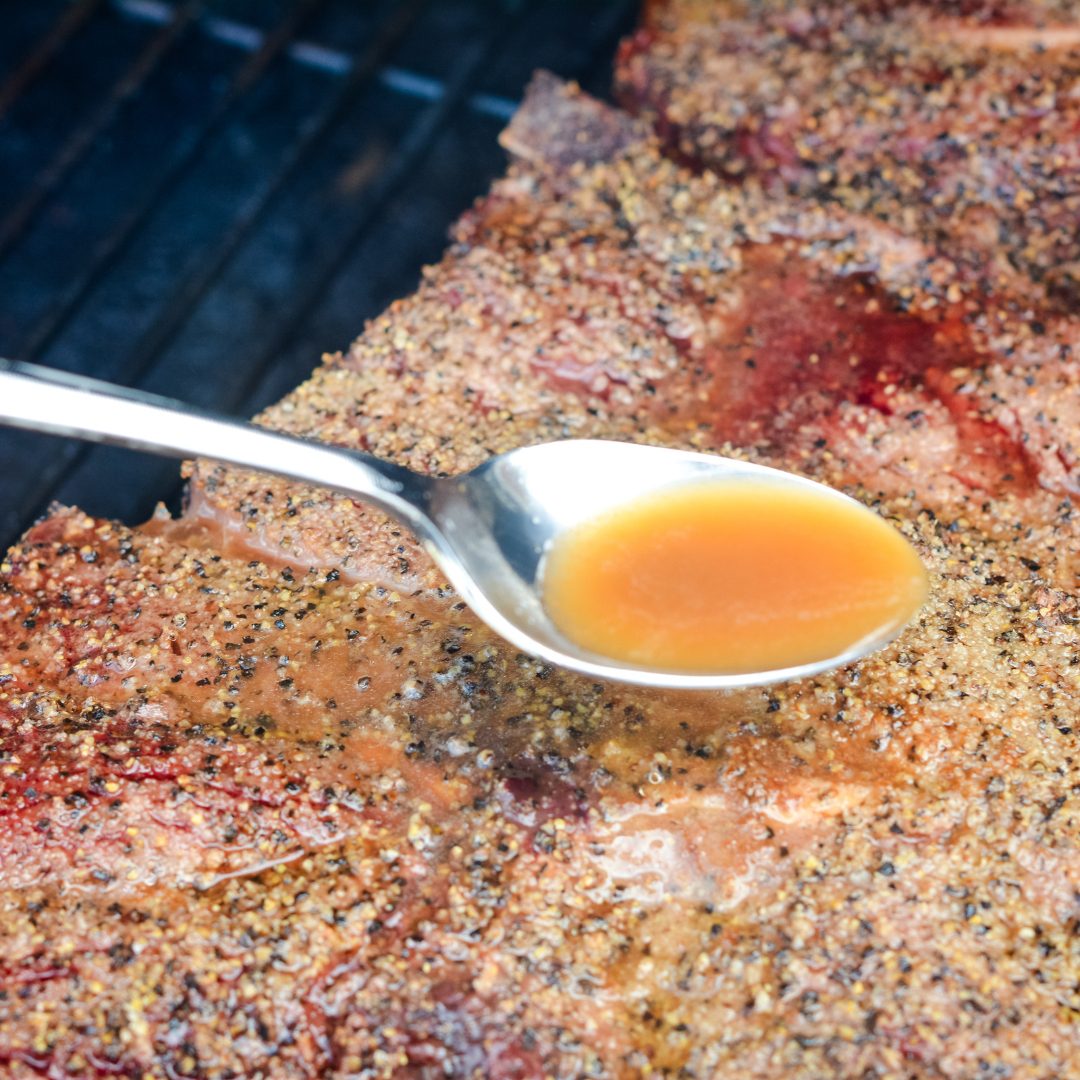 Place the beef roast on the smoker in indirect heat at 225 degrees. Every hour spritz or baste with beef broth.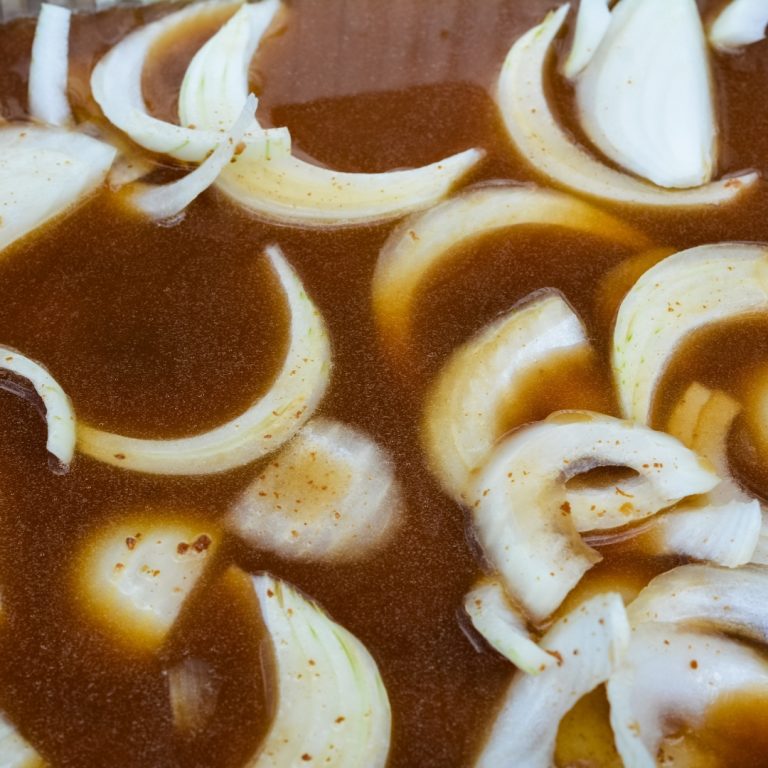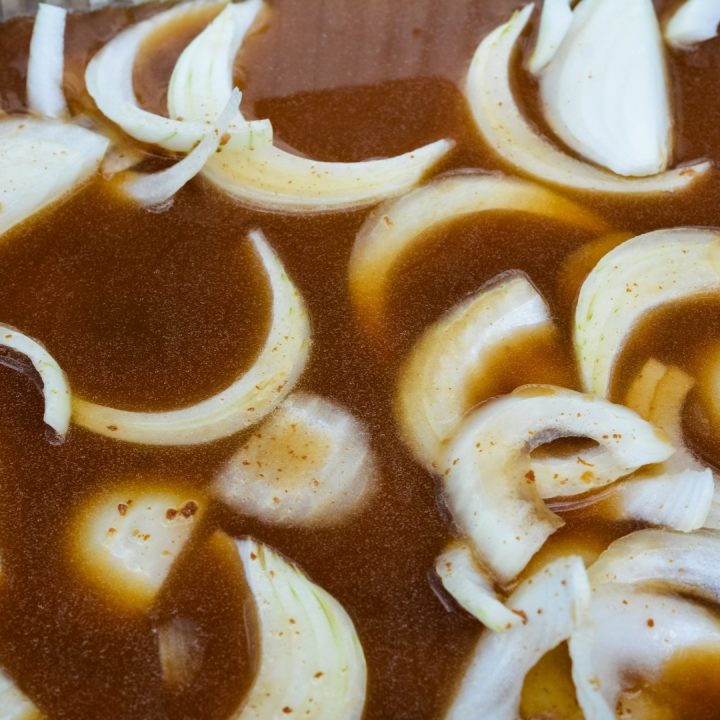 When the roast has been on the grill for 3 hours or reaches an internal temperature of 135 degrees move to a pan with sliced onions and beef broth.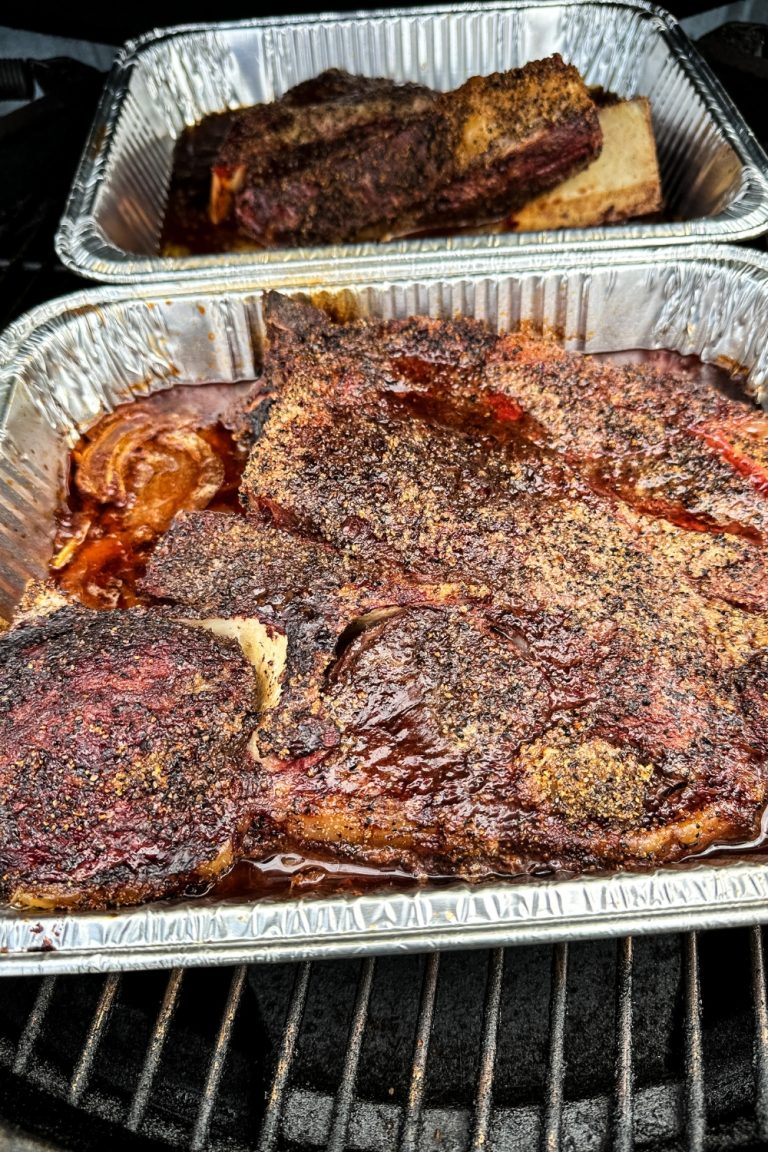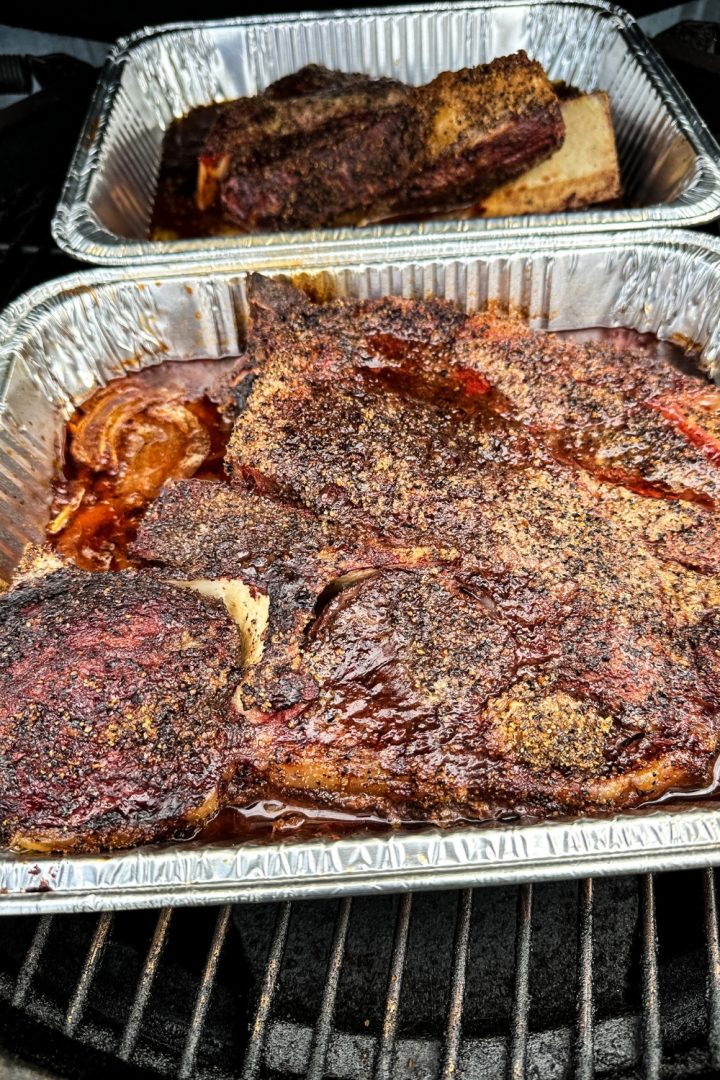 Cover the pans when the roasts reach 165 degrees. Then continue to cook until they reach 203 degrees. Remove the beef roasts from the grill keeping them covered and in the pan.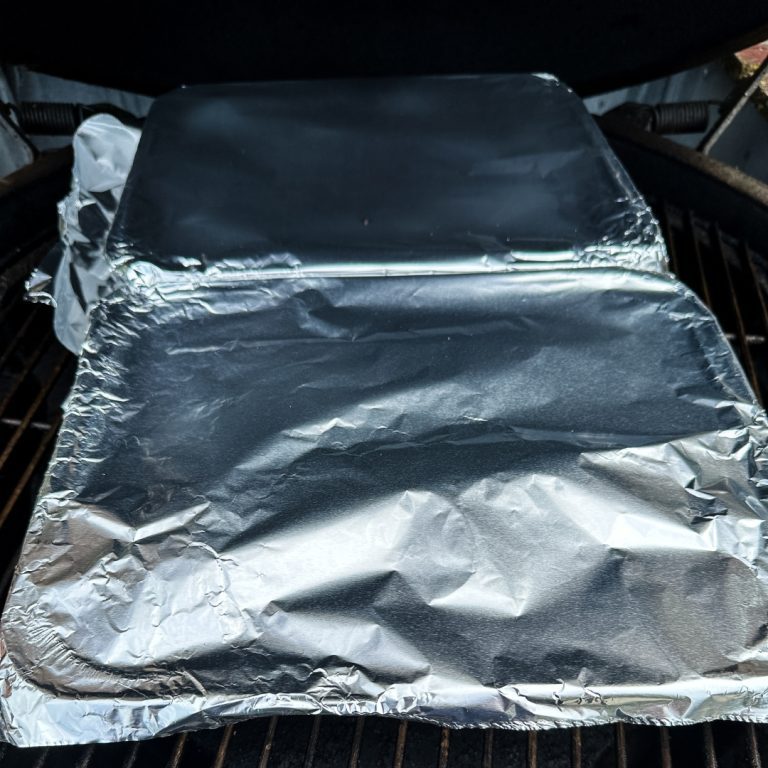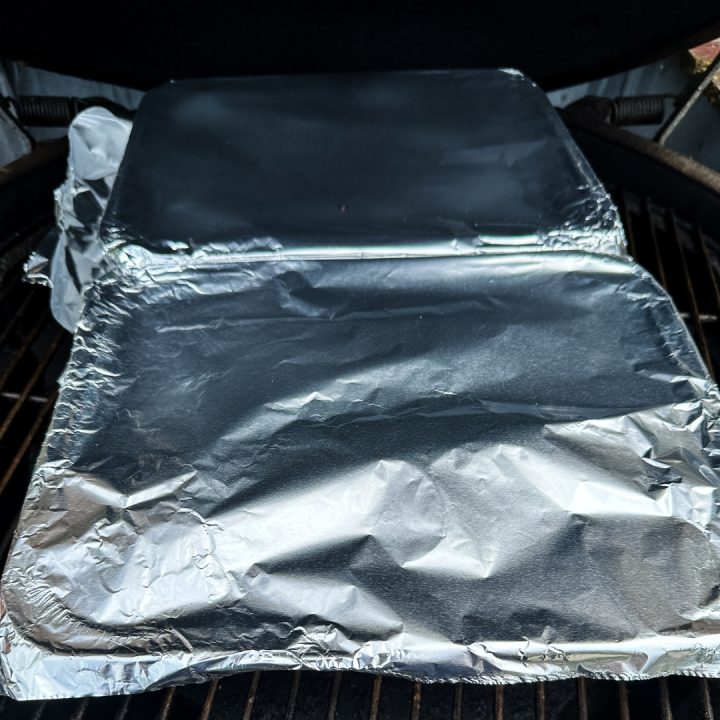 Unwrap the smoked beef chuck roast and slice it against the grain into thin, succulent pieces. This can easily become a pulled beef recipe too. Serve it with your favorite side dish, such as creamy mashed potatoes, grilled vegetables, or coleslaw.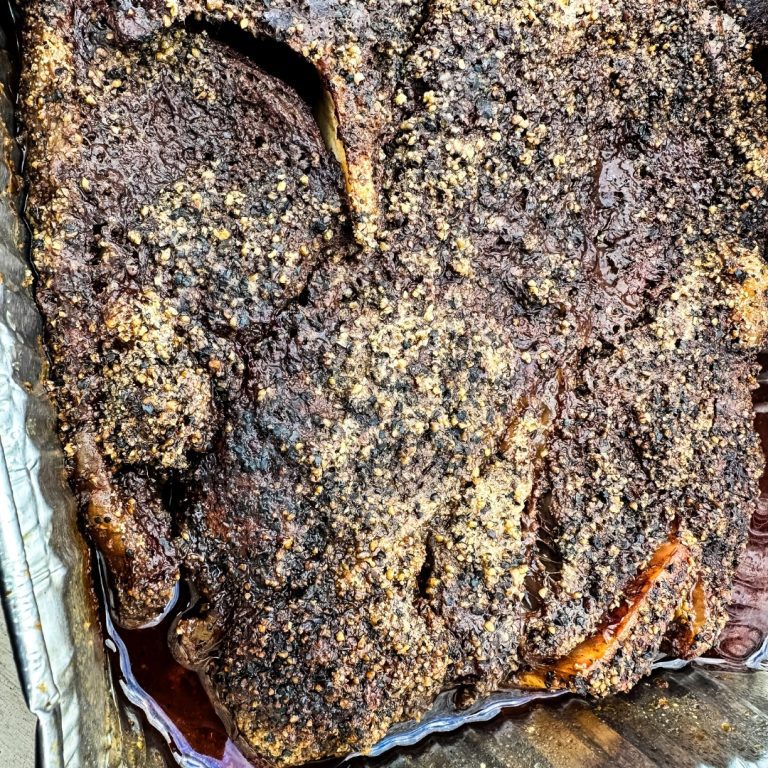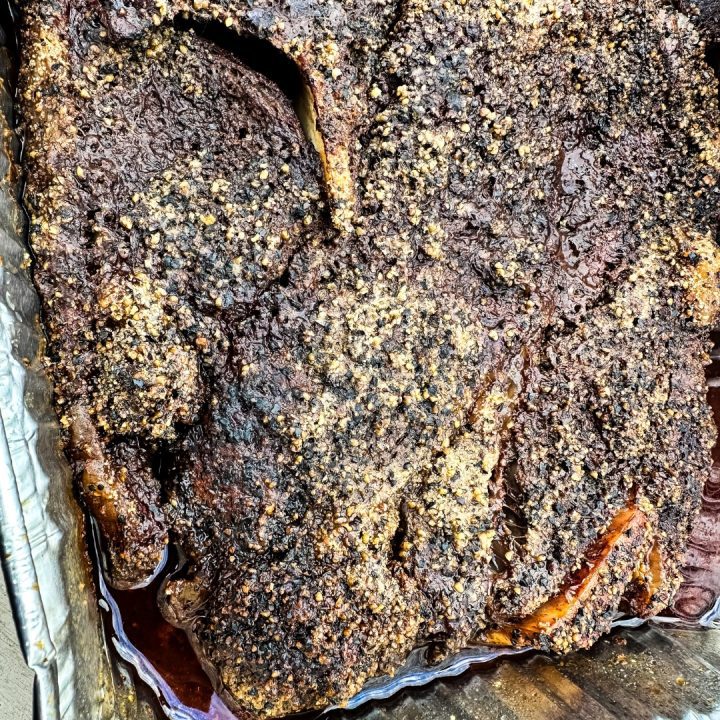 The interplay of smoke, seasoning, and slow cooking transforms this humble cut of meat into a sensory delight that's perfect for gatherings, celebrations, or simply indulging in the joy of great food.
Hint: Place the pans of chuck roasts in coolers to rest once they have been pulled off the grill.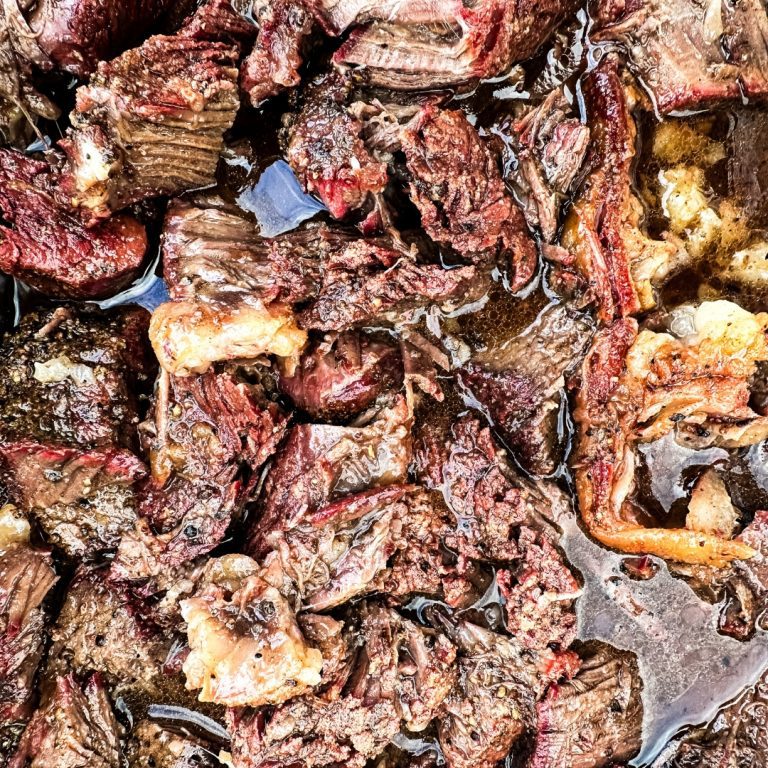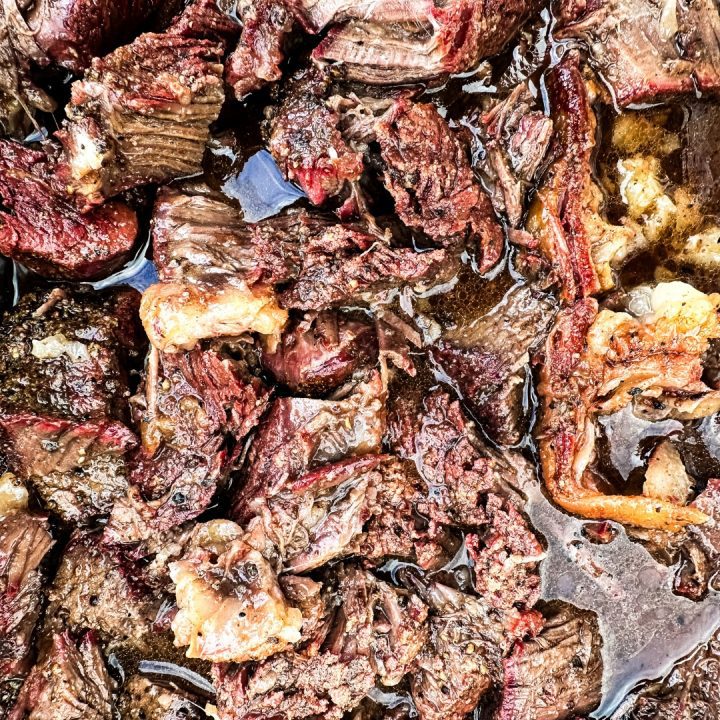 Variations
Let's change this smoked chuck roast up a bit with a few different ideas. Here
Onion Powder & Paprika - add a tablespoon of onion powder and parika to the salt, garlic, and pepper rub.
Banana Peppers - add jarred banana peppers to the pan of beef broth and onions for a tangier smoked beef roast. Very much like the banana pepper pot roast recipe.
Yellow Mustard Rub - add yellow mustard to the beef roast before the rub for a mustard flavor in this smoked roast recipe.
See this crock pot balsamic beef roast recipe for a great crock pot version of pulled beef.
Smoker Equipment
The right ingredients and smoking equipment can make all the difference in this recipe. You will need a good meat probe or meat thermometer, pans, and seasonings. Here are all of my favorite grilling, smoking, and seasonings.
Storing Leftover Smoked Meats
The leftover seasoning mixture is great for steak seasoning too. Keep the leftovers in an airtight container.
The leftover chuck roast is perfect as beef sandwiches or even in a BBQ Mac and cheese. Store the leftover in a plastic or glass air-tight container for 3-5 days after it has been smoked.
Leftovers of this beef roast can also be frozen. Add the juice and meat to a freezer bag and freeze up to three months. Then use a crock pot to warm back up to enjoy.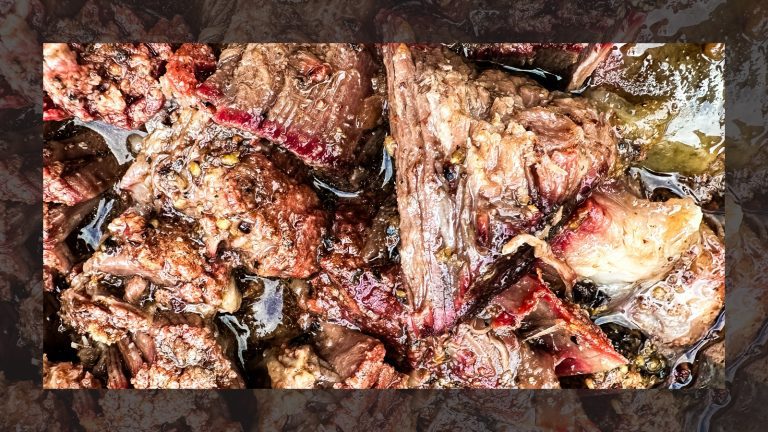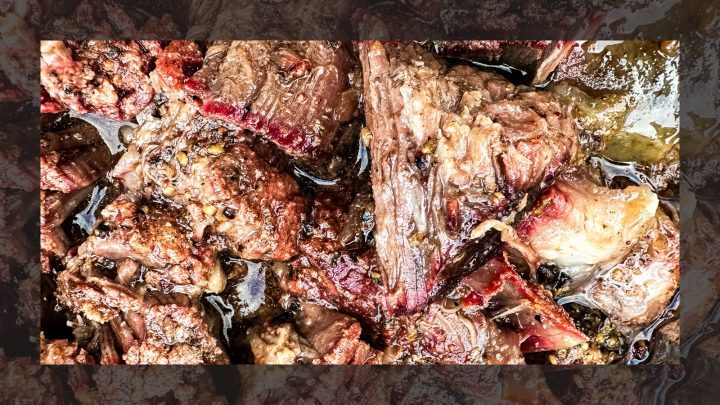 Top tip
The problem so many people run into with smoking a beef roast is they overcook it without enough moisture. Be sure to use this pan with broth and onion broth for the best results. Also - let the beef roast rest after it hits the 203 degrees internal temperature.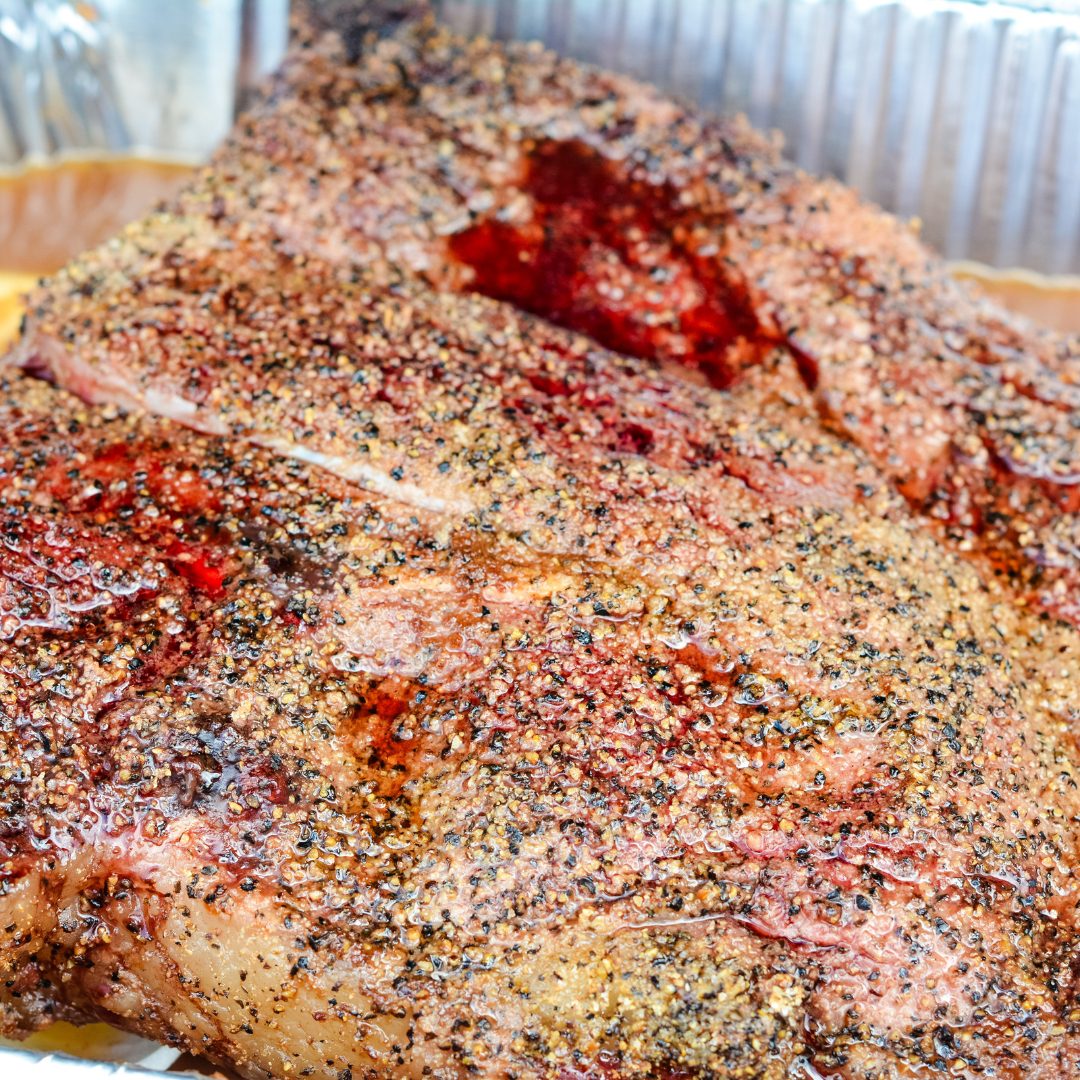 FAQ
Is chuck roast a good meat to smoke?
Yes! The beef chuck roast, with its perfect blend of lean and fatty meat, lends itself beautifully to the slow and gentle process of smoking. The result? A succulent and melt-in-your-mouth experience that pays homage to the mastery of smoke-infused flavors.
How long does it take to smoke a chuck roast?
While the size and thickness impact the time to smoke a beef chuck roast, it will take 5-7 hours at 225 degrees to smoke a chuck roast to 203 degrees internal temperature.
Related Smoker Recipes
Looking for other recipes like this you can prepare on the Big Green Egg? Try these:
Pairing
These are my favorite dishes to serve with smoked chuck roast: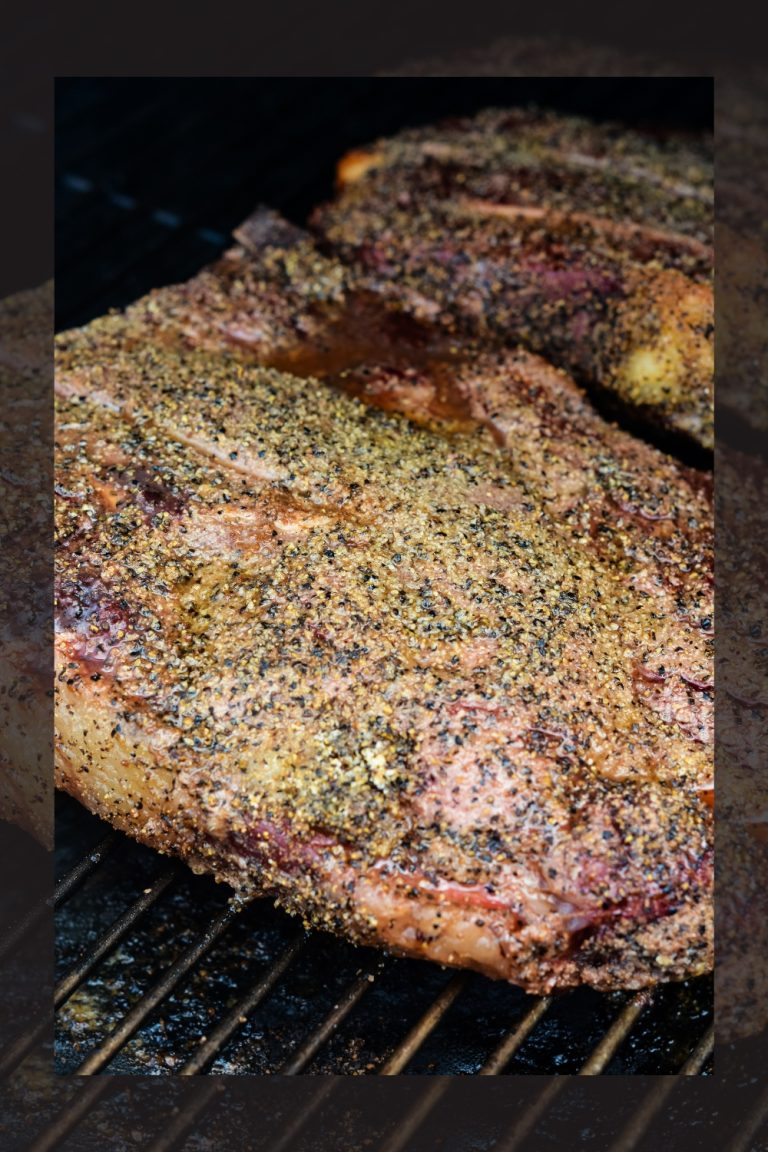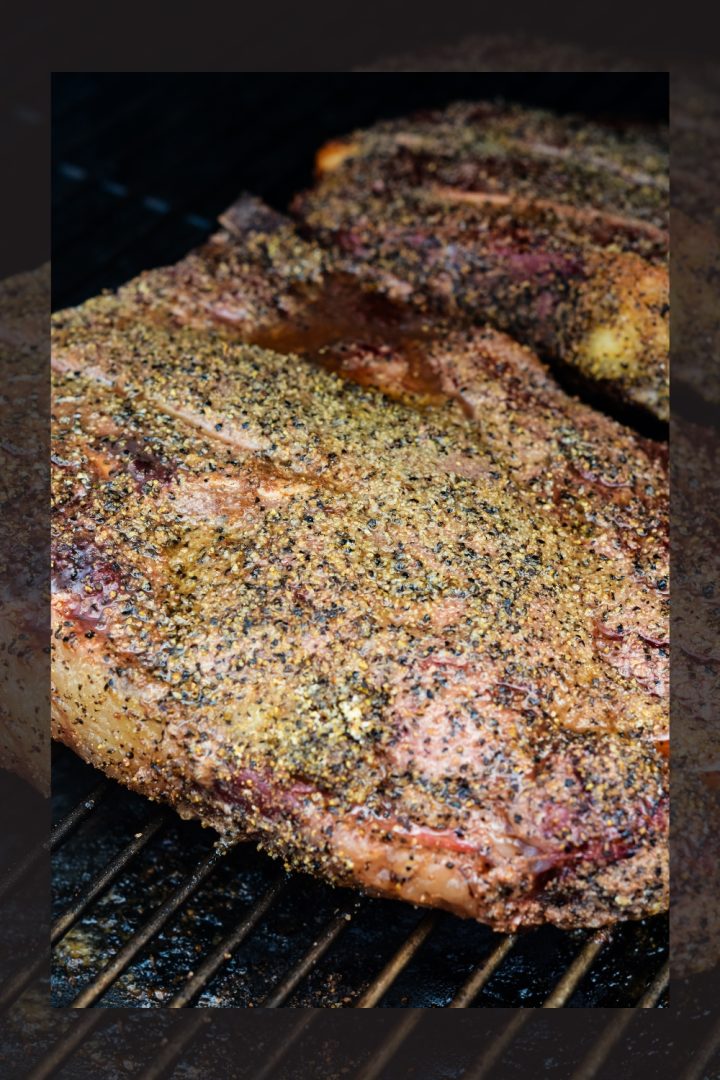 📖 Recipe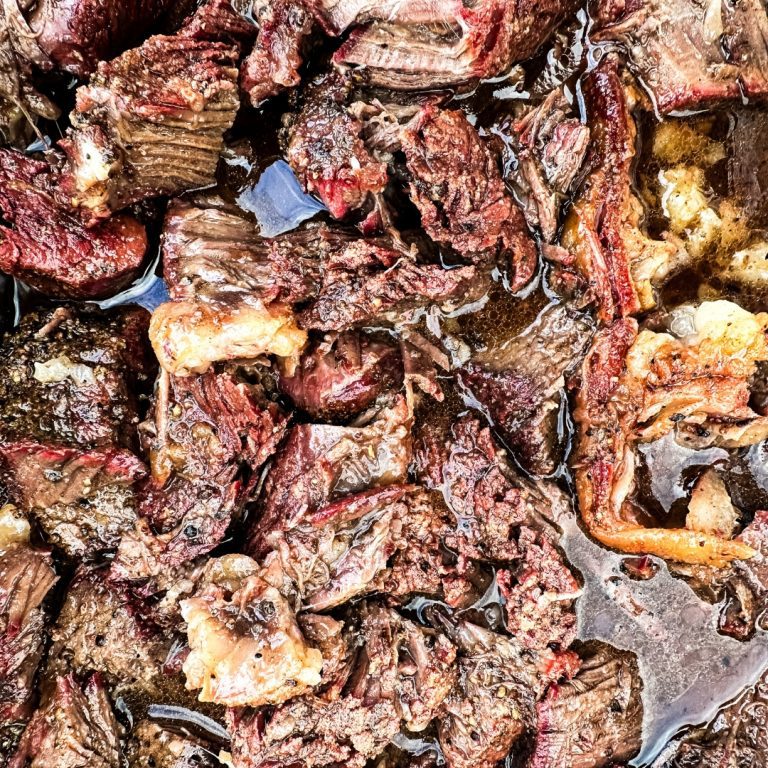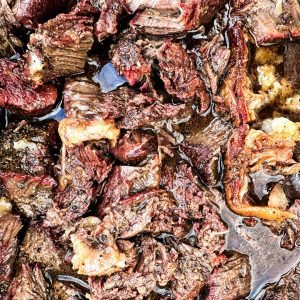 Smoked Beef Chuck Roast Recipe
Smoked beef chuck roast will quickly become one of your favorite cuts of beef to smoke with a simple beef rub made with garlic, salt, and pepper and then finished in a pan of onions and beef broth.
Print
Rate
Ingredients
3-5

pounds

beef chuck roast

4

tablespoons

Better than Bouillon Beef Roast

4

cups

water

⅓

cup

garlic powder

⅓

cup

sea salt

⅓

cup

black pepper

1

whole

onion
Instructions
Mix the garlic powder, salt, and pepper together. Also, mix the beef better than bouillion with the water.

Rub the chuck roast generously with the salt, garlic, and pepper rub. Let the pork butt set for 30 minutes while you get the smoker up to heat.

Prepare the Big Green Egg with lump charcoal and wood chips. Get the temperature stablized at 225° with the egg plate in place for indirect heat.

Smoke the chuck roast until the internal temperature gets to 135° or three hours, basting or spritzing every hour with beef broth. Transfer to an almuminum pan filled with sliced onions and beef broth.

When the beef chuck roast reaches 165℉, wrap the pan in aluminum foil.

Continue to cook until internal temperature reaches 203°. Remove the pans from the smoker. Let rest in a cooler for one hour before pulling and shredding with the meat claws.

Serve with your favorite BBQ sauce.
Notes
Store in sealed container if you do not use it all at one time.
Nutrition
Calories:
291
kcal
|
Carbohydrates:
11
g
|
Protein:
28
g
|
Fat:
16
g
|
Saturated Fat:
7
g
|
Polyunsaturated Fat:
1
g
|
Monounsaturated Fat:
8
g
|
Trans Fat:
1
g
|
Cholesterol:
94
mg
|
Sodium:
3894
mg
|
Potassium:
652
mg
|
Fiber:
3
g
|
Sugar:
0.2
g
|
Vitamin A:
61
IU
|
Vitamin C:
0.1
mg
|
Calcium:
69
mg
|
Iron:
4
mg
Food safety
Cook to a minimum temperature of 165 °F (74 °C)
Do not use the same utensils on cooked food, that previously touched raw meat
Wash hands after touching raw meat
Don't leave food sitting out at room temperature for extended periods
Never leave cooking food unattended
Use oils with high smoking point to avoid harmful compounds
Always have good ventilation when using a gas stove
See more guidelines at USDA.gov.