I have a serious chips and salsa problem. I can be watching what I am eating and doing well at eating healthy, fresh, low carb foods. Then it happens. The family wants to eat at Chili's or the local Mexican restaurant. And the chips and salsa show up in front of me and I lose all self control. Have you been there? Please tell me I am not alone.
Now, I have conquered my own restaurant style salsa at home.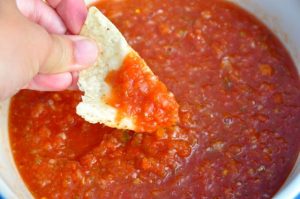 And the farm store by us, Rural King, sells the most amazing tortilla chips. You know the thin and super crispy ones. I buy them three pounds at a time…
I am my own worst enemy. Truly.
Back to the salsa. Start by putting a quarter of onion and a tablespoon of jarred jalapenos into the food processor.
Grab a can of Rotel and a can of diced tomatoes our into the food processor. I love the Red Gold diced tomatoes with cilantro and lime juice when I make salsa. Adds a little extra zip.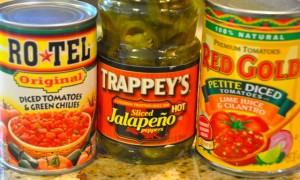 I also put cumin, garlic powder, salt and sugar into the mix. And then pulsate it.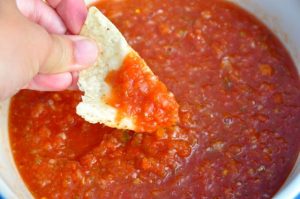 It is too hot to cook. Make this for supper.
Ingredients
1 can Rotel (10 ounce can of tomatoes and chilies)
1 can Diced tomatoes (14.5 ounce can)
1 tablespoon Jarred Jalapenos
¼ onion
½ teaspoon cumin
½ teaspoon garlic powder or two garlic gloves
½ teaspoon salt
¼ teaspoon sugar
Instructions
Place the onion and jalapenos into a food processor and pulse till finely chopped. Pour in tomatoes and seasoning and pulse till everything is mixed together.