Disclosure: *This post may include amazon links. As an Amazon Associate, I earn from qualifying purchases.
How to make hamburgers and pork burgers may not seem hard, but a few tips from buying ground beef to seasoning can help make the best burgers. Beef seems to be king in burger world. And why shouldn't it be? Nothing can be beat a 100% beef burger. Except an occasional pork burger.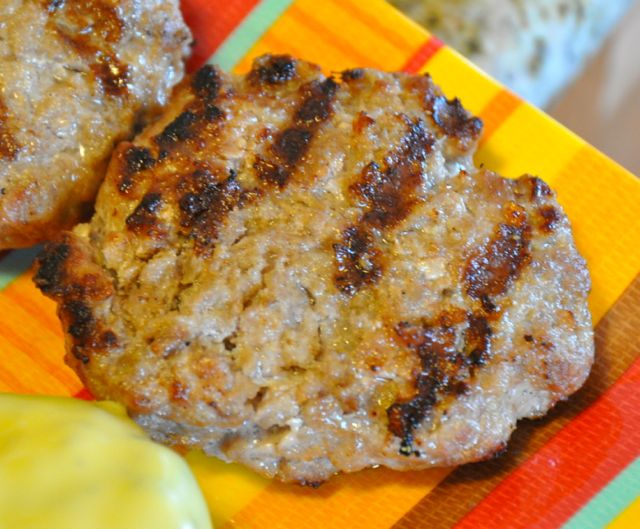 How to buy ground meat for burgers?
Whether it is a beef burger or a pork burger, you want to start with a lean selection of ground meat. I will be totally honest, I have never bought ground meat at the grocery store. My brother raises beef cattle and we know plenty of pig farmers to get custom butchered pork.  So, I don't know what the leanest percentage of fat percentage is at the store, but you want to keep in mind that if you buy a 80/20 ground beef, you are going to lose 20% of your burger to the fat grilling off. Ground pork isn't always easily found in the meat counter, and it should not be confused with pork sausage. You want to buy ground pork with no seasonings in it. Ask your meat counter manager if you have trouble find it.
Ground Pork vs Ground Beef
The above picture shows ground beef on the left and ground pork on the right. You can see that pork is considerably lighter colored than beef. Hence, the reason "Pork, the other white meat" was used for so long to market pork. But don't be fooled, pork is still red meat. Pork and beef a very similar and can be just as lean as poultry options when you trim away fat. Plus red meat provides 5 essential nutrients, iron, zinc, omega-3, B vitamins and protein.
While I have made several burgers with various different flavors like the fajita burger and French onion soup burger, nothing beat the basic burger. I just added a tablespoon of Worcestershire sauce  and a teaspoon of burger seasoning, like Weber's Gourmet Burger seasoning to a pound of beef.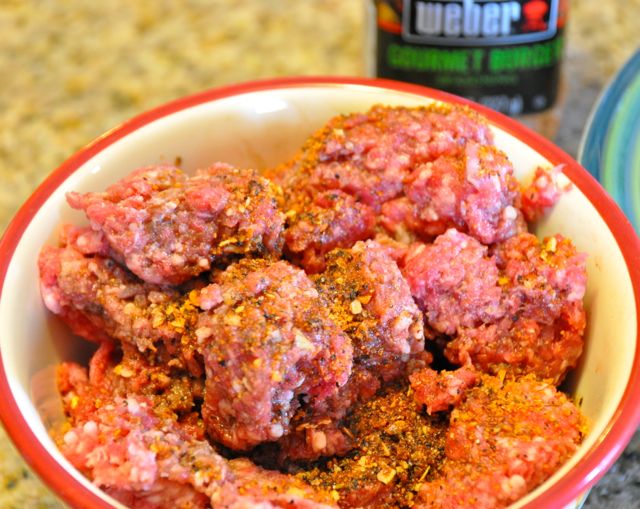 Making pork burgers is just as easy. I add Worcestershire sauce to the pound of pork along with a teaspoon of Lawry's seasoning.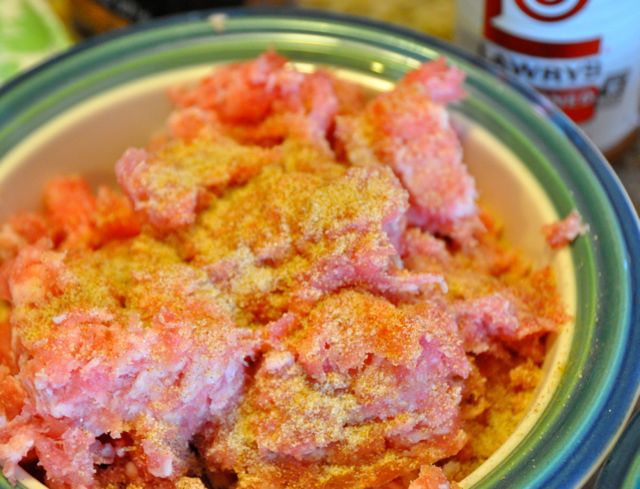 Recently, I have been adding flax seed to recipes to add more omega 3's along with fiber. I decided to add a tablespoon to both the beef and pork before pattying it up. Is pattying a word? Well, I am using it. Pattying: the act of making a meat patty.
Making the Hamburger Patties
Now, the no brainer is to make four patties from a pound of meat to get four quarter pounders. However, rules are made to be broken and quarter pound burgers can be a lot of burger for a 5 year old. I made quarter pounders from the beef and made more like fifth pounders from the pork.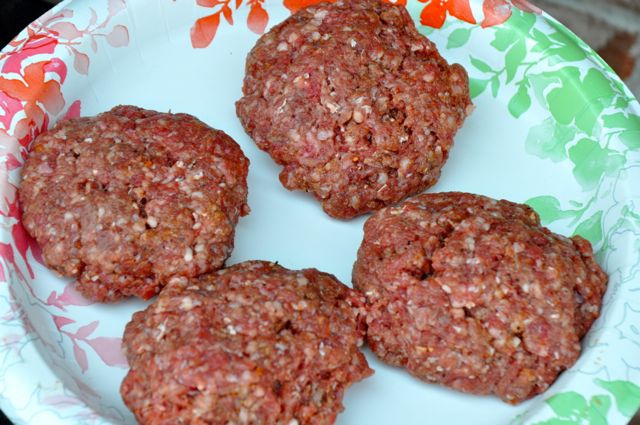 Tips to grilling hamburgers
Seasoning both sides of the burgers before you put the patties on the grill can lock in the flavor.
Putting a dent in the cent of the top of the patty can keep the patty flat opposed to round.
Only flip the burgers once or they may begin to fall apart.
Don't over smash the fat out.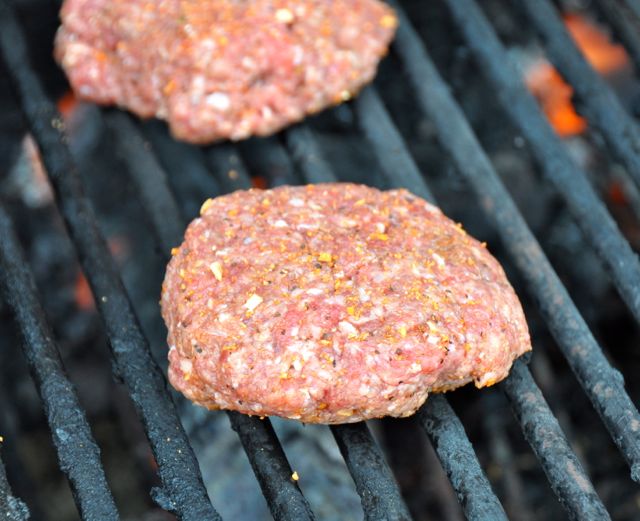 If I am going to add cheese to the burgers, I wait till the burgers are cooked and add the cheese while the burgers are still on the grill. I then kill the burners and leave the burgers on for a minute or two before removing. Perfectly melted cheese.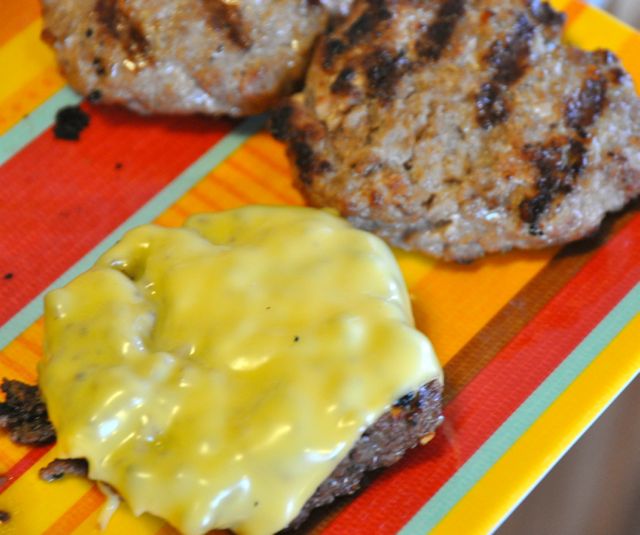 The hard part, choosing pork or beef!
The Best Burger Recipes
Cajun Pork Burgers with Garlic Aioli and Grilled Shrimp
📖 Recipe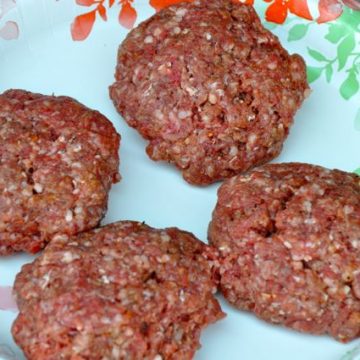 Beef or Pork Burgers
Basic burgers made from ground beef or pork.
Print
Rate
Ingredients
BEEF BURGERS

1

pound

ground beef

1

tablespoon

Worcestershire sauce

1

teaspoon

burger seasoning

1

tablespoon

ground flax seed

optional

POKR BURGERS

1

pound

ground pork

1

tablespoon

Worcestershire sauce

1

teaspoon

Lawry's seasoning

1

tablespoon

ground flax seed

optional
Instructions
Mix ground meat, Worcestershire sauce, seasonings and flax seed. Form into four or five patties.
Do you have any burger secrets? Do share your favorite recipes from this week!