Disclosure: *This post may include amazon links. As an Amazon Associate, I earn from qualifying purchases.
This crock pot turkey breast recipe is a great alternative to a whole turkey or chicken and fits much better in the crock pot.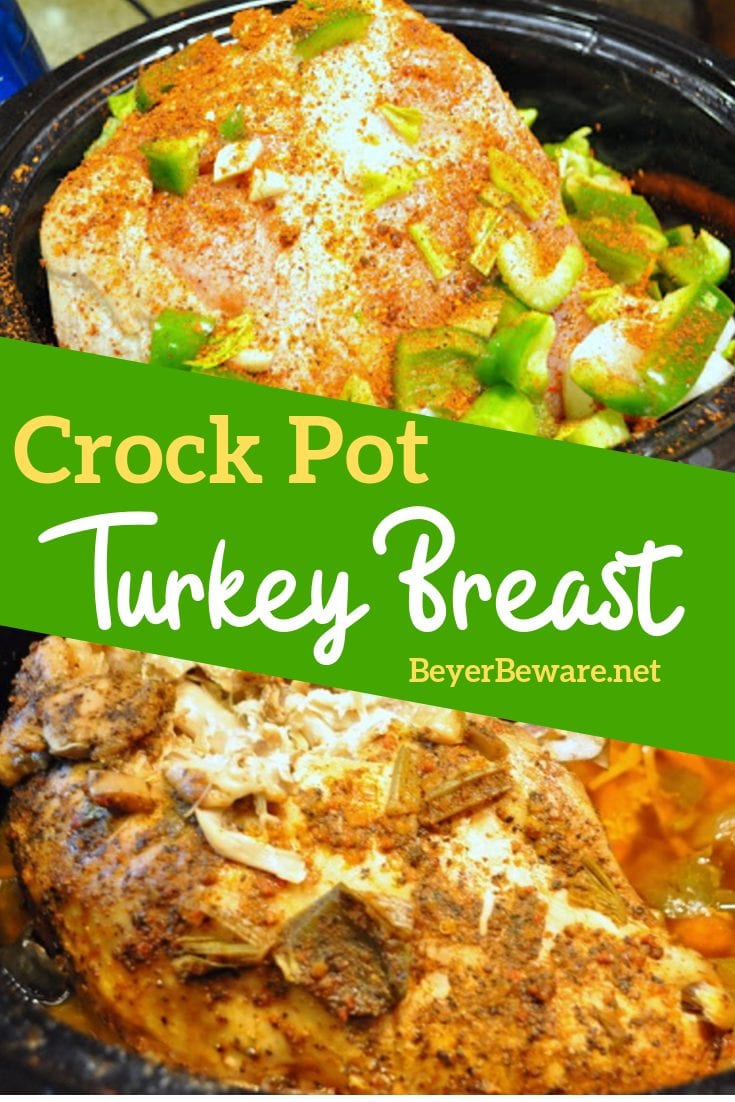 I'll admit it, I am one of those people who makes a turkey at Thanksgiving and otherwise only has it sliced between two pieces of bread. However, my bloggy friend Katie @ On the Banks of Squaw Creek has given me pause about my lack of turkey in our lives. So, I recently bought one, or rather a turkey breast.

It has been chillin' in the deep freeze waiting for me to remember it was out there. So, Sunday as we were trying to get out the door for church and Sunday school, I decided to get it out and throw it on the counter. Please do not criticize my thawing techniques. It was rock solid and would have taken days to thaw in the fridge. And besides, all those bacteria cooks out. 
Crock Pot Turkey Breast
When we got home I decided I would try to grill the bird breast. And if I am going to be grilling a large hunk of meat, of course, I need to brine it! So, I grabbed one of my two-gallon zipper bags and threw the hunk of meat in. Grabbed a handful of garlic cloves, whacked 'em, peeled 'em and tossed them on the turkey.
Seriously, whole, smashed garlic cloves.

I knew I didn't have much time for the breast to brine, so I kept it simple.
8 cups of water
½ cup of brown sugar
3 teaspoons of Famous Dave's Roasting Chicken Seasoning
1 Tablespoon of sea salt

Mix add it all to the large measuring bowl and whisk together.

Pour over top of the turkey and garlic and seal the bag, getting all the excess air out.

Put in the fridge for two hours to two days. Now, in a perfect world where said turkey breast thaws and is ready to go on the grill by five, we would have at turkey last night. However, this bad boy was still frozen solid at 6:30 p.m. So, we at popcorn for supper.
But, Monday was a totally different story. Turkey, meet crock pot!

I chopped up several stalks of celery, rough chopped onion, chopped a few more garlic cloves, chunked up green pepper, and tossed a few baby carrots in for good measure. I filled the breast cavity with the veggies and two slabs of butter as well as sprinkled in some more chicken roasting seasoning. Tossed the rest of the veggies around the turkey, drizzled the breast with olive oil and doused in seasonings. Before putting the lid on, I added about ½ cup of water.

Then, I literally smashed the lid down on the crock. The breast was a bit large and barely fit in the six-quarter. But, it roasted all day. And was ready for dinner when we all got home.

Thanks turkey farmers, for another great Hunk of Meat Monday!
Thanksgiving Recipes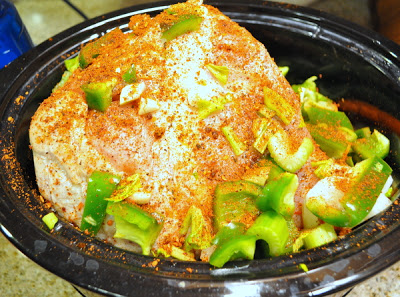 Ingredients
Brine
8

cups

of water

½

cup

of brown sugar

3

teaspoons

of Famous Dave's Roasting Chicken Seasoning

1

Tablespoon

of sea salt

One Whole Turkey Breast
Crock Pot
3

stalks of celery

chopped

½

cup

carrots

chopped or baby carrots

1

green pepper

rough chopped

1

onion

rough chopped

4

garlic cloves

chopped

3

tablespoons

of butter

divided in half

Chicken Roasting Seasoning

Olive oil
Instructions
Brine
Mix brine ingredients together.

Place turkey breast in a large Ziploc bag and power brine over top.

Refrigerate overnight.
Crock Pot
Fill the breast cavity with the veggies and two slabs of butter.

Any leftover veggies left add around the turkey

Drizzle the breast with olive oil and doused in seasonings.

Add about ½ cup of water.

Cook on low for 6-8 hours
Affiliate links are used in this post.