Back at Christmas, I was in a flurry of baking cookies when someone posted on Facebook they were making the hop, skip and go naked cookies. When another person commented they loved the cocktails, I was intrigued. Cookies inspired by a cocktail. This is my kind of cookie!
Now, I discovered the drink is simply beer, frozen lemonade, and vodka. For real, Farmwife Drinks has the recipe for this Hop, Skip and Go Naked Punch or what some call beer punch. I made two batches of the drink last time we got together with the other farm wives. It is addicting! These and my oreo truffles are always a go-to cookie for me to make
Hop, Skip, and Go Naked Cookies
Now back to the cookies. Start by creaming brown sugar and white sugar with shortening and butter.

Add eggs, milk, and rum or brandy and mix till combined. If you don't want to use alcohol, substitute almond extract.

Follow with the flour, soda, and salt. Finish off with the quick oats and remove the bowl from the mixer.

Now it is time to add the good stuff. Start with toffee pieces.

Then add chocolate chips.

Stir to combine evenly throughout the dough.

Bake on 375 for 8-9 minutes on parchment lined cookie sheets. I didn't use parchment paper and regretted it. Don't be me. Use the parchment.

Be warned, I wolfed down about 4 cookies mindlessly. These cookies have the perfect amount of chewiness and chocolate with the brandy leaving just a hint of flavor.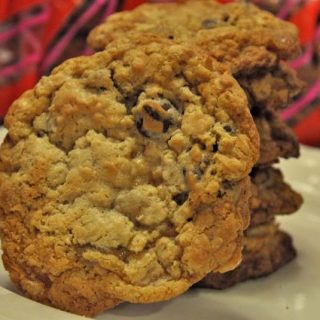 Ingredients
1

c.

shortening

1/2

c.

softened butter

1

c.

light brown sugar

3/4

c.

sugar

2

large eggs

2

Tbsp.

milk or cream

2

Tbsp.

rum or brandy

1 3/4

c.

all-purpose flour

1

tsp.

baking soda

1/2

tsp.

salt

2 1/2

c.

quick-cooking oats

1 1/2

c.

chocolate chips

1 1/2

c.

toffee pieces
Instructions
Cream together shortening and butter in a large mixing bowl until smooth.

Add eggs, rum, and milk. Combine thoroughly.

In a separate bowl, sift together flour, baking soda, and salt. Gradually add the flour mixture to the sugar mixture, combining until the consistency is smooth.

Gradually mix in oats until evenly distributed.

Add chocolate chips and toffee pieces and mix.

Drop by rounded tablespoonfuls onto parchment lined cookie sheets.

Bake for 8-9 minutes at 375 degrees, turning cookie sheets around halfway through.
Find other cookie recipes at the Ultimate Recipe Swap, Meal Plan Monday.