Disclosure: *This post may include amazon links. As an Amazon Associate, I earn from qualifying purchases.
The debate on how to make chili the right way is one that doesn't ever seem to go away. Even on Yellowstone, they debated what is in proper chili. So in honor of the discussion, I made a batch of Texas Chili. Texas chili or chili without beans is loaded with beef, peppers, and heat while it doesn't have beans or pasta in the chili. Now let the debating begin on what is proper chili recipe: no bean chili recipe or chile with beans recipe.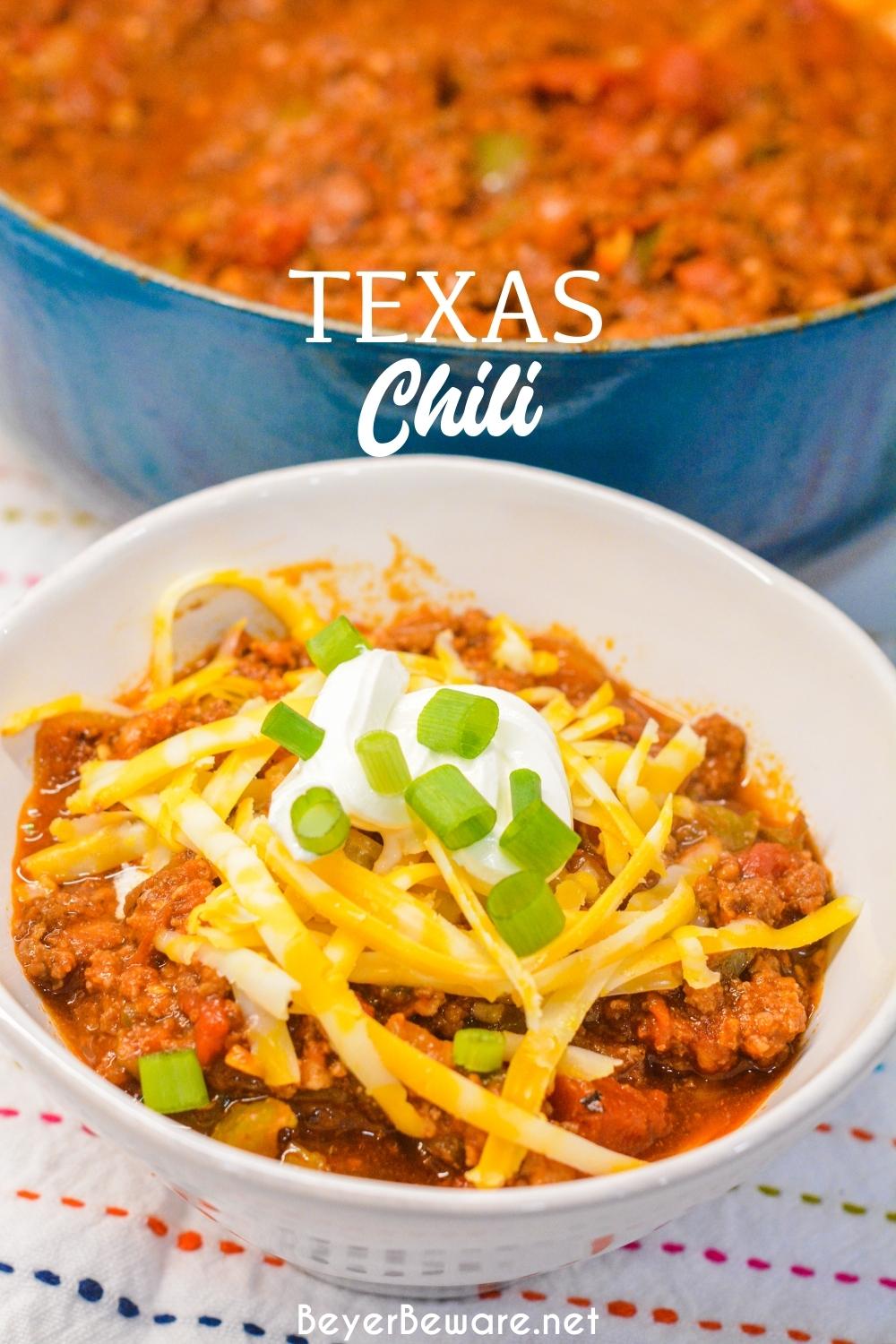 This is a hearty soup recipe a tomato-based ground beef soup that is perfect for a cold winter's day. The great thing is you can always make changes to the chili recipe to your taste preferences.
What is in Texas Chili?
The secret to Texas style chili is what is NOT in the chili which is the beans. But what is in the chili is also lots of peppers. This no bean chili recipe will still fill you and give you so much flavor.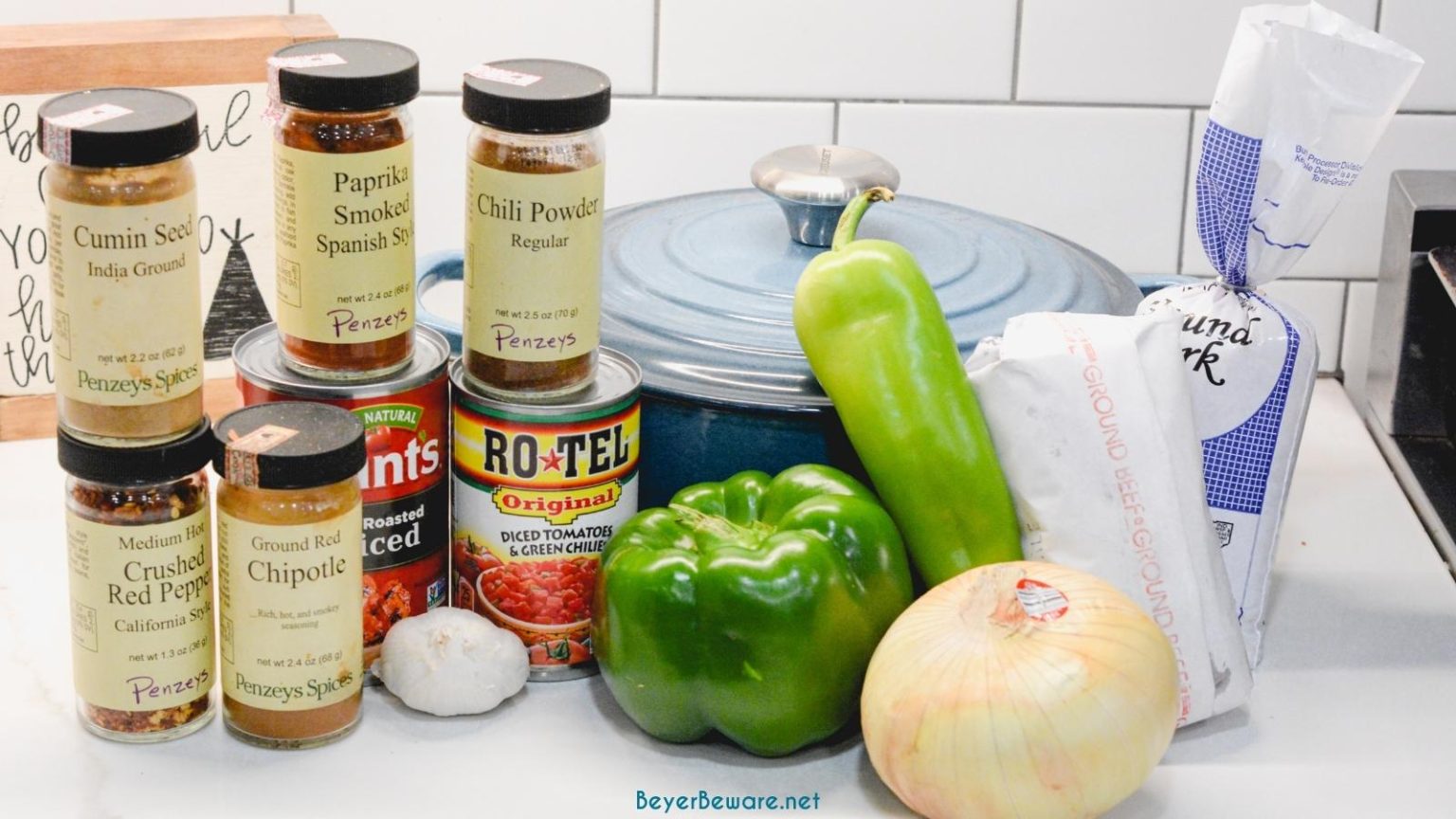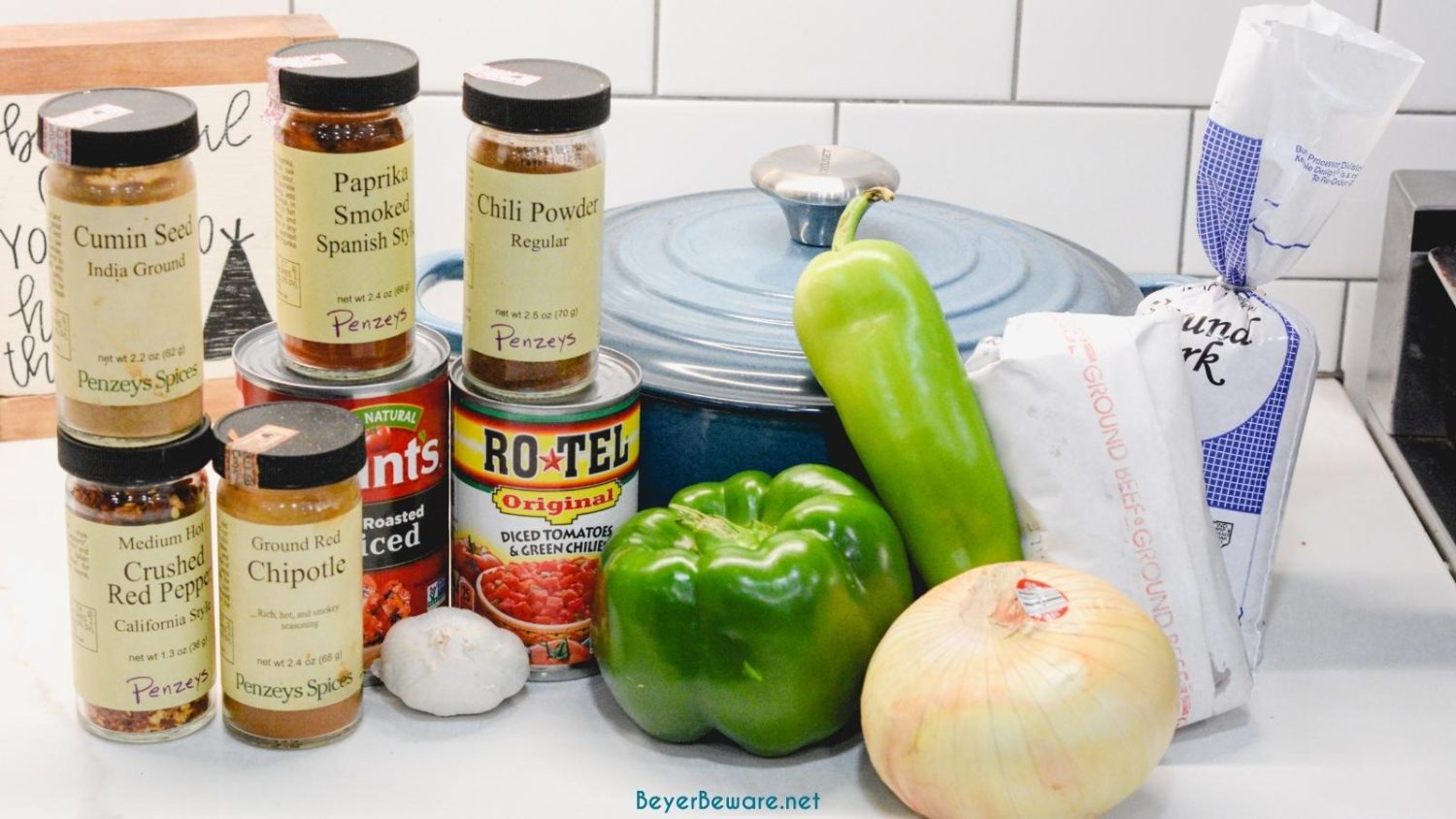 Hamburger - Ground beef is the best option for anything Texas cooking, but ground pork is a great option too. I don't think you can use ground turkey and call this Texas chili.
Peppers - Bell peppers are a must. But also jalapeno, poblano, and anaheim peppers are great additions to this chili recipe.
Onions - Sweet diced onions are my staple for chili. White or yellow onions can work as well.
Garlic - Fresh cloves of garlic diced up are my preference. The jarred minced garlic can work as well.
Diced Tomatoes and Chiles - Also known as Rotel. A single can of chiles can be substituted with a can of tomatoes as well.
Fire Roasted Diced Tomatoes - I like the smokey flavor in my chili, hence the fire-roasted diced tomatoes. However, you can also just use regular diced tomatoes.
Tomato Paste - If you want a denser tomato flavor, grab a can of tomato paste and stir it into the mix. If you don't love heavy tomato flavors and want the soup to be less tomato-forward, skip this.
Beer - I poured a Budweiser into the soup. I felt like Texas approved of this. Beef broth can also be used in beer's place.
Chili Powder - Chili powder comes in various different levels of heat. Use the heat level you prefer.
Red Pepper Flakes - Our family loves heat, so adding red pepper flakes adds additional heat. This can be skipped if you are already overwhelmed with heat.
Cumin - A little goes a long way, but this gives the chili great flavor, and definitely would notice its absence in the recipe.
Chipotle powder- Because peppers are the theme, chipotle powder is a must to bring the smokey pepper heat.
Smoked Paprika - Just to play up the smoke, I added smoked paprika as well. This can be skipped if you don't have it on hand.
Salt
How to Make Texas Chili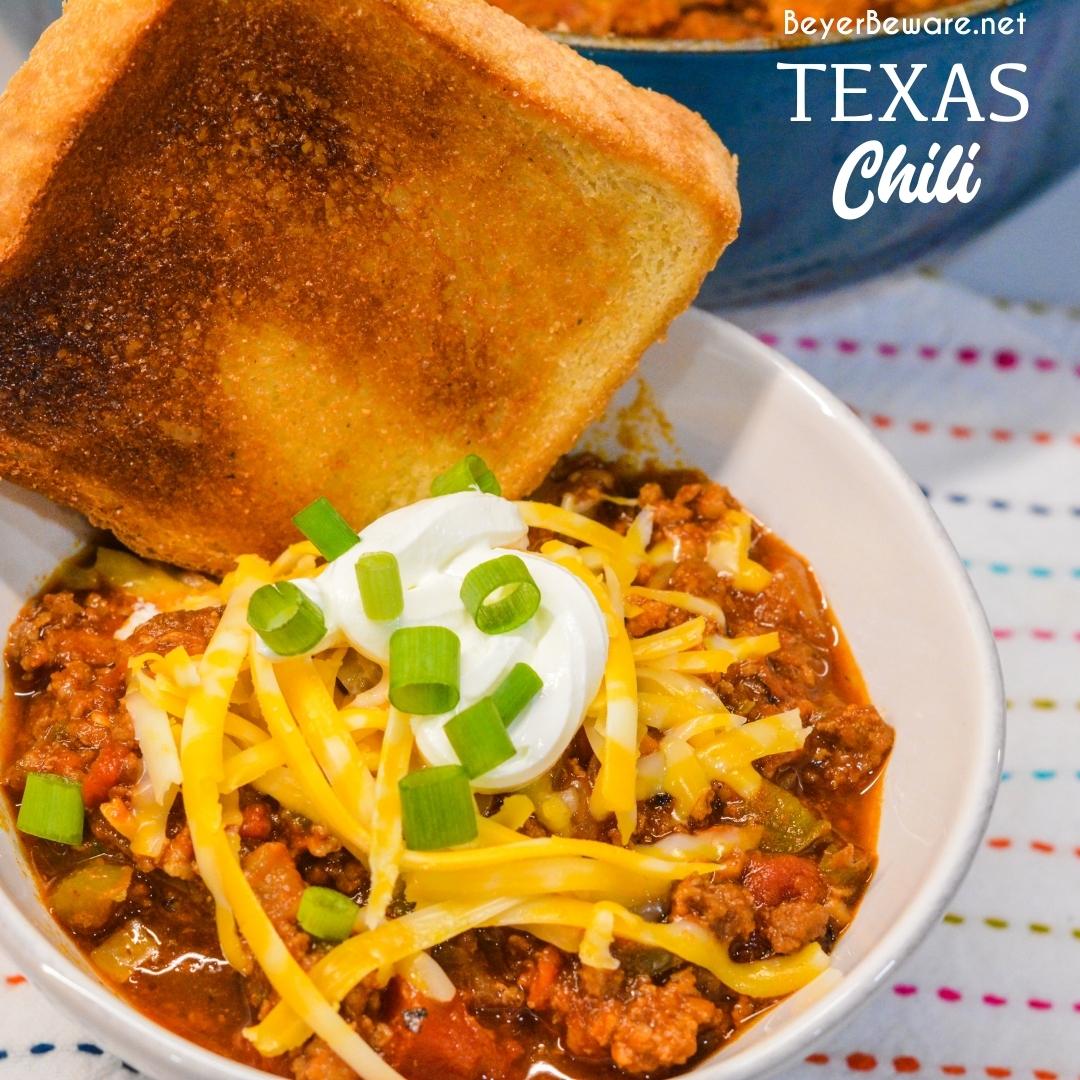 To make these beef and pepper heavy chili, start by dicing up all of your peppers, onions, and garlic. Then drop your hamburger in a Dutch oven and begin browning the ground beef. You will want to use a large Dutch Oven that is large enough to hold the entire batch of chili. I would recommend at least a four-quart size.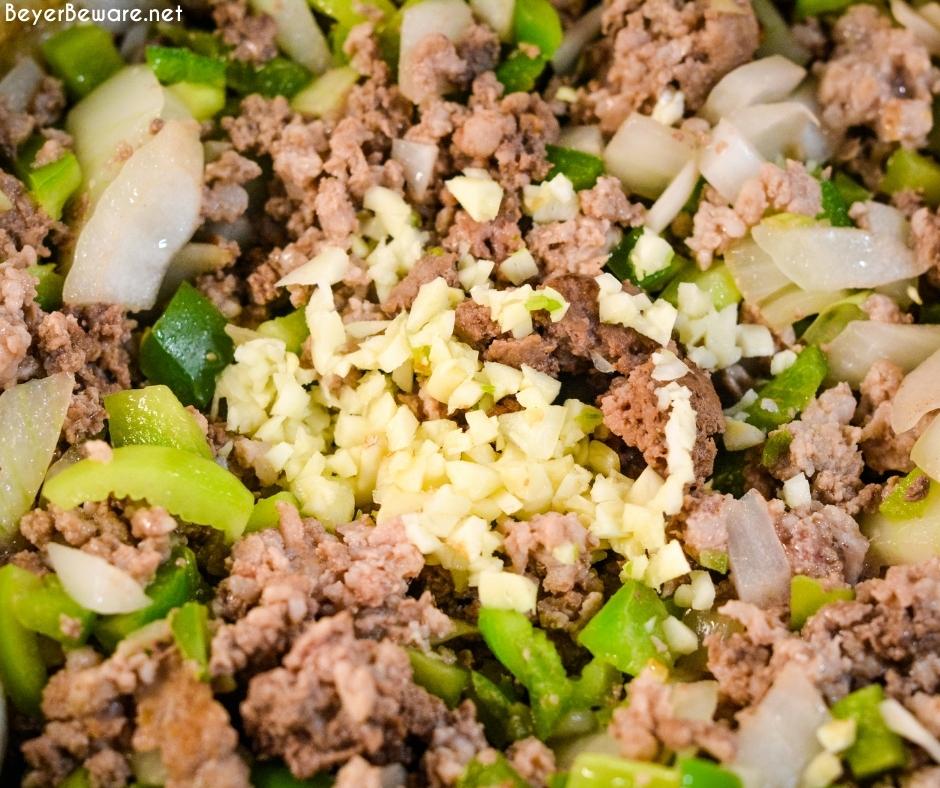 Once the meat has started to brown, add the vegetables. Stir into the cooking meat and then add the seasonings. Continue to stir to incorporate the seasonings through the mix. When the meat is fully cooked, add the canned tomatoes and chiles.
Stir the tomatoes into the meat mixture and simmer. If you are using tomato paste, now is the time to add the tomato paste and beer or beef broth. You will need 12 ounces of either.
Mix completely together and let simmer for 20 minutes. I then turn off the heat and let the Texas chili continue to set for 20 minutes to let the flavors really melt together.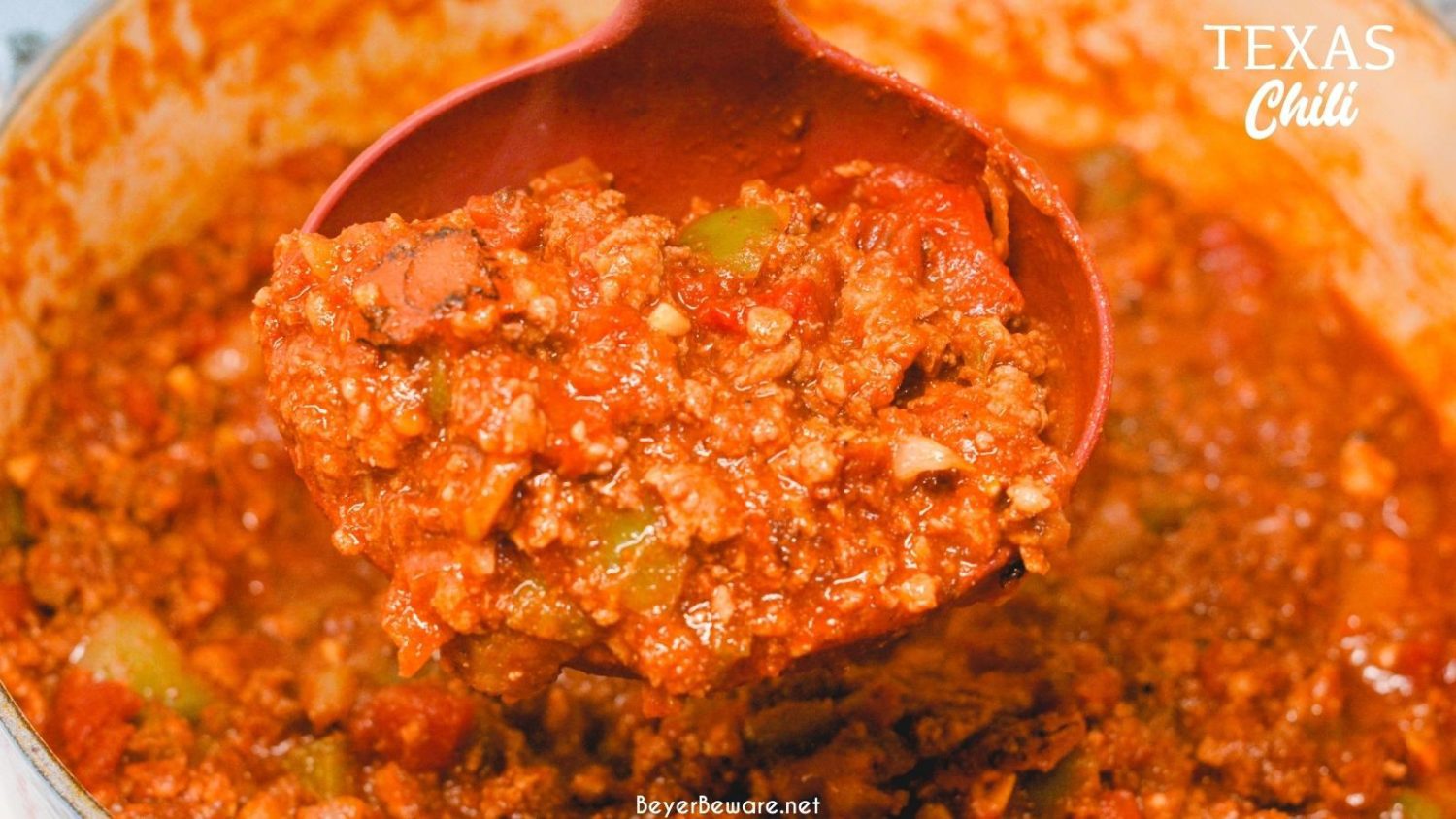 Serve the Texas Chili with all the Texas fixings - Texas toast, cheese, sour cream, onions, and even jalapenos if you like them.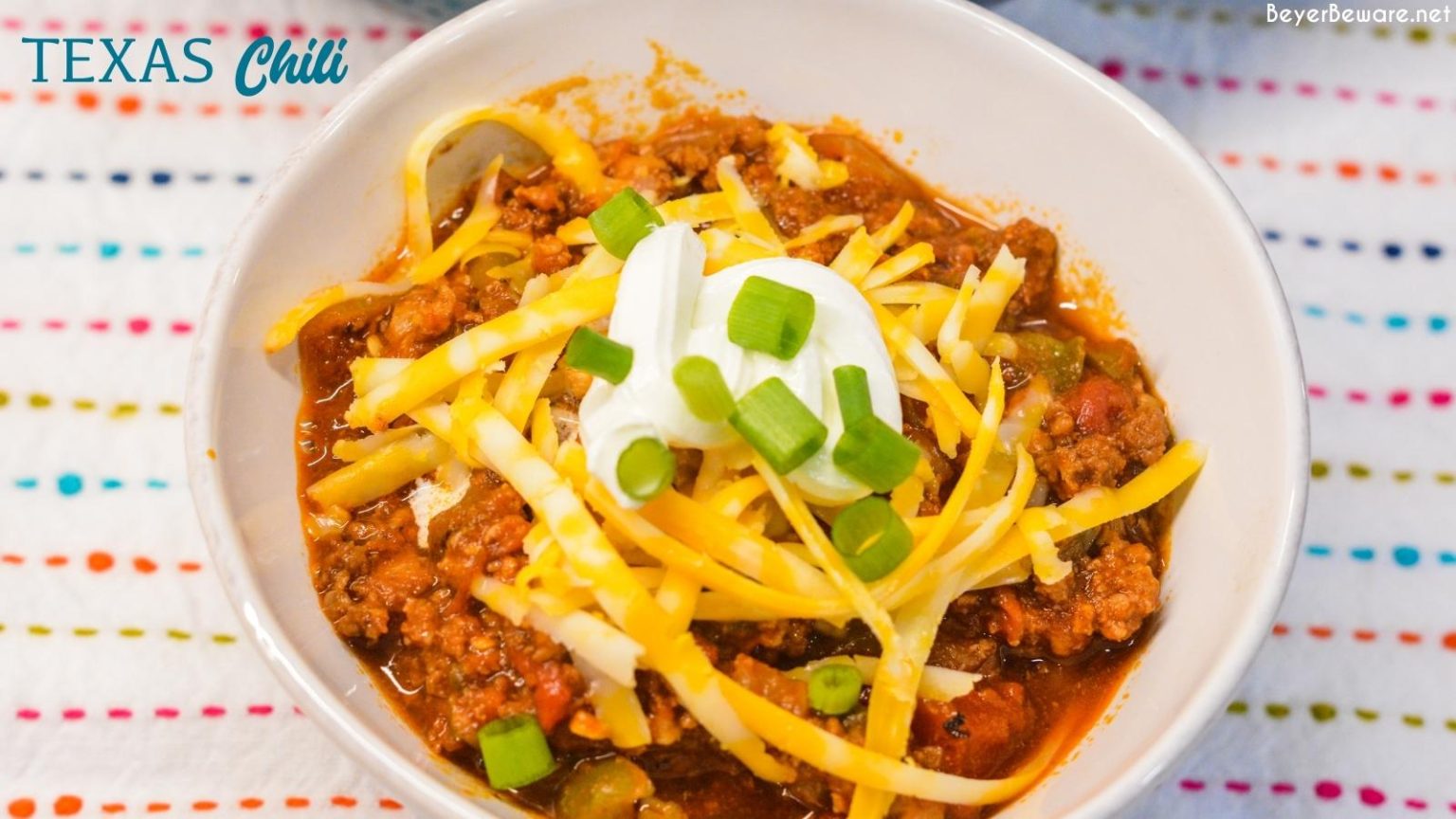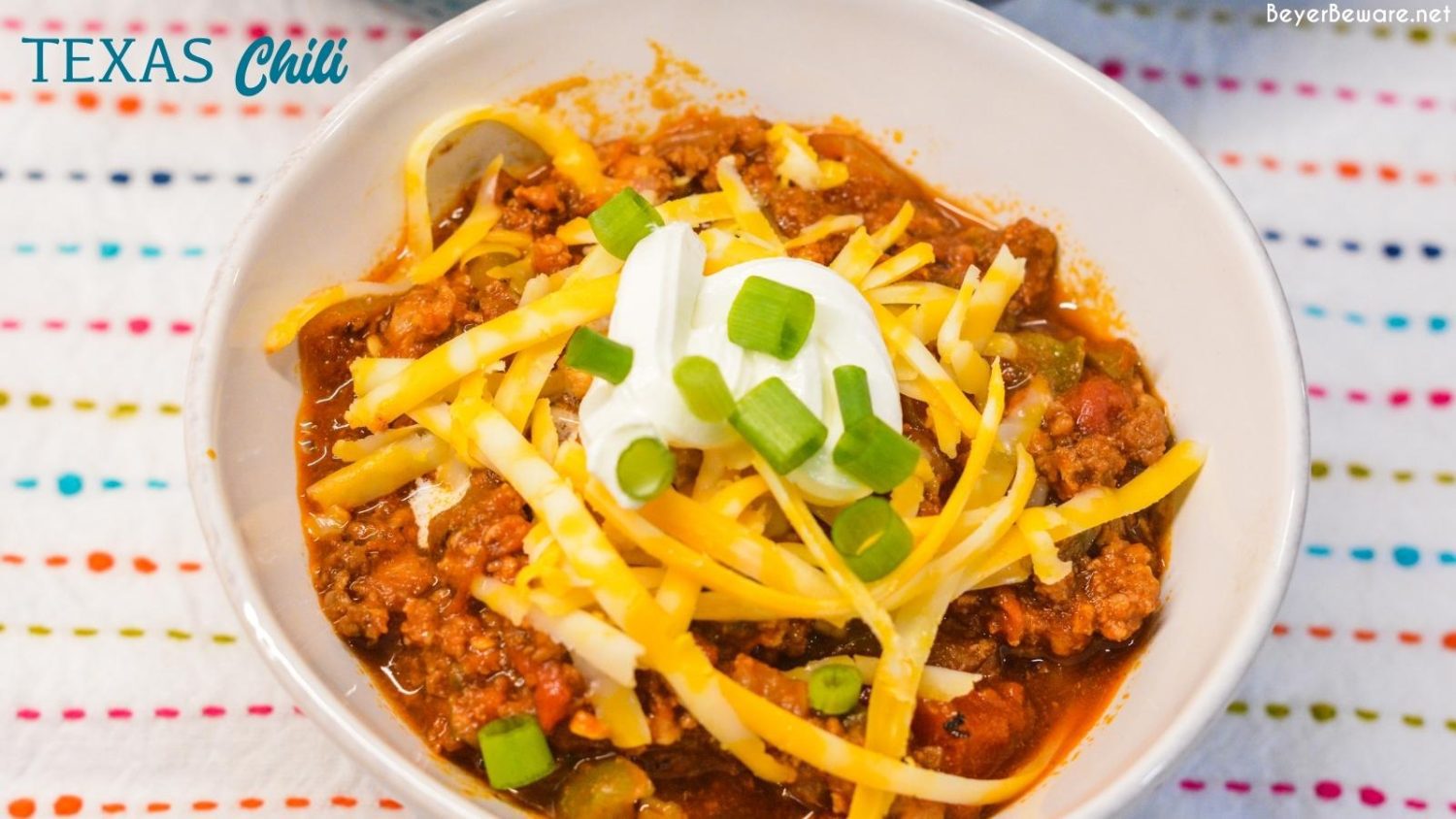 Storing Leftover Chili
Leftover chili is better the next day in my opinion. This is why I always make enough to eat it again the next day. However, this no bean chili recipe also freezes great too. Here is how to store leftover chili.
Refrigerator - In a glass or plastic containter with sealing lid, keep leftovers for up to 3 days in the fridge. Reheat on the stove top in a dutch oven or in the microwave.
Freezer - Freeze the leftover chili by pouring the cooled chili into freezer bags. Lay flat to freeze in the freezer. Thaw the chili in the fridge and reheat in the Dutch oven or microwave.
Chili Recipes
There are a lot of ways to make chili. For example, here in Indiana people add spaghetti noodles or macaroni elbows. I still think this is more like goulash than chili. However, I have a few of my favorite ways to make chili with various different "secret" ingredients.
Reese's Peanut Butter Cup Chili
Reese's Peanut Butter Cup Chili combines bacon and ground beef and pork with smoked chili seasonings, beans, and the secret Reese's Peanut Butter Cup.

Check out this recipe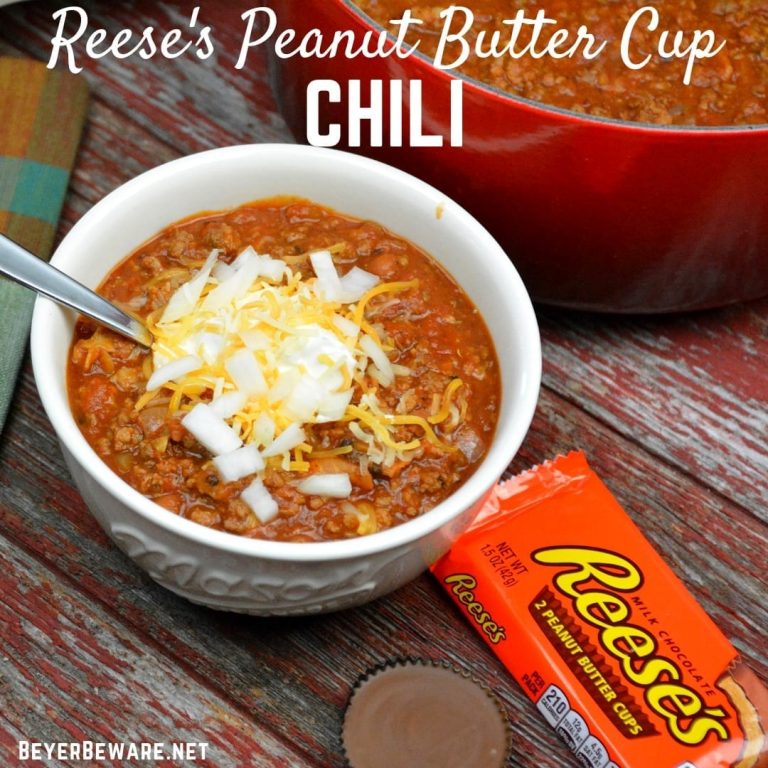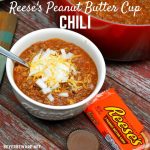 Chipotle Shredded Beef Chili
I love using leftover meat to make soups and stews. Leftover chipotle shredded beef makes a great beef chili.
Check out this recipe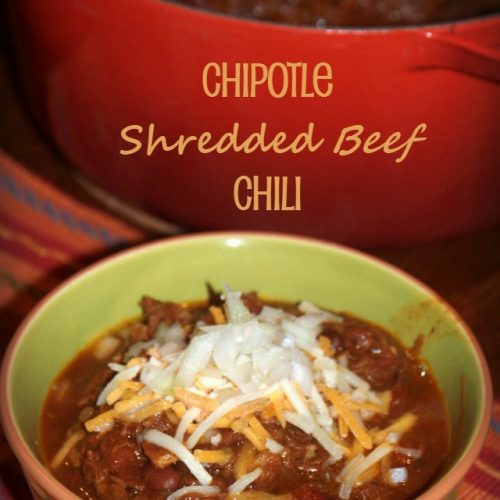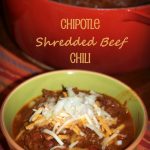 Stew Meat Chili
With the on set of colder weather, one of the first things that comes to mind for comfort is soup. And this stew meat chili is guaranteed to warm you up!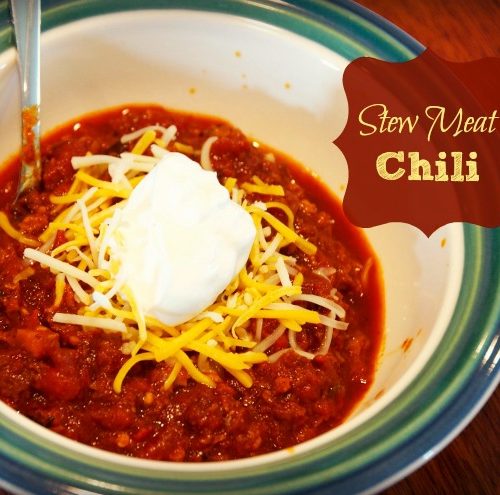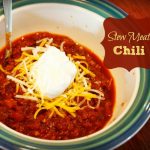 Low-Carb Chili
Low-Carb Chili is the perfect combination of flavors with a base of smokey bacon, onions and ground beef that becomes perfection with the addition of tomatoes and chili seasonings. 

Check out this recipe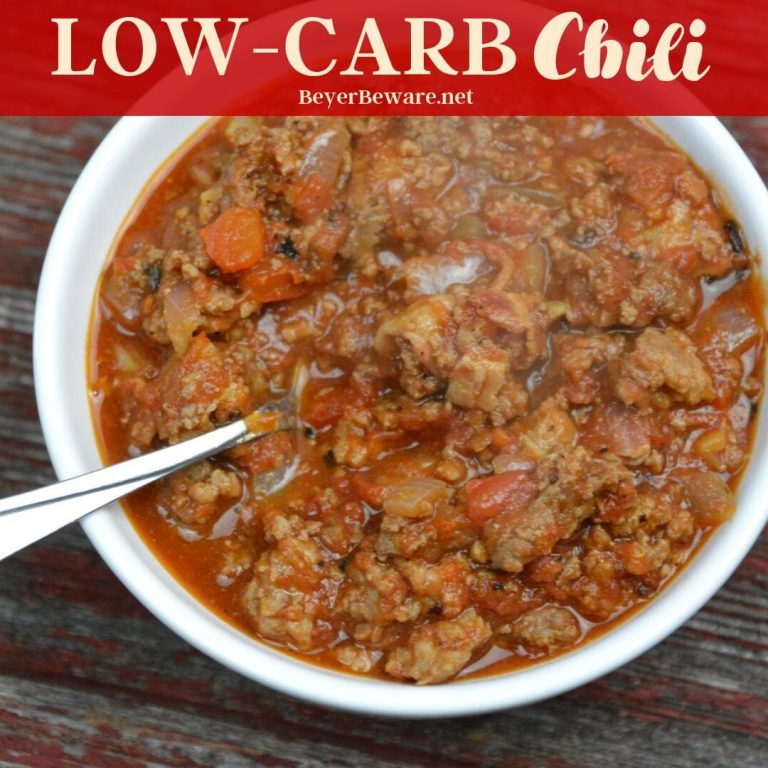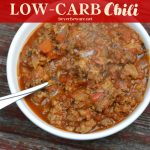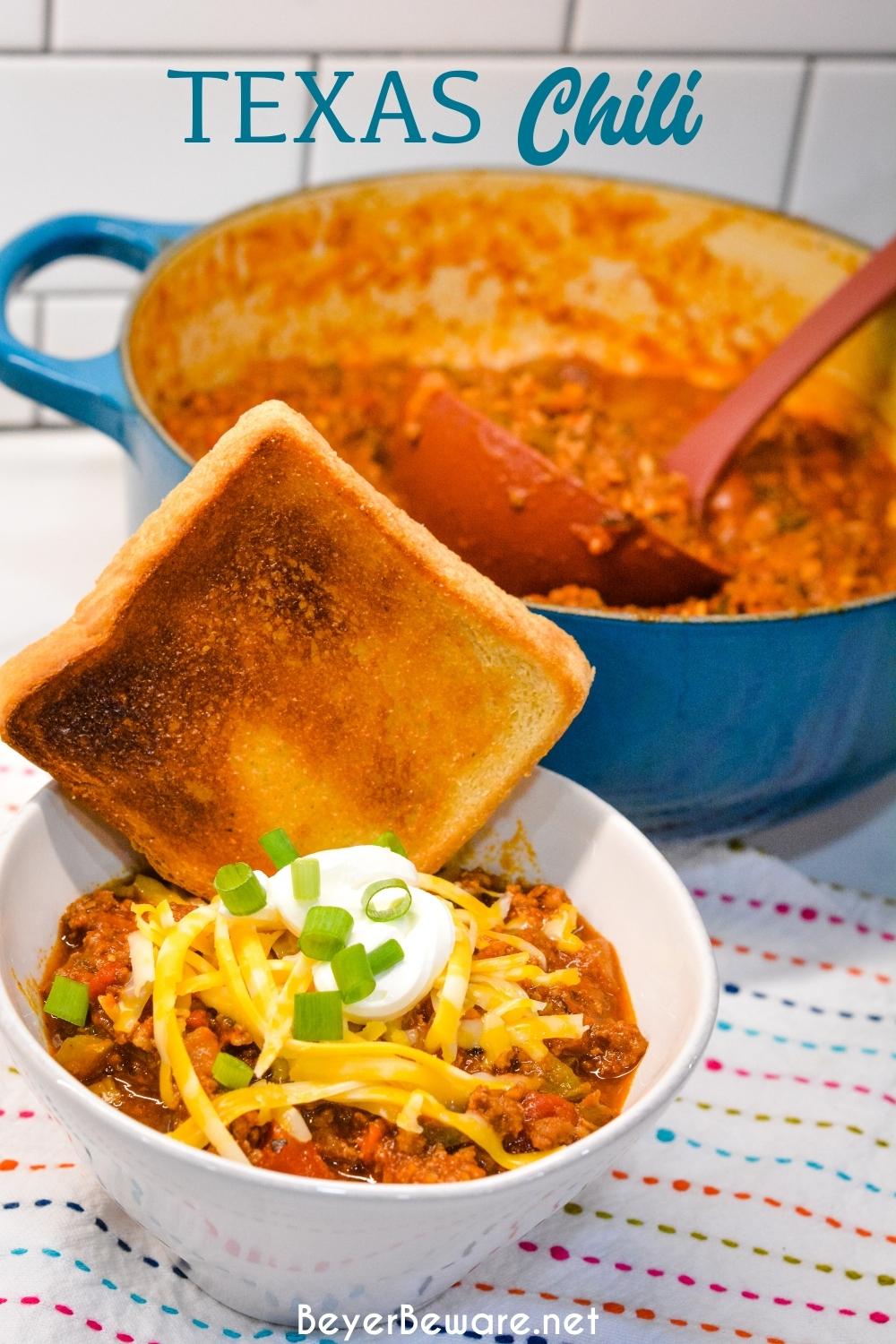 📖 Recipe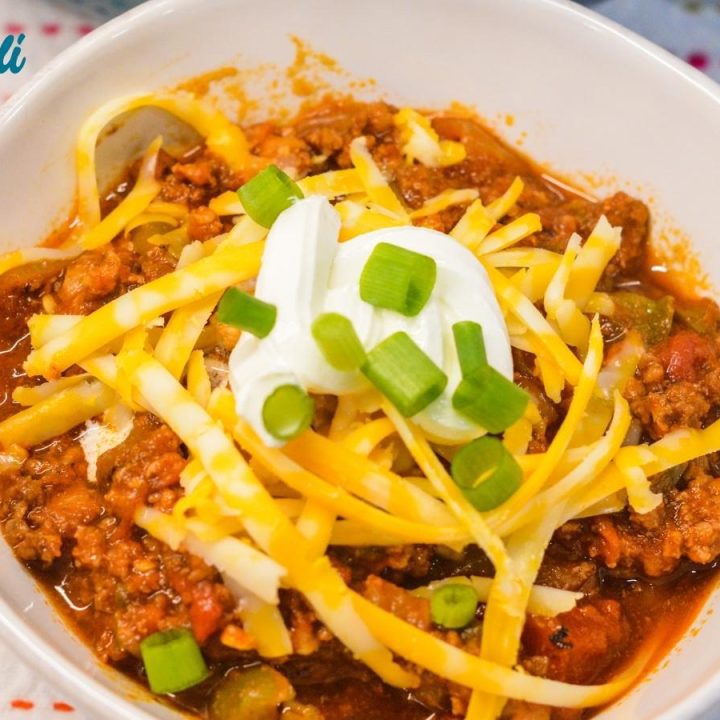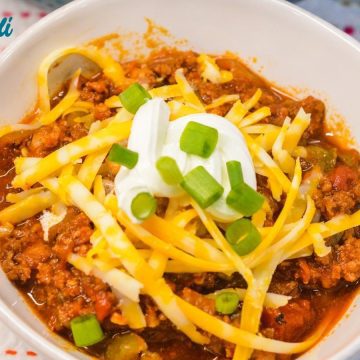 Texas Chili
Texas chili is loaded with beef, peppers, and heat while it doesn't have beans or pasta in the chili.
Print
Rate
Ingredients
2

pounds

ground beef, ground pork, or sausage

4

cloves

garlic, minced

1

whole

onion, diced

1

bell pepper

1

cup

Jalapeno, anheim, or pablano peppers

1

teaspoons

Chipotle chili powder

1

teaspoon

cumin

2

tablespoon

Chilli powder

1

teaspoon

red pepper flakes

1

teaspoon

Smoked Paprika

6

ounces

tomato paste

12

ounces

beer or beef broth

10

ounce

canned tomatoes and chiles

14.5

ounces

fire-roasted tomatoes

2

teaspoons

salt
Instructions
Add the beef and pork to a Dutch oven. Break apart to begin cooking.

Add the peppers, onion, and garlic to the meat. Stir to combine. Add the chili powders and seasonings. Continue to cook until the meat is fully cooked.

Pour the canned tomatoes and chiles and fire-roasted tomatoes into the meat. Stir in the tomato paste and beer.

Let simmer for 20 minutes or more. Then let set for 20 minutes before serving.

Garnish the chili with the Texas toast, shredded cheese, onions, and sour cream.
Nutrition
Calories:
365
kcal
|
Carbohydrates:
14
g
|
Protein:
22
g
|
Fat:
23
g
|
Saturated Fat:
9
g
|
Polyunsaturated Fat:
1
g
|
Monounsaturated Fat:
10
g
|
Trans Fat:
1
g
|
Cholesterol:
81
mg
|
Sodium:
996
mg
|
Potassium:
762
mg
|
Fiber:
4
g
|
Sugar:
7
g
|
Vitamin A:
2005
IU
|
Vitamin C:
43
mg
|
Calcium:
72
mg
|
Iron:
4
mg