Disclosure: *This post may include amazon links. As an Amazon Associate, I earn from qualifying purchases.
The simplicity of queso and chips is one of the things that gives me pure happiness. But then I added some beef chorizo to the white queso and pure bless ensued. Just two simple ingredients pack so much flavor in this crock pot cheese dip recipe. You will definitely want to try this version of crock pot queso for your next tailgate, appetizer smorgasbord, or taco Tuesday.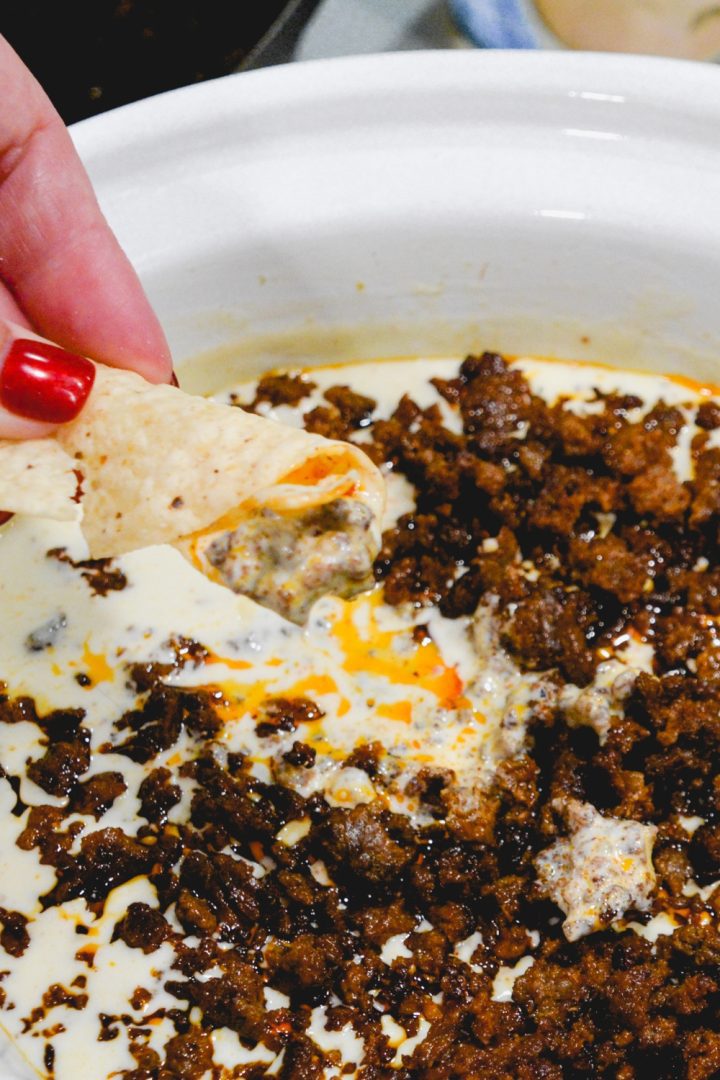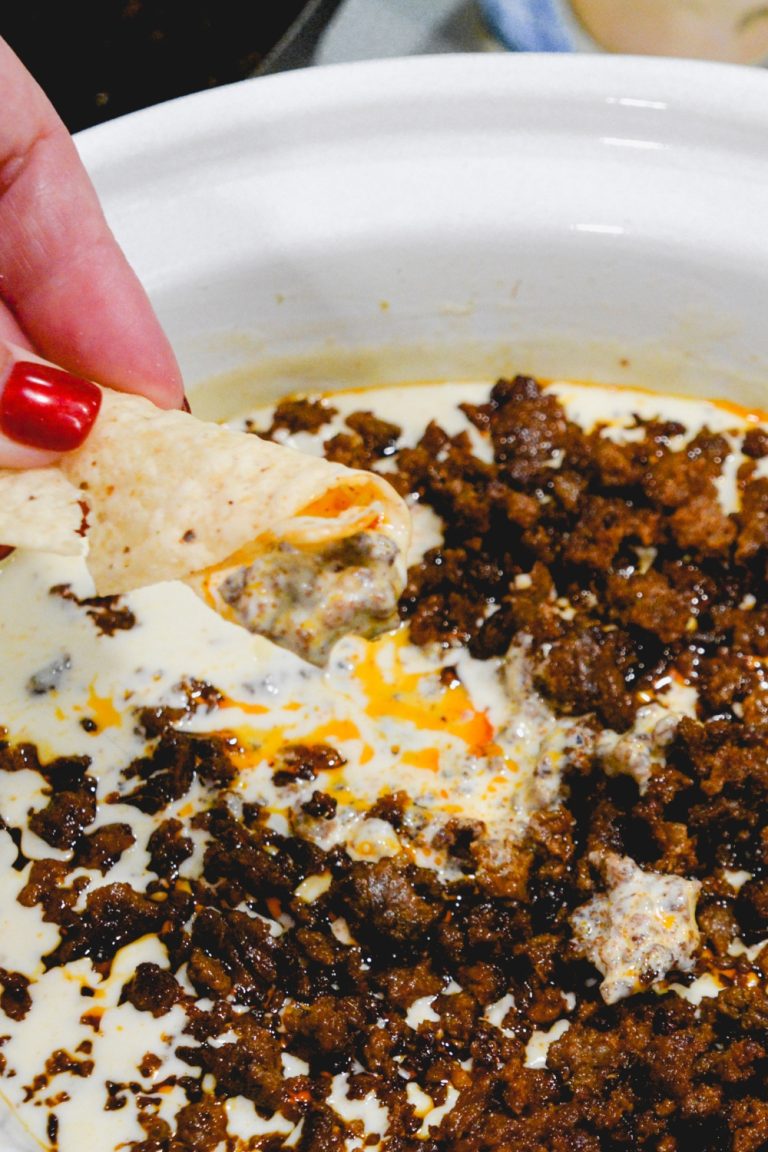 I don't know what your family eats while they are watching football, but this family eats a whole lot of queso. Normally we just eat the Crock Pot Velveeta Sausage Queso made with ground pork, Velveeta, and Rotel. This recipe doesn't have Rotel in it but it definitely can have it in it.
With New Year's Eve Parties coming up as well as the super bowl, you will want to make sure you are locked and loaded with queso and chorizo to keep all your friends and family full of cheese.
Jump to:
Queso Fundido Ingredients
Two ingredients are all you need to make a basic crock pot chorizo queso dip. While you can add more to the recipe, all you need are these two ingredients.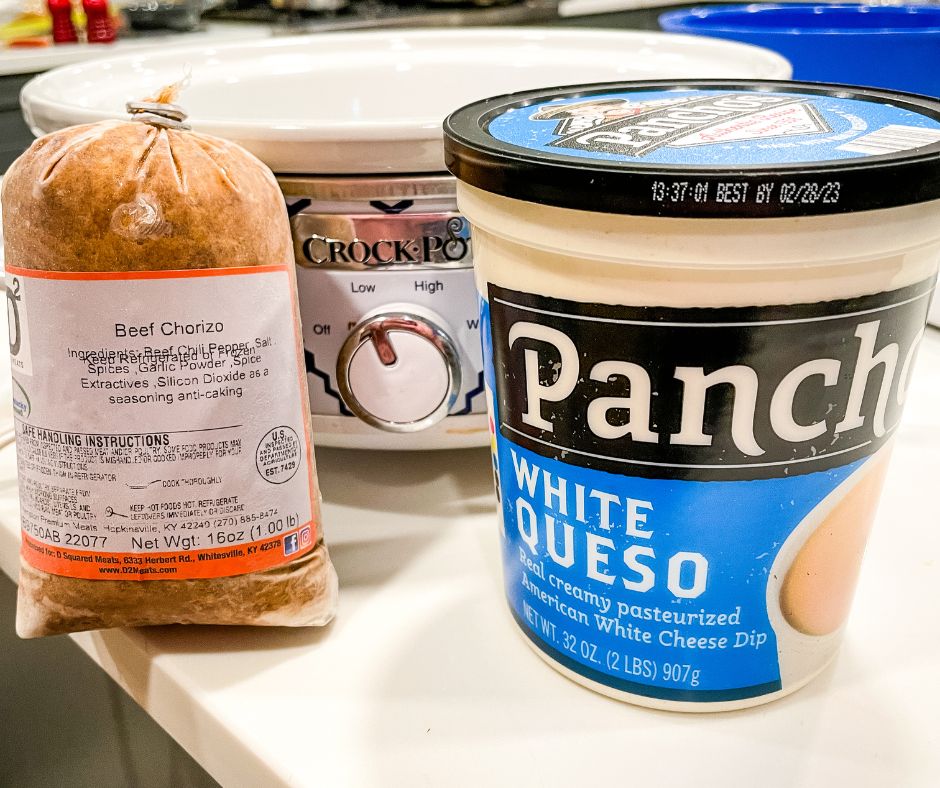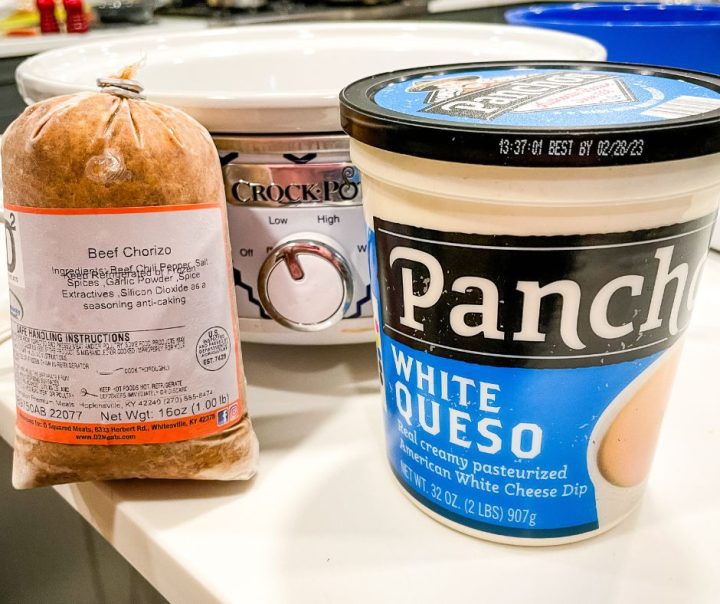 White Queso Dip - The big tub of queso from Sam's Club or Costco. Velveeta queso blanco can also work in this recipe.
Chorizo - Beef Chorizo from D Squared farms is phenomenal. Chorizo a lot of times is super greasy, but the beef Chorizo from the Haydens was not greasy at all. It had a tone of spicy flavor that paired perfectly with their ground beef.
See the recipe card for quantities.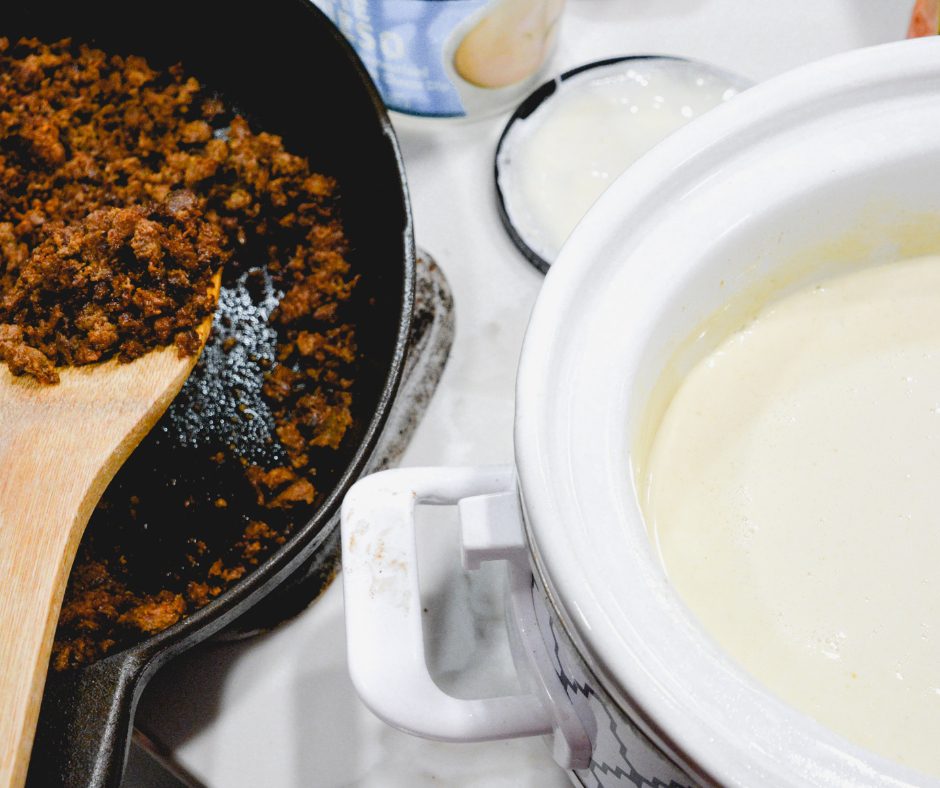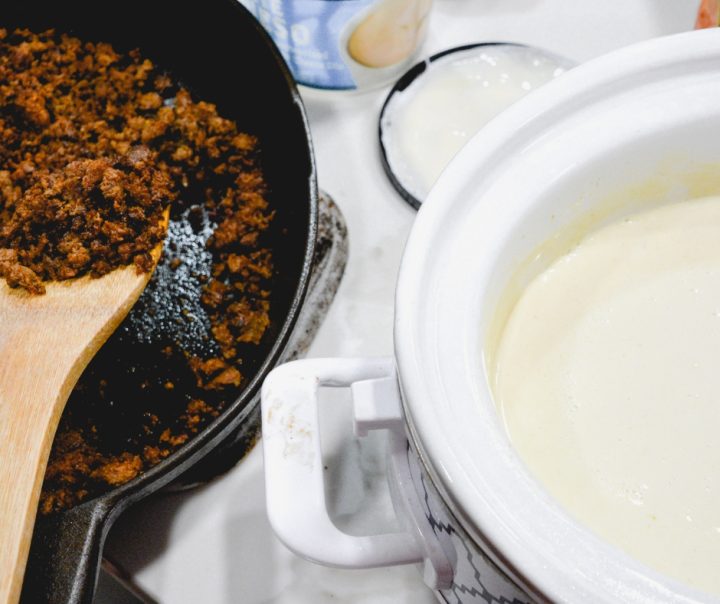 How to Make Chorizo Queso Fundido Dip
Warming up the cheese and cooking the chorizo are the basics of what you have to do to make this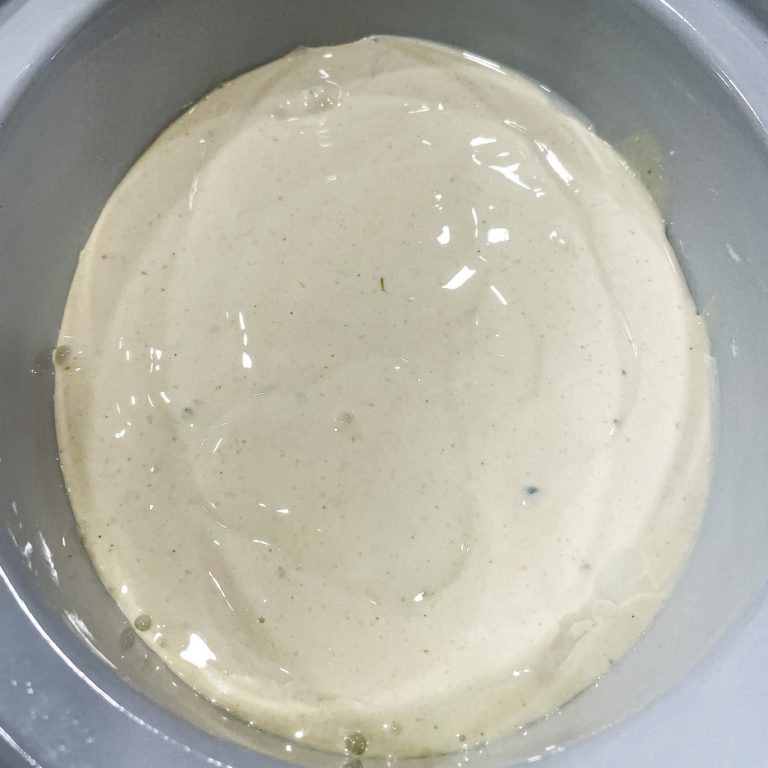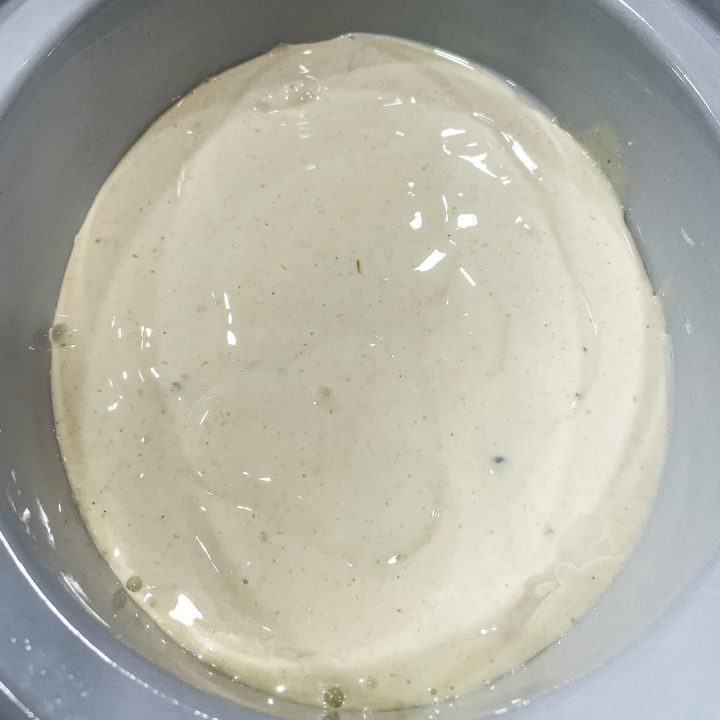 Transfer all the white queso cheese dip to the mini casserole crock pot and set to low heat.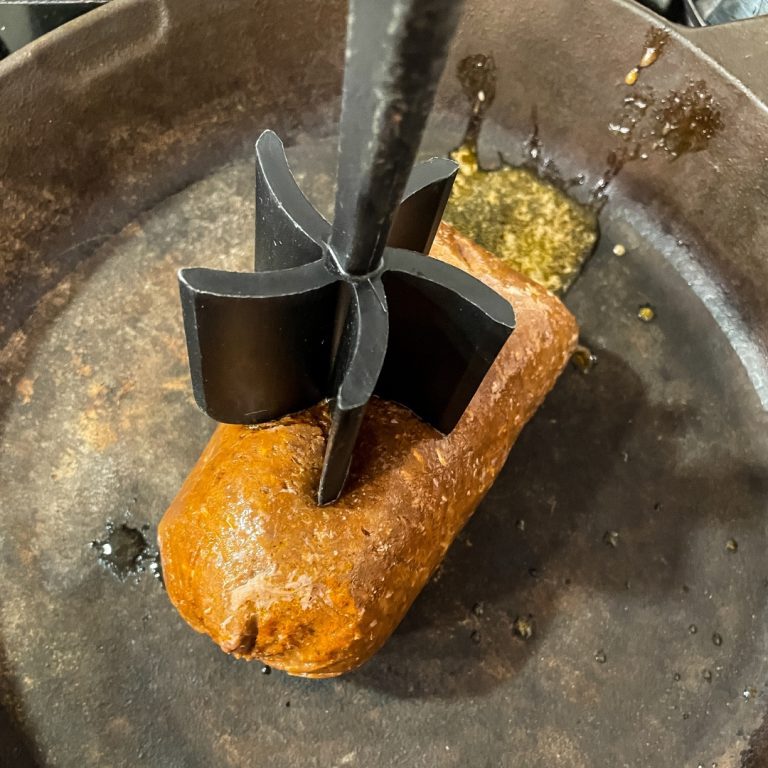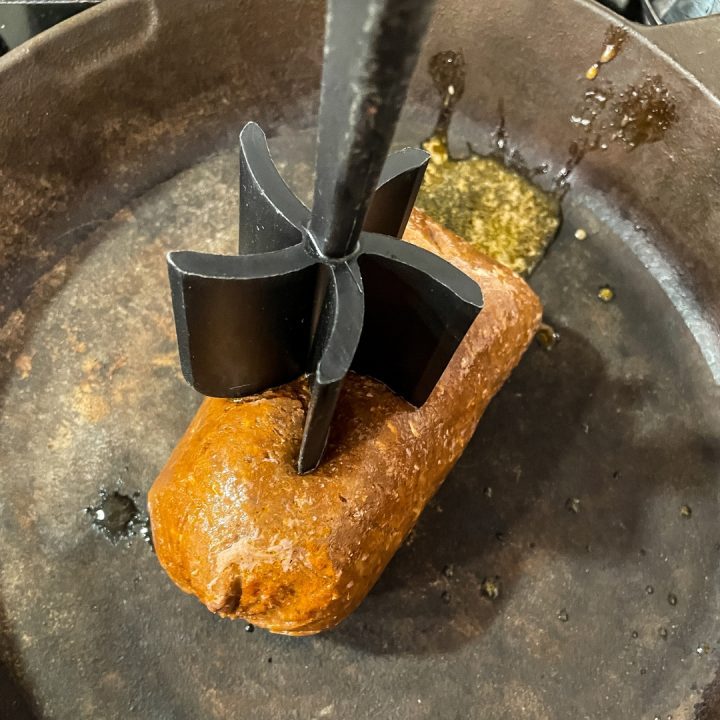 In a cast iron skillet, brown the beef chorizo until cooked fully. Break up into small pieces.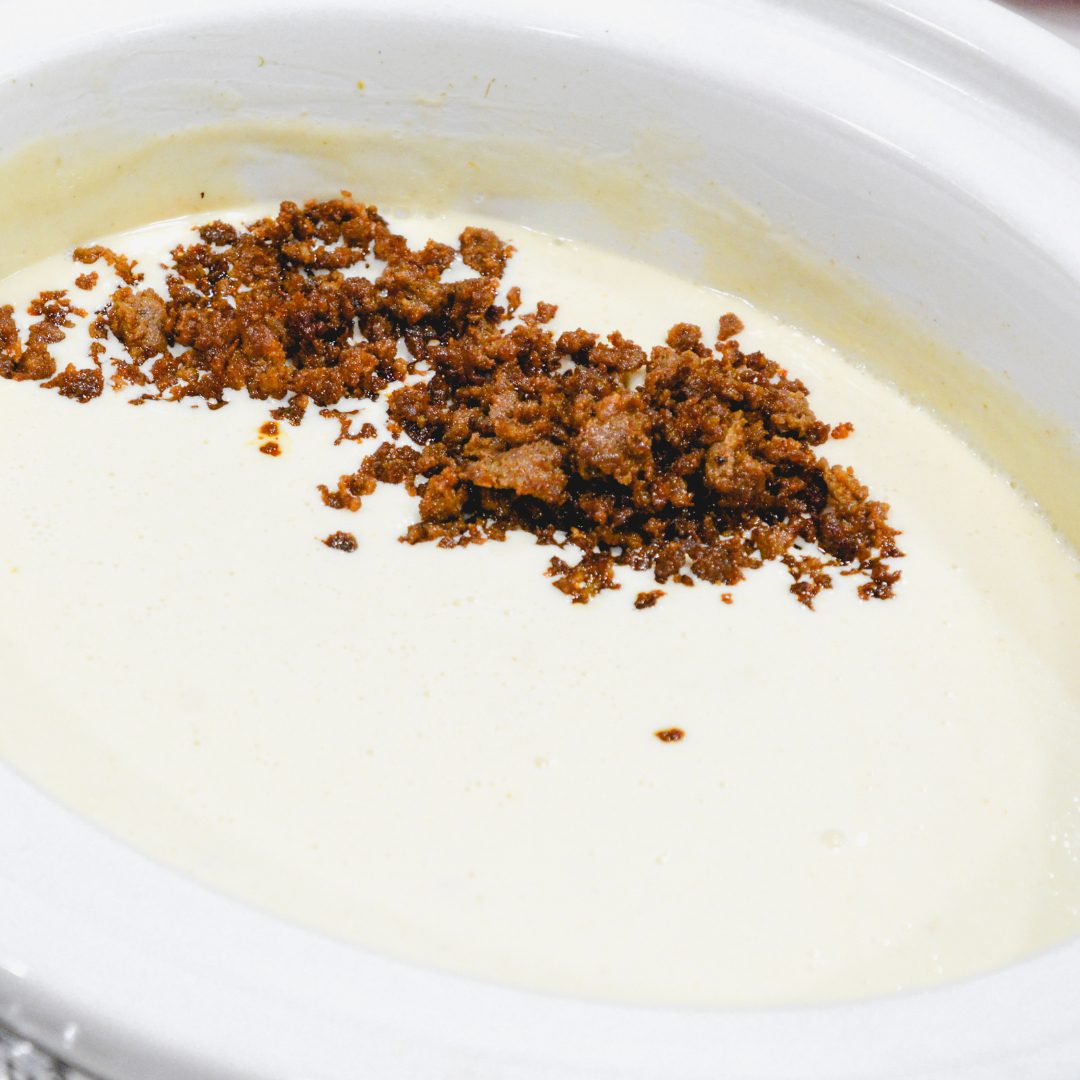 Stir the cheese every 15 minutes to keep it from sticking to the sides. When it is hot, start adding the cooked chorizo to the queso.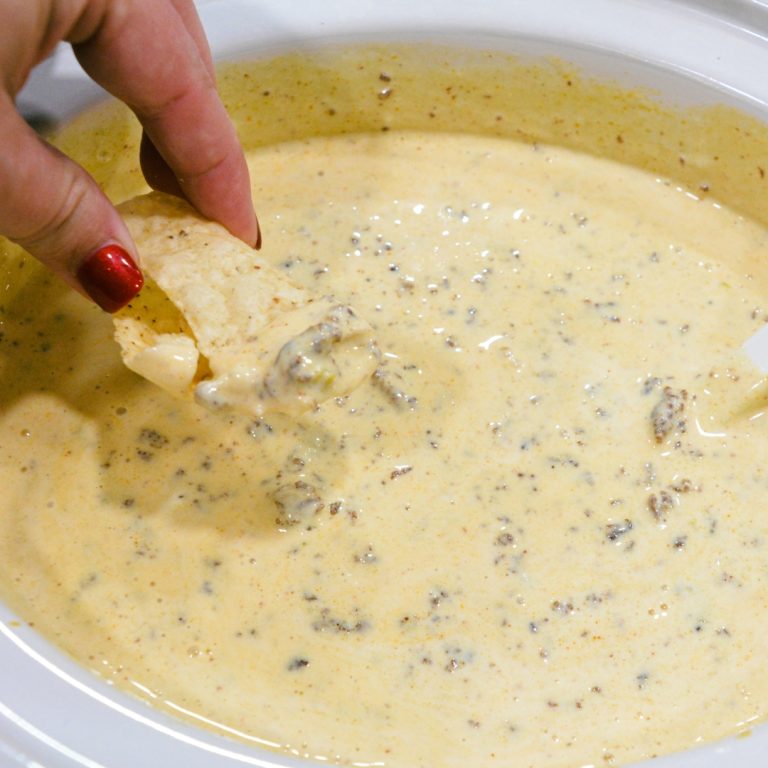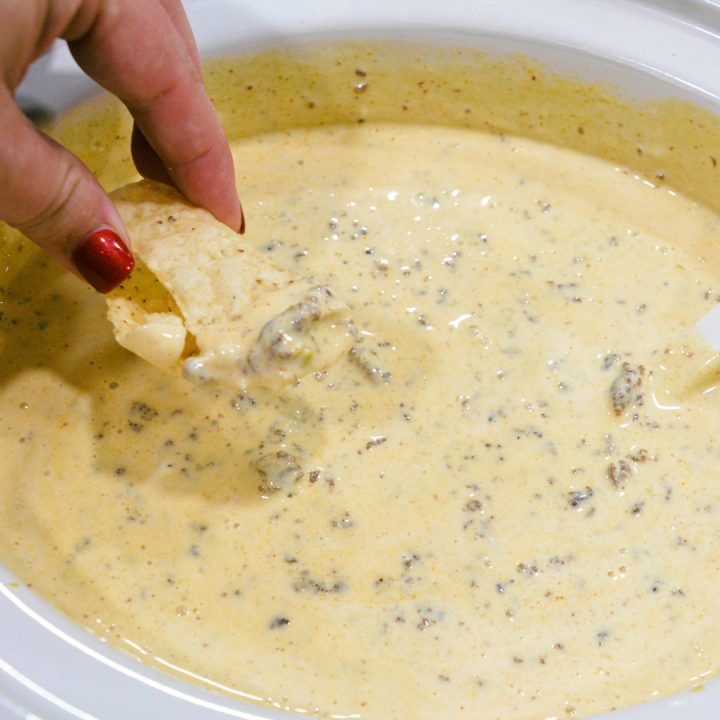 You can leave the chorizo sprinkled on the top or stir the chorizo into the queso.
Serve the chorizo queso with tortilla chips. If you are on a low-carb diet, use bell peppers or pork rinds to dip in the queso dip.
Hint: If you don't have a small 3-quart or smaller crock pot, get one. They are perfect for appetizers and dips like queso.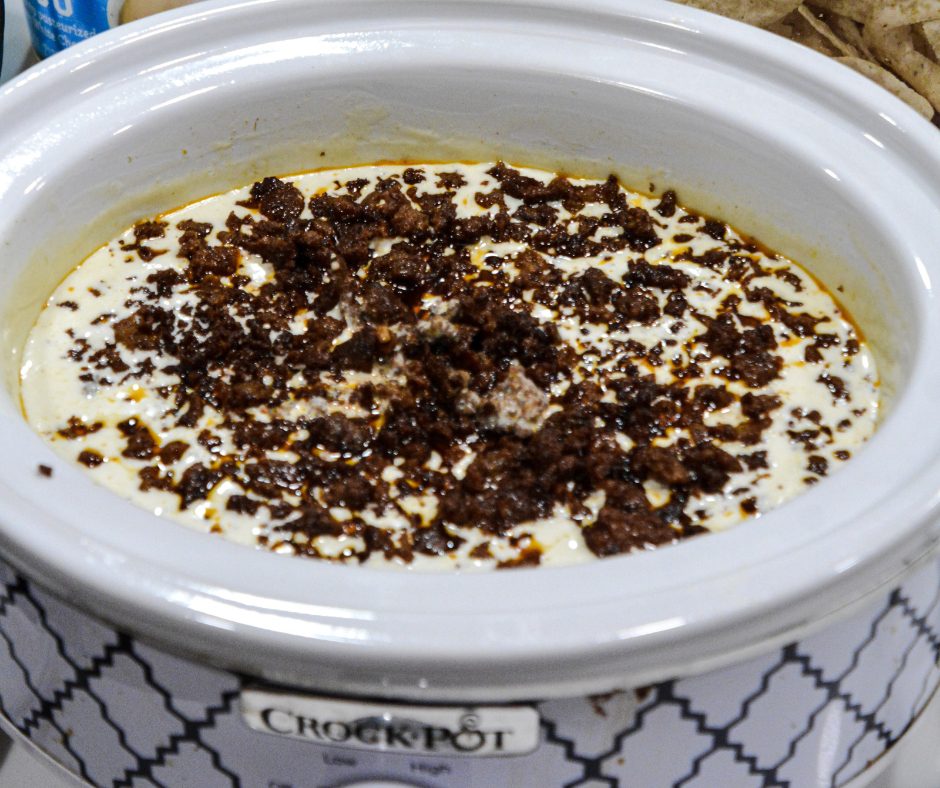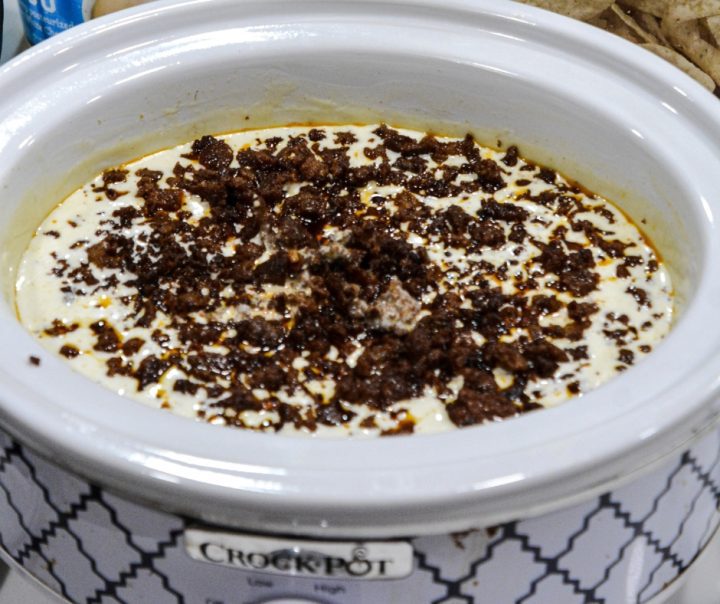 Variation to the Basic Chorizo and Queso Dip
Shake up the basic chorizo and queso dip with these variations.
Chorizo Queso with Rotel - add a can of Rotel to the queso cheese for extra flavors from the tomatoes and chilis. Top off
Mild Queso Dip - Spice isn't for everyone. If you want a more mild sausage and queso dip, use ground pork seasoned with taco seasoning or adobo seasoning and add to the queso dip.
Extra Spicy Chorizo Queso - add fresh or canned sliced jalapenos to the queso and then top the queso off with pico de gallo.
See this corn and chroizo queso dip for a hot corn dip recipe with chorizo.
Equipment
A small crock pot and a cast iron skillet are key to the perfect chorizo queso. Here are my favorite dip tools.
Storing and Reheating Crock Pot Queso Dip
Store the leftover chorizo queso in an air tight plastic or glass container. The queso will be good for 2-3 days.
To reheat the queso, spoon a portion you would like into a small glass bowl. Microwave for 30 seconds at a time, stirring and reheating 30 seconds at a time until queso is heated completely through.
The Best Queso Recipes
I love love love anything cheesy, especially the queso and chips kind of cheese. Here are the best queso dip recipes.
Smoked Queso Dip
Smoked queso is your favorite queso dip made with Velveeta, Rotel, onions, taco meat, and peppers made in a cast-iron skillet on your smoker or grill.
Check out this recipe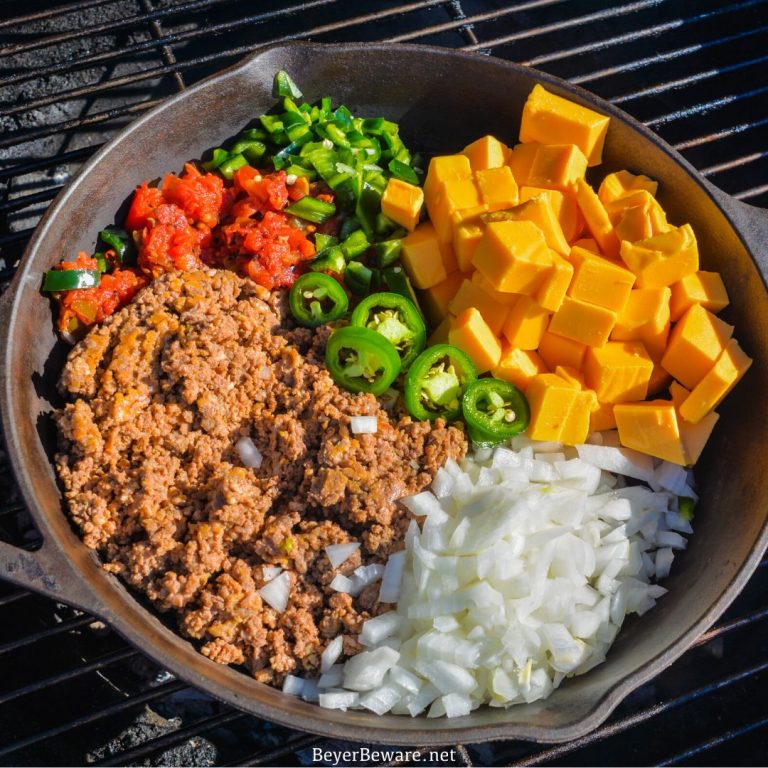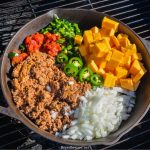 Texas Queso Dip
A great appetizer in this Texas Queso Dip recipe. Add some tortilla chips and ready to serve.
Check out this recipe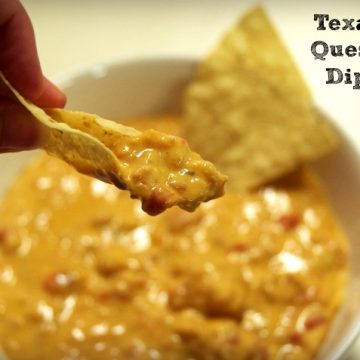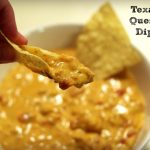 Crock Pot Sausage Queso Dip
Crock Pot Sausage Queso dip easy 3-ingredient cheesy sausage Rotel dip that you can have ready in two hours for an easy Mexican dip everyone will love.
Check out this recipe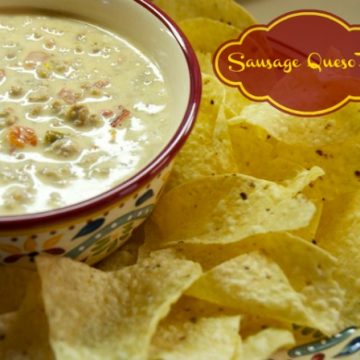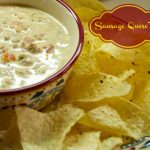 FAQ
How do I keep the cheese from burning and sticking to the side of the crock pot?
Crock Pot liners should be your best friend. These make clean up after anything with dairy in it so much easier.
Can I leave the chorizo out?
A vegetarian queso can be made by omitting the chorizo. Add the green chilis to the cheese sauce to add more texture and flavor to the queso.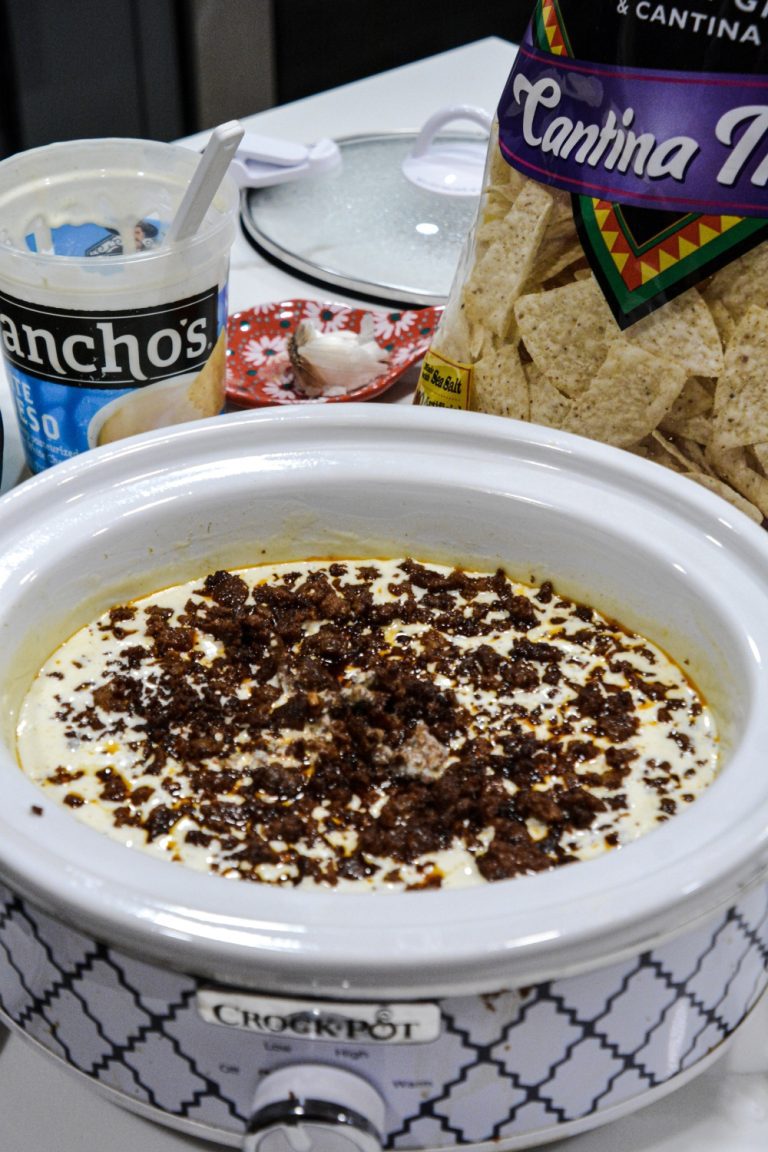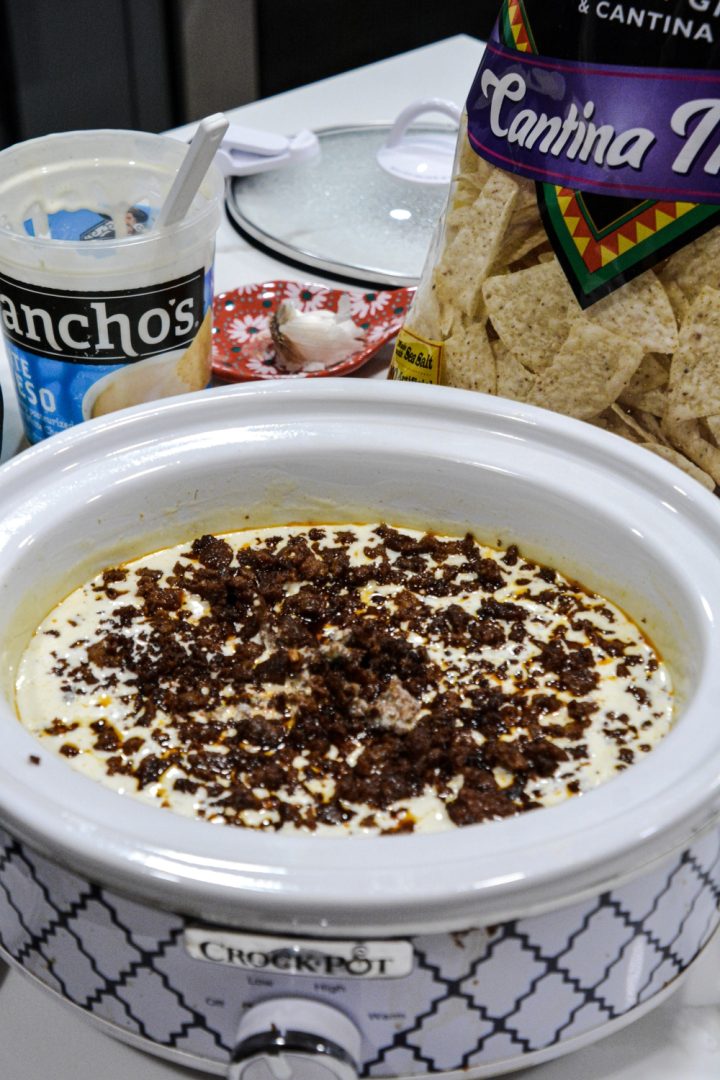 📖 Recipe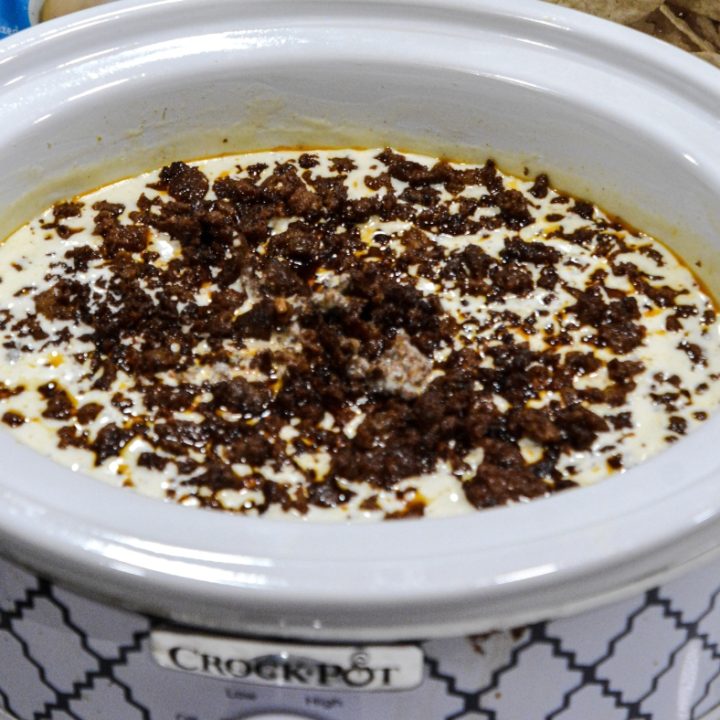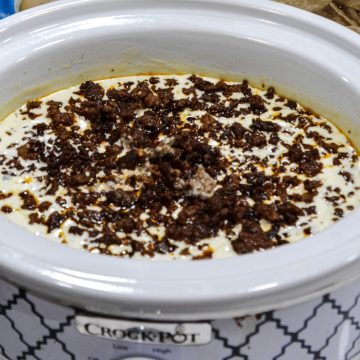 Chorizo Queso Dip
Chorizo queso dip is the simple combination of white queso dip with spicy chorizo to form the best meaty chips and crock pot queso recipe.
Print
Rate
Ingredients
1

lb.

beef chorizo

32

oz.

White Queso Cheese

white corn tortilla chips
Instructions
Pour the white queso cheese into a small crock pot on low. Stir every 15 minutes to make sure cheese is not burning and sticking to the side.

Brown the chorizo until fully cooked. Transfer to the crock pot with the hot queso.

Serve with tortilla chips.
Nutrition
Calories:
536
kcal
|
Carbohydrates:
27
g
|
Protein:
27
g
|
Fat:
36
g
|
Saturated Fat:
17
g
|
Polyunsaturated Fat:
4
g
|
Monounsaturated Fat:
2
g
|
Trans Fat:
0.03
g
|
Cholesterol:
105
mg
|
Sodium:
772
mg
|
Potassium:
69
mg
|
Fiber:
2
g
|
Sugar:
0.3
g
|
Vitamin A:
204
IU
|
Calcium:
580
mg
|
Iron:
1
mg