Disclosure: *This post may include amazon links. As an Amazon Associate, I earn from qualifying purchases.
Eating a good steak does not need to be reserved for just the grilled steak. Recently I got some flat iron steaks in a beef package from D2Meats out of Kentucky on rangemarket.com and decided to try them in the air fryer. Air fryer steak is easily made with a simple steak seasoning and 8 minutes in the air fryer gets you a perfectly cooked medium rare steak with a top off of some butter for an easy way to have steak on a weeknight.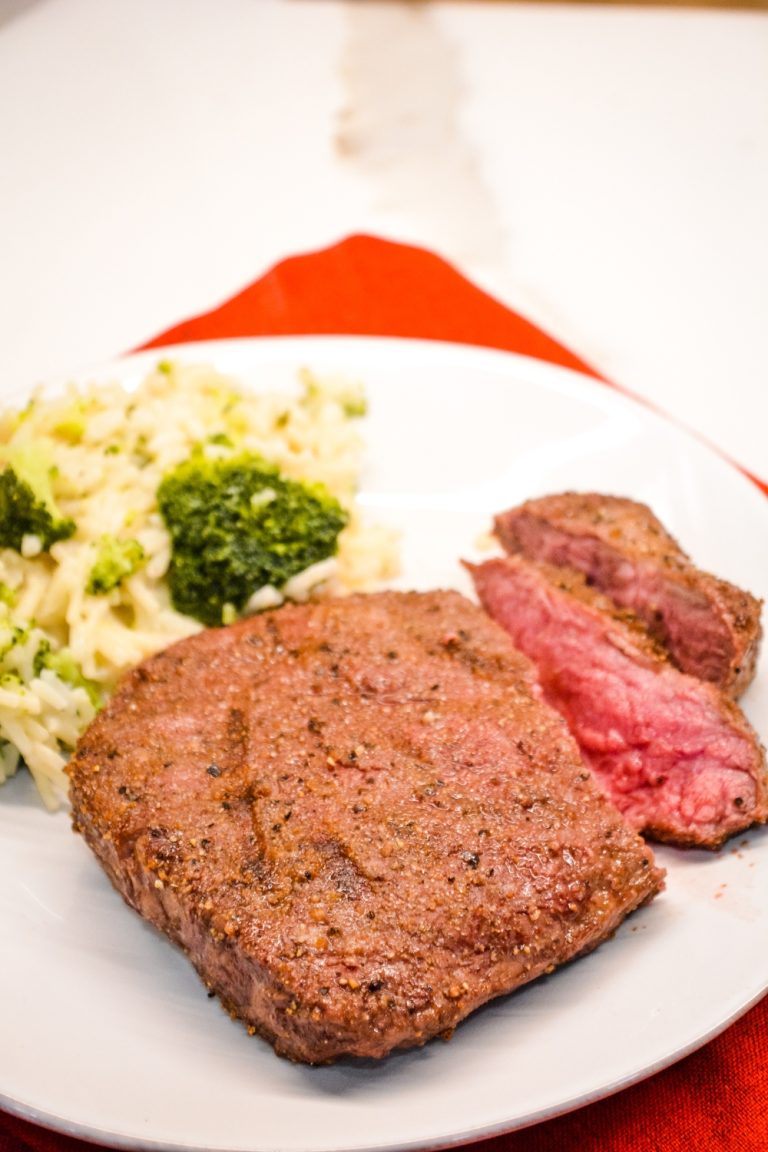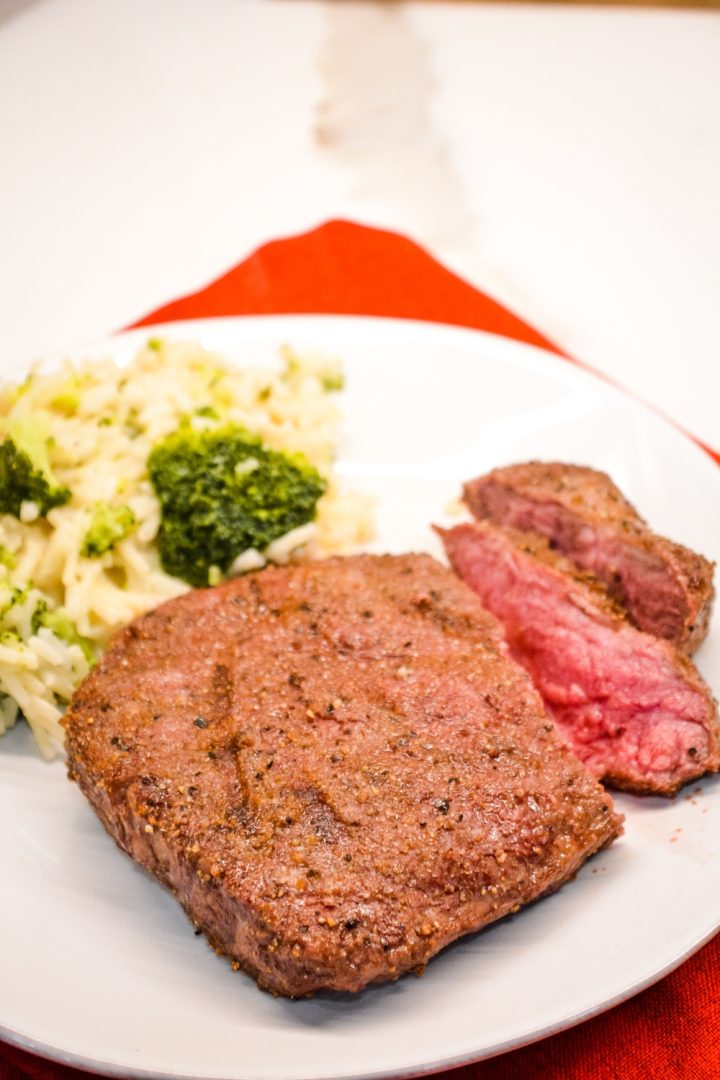 Steaks are popular dinner at our house. We don't reserve having steak for just special occasions. We have steaks almost weekly and cook the steaks on the grill or in the cast iron skillet. And now we know how to make steaks in the air fryer.
This air fryer steak pairs well with broccoli and rice, creamed spinach, or cheesy potatoes. If you have two air fryers, air fryer broccoli or air fryer sweet potatoes are a great side with steaks too.
Jump to:
Ingredients for an Air Fryer Steak
A good steak is not one requiring a lot of ingredients. For these air fryer steaks you really just need two ingredients, three if you like it topped off with butter.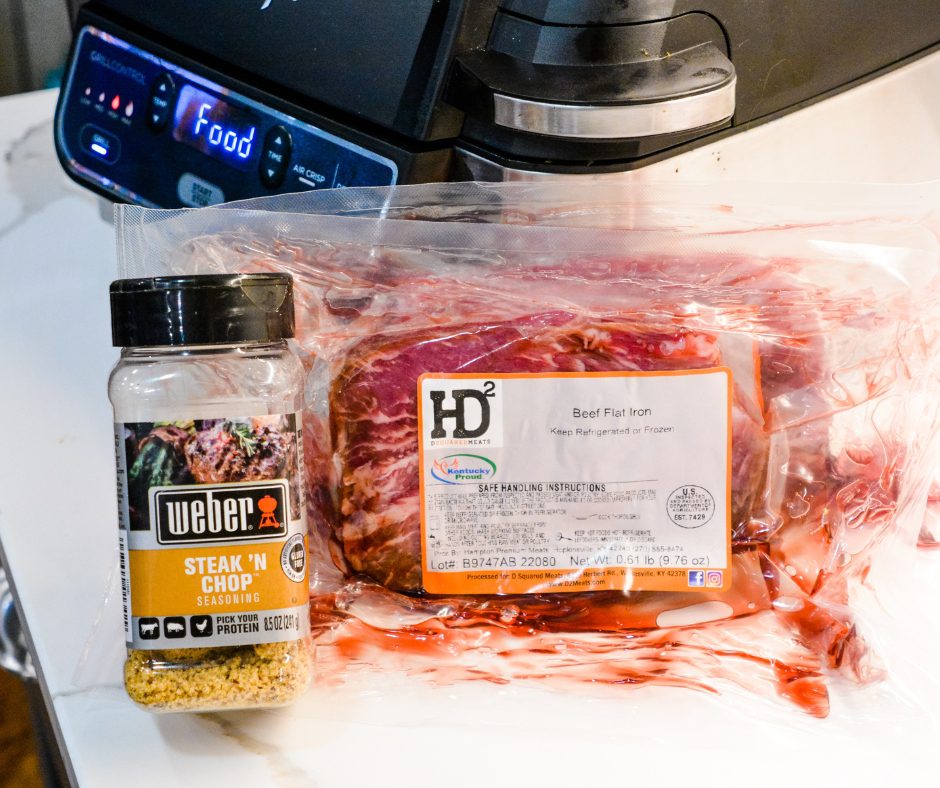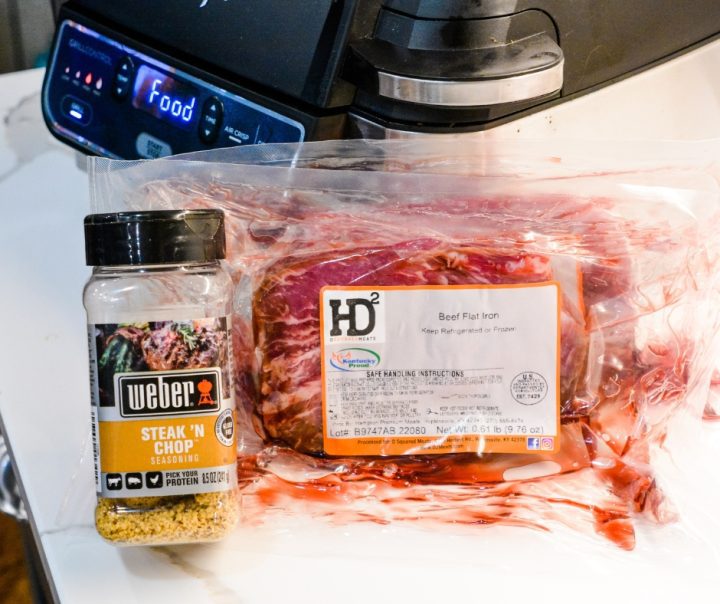 Steaks - I used a flat iron steak that was between ¾ inch and 1 inch thick. Whatever your steak cut preference will work here. If you would grill it, I would air fryer it too. I would recommend a choice or prime graded steak no matter the cut.
Steak Seasoning - Everyone has their favorite seasoning. If I am looking for a simple, versatile seasoning, I go with Weber Steak N' Chop Seasoning.
Butter - When the steak is almost finished cooking, a pat of butter on the top of the steak to finish it off. The butter can also be totally omitted too.
See the recipe card for quantities.
How to cook a steak in the air fryer
Easy and fast are the reasons you should be tempted to try cooking the steak sitting in your fridge should be prepared in the air fryer. The flavor and juiciness is the reason cooking the steak in the air fryer should not be ignored. Preheat the air fryer to 400 degrees of high grill setting if you have a grill/air fryer combo.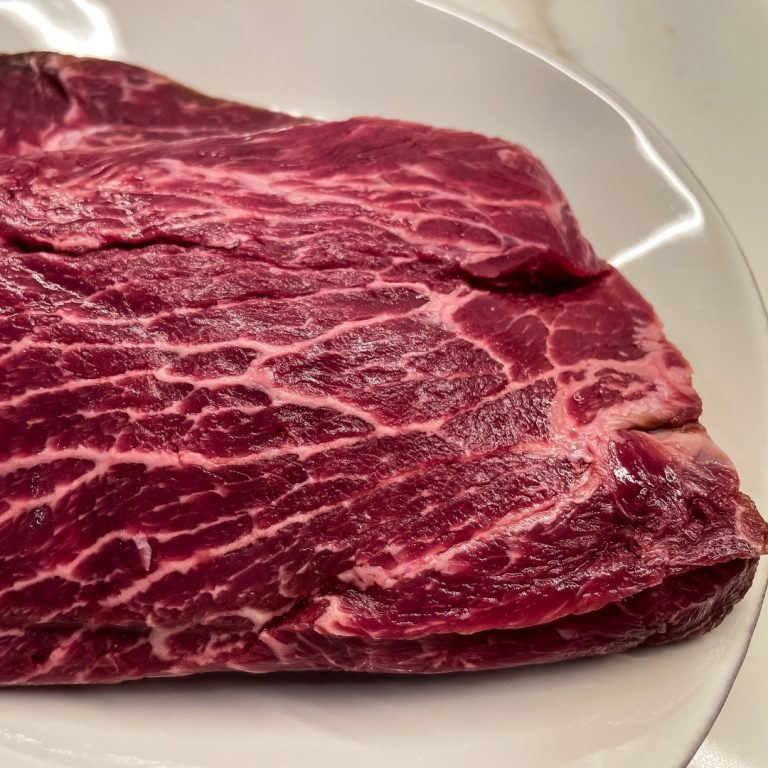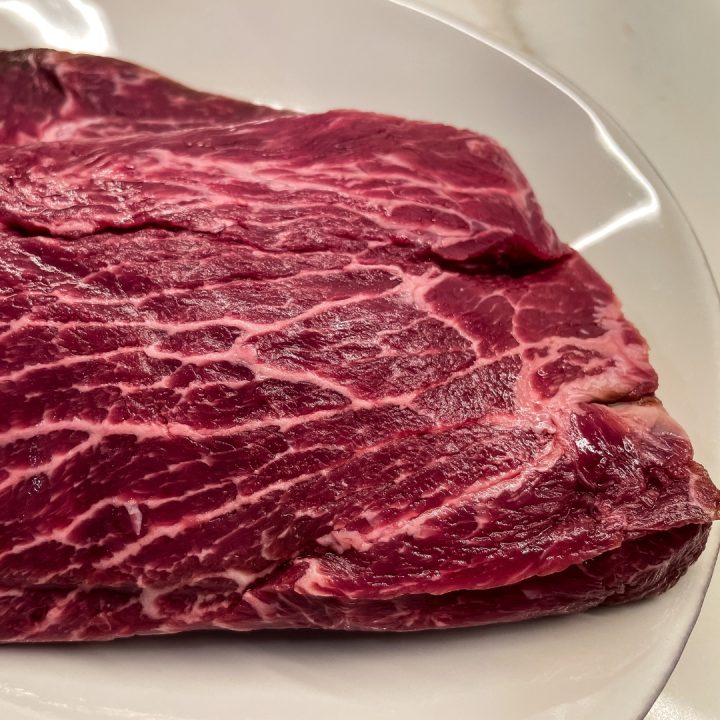 Pull the steaks out of the fridge 30 minutes before you plan on cooking them.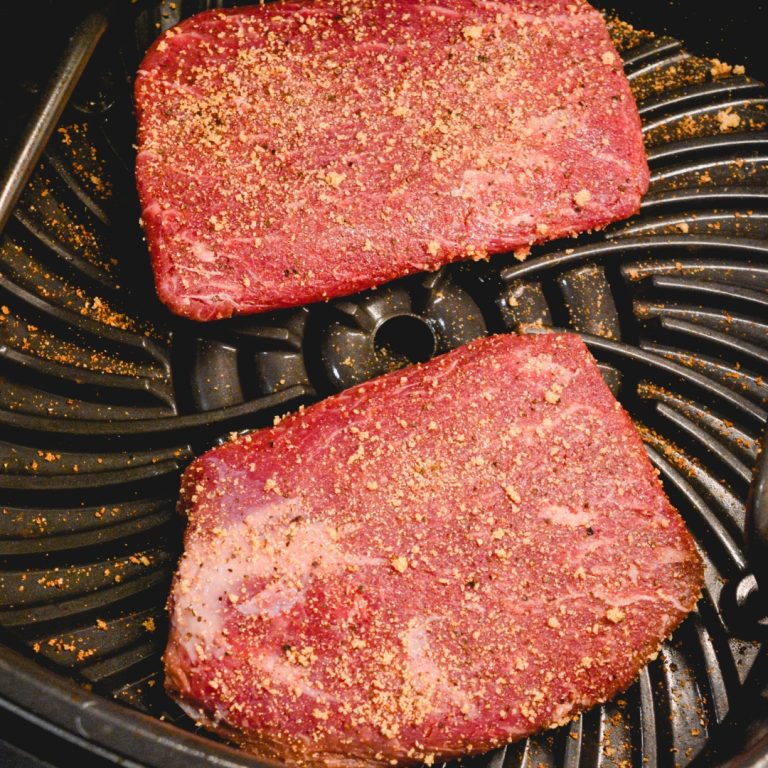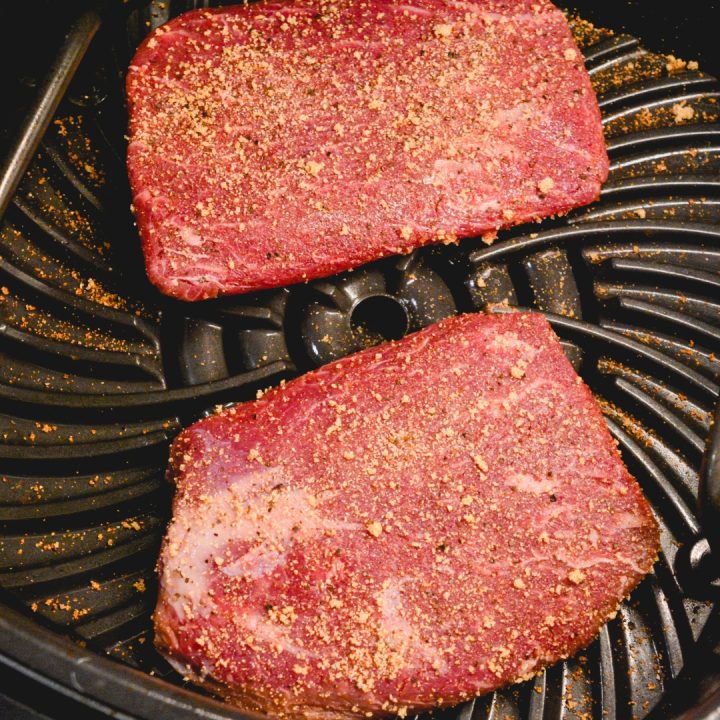 Season both sides of the steak. When the air fryer is hot, grease the pan and lay the steaks in the air fryer.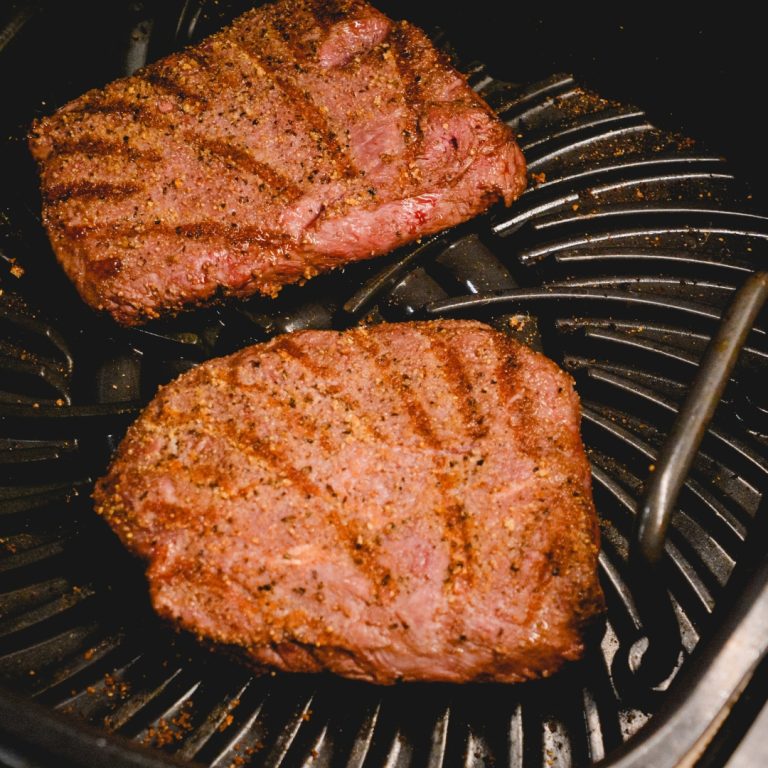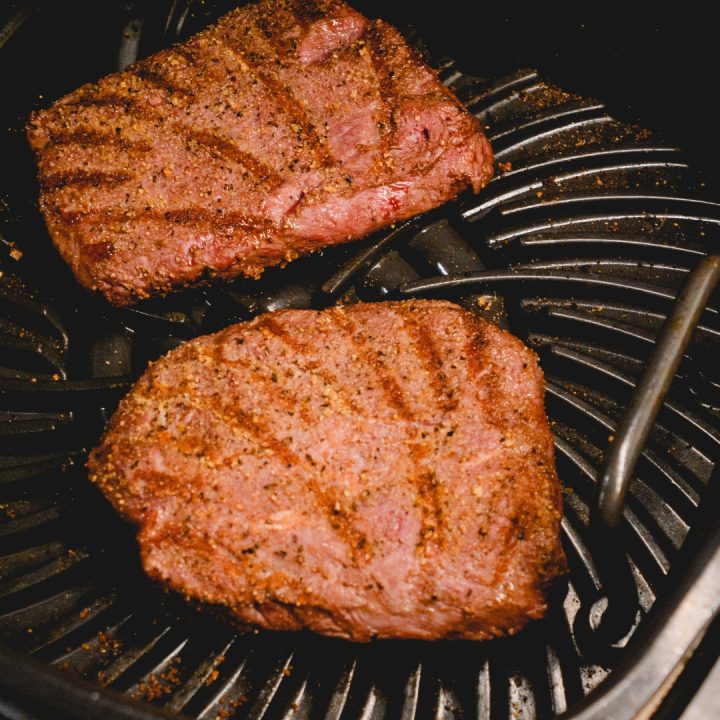 Cook the flat iron steaks in air fryer for 4 minutes and then flip over and cook another 3-4 minutes.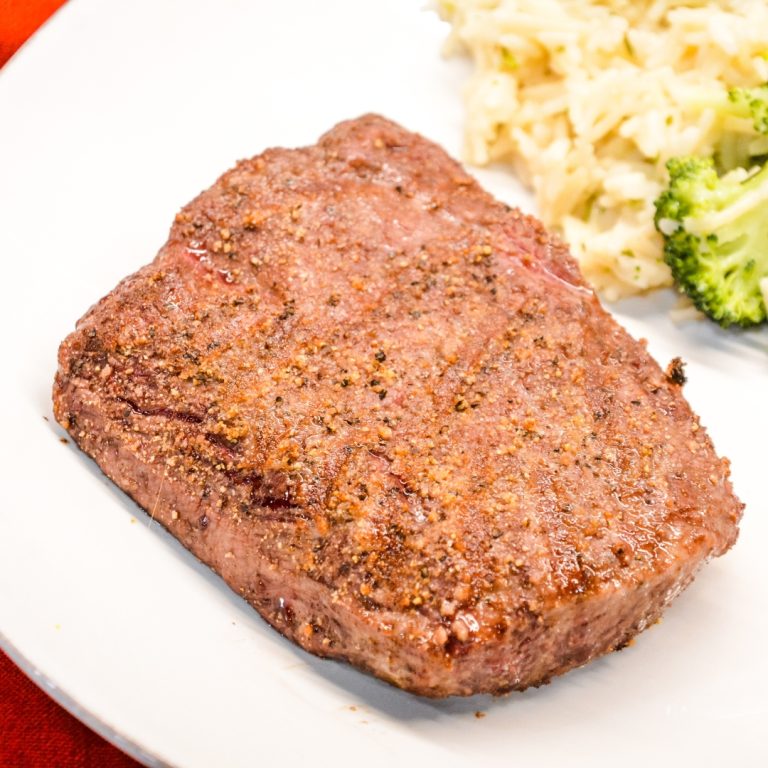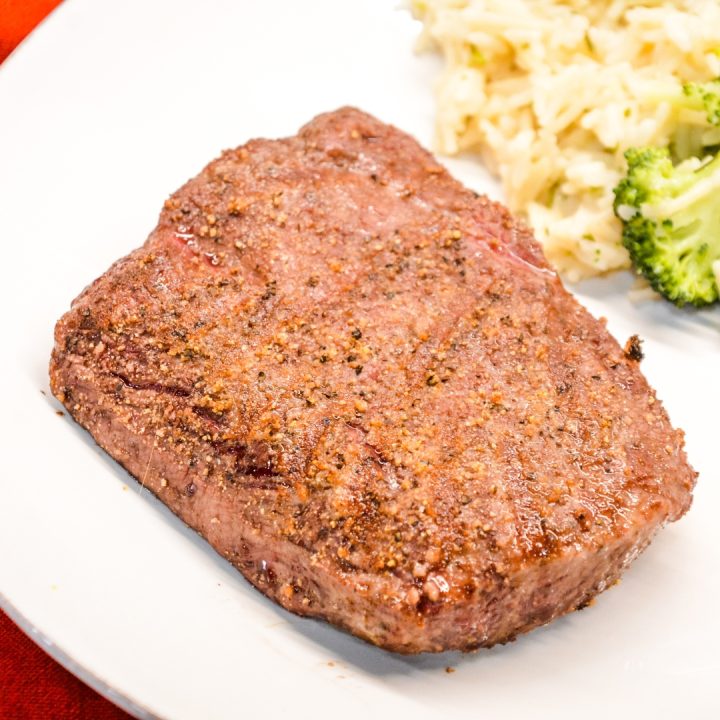 Top the steaks with butter before removing them from the air fryer. Then let the steak rest for 3-5 minutes before cutting into them.
If you are wanting a medium or medium well cooked steak, you will need to add additional time to the cooking time. I am going to be honest, I never cook steak past medium rare on purpose. I am not sure how much extra time.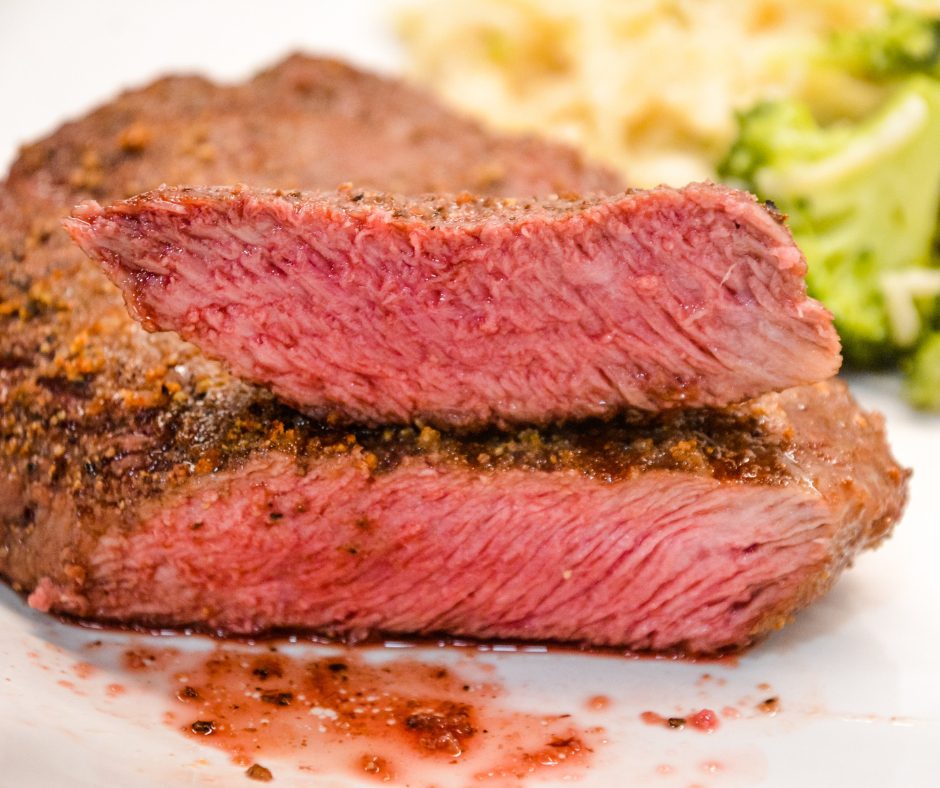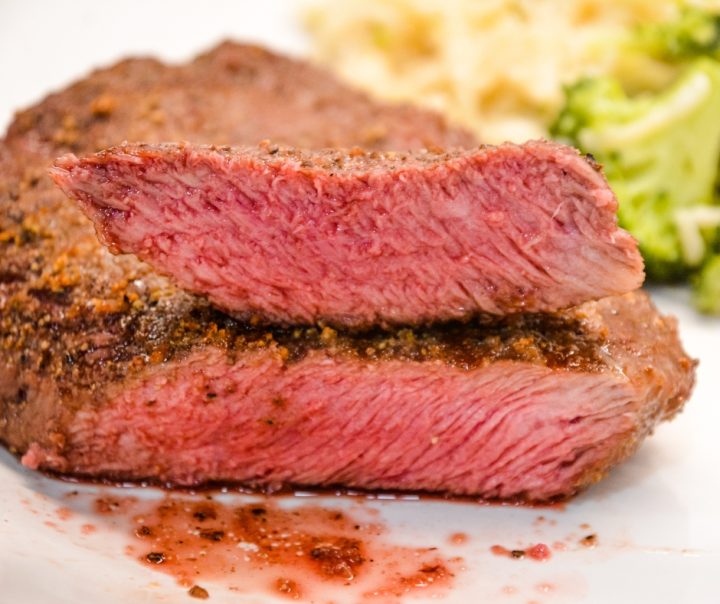 Hint: Steak quality matters. Make sure you buy a steak that is a choice or prime grade. This will have more fat in the marbling to give the most flavor to the eating experience.
What air fryer to get?
I have tried lots of different air fryers, but my favorite is hands down the Ninja Foodi Air Fryer and Grill 5 in 1. I use it nearly every single day. The grill pan is perfect for making grilled chicken, hamburgers, and now steaks on.
If you have more than four people in your family, I recommend getting the XL Ninja Foodie Grill and Air fryer.
How to reheat steak in the air fryer
Store the cooked steaks in the fridge in an airtight container for up to 3 days.
To reheat, remove the steaks from the fridge and let them warm in the air temp. Then reheat for 5 minutes in the air fryer.
You can also slice the steaks to reheat like I do with these leftover steak sandwiches.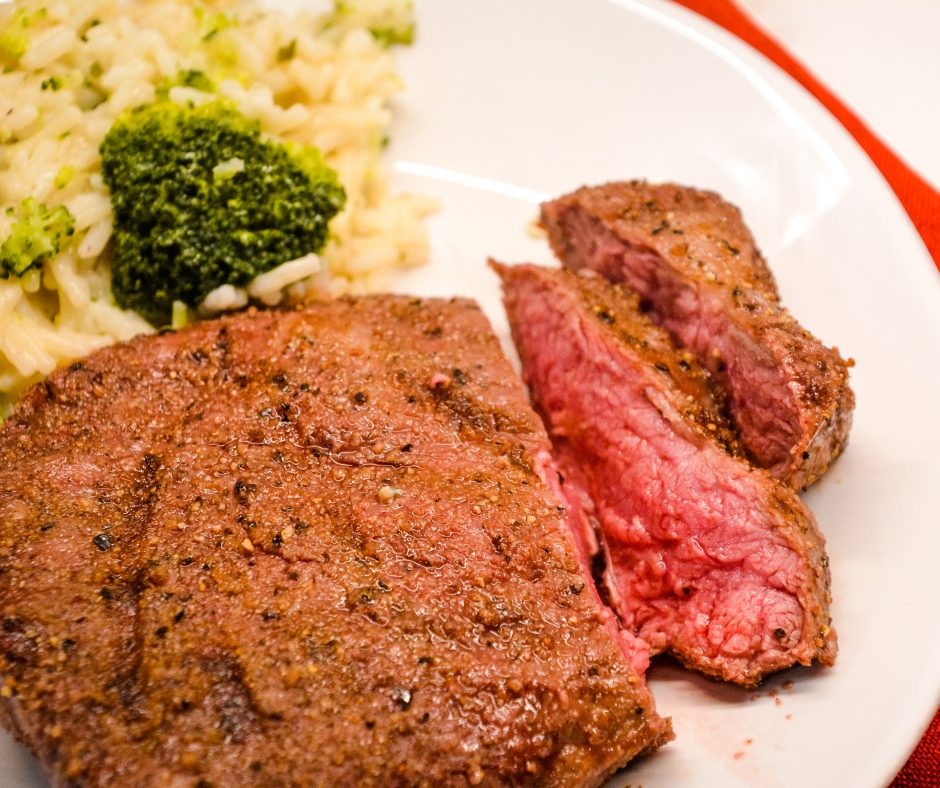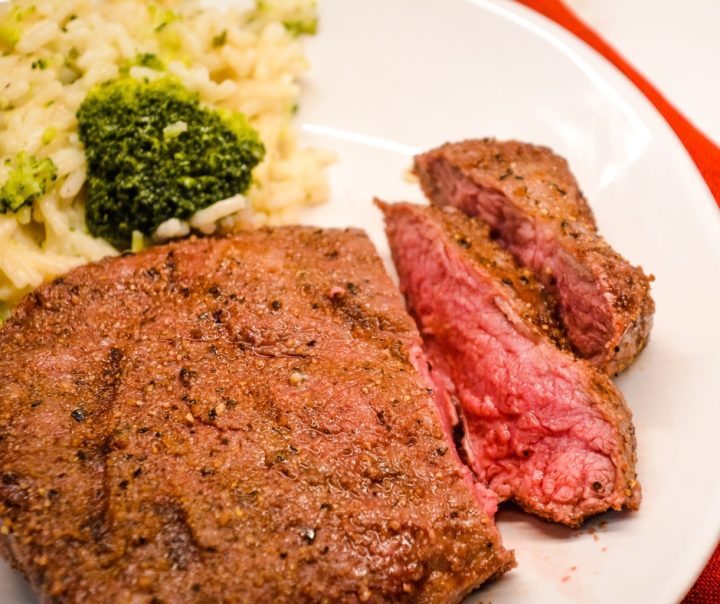 Skillet Strip Steaks with Cajun Compound Butter
Skillet strip steaks with cajun compound butter create a steakhouse experience with a simple compound butter and making New York strips steaks on the stove in your cast iron skillet.
Check out this recipe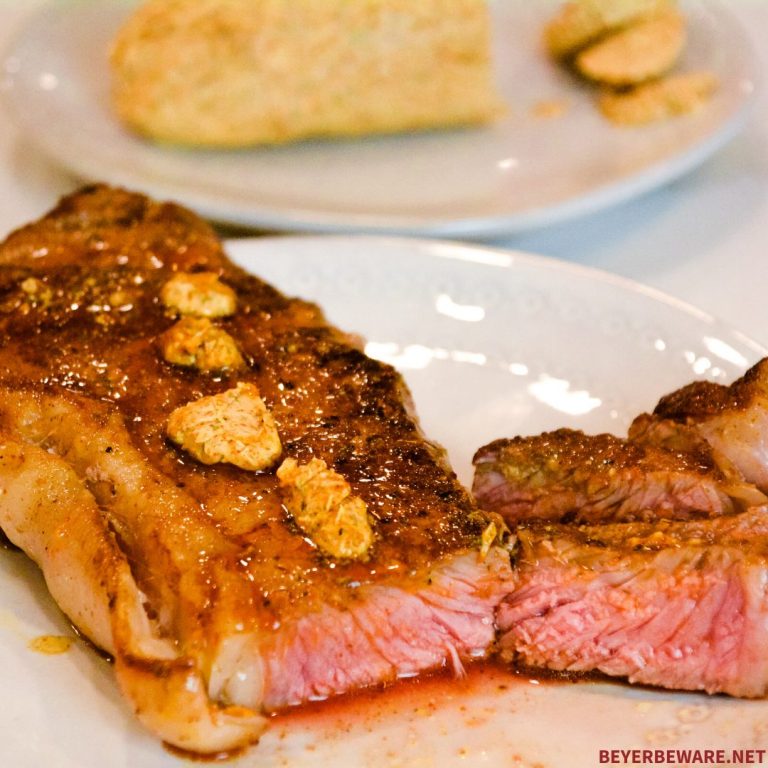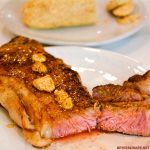 All-American Steaks
All-American Steaks require two simple ingredients of Italian dressing and Worcestershire sauce to form a marinade that does its job in 30 minutes and ready for a hot grill.
Check out this recipe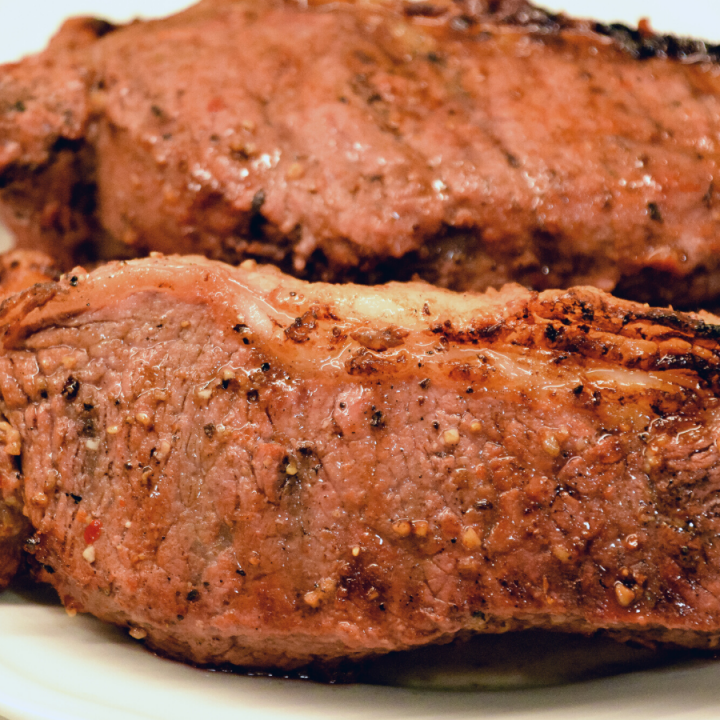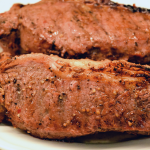 How to Make a Steak on the Stove?
Steaks don't have to be just made on the grill. Juicy steaks can be made inside too. See how to make a steak on the stove and in the oven.
Check out this recipe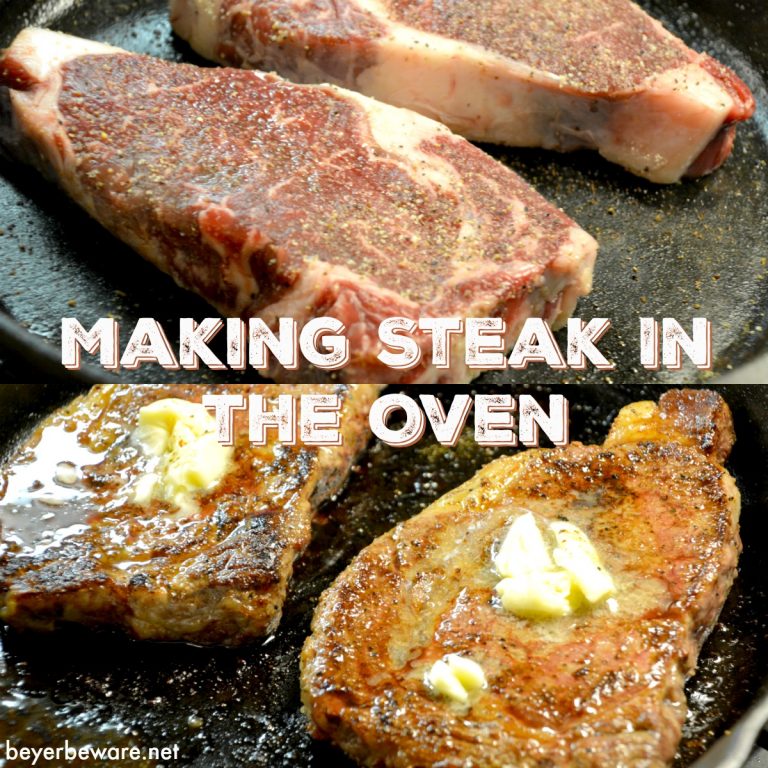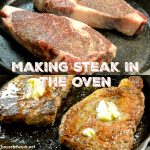 Balsamic Marinade for Chicken or Steak
This balsamic chicken marinade is so easy to make and tastes so good on chicken but might actually be a better balsamic steak marinade. It is a five-ingredient marinade is perfect for grilled chicken or steak to top off a fresh summer salad.
Check out this recipe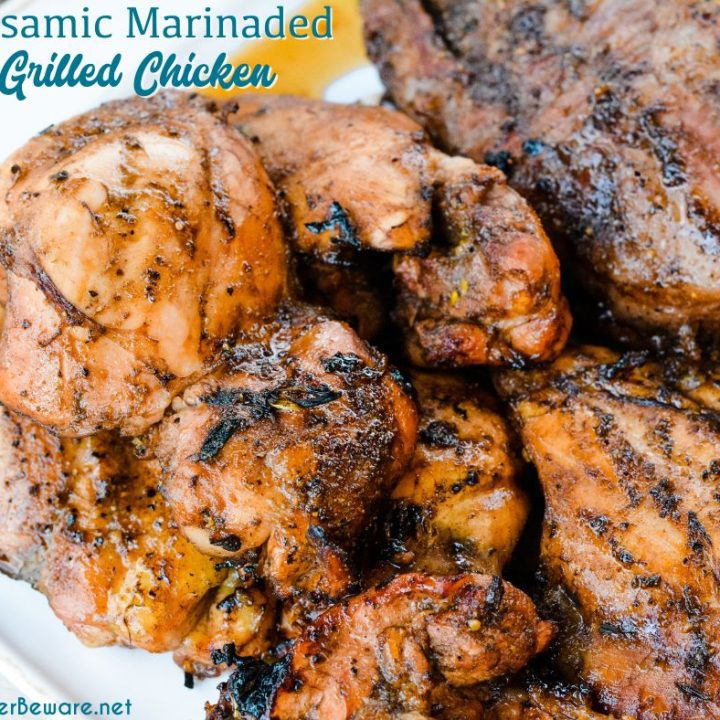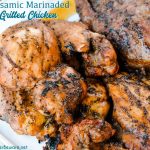 FAQ
What temperature do I cook the steak to?
Depending on the doneness of the steak you like will depend on what temperature you want to cook the steak to. Here is a general rule of thumb:
Rare: 125°F
Medium-Rare: 135°F
Medium: 145°F
Medium Well: 155°F
Well: 160°F
REMEMBER - Steak will continue to cook slightly as it rests. Peel off the air fryer a few degrees before these temperatures to make sure it isn't overcooked.
What do I do if my steaks are in the freezer and I want to cook them?
If your steaks are frozen, pull them out of the freezer and put in the fridge 24 hours before you want to cook them so they can thaw out. If you don't have 24 hours. Pull them out and submerge them in warm water. When the water becomes cool, dump and repeat.
Where can I buy good quality steak?
I buy my beef directly from the farms and ranches most of the time. My brother raises beef, so majority comes from his farm and local butcher. However, Range Market is a cool website that helps you connect directly to farms and ranches to buy beef directly from them.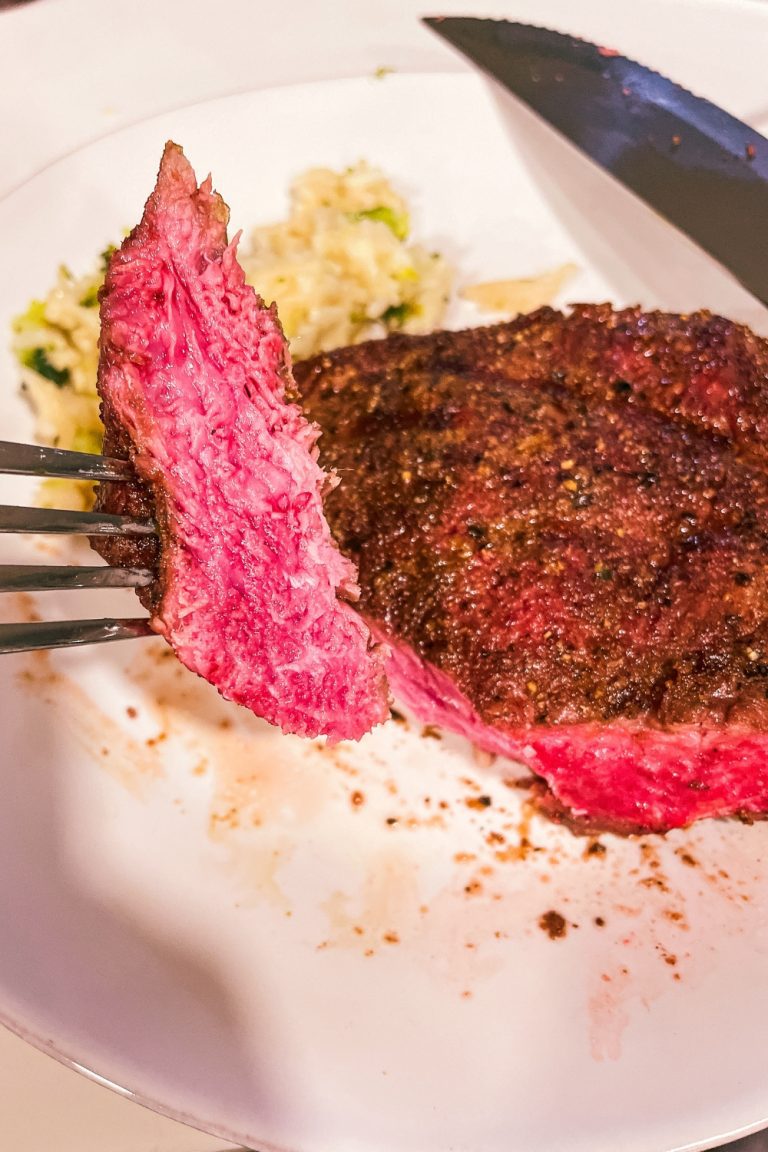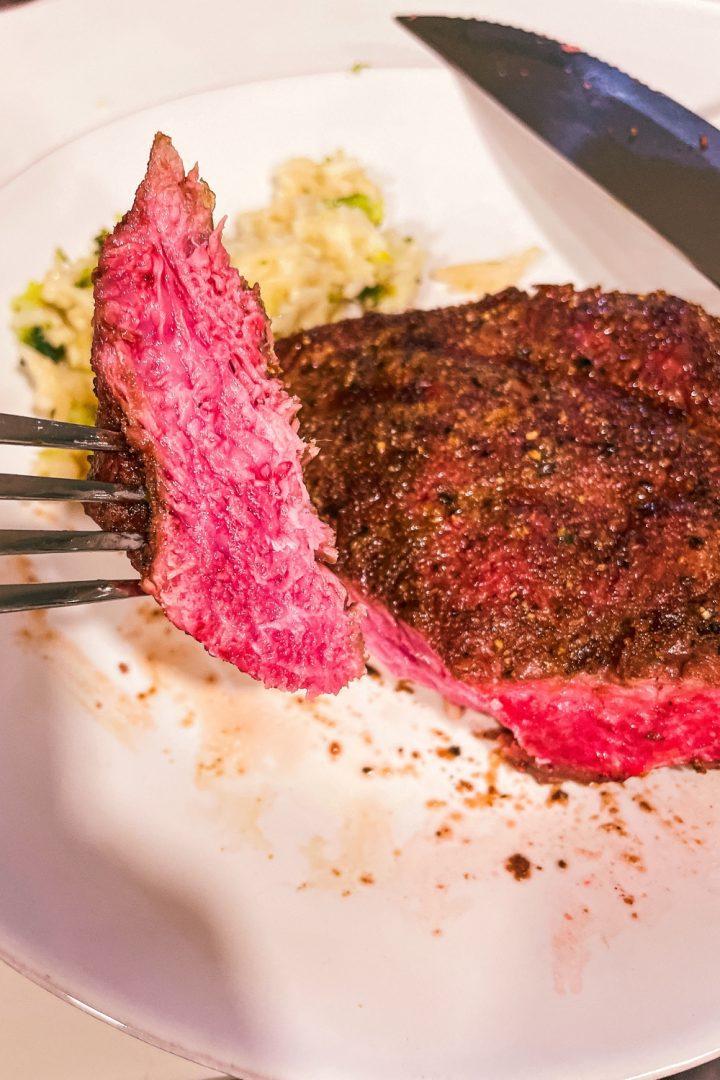 📖 Recipe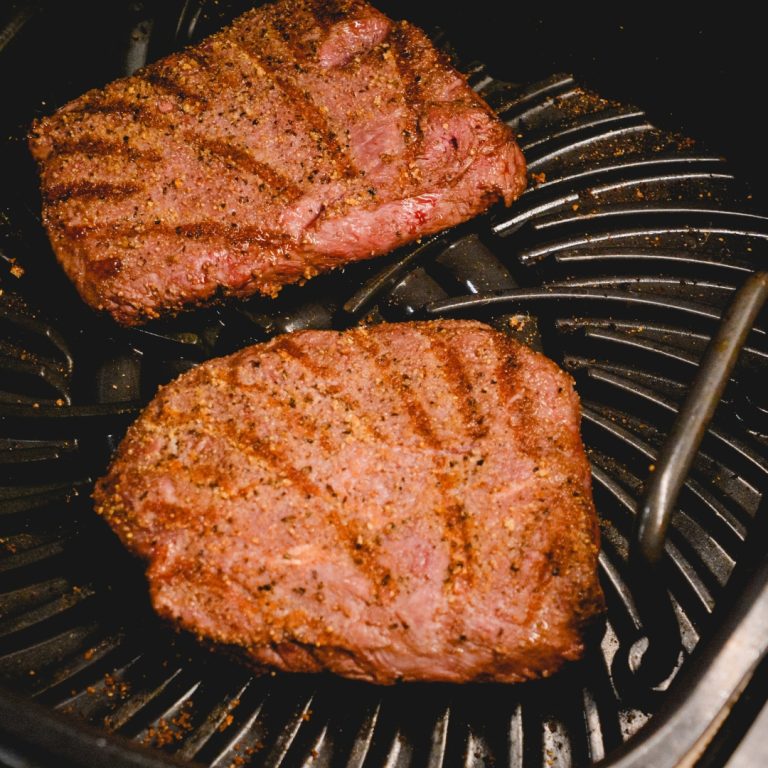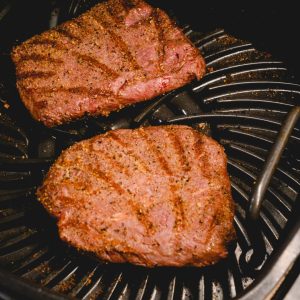 Air Fryer Steaks
Making steak in the air fryer can give a perfectly seared steak with a juicy inside and cooked in under 10 minutes.
Print
Rate
Ingredients
4

Steak

Flat Iron, Ribeyer, Sirloin, T-Bone, or New York Strip steaks, an inch thick

1

teaspoon

steak seasoning

2

tablespoons

butter
Instructions
Set steaks out of the fridge for 15-30 minutes prior to preparing to make steak.

Preheat air fryer to 400 degrees. If you are using an air fryer with a grill setting, preheat on high setting.

Season both sides of the steak and put oil on the bottom of the air fryer pan.

Sear both sides of the steak for 5 minutes and flip the steaks. Cook another 3-5 minutes and place a pat of butter on the steak before removing from air fryer.

For more rare steak cook closer to 6 minutes more well done, closer to 10 minutes.

Let rest for five minutes before eating.
Nutrition
Calories:
523
kcal
|
Carbohydrates:
0.3
g
|
Protein:
46
g
|
Fat:
38
g
|
Saturated Fat:
18
g
|
Polyunsaturated Fat:
2
g
|
Monounsaturated Fat:
17
g
|
Trans Fat:
0.2
g
|
Cholesterol:
153
mg
|
Sodium:
163
mg
|
Potassium:
613
mg
|
Fiber:
0.1
g
|
Sugar:
0.02
g
|
Vitamin A:
222
IU
|
Vitamin C:
0.1
mg
|
Calcium:
23
mg
|
Iron:
4
mg