Disclosure: *This post may include amazon links. As an Amazon Associate, I earn from qualifying purchases.
In today's fast-paced world, it's essential to maintain high energy levels throughout the day. Whether you're a busy professional, an active student, or a dedicated fitness enthusiast, having a quick and nutritious snack on hand can make all the difference. No-bake energy bites are a fantastic snack option, packed with oats, flaxseed meal, peanut butter, and honey, and are easy to prepare in advance. In this blog post, we'll show you how to make delicious and nutrient-rich energy balls with flaxseed recipe!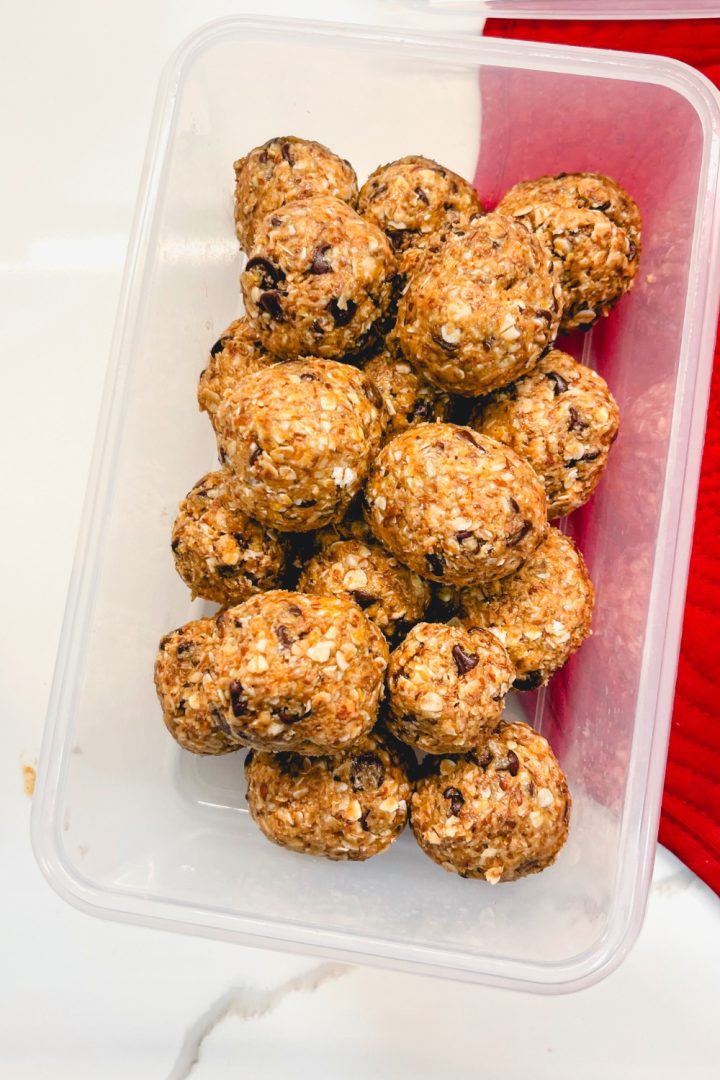 Why Flaxseeds?
Before we dive into the recipe, let's talk about the nutritional benefits of flaxseeds. These tiny seeds are a true superfood, boasting a wealth of essential nutrients. Flaxseeds are an excellent source of heart-healthy omega-3 fatty acids, fiber, protein, vitamins, and minerals. Their high fiber content supports digestion and helps you feel full for longer periods, reducing unnecessary snacking throughout the day. Additionally, flaxseeds contain lignans, which have antioxidant properties and may contribute to overall well-being.
This was inspired by my banana bread recipe with flaxseed in it.
Jump to:
Energy Bite Ingredients
The beauty of no-bake energy bites lies in their simplicity and adaptability. Here are the essential base ingredients you'll need: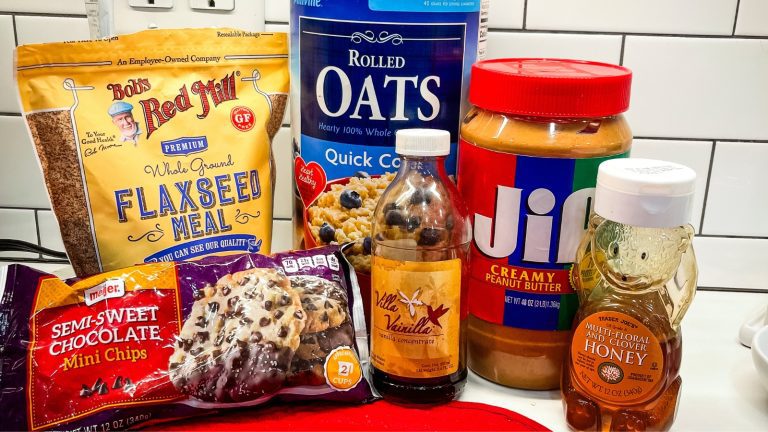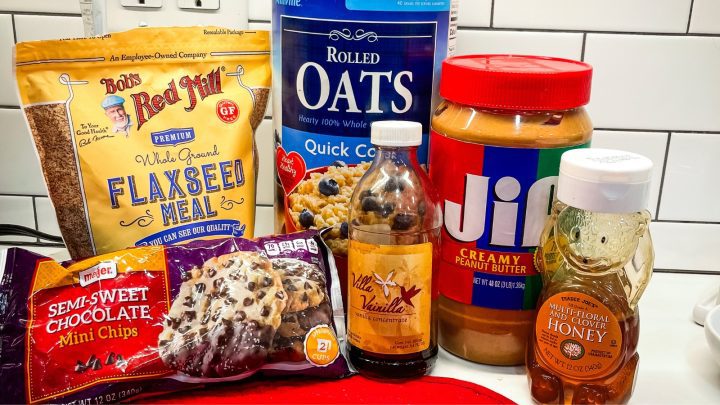 Quick Oats - Now I used quick oats but you can also use old-fashion rolled oats.
Peanut Butter - While any nut butter can be used, peanut butter is my favorite thing to use in this
Ground Flaxseeds - ground flax seeds or flax seed meal is used in this recipe for no bake energy bites.
Honey - Local honey or the little bear of honey is the perfect way to sweeten up these nutritious snacks.
Vanilla - Pure vanilla or vanilla extract to bring even more flavor to these energy bites.
Mini Chocolate Chips - The mini chocolate chips work so much better
See recipe card for quantities.
How to Make Energy Balls
Making these energy bites is not difficult to make, but you will need some elbow grease when you stir the ingredients together. Here is the instructions on how to make energy balls.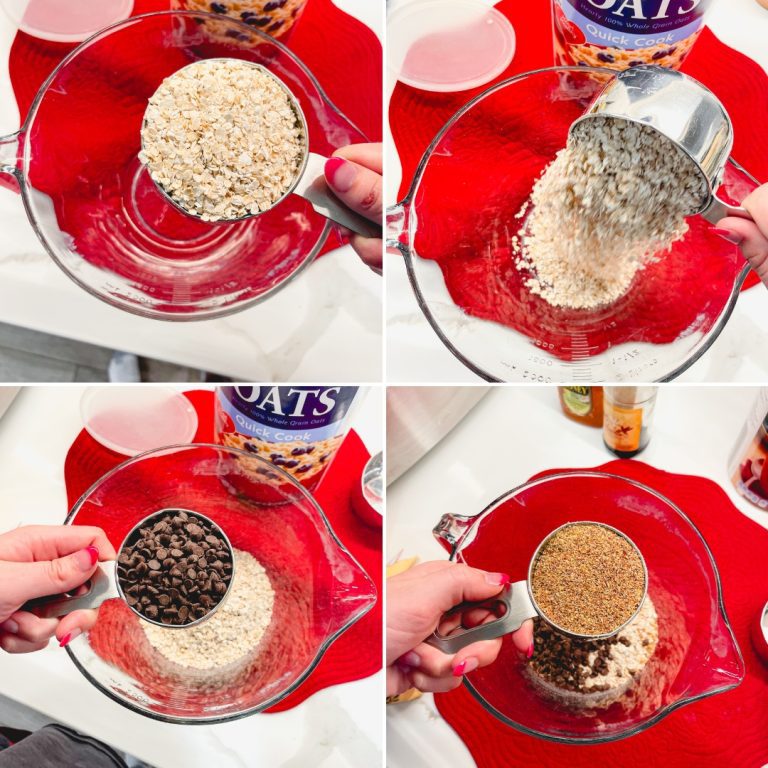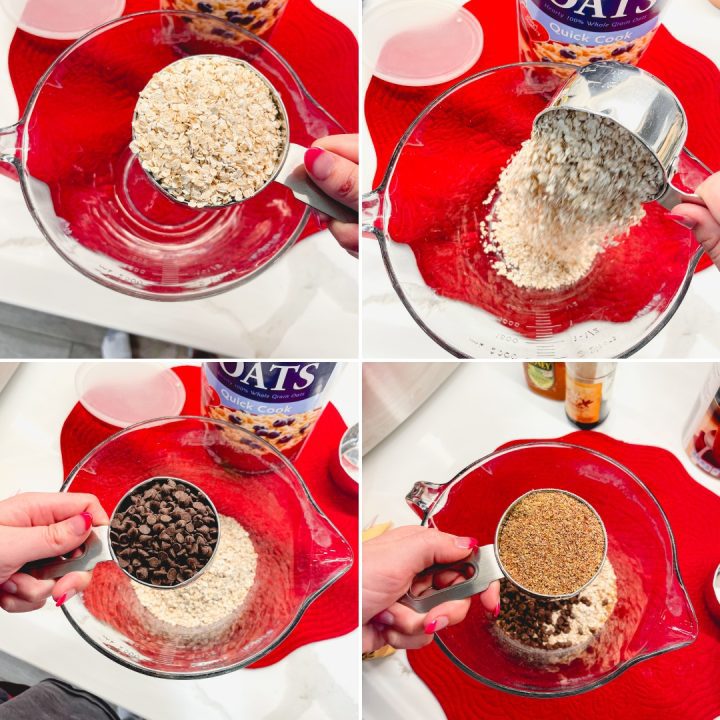 Prepare Your Base: In a large mixing bowl, combine the quick oats, ground flaxseeds, and mini chocolate chips. Mix well to ensure an even distribution of ingredients.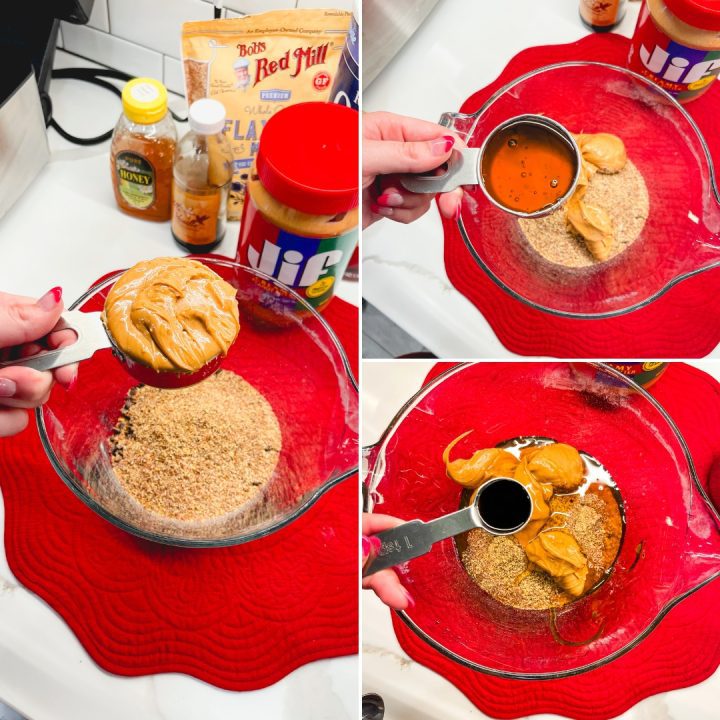 Bind It Together: Add the peanut butter, vanilla, and honey to the dry ingredients. Mix thoroughly until all the components come together, forming a sticky dough-like consistency.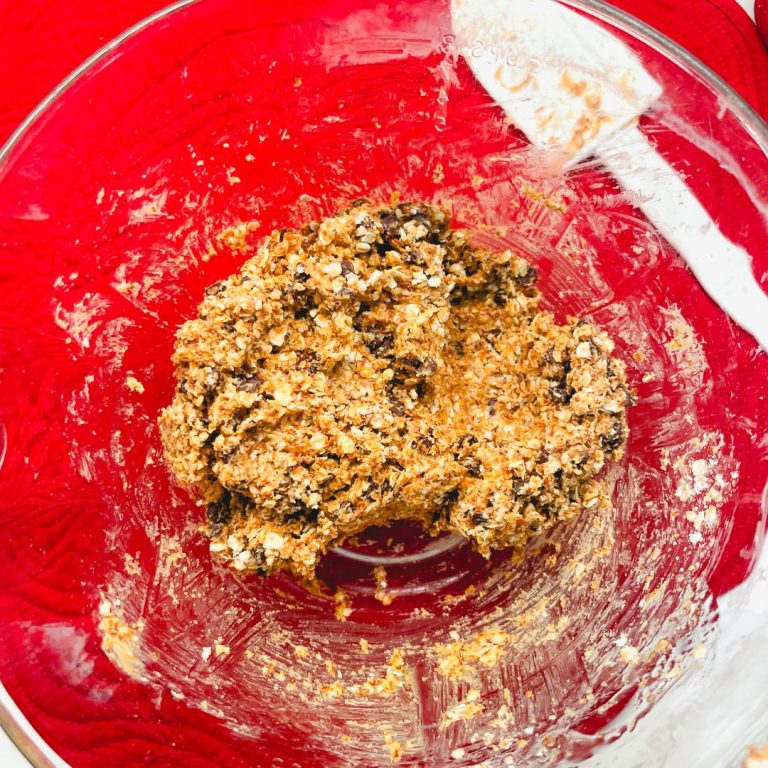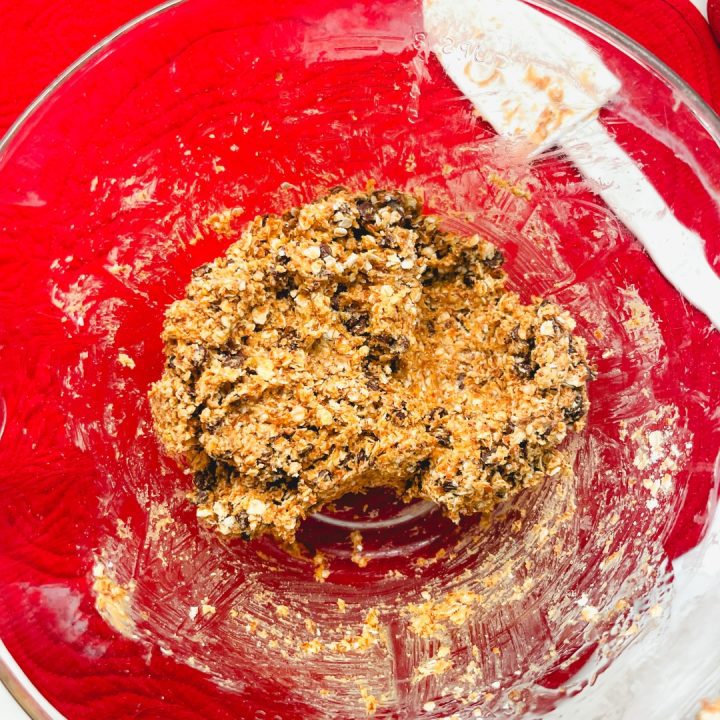 Roll into Bite-sized Balls: Take a spoonful of the mixture and roll it between your palms to form a compact ball. The size is entirely up to you, but aim for bite-sized balls that are easy to grab on the go.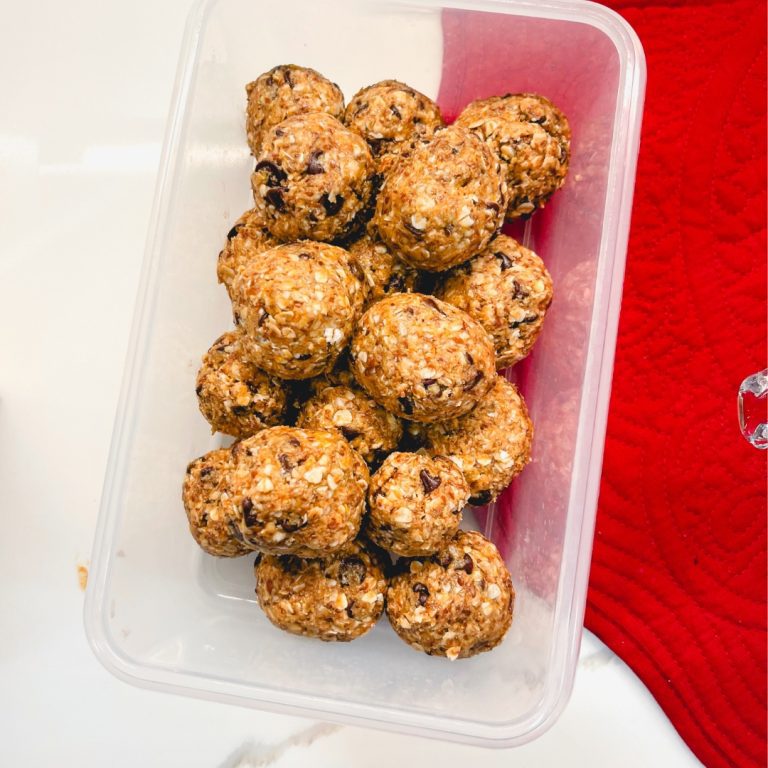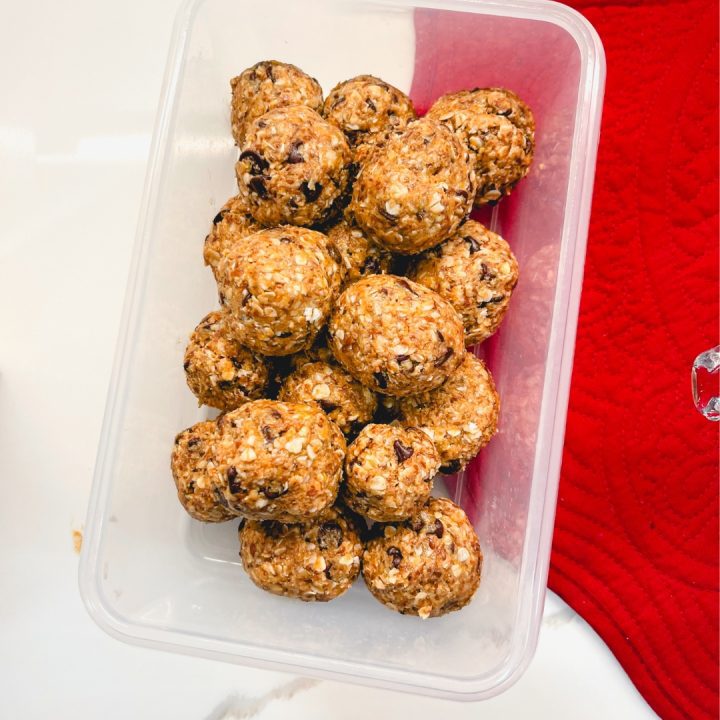 Chill and Store: Place the energy balls on a baking sheet lined with parchment paper and refrigerate them for at least 30 minutes. Chilling helps the balls firm up, making them easier to handle. Once set, transfer them to an airtight container and store them in the fridge for up to two weeks.
These no-bake energy balls with flaxseed are a delightful treat that you can take with you wherever you go – to the office, the gym, or on outdoor adventures. They're not only delicious but also packed with nutrient-rich ingredients to keep you fueled and focused throughout the day. Plus, they make a perfect snack for kids and a great alternative to store-bought sugary treats.
Hint: If the energy bite dough is sticky, chill before rolling. After mixing the ingredients, let the mixture chill in the refrigerator for about 20-30 minutes. This makes it easier to shape the energy balls without sticking to your hands.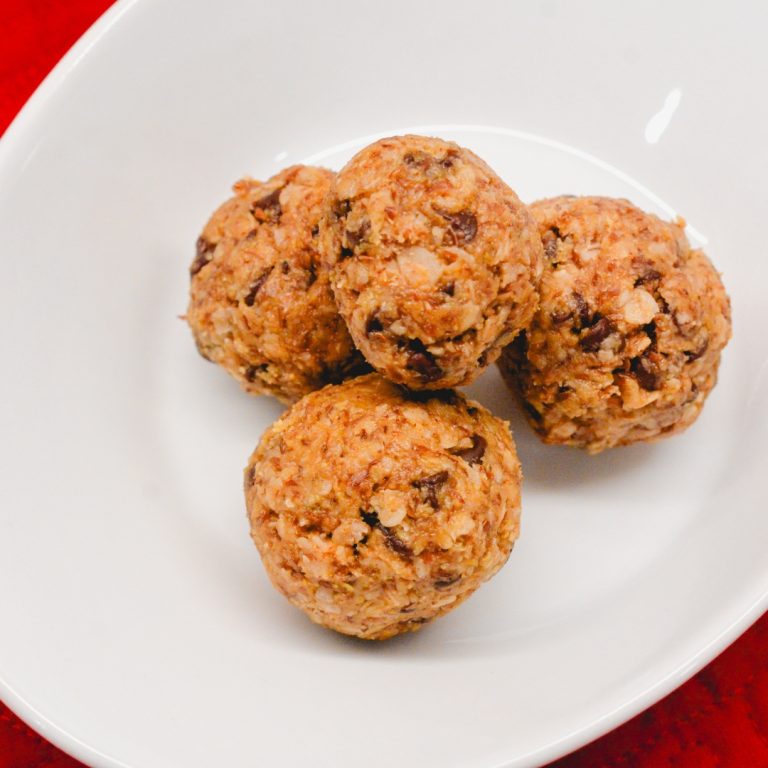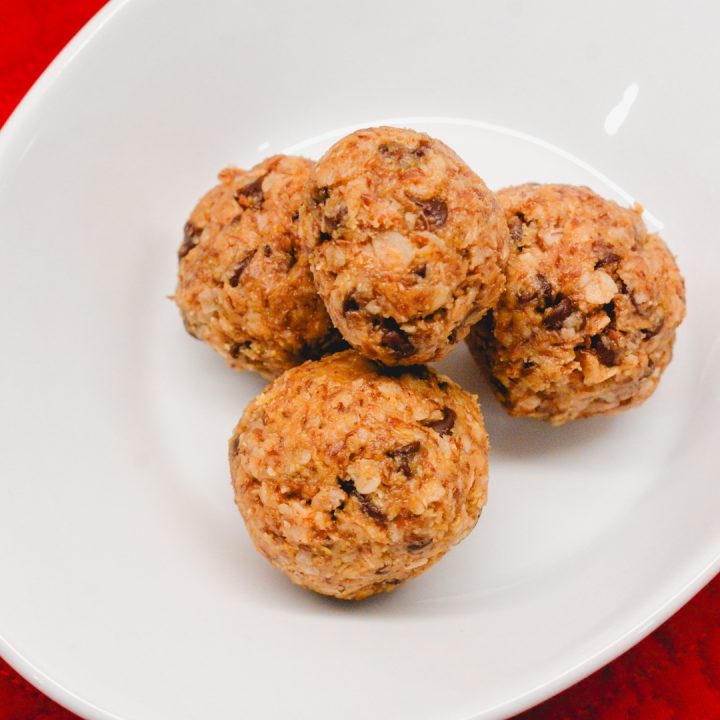 Substitutions for Energy Balls with Flaxssed Recipe
If you're looking to make energy balls without peanut butter and oats, there are numerous substitutions you can use to create delicious and nutritious alternatives. Whether you have dietary restrictions, allergies, or simply want to try different flavors, these substitutions will provide a wide range of options. Here are some ideas:
Nut Butter Substitutions:

Almond Butter: Almond butter is an excellent alternative to peanut butter. It has a slightly different flavor but still works well in energy balls.
Cashew Butter: Cashew butter is creamy and mild, making it a great substitute for both peanut and almond butter.
Sunflower Seed Butter: Sunflower seed butter is a nut-free option and perfect for those with nut allergies.
Tahini: Made from ground sesame seeds, tahini adds a unique nutty flavor to energy balls.

Oats Substitutions:

Quinoa Flakes: Quinoa flakes have a similar texture to oats and provide a good source of protein and fiber.
Rice Cereal: Crispy rice cereal can add a nice crunch to your energy balls and is gluten-free.
Shredded Coconut: Unsweetened shredded coconut can replace oats, providing a pleasant tropical flavor and texture.
Chopped Nuts: Finely chopped nuts like almonds or walnuts can replace oats for added texture and nutritional value.
Flax Seeds: If you want to omit oats completely, you can increase the amount of ground flaxseeds to act as a binding agent.

Sweeteners:

Honey: Agave syrup, maple syrup, or date syrup are excellent alternatives to honey.
Medjool Dates: Soft and gooey, Medjool dates can serve as both a sweetener and binder for energy date balls.

Add-ins and Flavorings:

Dried Fruits: Raisins, cranberries, apricots, or any other dried fruits add natural sweetness and a burst of flavor.
Cocoa Powder: For chocolate lovers, cocoa powder can be added to create chocolate-flavored energy balls.
Spices: Cinnamon, nutmeg, cardamom, or ginger can enhance the taste of your energy balls.
Seeds: Chia seeds, pumpkin seeds, or hemp seeds are excellent choices for added nutrition.

Liquids:

Coconut Oil: If your mixture is too dry, a little melted coconut oil can help bind the ingredients together.
Remember to adjust ingredient quantities as needed, as the texture of the mixture may vary depending on the substitutions you use. The beauty of energy balls lies in their versatility, so don't be afraid to experiment with different combinations to find the flavors that suit your taste and dietary preferences best. Enjoy these nutrient-rich snacks and keep your energy levels high throughout the day!
Equipment
The equipment to make these protein balls are pretty straightforward - a bowl, measuring cups and spoons, and spatulas. The ingredients are normal things I get in my Amazon Subscribe and Save.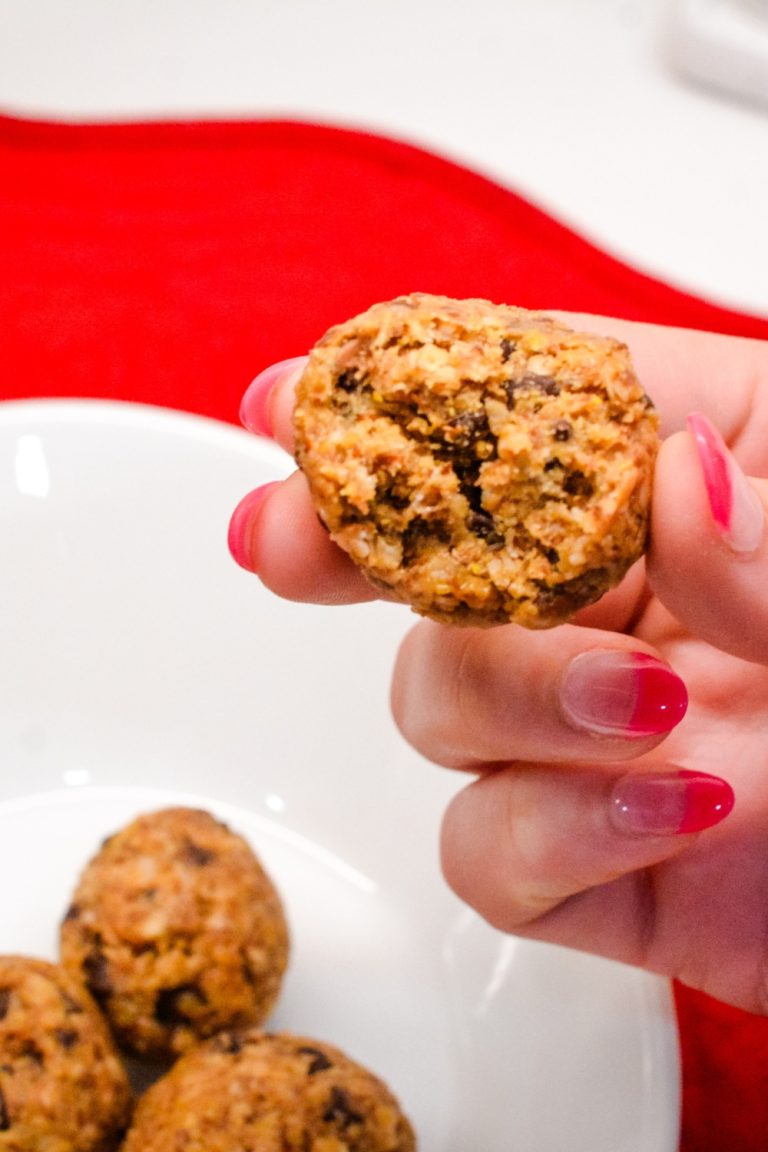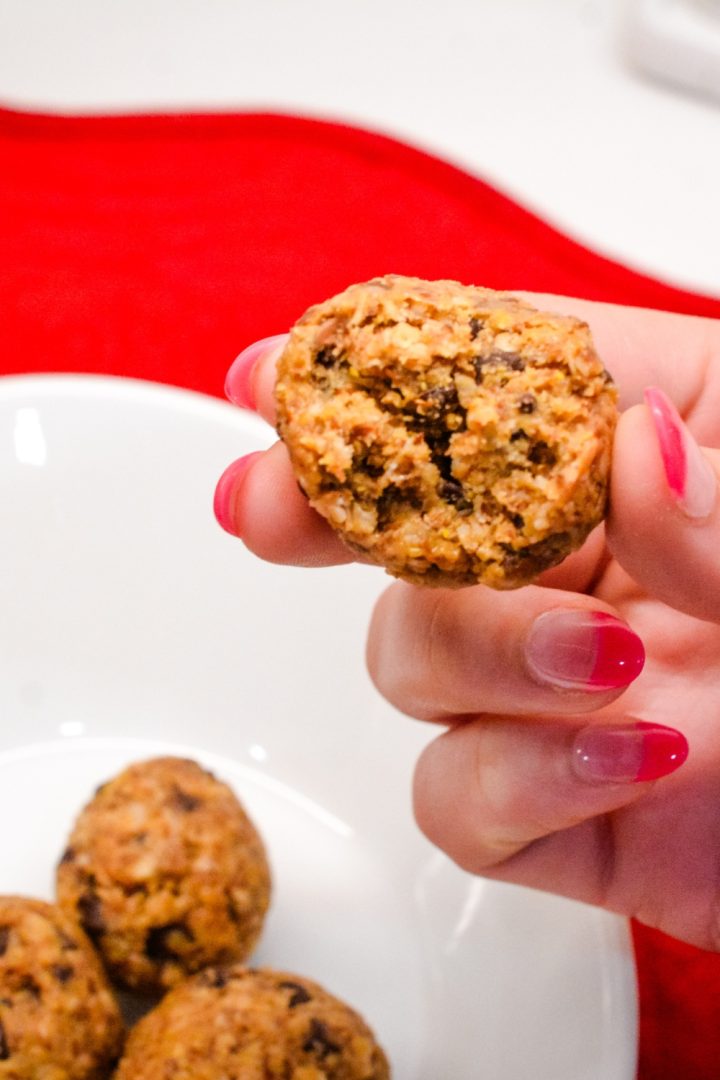 Storing and Keeping Energy Balls
Store the energy balls with flaxseed in an air-tight container for up to two weeks in the fridge. These are perfect snacks for a weekend of games, swimming, or boating. Just make sure you keep them in a cooler so they do not melt.
If you make a double or triple batch, these energy bites can also be frozen for later. Freeze in freezer bags or containers for up to 3 months.
Top tip for Making No Bake Energy Bites
Chill Before Rolling: After mixing the ingredients, let the mixture chill in the refrigerator for about 20-30 minutes. This makes it easier to shape the energy balls without sticking to your hands.
FAQ
How many energy balls should you eat a day?
As a general rule, one to two energy balls can make for a reasonable serving size for a snack.
Are energy balls really healthy?
Protein balls can be a healthy snack option when made with wholesome, nutritious ingredients and consumed in moderation as part of a balanced diet. The healthiness of protein balls of these protein balls can be seen in the recipe card below.
Peanut Butter Related Recipes
Looking for other peanut butter recipes like this? Try these: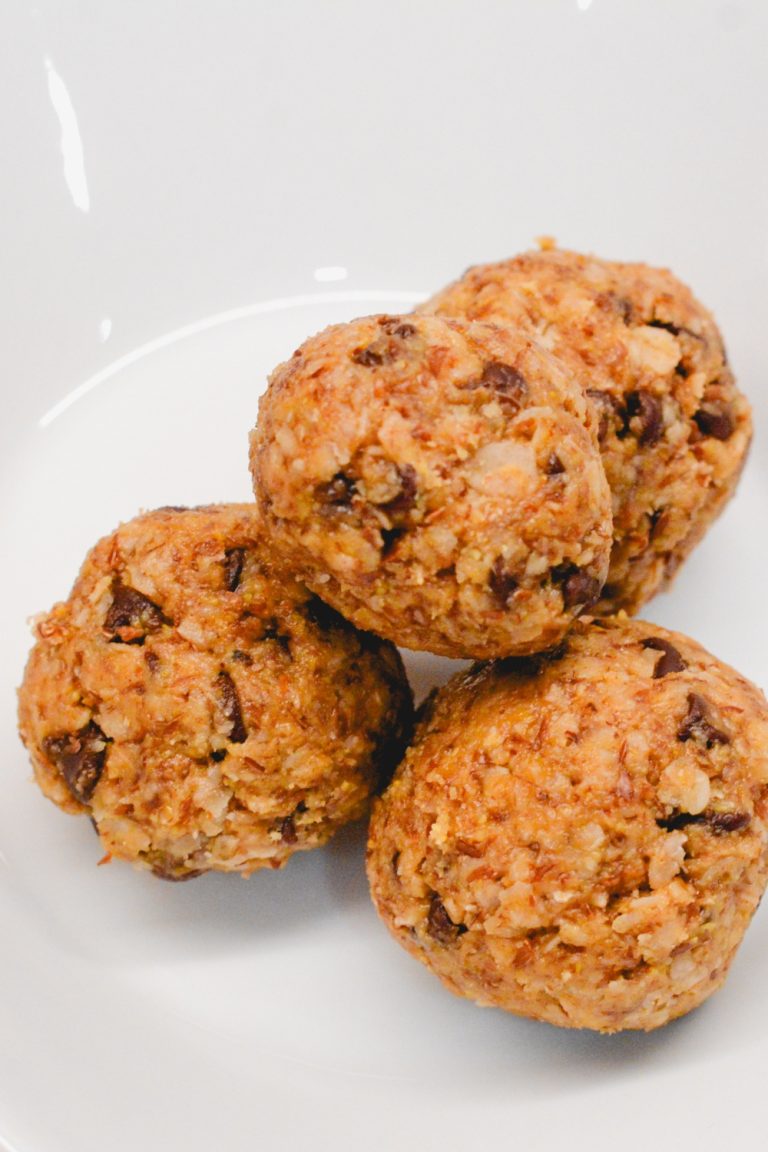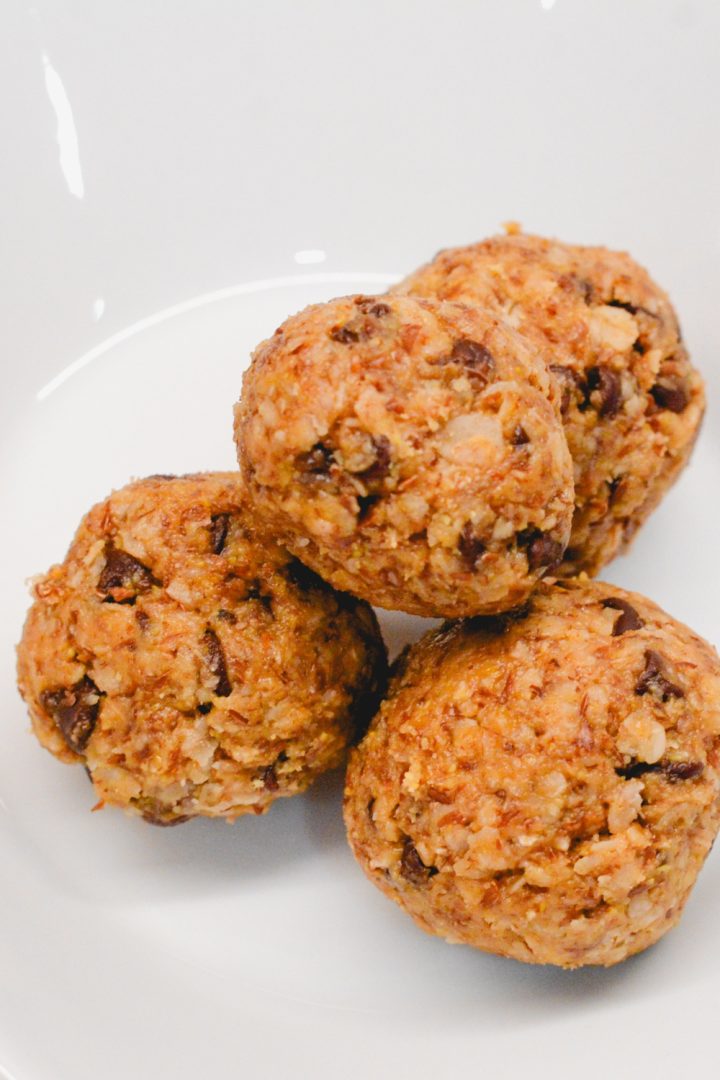 📖 Recipe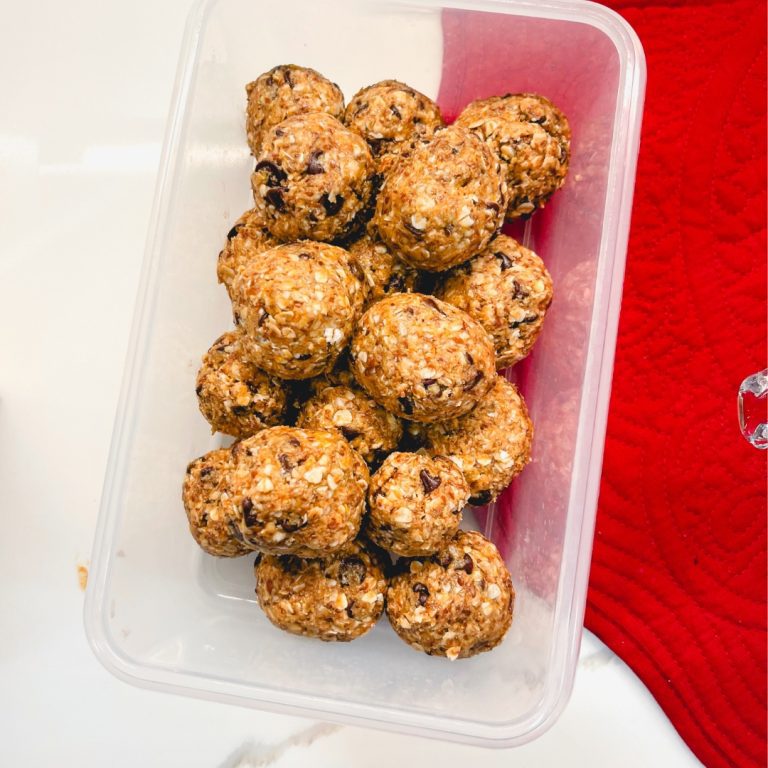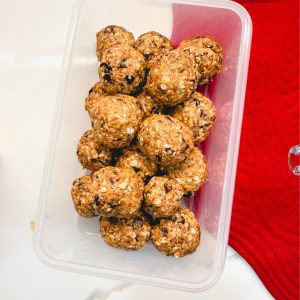 Energy Balls with Flax Seed
No-bake energy bites are the perfect snack – packed with wholesome ingredients of peanut butter, oats, and flaxseed and easy to make.
Print
Rate
Ingredients
1

cup

quick oats

whole oats can be used too

½

cup

flaxseed meal

½

cup

peanut butter

⅓

cup

honey

½

cup

mini chocolate chips

1

teaspoon

vanilla
Instructions
In a large bowl, combine the rolled oats, flaxseed meal, peanut butter, honey, and vanilla extract. Stir until all the ingredients are well blended and form a sticky mixture.

Fold in your mini chocolate chips to the mixture.

Take about a tablespoon of the mixture at a time and roll it between your palms to form bite-sized balls. You can make them smaller or larger, depending on your preference.

Store in an air tight container until ready to serve.
Notes
Adjust Consistency: If your mixture is too dry and crumbly, add more nut butter or sweetener. If it's too wet and sticky, add more dry ingredients like oats or shredded coconut.
Chill Before Rolling: After mixing the ingredients, let the mixture chill in the refrigerator for about 20-30 minutes. This makes it easier to shape the energy balls without sticking to your hands.
Rolling Techniques: When forming the energy balls, roll the mixture between your palms gently. Apply slight pressure to compact the mixture, ensuring the balls hold their shape.
Storage: Store the energy balls in an airtight container in the refrigerator. If you're making a large batch, you can freeze some for longer shelf life.
Nutrition
Calories:
115
kcal
|
Carbohydrates:
13
g
|
Protein:
3
g
|
Fat:
6
g
|
Saturated Fat:
1
g
|
Polyunsaturated Fat:
2
g
|
Monounsaturated Fat:
2
g
|
Trans Fat:
0.01
g
|
Cholesterol:
1
mg
|
Sodium:
32
mg
|
Potassium:
86
mg
|
Fiber:
2
g
|
Sugar:
8
g
|
Vitamin A:
10
IU
|
Vitamin C:
0.1
mg
|
Calcium:
21
mg
|
Iron:
1
mg