Disclosure: *This post may include amazon links. As an Amazon Associate, I earn from qualifying purchases.
Crock pot lasagna is an easy lasagna recipe using no-boil or regular lasagna noodles that can slow cook in your casserole crock pot all day long. If I am not buying a frozen lasagna, I am making lasagna in the crock pot. It is so easy and done in just a couple of hours.
Lasagna Ingredients
Ground beef
Onions
Garlic
Spaghetti Sauce
Petite diced tomatoes
Italian seasonings
Ricotta cheese or cottage cheese + milk
Parmesan cheese
Italian blend cheese or mozzarella cheese
Eggs
Water
In addition, you will want to season with salt and pepper to your liking.
How to Make Lasagna in the Crock Pot
Mix the sauce and tomatoes together. Add ½ cup of water as well.
While the spaghetti sauce has seasoning, I add a few to kick it up just a notch. ½ teaspoon of parsley and Italian seasoning each.
I also tossed ½ teaspoon of salt and ¼ teaspoon of pepper in for good cause. Then add the ground beef mixture back into the sauce.
Two, steps down, cheese to go. Grab your cheese and eggs. Mix the ricotta together with milk and eggs. If you are using cottage cheese instead of ricotta, skip the milk. Stir together until smooth.
Then add two cups of shredded mozzarella and the shredded Parmesan. Mix completely.
Now for the layering. Start by putting a heaping cup of meat sauce on the bottom of your crock pot.
Then grab your lasagna noodles. I had regular lasagna noodles the first time I made the recipe. Not the no-boil kind. I didn't cook them. Put them in uncooked. It really is that easy. The no-boil works just fine as well.
With my oval crock, I can fit a full-length one down the middle. I break the other ones in pieces and fit them around the edges. In the casserole crock pot the lasagna noodles can lay straighter and more square to the rectangle shape.
Layer a third of your cheese mixture over the noodles, spreading out evenly.
Then pour about a cup and a half of the cheese and start the noodles again. You are going to have three layers of noodles and cheese. Start with the sauce and nd with sauce to sandwich the lasagna.
Since I am a bit partial to the dairy industry, I grabbed more mozzarella and layer it over the top of the last layer of sauce.

Cook on low for about 4 hours. Like most things in a crock pot, it can be fudged on the time. I think ours might have gone a bit more like 5 hours. Just makes the cheese a bit more brown.

I cut the lasagna into about 10-12 pieces.
Perfection! And of course, I made Italian Cheesy Loaf.
Tips for Making Crock Pot Lasagna
One time-saving tip and recipe focusing thing I do is start Monday with the main protein that can be used again later. Frozen prebrowned hamburger works perfectly in this recipe.
Cottage cheese or ricotta cheese both work in this recipe.
Casserole Crock Pot Recipes
Crock Pot Bubble Up Pizza Casserole
Low-Carb Taco Lasagna in the Crock Pot
Crock Pot Hawaiian Roll Ham Sandwiches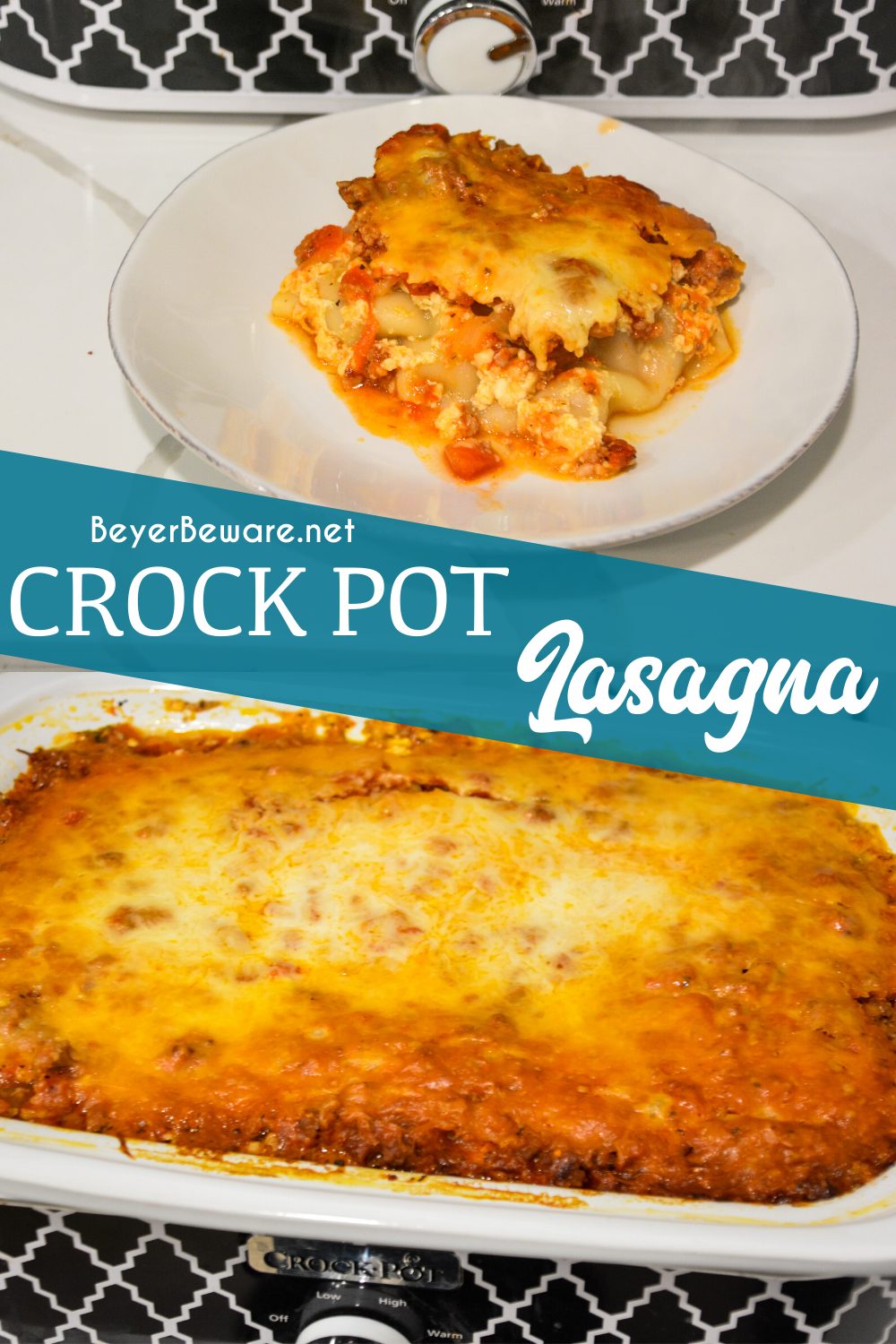 Got a hunk of meat recipe? Do share!
Linked to