Disclosure: *This post may include amazon links. As an Amazon Associate, I earn from qualifying purchases.
For fall break we headed to a very non-traditional place for a little rest and relaxation...North Dakota to visit Katie who blogs over at Pinke Post. Since we blog and we blog about food a lot, we decided to cook together. Our first meal was going to be one with a "spooky" theme thanks to a little help from the Gooseberry Patch Halloween Bookazine. Looking for a hearty soup for Halloween night? Don't Be a Chicken Chili is a creamy chicken soup recipe that will warm you up and fill your belly for a night of fun.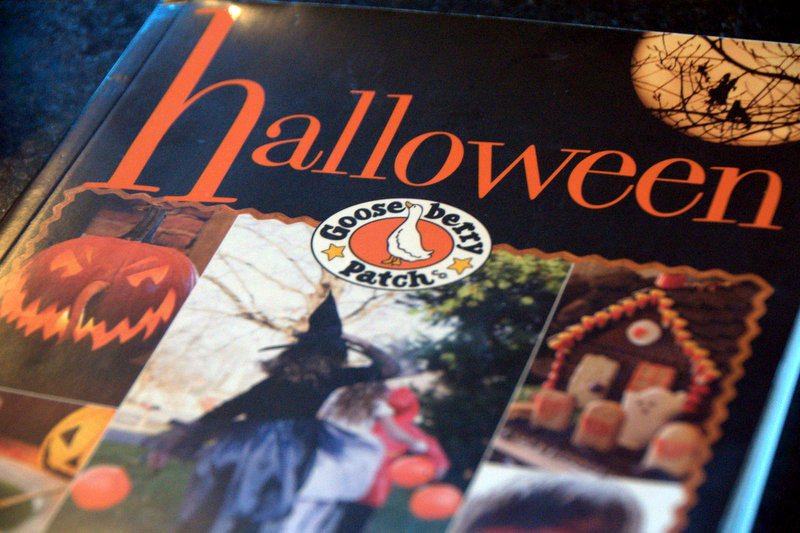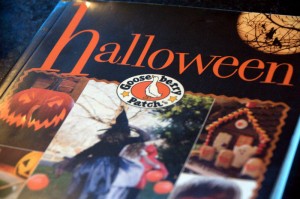 And we started with the Don't Be Chicken Chili.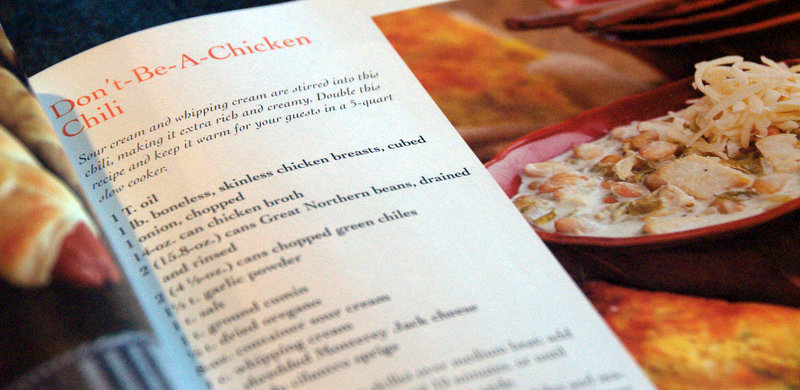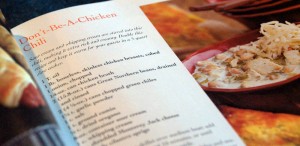 And because we both can't help ourselves, we tinkered a bit with the recipe. It isn't because something is wrong with the recipe. It is mainly because we just have our own personal spin we feel we have to add to everything we cook.
Don't Be a Chicken Chili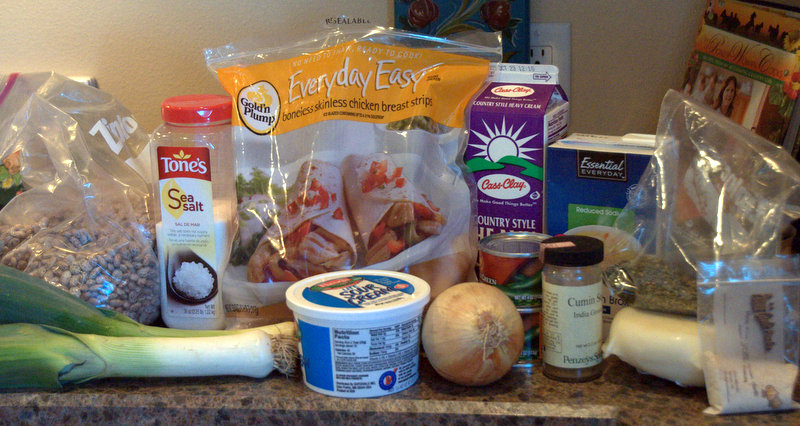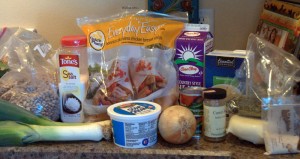 So, we just jumped in chopping and dicing. I took on the onions. Tears began to start running rather quickly. Katie shared her two solutions with me. First, her onion cutting glasses.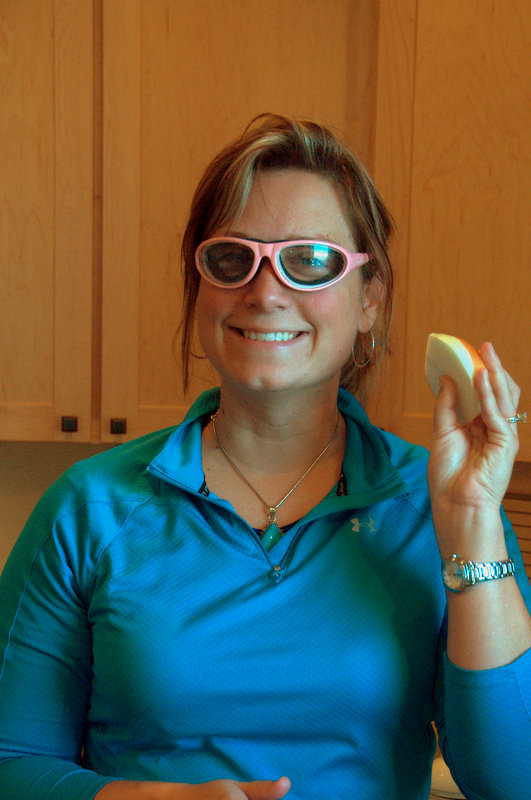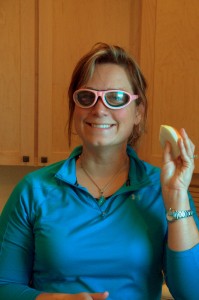 And the other is one of my favorite kitchen tools. I was gleeful when she pulled it out.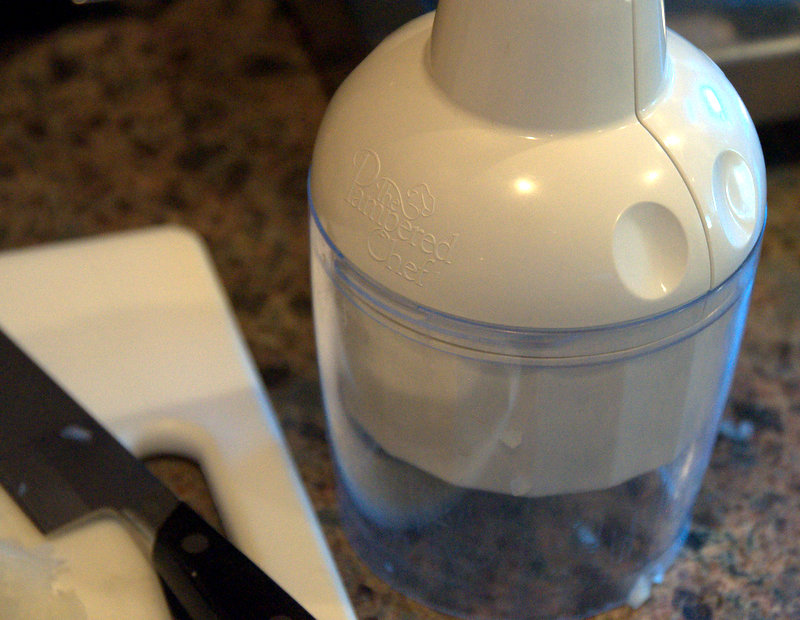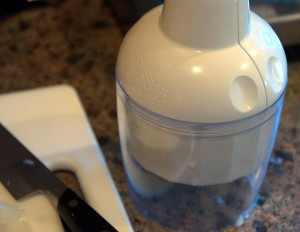 You can see the first half of the onion I chopped by hand is larger while the onions chopped by the Pampered Chef Chopper are much more finely diced.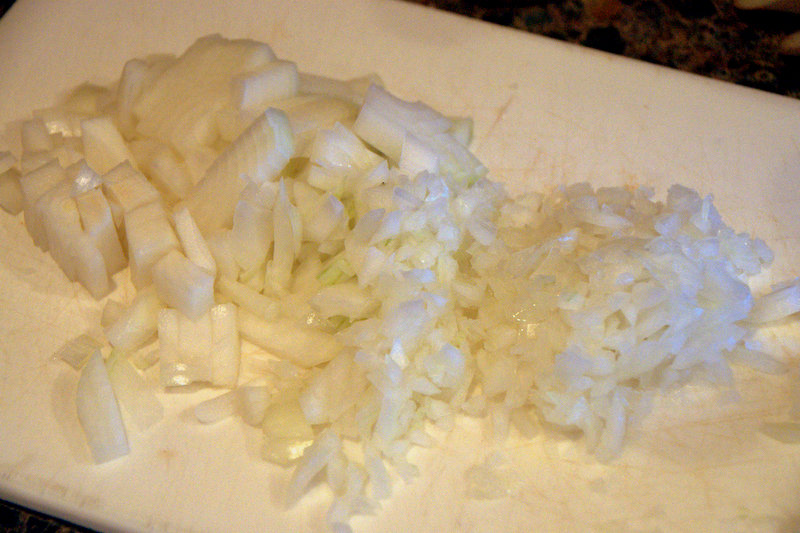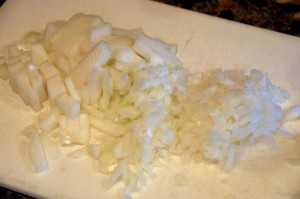 We put about a tablespoon of oil down in a large skillets followed by a pound of chicken tenders and then topped it off with the diced onion.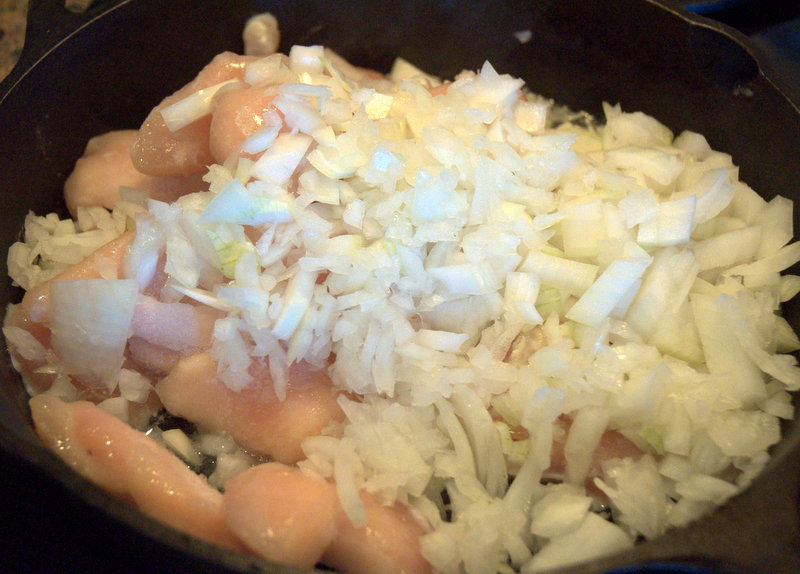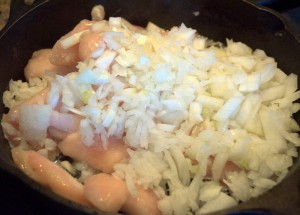 And now for the tinkering, Katie had a few leeks in the fridge. She cleaned one leek and chopped it up. We added a cup of chopped leeks to the recipe.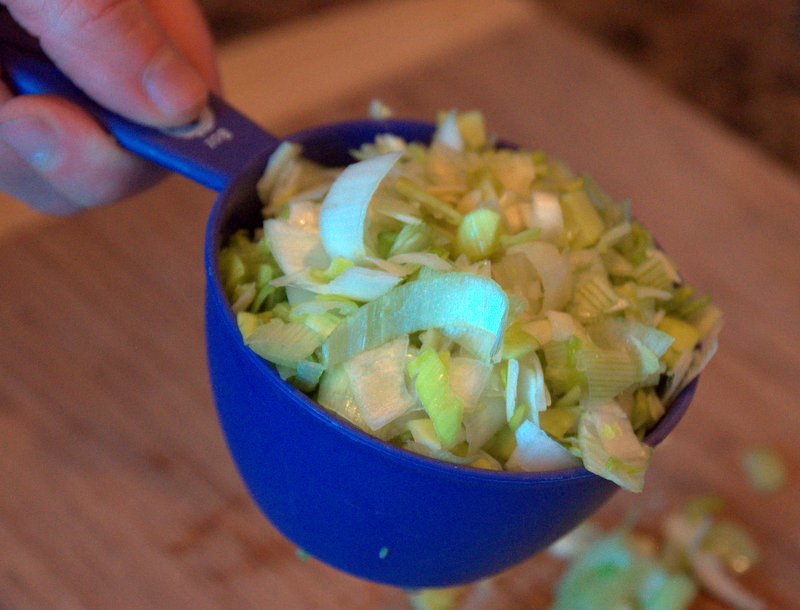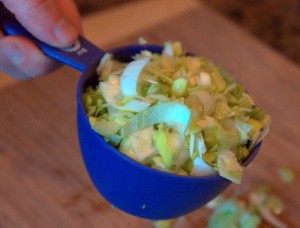 The leeks can be poured over top of the onions and chicken. Let the chicken, onions and leeks cook until the chicken is fully cooked.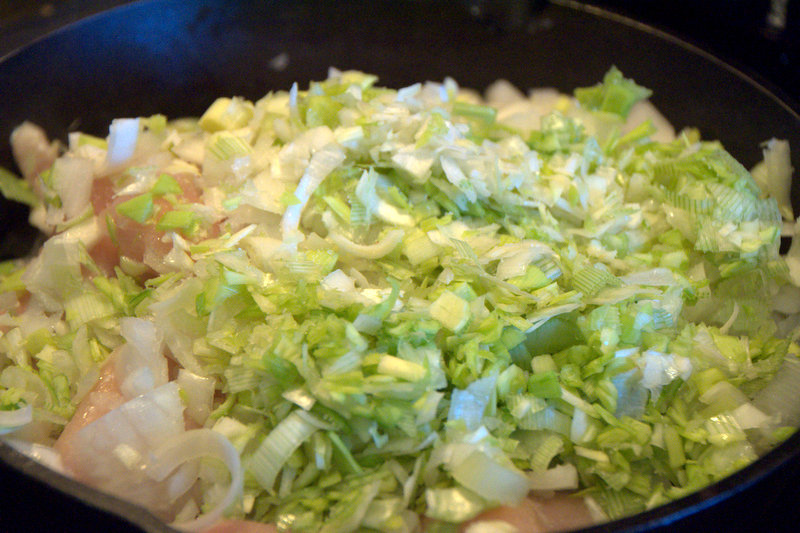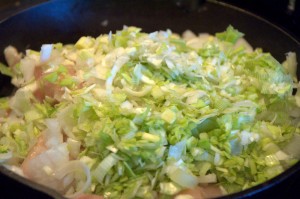 While the chicken is cooking get the broth and bean chicken base going. The recipe called for two cans of great northern beans, but we are in North Dakota where we have locally grown pinto beans. We of course substituted the pintos!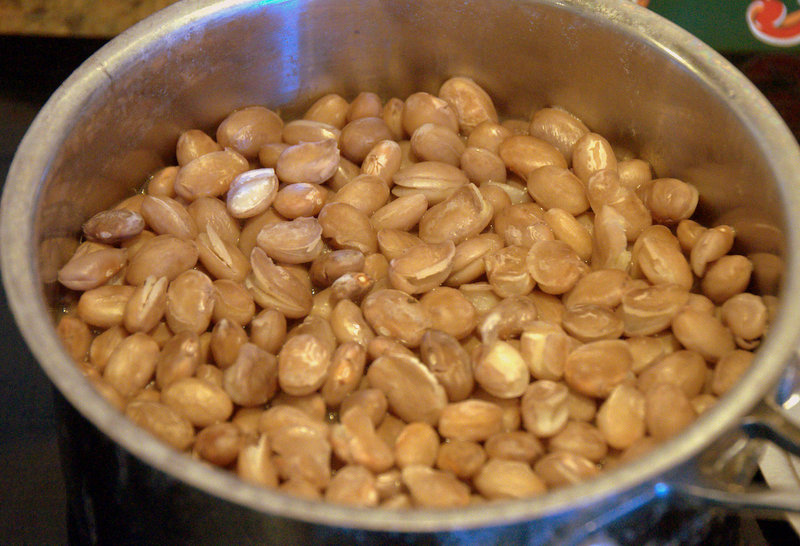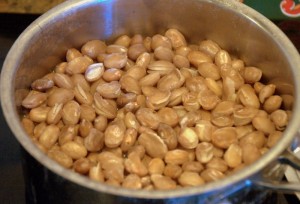 In a large stock pot or dutch oven mix together two cups of chicken broth, the beans, two 4.5 ounce cans of green chiles, garlic powder, cumin, oregano and salt. I learned garlic is also grown up here on the prairie, so of course we used locally grown garlic powder too!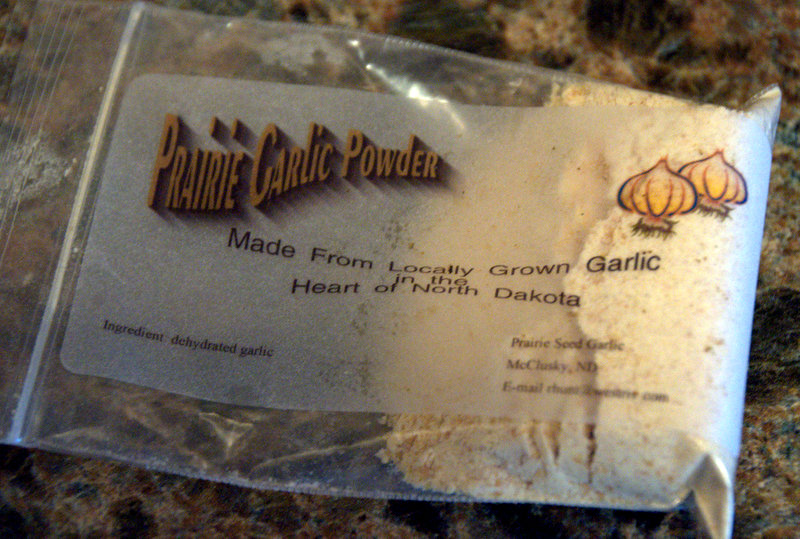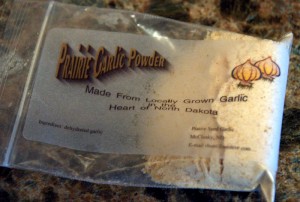 Once everything is combined, bring to a boil.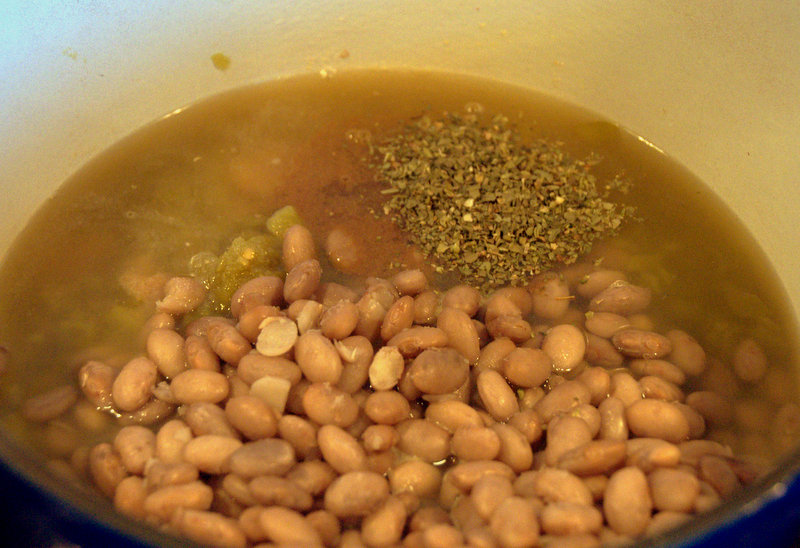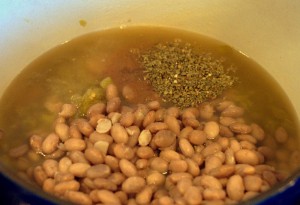 When the chicken is fully cooked, you want to cut the chicken down to bite size pieces. I decided to use a kitchen scissors instead of messing up a cutting board.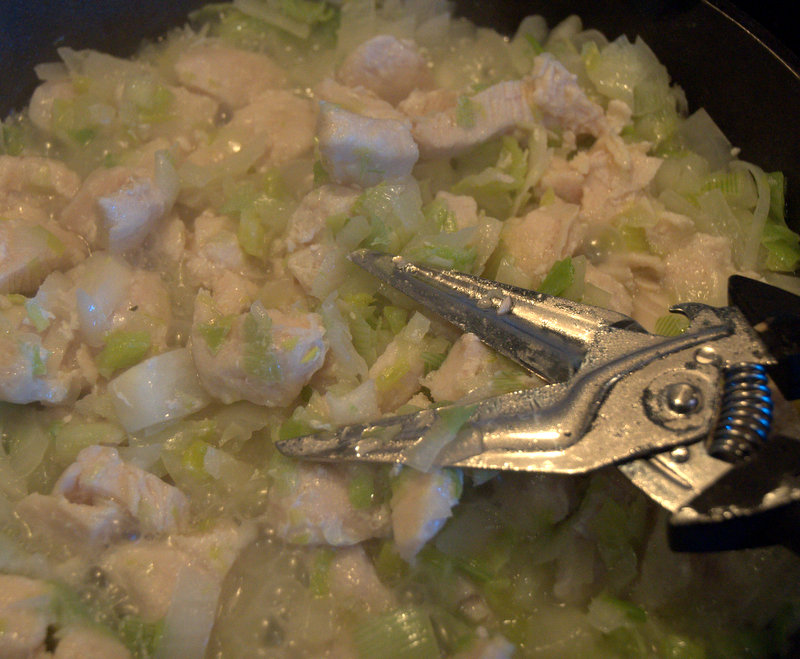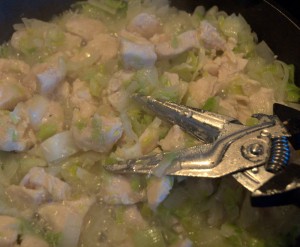 When the soup base is boiling, add the chicken and onions to the stock pot.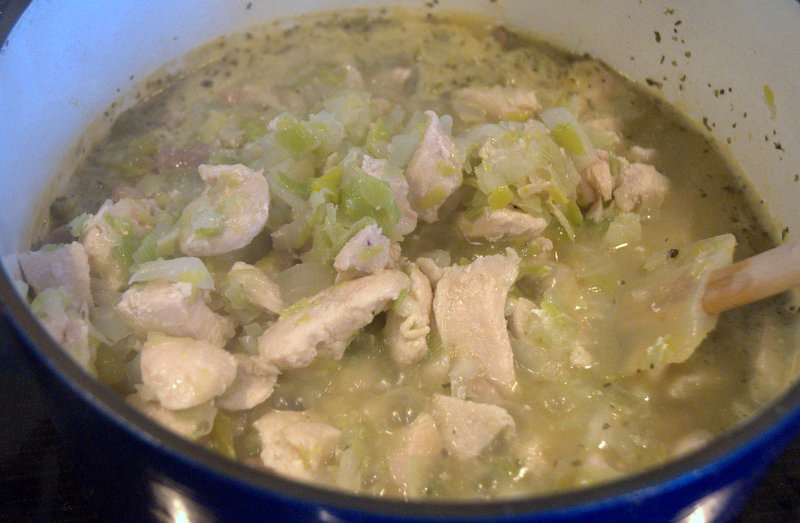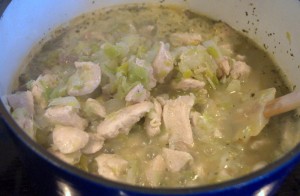 Stir together and let simmer for 30 minutes. Add a cup of heavy whipping cream and a cup of sour cream after the 30 minutes has passed.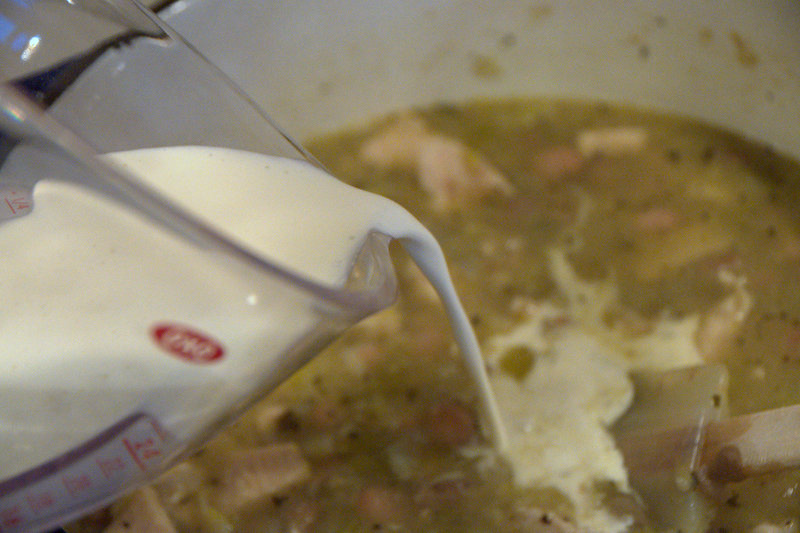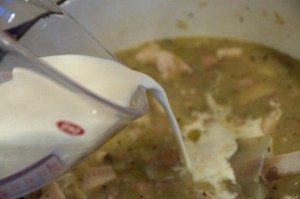 When the cream is fully incorporated and completely heated, the soup is ready to serve. Garnish with monterey jack cheese and green onions or cilantro.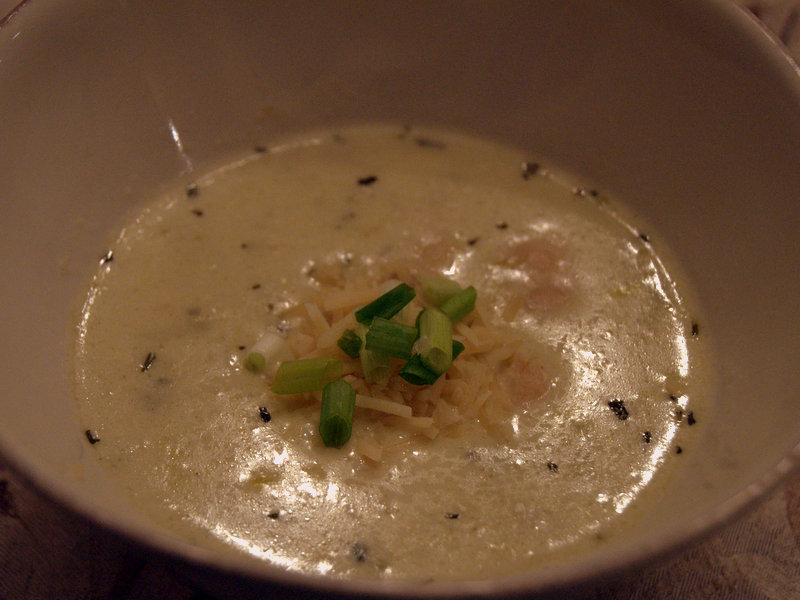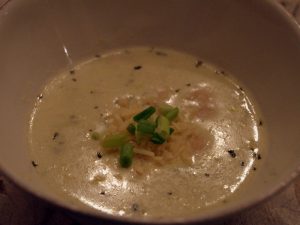 The soup was awesome along with the mummy dogs. Unfortunately, Katie had to run out before the soup was done to meet her daughter at the hospital after a fall from the monkey bars. Luckily, the soup reheats well. Katie enjoyed the soup on day 2!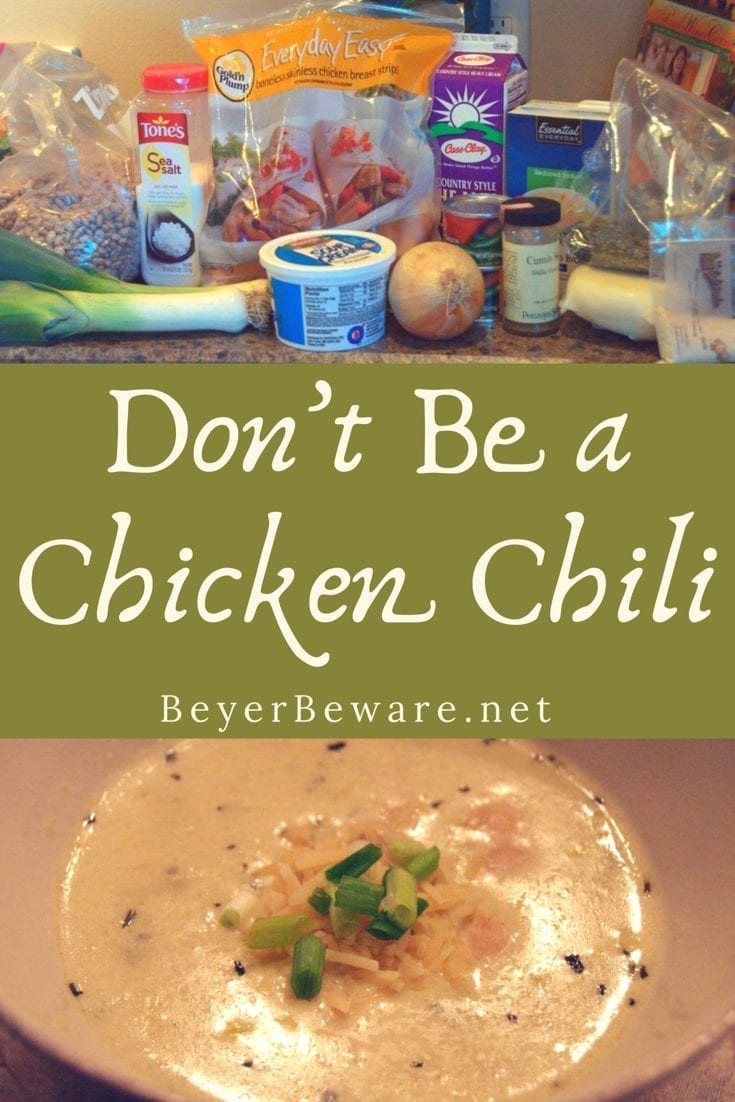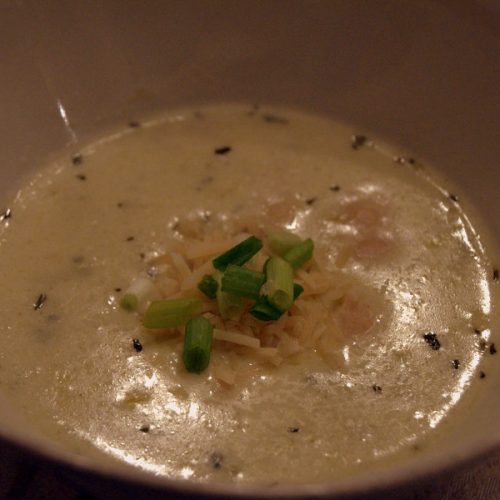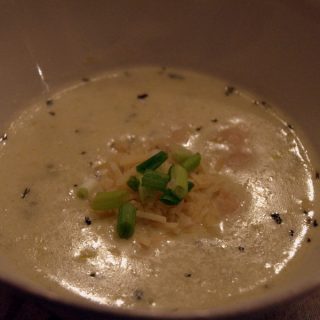 Don't Be a Chicken Chili
Looking for a hearty soup for Halloween night? This soup will warm you up and fill your belly for a night of fun.
Print
Rate
Ingredients
1

T.

oil

1

lb.

chicken tenderloins or breasts

1

onion

diced

1

c.

leeks

sliced

14-

oz.

can chicken broth

2

15.8-oz. cans Great Northern beans, drained and rinsed

2

4-½ oz. cans chopped green chiles

1-½

t.

garlic powder

1

t.

salt

1

t.

ground cumin

½

t.

dried oregano

1

c.

sour cream

1

c.

whipping cream

2

c.

shredded Monterey Jack cheese

Garnish: cilantro or cilantro
Instructions
Heat oil in a large skillet over medium heat; add chicken and onion. Saute 10 minutes, or until chicken is cooked through.

Combine broth, beans, undrained chiles and seasonings in a large Dutch oven. Bring to a boil over medium-high heat.

Cut up cooked chicken with a scissors or knife to bite size pieces. Add chicken mixture; reduce heat and simmer 30 minutes.

Add sour cream and whipping cream, stirring well. Top each serving with shredded cheese; garnish, if desired.
What is cooking at your house this week? Hope you have a great Hunk of Meat Monday!!



Affiliate links were used in this post.