Disclosure: *This post may include amazon links. As an Amazon Associate, I earn from qualifying purchases.
I love all the fresh peppers that Indiana summers bring. Sure I have eaten my weight in sweet corn and BLTs too. But after you make these four-ingredient bacon jalapeno poppers in crescent rolls, you will love the fresh pepper summer brings too.
Let's be honest, when I saw these burgers from Anna at Sometimes on Tuesday, I added them to the mix of most makes this summer since I have fallen in love with my jalapeno poppers.
How to Make Bacon Jalapeno Poppers in Crescent Rolls
Start with a can of crescent rolls. Break each triangle apart and then cut each triangle in half.
Cut 2-3 jalapenos in half lengthwise. Take the seed out and then cut into bite-size pieces.
Fry up some bacon good a crisp. Like there is any other way to fry bacon:)
Then put a dollop of cream cheese in the middle of each piece of crescent roll followed by bite-sized pieced of bacon.
Follow it up with a piece of jalapeno. Then pull up the edges around all the goodies. And then you have it. Finish compiling the rest and bake on 375 for about 10 minutes. You want them nice and golden brown.
The mini jalapeno poppers en croute are fantastic!
Variations for Jalapeno Poppers
If you want to use this method for other types of crescent roll poppers. Here are other ingredients that would be fantastic.
Pizza Poppers - Wrap up a an inch long string cheese piece and a pepperoni or two for a pizza popper appetizer.
Crack Chicken Poppers - Mix chopped up cooked chicken, bacon, shredded cheese, and ranch dressing together and wrap a spoonful of the mixture with crescent rolls.
Mini pigs in a blanket - Wrap the mini wieners with the crescent rolls and bake.
Bite-Sized Appetizer Ideas
Finger foods are perfect for parties and tailgates. If you want more bite sized finger foods, check these recipes out.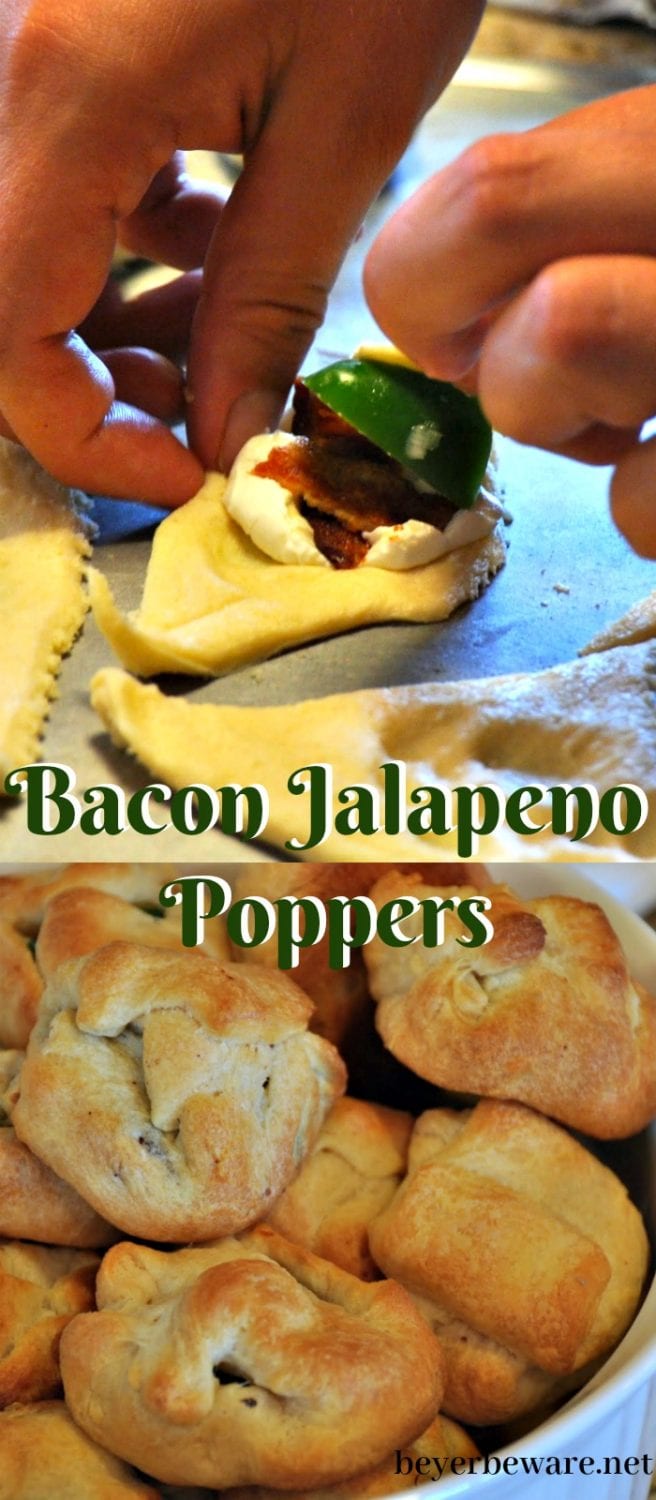 📖 Recipe